With tender pastry skin on the outside and sweet filling on the inside, who doesn't love mooncakes? Since Mid-Autumn Festival is just around the corner, these seasonal desserts are back for everyone to enjoy.
Mid-Autumn Festival is observed on the 15th day of the eighth lunar month, which falls on 13 September this year. Other than celebrating the harvesting of crops, the moon is the brightest and roundest on that night which symbolises family reunion.
Although there are so many mooncake brands around, only a few are halal-certified. Here's a list of eight of the best halal mooncake brands in Singapore to kickstart your family reunion: 
1. Concorde Hotel Singapore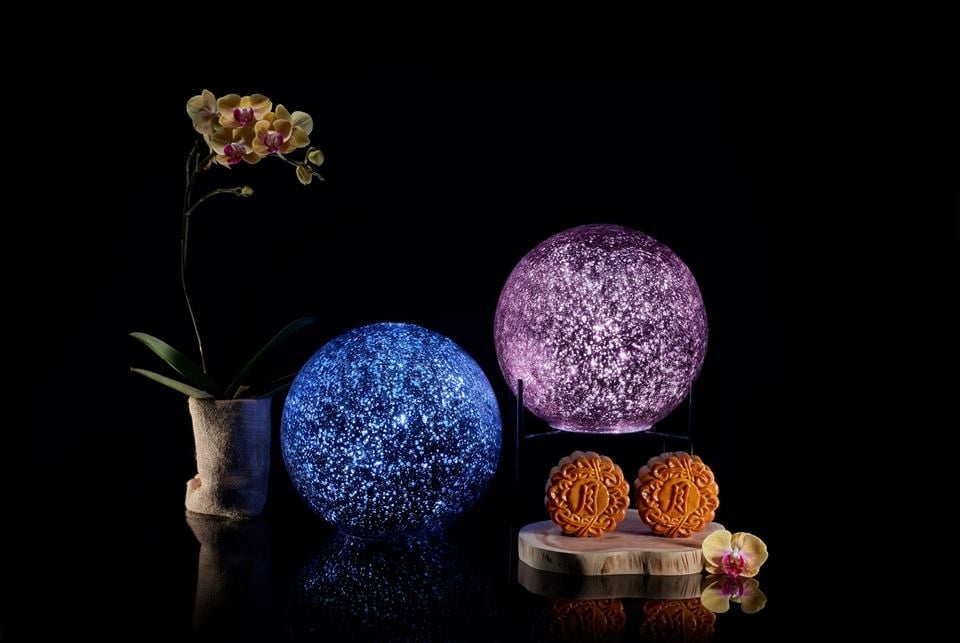 Despite the numerous eye-catching mooncake packaging, Concorde Hotel Singapore's mooncake packaging definitely takes the cake! The mooncakes are enclosed in an LED moon globe that can be used as a night lamp after the sweet treats have been devoured. 
Take your pick from five mooncake flavours; White Lotus Paste, White Lotus Paste Single Yolk, White Lotus Paste Double Yolk, Golden Jade Single Yolk and Assorted Fruit and Nut. With an aromatic pandan-infused lotus paste, the Golden Jade Single Yolk is a definite fan favourite. 
Price: From S$70 per box of 4 pieces
Availability period: 1 August to 13 September 2019
2. IUIGA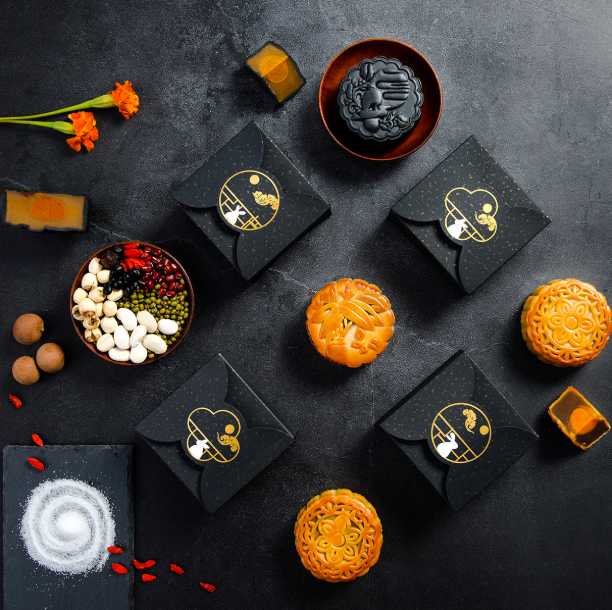 Yes, you read that right – IUIGA, the well-known Singaporean home and living brand, is selling halal-certified mooncakes! Their inaugural mooncake set is named the Baked Mooncake Quartet Collection: An Enchanted Moon. 
The collection features three tantalising flavours; Precious Black, Pearl Of Prosperity and Violet Moon. Each mooncake is packed with three layers of flavours such as yam paste, pandan and salted egg yolk. In line with the brand's minimalistic look, the mooncakes are protected in an ebony box with simplistic gold motifs. 
Price: S$69.90 per box of 4 pieces
Availability period: 23 August to 20 September 2019
3. Swiss Cottage Bakery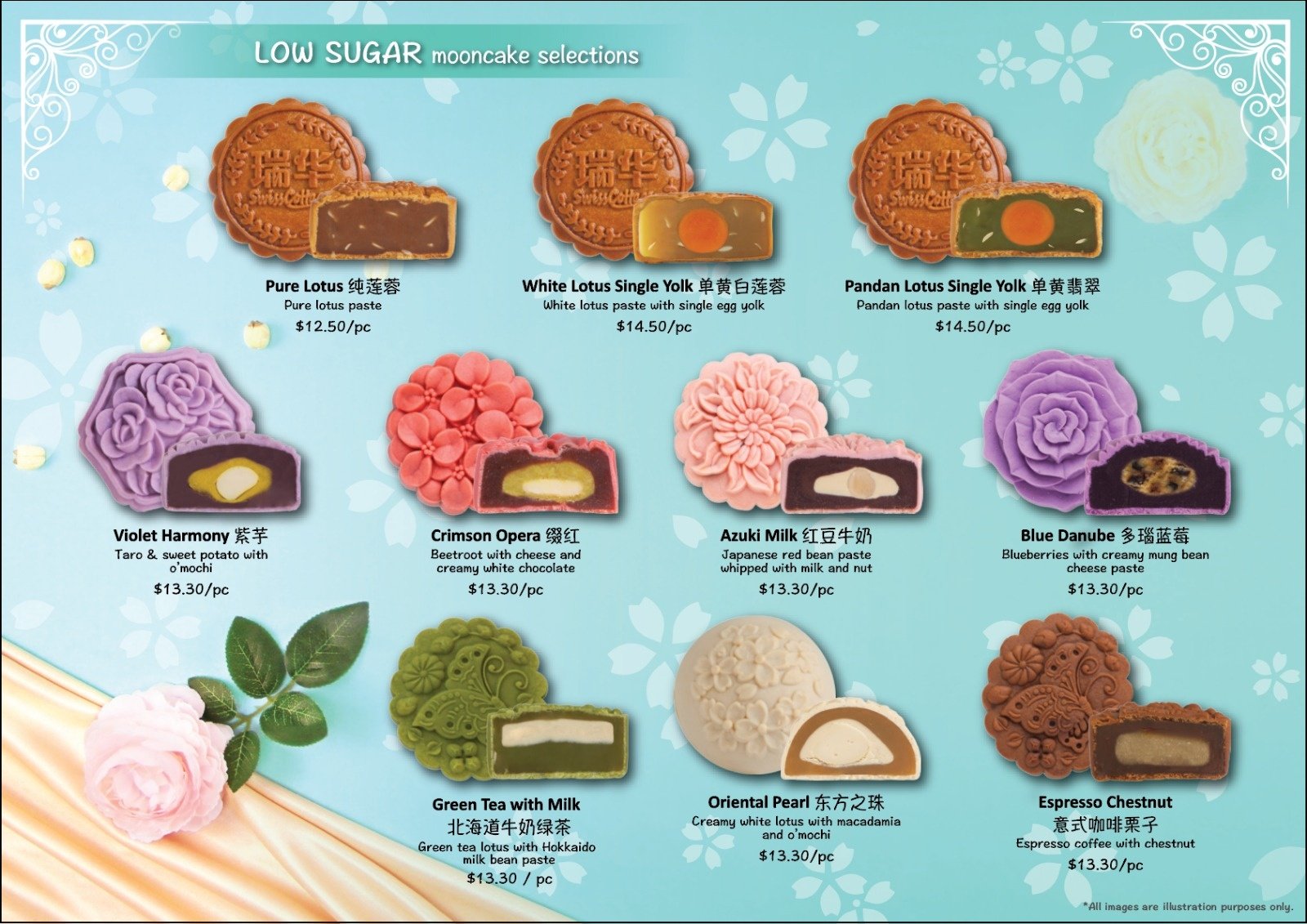 Despite their relatively small size, mooncakes are notorious for having a high-calorie content. But fret not as Swiss Cottage Bakery offers mooncakes with low sugar fillings without compromising on taste! Their wide array of mooncake flavours include Pure Lotus, Azuki Milk and Green Tea.
Swiss Cottage Bakery can be easily found at many mooncake atrium sale events. You can pick up these delicious halal-certified mooncakes from multiple locations around Singapore, such as Suntec City, Jurong Point, Causeway Point, Waterway Point and Novena Square.
Price: From S$12.50 per piece
Availability period: 20 August to 13 September 2019
4. Delcie's Desserts and Cakes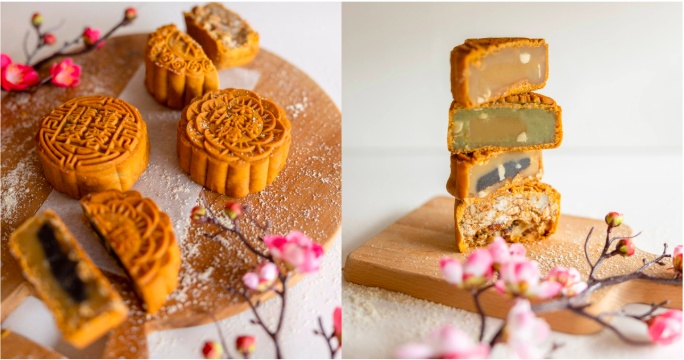 For all you health junkies, mooncakes from Delcie's Desserts and Cakes are the healthier festive treats you've been looking for! In fact, they have been awarded the Healthier Bakery Award by the Health Promotion Board since 2011. 
Their unique mooncakes come in a myriad of delightful flavours such as Gluten Free Mao Shan Wan Durian Snowskin and Keto Pandan Mooncake. For a diabetic-friendly alternative, they even offer sugar-free flavours such as Cane Sugar Free White Lotus and Cane Sugar Free Pandan. 
Note: Although Delcie's mooncakes are not halal-certified, only halal-friendly ingredients without pork, lard or alcohol are used. Their mooncakes are also suitable for vegans and vegetarians. Please consume at your own discretion. 
Price: From S$29 per box of 2 pieces, From S$98 per box of 4 pieces
Availability period: 13 August to 13 September 2019
5. PrimaDeli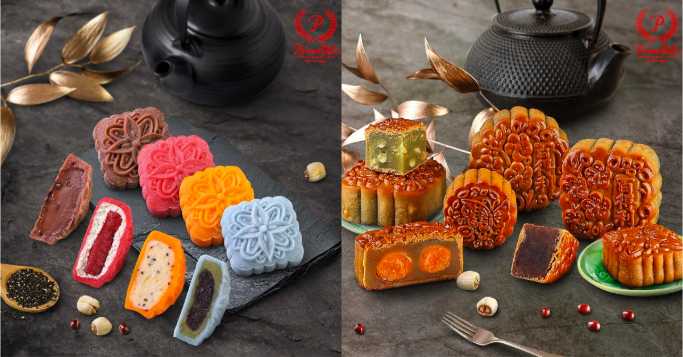 PrimaDeli is perhaps the first place most Muslims turn to for their mooncake fix. With many outlets around the island and an extensive lineup of flavours, it's not hard to see why! PrimaDeli also offers mini snow skin and baked mooncakes for those who are not keen on sharing these delectable desserts. 
This year, PrimaDeli unveils a couple of new flavours to add to their lineup. For their snow skin mooncakes, the new flavours include Raspberry Vanilla, Matcha Red Bean and Yuzu with Chia Seeds. In the baked mooncakes category, the new flavours you can try are Less Sugar Pandan with Melon Seeds and Red Bean.
Price: From S$5.90 per piece (mini), From S$13.70 per piece (regular)
Availability period: 1 August to 13 September 2019
6. Eatzi Gourmet Bakery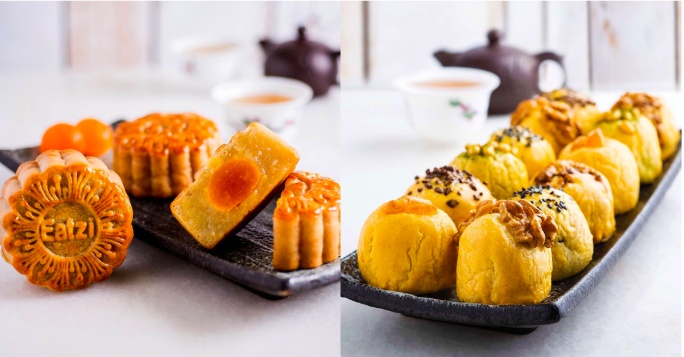 Starting from S$11 apiece, Eatzi Gourmet Bakery's mooncakes are some of the most affordable ones you can get your hands on. You can choose from three baked mooncake flavours which are Macadamia Nuts Mooncake, Single Yolk Mooncake and Double Yolk Mooncake. 
Other than the traditional baked mooncakes, Eatzi Gourmet Bakery offers a mooncake you can't find anywhere else – Shanghai Mooncakes! These unique mooncakes have a crumbly, buttery crust and come in six different fusion fillings; Matcha Vanilla, Gula Melaka, Black Sesame, Honey Ginger, Chocolate Oreo and Salted Egg with White Lotus Paste.
Price: From S$11 per piece
Availability period: 3 August to 13 September 2019
7. Four Seasons Durians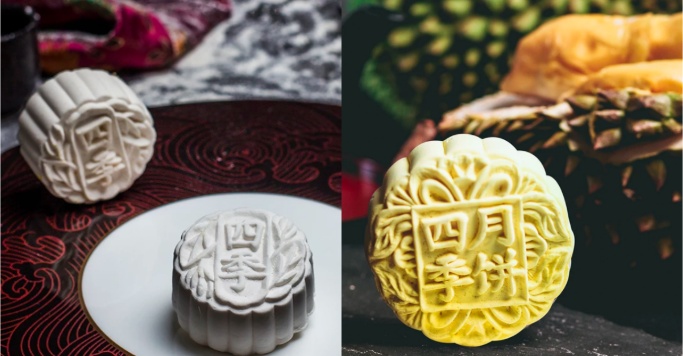 You're not a durian lover if you've never heard of Four Seasons Durians. Established in the early '70s as a humble fruit stall, Four Seasons Durians is now a major supplier of the king of fruits. In fact, they don't just supply durians as a fruit, but in various forms such as Durian Mochi, Mao Shan Wang ice cream and durian pancakes!
It's no surprise that Four Seasons Durians has added durian mooncakes to their list of products. Their Mao Shan Wang Mooncakes and D24 Mooncakes are made with 100% pure durian. Their mooncakes also come in mini sizes so that everyone can try both flavours. 
Price: From S$69 per box of 4 pieces
Availability period: 13 August to 13 September 2019
8. Polar Puffs & Cakes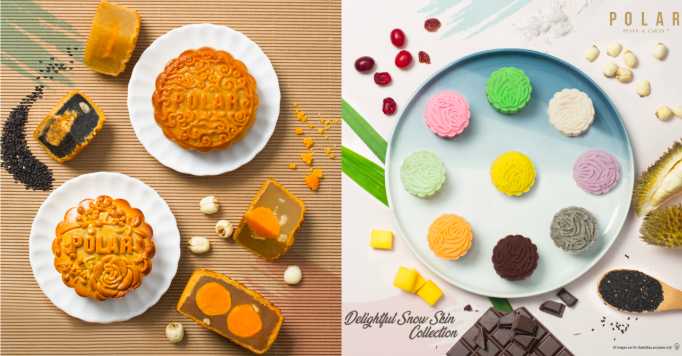 Polar Puffs & Cakes is another popular spot to get halal-certified mooncakes. Their range of handcrafted baked mooncakes features well-loved traditional flavours such as White Lotus, Roasted Golden Black Sesame and Golden Custard. Polar also offers sugar-reduced options for those looking for a healthier mooncake option.
While their baked mooncakes retain tradition, their Royal Snow Skin Collection features new rejuvenating flavours. Although the snow skin mooncakes only come in mini sizes, they're definitely big on flavours which include Earl Grey, Cempedak, Gula Melaka, Tangy Yuzu, Chocolate Ganache and even Salted Caramel.
Price: From S$11 per piece
Availability period: 15 August to 13 September 2019
Before heading out with your lanterns and enjoying the night sky featuring the brightest moon, fuel up with some mooncakes! Gather your loved ones and pair the mooncakes with freshly brewed tea. Now, this is what the Mid-Autumn Festival is all about.