Morocco is painted to be one of the most beautiful places in the world and an absolute must-visit destination for so many reasons. You can actually picture yourself lost in the midst of the souk, riding a camel in the middle of the desert or simply relaxing while enjoying a hot cup of Moroccan mint tea after dusk. It is one of those places that will arouse your curiosity and excite you all at the same time.
Needless to say, visiting this exquisite country is not something you should turn down as it will pose to be a trip of a lifetime. Morocco's different cities are known for different reasons. Here's a breakdown of some notable places to visit, food to try and a unique accommodation choice.
EAT:
Moroccan food is known to boast some of the freshest ingredients and be flavoured with herbs and spices. Berber, Arabic and Mediterranean cuisines play a big role in influencing Moroccan cuisine. Cumin is the most common spice in local dishes. As a Muslim traveller, food is not an issue because there is halal food available everywhere. Alcohol is not illegal but a rare commodity too.
Moroccan Vegetable Soup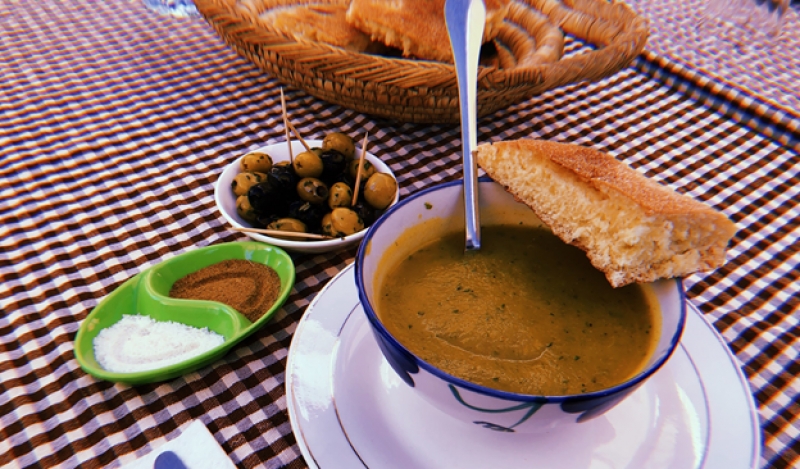 This warm soup is served as an appetizer in most meals and is purely vegetarian. A mix of chickpeas, tomatoes, cumin, turmeric and cayenne pepper, the soup is actually very flavoursome. It makes for a great starter before you venture to the heavier mains.
Shakshuka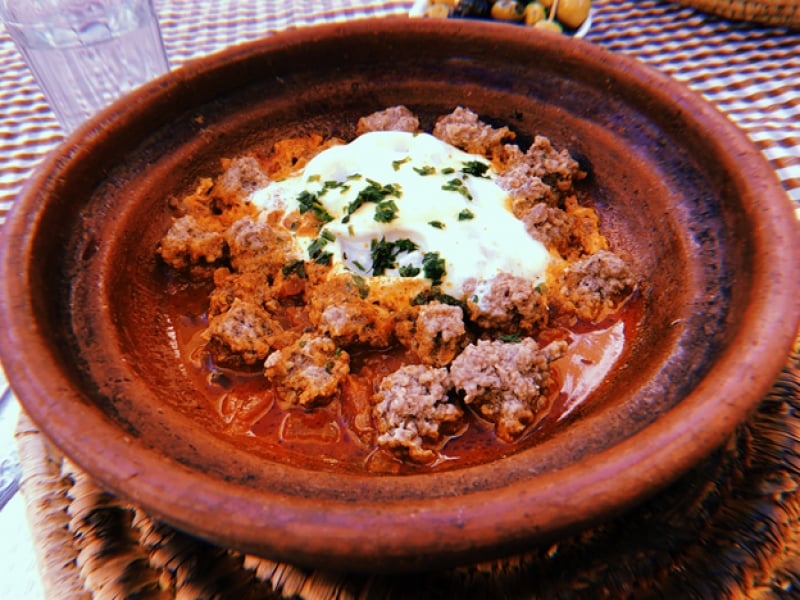 This is an absolute must-try! Moroccan Shakshuka is poached eggs, covered in a spiced tomato sauce, and green peppers with onions. Kefta meatballs are added into the mix which is fantastic and filling. It's sometimes better known as the Kefta and Egg tagine here.
Moroccan Chicken with Couscous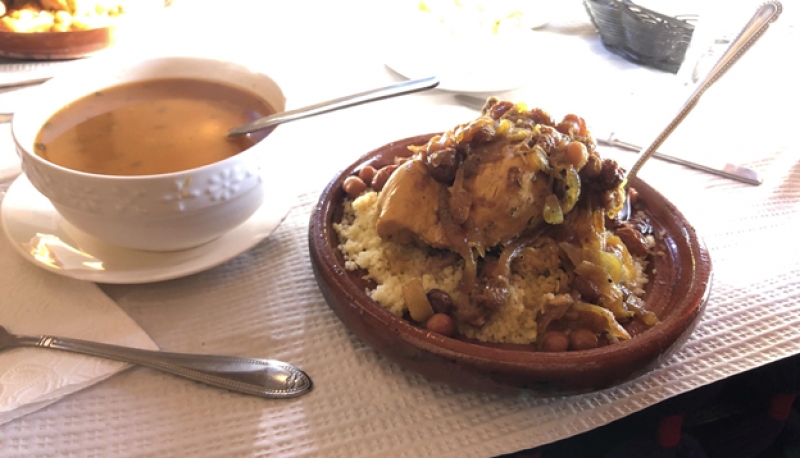 This dish is super healthy and packed with flavours. In essence, it is tasty chicken stew that uses exotic spices and well-cooked vegetables served over a bed of whole-grain couscous. Aromatic coriander, cumin and cinnamon enhance the Middle Eastern flavour and gives the chicken a very unique taste.
EXPLORE:
Morocco is rich in both culture and history. Some buildings will also leave you in awe courtesy of the beautiful architecture. The amount of work put into construction really showcase how expressive Moroccan artists can be.
Kairaouine Mosque, Fez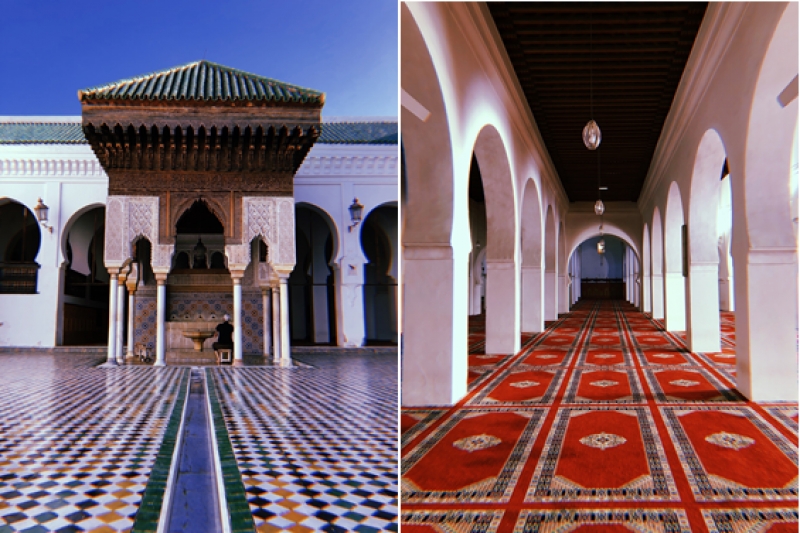 Built in 857 by Fatima Al-Fihri, the second largest mosque in Morocco was once a university and possibly the oldest one in the world. This complex is the spiritual heart of Fez and Morocco. The layout of the Kairaouine Mosque was inspired by the Mezquita of Cordoba in Spain. Similar to its famous Spanish counterpart, the mosque is filled with row upon row of round arches. Spend time to wander around the mosque's premise and marvel at the intricate details as you go along.
The Blue Pearl, Chefchaouen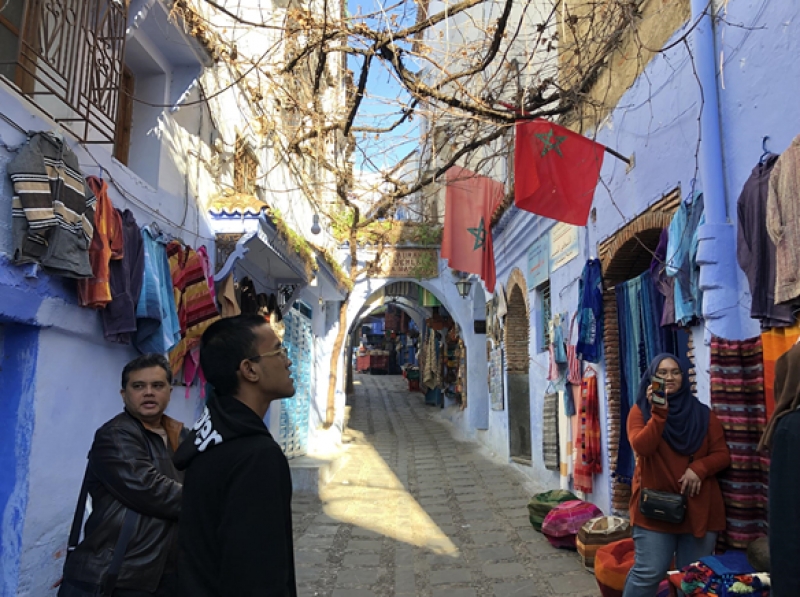 Chefchaouen was founded in 1471 in the Rif mountains by Jews and Moors fleeing Spain. It is known for its iconic buildings in various mesmerising hues of blue. A visit to this unique town offers a calming respite from the hustle and bustle of other cities such as Marrakesh. The town is also home to countless photo opportunities and hidden gems.
Wander in peace as you stroll along the medina and shop for Berber rugs, woven goods, spices, fruits and traditional djellabas (long loose-fitting outer robe). No doubt, this city will blue you away.
The Hassan II Mosque, Casablanca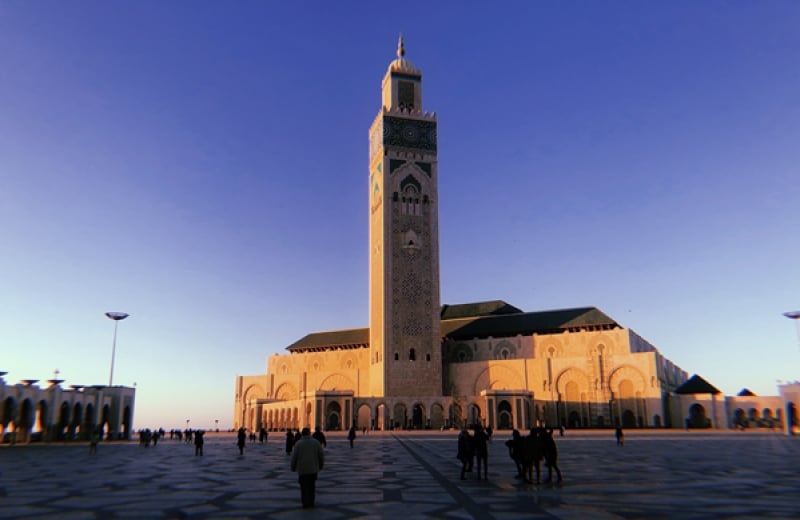 The Hassan II Mosque in Casablanca is the largest mosque in Africa and 5th largest mosque in the world! Built on a promontory over the Atlantic Ocean, this mosque has the most beautiful Moorish architecture and stunning views to boot. Up to 10,000 craftsmen constructed this mosque as a tribute to the former King of Morocco.
STAY:
The Sahara Desert

Indeed, a visit to this vast natural wonder is a once in a lifetime experience. Be sure to catch the sunset and sunrise when you're there! The accommodation also surpassed my expectations, albeit the absence of WiFi and mobile reception in the area. It's not everyday you can sleep in a tent on the vast desert grounds under a blanket of stars at night, right?
Tips to Remember:
The main language of the country is Arabic and French. It might be a little tricky to get around with English. Fun Fact: There's no trace of English even in their McDonald's menu.

The locals are generally friendly and very easy to talk to. However, be mindful of street sellers who sell poor quality goods that are mostly fake. They can be very persistent and do not give up so easily. Some even demand an incentive for having their photos and videos taken.

Be wary of money scammers who usually work in groups and pose as tourist traps. It is very hard to spot them because they look similar to official tourist guides. They will claim that they can take you around the whole city for a couple of dirhams. In reality, it is way cheaper to go on your own.

Harassment can be quite common amongst tourist, especially for ladies. Be sure to stay vigilant and try not to wander around without company. In certain cities, it is not advisable to wander off late at night due to safety reasons.
To sum off the whole trip, there were definitely stark differences between what I expected and the reality. Morocco is still a developing country but brims with beautiful landscapes and architecture. Most areas are still in poverty and people are just trying to get by. It is uncertain what the future holds for this country, but Morocco is still worthy of an eye-opening visit.