Often affiliated with delicious Cendol and quirky wall murals, one would think that there is more to that in Penang. But what is better than Cendol and wall murals? MORE Cendol and even MORE gorgeous wall murals! I packed my bags for a 48-hour stress-free getaway to this sunny island, ready to fall in love with its quirky little personality.
EAT
:
Penang Road Cendol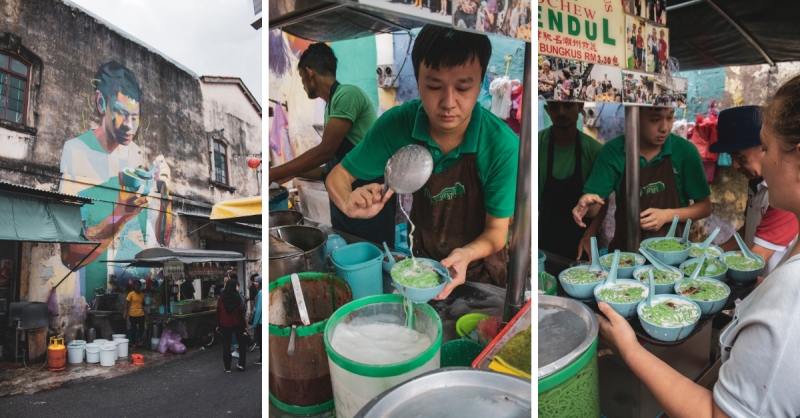 Cendol Cendol Cendol! What better way to start your Penang adventure than to taste its world-renowned winning dish. Served with coconut milk and palm sugar syrup topped with green rice flour jelly and sweetened red beans, the Cendol is sure to whip up your appetite. Locals have vouched that this is THE best Cendol in Penang or even the world!
Penang Road Famous Teochew Cendol
27, Lebuh Keng Kwee, Penang Road
George Town 10100
10.30am to 7pm
Hameediyah Restaurant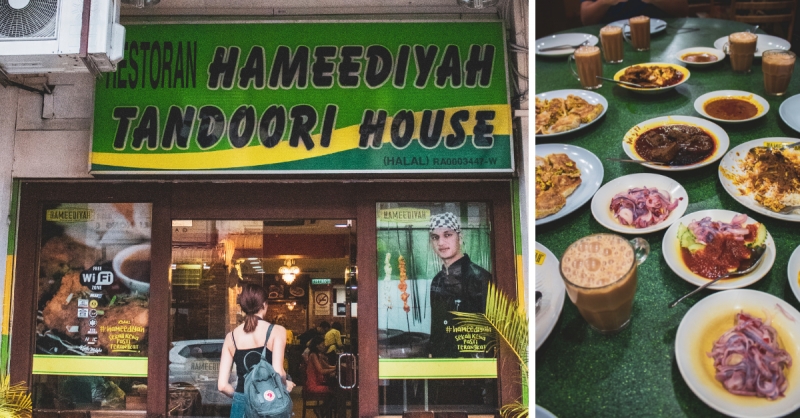 What is Penang without its famous Nasi Kandar! Originally popularised by Indian traders in Penang, Nasi Kandar is rice paired with different variants of curry and side dishes. Its doors first opened in 1907 and have made its way into the hearts of the locals. Filled with a huge variety of side dishes, you'll be spoilt for choice but the must-try dish is no doubt their Murtabak.
Hameediyah Restaurant
164, Lebuh Campbell
George Town 10200
10am to 10.30 pm
Tea Break!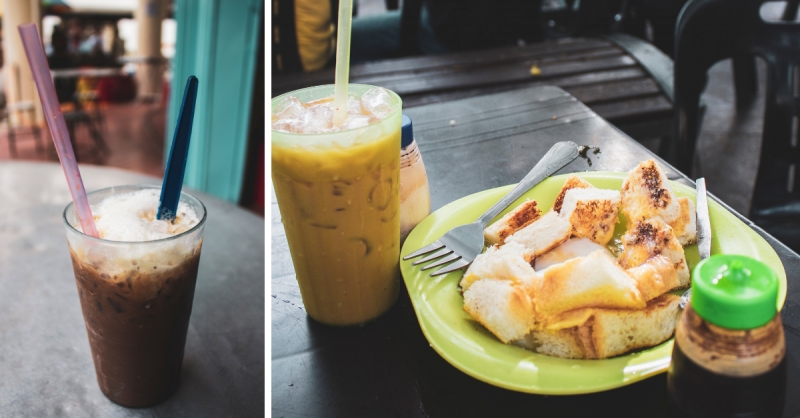 Feeling peckish after all that walking around? It's time for a quick pick-me-up! A favourite snack amongst the locals is Roti Bakar. A simple recipe of toasted bread smothered in butter and condensed milk (paired with half-boiled eggs), will surely put a smile on your face. Though the dish can be found all around Penang, only the locals know the best – Roti Bakar Hutton Lane. This is where locals would hang out for breakfast and over the weekends.
Are you a coffee lover? Star Coffee is a must-try when in Penang. Operating from a push-cart on a street corner, locals claim that this is the best coffee on the island. With thick delicious froth and smooth creamy coffee, it's no wonder there is always a long queue. A cup of Star Coffee will give you that midday boost you'll need for more exploring!
Tip: Do come early for the Roti Bakar as it's sold out in the afternoon.
Star Coffee
146, Lebuh Noordin
George Town 10300
8am to 5.30pm
Roti Bakar Hutton Lane
300, Jalan Phee Choon
George Town 10050
5.30am to 2pm
EXPLORE
:
The TOP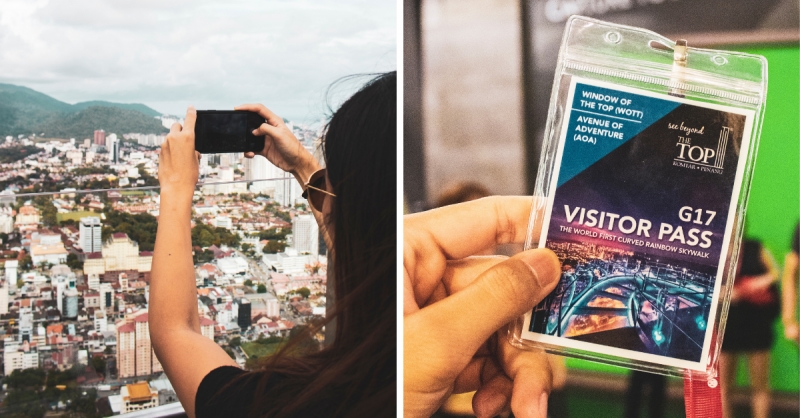 With all that good food in our stomach, it's time to do a little sightseeing. What better way to take in Penang than to experience it from an eagle's view. Or rather, on the top of the highest building in Penang dubbed; The TOP. Take the lift to the 68th floor and be greeted by a spectacular view of Penang which you cannot get anywhere else. This is the PERFECT location to snap a photo for the 'gram, #wishyouwerehere.
Looking for that adrenaline boost? Take a walk on the glass bridge if you dare! With 67 stories right underneath your feet, looking down might give you a case of vertigo. This is truly a remarkable place to be in Penang!
The TOP Penang
1, Jalan Penang
George Town 10000
11am to 8pm
Price: Adult RM64
Child/Senior RM45
Armenian Street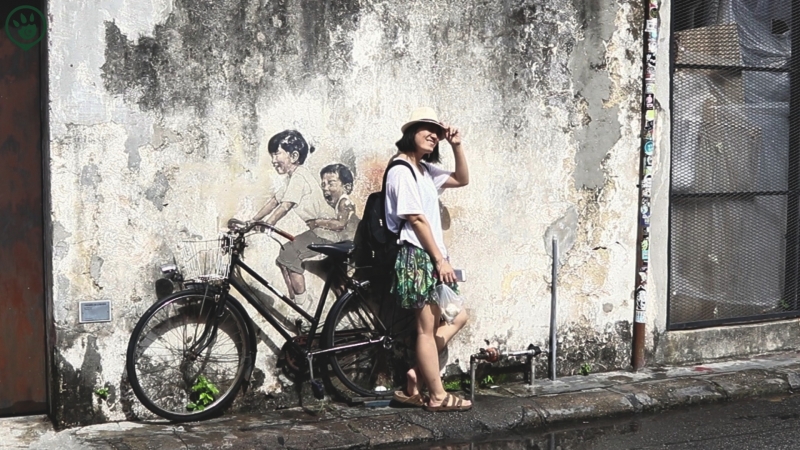 Walking through the heritage alleys of Armenian street brings forth a warm fuzzy feeling of romance. Quirky cafes litter the area with cute murals packed in between. Take a picture with the famous "Kids on Bicycle" mural as you wander around the streets, filling your tummy with mouth-watering desserts.
Lebuh Armenian
George Town 10450
Fort Cornwallis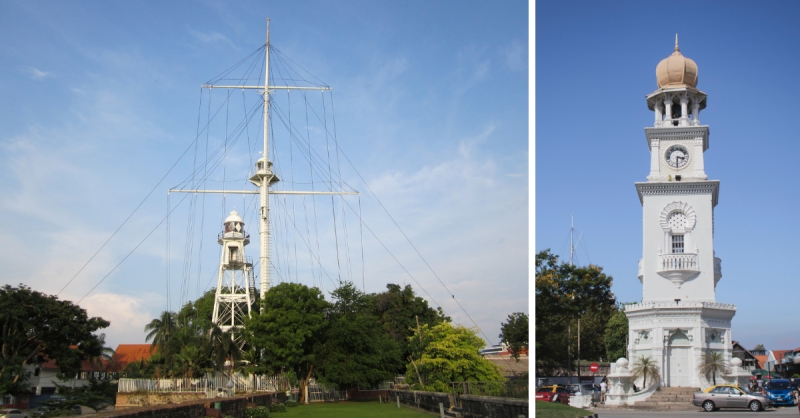 Penang was once occupied by the British in 1786. Fort Cornwallis housed the East India Company and British Army Troops. Though being a fort and the first line of defence against a sea invasion, it was never engaged in a battle. Walking on the grounds of the fort throws you back into time when Penang was still a budding town. Learn Penang's colonial history via the exhibitions scattered around the fort.
After the tour, head southeast towards the Queen Victoria Memorial Clock Tower. It is one of the most iconic landmarks found in Penang. Commissioned in 1897, the clock tower has stood against time and still looks breathtaking.
Fort Cornwallis
Jalan Tun Syed Sheh Barakbah
George Town 10200
STAY
:
Areca Hotel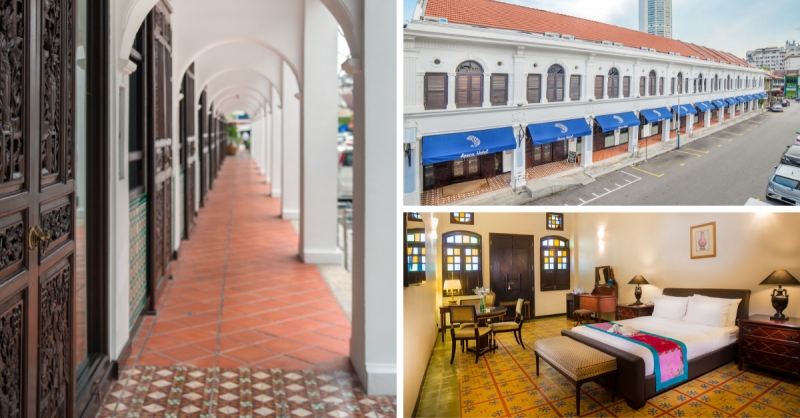 Looking to immerse yourself in Penang's heritage vibe? Areca Hotel is a Peranakan-esque hotel situated in the heart of the UNESCO World Heritage buffer zone. With over 48 rooms and authentic furniture filling its decor, Areca throws guests right into Penang's rich history. Once a row of shophouses, this hotel has been refurbished into a beautiful property with excellent guest services together with good food!
Areca Hotel
5, Jalan Khoo Sian Ewe
George Town 10050
Penang has turned me into a foodie, with great delicious food stalls just a stone's throw away from one another. I walk the streets of this gorgeous place, looking for the next dish for me to sink my teeth in.

I would like to thank AirAsia for inviting me on this wonderful trip to Penang. It was truly a memorable experience to be able to discover its local rich culture and taste its tantalising dishes. Recharged and rejuvenated from my Penang trip, I am ready to get back to reality. But Penang has left an imprint in my heart, I'll be sure to come back for more.
---
#AirAsiaHolidayQuickies
#mypenang
#gorgeouspenang