Jeju Island is one of many destinations you'll never forget. From the vivid natural scenery to the unique culture, this island in South Korea is a popular destination among Muslim travellers. During the spring, visitors worldwide flock to the Island of Gods to see cherry blossoms and enjoy the perfect weather. Thus, if you're planning to travel to Jeju-do soon, here's a Muslim-friendly 3D2N Jeju spring itinerary for some inspo!
What is Jeju Island like in the spring?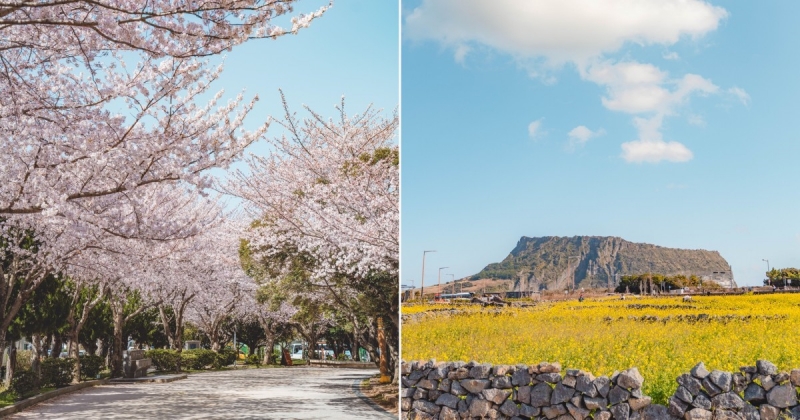 During the spring season, the weather is mild and pleasant. The temperatures make it ideal for outdoor activities such as hiking, nature sightseeing, and cycling. However, do take note it can get quite chilly at night, so if you plan to go out then, pack an extra jacket just in case!
A Jeju spring itinerary you won't forget 

Day 1
Morning: Breakfast at Piece of the Day → Dodu-dong Rainbow Coastal Road → Jeju cherry blossom spots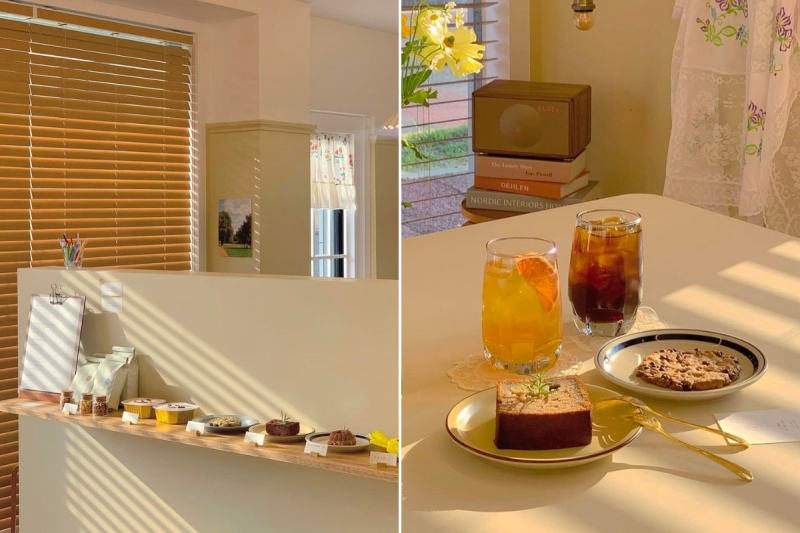 On the first day of your Jeju spring itinerary, let's go to Piece of the Day for breakfast. This vegan bakery is famous for their rice-based cakes, homemade bread, and a wide variety of teas and drinks. Kick off your morning with a muffin or a slice of carrot cake and relax in the comforting ambience of this minimalist cafe.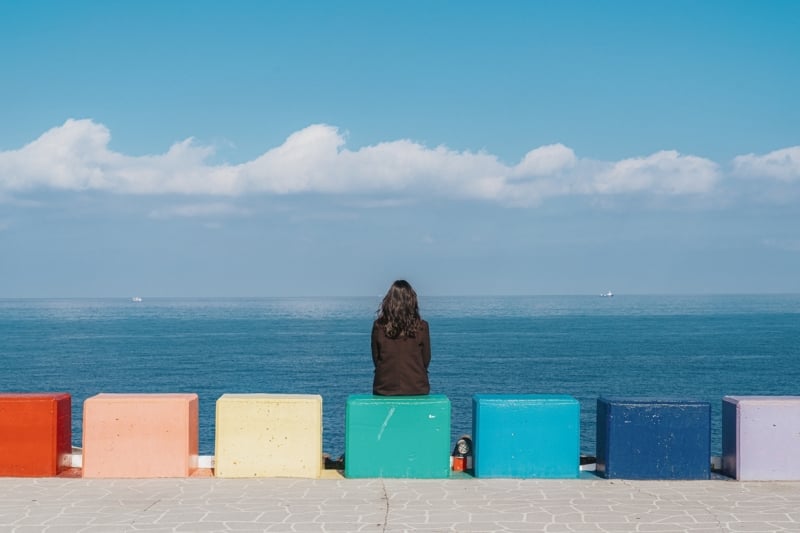 After your breakfast, take a stroll along Dodu-dong Rainbow Coastal Road. As one of the top Instagrammable spots on the island, you'll enjoy the rainbow stone walls and the surrounding views of the clear blue skies and sea.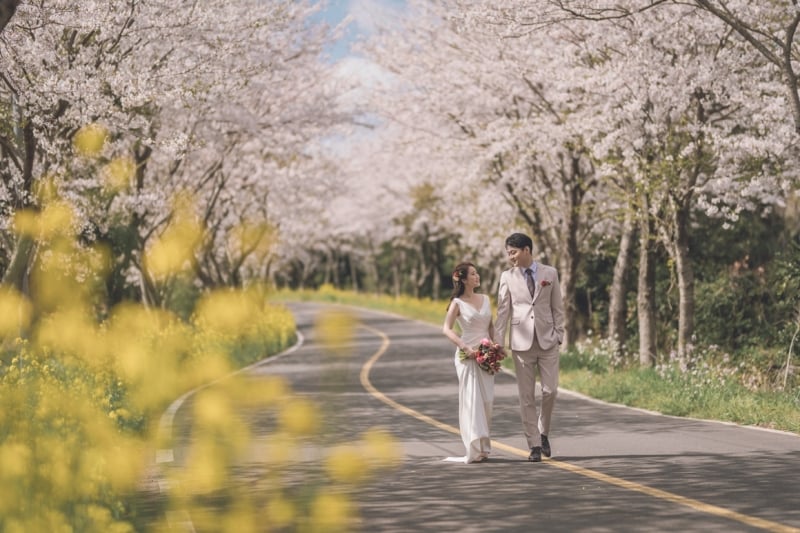 A spring itinerary in Jeju is not complete without visiting some charming cherry blossom spots. Admire lovely hues of pink at the Noksan-ro and Jeonnong-ro Cherry Blossom Street, both lovely destinations for cherry blossom viewing. 
Noksan-ro, also known as Jeongseok Airport Road, is listed as one of the 100 most beautiful roads in Korea. During springtime, this 4.5km stretch of road offers a picturesque yellow and pink view with its canola flowers and cherry blossom trees. Seize this opportunity to get your hands on the Jeju special merchandise of cherry blossom and canola themes, such as candles, tangerines, hats, and many more.
Aside from the famous cherry blossom trees, canola flowers viewing is another activity not to be missed during the spring season. Head to Jeju's Sanbangsan and Gasiri Wind Power Plant, both are some of the most stunning places in the island to enjoy a spectacular view of vibrant canola fields.
Afternoon: Lunch at Vegan Table Baram → Let's Run Park / Jeonnong-ro → 9.81 Park
For lunch, let's check out a popular vegan restaurant. Vegan Table Baram is famous for their brightly coloured meals, including vegan bibimbap, pasta, and salads. However, if you're feeling a little fancy, treat yourself to vegan sandwiches and afternoon tea at And Yu Café.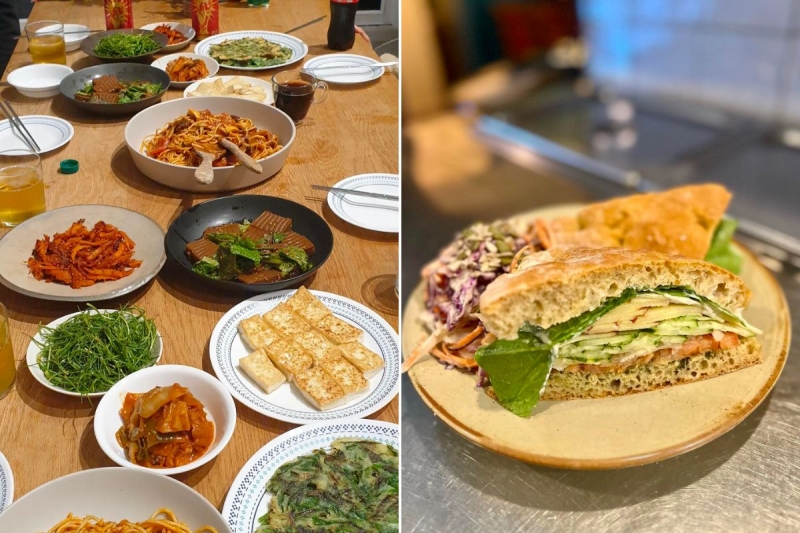 After lunch, we're going to one of the top Jeju attractions you can't miss out on. Unlike many horse races from around the world, Jeju-do is famous for using local ponies (Jejuma) for their races. If you're interested to catch a horse race, Let's Run Park offers tours of the ranch and the race courses, and a chance to go horseback riding.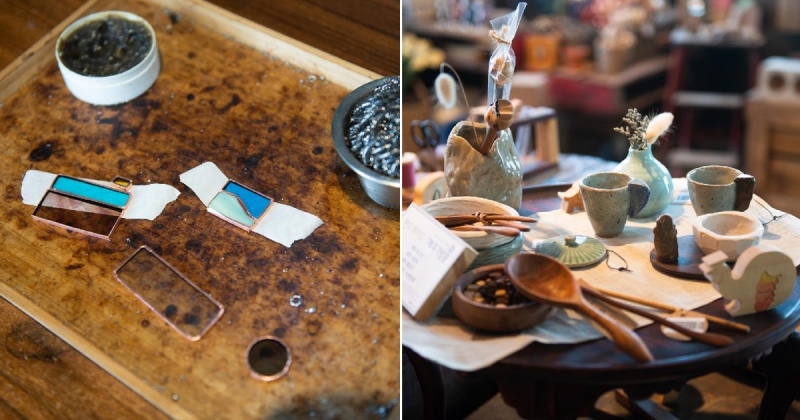 Alternatively, if you're not interested in catching a horse race show, why not try to make some gifts or souvenirs on your own? Even if you're not so into arts and crafts, it always feels great to be able to create something with your own hands. Head to Floresta Workshop to learn about wood carving, be it chopstick, spoons, or small wooden items. It takes around two hours to complete and yes, you can bring your wooden craft home. 
Aside from that, check out Dansooon for a simple glass making lesson. Simply draw the shape or image you want to make into glass and send it to the instructors, and they will prepare the appropriate colour of glass and teach you how to wrap it. Once you are done, hold your masterpiece the sunlight for a shiny surprise!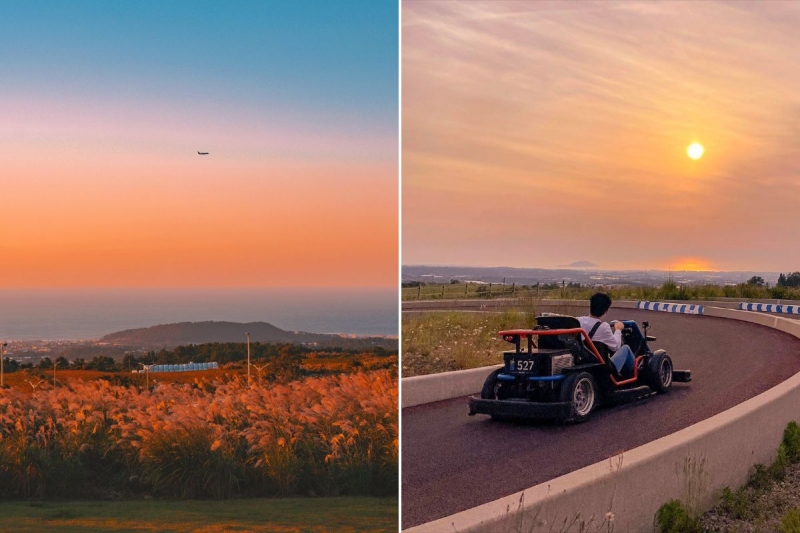 Up next, we've got a fun activity for you! At sunset, try gravity racing at 9.81 Park. Unlike normal go-karts, these motorless vehicles are powered by gravity itself so you don't have to do anything. Instead, just sit back and enjoy the passing scenery as you speed down the race tracks. After your race, you can even check out your racing results and watch the footage from your gravity kart!
Evening: Falling in love with Jeju-do's vibrant art scene → Dinner at Bagdad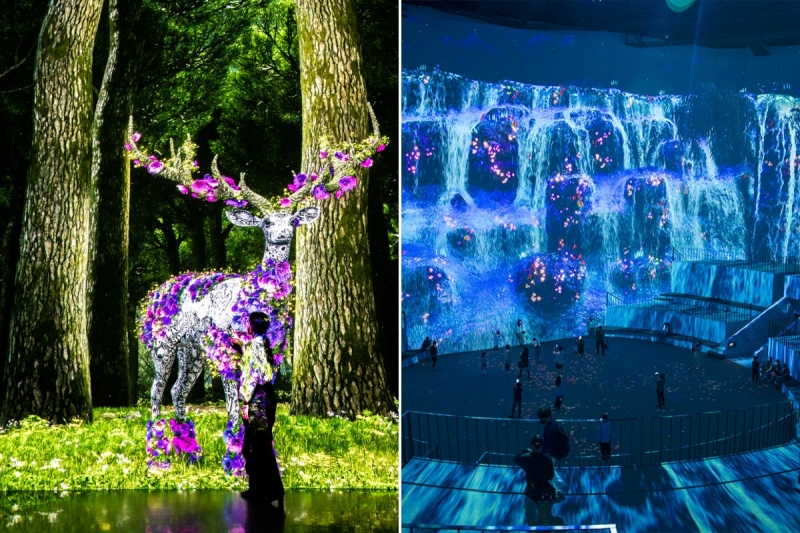 After a thrilling gravity-kart race, it's time to check out Jeju-do's top art installations and exhibitions. The Jeju Arte Museum is South Korea's largest immersive media art exhibition with beautiful light and sound visuals. From a neon-lit jungle to a flowering garden, you'll be transported to a hypnotic world of eternal nature. 
On the other hand, Nohyung Supermarket is another media exhibition depicting the world through a different lens. It's one of the best Instagrammable spots on the island, especially with the brightly-lit exhibition halls. When you go up the black and white stairs, you're dropped into a whole galaxy of neon lights and moving imagery reminiscent of fantasy worlds.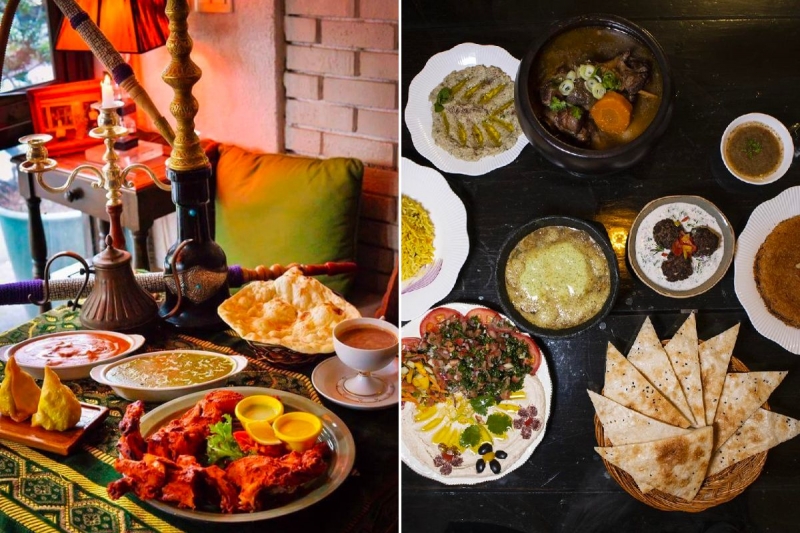 When dinnertime rolls around, we're going all out with an Indian feast. Bagdad is one of the top Muslim-friendly restaurants for Indian food. Their menu boasts many familiar Indian dishes, such as curry, biryani, tandoori chicken, naans, and more! However, if you'd like something else, Wardah Restaurant is famous for Middle Eastern staples such as kebabs, falafel, and shawarmas. 
Day 2
Morning: Exploring Jeju Island's best nature spots→ Breakfast at Café 901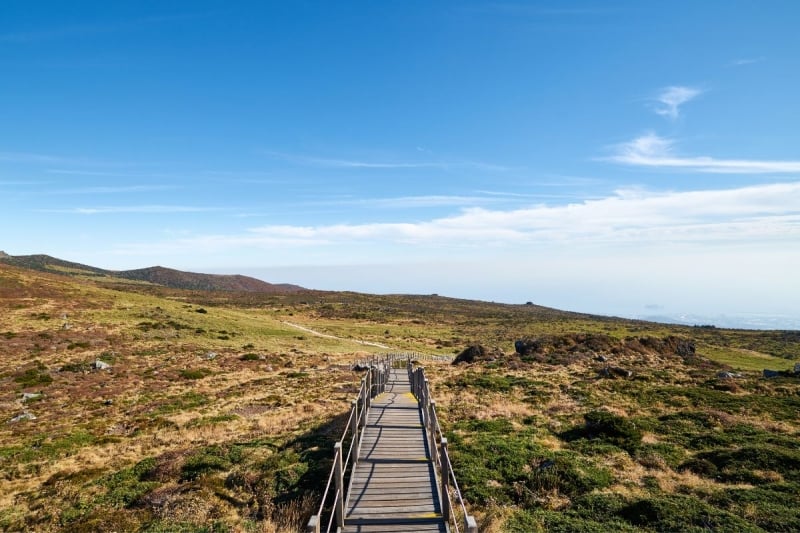 On the second day of your Jeju spring itinerary, we're taking you to the best nature spots on the island. For our first stop, we're taking you to Hallasan Mountain. The peak of this shield volcano is South Korea's highest point, and there are a couple of hiking trails that will take you to the top: Seongpanak and Gwaneumsa. You'll have to wake up super early in the morning for this though! 
However, if you're not a fan of hiking, that's totally okay! The Bulgeun Oreum National Recreation Forest is located near Namjo-ro, which is the border between Soegwipo-si and Jeju-si. Wake up earlier to witness the peaceful nature trails, views of the untouched landscapes, and most importantly, feel the fresh air.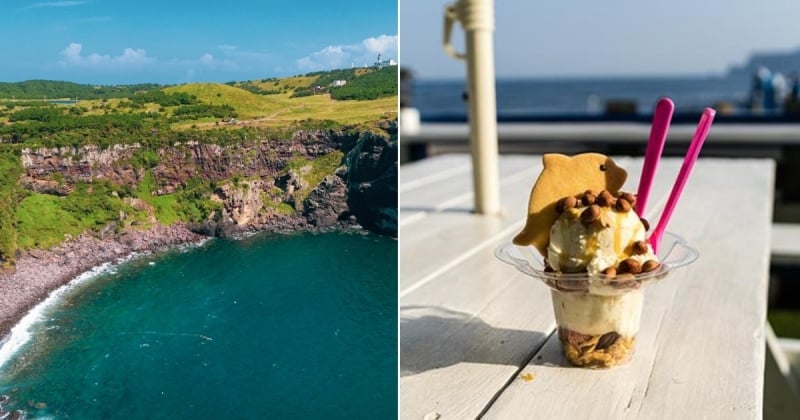 Therapeutic and aesthetically pleasing, check out Udo Island, which has gotten its name because it resembles a lying cow. Walk along the Geommeolle black sand beach while enjoying the sea breeze. If you're craving for something sweet to nibble, grab a cone of peanut ice cream from one of the cafes, as the island is known for its peanut plantation. 
For those who want to explore the island fully, rent an eco-friendly electric car or a bicycle to go around the island!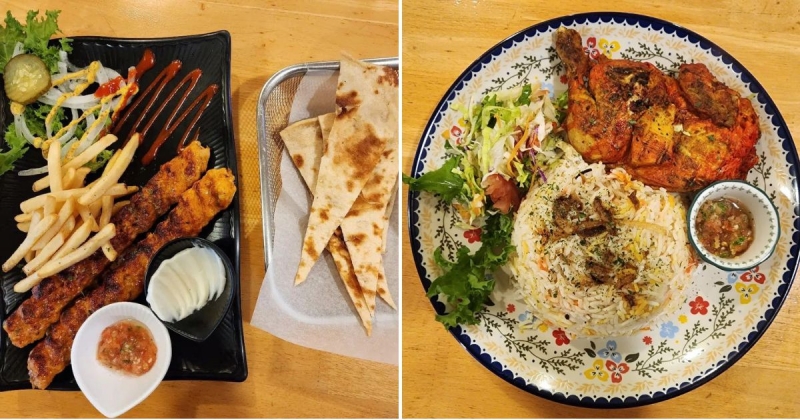 Let's fill up your tummy at Asalam Restaurant, a halal Yemenite restaurant in Jeju. The restaurant provides both vegan and meat options, suitable for all types of travellers. Grab a delicious plate of chicken Mandi rice, or some beef kebabs to satisfy your appetite! Before leaving, pack a to-go bag of falafels, the perfect after-meal dessert. 
Afternoon: Jeongbang Falls → Oeldogae  → Jungmun Daepo Jusangjeolli Cliffs  → Lunch at Chunsimine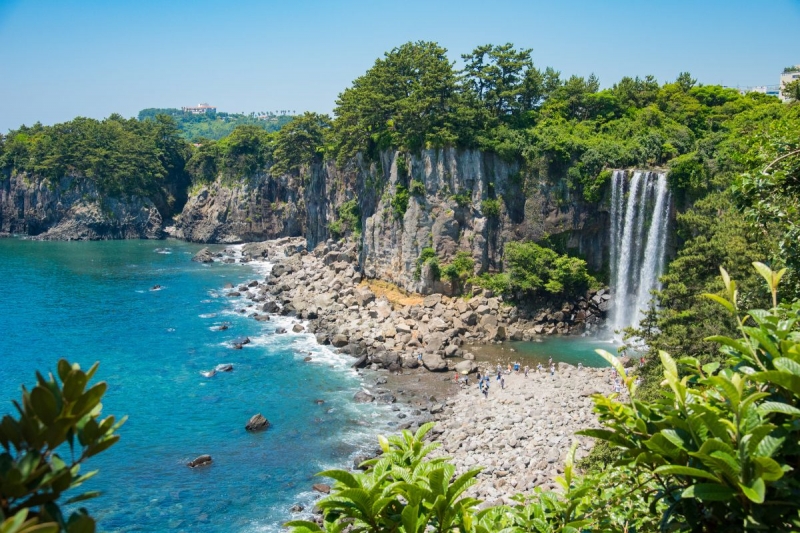 In the afternoon, we'll be heading south for more natural attractions along the coastlines. Jeongbang Falls is one of three major waterfalls on the island — in fact, it's the only one of its kind in South Korea where the water falls directly into the sea. The view of the 23-metre high downpour against the black cliffs is a thrilling sight, especially for first-timers in Soegwipo-si. 
After touring the waterfall, let's head to Oedolgae. The rock stack near the shores of Sammaebong Peak is 20 metres in height, and approximately 1.5 million years old. Besides jaw-dropping panoramic views, the nearby cliffs are perfect for trekking, which is one of the top things to do in Jeju among outdoor enthusiasts.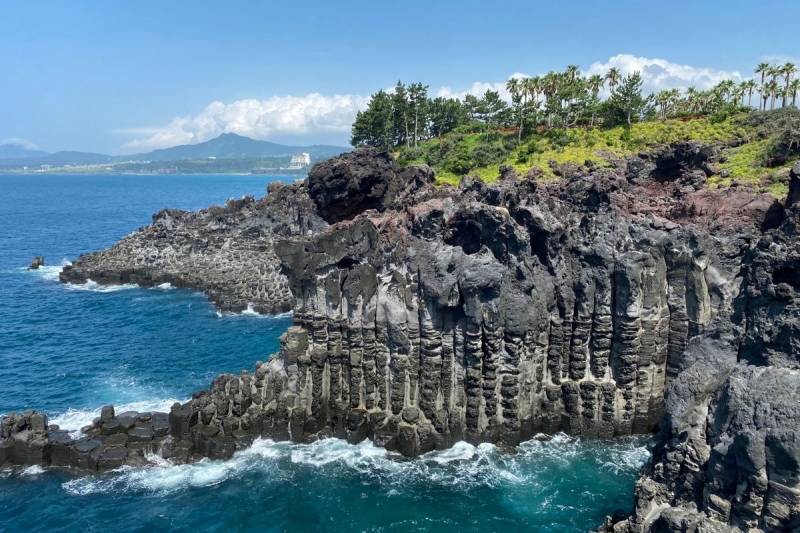 For the last stop of our afternoon nature tour, we've got Jusangjeolli Cliff. The unique rock pillars were formed when Hallasan Mountain erupted into Jungmun Sea, thus forming one of the most cherished Jeju attractions. Many tourists love to come here to walk along the hexagonal rocks, inhaling the scent of the sea as they watch the waves crash against the shores.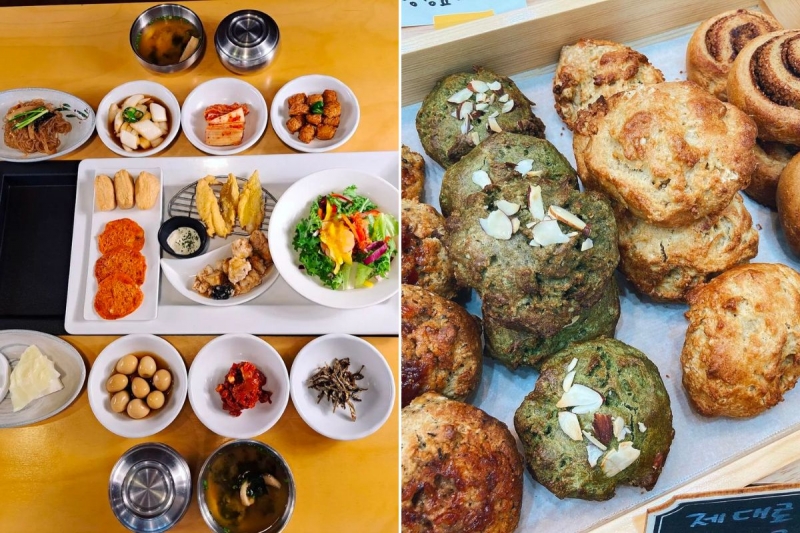 As for lunch, we're going to try hairtail fish. It's one of the most popular dishes in Jeju-do, and you can eat it at Chunsimine. However, if you're not a fan of seafood, Loving Hut Jeju offers meatless versions of famous Korean dishes like japchae. If there's room for dessert, head on to Jeju Geudaero for vegan scones and cookies. 
Evening: O'Sulloc Tea Museum → Dinner at NARNIA Restaurant & Cafe → Dongmun Traditional Market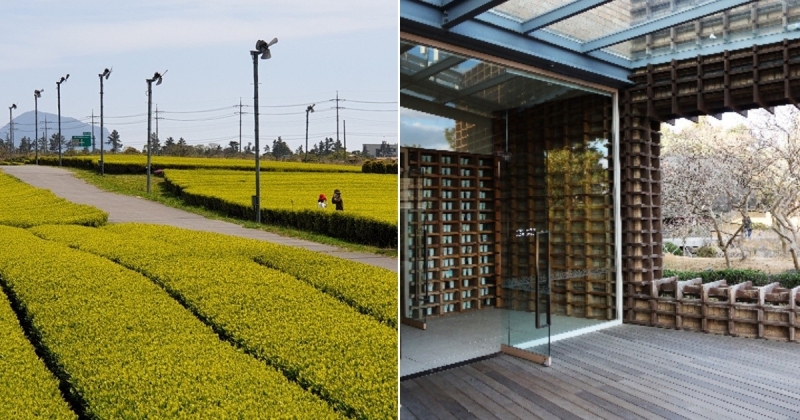 Make a stop at the O'Sulloc Tea Museum located at the entrance of Seogwang Tea Garden on the island. Feast your eyes on the massive green and yellow tea fields and take as many gorgeous pictures as you want! Aside from being a great photo-taking spot, the museum is also the perfect place to learn about Sulloc Cha, and the traditional Korean tea culture.
If you are a tea lover, reward yourself with a cup of tea ice cream or delicious tea cake here before heading to the next stop!
Ever heard about Innisfree? Located beside the tea museum is Innisfree House, a cosmetic shop well known for its natural beauty embodiment. Here, you can make your own soup or masks using natural ingredients from Jeju such as tangerine, tea, and volcanic clay. There's also an Organic Green Cafe serving organic food and beverages using fresh local ingredients, how cool!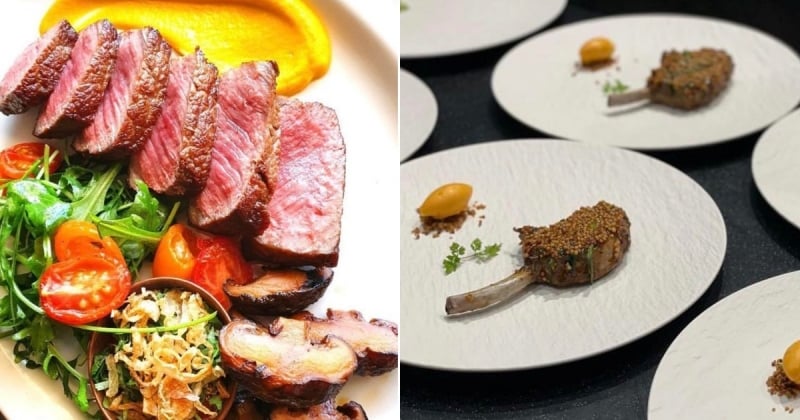 Next we'll be grabbing dinner at NARNIA Cafe & Restaurant. Dining at this restaurant is a whole other experience because there are course and tasting menus. Expect handcrafted desserts, fresh salads, and unparalleled views of the city skyline as you enjoy your meal. 
HalalZilla Tip — When you book a reservation, inform the chef that the menu has to be halal.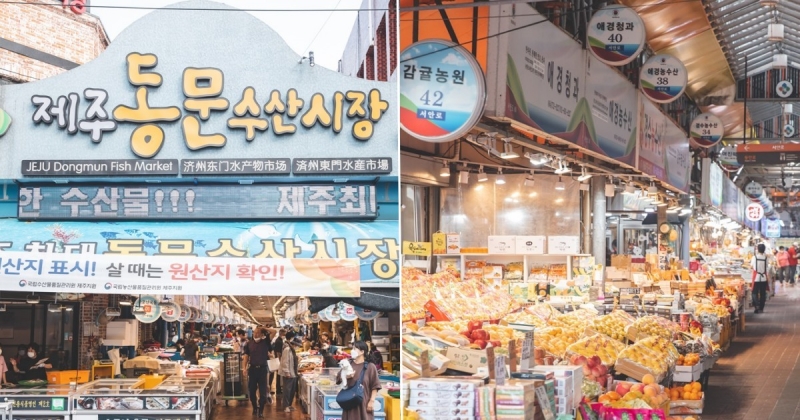 After a fancy dinner at NARNIA, let's check out Dongmun Traditional Market. Even at night, the market stalls are full of life and there are so many things to see and buy! You'll find plenty of mouthwatering street food, unique souvenirs, and even clothes, all set amidst a vibrant night market atmosphere. It's a great place if you'd like to do some shopping before your last day in Jeju. 
Day 3
Morning: Breakfast at Kim Myung-ja Gulgukbap  → Seongsan Ilchubong Peak → Seopjikoji
On your last morning of our Jeju spring itinerary, there are a few more stops we have to cover. But before we get into that, we need breakfast. If you love oysters, Kim Myung-ja Gulgukbap is the perfect place to be! The restaurant serves everything with oysters, from hearty soups to savoury pancakes. But if you'd like something else, savour seafood noodle soup or porridge at Bomaljuk Kalguksu.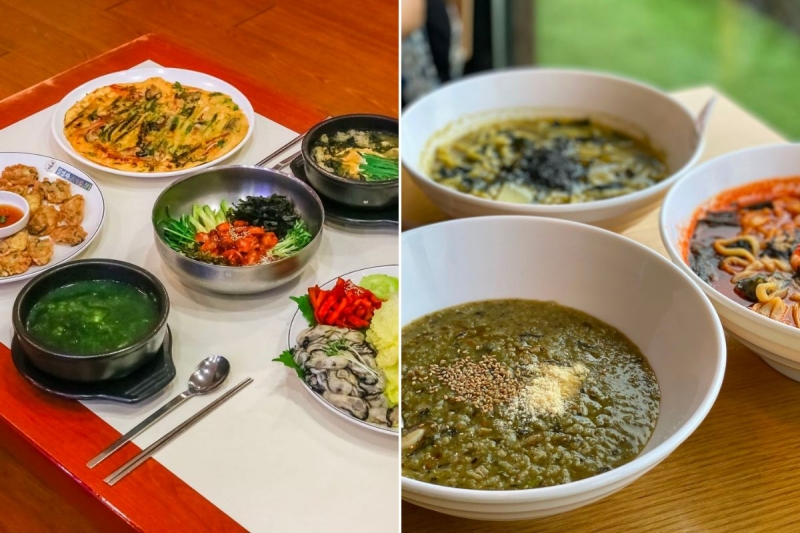 Seongsan Ilchubong Peak is one of the most beautiful places in Jeju. Also known as Sunrise Peak, this volcanic tuff surrounded by a lush green valley consists of a forested crater. A hike typically takes about 40 minutes to go up and down, and it's so worth it for the views.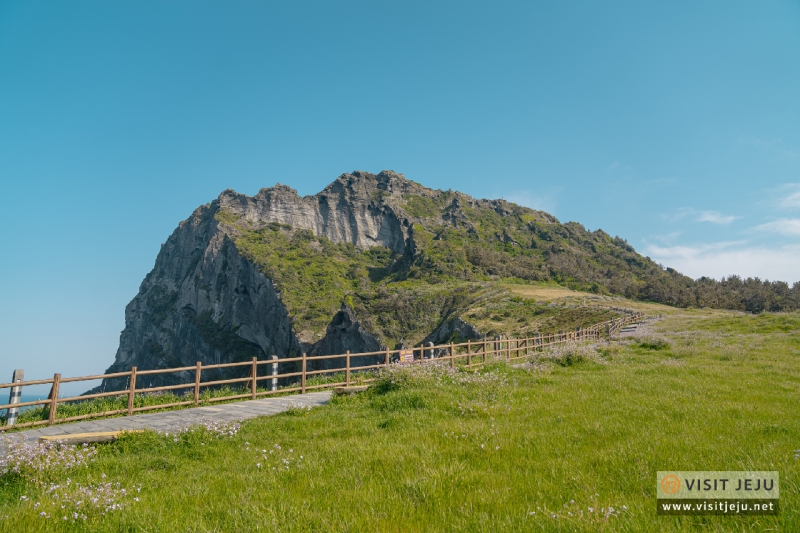 If you've got some time to spare before your next stop, stay for a Haenyeo Women Diver Show. The show typically starts around 1:30pm and ends at 3pm. Haenyo divers are an important part of Jeju's cultural heritage, and at Seongsan, you'll get to see them catch seafood right before your eyes.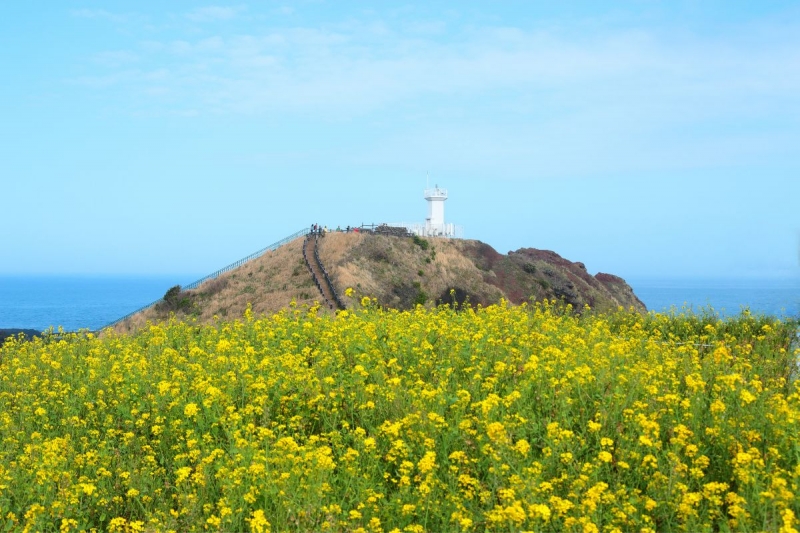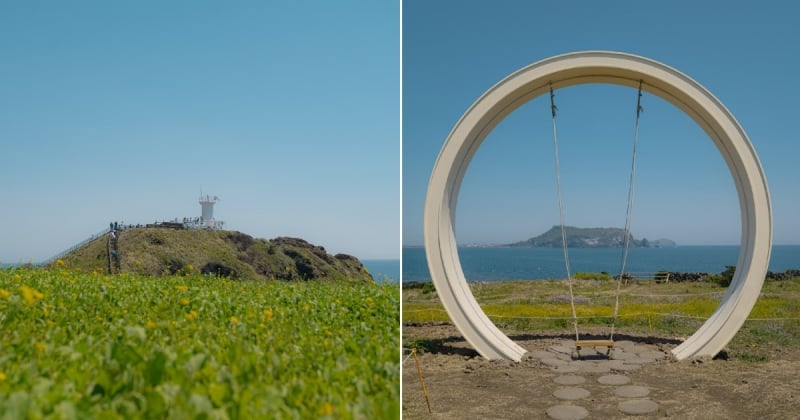 After your hike back down, let's go to Seopjikoji. This serene beachfront area is located south of Sunrise Peak, and the scenery is just as amazing. You'll fall in love with how the canola flowers dot the hill, and the incredible sights of Jejuma grazing the land. Besides Seongsan Ilchubong Peak rising up in the background, you'll also see Seonbawi Rock in the middle of the ocean, as well as Sinyang Beach nearby. 
Afternoon: Lunch at CocoMAMA Seongsan → Aqua Planet Jeju → Snoopy Garden → Night Photoshoot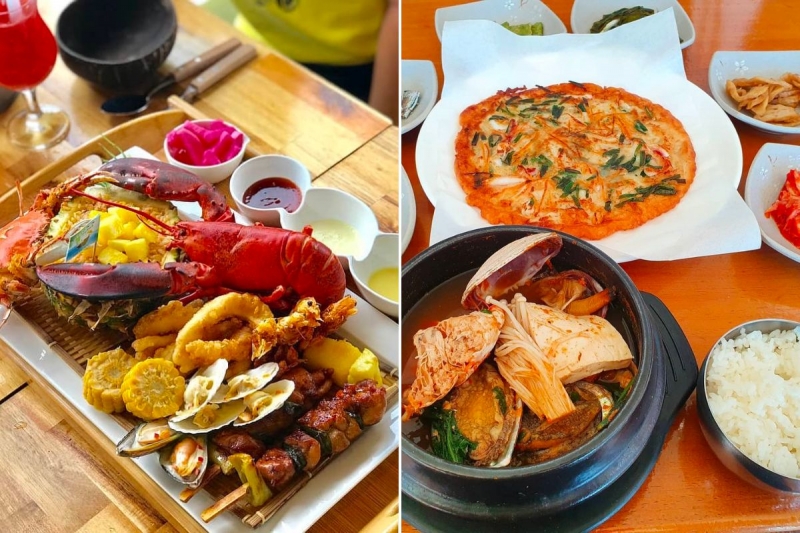 For lunch, we're sampling the best seafood in town! CocoMAMA Seongsan is a popular seafront restaurant with island vibes. Their jumbo sets come with crab, shrimp, and assorted shellfish like clams. Since the portions are big, simply dig in and have a party. But if you're in the mood for hot soups and stews, try Jeju Ttukbaegi. It's near Sunrise Peak, which is perfect if can't wait to eat!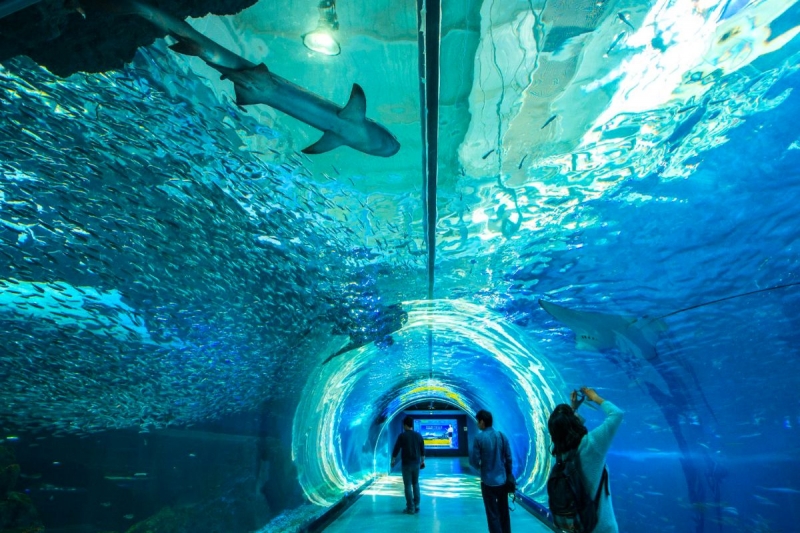 Up next on our Jeju spring itinerary, discover a world of marine life at Aqua Planet Jeju. The aquarium is home to 500 different plant species, and 48,000 animals such as whale sharks, sea lions, and walruses. If you've always wanted to see what lies underneath the surface of Jeju's iridescent waters, this is the place to be! Specifically, in their massive aquatic performance center, lies a supersized tank that recreates the island's coastal ecosystems.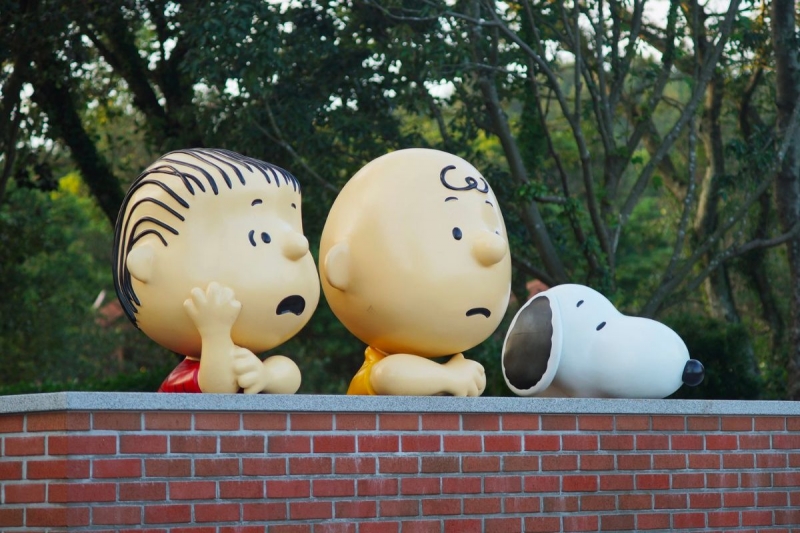 On your last stop of your trip, feel the nostalgia at Snoopy Garden. It's one of the more recent Jeju attractions, and an adorable one at that! In Garden House, step into the shoes of Snoopy through five themed halls: Relationship, Daily Life, Relaxation, Happiness, and Dream. 
At the end of the tour, head outside to the Outdoor Garden and relive your favourite Peanuts moments in 11 different zones. Lose yourself in Linus' blanket forest or snap a picture of Charlie Brown in the middle of his baseball game. It's certainly a place you want to bring your little ones to!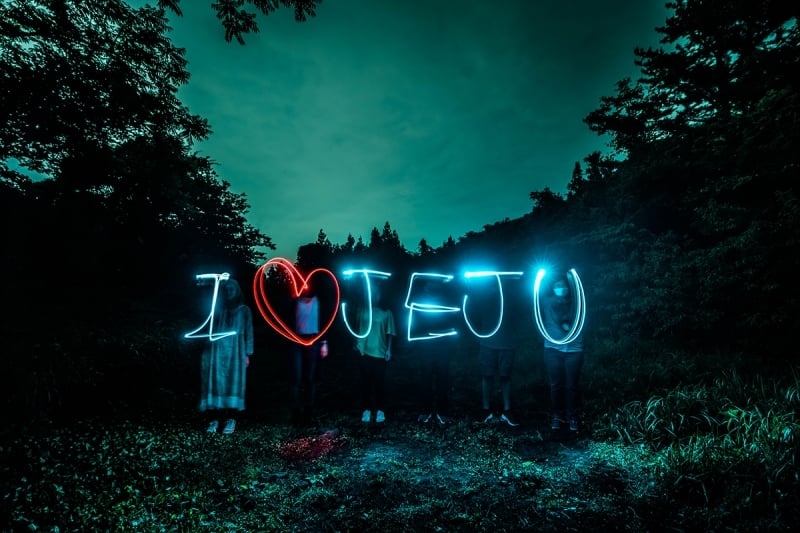 End your night with a professional night photoshoot session in the Jeju forest. The journey into the forest may be a little thrilling for the faint-hearted, but once you have arrived at the entrance, you will be amazed at the night view! Take your time to adore Jeju's starry night sky, or let the photographer capture this moment for you to remember always!
Places to pray on Jeju Island
Jeju Island has 13 prayer locations on the island, and they're all easily accessible. These include Ramada Plaza Jeju, Jeju Islamic Cultural Center, Jeju National University, and Jeju Best Hill. 
Places to stay on Jeju Island 
Playce Camp Jeju in Seogwipo is one of the prettiest places to stay on Jeju Island. This three-star hotel is close to the Gwangchigi Beach and Sinyang Beach, as well as the aforementioned Seongsan Ilchulbong. Other than the stylish and unique room themes, you will probably also enjoy a bike ride outside of the hotel. 
During the spring season, don't miss out on a place to stay in Jeju with dazzling cherry blossoms view. Seaes Hotel and Resort is here to provide you with that. Besides being surrounded by picturesque nature view overlooking the sea, here, you can stay in traditional Korean houses like you've just entered a Korean movie scene.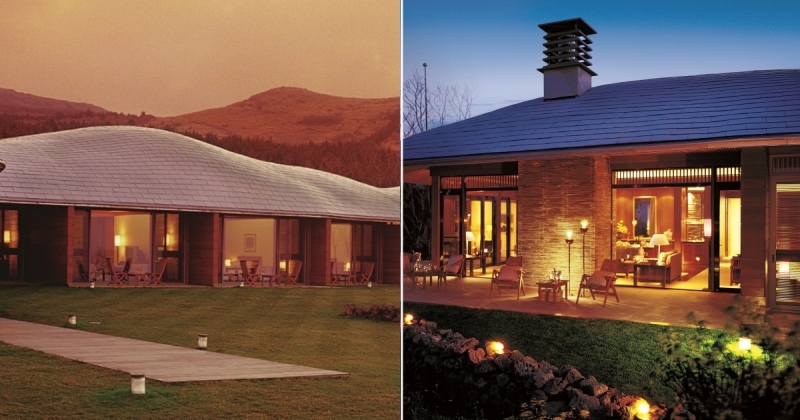 Likewise, Podo Hotel Jeju is another aesthetically appealing hotel that offers you a peaceful stay in Jeju. Escape from the hectic urban life and stay in this tranquil area surrounded by lush forest and green oasis.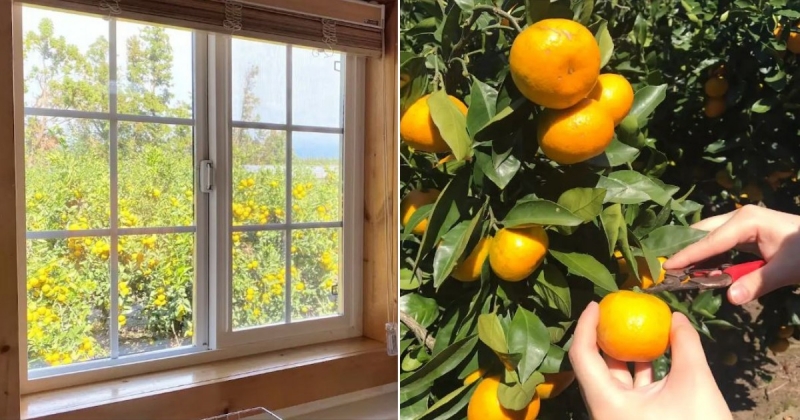 Want to experience what it's like to live in a tangerine farm? Look no further than Jeju Wishing pension and Jeju Tangerine House in Gyuljungok. Jeju Wishing Pension is a luxury pension situated right in Jeju Tangerine Field Farmland Station, whereas Jeju Tangerine House in Gyuljungok is a homey cottage house with a tangerine farm right at the front and back yard, allowing you to enjoy the view of the tangerines without stepping outside!
For females travelling in Jeju, check out female-only guesthouses like Hannahstay Women Only Guesthouse or Female Guesthouse Bunga. Both are highly recommended stays by previous users, the latter even has special facilities like spa and sauna available!
There you go! This is our beloved Jeju spring itinerary. We've included all of the top things to do in Jeju, as well as the best scenic attractions and Muslim-friendly places to eat. If you're considering extending your trip on your last day, then it looks like we've done a great job getting you to fall in love with this beautiful island!

---
Brought to you by Jeju Tourism Board.