A halal steamboat dinner is the best way to bring a big group of people together. As simple as it looks, it's the whole dining experience that gets everyone excited. Choose (an unlimited amount!) your favourite ingredients, tuck into flavoursome soup and enjoy your serving when it's still piping hot!

You might be wondering where some of the top spots for halal steamboat are in Singapore. Fret not, we've compiled a comprehensive list of halal steamboat restaurants around the island. It's time to plan that next family gathering or friends catch-up session soon!
1. Sedap Thai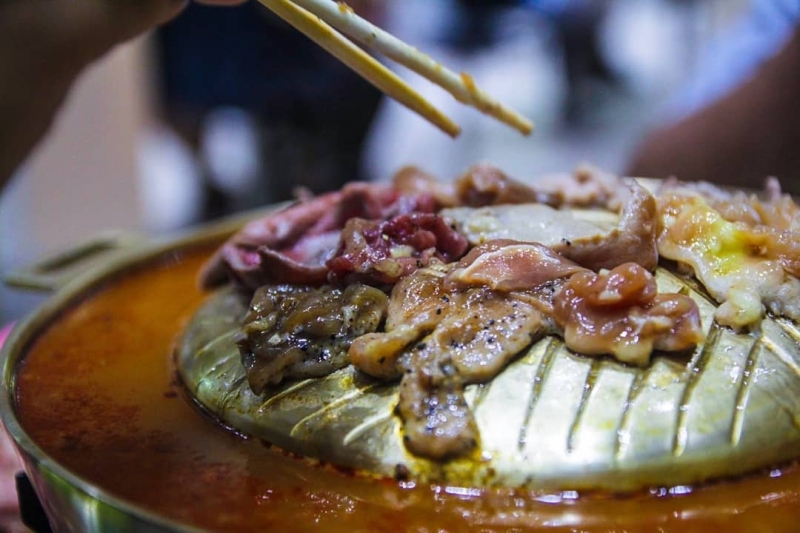 Situated in the hawker haven of Berseh Food Center at Jalan Besar, Sedap Thai is one of the halal Thai steamboats here in Singapore. Halal mookata, Thai-style steamboat, is hard to come by as it usually involves pork (based on the literal translation moo-kata which means "pork" and "skillet". Instead of using pork lard, beef fat is used.

Unlike the usual steamboat, mookata also includes a mini dome-shaped grill. Muslim diners will be able to grill their choice of marinated chicken, beef or seafood to perfection. Expect items such as garlic chicken, fresh beef and black pepper beef. Finally, a great dining space for Muslim diners to enjoy Halal Thai BBQ and steamboat!
Address: 166 Jalan Besar, Singapore 208877
Opening Hours: 4.30pm to 10.30pm (closed on Sundays)
2. Lukhon Thai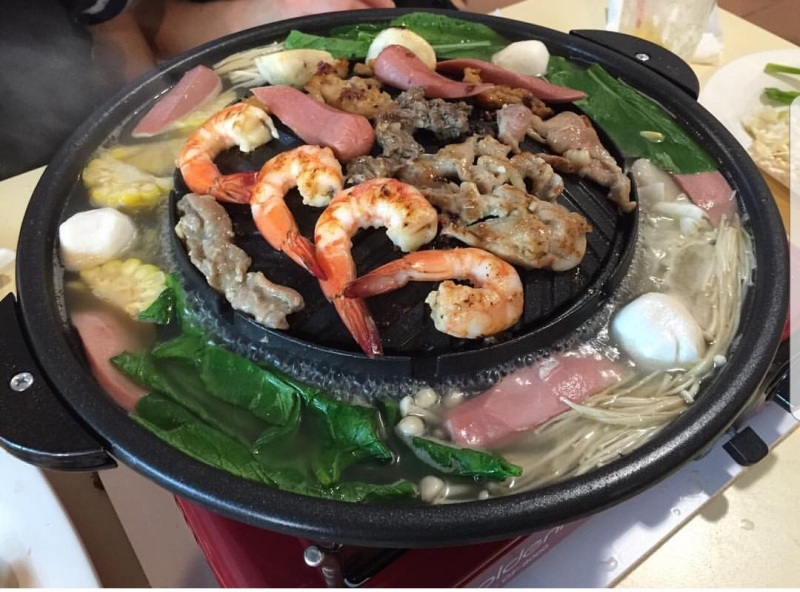 Located in the east at Pasir Ris Central Hawker Centre, Lukhon Thai is another option to get your halal BBQ-steamboat fix. This halal steamboat restaurant serves delicious yet super affordable set meals.
For less than S$30, a pair can devour an entire extensive meal of over 10 ingredients thanks to the Platter Combo! With a choice of either chicken or tom yum for the soup base, tuck into a comforting dining experience.
Address: 110 Pasir Ris Central, Singapore 519641
Opening Hours: 12pm to 9.30pm (closed on Mondays)
3. Flame Cafe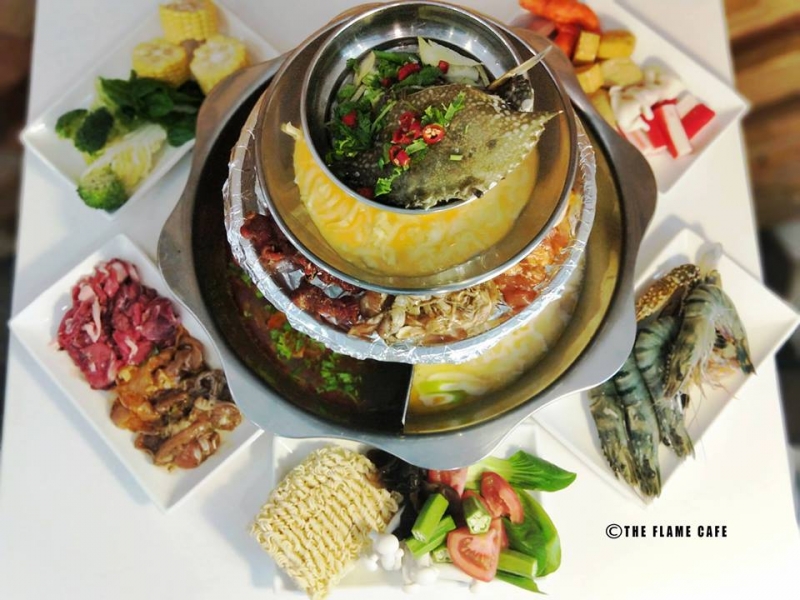 For a slightly elevated dining experience, visit The Flame Cafe to get your premium steamboat fix and enjoy a plethora of fusion dishes. From Asian steamboats to western-inspired dishes, there's bound to be a favourite dish for everyone whether it's a la carte or set meals. If you're hankering for something unique, opt for the 4-Tier Cheesy Hotpot & BBQ Pagoda Steamboat complete with the cheese fondue.

Located at Paya Lebar, The Flame Cafe doubles as both a restaurant and an event hall. Used for private events like weddings, baby showers and birthday parties, don't be surprised if you see this cafe closed for private functions.
Address: 73 Upper Paya Lebar Rd, Level 1, Singapore 534818
Opening Hours: 11.30am to 11pm
4. Jingshangyipin Hotpot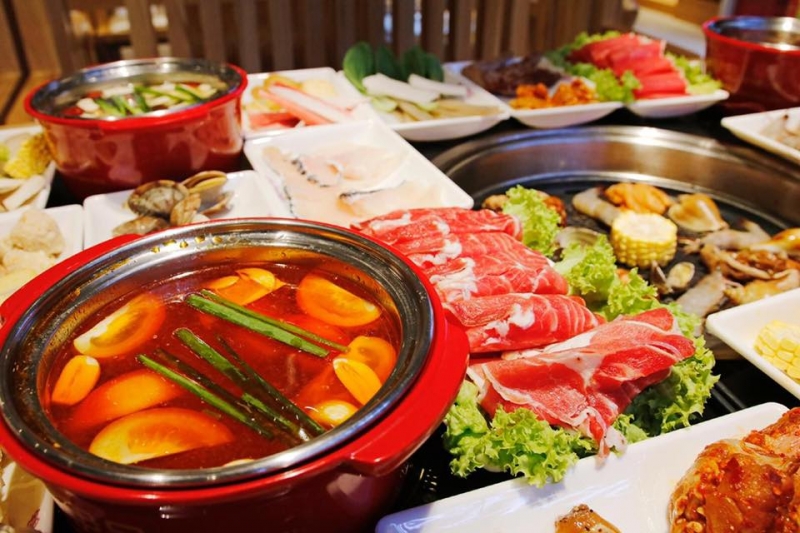 Owned by the same owners of the ultra-popular Yi Zun Beef Noodle Store, they've opened a halal-certified steamboat restaurant. Based in Simei's Eastpoint Mall, Jingshangyipin hotpot will definitely hit the spot! The hotpot and BBQ buffet start from S$35 with an extensive variety of ingredients to choose from.

For the soup, you have the option of choosing from five distinct flavours: Spicy Soup, Pickled Vegetable Soup, Herbal Soup, Mushroom Soup, and Tomato Soup. With the recent Mala craze still going around, you should go for the Mala hotspot!
Address: East Point Mall, #01-20, 3 Simei Street 6, Singapore 528833
Also read: Halal Steaks in Singapore to Look Out For
Opening Hours: 11am to 10pm (closed between 3pm to 4pm)
5. Chickata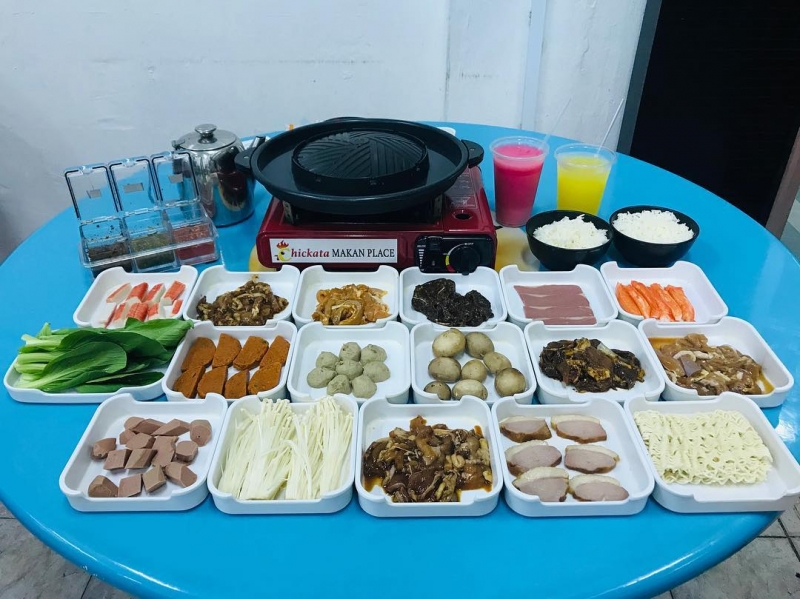 Those based in the West can finally rejoice at this halal Mookata found in Jurong East! Priced at less than S$20 per pax for a buffet, this will definitely be a bang for your buck.

The buffet offers over 30 ingredients to choose from such as chicken, abalone, squid and turkey bacon. Dip your BBQ meat into their three tasty sauces: sweet Thai chilli, chilli kicap or green Thai chilli. It will be a pairing sent from heaven!
Address: Jurong East Street 31, #01-118 Block 326, Singapore 600326
Opening Hours: 5pm to 11pm (Weekdays), 1pm to 11pm (Weekends), (closed on Mondays)
6. Talking Cow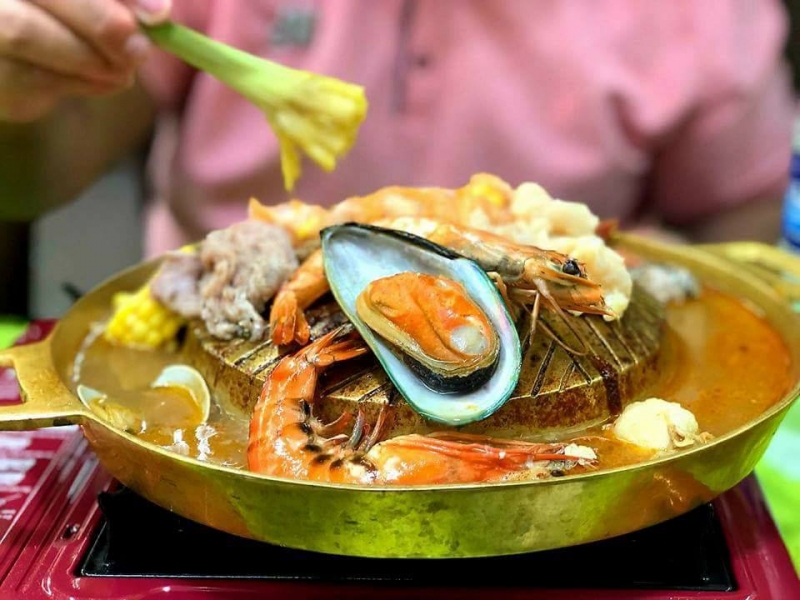 A Muslim-owned Mookata based in Bedok, east-siders can try this Thai steamboat and BBQ experience! Priced at less than S$15 per set for two pax, this halal steamboat restaurant is great for Muslim diners on a budget.  Each set consists of beef, chicken, seafood such as mussels, prawn, scallop and fish, hotdog, fishball and assorted vegetables.

For just an additional $2, you'll be able to have free-flow soup with a choice of either Tom Yum, Chicken and Singgang. If you're huge fans of Thai Milk Tea, get their Thai Milk Tea Tower. With over three litres of Thai Milk Tea to drink, you know you're in for a good dining experience.
Address: 418 Bedok North Ave 2, #01-55, Singapore 460418
Opening hours: 5pm to 11pm (Weekdays), 12pm to 10pm (Weekends)
7. Seoul Garden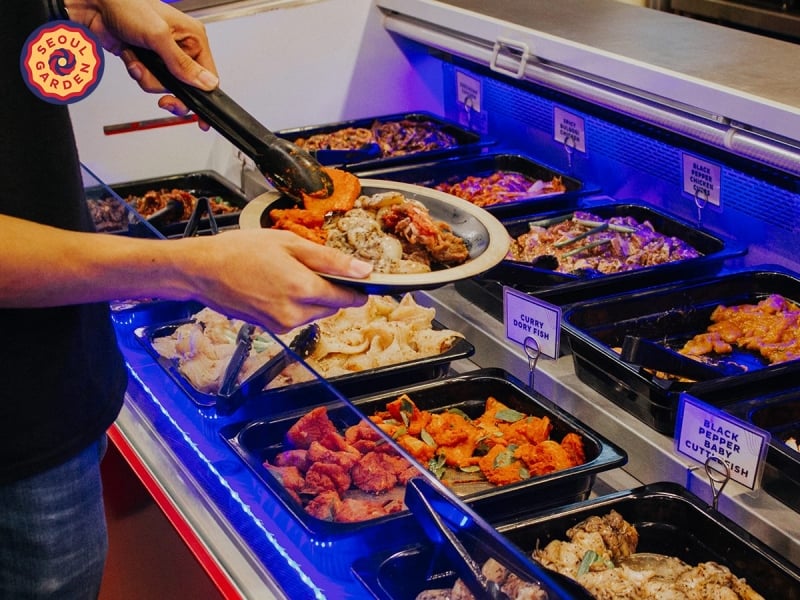 This halal steamboat restaurant needs no introduction. Seoul Garden can easily be found in many popular shopping malls. As a leading Korean brand, Seoul Garden has been in Singapore for over 30 years and is well-loved for its extensive buffet spread.

With prices starting from S$22, you and your loved ones are in for a treat. The wide range of marinated meat like chicken and beef is a top hit for most patrons!
Address: Multiple outlets islandwide
Opening Hours: 11.30am to 10.30pm
8. Marina Bay BBQ Steamboat Buffet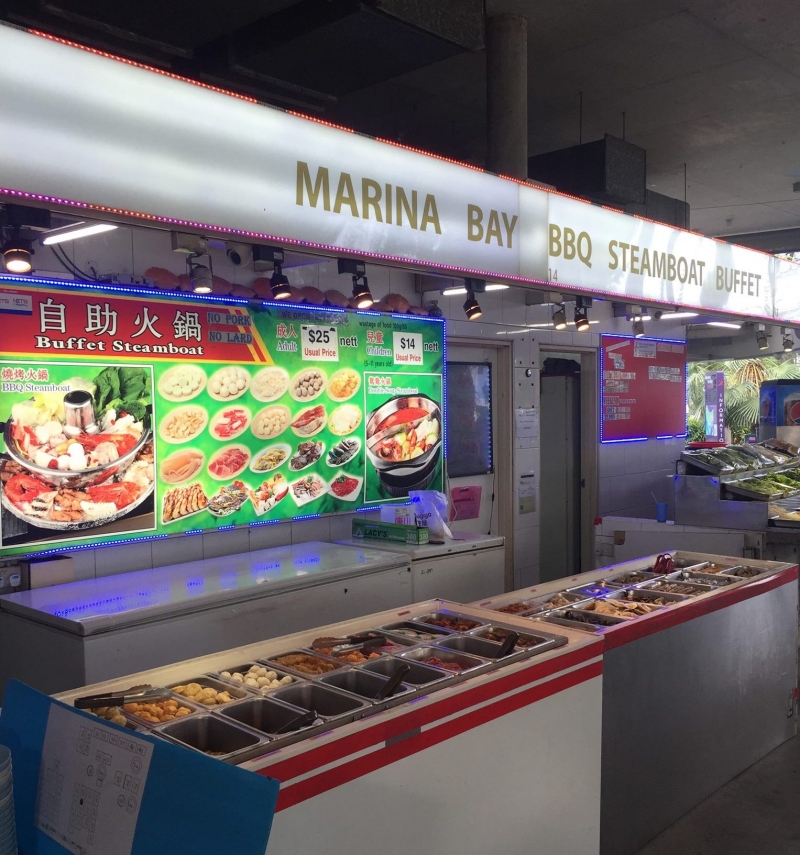 If you find yourself in central Singapore, pop over to Marina Bay BBQ Steamboat to satisfy your halal steamboat cravings. Muslim foodies will be treated to a unique dining experience as they enjoy delicious halal steamboat by the bay.  

Prices start at S$27 and you will be able to choose all the ingredients which they've laid out at no extra cost. Fresh seafood such as crabs, crayfish and bamboo clams are offered daily. There is also a free flow of drinks.
Address: 18 Marina Gardens Drive, Satay By The Bay, #12/13/14 Marina Bay
Singapore 018953
Opening Hours: 5pm to 11.45pm
No matter where in Singapore, you'll be able to locate a halal steamboat restaurant close to you! Grab a few family members or friends and enjoy your special halal steamboat together.
Also read: 23 Halal Buffets To Try In Singapore