For many avid travellers, spring is one of the most beautiful times of the year to travel. As the winter cold starts to dissipate, the warmth of spring brings with it the sight of blooming flowers — the start of a new season. 
In many countries in Asia, many festivals are celebrated during this time of the year to honour new beginnings. If you're planning to travel during the lovely season of spring, here are five vibrant Muslim-friendly festivals in Asia to visit in spring! 
1. Hanami Festivals, Japan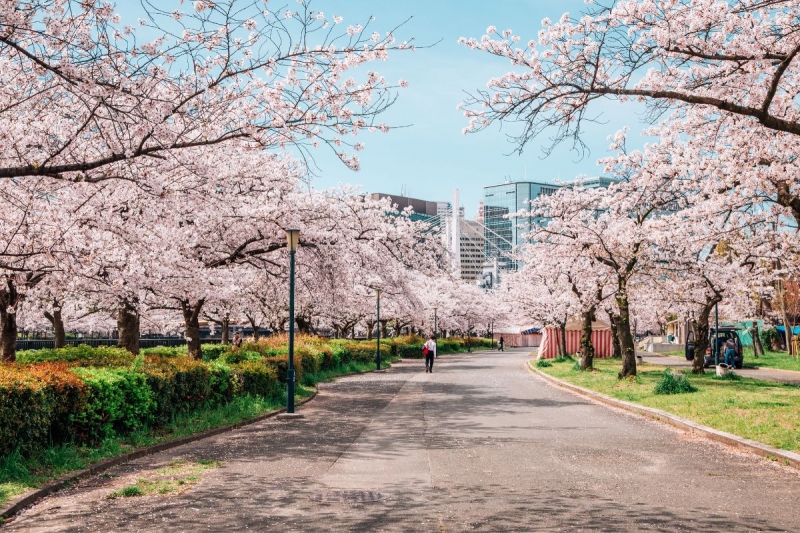 When it comes to spring destinations Japan is arguably one of the most famous places to visit, thanks to its famous cherry blossoms! Among Muslim travellers, the Land of the Rising Sun is famous for their vibrant culture, delicious cuisine, and historic attractions too. 
During the spring, Japan hosts plenty of Hanami Festivals. Hamai is basically the tradition of admiring cherry blossoms, and Hanami Festivals celebrate the transient blooms in Japan. They take place in riversides, parks, in the heart of gardens, near temples and shrines, and more! Osaka is one of the most famous cities to see sakura trees in full bloom, and at Osaka Castle Park, you'll see people gathering to see the 3,000 trees surrounding the city's iconic medieval castle. 
As the word hanami translates to flower watching, many festival goers like to have outdoor parties under the cherry blossom trees. You'll find that a lot of people have set up a picnic as well, sipping on drinks as they watch the flower petals fall. Another popular activity is to go for a park stroll and take pictures along the way. In some parks like Inokashira Park and Chidorigafuchi Park, you can actually rent a boat and row around in the ponds or moats.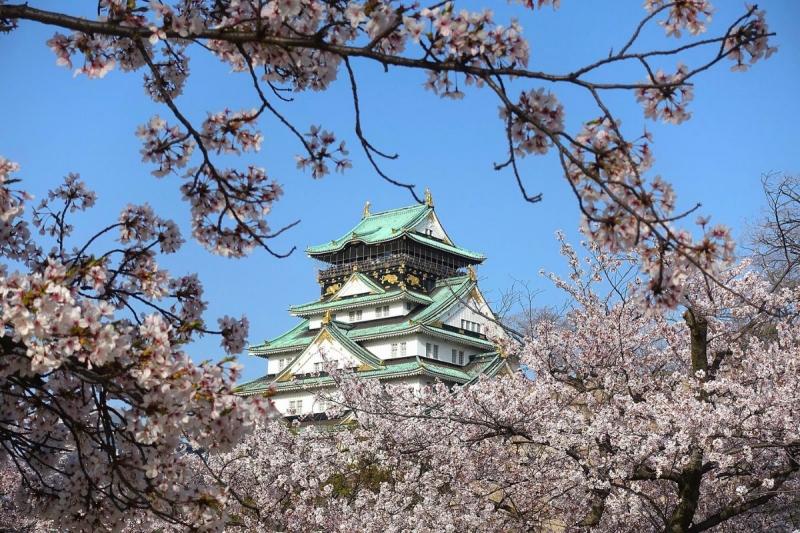 Things to eat and where to stay
There are plenty of halal restaurants for Muslim travellers in Osaka. Osaka Halal Restaurant specialises in authentic Pakistani food, while Halal Restaurant Naritaya Osaka Minami serves halal ramen. If you want to try Wagyu beef on your trip, Osaka Panga in Dotonbori serves halal Wagyu and steak. 
For accommodation in Osaka, stay at Hilton Osaka and Quintessa Hotel Osaka Shinsaibashi. Hilton Osaka is famous for their comfortable rooms, as well as other amenities like room service and an indoor pool. Plus, the hotel is close to several Osaka attractions, including Dotonbori and Osaka Castle. On the other hand, Quintessa Hotel Osaka Shinsaibashi has comfortable rooms and a wide range of services including laundry and delivery services. 
Where to pray
There are a number of places in Osaka to conduct your prayers: Osaka Masjid and Masjid Istiqlal Osaka. 
2. Songkran, Thailand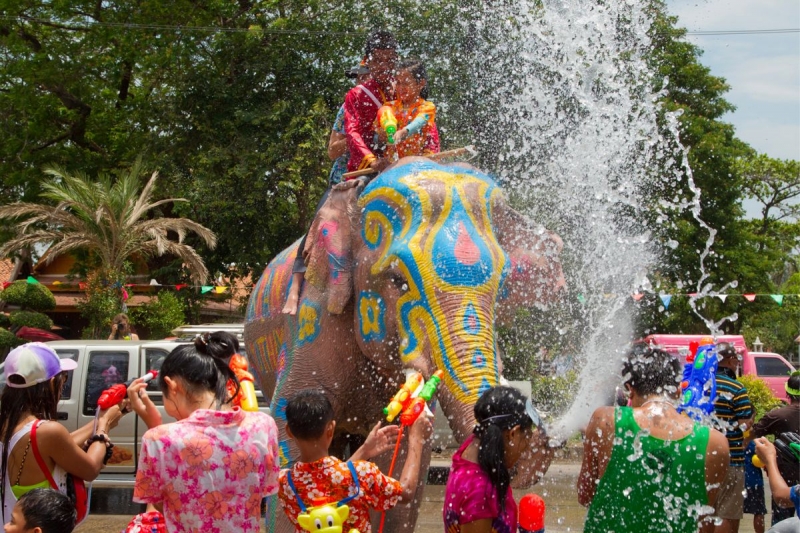 For years, Thailand has been regarded as one of the most popular destinations among Muslim travellers. The Land of Smiles is well-loved for its stunning natural scenery, delicious cuisine, and most importantly, its rich culture. In the spring, the cities come alive with various festivals, namely Songkran which takes place in April. 
Also known as the Water Splashing Festival, Songkran is celebrated to usher in the Lunar New Year. Traditionally, Thai households practise cleansing Buddhist imagery at temples and pay respects to the elders and monks by sprinkling scented water over their hands. Parades, folk entertainment, and dances are also expected, but Songkran is most famous for its massive water fights.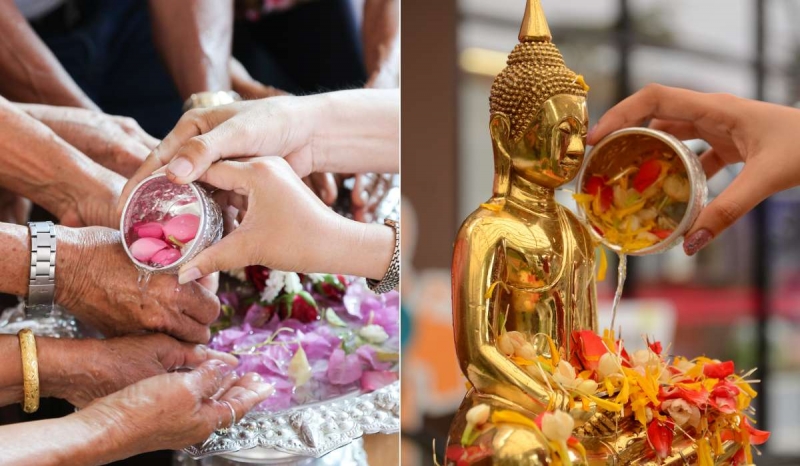 In major cities like Bangkok and Chiang Mai, the festival is strife with water guns and hoses, outdoor raves, loud music, and all kinds of fun. Apart from the exciting revelry, you can also take the opportunity to explore smaller towns to immerse yourself in the festival's cultural traditions.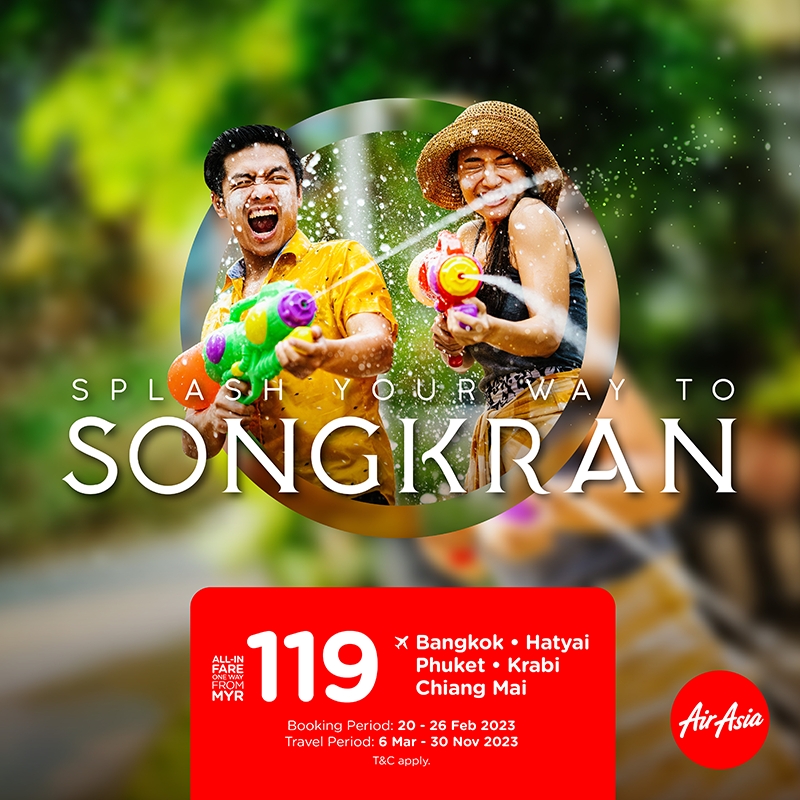 Discover the fun side of Thailand when you immerse yourself in Songkran this spring.
Jet off to popular Thai destinations like Hat Yai, Phuket, Krabi, Chiang Mai, and Bangkok with AirAsia and enjoy all-in one-way fare from MYR119!
Booking period: 20 – 26 Feb 2023
Travel period: 6 Mar – 30 Nov 2023
Things to eat and where to stay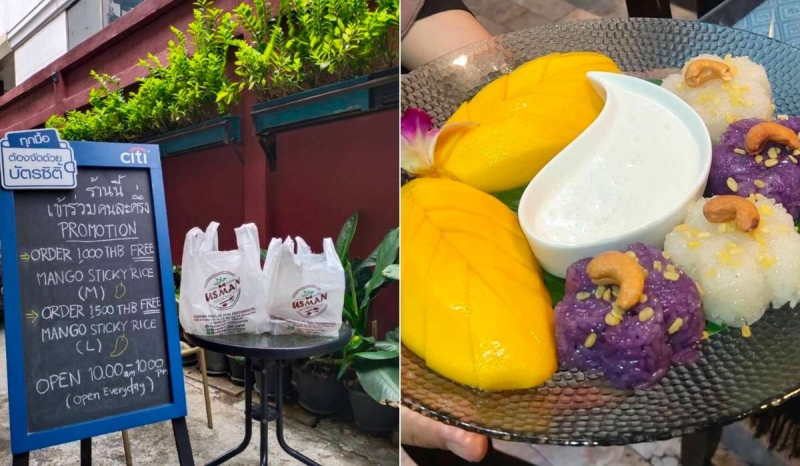 A trip to Bangkok isn't complete without trying the local cuisine. In fact, there are actually many halal restaurants serving local fare in Bangkok, including Petchaburi Soi 7 (street food), Samat Muslim Food (som tam), and Usman Thai Muslim Food & Hostel (mango sticky rice). 
For accommodation in Bangkok, stay at Al Meroz Hotel or Nouvo City Hotel. Al Meroz Hotel is Bangkok's leading Muslim hotel, offering spacious rooms with a copy of the Quran, and two halal restaurants in the hotel. On the other hand, Nouvo City Hotel is famous for its proximity to the city's best attractions, namely the Grand Palace and Khao San Road. 
Where to pray
There are a number of places in Bangkok to conduct your prayers: Bangkok Mosque, Chakraphong Mosque, Ton Son Mosque, and Haroon Mosque. 
3. Kaohsiung Spring Arts Festival, Taiwan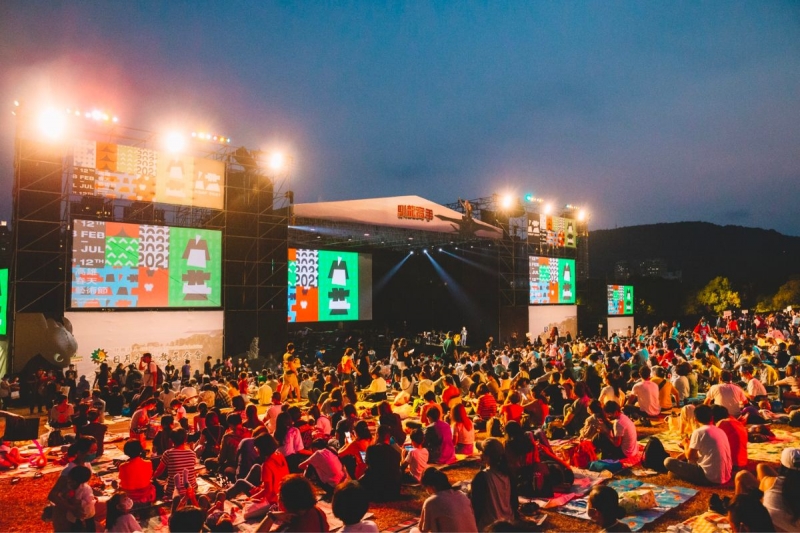 For many Muslim travellers, Taiwan is a beloved destination for a few reasons. Besides vast scenery and fascinating culture, Taiwan is known for its friendly people and yummy street food. In the spring, Taiwan blooms to life with cherry blossom trees, amazing weather, and many festivals. 
The Kaohsiung Spring Arts Festival is one of the biggest events in Taiwan. From February to July, Kaohsiung hosts various exhibits and concerts in venues scattered throughout the city. It's a great chance to catch both Taiwanese and international artists, as well as learn about the local culture. There will be traditional Chinese opera shows, theatre performances, and orchestra performances playing the soundtracks of your favourite films. 
Besides the Kaohsiung Spring Arts Festival, Taiwan is also famous for its annual Lantern Festival on the final day of the Lunar New Year, where locals and tourists release sky lanterns carrying wishes for the new year into the sky. It is truly a beautiful sight to behold! While the festival is over now, you can still release sky lanterns at Shihfen Old Town!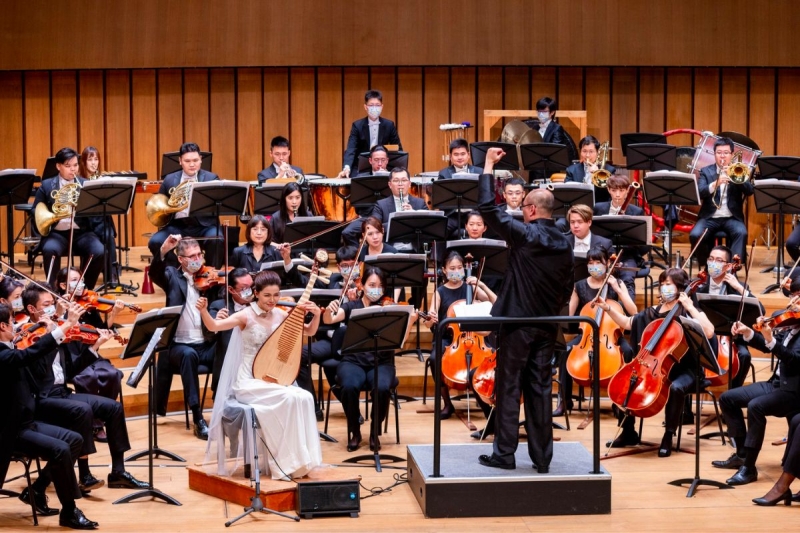 Things to eat and where to stay
For Muslim travellers looking for a bite to eat in Kaohsiung, there are actually many halal restaurants in the city. Enjoy a plate of Indonesian bakso at Chen Lili Indonesia Halal Restaurant. However, if you're in the mood for Indian food, try Lahore or The Spice Shop. 
For accommodation in Kaohsiung, stay at 85 Sky Tower Hotel or A Hotel Kaohsiung. At 85 Sky Tower Hotel, expect impeccable views of the whole city as you wake up. The hotel is also conveniently located near an MRT station and various restaurants within walking distance. On the other hand, A Hotel Kaohsiung offers budget-friendly rooms with comfortable beds and room service.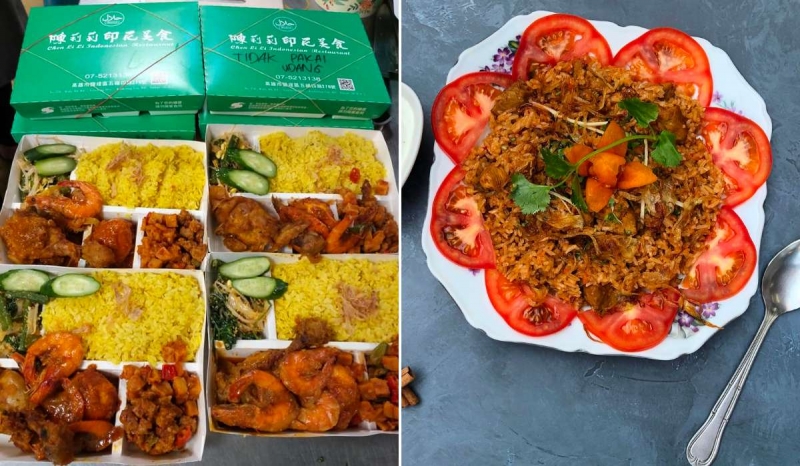 Where to pray
There are a number of places in Kaohsiung to conduct your prayers: Kaohsiung Mosque and Kaohsiung Main Station Prayer Room. 
4. Weifang International Kite Festival, China
 When it comes to destinations with a rich history, China probably takes the cake. The Land of the Dragon is home to numerous archaeological sites, an incredibly diverse cuisine, and many unreal landscapes. In the spring, the pleasant weather makes it perfect for exploring natural attractions, including flower fields, gardens, and parks.
After the Lunar New Year, the Weifang International Kite Festival is one of China's most important spring festivals. In fact, it's one of the biggest international kite festivals in the world. Every year, many tourists and locals alike flock to Weifang, the birthplace of kites. Over 30 countries will be participating in the festival, showcasing their kites' craftsmanship. Expect all kinds of kites in different forms, from animals to insects and even mythical creatures.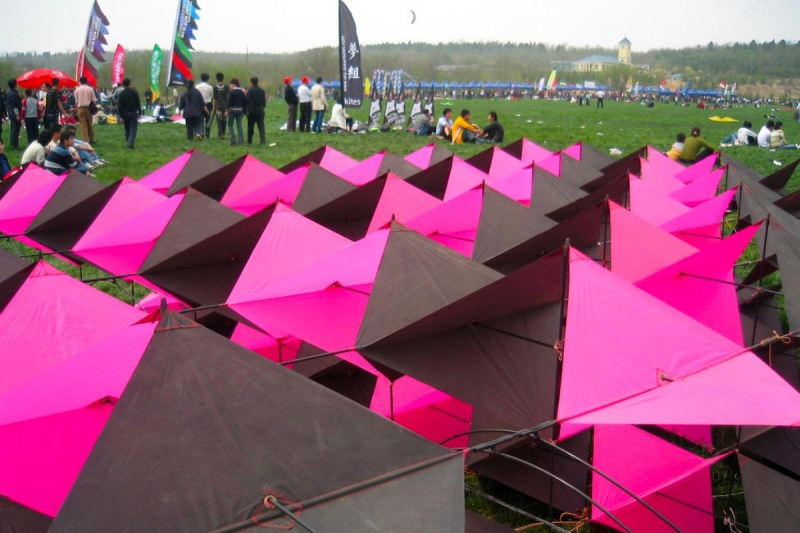 Things to eat and where to stay
Compared to the previous destinations, it may be a little hard to find halal restaurants in Weifang. The most popular halal restaurants for Muslim travellers include Muslim Majia Hot Pot and Fatema Indian Restaurant. 
For accommodation in Weifang, stay at Yuanfei Hotel Weifang and Shengrong Hotel Weifang. Both of these hotels have comfortable accommodations with clean rooms and efficient front desk services. More importantly, both hotels are within walking distance of popular attractions and the city centre. 
Where to pray
There are a number of places in Weifang to conduct your prayers: Weifang Mosque and Qingzhou Mosque. 
5. Cherry Blossom Festival, South Korea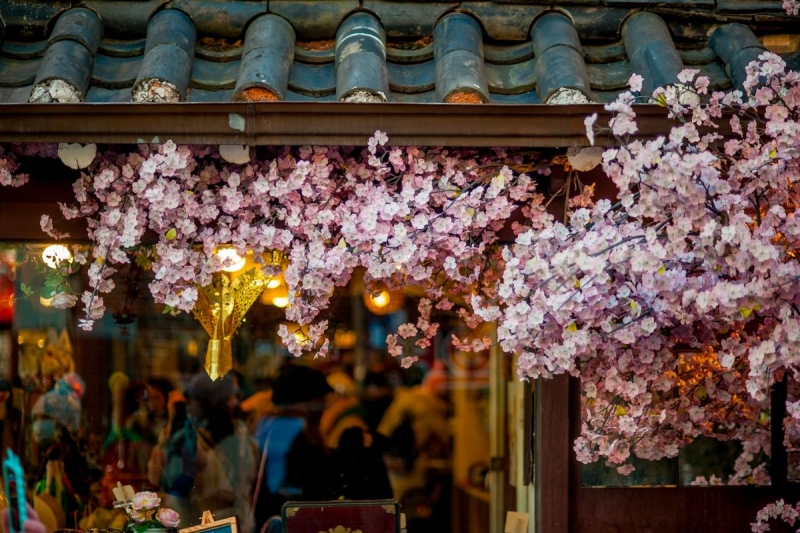 In South Korea, spring is a symbol of new beginnings, renewal, and growth. As the country starts to welcome the warmth of spring, cities like Seoul and Gyeongju are completely transformed as cherry blossoms start to bloom in March and April. The pink hue of the cherry blossoms is evident wherever you go, which makes it a reason why many Muslim travellers love to visit the Land of the Morning Calm in the spring. 
To celebrate the arrival of the season, various festivals are held throughout the country. At this time of the year, South Koreans host the Cherry Blossom Festival. Although there are many cherry blossom festivals held throughout the region, the biggest festival is held in Jinhae-gu, Changwon City. Around 2 million people visit the festival every year, indulging in a number of activities such as taking pictures at Gyeonghwa Station and eating cherry blossom-themed snacks.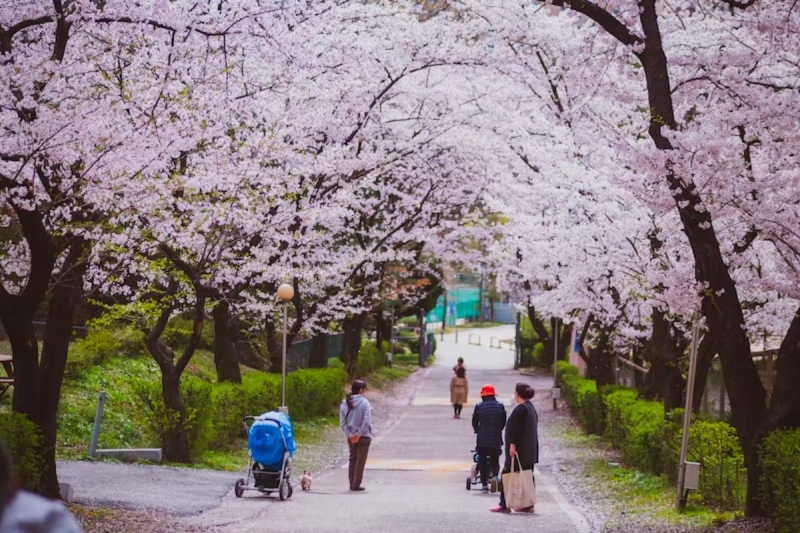 However, if you want a more riveting experience, head to Gyeongju for the annual Cherry Marathon. It's perfect for sports lovers and those who want a chance to sightsee the city as they run along rows of many blossom trees. Once you've selected your marathon track distance, it's time to lace up your shoes and start running! 
Things to eat and where to stay
After your marathon, treat yourself to a South Korean feast at Sukyoung Sikdang or dig into Indonesian food at Bakso Bejo Korea Gyeongju. If you're vegetarian, Sseukbujaengi is also another popular halal restaurant in the city you should visit!
For accommodation in Gyeongju, stay at K-Hotel Gyeongju or Hilton Gyeongju. K-Hotel Gyeongju is a great hotel for a relaxing stay, as they have a sauna, spring baths, and a fitness centre. On the other hand, Hilton Gyeongju is a luxurious hotel near Gyeongju World Amusement Park with non-smoking rooms and premium rooms. 
Where to pray
There are a number of places in Gyeongju to conduct your prayers: Baitul Noor Mosque and Masjid Al-Jawahir.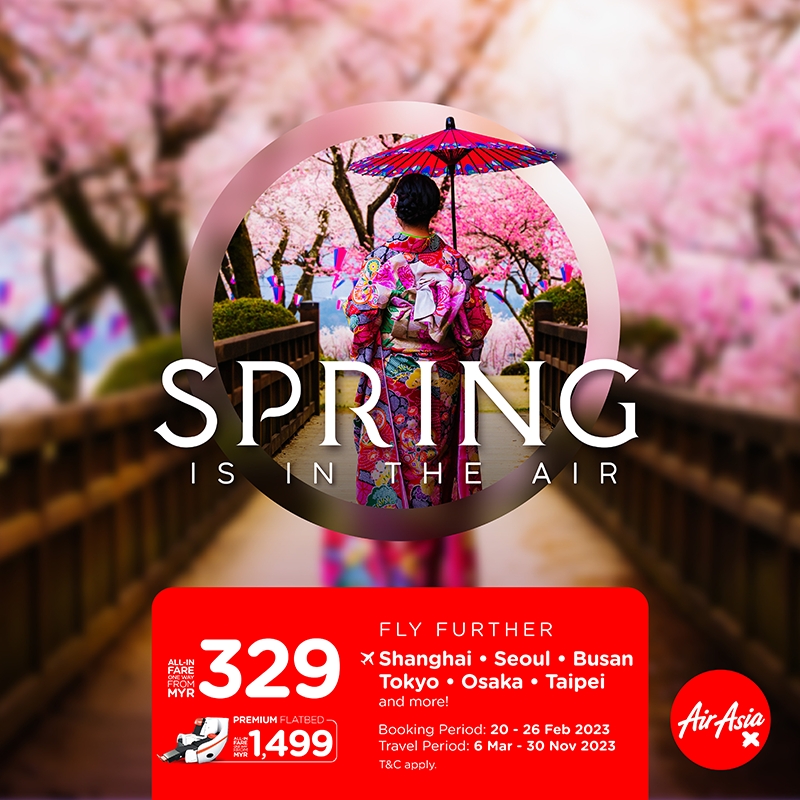 Pretty in Pink: Fall in love with Japan's cherry blossom season with AirAsia this spring!
From 20-26 Feb, book an escape to the best destinations to fully immerse yourself in beautiful seas of pink cherry blossoms! Think Seoul, Busan, Osaka, Tokyo, and more! All-in one-way tickets start from as low as RM329 (RM1,499 for Premium Flatbed)!
Travel from 6 Mar to 30 Nov 2023
---
Brought to you by AirAsia. Featured image credit: Alan Godfrey | Website