Ever wondered if hair treatments are haram? If they prevent water from reaching the hair when performing your ablution before prayers? 
Regardless, it is important to understand what the treatment that you are going for entails and to ensure that there are no long-term harmful effects. 
As long as this rule is fulfilled, most hair treatments are permissible. Unless the treatment completely stops the individual from completing their ablution for prayers or the prayers itself, there is no cause for concern. 
The presence of an impermeable layer on the hair does not completely disregard the ablution process as the requirement to wipe the head during ablution does not demand you to completely wash your head. 
This is also why it is permitted to wipe the forehead over the hijab for women during the ablution process. 
In The Old Days
The Prophet (PBUH) also practiced the process of talbeed during his Hajj pilgrimages. Talbeed is a process of sticking the hair together with gum, resin or the like, which holds the hair together and keeps it from getting dirty or dusty. This creates a layer over the hair. Even with this practice, ablution and prayers can still be done. 
As such, there is no reason to completely abstain from getting treatment for your hair if it needs fixing. Similar to how your body needs medicine, your hair too requires the same attention and care. 
Just as long as the products used are not harmful to you, immediately or in the long-term, why not treat yourself to a little pampering?
Beijing 101
Last week, I was lucky enough to try out a session of hair treatment in Beijing 101's Muslim-friendly facility. With 45 years of experience, Beijing 101 is a well-known hair care centre that helps customers to combat their hair issues such as the oily scalp, male/female pattern hair loss, dandruff, dry/damaged hair, and greying hair.
When I first arrived, I was welcomed with herbal flower tea before entering the consultation room, where the hair consultant conducted a scalp analysis + 1 on 1 consultation in order to find out which treatment is the most suitable for me.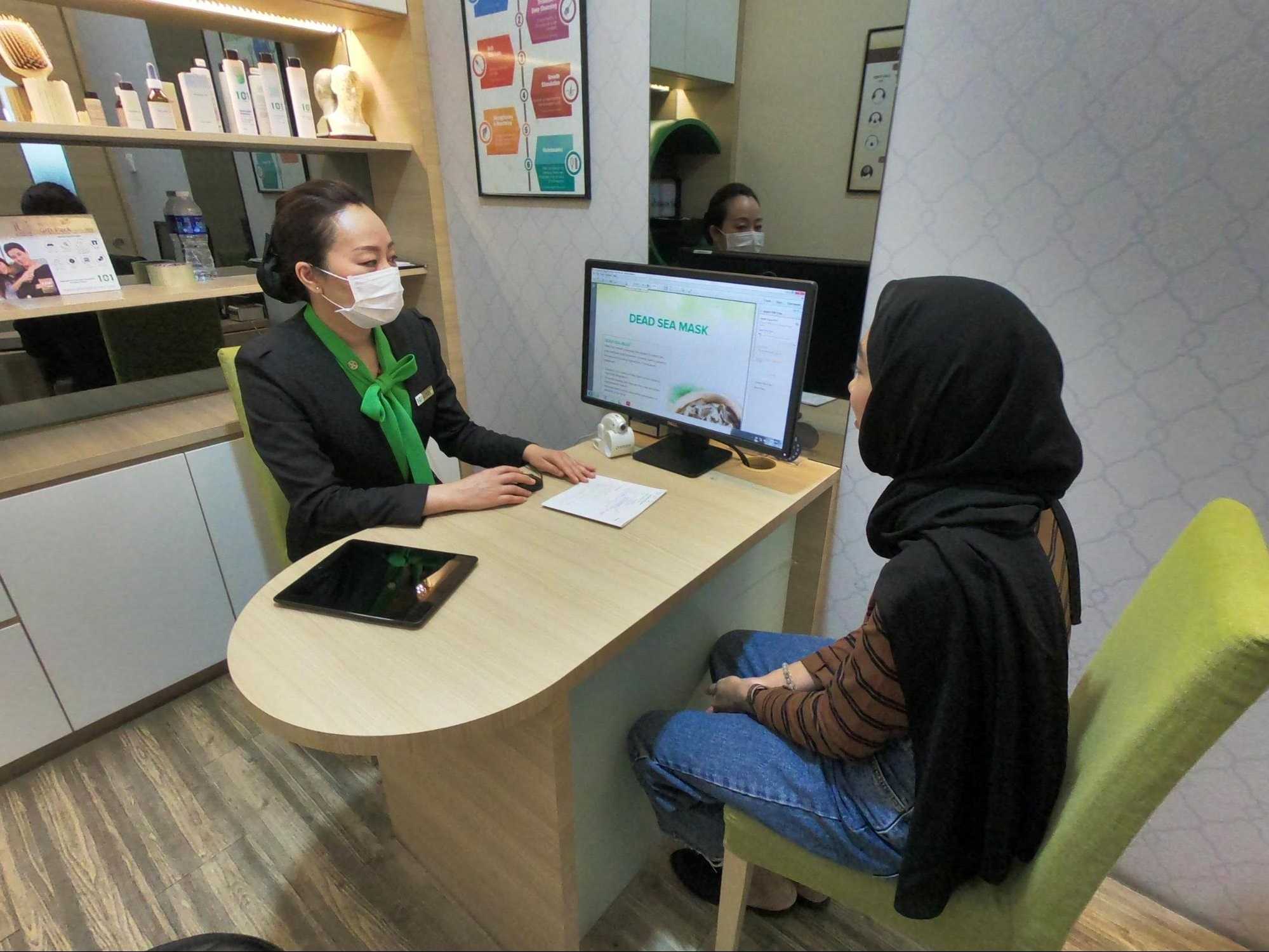 The process was thorough and professional. On top of recommended scalp treatments, The hair consultant also proposed hair products and routines that would work best for me. This advice goes a long way as this little lifestyle change could largely improve the health of my hair. 
As the hair consultant checked on the condition of my scalp, she deduced that my scalp was dry and there were some flakes on it too. This condition also caused my hair pores to clog up, interrupting my hair growth and impeding the health of my hair.
After the scalp analysis was done, I headed straight into a private room where Muslim women can receive their treatment in absolute privacy!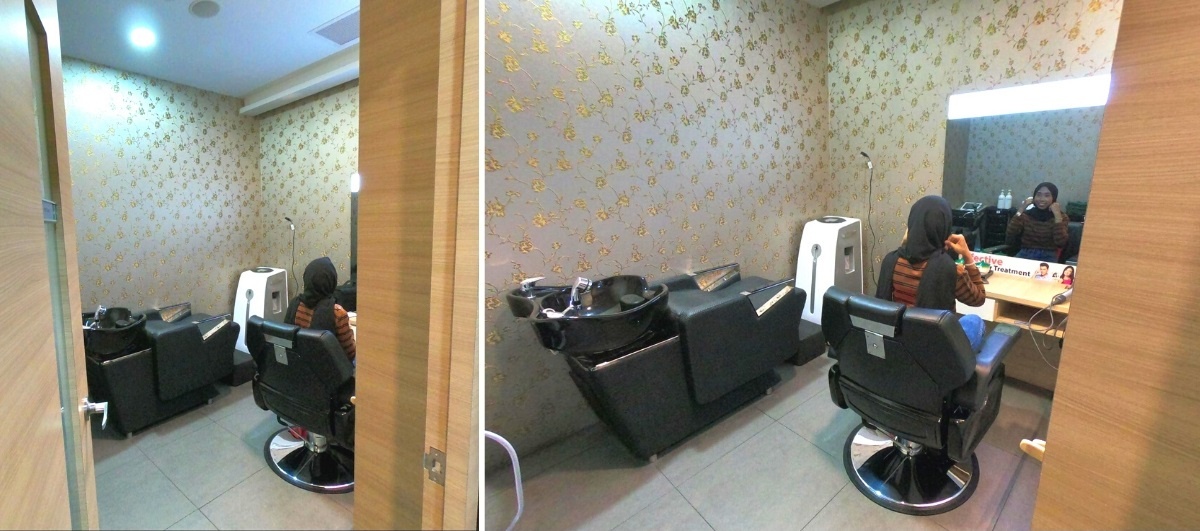 The room was not only spacious, but all the equipment needed throughout the process was all in one place. 
From the moment I entered the room, until the treatment was done, I didn't have to step out at all! It truly felt like a VIP session, having the consultants work on my scalp in a private and comfortable space. 
Beijing 101 outlets all over Singapore has a private room like this for their Muslim patrons. If the private room is not available, customers can request for a secluded area with curtains. If you need this space, do make a reservation before heading down to highlight your interest in the private room and all will be sorted when you arrive!
Start your hair treatment with Beijing 101 NOW! Simply PM them and quote "HalalZilla" to enjoy this offer
The Scalp Treatment Process
After getting settled in the room, the treatment began. The hair therapist left me in the room to relax while she busied herself with concocting the perfect formula to mask my hair – this is a nourishing hair mask which is customized based on my hair and scalp condition. It helps to detox the scalp, replenishing the moisture level that is lost, and revitalise hair and scalp at the same time..
The application of the mask took just a couple of minutes during which I felt relaxed as the coolness of the mask sets in. Once the mask was lathered into my hair, I was left to let the mask sit in my hair for about 20 minutes. After the 20 minutes was up, I headed for a hair wash, which was only two steps away from the cosy chair – all within the same room!
The unique effectiveness of Beijing 101 scalp remedies lies in the holistic treatment approach of regulating and nourishing the cells. This is why after this mask seeps into the scalp, I also got an acupressure – point scalp massage.
You'd be pleased to know that every treatment is customised according to individual needs – they will have a solution for whatever issues you are facing!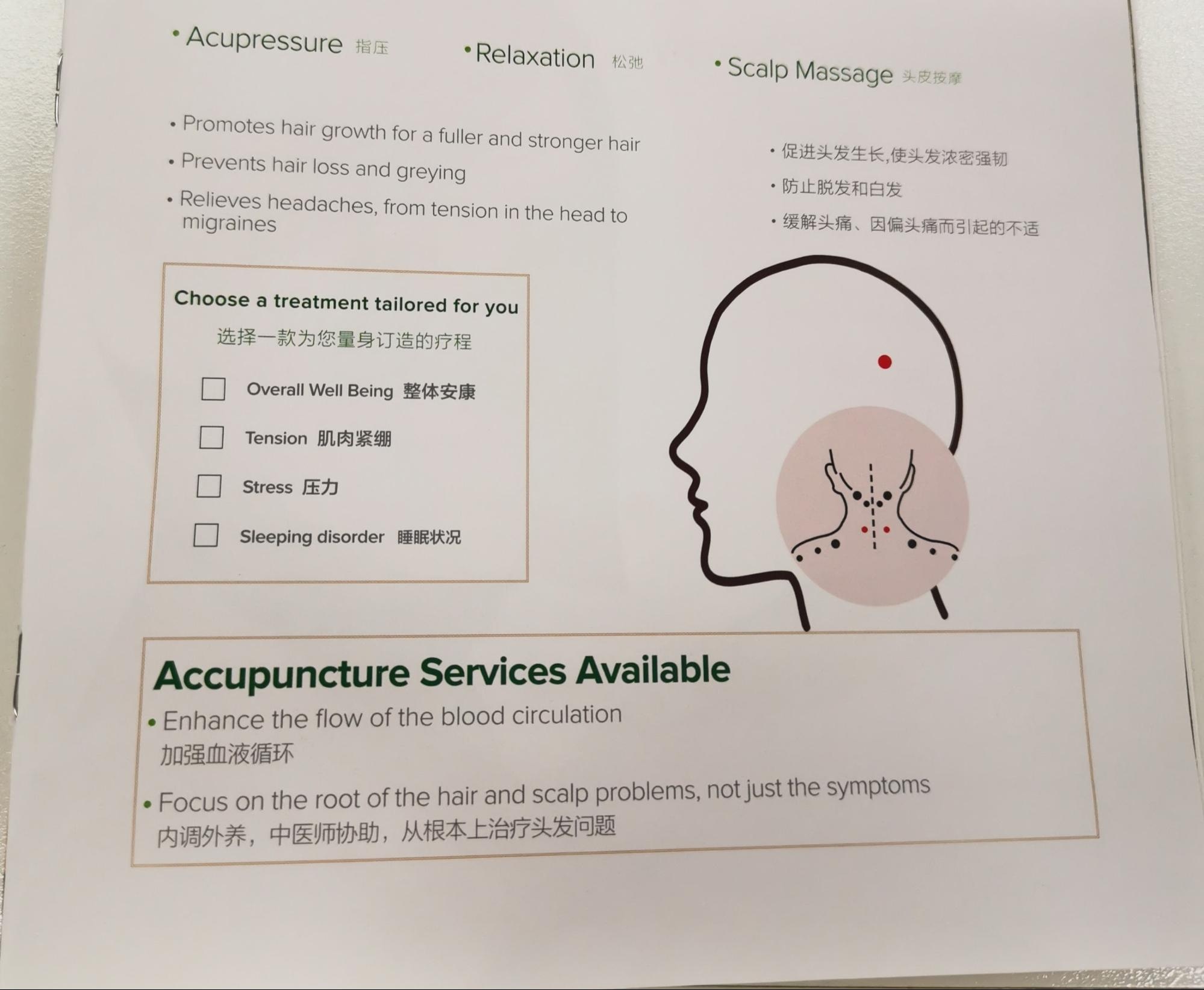 The scalp massage was such a treat! I could choose from four types of scalp massages – I picked the "stress" type, which lasted for 20 minutes. The massage also incorporates acupressure – point scalp massage – which improves blood circulation, relieves tension and stress.
I did another round of scalp analysis – this showed that my pores are opened, indicating that my hair has more room to grow easily. Plus, almost all the flakes are gone! It was amazing that I could see immediate results after just one session! But I was told to sleep and drink more water to improve blood circulation and overall scalp health.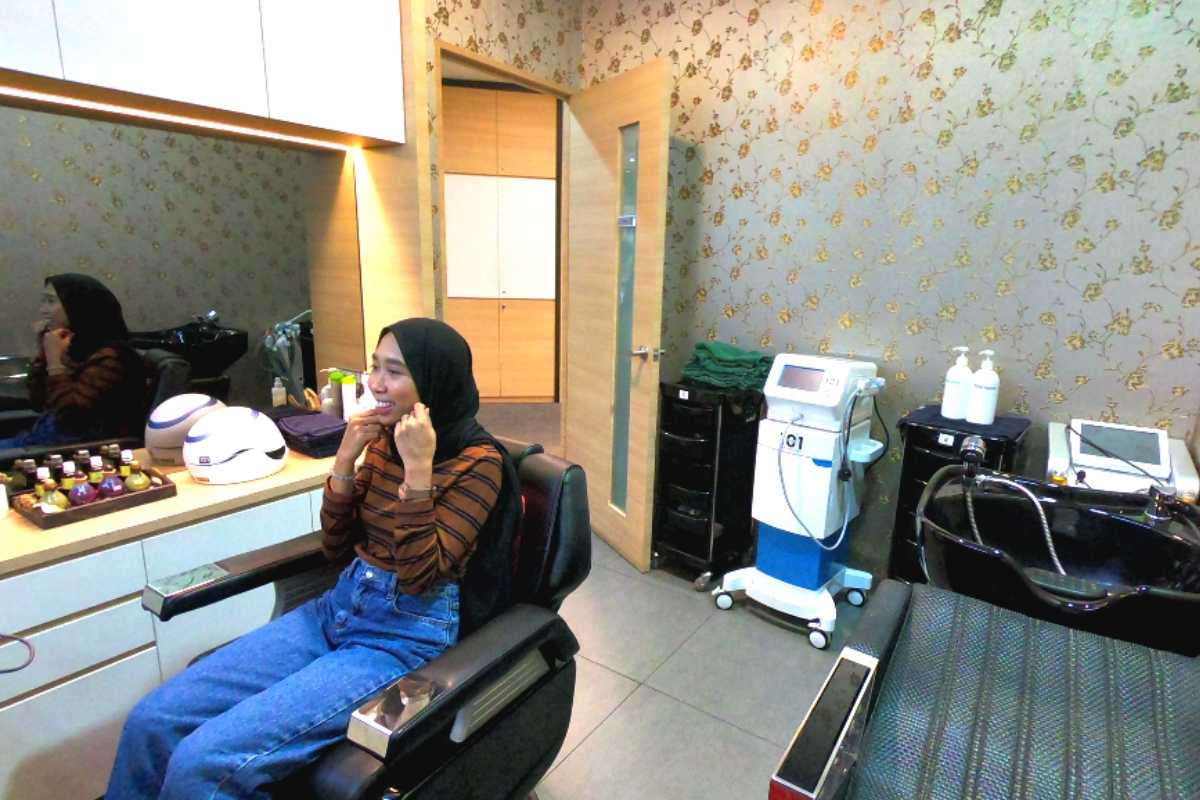 With the feeling of weightlessness and rejuvenation I got from this Scalp Treatment. I'll surely be back for more. I visited their Jurong East outlet at JCube. But if this is not close to you, fret not as they have plenty of outlets across Singapore. So just head on over to the one nearest to you. Trust us, it's something you didn't know you needed!
Beijing 101 Outlets
Bedok Mall #B1-55, 311 New Upper Changi Road

Causeway Point #05-02A, near Woodlands MRT

Century Square #04-03, 2 Tampines Central 5

Nex #04-08, 23 Serangoon Central

Northpoint City #03-27, 930 Yishun Ave 2

JCube #B1-05, 2 Jurong East Central 1
Want to get pampered just like me? Now it is a good time to go! Beijing 101 is having a promotion for their Intensive Scalp Cleansing Treatment at S$42 (U.P S$514) + S$268 worth of hair care set to be given away FREE after the treatment!

Simply drop an email to [email protected] or call 65588-101 and quote "HalalZilla" to enjoy this promotion upon booking!
---
Brought to you by Beijing 101