Pakistan has not received enough limelight as much as it truly deserves! This country that neighbours India is an evocative mix of culture and nature waiting to be explored. Since travel in Pakistan is often much less heard of compared to India, here's our pioneering effort to put forward to you some mesmerising destinations that might just get your heart wanting for more!
1. The Karakoram Highway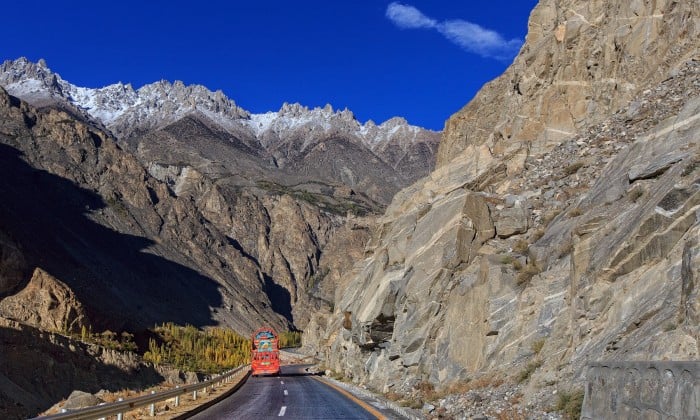 Image credit: Wikipedia | Karakoram Highway, Gojal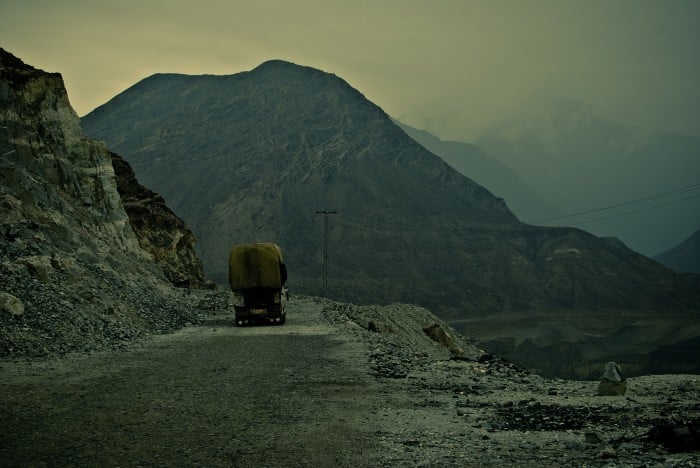 Image credit: ingolf | Karakoram Highway between Gilgit and Chilas

Often called the KKH, the Karakoram Highway is probably the first thing that will come to one's mind when someone speaks of the Northeastern Pakistan. And why not? Considered to be one of the greatest engineering achievements of the 20th century, with some sources pushing for it to be the eighth wonder of the world, the 805-mile long KKH connects Pakistan with China, running from Abbottabad down to Gilgit-Baltistan that leads up to Kashgar, in the province of Xinjiang in west China.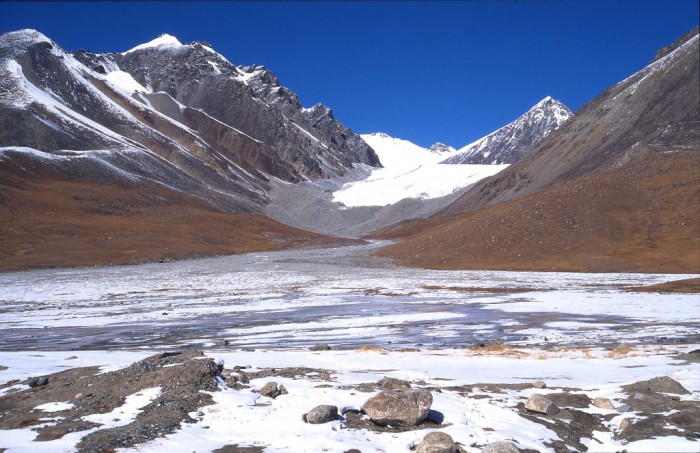 Image credit: Mark Hodson Photos | Glacier at Khunjerab Pass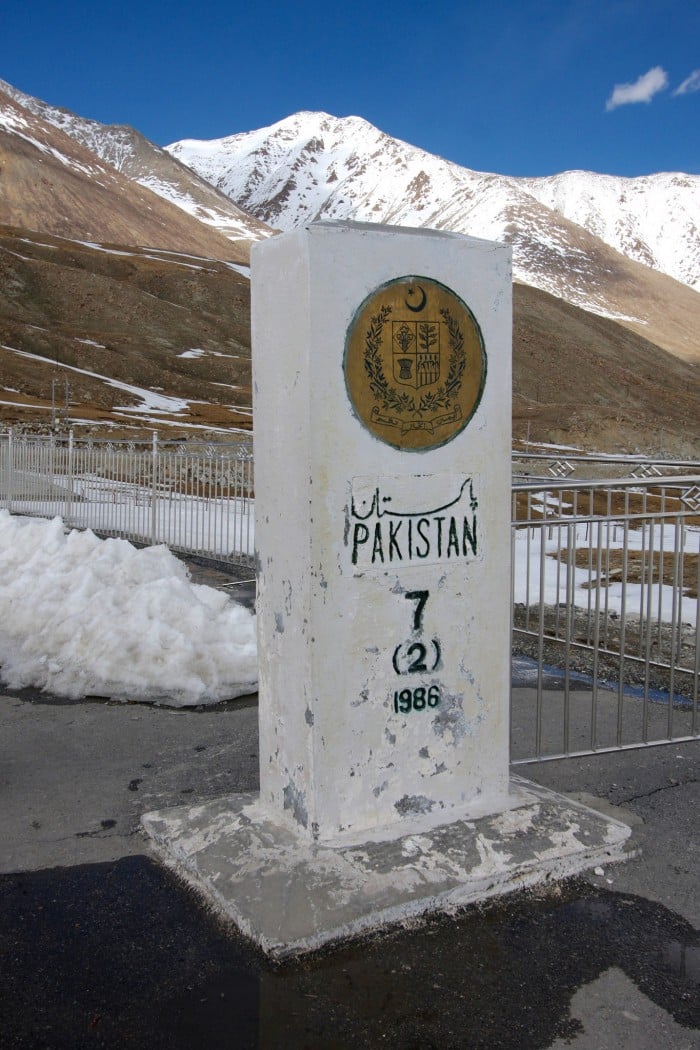 Image credit: Johannes Zielcke | Khunjerab Pass, Pakistan


Image credit: Johannes Zielcke | Khunjerab Pass, China

The connection between Pakistan and China lies at the Khunjerab Pass at over 15,000 feet. This magnificent road thus earned the nickname of "Friendship Highway" in China.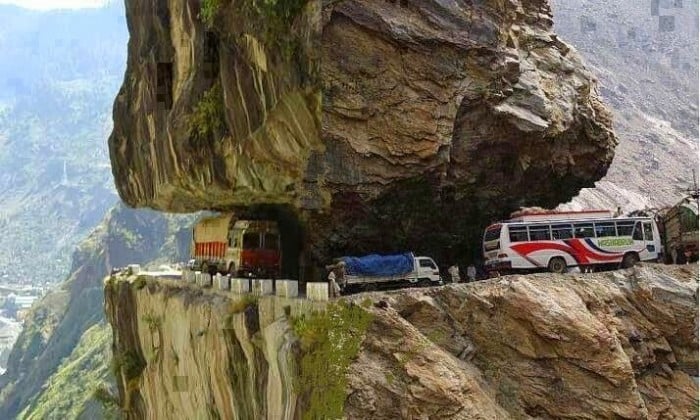 Image credit: naturalscience4u.blogspot.sg

As much as the beauty is set to marvel you with never-ending display of beautiful sceneries like that of Mansehra, Thakot and especially Gilgit-Baltistan, the road is, in fact, one chilling jeep drive in the world, with its twisted paths, narrow corners and probably "I'm going to die now" moments. At some areas, no two jeeps can ride side by side, thus one must really understand the roads well to be able to meander through these narrow paths. Hire a driver for this one, and make sure there are spare tires. Don't forget your refreshments too!

Sources say that during the 27-year construction period which began in 1959, 810 Pakistani and 200 Chinese workers lost their lives due to landslides and falls while building this highest paved international highway in the world.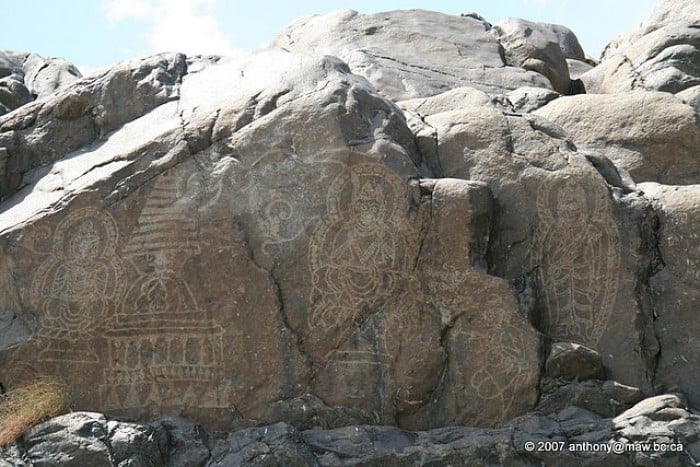 Image credit: Wikimedia Commons | Buddha Carvings on Karakoram Highway

Amid the astounding gorges, valleys and rivers, the highway is also spectacularly known for its rocky mountains with more than 20,000 bits of rock art at 10 sites located in the middle of the mountainous valley of Hunza and the archaeological site of Shatial.
You can take a long-distance bus ride from Rawalpindi, which is located 14km south of Pakistan's capital, Islamabad, to start your journey towards the KKH.
2. Gilgit-Baltistan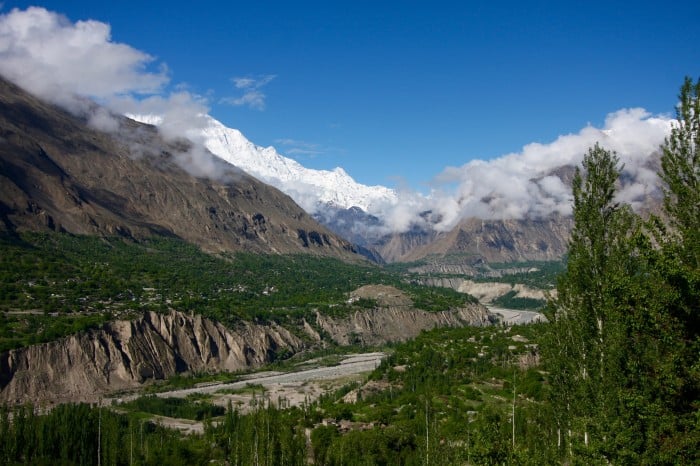 Image credit: Johannes Zielcke | Hunza Valley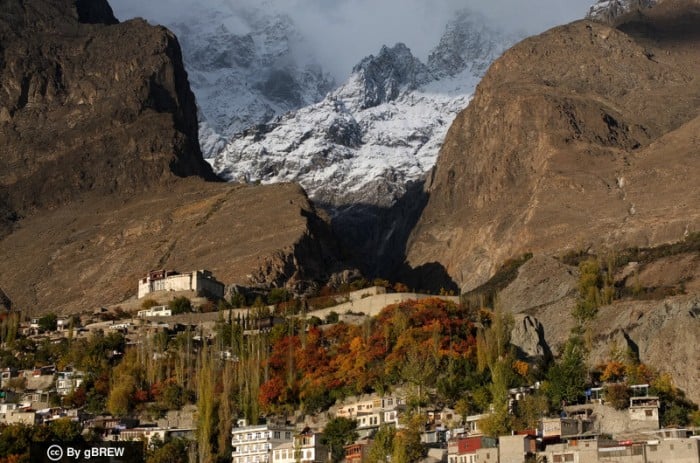 Image credit: Joseph Bautista | Karimabad, Hunza Valley

Immensely adored for its geographical landscape that boasts unforgiving scenic beauty, Gilgit-Baltistan is well-loved by mountaineers, trekkers and anglers. You can't get enough of the valleys in Gilgit-Baltistan! But one of the most highly sought after is the Hunza Valley, which some have called the Shangri-La of Pakistan.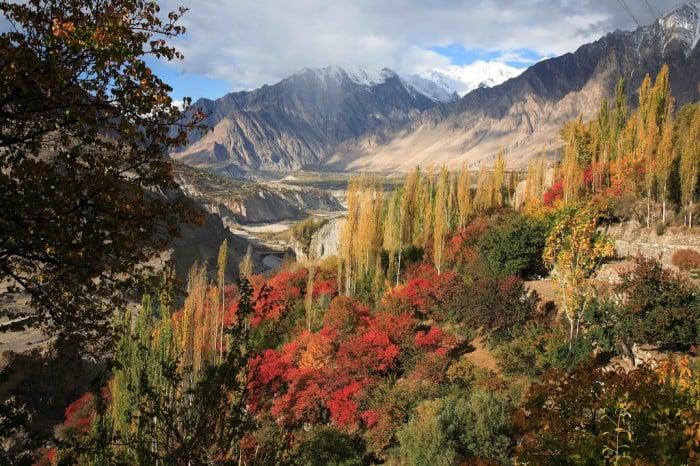 Image credit: Choudhry Khawar | Hunza Valley

The local atmosphere, topped with jaw-dropping sceneries of mountainous peaks, magnificent forts, a colourful medley of flora, and splendid cuisines, has made Hunza increasingly popular among travellers, who have continuously claimed that the area is actually very safe.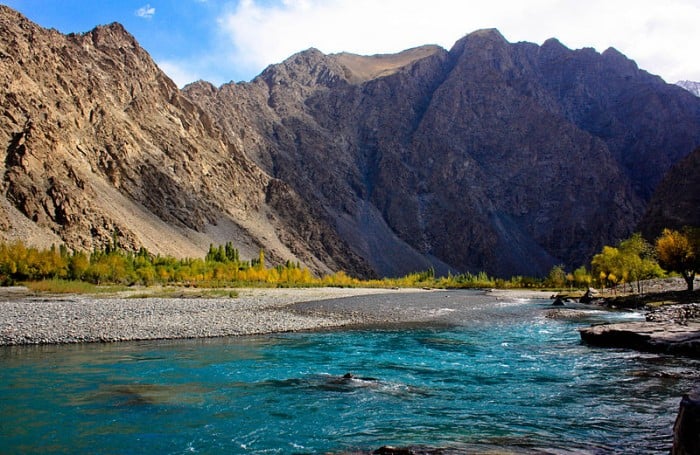 Image Credit: Wikimedia Commons | Sukh Nallah, Skardu

Another popular destination is the Skardu district that lies in the centre of Gilgit-Baltistan. Its stunning views of crystal clear lakes, deserts, picture-perfect roadways and villages make up Skardu's fascinating yet unique beauty. Avid mountaineers will be happy to learn that the district is the base camp for some of the world's highest mountains such as the K2, K3 and Gasherbrum.

Other valleys in the Gilgit-Baltistan region which you can explore include Astore, Diamir, Gilgit and Ghizer.

While you could get to Gilgit-Baltistan via the KKH, you can also fly on Pakistan International Airlines from Islamabad to Gilgit Airport.
3. Azad Kashmir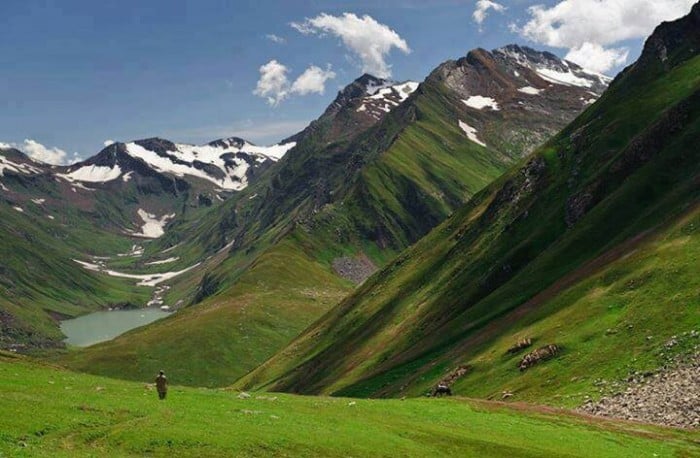 Image credit: junaidrao | Saral Valley

Azad Kashmir, which literally translates to "Free Kashmir", is a self-governing political entity like Gilgit-Baltistan that, along with the latter, forms part of the Pakistan-controlled area of once the unified state of Jammu and Kashmir. Despite their political autonomy, Azad Kashmir and Gilgit-Baltistan still act like parts of Pakistan, which India claims belongs to her. Jammu and Kashmir are now split at the border with India.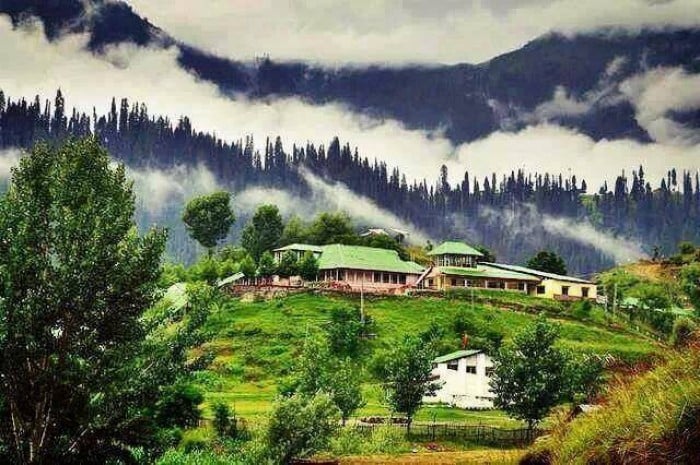 Image credit: junaidrao | Neelum Valley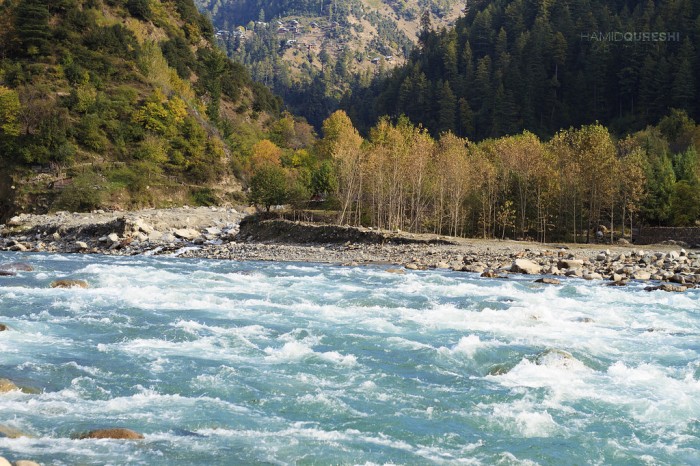 Image credit: hamidijaz | Keran Village, Neelum Valley

If Gilgit-Baltistan was stunning enough, you should make your way down to the connecting Azad Kashmir to let your eyes feast on more beauty. In Muzaffarabad, the capital city, you can head up to Pir Chinasi at a peak of 2,900 metres and take in the panoramic view of the city. The enticing lush green forests and serene waters of Neelum Valley, Jhelum Valley, Sharda Valley and Leepa Valley are definitely not to be missed. There are also pretty lakes located in these valleys, such as the Shounter Lake, Ratti Gali Lake and Chitta Katha Lake in Neelum Valley!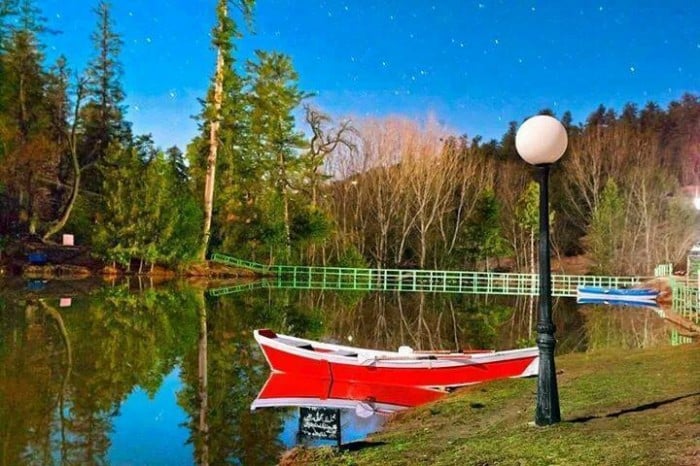 Image credit: junaidrao | Banjosa Lake, Rawalakot

Rawalakot, another city in Azad Kashmir, also offers fascinating attractions such as Nergola Waterfall and the picturesque Banjosa Lake. You can also explore other cities such as Mirpur and Dadyal.

Do note though, as a foreigner travelling into Azad Kashmir, you must obtain a No-Objection Certificate (NOC) from the Ministry of Kashmir Affairs in Islamabad. This may take a week or so, thus you might need to plan accordingly.

Since there are no direct flights to Azad Kashmir, you can take a plane to the Islamabad International Airport and then enjoy a scenic four- to five-hour road trip down to Muzaffarabad.
4. Lahore
Image credit: Umair Khan | Badshahi Mosque

Lahore is a wondrous mix of cultural, artistic and heritage-filled attractions that boast the legacies of the Mughal Empire and the British Raj, enchanting gardens, parks, and forts, majestic mosques, and scrumptious food. A couple of days at Lahore may not suffice to explore this beloved city.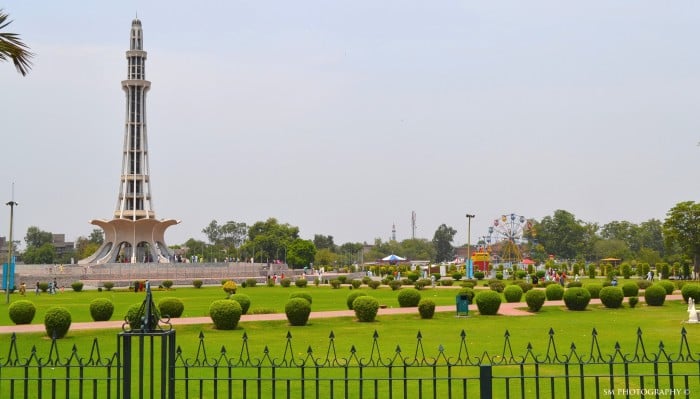 Image credit: Saad Mahmood | Minar-e-Pakistan

There are tons to see — from the beautiful Shahi Qila or Lahore Fort, historic Minar-e-Pakistan and the captivating scenery of the Shalimar Gardens to the shopping spaces of Anarkali Bazaar, Liberty Market and the Mall of Lahore. You should also pay a visit to the mosques in Lahore — they have been beautifully and elegantly constructed with charming architecture. Oh, and how could we forget the multitude of restaurants on Food Street and M M Alam Road for you to satisfy your appetite.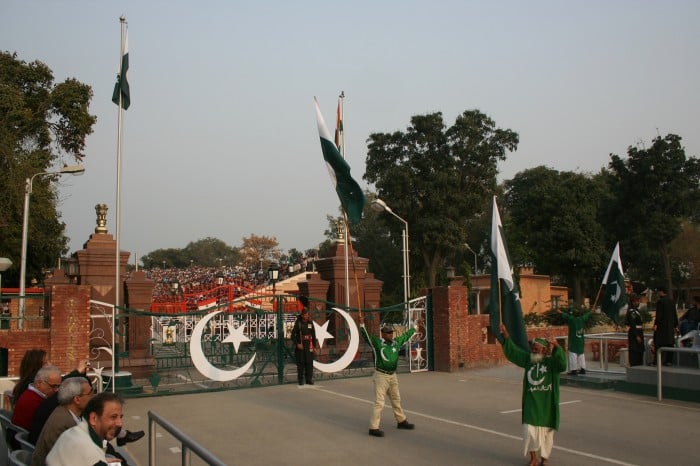 Image credit: Montgomery Lion | Wagah Border, Pakistan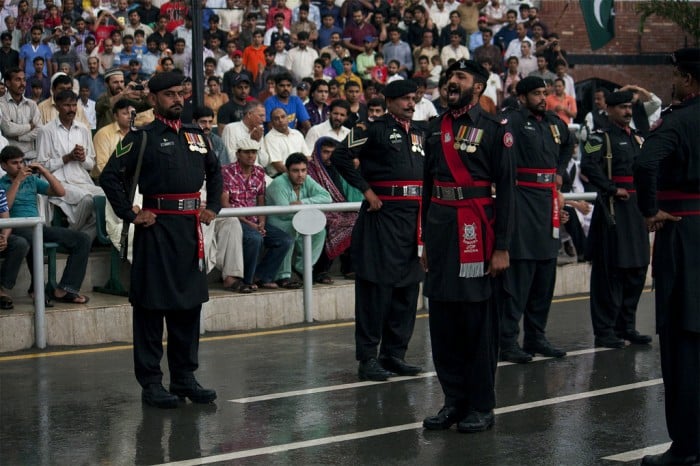 Image credit: lukezmartin | Wagah Border, Pakistan

Please don't forget to make your way out to the outskirts of Lahore to witness the Guard Ceremony at the Wagah Border with India just in the background!
5. Islamabad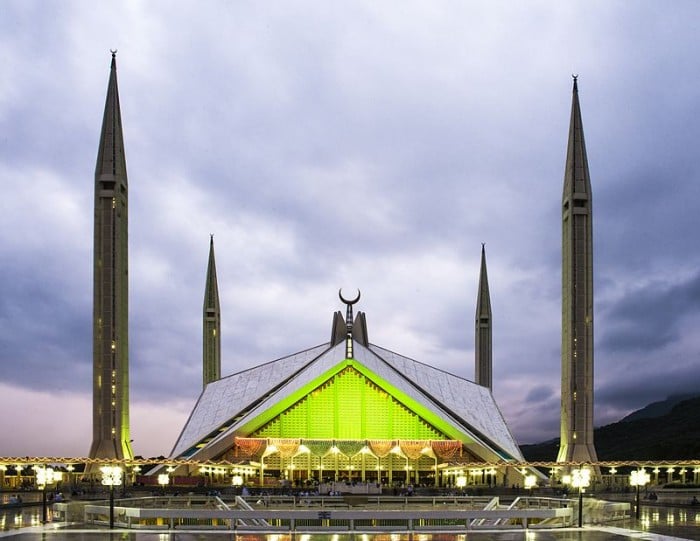 Image credit: Wikimedia Commons | Faisal Mosque on Ramadan

Pakistan's capital Islamabad is a peaceful city surrounded by calming scenery, and it is no wonder that it has been travellers' favourite after Lahore. One of the most sought-after location is the Faisal Mosque, with its splendid whitewashed facade and four minarets towering over you. Located on the foothills of Margalla Hills, which itself is popular among hikers, the mosque is, in fact, a gift from Saudi Arabia for the people of Pakistan, and is the largest mosque in the country.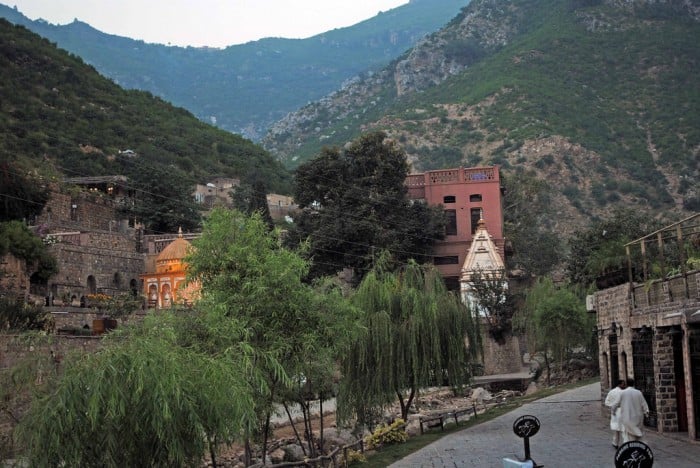 Image credit: Irfan Ahmed | Margalla Hills from Saidpur Village

Now if you're already at the foothills of Margalla Hills, you can make your way to Saidpur Village that has been around since the Mughal era. Here you can witness the perfect blend of the traditional with the modern, despite it being an informal heritage site.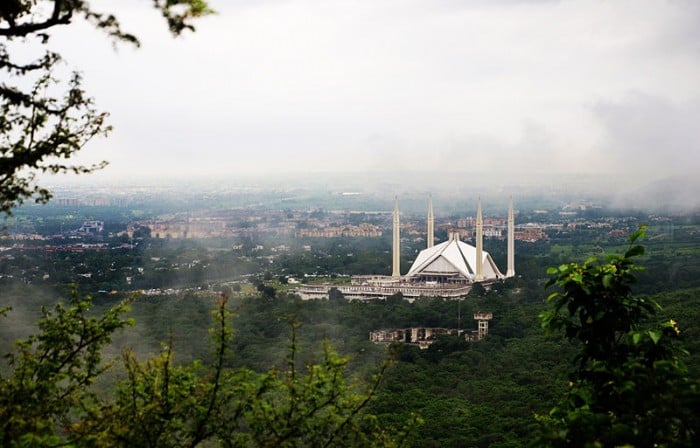 Image credit: Wikimedia Commons |View of Faisal Mosque from Daman-e-Koh

Also, do walk up to Daman-e-Koh, from which you can view the landscape of the capital city. Try this in the evening for a spectacular night view! There are also great museums to visit, such as the Lok Virsa Museum if you are interested in learning more about the culture and heritage of the different groups of people in Pakistan.
From here, you can take a five-minute drive up the road to catch a glimpse of the blooming-flower structure of the Pakistan Monument. It symbolises the country's provinces — Punjab, Sindh, Balochistan and Khyber-Pakhtunkhwa — in four petals while the three smaller petals represent its three territories, namely Gilgit-Baltistan, Azad Kashmir and the Federally Administered Tribal Areas.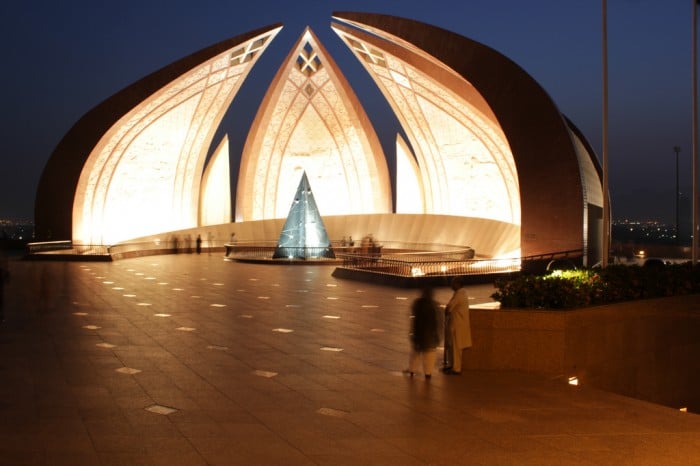 Image credit: Aanis Abid | Pakistan Monument

Just in front of the monument is a wax museum, known as the Pakistan Monument Museum, where you can learn more about Pakistan's history.
6. Karachi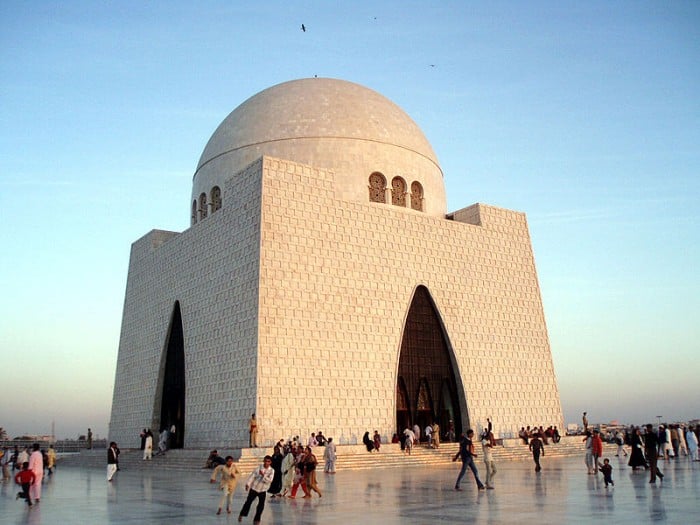 Image credit: Wikimedia Commons | Quaid-e-Azam Mausoleum

Despite Karachi losing its crown as the capital of Pakistan, it still remains the largest and most populated city of the country, and also its economic heartbeat. With this, Karachi has become one of the most cosmopolitan cities of Pakistan, home to large numbers of ethnic Sindhis, Punjabis, Pashtuns and other nationalities.

Karachi is one place where you can see the love and admiration of Pakistan's founder, Muhammad Ali Jinnah, in many landmarks, monuments and buildings, such as the Quaid-e-Azam Museum, the Quaid-e-Azam Mausoleum, the Wazir Mansion (the founder's birthplace) and the Bagh-e-Jinnah, also known as the Frere Hall Garden.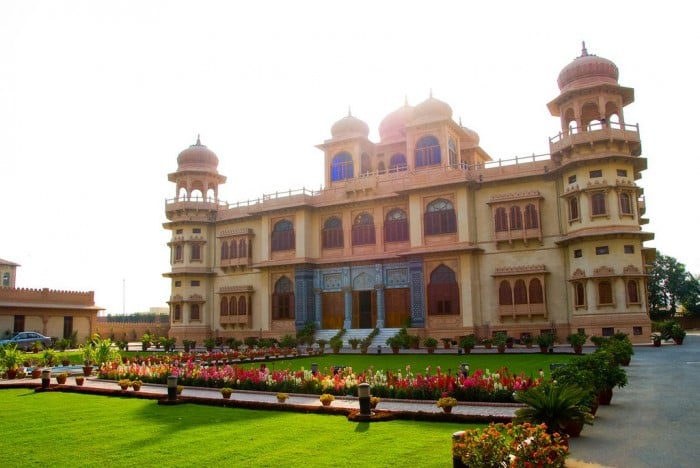 Image credit: Benny Lin | Mohatta Palace

Be sure to check out the architectural splendour and luxurious interior of the Mohatta Palace in the wealthy district of Clifton. The palace was constructed during the 1920s by a Marwari businessman who wanted to save his wife from dying from a serious illness. After doctors told him that refreshing sea breeze could cure his wife's illness, he decided to build this mansion, which, during that time, received immense winds from the nearby sea. Now, due to the surrounding high-rise residential areas, winds barely reach the palace, although you could still catch a view of the sea if you head up to the rooftop.

Unfortunately, the partition messed up the businessman's ownership of the palace, which was then given to the Pakistani government. Yet, this crucial history of the palace still survives, especially with its name retained as "Mohatta Palace" despite it being conferred the official name of Qasr-e-Fatima, after the palace was handed over to Fatimah Jinnah, the sister of Muhammad Ali Jinnah.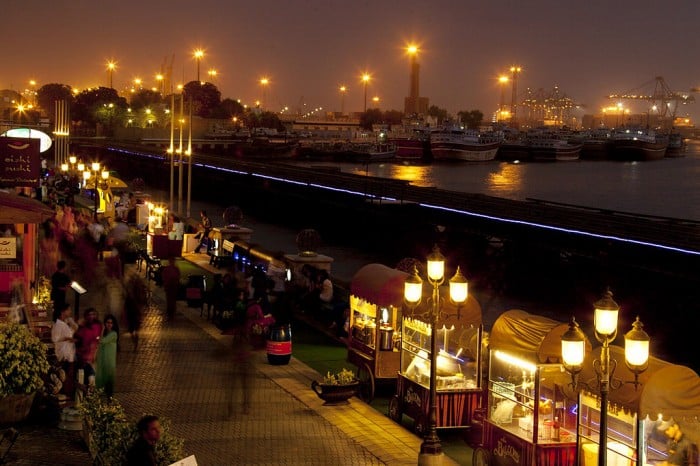 Image credit: Mustafa Mohsin | Port Grand

Apart from that, you can also visit the State Bank Museum, National Museum of Pakistan and the Pakistan Air Force Museum.  For those looking for some entertainment, you can hang out at the Port Grand where you can enjoy a great variety of food and drinks from the many restaurants available. You can also enjoy the view of the 19th century Native Jetty Bridge and the Karachi Harbour.

Also read: 17 Muslim-Friendly Travel Destinations to Visit in 2017

If you have travelled to Pakistan, share with us your best experiences so that others can be inspired to travel there too!