It's getting lost in the marketplace with indistinct hollers distracting my navigation through the medley. It's the eclectic tangle of old sand-colored buildings and dramatic skyscrapers, yet so perfectly complementary. Perhaps the dancing fountain illuminated against the world's tallest building. Or our gutsy driver shredding his Jeep through the desert as he took us on one hell of a dune-bashing ride… Okay, so I can't choose the one thing I love about this city.

Dubai is a city unapologetic for its grandeur, its culture, its cuisine, its outrageous attractions. Nowhere does over-the-top like Dubai, and nowhere can you find the world's largest indoor theme park, tallest building, only 7-star hotel, largest shopping mall (with the world's largest aquarium in it), biggest fireworks display, only dinosaur carousel and a dozen other world records – all in a single city.

Planning a visit to this glitzy playground can get pretty overwhelming. There's so much to do and see, with too little time (and money). That being said, this city is one you'd revisit again in a heartbeat.
Here's a list of things to do in Dubai to pack into your itinerary!
1. Go on a desert safari tour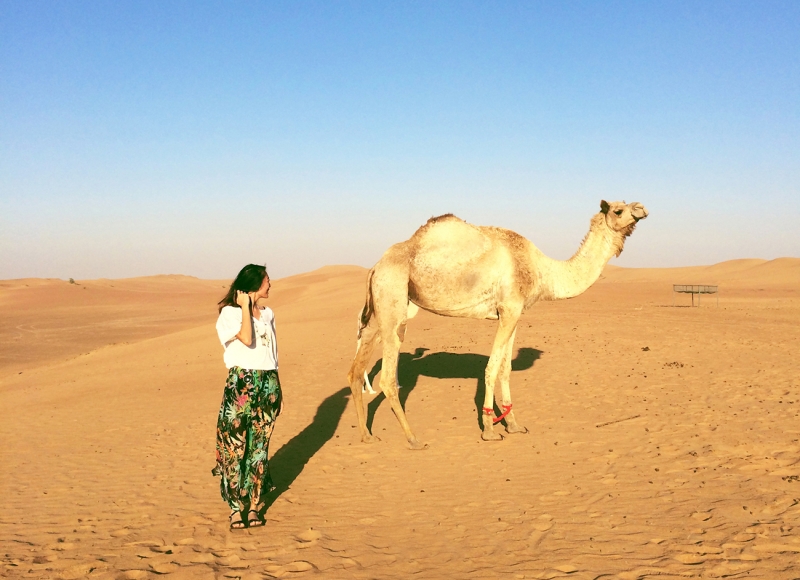 In the company of camels and chummy local guides, frolic in the sand dunes' endless ripples, witness the golden sunset illuminate the desert in a thousand more hues of orange, and have an enchanting evening in this oasis amidst the city clamour.


There are a dozen activities to get your hands sandy with in the desert – including dune-bashing (think roller coaster on a 4×4), sand-boarding, henna painting, shisha smoking, getting up close with a handsome Arabian falcon, and feasting on a barbecue buffet in your cosy Bedouin camp.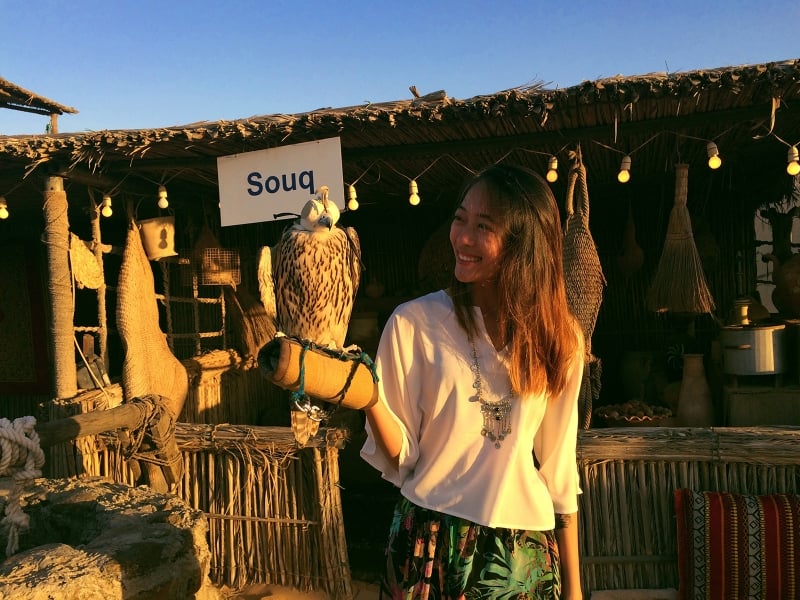 Getting there: The easiest way to visit the desert in Dubai is to join a private tour (there are many to choose from), where local guides will pick you up from the city and whisk you to dunes comfortably in a 4×4. Until the dune-bashing starts.
2. Stop to marvel at the architecture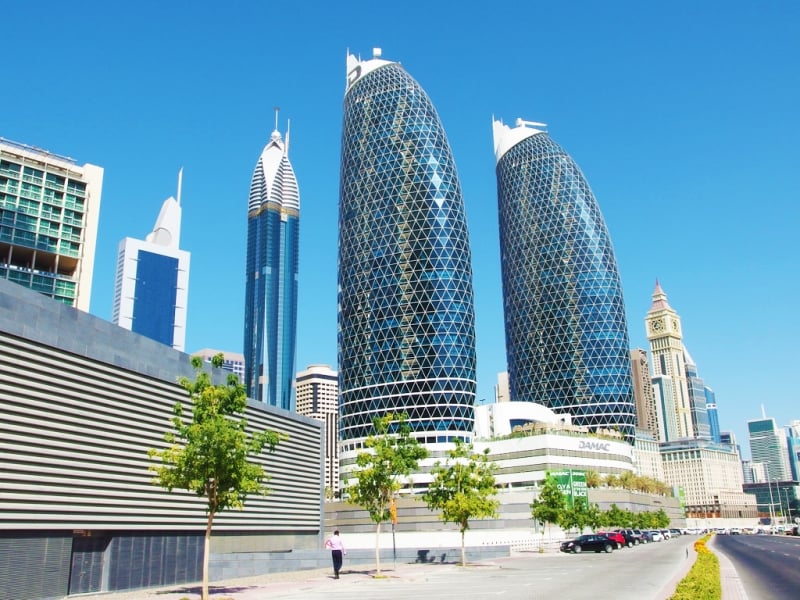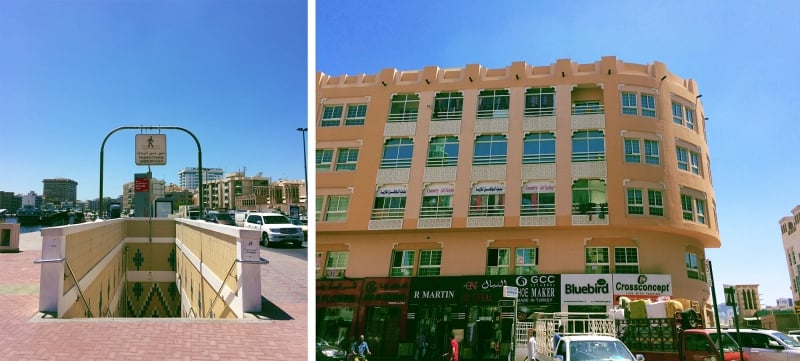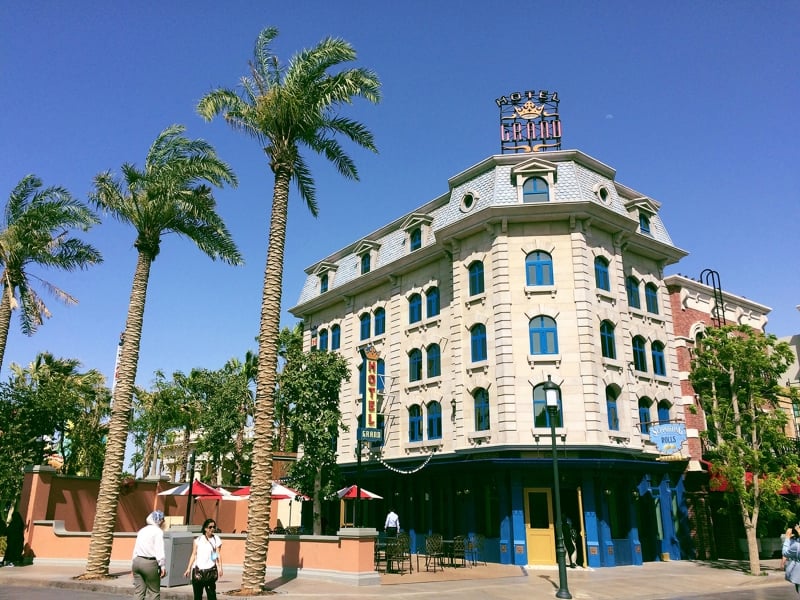 This charming city is a tryst of modernity and tradition, which manifests most sublimely in its architecture – from the swankiest of skyscrapers to the humblest of suburbs.
Also read: In 20 Photos: Why Dubai is Basically #ArchitectureGoals
3. Have a fountain show get you all emotional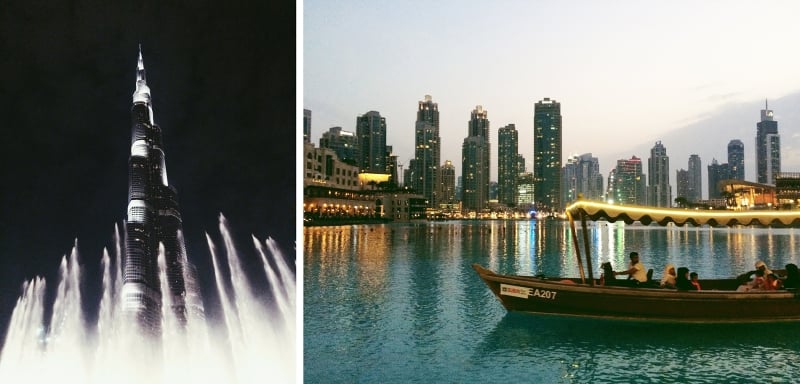 Believe me when I say I'm the least touchy-feely human around. Though, also believe me when I say I actually teared up witnessing the fountain show at The Dubai Fountain. Extraordinary doesn't even begin to cover it – a choreography of water, lights, and music against possibly the most gorgeous skyscraper glittering in its fullest glory.
Tip: Instead of standing at the bay, catch this stunning spectacle from a water taxi, the 'abra', as it courses through Burj Lake and stops right before the fountain for a front row seat of this showstopper. It's also quite the 4D experience when you get the sprays from the shooters.
Address: The Dubai Fountain, Financial Centre Road, Downtown Dubai
Nearest metro: Burj Khalifa/Dubai Mall Metro Station
4. Delve in hippie haven at Al Serkal Avenue


By now, the concept of Dubai being a perfectly incongruous city should be old news, where elementary and grandiosity often sit side by side. Now garnish that equation with a thriving contemporary art scene for an eclectic tangle of amazing.
Oddly nestled in Dubai's industrial area of Al Quoz, Al Serkal Avenue is home to art galleries and community spaces (in the form of warehouses) for photography, design, music, and all things creative.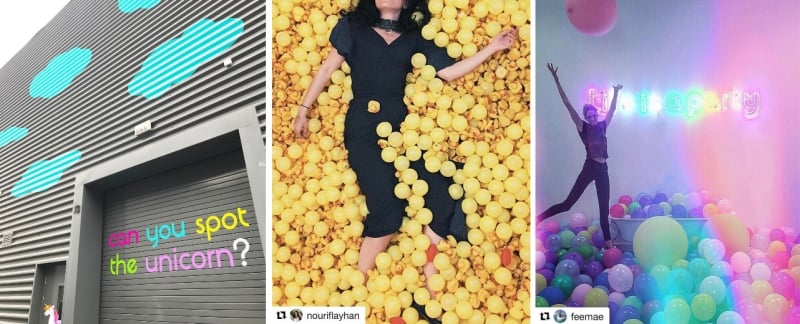 Here's a favourite art gallery of mine, The Happy Studio, which dedicates its space to magic, confetti, and a truckload of happiness. The gallery is a gleeful ensemble of coloured balloons, neon lights, and bathtubs with a thousand rubber duckies. To simply put it, a time-machine that brings you back to your unbridled 4-year-old self.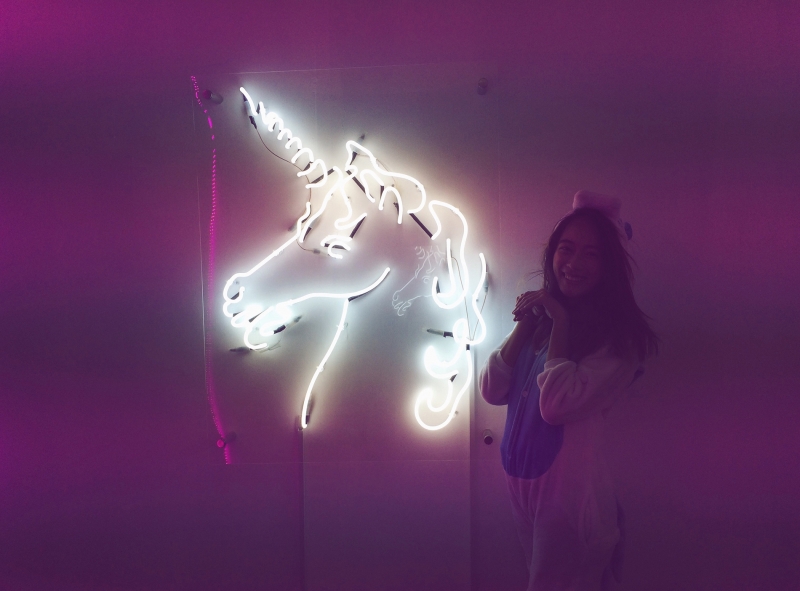 Where else can you sashay in a unicorn onesie without the stares?
Address: Street 8, Al Quoz 1
Getting there: Take the metro to Noor Bank Station, then take a taxi/Uber to the Al Serkal Avenue.
5. Parasail, jet ski or bum at Jumeirah Beach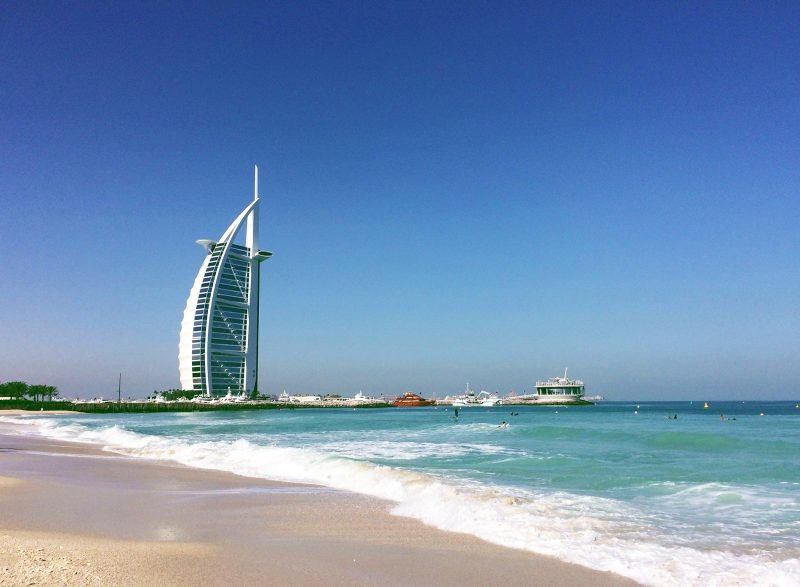 Unofficially termed as the eighth world wonder, Dubai's coastline is a phenomenal stretch of glorious beaches and archipelagos…

… and the sweetest sky-diving spot that might just convince an acrophobic otherwise.
One of which is Jumeirah Beach, a strip of soft white sand adjacent to possibly the world's only seven-star hotel, Burj Al-Arab. Hit the turquoise waters on a jet ski, bum at the shore and see day fade into a peachy sunset, then end the night with an alfresco barbecue dinner. A perfect antidote to the downtown hubbub.
Address: Jumeirah St
Getting there: The most convenient way to get to Jumeirah Beach is by a taxi/Uber, with it being only 10km from Downtown Dubai.
6. Spend a day at the world's largest mall


I recall our guide explaining to us that the locals in Dubai regularly spend their entire day in malls. As awfully mundane as that sounds, it is quite the opposite, and you'll see why when you step into one.
The Dubai Mall is the superlative of them, and is probably also the mall that holds the most world records in a single space – the world's largest mall, the world's largest aquarium, and even the world's largest choreographed fountain system, a 24-metre waterfall traversing through all four levels of the mall.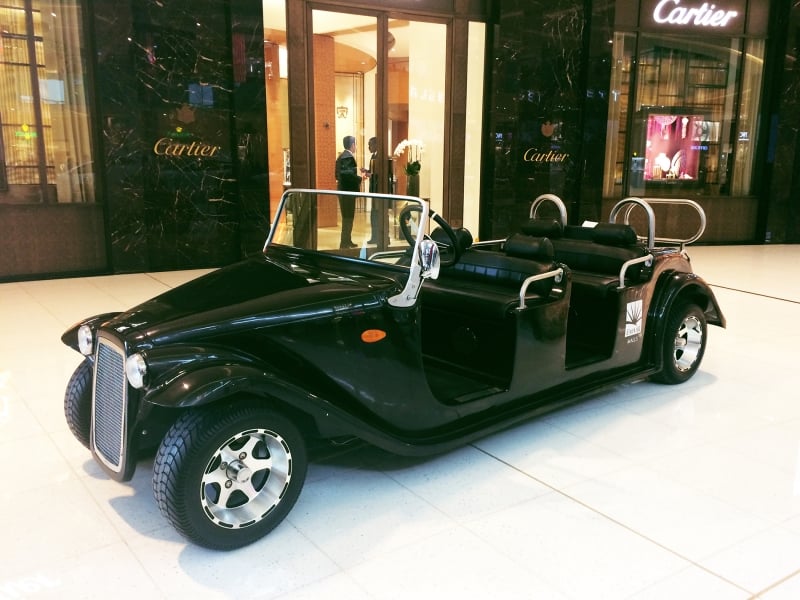 The only way you should get around a mall the size of a spanking 12 football fields.
Address: The Dubai Mall, Financial Centre Road, Downtown Dubai
Nearest metro: Burj Khalifa/Dubai Mall Metro Station
7. Visit an authentic food trailer park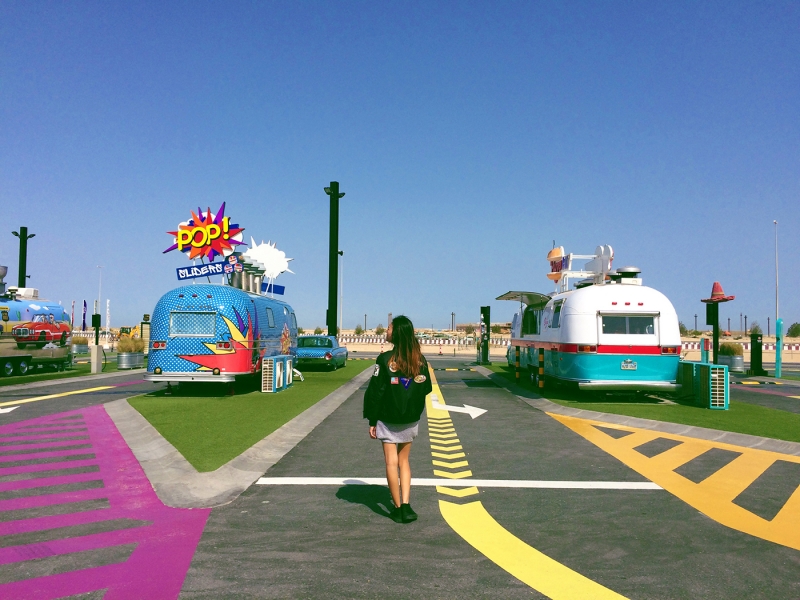 This photogenic trailer park, The Last Exit, is the perfect backdrop for that gram shot, yes. But more importantly, this street food truck park serves as a pit stop for hungry motorists on their inter-city travels and whips us gourmet (yet affordable) food choices from Mexican bites to Arabic desserts.

Address: E11 Sheikh Zayed Road
Getting there: The Last Exit is an hour drive from Downtown Dubai, and is most accessible via a taxi/Uber.
8. Enthral in Middle East's largest theme park resorts
Like its skyscrapers, the theme parks in Dubai are anything but modest. And boast some mind-boggling world records themselves as well. Surprise, surprise.
Aquaventure Waterpark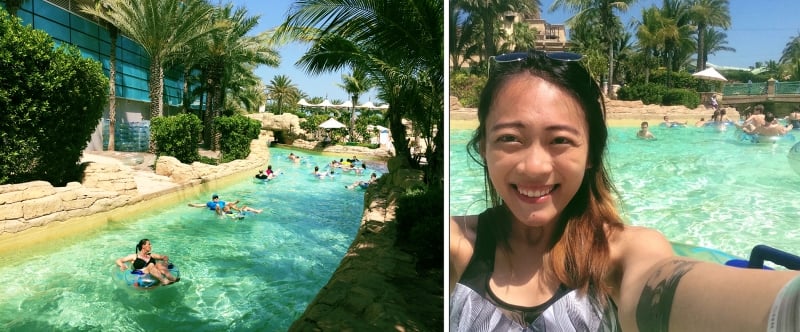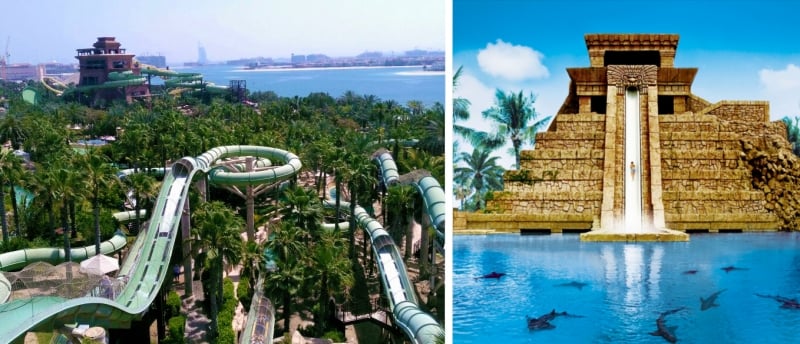 Whether you're hurtling down a 30-metre flume on free fall into a tank of sharks and rays, or lounging your lazy bones through the Lazy River, Aquaventure Waterpark makes the perfect place to spend a summer afternoon.
Address: Atlantis, The Palm, Crescent Road
Nearest metro:  Take the metro to Mall of the Emirates Station, then take a taxi/Uber to the Atlantis.
Dubai Parks & Resorts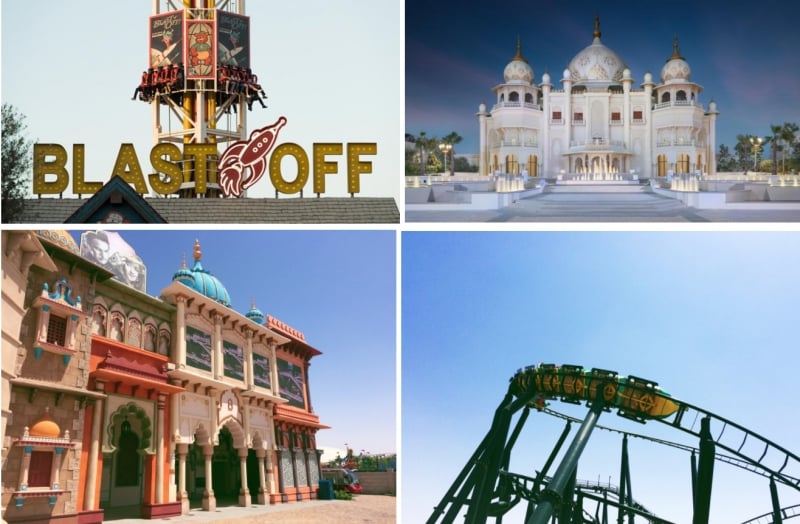 Dubai Parks & Resorts is an integrated resorts destination with four theme parks: Motiongate, Legoland, Bollywood Park and Riverland. Water rides, carousels, roller coasters on lego bricks, a Smurfs village – you name it, this gripping labyrinth of mega theme parks has it.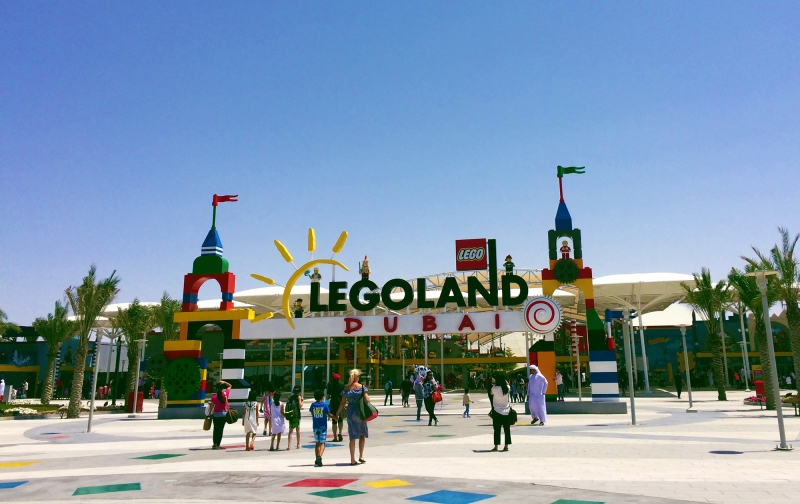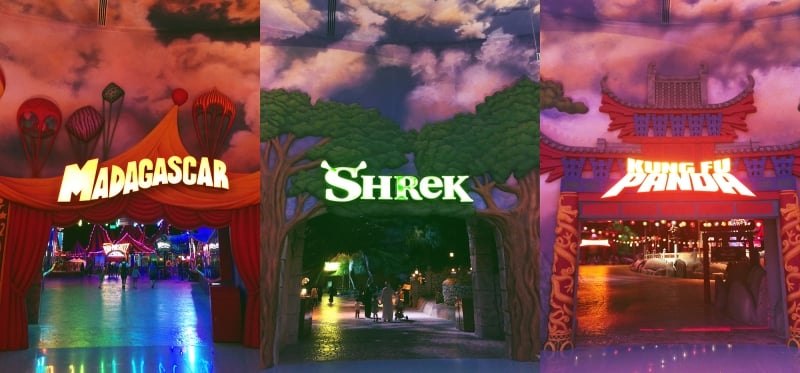 And as if this 25 million square feet of a mammoth entertainment hub isn't impressive enough, Six Flags Dubai is slated to open here in 2019, making it the region's first Six Flags park!!!!!!!!! Brb while I book my flight to Dubai for 2019.
Address: Sheikh Zayed Road, Opposite Palm Jebel Ali
Getting there: Take the red metro line south to Jebel Ali Metro Station, then take a 10-minute taxi/Uber ride to Dubai Parks & Resorts.
IMG Worlds of Adventure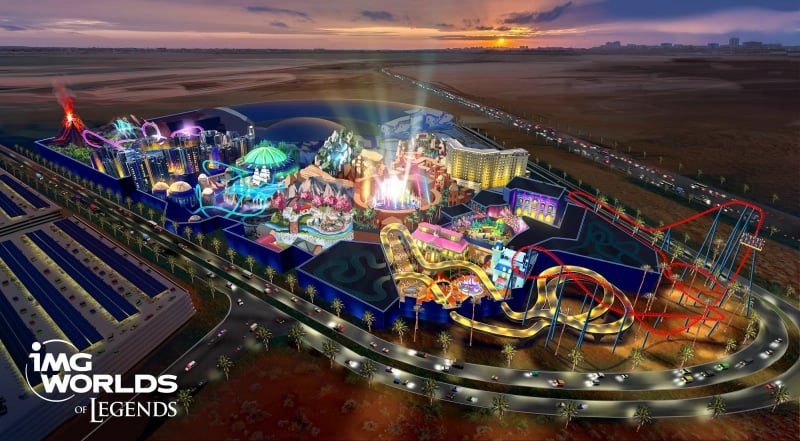 You would think indoor theme parks have nothing on outdoor ones. At least I did but was thoroughly convinced otherwise by IMG Worlds of Adventure, also boasting the title of the world's largest indoor theme park.
IMG Worlds of Adventure houses four main adventure zones, with dozens of attractions in each of them including thrill rides based on iconic Marvel and Cartoon Network characters, roller coasters for serious theme park goers, and a haunted hotel, a visitor-favourite and also my theme park bias.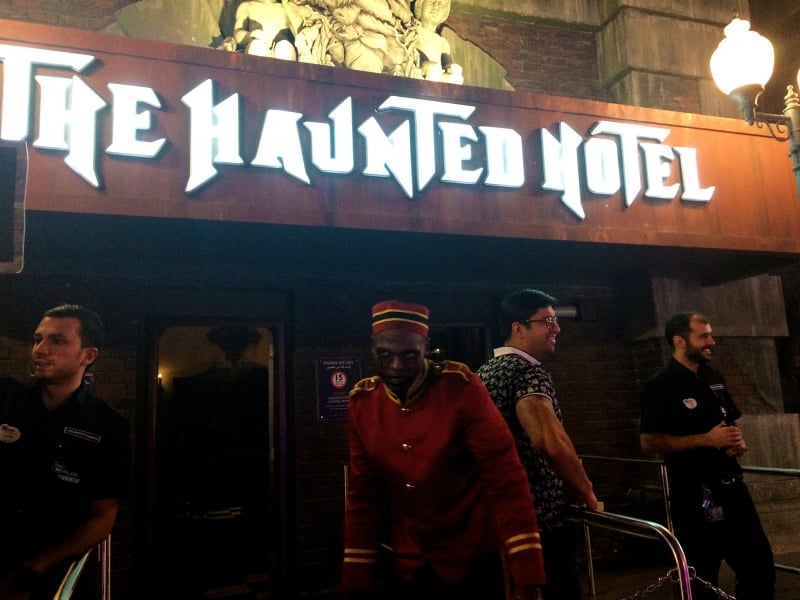 Meet the beau of my trip in his element.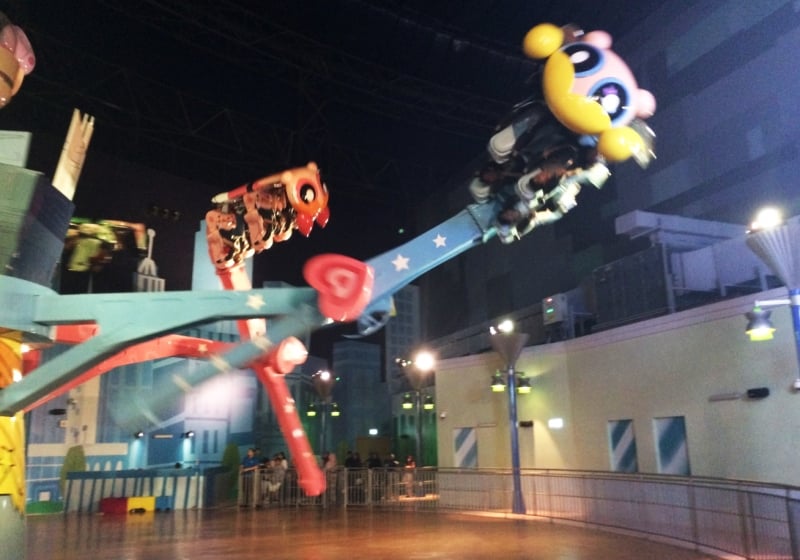 Have your childhood dreams wrecked as the not-so-adorable Powerpuff Girls take you on a brutal 360-degree swing ride.
Address: Sheikh Zayed Road, Opposite Palm Jebel Ali
Nearest metro: Jebel Ali Metro Station
9. Study the cityscape from Dubai's highest point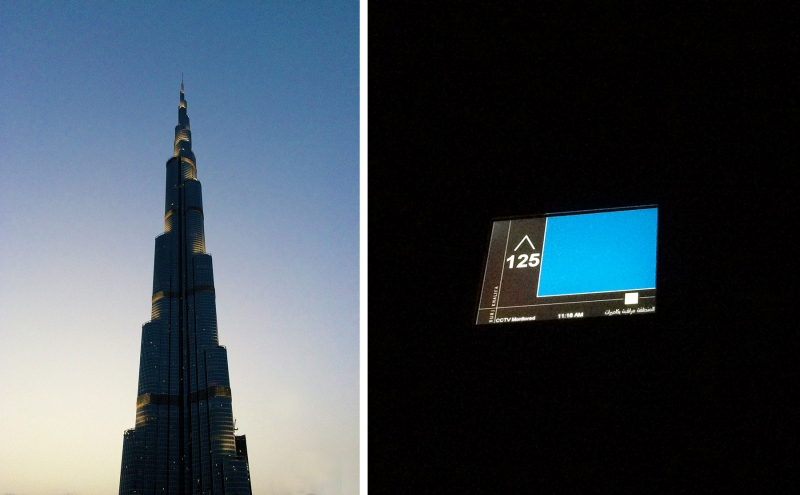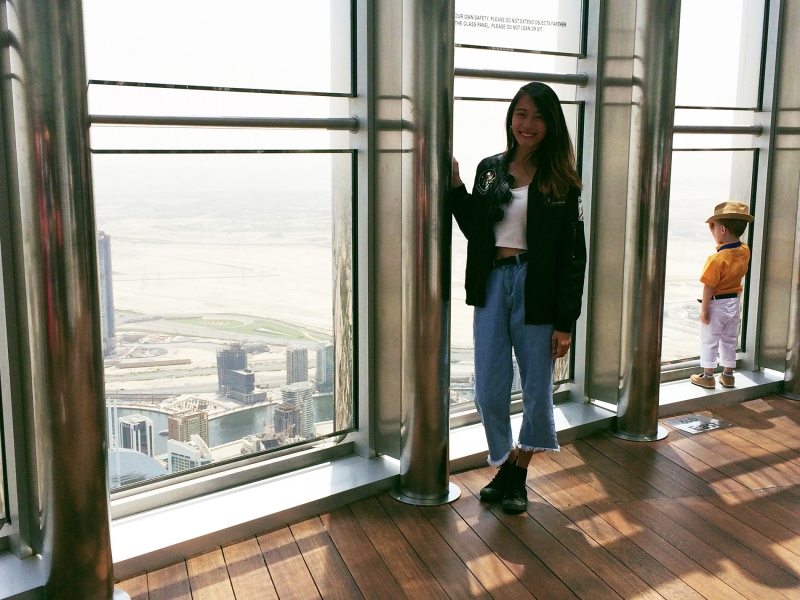 It's not everyday you get to be at the highest point of a city, with it being a kickass vantage at that. Burj Khalifa, the world's tallest building, stands 125-storey tall (that's three times the height of Eiffel Tower) and offers a stunning view of  central Dubai. Correction – the whole of Dubai, basically.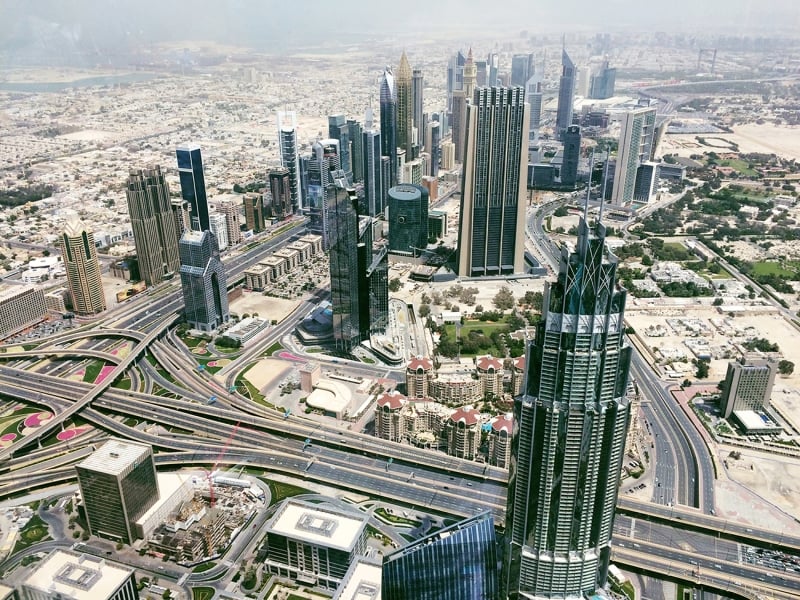 While the city centre is dotted with sprouting skyscrapers, the rest of Dubai is interestingly juxtaposed with low-rise buildings and sandy apartments.
Address: Burj Khalifa
Nearest metro: Burj Khalifa/Dubai Mall Metro Station
10. Befriend penguins at Dubai Ski Resort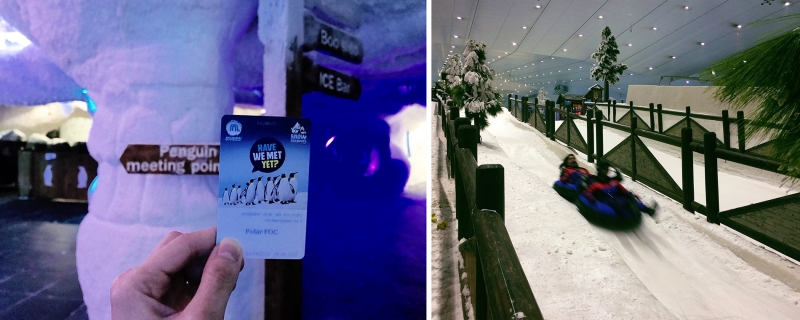 Yes, penguins, snow sleds, and ski slopes in a land surrounded by deserts.
Dubai Ski Resort offers an assortment of your favorite winter activities, only without the frostbite. This 20,000 square meters indoor snow park is situated right in the core of Dubai's city centre, and is a go-to for a casual hour of snowboarding, an escapade from the heatwaves outdoor, or to have gentoo and king penguins tug at your winter jeans and heartstrings.
Address: Mall of The Emirates, Sheikh Zayed Road
Nearest metro: Mall of The Emirates Metro Station
11. Have your burning questions about Arabs answered
"What's the Arabs' take on homosexuality?" "Why do Arab men have to wear thobes daily?"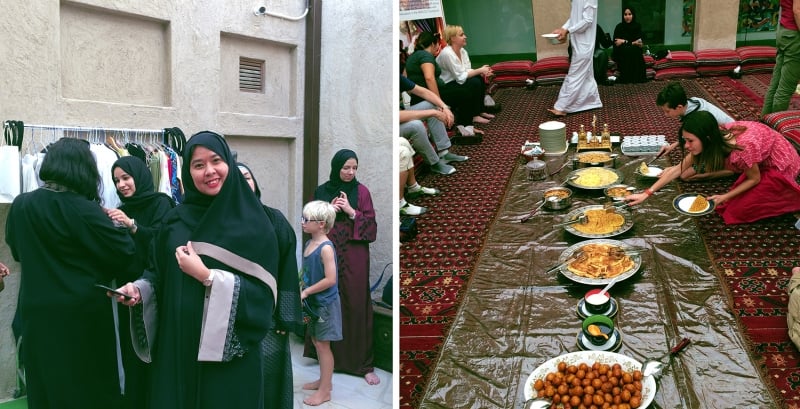 At the Sheikh Mohammed Centre for Cultural Understanding (SMCCU), things go by the ethos of 'Open Doors. Open Minds.' Visitors are encouraged to have no inhibitions whatsoever and openly discuss about the UAE's culture, in the course of learning firsthand and debunking preconceptions about the country.

The most controversial of questions were fired (and answered), a spread of authentic Emirati cuisine was served, and we left the building with an appreciation of this beautiful culture nowhere else could gift us with.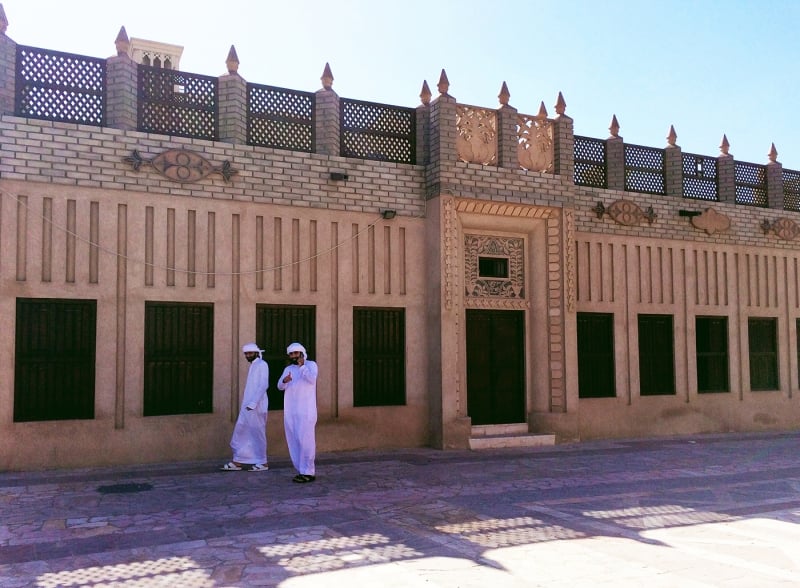 The SMCCU also conducts heritage trails around its premise, through the photogenic Al Bastakiya neighborhood and a visit to the Diwan Mosque.
Address: Sheikh Mohammed Centre for Cultural Understanding, Al Musalla Road
Nearest metro: Al Fahidi Metro Station
12. Find Happiness Street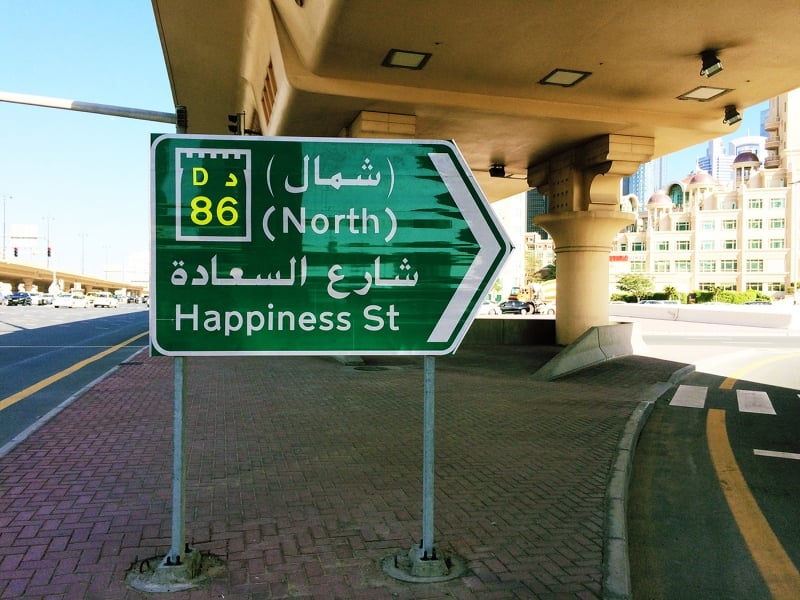 If you think a thriving metropolis like Dubai is all about the fast cars, the riches and the high life, think again because its ruler, HH Sheikh Mohammed, has just launched the first World Happiness Council. And on that note, another world record in the bag.
The World Happiness Council aims to "support international goals to standardise happiness as a measure of development." Simply putting it, to make the world a happier place, and Dubai is taking this seriously, with initiatives including the newly renamed Happiness Street, the Jumeirah Emirates Towers being declared as the World's Happiest Tower, the use of a Happiness Meter for its residents, and even an official Minister of Happiness championing this movement.
Address: Al Sa'ada Street, Dubai International Financial Centre
Nearest metro: Financial Centre Metro Station
This is Dubai in more than a nutshell, and I still have paragraphs about this city I could wax lyrical about. Dubai, you've stolen my heart this time and I'd gladly let you do it again when I'm back in 2019 for Six Flags. Till then.
---
A huge thank you to Dubai Tourism for the opportunity to explore the magic of this city.