Although your hair is hidden beneath the hijab, who says you can't have luscious locks? Rest assured, you can still protect your aurat while treating yourself to a "pampering hair" day at one of these Muslimah salons. Fitted with private rooms or exclusively catering to female customers, you can literally let your hair down! 
1. Pearlista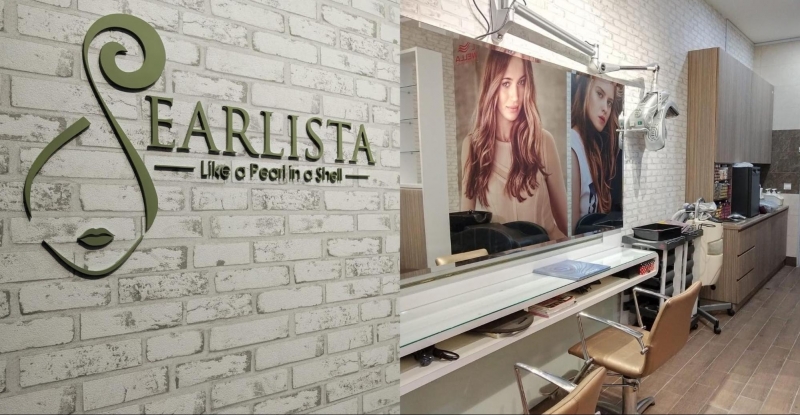 Founded by Nura J, a former MediaCorp artiste, Pearlista is one of the most prominent Muslimah salons in Singapore. Pearlista offers the whole slew of hair salon services including haircuts, rebonding, colouring and scalp treatments. Currently with three locations – in the east, west and central Singapore – a Pearlista hair salon is conveniently near you no matter where you reside.
Address: Outlets
Contact: +65 6253 1422
2. Karva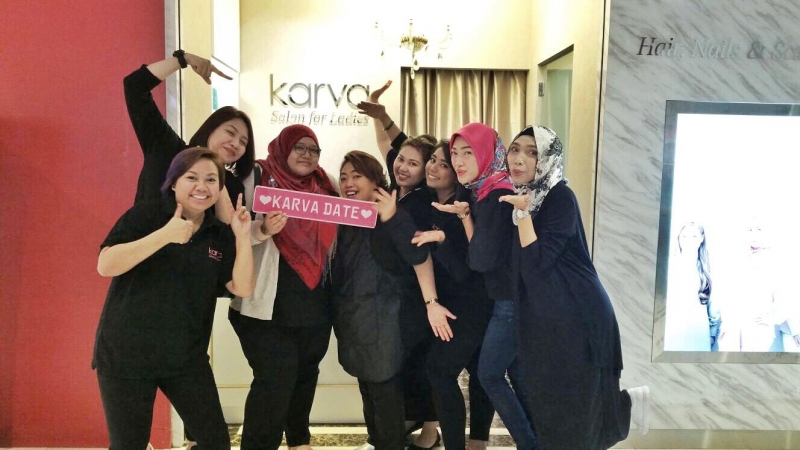 Karva is a female-only hair salon established by the well-known Singaporean influencer, Rozza Ramli. You can treat yourself from literally head to toe with their wide range of hair services and nail services. Anyone up for a mani and pedi? With four hair salon outlets at all corners of Singapore (and even one in Malaysia), book an appointment and have a #karvadate with your girlfriends!
Address: Outlets
Contact: +65 6291 1205
3. Iffah Muslimah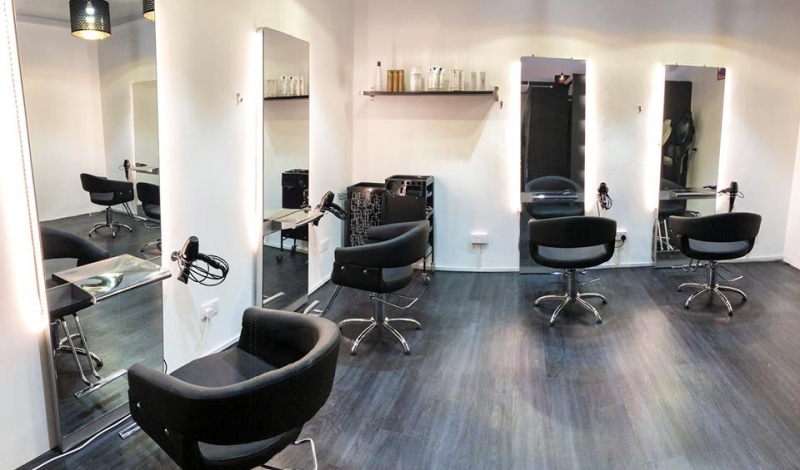 Other than providing hijabis with comfortable and closed areas, the founders of Iffah Muslimah went the extra mile to develop products and services that to treat various hair problems that hijabis encounter such as greasy roots, dandruff and dry scalp. With most of their products being organic and halal-certified, you can indulge in their services with a peace of mind. 
Address: Outlets
Contact: +65 9828 9145
4. Bee Choo Ladies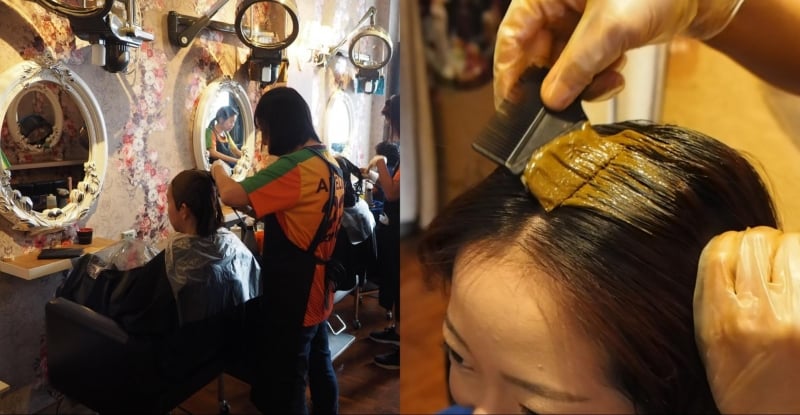 If you've always been wanting to try Bee Choo's hair treatments, you can now do so at Bee Choo Ladies, an outlet that caters only to women. There are two zones of privacy in the salon; an open seating area and a section where you can opt to draw curtains for more privacy. You can look forward to treating your hair to natural haircare treatments made from herbal extracts and plant oils that are free from harsh chemicals and synthetic ingredients.
Address: 5 Pahang Street Singapore 198606
Contact: +65 6291 5354
5. Jannah Hair & Beauty Salon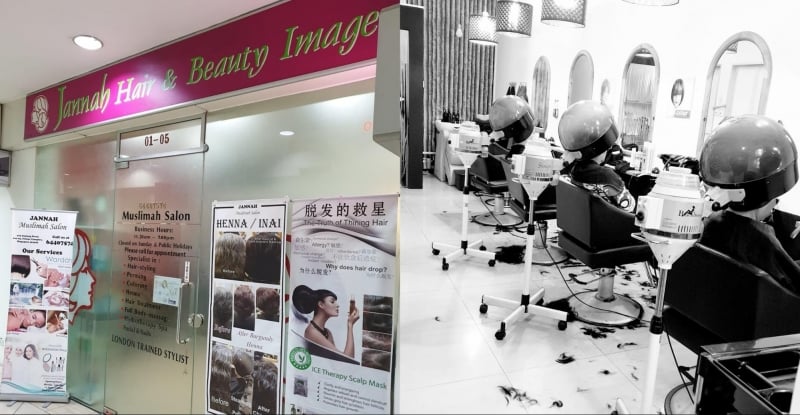 With 12 years of service under their belt, Jannah Hair & Beauty Salon provides various services from head to toe under one roof. The women-only salon offers a wide range of services that include haircut, hair styling, facials, body massage and hydrotherapy spa. If you're overwhelmed with the many options, don't fret! You can consult the friendly professionals and receive services customised specifically for you.
Address: 970 Geylang Road, #01-05, Tristar Complex, Singapore 423492
Contact: +65 6440 7574 
6. Faredah Muslimah Hair Salon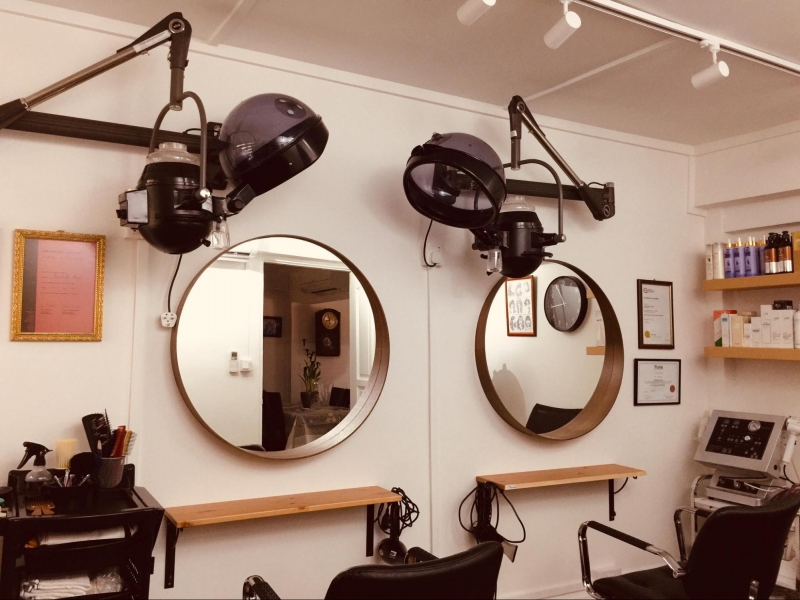 Nestled in the neighbourhood of Chai Chee, this humble salon receives rave reviews online. Affectionately known to customers as Kak Faredah, the owner provides excellent service and gives great advice on how to care for your hair. Customers who live as far as Sengkang and Woodlands come to Faredah Muslimah Hair Salon for a variety of hair services such as Soft Rebonding, Argan Oil Mask Hair Treatments and Damage Hair-Keratin Treatment. 
Address: Blk 40 Chai Chee Ave off Bedok North Ave 1 Singapore 461040
Contact: +65 9737 0696 
7. Winn's Home Salon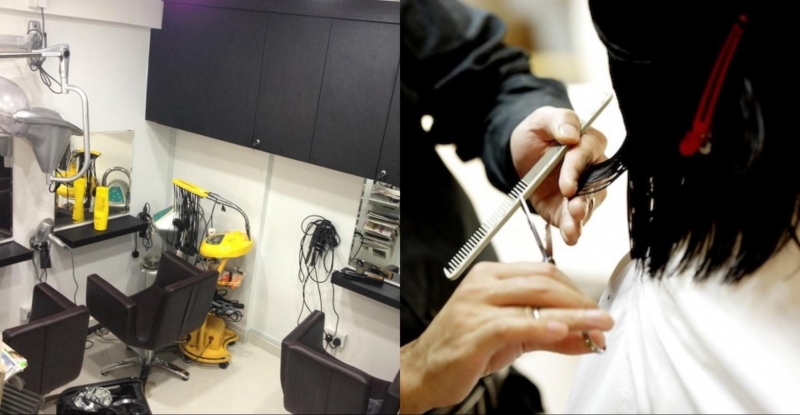 There's nothing more private than a female-only home-based hair salon! Established in 2007, Winn's Home Salon was created so that the owner could take care of her children while working from home. Although it is in an HDB flat, Winn's salon is fitted with professional equipment found in the usual salons. Look no further if you're looking for a private and truly personal hair experience. 
Address: Block 245 Tampines Street 21 Singapore 521245
Contact: +65 8121 8066