Doha is truly how you imagine it to be, and more! Beautiful mosques, untouched deserts, and sky-piercing architectural marvels all set against a backdrop of ambient historical towns.
The city's strategic location at the point where East meets West makes it a popular transit location for travellers heading to Europe or the Americas. However, most globetrotters choose to quickly jet off to their next destination and pass up the opportunity to experience the charms of Doha and Qatari hospitality.
Here are 10 reasons why you must have a stopover in Doha next time you're passing through it for your long haul flight!
Ready to fly to Doha? Head over to Wego and enjoy fantastic offers on flights with Qatar Airways!
1. A place that will transport you back in time

During the 18th century, the fort city of Al-Zubarah was an international trading centre. It was also where locals fished for oyster pearls in the Arab Peninsula. It was mostly destroyed in 1811 and abandoned in early 20th century to remain buried under an endless amount of sand until partial excavation of the site revealed the remains of palaces, courtyard houses, mosques, defensive walls, streets, a canal, and cemeteries – making Al-Zubarah one of Qatar's top tourist attractions.
It is also the only UNESCO World Heritage Site in the natural gas-rich country along with the two forts surrounding it, Al-Zubarah Fort and Qalat Murair Fort. Today, the ancient city stands as an archaeological gem providing a window into Doha's past. The town is one of the best-preserved merchant towns in the world and will certainly be a unique experience for all who visit.
2. Dreams become a reality at the Qatar Desert Safari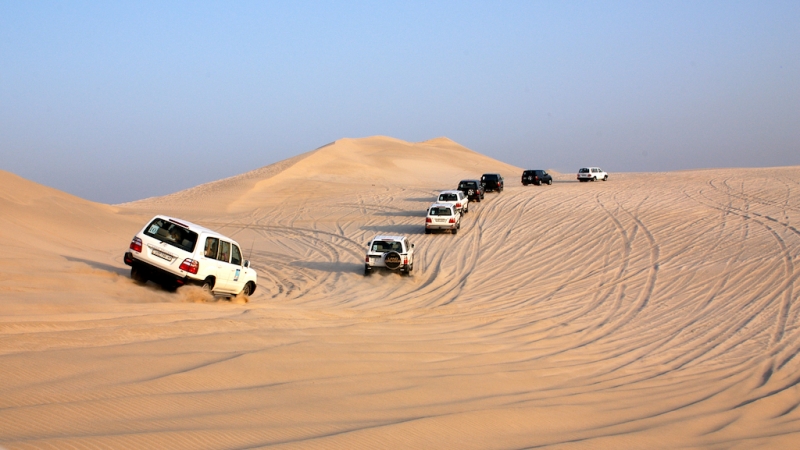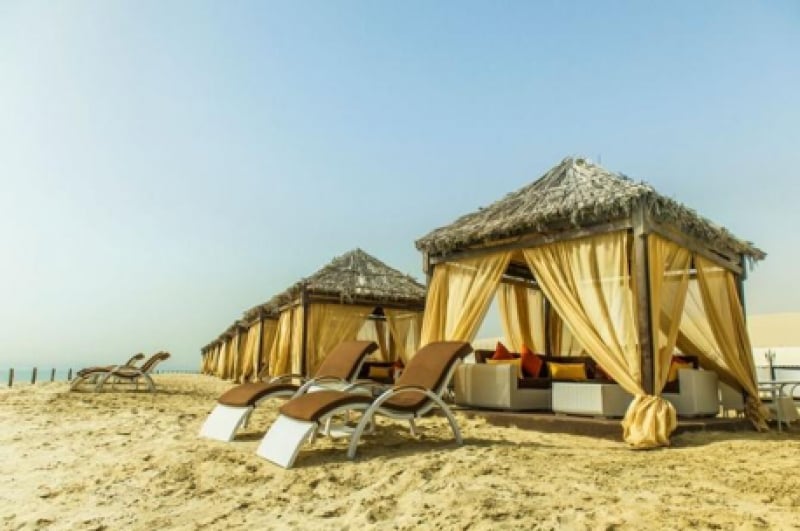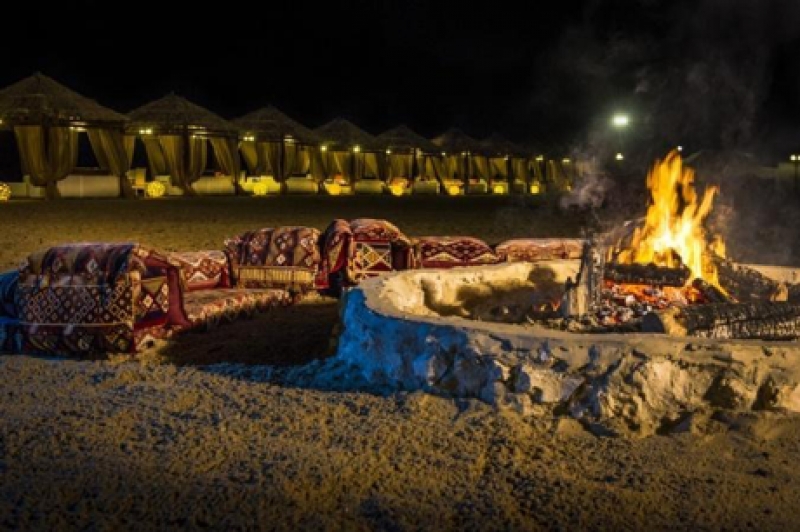 Image credit: (bottom left & bottom right) Regency Sealine Camp
Your experience in Qatar isn't complete until you've tried the desert safari. As the name suggests, it entails adventure, exploration and an experience you won't forget. While you're in the desert, one activity that you mustn't pass up is the thrilling experience of "dune bashing".
You'll be seated in a 4-wheel drive (buckle up!) and be taken across the desert. It will be quite a bumpy ride. In fact, you'll feel as if you're on a roller coaster at times as you traverse the mountainous layers of sand! Don't worry though because the drivers here are very experienced so your safety is always prioritised.
For those looking for a more rustic experience, you can ride a camel or participate in exciting sports like sandboarding. Of course, if you simply want to experience a relaxing time in the desert, you can also go camping and even have a barbeque by the spectacular 'Inland Sea'. Trust us, you don't want to pass up this once-in-a-lifetime opportunity!
3. Doha boasts contemporary charm and wonders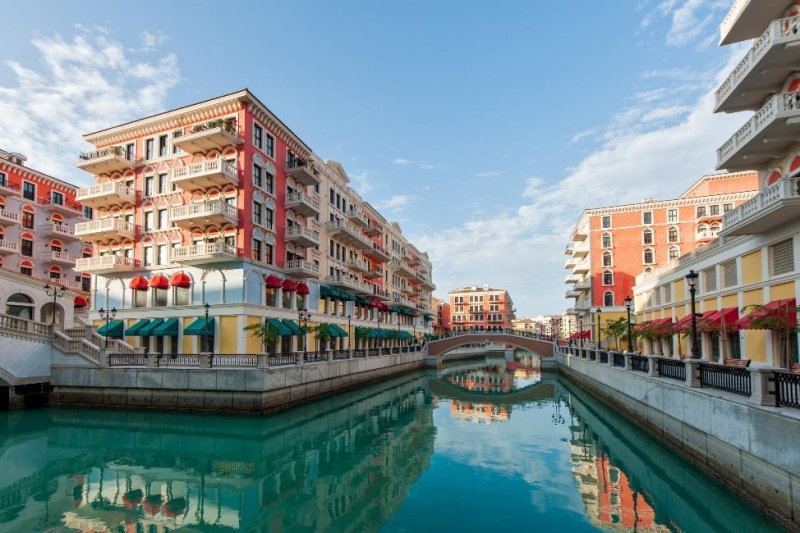 The Pearl is a grandiose man-made island in Doha which exudes an alluring charm. Here, you'll find restaurants and hotels, lavish villas and beach resorts and various international boutique stores. There's also a lovely section called the Qanat Quartier, adorned with colourful buildings and a flowing canal reminiscent of Venice. You wouldn't want to pass up the opportunity for a few photos here.
4. Be captivated by the rich heritage of Islamic art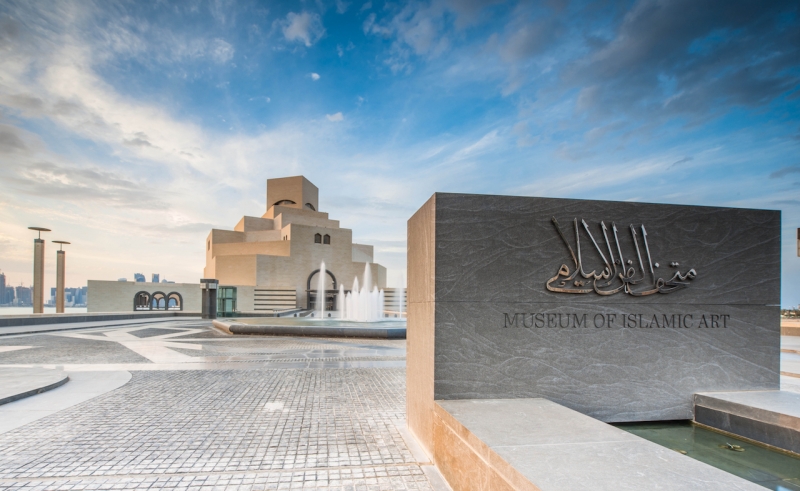 The Museum of Islamic Art will impress you first with its majestic architecture and Islamic motifs. The brainchild behind this architectural masterpiece is I.M. Pei, the same genius who designed the glass pyramid of The Louvre in France. But apart from the art, the Museum of Islamic Art will also wow you with its extensive collection of finest artworks from the Islamic world. This makes it one of the most important museums in Qatar and the world!
Some of the important artefacts housed in this futuristic-looking museum include calligraphy works, Islamic scientific discoveries, manuscripts of the Quran dating back to the 7th century, glassworks and even ancient textiles. The heritage of Islamic history, dating back to more than a thousand years ago and stemming from places like India, Egypt, and even Spain are all on display in pristine exhibits of grandeur. If you're curious about the Islamic world, this is surely a location not to be missed.
5. You will fall in love with the art and culture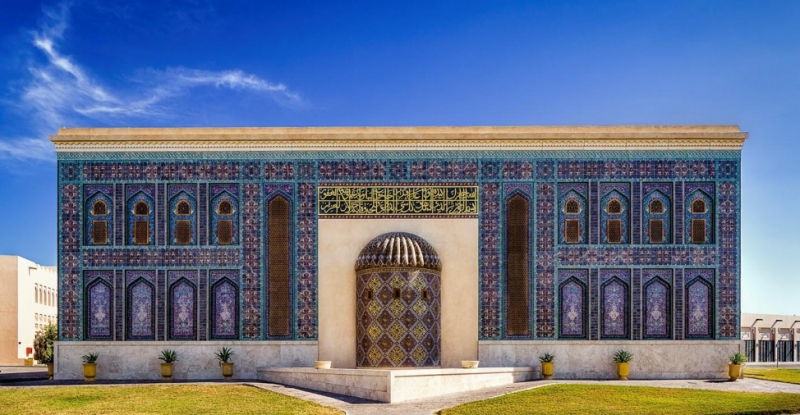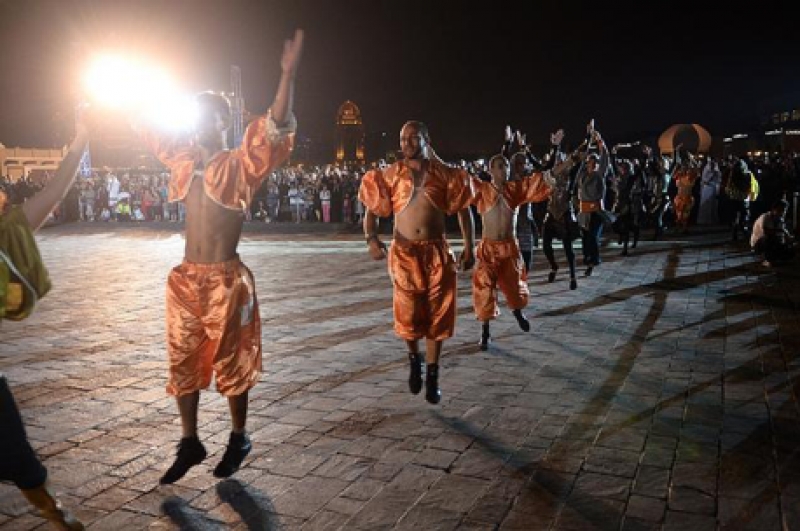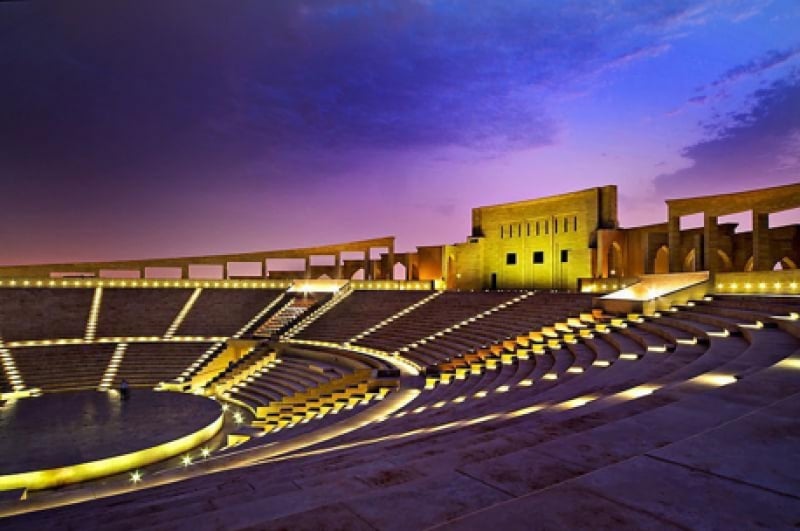 Image credit: (top) Minas Stratigos, (bottom left) Carros De Foc, (bottom right) Joe Chua Agdeppa
Are you a fan of books, music and photography? Then, the Katara Cultural Village in Doha has to be on your bucket list. This location was built specifically for those who enjoy arts and culture. A visit to this village is such a wonderful, rustic experience that it can even make you forget that Doha is a city filled with ultra-modern skyscrapers. The dazzling Katara Mosque is one of the main pieces of architecture here which draws in countless visitors.
Local artists display their works here regularly, so you'll be able to peer into what the art scene in Doha is like. Apart from that, international cultural festivals are also regularly celebrated in the village's theatre, opera house and Romanesque amphitheatre. It's easy to lose track of time when you visit as you appreciate the finer details of the local culture and soak up the atmosphere.
6. A natural haven to escape the city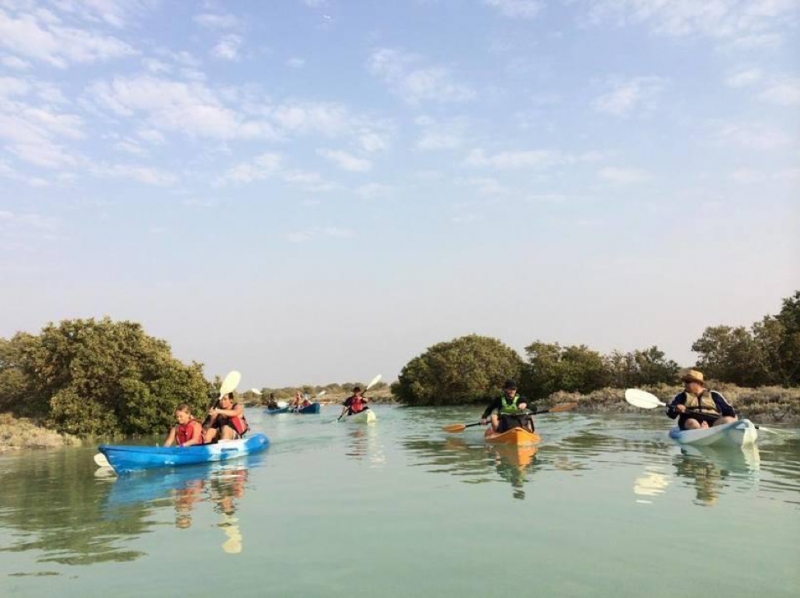 Image credit: AquaSports
The Al Thakira Mangroves Forest is located in the northern region of Doha and is one of the places in Qatar which is attracting more and more visitors. The main activities in this natural haven are kayaking through the mangrove forest, snorkelling, barbeques, camping and watching the alluring sunset vista.
Al Thakira is also the natural habitat of various species of birds and marine wildlife. So, if you plan to visit, be sure to do your part in preserving the cleanliness of this location.
7. Go for a shopping spree at the bazaar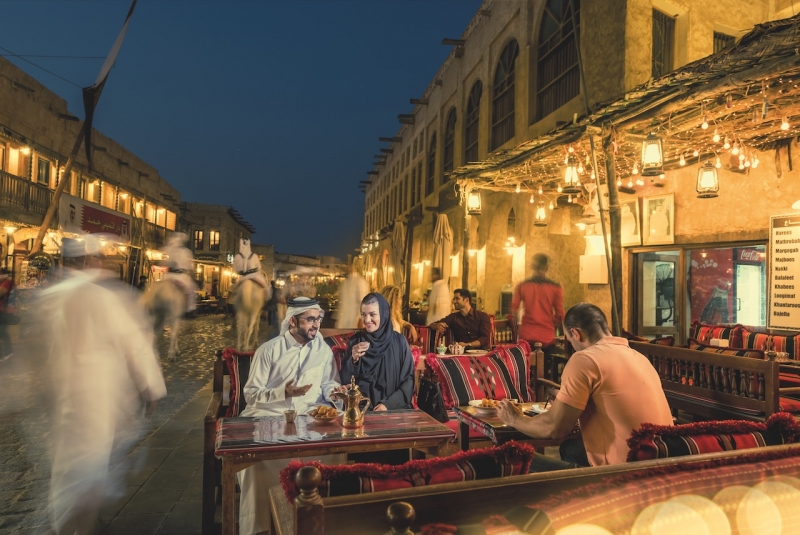 Souq Waqif, which means "Standing Market" in Arabic, is a lively location filled with plenty of stores selling all kinds of trinkets and wares pertaining to Arabic culture. You can find aromatic spices, kitchenware, fragrant oils, traditional handicraft and even certain textiles. There are also restaurants and cafes here specialising in both local and international cuisine. As you stroll through the busy markets, you'll surely enjoy basking in the rich cultural ambience.
If Souq Waqif does not intrigue you enough, visit the Falcon Souq, shops in the market that specialize in selling falcons. You see, hunting with falcons is an age-old tradition in Qatari civilisation and it's now one of the most popular hobbies among Qataris. These birds are held in such high regard that there's a hospital named the Souq Waqif Falcon Hospital!
8. A heaven for foodies and those who love Arabian cuisine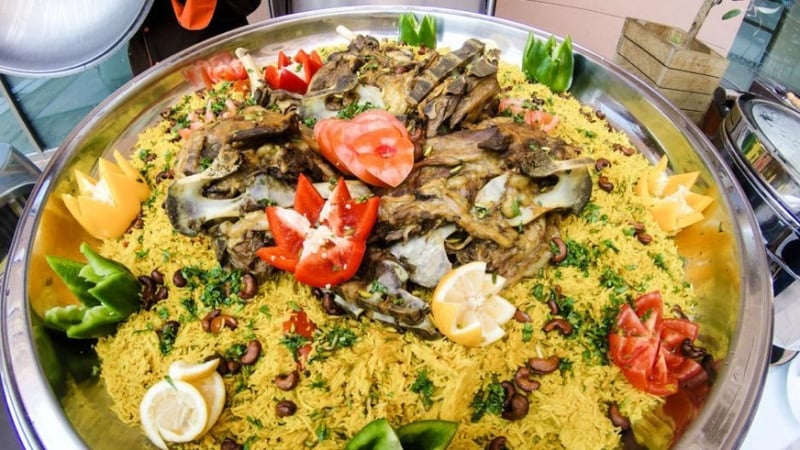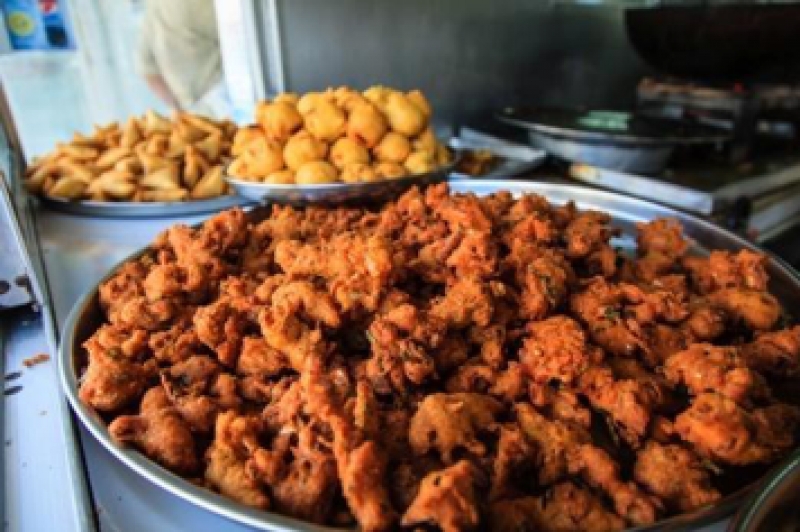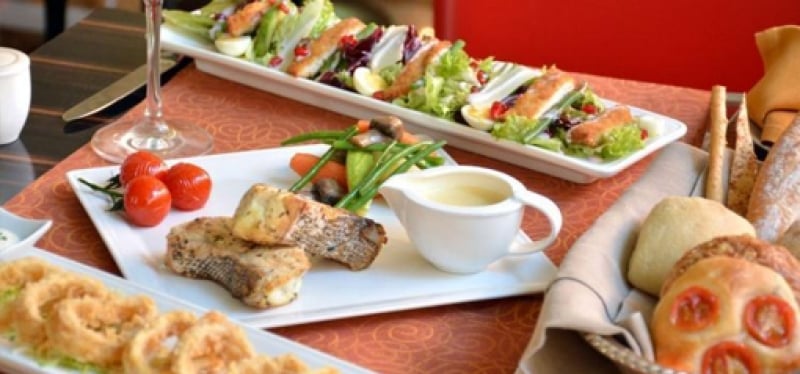 Image credit: (top) Pinay Flying High, (bottom left) Omar Chatriwala, (bottom right) La Cigale Hotel
Qatar's multi-racial demographics has led to the local culinary scene to be filled with plenty of different flavours and scrumptious offerings. You have choices ranging from rustic local delights to international flavours from Iraq, Yemen, and even India. Those who only have a limited amount of time in the city must at least savour traditional Qatari dishes such as machboos (spiced rice with lamb, chicken or seafood) and balaleet (sweet rice noodles with saffron and egg) before they jet off.
What's more, brunch is another foodie culture that's becoming increasingly popular in Qatar. In fact, every Friday, many luxurious hotels prepare special "brunch buffet" menus! The brunch buffet spreads in Doha are fit for even a king, so you definitely won't want to miss out on this extravagant culinary experience either!
9. The architecture and night view will leave you speechless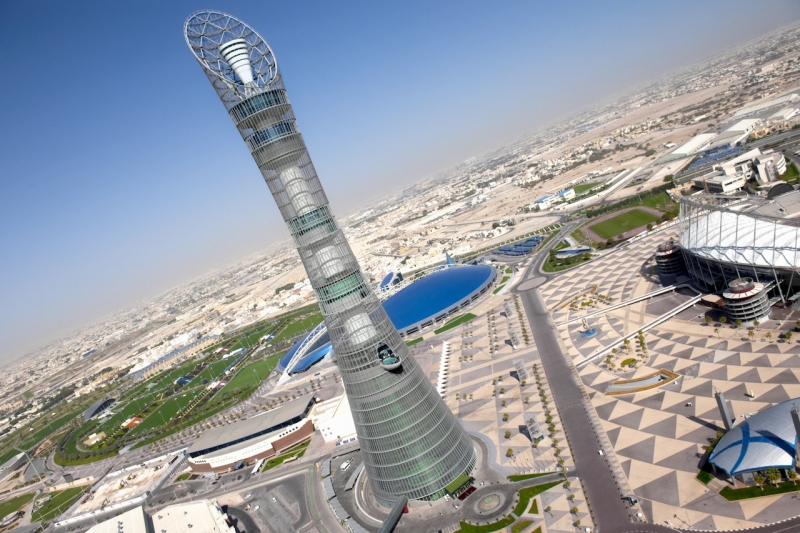 Out of all the scenic vantage points in Doha, one of the most beautiful places to admire the city's sleek architecture is Aspire Tower (also known as the Torch of Doha). The Aspire Tower is a five-star hotel and is the tallest building in Qatar, with a height of 300 metres! This building, which takes inspiration from the Olympic torch, was the symbol of the 15th edition of the Asian Games in 2006, which was hosted in Doha.
The night view from Three Sixty, Aspire Tower's signature restaurant on the 47th floor, is one of the most popular tourist activities in the city. What's more, as the sun sets, the entire building is bathed in colourful LED lights, making for a fantastic sight even from the outside. It's not exactly the mesmerising view of Doha's skyline, but it is charming in its own way too.
10. Visit one of the world's largest private museums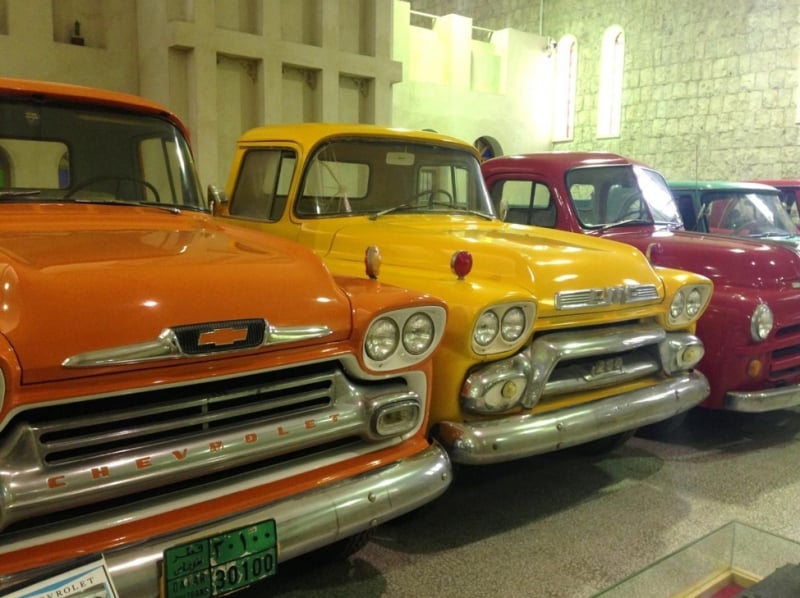 Image credit: Jenny Brown
The Sheikh Faisal Bin Oassim Al Thani Museum is probably the most unique one of its kind anywhere. With five different exhibition zones covering an area of approximately 500,000 square metres, it is one of the largest private museums in the world. Its owner, Sheikh Faisal Bin Oassim Al Thani, is a reputable Qatari businessman and he opened this museum in 1998, showcasing vintage vehicles, exotic carpets, old currency, and cultural arts and craft.
The idea behind the museum was to realise Sheikh Faisal's dream of sharing the artefacts he'd collected during his adventures throughout the world with the people of Doha. Perhaps the most popular exhibition zone is the automobile exhibition. Today, there are over 600 antique vehicles (they're still working, mind you!) including steam engines, trucks and limousines on display.
So, what are you waiting for? The sophisticated charm of Doha makes it a destination which more than deserves to be on every traveller's bucket list. From its modern architectural marvels to its rich cultural history and even its untouched natural scenery, there's a slice of Doha for everyone. If you're on your way to Europe and the Americas, then it's high time to plan a worthwhile stopover trip in Doha. After all, Europe isn't going anywhere!
For more information on the best sights in Qatar, visit Qatar Tourism's official website!
---
This article is presented to you by Wego