Malaysia is often seen as a food haven for Muslim travellers. It may seem difficult to choose where to have your next meal when you seem to have unlimited options.
For your next trip across the border, why not indulge in these scrumptious buffets? Not only are do these restaurants serve up the finest food but they are also extremely worth every cent.
1. Cafe BLD, Renaissance Johor Bahru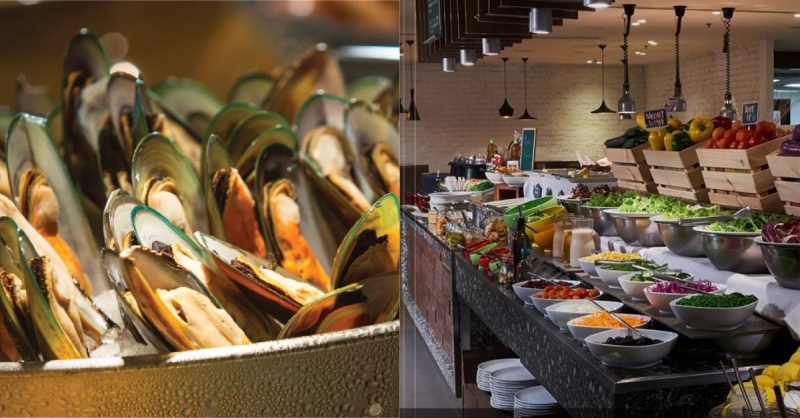 Begin your gastronomic journey in Johor Bahru at Cafe BLD. You will constantly be surprised by their ever-changing menu. Their monthly thematic menus include an array of cuisines from Malaysia and all around the globe.
From Mediterranean to American street food, this eclectic eatery is every Muslim foodie's paradise. Please take note that the themed-buffet spreads are only available on weekends.
Address: Renaissance Johor Bahru Hotel, 2, Jalan Permas 11, Bandar Baru Permas Jaya 81750, Masai, Johor, Malaysia
Price: from RM 99 for dinner on weekends
2. Cafe Para Para, Grand Paragon Hotel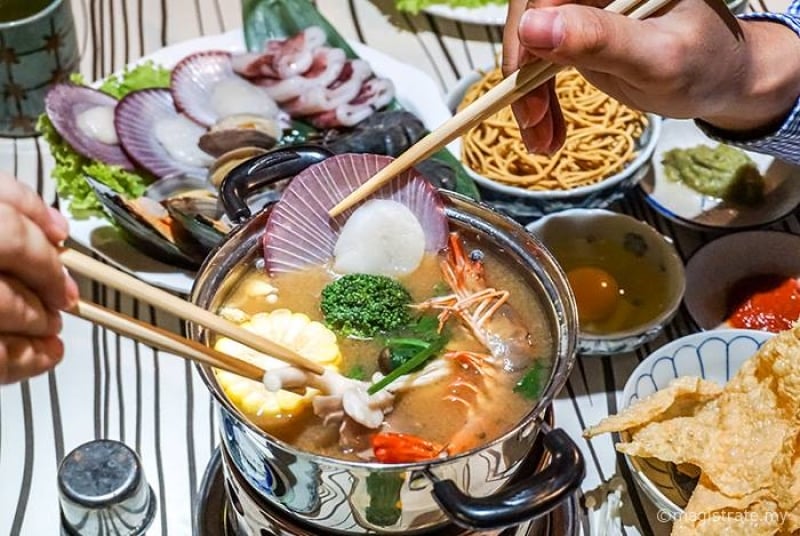 Cafe Para Para is a buffet you can't miss out along Tebrau Highway. It serves up dishes from the diverse Malaysian ethnicities such as Chinese, Malay, Indian while also providing Muslim diners with global choices such as Japanese skewers. There is definitely something for each unique palate. Savour freshly cooked delicacies with various live stations like the noodles and satay stations.
Address: Grand Paragon Hotel, 18 Jalan Harimau, Taman Century, 80250 Johor Bahru, Malaysia
Price: From RM 62 for lunch on weekends
3. Makan Kitchen, Doubletree Hotel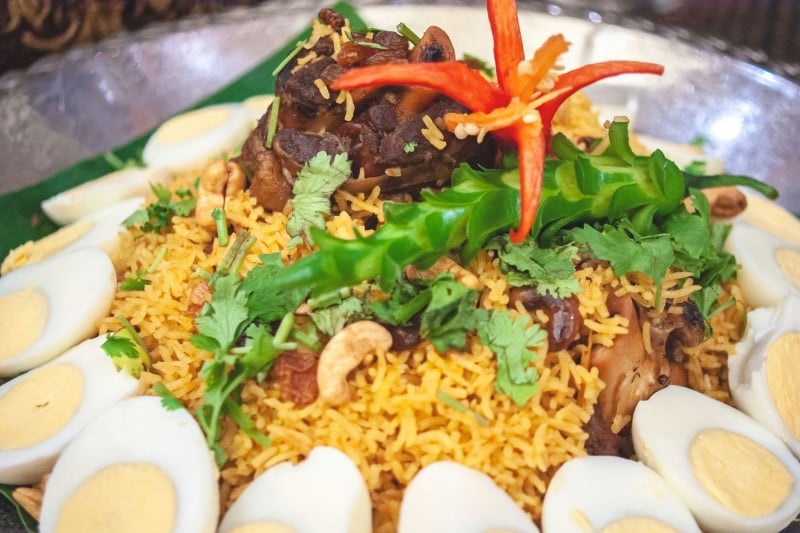 As you step into Double Tree's beautifully decorated dining area, you will be greeted by an assortment of Malaysia's finest dishes. Makan Kitchen's provides all-day dining so you could be indulging in an array of Western dishes for breakfast and then savouring some Peranakan dishes for lunch and dinner.
Don't miss the exciting live cooking stations where you can enjoy delicious food, hot off the grill. Also, be sure to check out the unique Minangkabau buffet spread, served only from 6.30pm to 10.30pm.
Address: DoubleTree by Hilton, 12 Jalan Ngee Heng, 80000 Johor Bahru, Malaysia
Price: From RM 118 for dinners on weekends
4. Amaya Food Gallery, Amari Hotel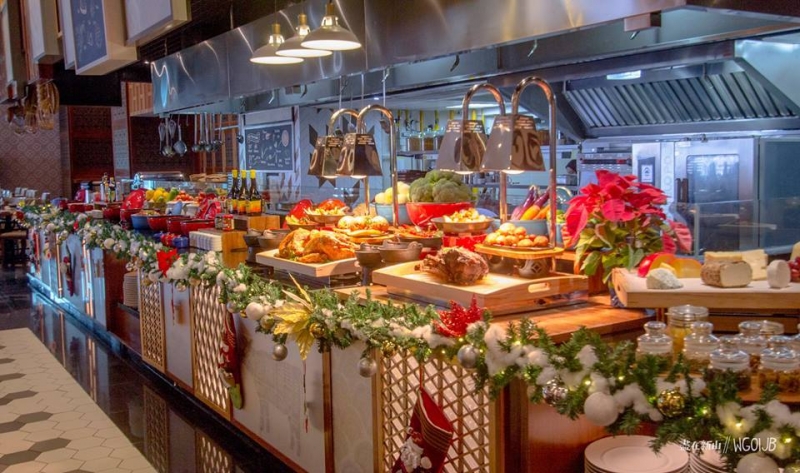 Imagine savouring grilled barbeque by the pool overlooking Johor Bahru's skyline. Turn your imagination into a fantastic dining experience when you head to Amaya Food Gallery at Amari Hotel. With local and international spreads to suit any palate, Amaya will ensure that even the pickiest of eaters won't go hungry.
Moreover, if you are heading down for dinner on Saturday, be treated to 500 grams of Sri Lanka crab! Aside from the daily buffet spread, they also serve festive buffet spreads during Chinese New Year and Christmas!
Address: Amari Hotel, 82C, Jalan Trus, Johor Darul Takzim Road, 80000 Johor Bahru, Malaysia
Price: From RM 148 for dinner on weekends
5. Kai Xuan Halal Chinese Restaurant, The Puteri Pacific JB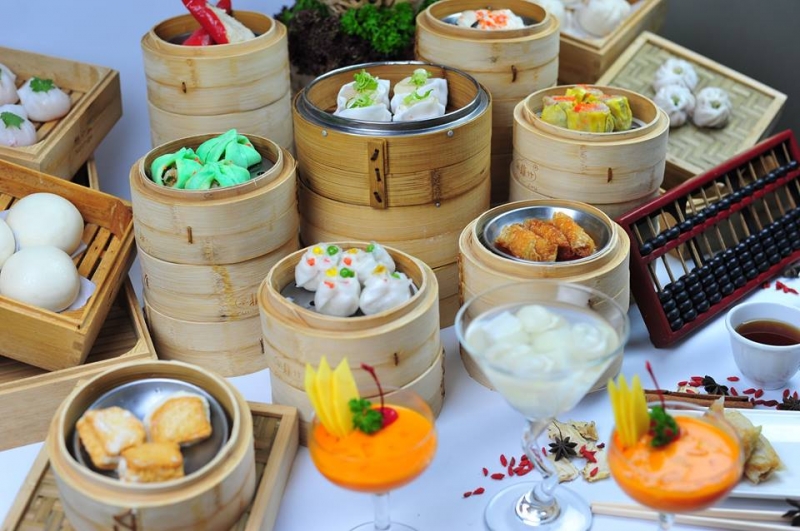 It might be difficult to find authentic halal Chinese cuisine until you've dined at Kai Xuan. Pao lovers rejoice! From scallop dumplings to BBQ chicken Cheong, you will be treated to a fusion of both modern and traditional flavours.
This Szechuan and Cantonese restaurant is a great place for dim sum foodies. It is surely a great restaurant to bring your friends and families along.
Address: Puteri Pacific Johor Bahru, Jalan Abdullah Ibrahim, 80730, Johor Bahru Malaysia
Price: From RM 60 for dinner on weekends
6. Salt 'n' Pepper Café Restaurant, Berjaya Waterfront Hotel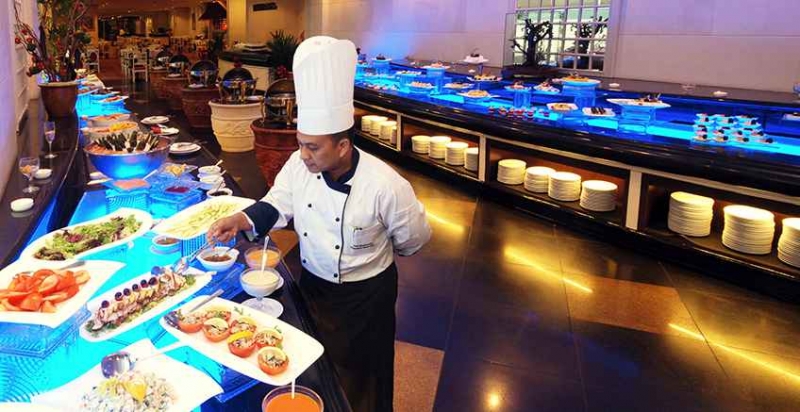 You can now savour a delectable spread of barbeque and steamboat while enjoying sweeping views of the Johor Straits. Your palates will be treated to an array of distinct local and international cuisines.
If you plan to make a visit over the weekends, you will be treated to an assortment of themed buffet dinners. Also, this restaurant is a great budget-friendly option.
Address: 88 Jalan Ibrahim Sultan, Stulang Laut, 80300 Johor Bahru, Johor Darul Takzim, Malaysia
Price: From RM 50 for dinner on weekends
7. Harbour Cafe, Hotel Jen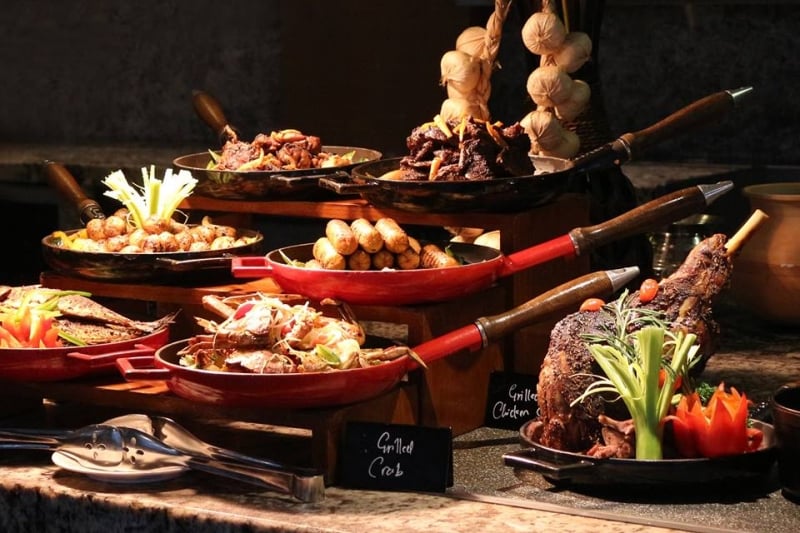 Calling all Muslim foodies, Harbour Cafe might be your new favourite eatery in Johor Bahru! You can expect Asian dishes with a modern twist such as Rendang Ramen and Lamb Kuzi Johor. If you are craving for something sweet, you will appreciate their unique spread of desserts such as Chendol Bingsu or dip away in the chocolate fondue tower. Trust us, you will be spoilt for choice here.  
Address: Hotel Jen, Persiaran Puteri Selatan, Puteri Harbour, Iskandar Puteri, 79000 Johor Bahru, Malaysia
Price: from RM 127 on Fridays and Saturdays only
Are you feeling hungry now? Start planning your next makan getaway across the causeway. Channel your inner foodie and Happy Feasting!
Also read: 10 Best Halal Buffets in Kuala Lumpur to Feast On