Who says it's hard to find cheap and good Halal food in Orchard? Bookmark this article because the next time you're meeting your Mat and Minah members for dinner, there's going to be some new Halal makan places to pick from.
1. Ayam Bakar Ojolali – Lucky Plaza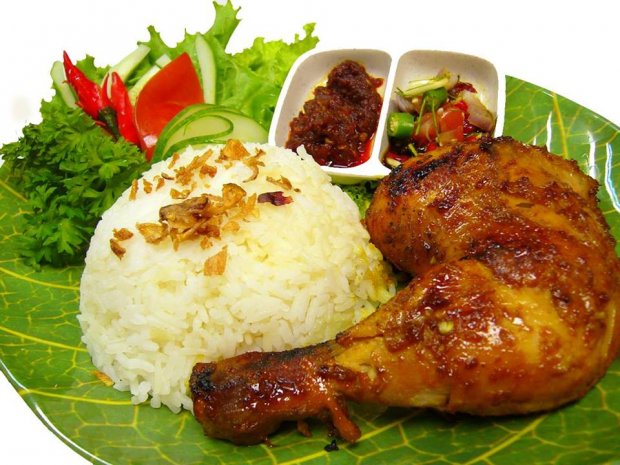 Image credit: Ayam Bakar Ojolali
The owner of this eatery really meant it when they named the store Ayam Bakar Ojolali, which translates to "unforgettable grilled chicken". Get a taste of their scrumptious signature Ayam Bakar (Grilled Chicken) or Bandeng Tanpa Duri (Grilled Boneless Milkfish). Take it from me – their sambal is to die for!
Address: 304 Orchard Road, #03-40 Lucky Plaza
2. Cahaya Restaurant – Far East Plaza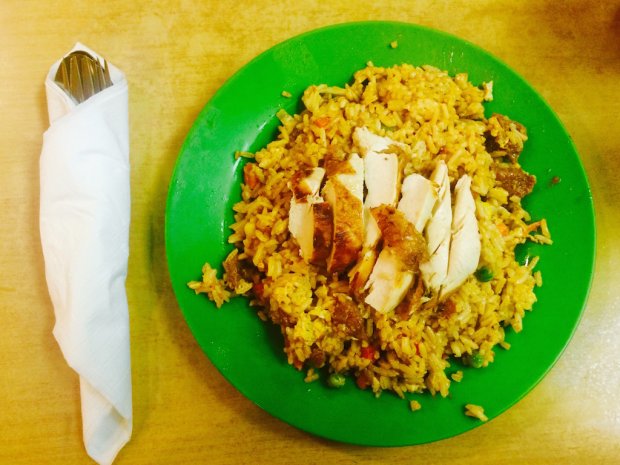 Image credit: Alinaeats
Cahaya is one of the cheapest places for a Halal meal in town, located on the 5th floor of Far East Plaza. Cahaya restaurant serves a wide array of Chinese dishes from claypot noodles to fried rice. Everything on the menu is sedap gila, but my favourite is the crab-meat noodles.
Location: 14 Scotts Road,  #05-91/92 Far East Plaza
3. Puncak Best Noodles – Far East Plaza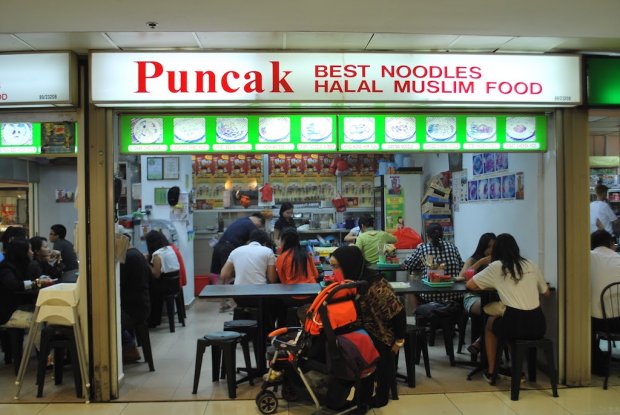 Image credit: travelinstylewithfara
There are two teams for those who frequent the 5th floor of Far East Plaza: The Puncak Team and the Cahaya Team. Puncak is located just beside Cahaya Restaurant (#2), and the food is equally affordable. There are two extra scrumptious dishes on the menu: Fried Wanton and Claypot Rice. In Puncak, Malay-Muslims can have their Chinese-style Tze Char.
Address: 14 Scotts Read, #05-94 Far East Plaza
4. JTown Cafe – Midpoint Orchard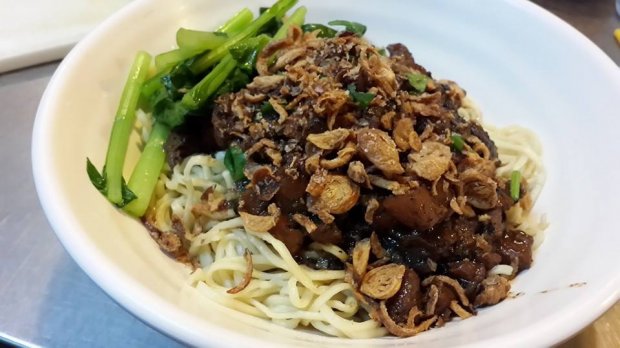 Image credit: JTown Cafe
JTown Cafe is one of the secret gems along Orchard Road that sells Indonesian food. Your life is not complete until you have a taste of their Durian Murtabak. Tak bedek – it's really called Durian Murtabak! Also, if you love Mee Goreng (Fried Noodles) or Black Pepper Chicken Noodles, you won't be disappointed with those served at JTown Cafe.
Location: 220 Orchard Road, #B1-04/05 Midpoint Orchard (across 313 Somerset)
5. Heavenly Wang – Orchard Gateway


Image credit: WangCafe
Looking to get your fix of kopi and toast? Ditch Ya Kun Kaya Toast and try Heavenly Wang instead. Other than the usual traditional toast sets, you can also order local classics like Mee Siam, Mee Rebus, Chicken Curry and Laksa.
Location: 227 Orchard Road, #B2-07/08 Orchard Gateway
Also Read: 16 Travel Essentials to buy From Daiso Before a Vacation
6. Es Teler 77 – Cathay Cineleisure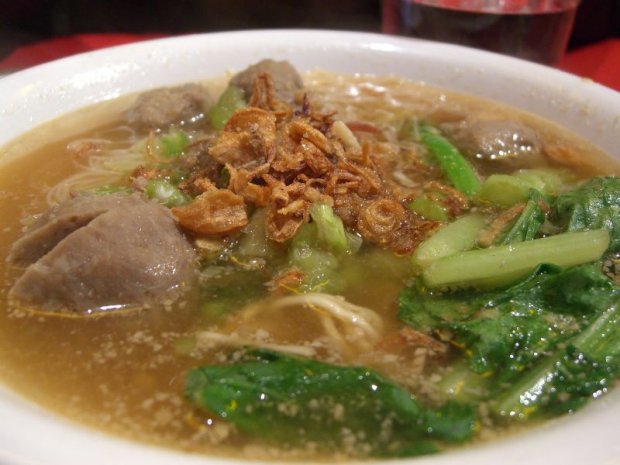 Image credit: Alpha
Tucked in a cosy corner at the basement, Es Teler 77 is where you can have an affordable Indonesian meal, served in large portions. For a start, try their Nasi Goreng (Fried Rice) or Mie Ayam (Chicken Noodles).
Address: 8 Grange Road. #B1-02 Cathay Cineleisure
7. Jollibee – Lucky Plaza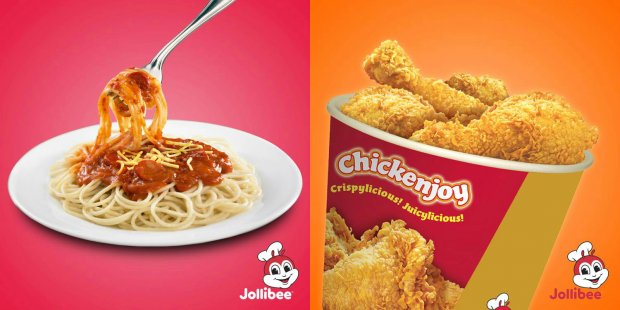 Image credit: Jollibee Singapore
"Eh member, let's go makan where all the Filipinos are eating!"
"Where is that?"
"Jollibee at Lucky Plaza lah!"
Jollibee is a fast food chain from the Philippines, and they are famous for their fried chicken. They are also famous for their long queues, and that could only mean one thing – the food is damn good! You should also try their Yumburger and Jollibee spaghetti. Believe it or not, Philippine President Benigno Aquino actually dropped by this outlet during his visit to Singapore last year!
Address: 304 Orchard Road, #6-48 Lucky Plaza
8. Warung M Nasir – Killiney Road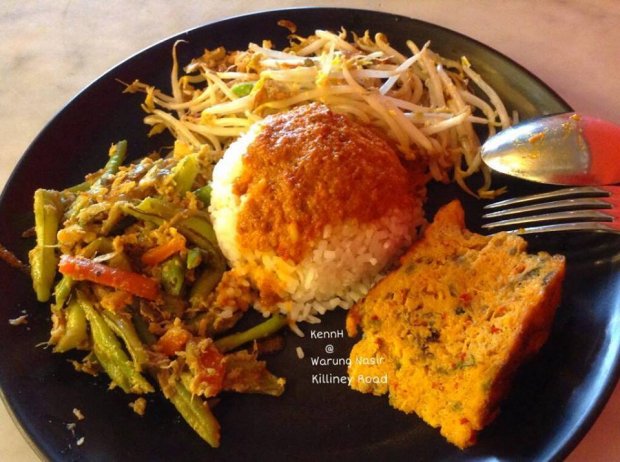 Image credit: Warung M Nasir
Warung M Nasir is one of the best places for Nasi Padang in Singapore, and their Beef Rendang and Sambal Goreng is simply delectable. This cosy eatery also sells delicious kueh. Don't forget to order Teh Botol (Bottled Tea) to complete your meal!
Address: 69 Killiney Road (near Somerset MRT station)
9. Ayam Penyet Ria – Lucky Plaza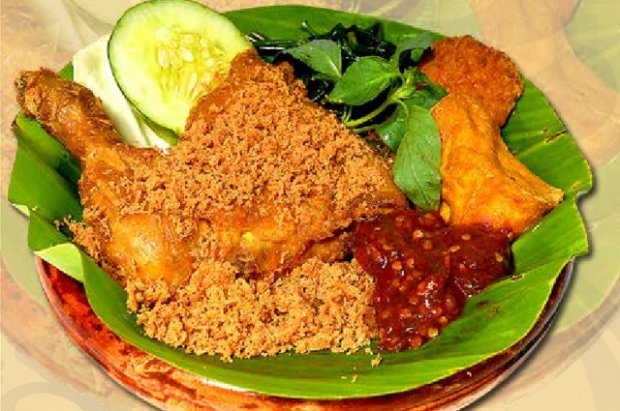 Image credit: ayampenyetria
If you're craving for some smashing good chicken, there is no better place to go than Ayam Penyet Ria. They serve the most delicious Ayam Penyet (Smashed Fried Chicken) with a side of rice, fried tofu and tempeh, cucumber and savoury spicy chilli. Your tummy is guaranteed to be satisfied after a meal. If you're in the mood for something else, you can also find dishes like Soto Ayam (Chicken Soto) or Rawon (Surabaya Beef Soup) in Ayam Penyet Ria.
On another note, isn't Ayam Penyet quite a gory name for a dish?
Address: 304 Orchard Road, #1-45/47 and #4-25/27 Lucky Plaza
14 Scotts Road, #5-22/23 Far East Plaza
10. Cafe Mondo – Orchard Central [CLOSED]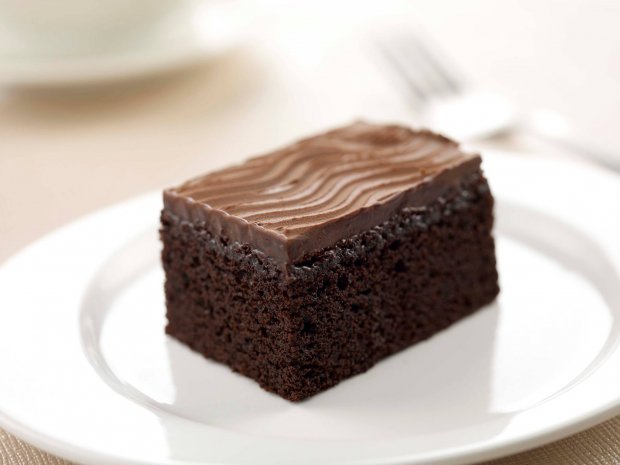 Image credit: Cafe Mondo
An awesome place for desserts is Cafe Mondo. Chocolate lovers should get their hands on Cafe Mondo's Chocolate Fudge Cake or Chocolate Fudge Brownie. Other under SG$10 desserts on the menu include the Apple Crumble, Kronuts and Cheese Cakes.
11. (Bonus) Mackenzie Rex Restaurant – Prinsep Street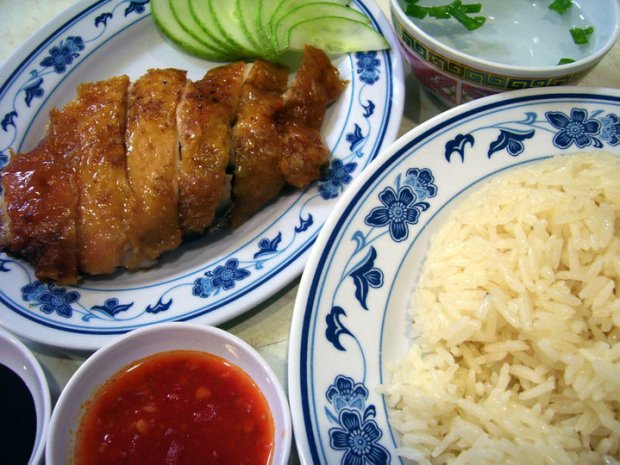 Image credit: Mackenzie Rex
This last one is a bonus because Mackenzie Rex is not actually in Orchard, but near Dhoby Ghaut. Don't be fooled by the fancy name – if you want good food in town at Kopitiam prices, Mackenzie Rex is the place to go. Seafood egg noodles, chicken rice, sweet & sour fish – you name it!
Also Read: How To Travel Istanbul on a Budget in 2015
Updates
Here are more Halal places to eat in Orchard, as commented and shared by TripZilla's readers.





Thank you all for your contributions, and if there are more value-for-money Halal places to eat in Orchard that I've missed out, please let me know in the comments section below!