Burgers are great comfort food especially after a long day of work or school. It might not be the healthiest of food but everyone enjoys a good burger every now and then. Imagine chowing down the slightly toasted buns, the juicy patty, the melted cheese with a side crunch from the lettuce and tomatoes. It is definitely worth the calories!

Are you salivating yet? From fancy cafes to hawker stalls, find out the best places to savour some great halal burgers in Singapore.
1. (working title) Burger Bar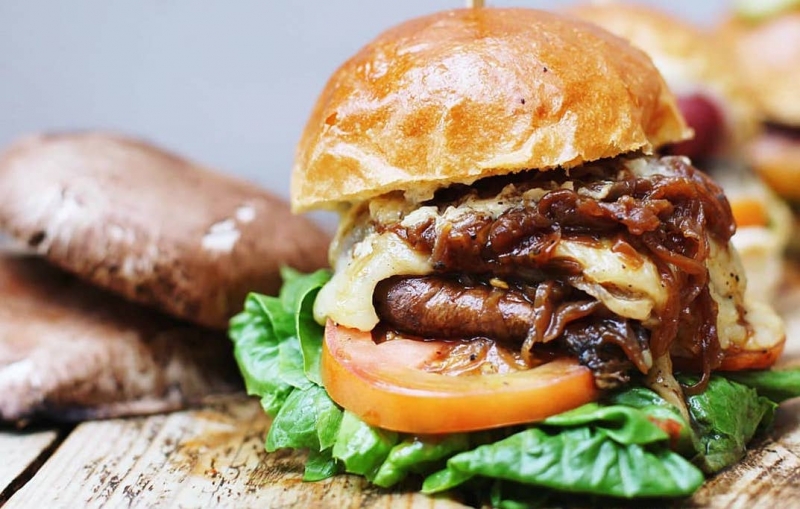 Look out for this familiar face reopening in the Bugis area soon. (working title) Burger Bar has since moved from their previous location at Arab Street. Still serving up gastronomic burgers, (working title)'s menu includes old favourites such as the Classic and Magic Mushroom for those looking for something different.
Be sure to order yourself some yummy Parmesan Truffle Tatter Tots while waiting for your tantalising burgers. This new burger joint makes for a great hangout spot to bond over delicious and succulent burgers. Don't forget to wash it all down with a Bandung Latte!
Address: 783 North Bridge Road Singapore 198751
2. Toko Burgers and Cheesesteaks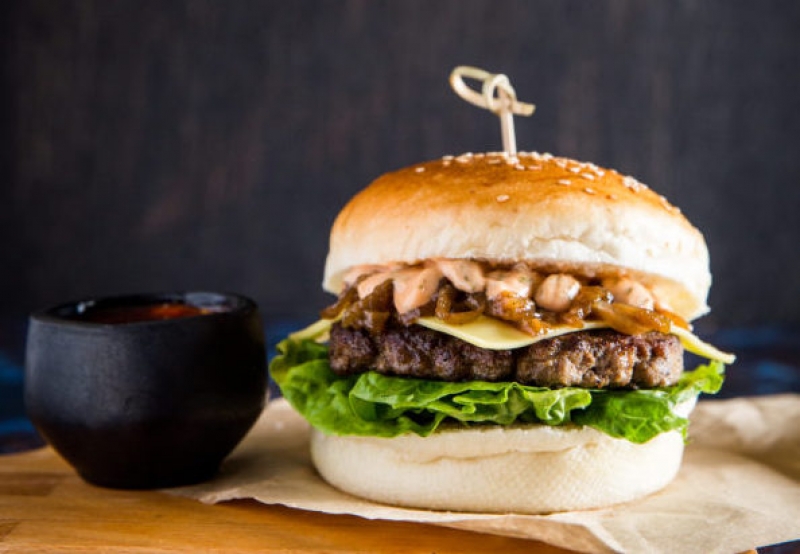 This American diner-inspired eatery is nestled in the ever-bustling Tampines. Though their menu consists mostly of American comfort food, Muslim diners can expect an Italian or Korean twist. Their hearty servings of burgers and cheesesteaks are enough to send you into a food coma.
Get yourself a Toko burger with a side of Beef Chilli Fries. If you are looking for something different, give their famed cheesesteaks, the Philly, a try.
Address:
Our Tampines Hub #B1-43
216 Joo Chiat Road #01-07 S427483
Opening hours: Daily 12pm – 10pm
3. Burgernomics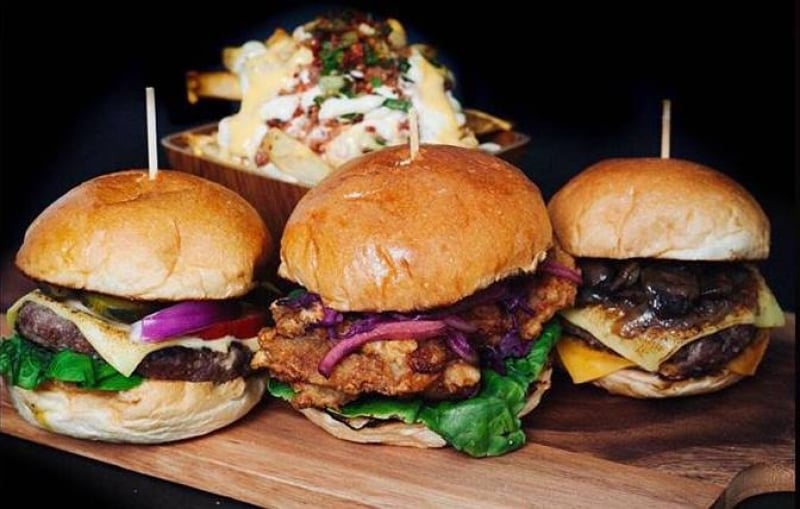 Don't judge a burger by its buns! This no-frills burger joint is perfect for Muslim foodies looking for wallet-friendly burgers. Burgernomics features an assortment of burgers that come with an Asian twist to an authentically American dish. Their beef burger patties are made with the "burger golden rule" in mind, just 80% lean meat and 20% fat. Plus, their burger buns are freshly baked daily.
Some of their burgers pay homage to other popular fast food chains. Treat yourself to their best selling Deluxe Burger which is a tribute to Burger King's famous cult favourite Mushroom Swiss.
Address: 110 Pasir Ris Central, #02-03
Opening hours: 12 pm to 3 pm and 6 pm to 9 pm daily. Closed on Wednesdays
4. Kaw Kaw SG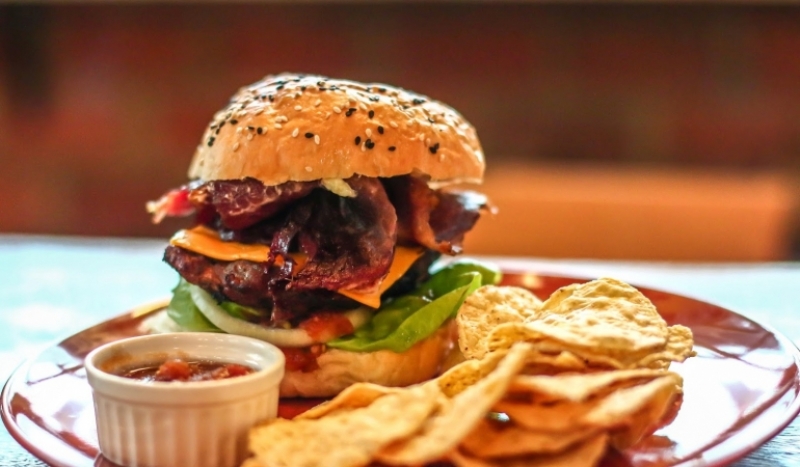 When you duck away from the crazy crowds around Arab Street, you will find this cosy cafe tucked in Aliwal Street. Besides the beautifully decorated interior, you will be treated to their menu made up of an eclectic mix of thick savoury burgers. A mix of flavours will burst in your mouth when you take a bite of their famed Smokey Beef Bacon burger. The juicy patty, complimented by the smoky and tangy sauces, will send you into a burger frenzy.
Also, the buzzing atmosphere of the cafe makes it a great place to hang out with your friends and family. Watch out for the stage as there are live performances happening every fortnight!
Address: 28 Aliwal St, Singapore 199918
Opening hours: Sunday – Thursday 12pm – 9.30pm, Friday 3pm – 10.30pm, Saturday 12pm – 10.30pm
5. FatPapas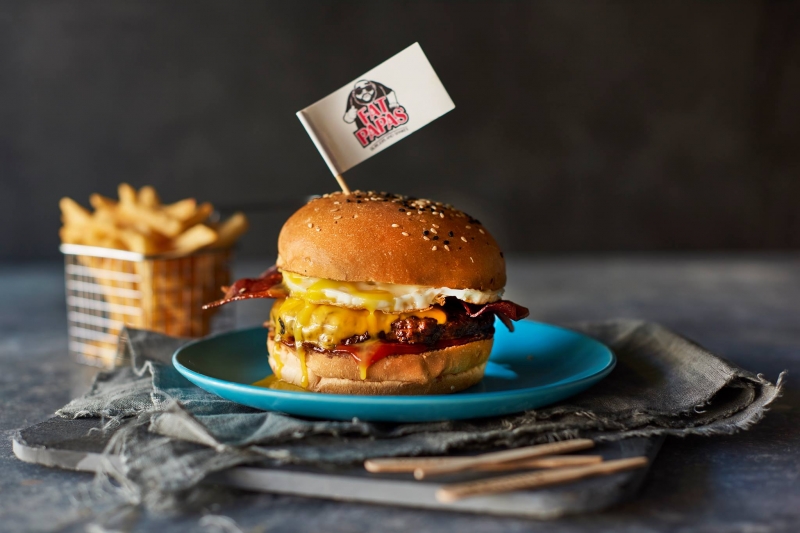 What started out with only a modest branch at Bali Lane has now expanded to several burger joints sprawled across Singapore. Opened by local celebrity Sheikh Haikel, FatPapas is the halal version of the already popular FatBoys. They offer a myriad of burgers with adorable names such as the Wimpy and the Booly Wooly.

The juicy tender patty and generous toppings of bacon or mushrooms will leave you in a food coma afterwards. You can even customize your burger to your liking with their 'Build Your Own Burger' option. Don't forget to wash it all down with their in-house milkshakes!
Address:
17 Bali Lane,
Waterway Point #01-31, 83 Punggol Central
Northpoint #01-150, 922 Yishun Ave 2
Century Square #03-05/31, 2 Tampines Central 5
Opening hours: Depending on the outlet
6. Burgs by Project Warung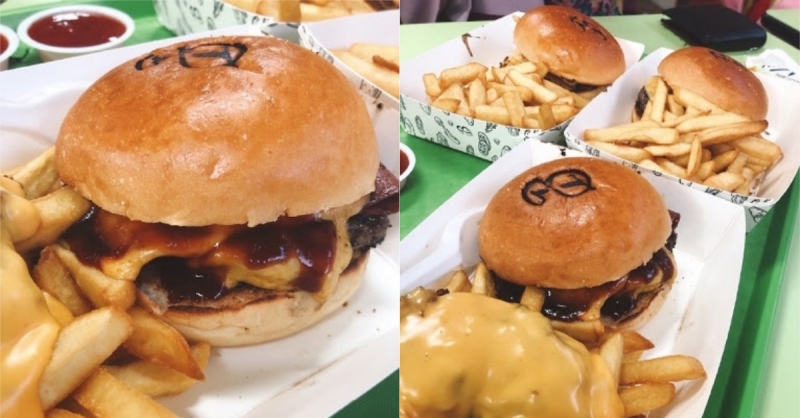 Project Warung brings gourmet food to your every day hawker centres. Burgs serve up halal gastronomic burgers that are both of quality and extremely affordable. They have a delicious mix of flavours from the classic Bacon Cheeseburger to the slightly fancier Mexican Pulled Beef Brisket burger. All their meals come with a side of crisp fries but you can always change things up and upgrade to their speciality fries.
Address:
Timbre+, 73A Ayer Rajah Crescent, JTC Launchpad, 139957
Opening hours: Monday – Friday, 11.30 am – 9 pm
7. The Bread Gang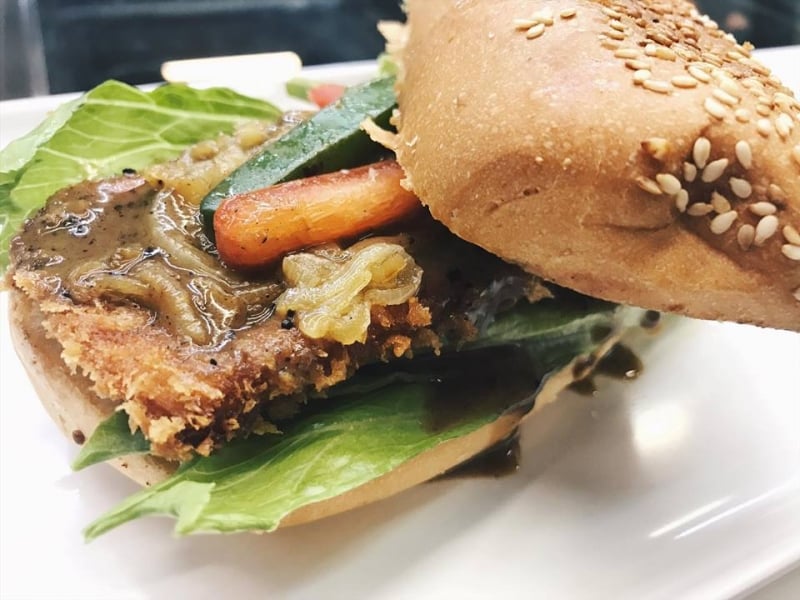 Good news for Muslim foodies in the west! You'll surely be salivating when you lay your eyes on their Roti John Cheeseburger. Imagine a burger soaked in nacho cheese! You wouldn't want to be counting calories when you dine at the Bread Gang.

While the rest of the menu is not exclusively burgers, you will still be able to fill your tummy with delicious and variant versions of roti john. There's nothing more comforting than chowing down freshly cooked beef tossed with toasted bread. Plus, this hawker-style stall ensures its diners affordable prices.
Address: Blk 235 Jurong East St 21 Aiman Cafe Singapore 600235
Opening hours: Daily, 11 am – 11 pm
8. Nadim's Delight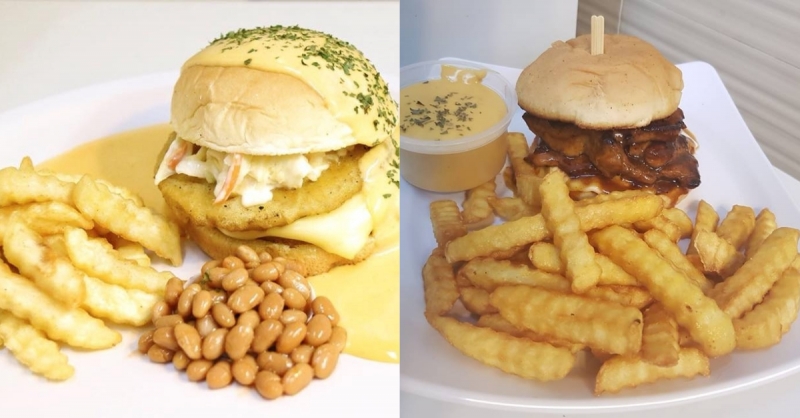 You'll surely have a cheesy good time when you dine at this unassuming burger joint. Tucked away in a coffee shop, Nadim's Delights serve affordable Western dishes as part of Ayza's Restaurant. Get yourself a plate of the Burger Banjir and chow down a plate full of goodness with a double patty chicken burger soaked with cheese. Their dishes are served with a side of baked beans and fries. You will definitely be getting your money's worth here!

Address: 508 Jurong West Street 52 Singapore 640508
Opening hours: Daily, 12pm – 10pm
9. Citrus Bistro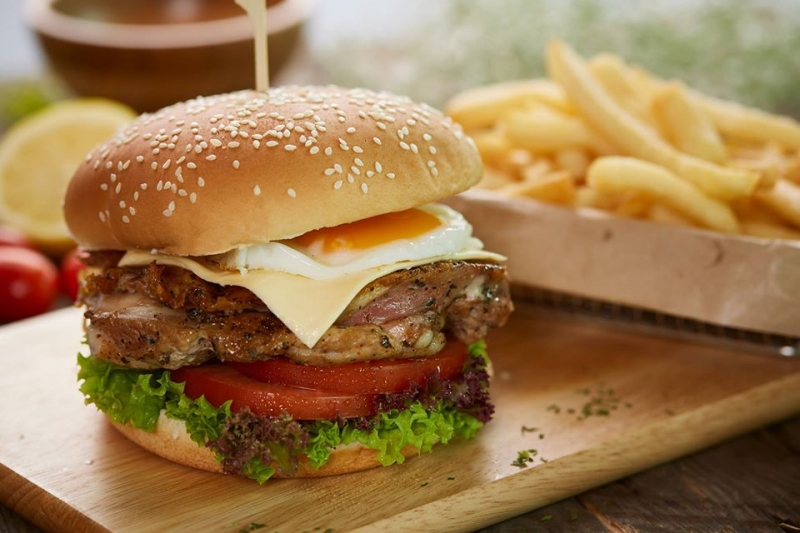 Located at Sengkang Swimming Complex, Citrus Bistro is a halal-certified restaurant that serves juicy burgers, scrumptious snacks and hearty sandwiches. The relaxed alfresco dining atmosphere is also a perfect place to unwind with amazing food. Burgers here includes Little Boss, Big Boss and Da Burger Bomb.
Address:  57 Anchorvale Road, Sengkang Swimming Complex
Opening hours: Tuesday – Sunday 9am – 9pm; Closed on Monday 
Also read: Halal Food in Clarke Quay, Singapore
10. DC Comics Superheroes Cafe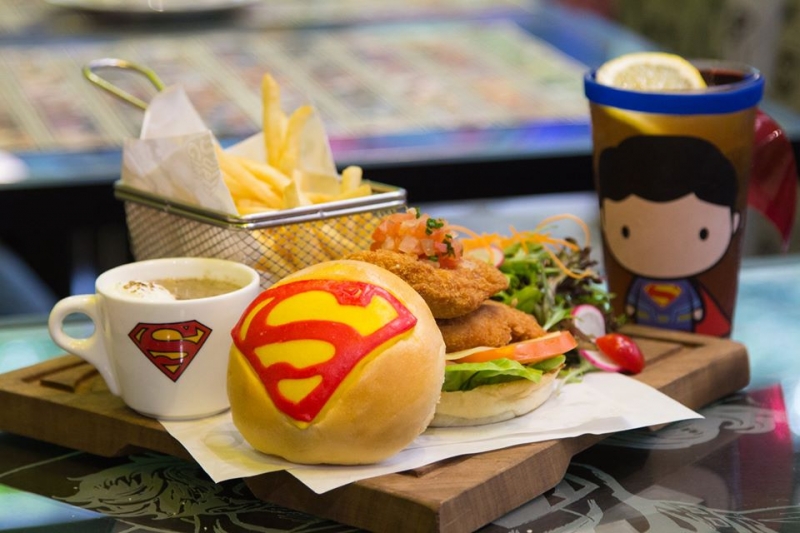 An immersive cafe-retail experience, DC Comics Superheroes Cafe boasts a range of hearty portions of burgers, pastas, shakes, cakes and ice-cream! This halal-certified, American-diner style cafe offers burgers like Superman: A Smallville Original, The Dark Knight Burger, Aquaman vs. Black Manta Burger and more!
Address:  L1-03, Bay Level, The Shoppes at Marina Bay Sands
Opening hours: Monday – Thursday 11.30am – 11pm; Friday 11.30am – 11.30pm; Saturday 11am – 11.30pm; Sunday 11am – 11pm
Contact: 66887610
11. Ministry of Burgers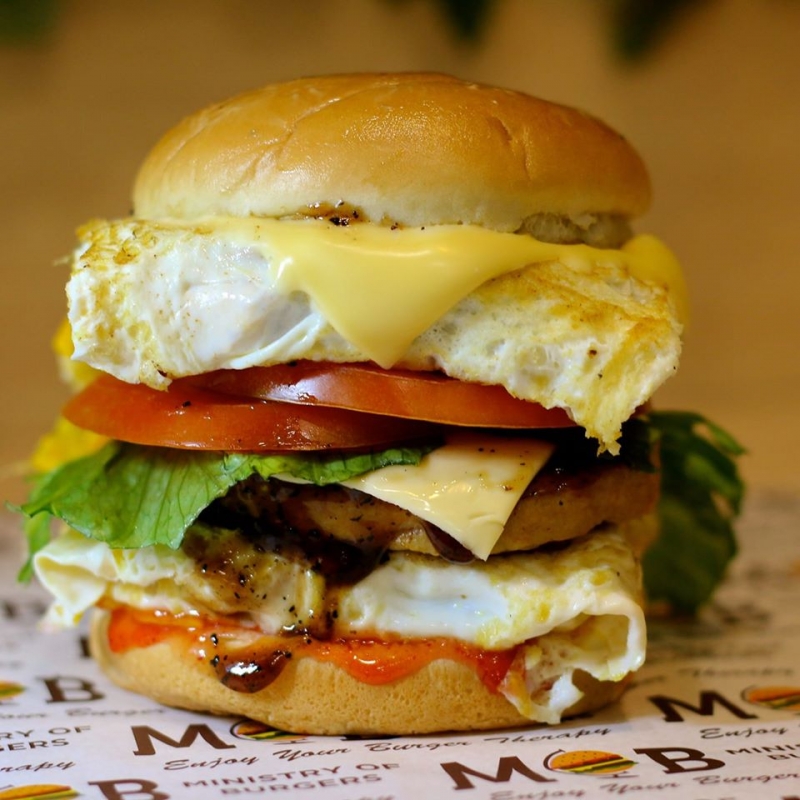 Looking for juicy and moist burgers for a reasonable price? Head on down to Ministry of Burgers. With an array of choices, the only problem you will have is to choose the burger you want to feast on! Two of their popular burgers are the  Thunder Burger and Rainbow Burger which are towered with four patties. Talk about an absolute feast!
Address:  1, Pasir Ris Central Street 3, #01-30, White Sands Shopping Centre 
12. I Am… Cafe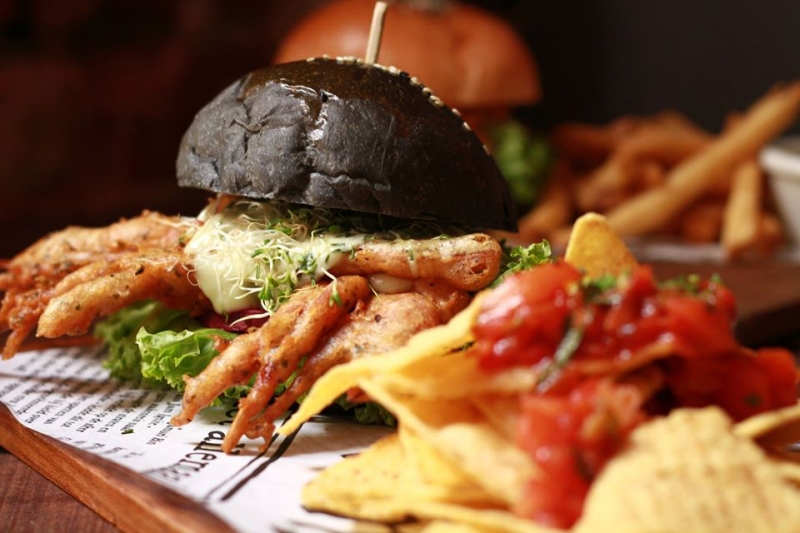 Located in Haji Lane, I Am… is a halal-certified cafe boasting a line-up of Dutch-inspired food with signature dishes like burgers, ribs, fish & chips and more! With over 10 different burger menus and bread freshly made in-house, you will be spoilt for choice. The atmosphere is also perfect for those who are looking for a space to enjoy good food with your loved ones. Fresh air and natural light fill the cafe allowing diners to people-watch as well. Some of the burgers served here includes Cajun-Spiced Grilled Chicken Burger, Soft-shell Crab Burger, Charcoal-grilled Juicy Beef Burger and more!
Address:  674 North Bridge Rd, Singapore 188804
Opening hours: Monday – Thursday 9am – 11pm; Friday – Saturday 9am – 1am; Sunday 9am – 10pm
Contact: 62955509
13. BRIO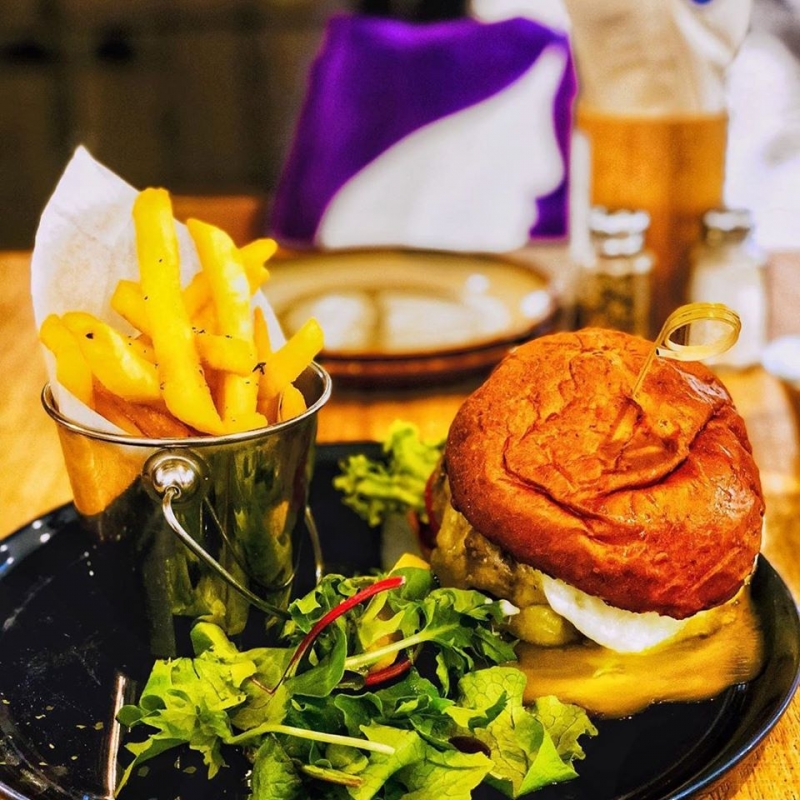 BRIO is a new European street food restaurant serving European specialties at an affordable price without sacrificing the quality of their fresh ingredients. Their extensive menu includes a range of tapas, pizzas, pastas, salads, risottos and of course, burgers! Their menu serves burgers such as Frenchie Duck Confit Burger, Emo Swiss Burger and French Onion Beef Burger.
Address: 1 Jurong West Central 2, #02-24/K5, 68886 Singapore
Opening hours: Monday – Friday 11am – 10pm; Saturday & Sunday 10.30am – 10pm
Contact: 67959606
14. T Bob's Corner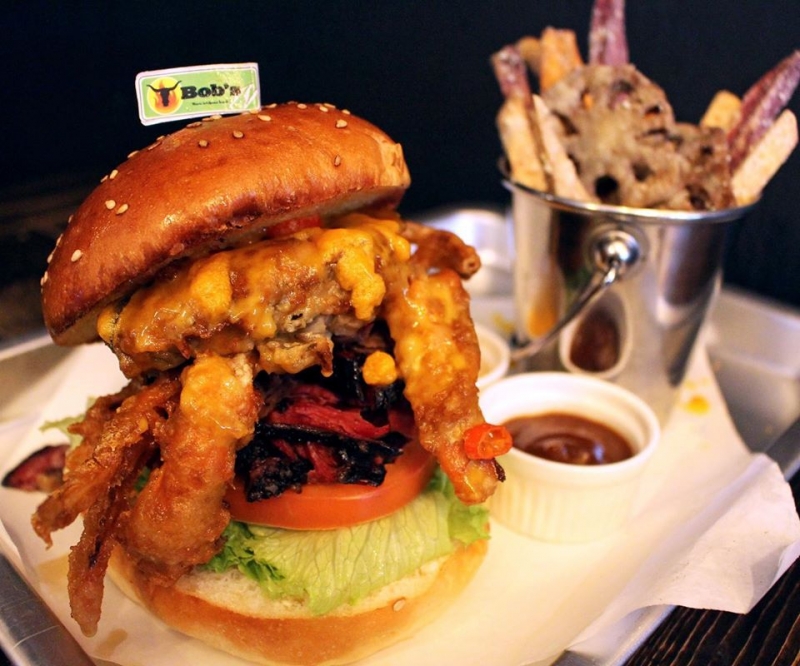 First opened in 2016, T Bob Corner first gained recognition for their introduction of the large premium meat in their menu. Since then, their popular meats have gotten a following allowing them to open a branch in Malaysia as well. While they are best known for their range of halal meat in the menu, their burgers are also well-loved! If you find yourself here, be sure to try their Sloppy Angus Burger or Brisket Burger.
Address: 527 Bedok North St 3 #01-514 Singapore 460527
Opening hours: Monday – Thursday 12pm – 9.30pm; Friday 3pm – 10pm; Saturday – Sunday 12pm – 10pm
Contact: 64498527
15. Beyond Pancakes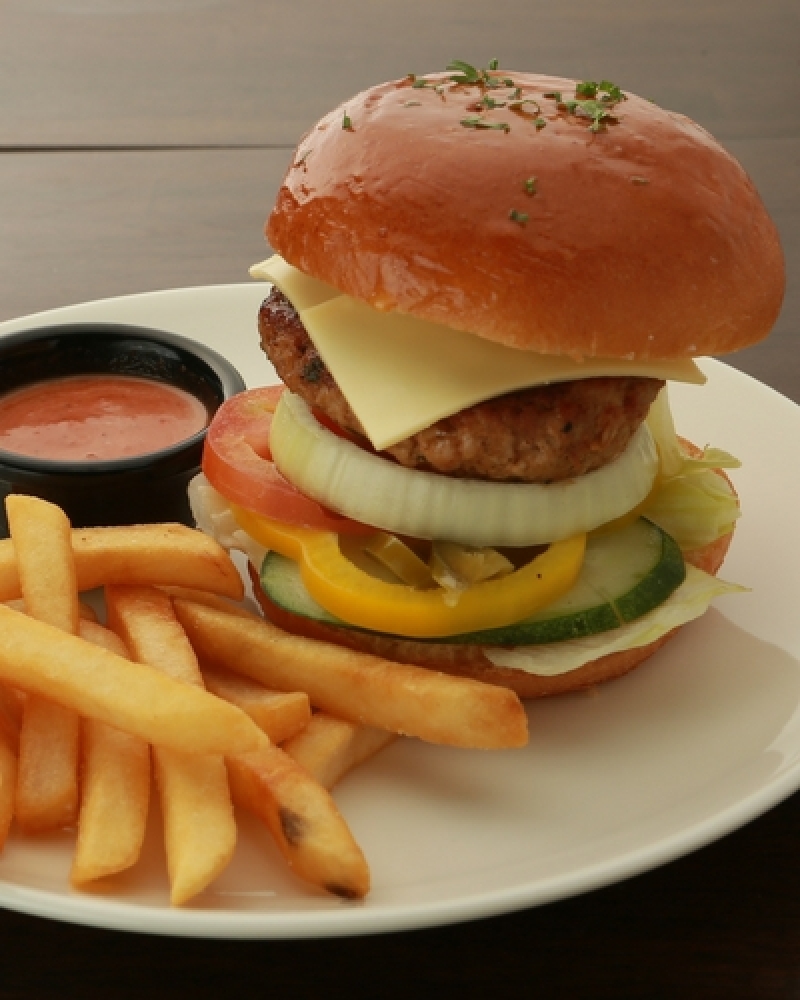 While you might assume that this restaurant is strictly serving pancakes, Beyond Pancakes features a variety of unique European inspired dishes. The menu also of course serves a variety of burgers where all the patties are prepared in house with premium quality fresh ingredients. The burgers include Smoked Salmon Burger, Chicken Supreme Burger and more!
Address:  Marina Square Mall, 6 Raffles Boulevard #03-131A
Contact: 69090799
16. The Royals Bistros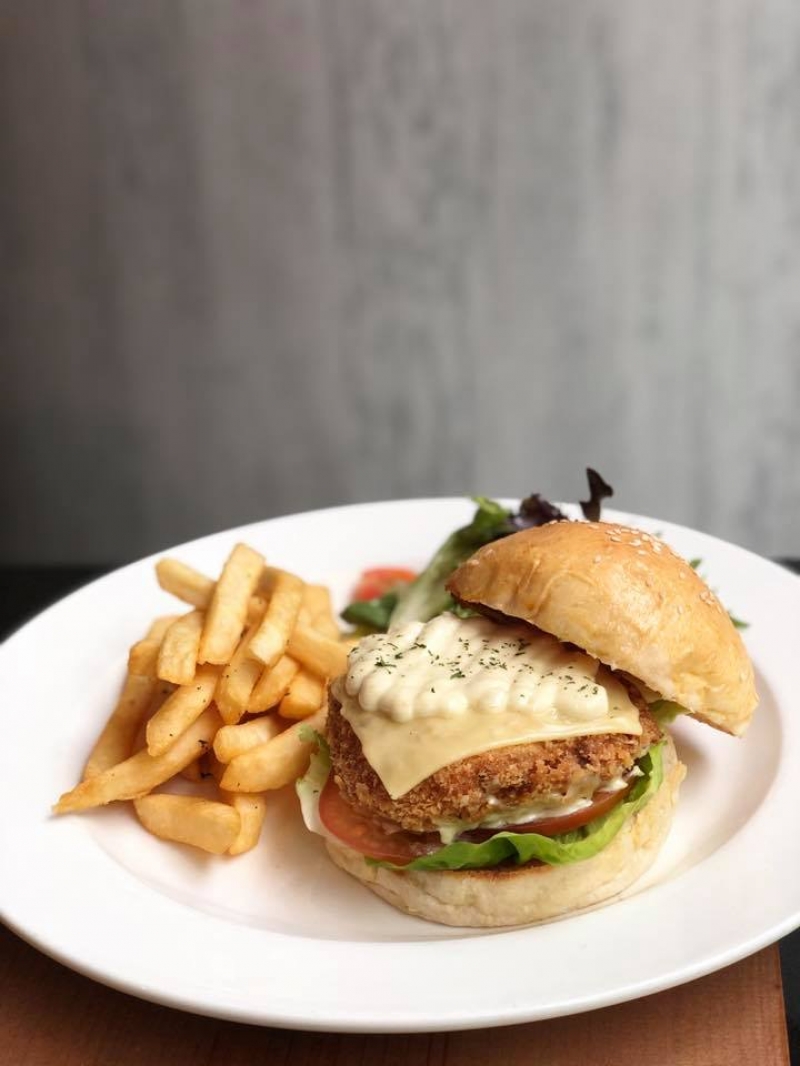 If you're a student and craving for some burgers, head down to The Royals Bistros located within the National University of Singapore's U-Town! Boasting a range of pasta, mains and sandwiches, they also serve burgers! Try the "Royals" Beef Burger, Swiss Cheese Chicken Burger or the Salmon Burger with Garlic Aioli.
Address: 527 Bedok North St 3 #01-514 Singapore 460527
Opening hours: Monday – Thursday 12pm – 9.30pm; Friday 3pm – 10pm; Saturday – Sunday 12pm – 10pm
Contact: 64498527
17. The Bravery on Horne Road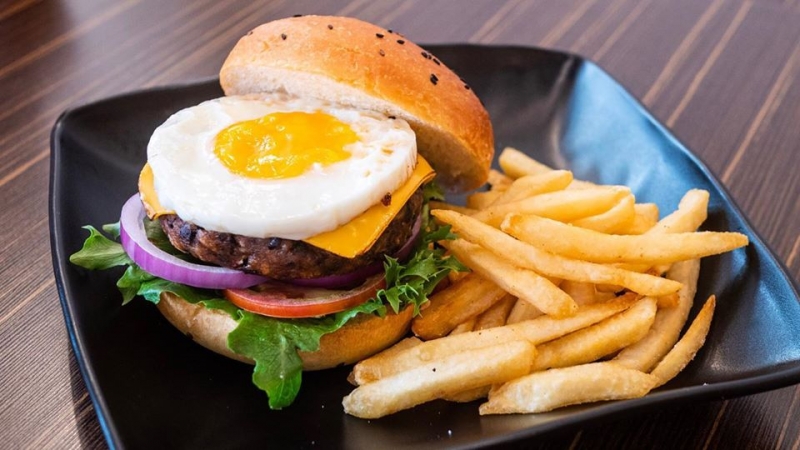 Located along Horne Road, The Bravery Cafe is an all-day brunch venue serving toast, sandwiches, pastas and burgers! The menu is diverse despite it being a brunch venue and best of all, it is halal-certified. Some of the burgers served here includes Skywalk, Brave Hawaiian and Prime.
Address: 527 Bedok North St 3 #01-514 Singapore 460527
Opening hours: Monday – Thursday 12pm – 9.30pm; Friday 3pm – 10pm; Saturday – Sunday 12pm – 10pm
Contact: 64498527
18. Kay's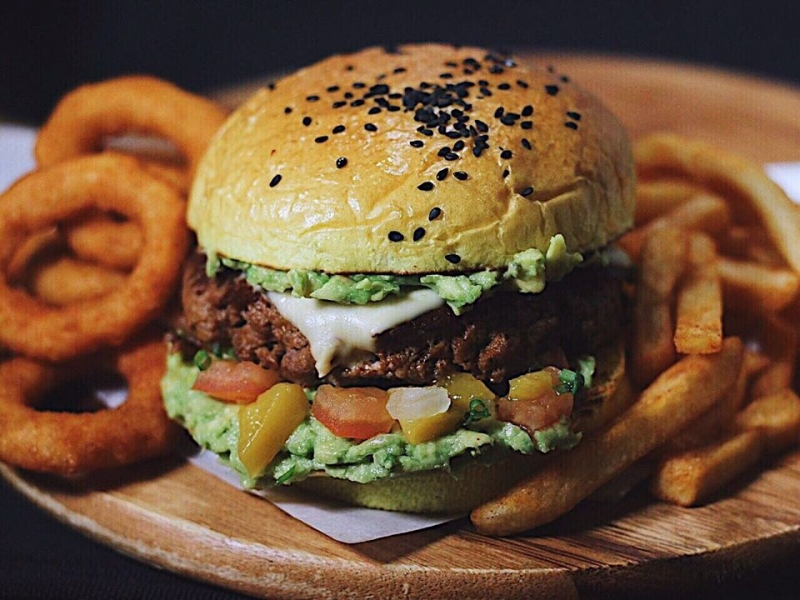 Kay's served freshly made quick-bites with a delicious twist! They are also best known for their artisanal burgers and crab cakes which are made from premium ingredients. The special sauces that comes with your meal are also homemade and are a perfect match to make your feast here as hearty as possible! Some of the burgers offered here includes The Hype Burg, Zesty and Ah Ha! 
Address: One KM Shopping Centre, 11 Tanjong Katong Road, #B1-K17
Opening hours: 11am – 9pm, daily
19. The Social Outcast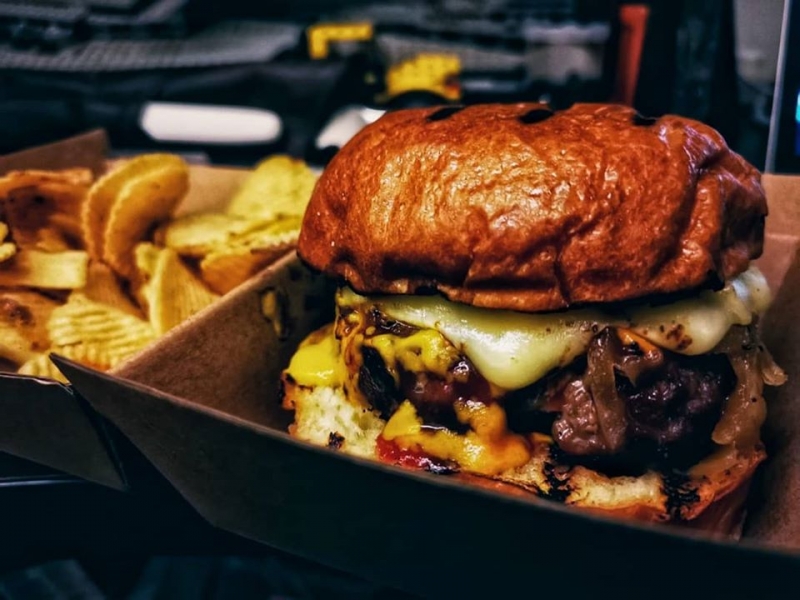 Focused on serving the best charcoal-grilled burgers, The Social Outcast is a halal-certified stall located in Tampines. Some of their unique creations include 400-day Grain Fed Australia F1 Wagyu, Teriyaki Unagi Burger, Smoked Dried Chipotle and Guacamole Beef and more! For those who are into customising their own burgers, you can also add on cheese, sauteed mushrooms and more in your burgers.
Address: Blk 280, Tampines Street 22, Singapore 520280
Opening hours: 11am – 10pm, daily; Closed on Tuesdays
Also read: Halal Food in Bugis, Singapore
So if you plan to get your next burger fix at McDonald's, think again. There are numerous halal burger joints around town that are a bang for your buck and boast great quality! Swap that Double McSpicy for a hearty gourmet burger that's affordably-priced and delicious (maybe even more delicious).