It's a pretty well-known fact that Malaysians love food and while in the midst of Ramadan, both Muslims and non-Muslims alike look forward to one thing that only appears during this month: the Ramadan bazaar! Lively and exciting, it's literally food heaven on earth with a huge variety of mouth-watering food awaiting eager foodies.
With that said, take this opportunity to enjoy the bazaar at its fullest by trying out its many halal food offerings. To get you started, here are 11 scrumptious goodies that you must try on your next trip to Malaysia's Ramadan bazaars.
1. Murtabak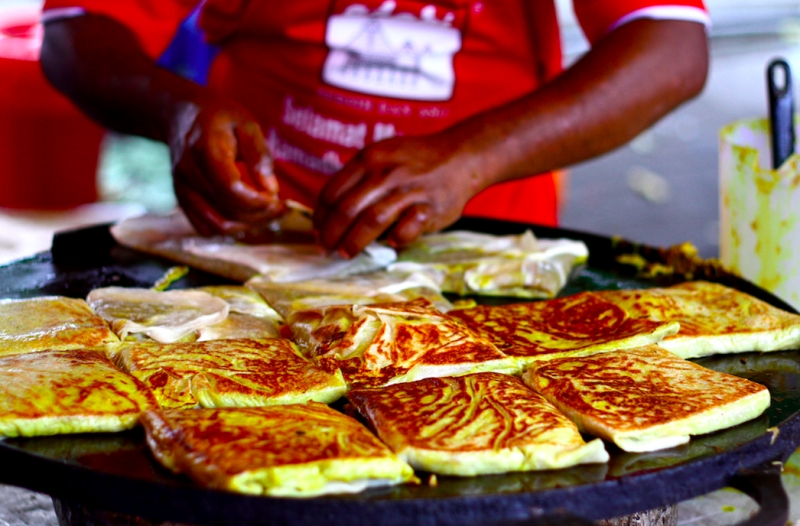 A perennial crowd's favourite, murtabak is a staple in any bazaar or pasar malam that you go. This savoury pancake is made of thin flour dough stuffed with a mixture of egg, onions and either minced chicken or beef. You can devour the murtabak by itself or dip it with some spicy curry on the side for that extra oomph.
2. Roti John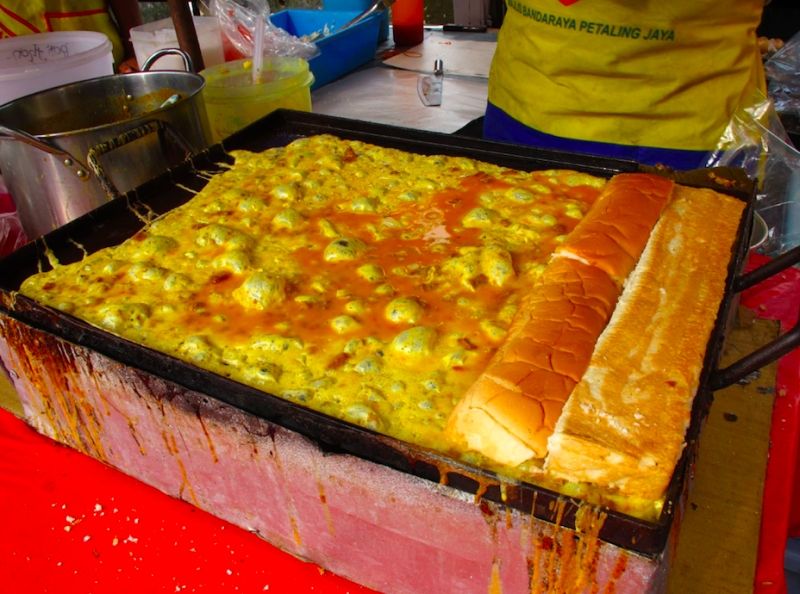 Roti John got its name (and story) way back during the British colonial times and has withstood the test of time to become one of Malaysia's most popular street food. Sometimes known as the "omelette sandwich", Roti John is simple to create. Beaten egg is mixed with meat layered on the inside of an oblong bread and topped with mayo and sweet and spicy sauces. This juicy treat is a hit with both kids and adults!
3. Kuih-muih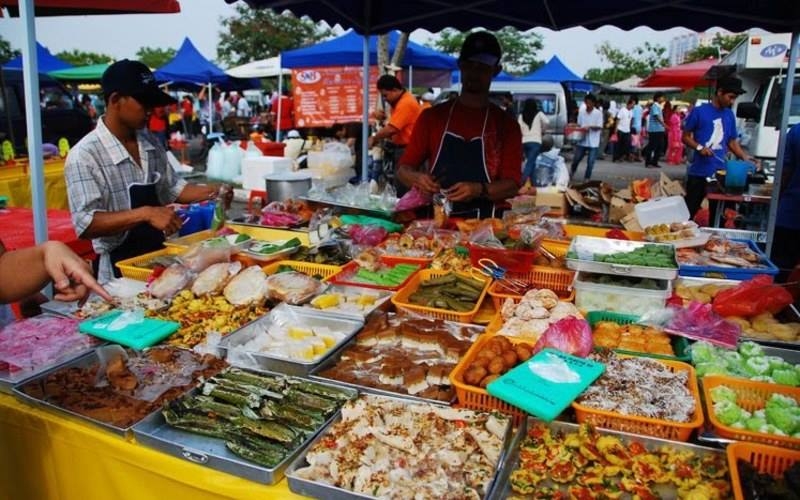 No trip to the bazaar is complete without getting your hands on some Malay traditional desserts locally known as kuih. These bite-sized treats come in many shapes, sizes and flavours, be it sweet or savoury. They are perfect for wrapping up your lovely iftar and those with a sweet tooth will no doubt agree.
Have trouble choosing which one to buy? You won't go wrong with classics such as ondeh ondeh, kuih talam and buah melaka. If you're feeling more adventurous, opt for modern additions to the kuih family such as the colourful agar-agar. This is one bazaar food type you won't want to miss!
4. Tepung Pelita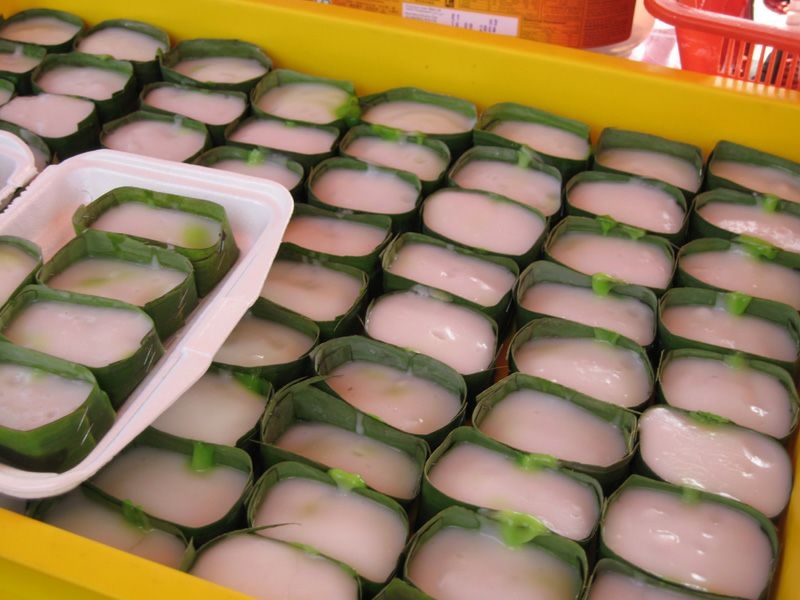 Though technically a kuih, tepung pelita is such a beloved item that deserves its own mention! There's always a long line at any tepung pelita stall you go to, which is not surprising once you've gotten a taste of this unique dessert.
Comprising a layer of pandan base and coconut rice flour layer at the top, you'll find the combination of fragrant sweetness and delicate creaminess of the coconut milk to be utterly irresistible.
5. Popiah Basah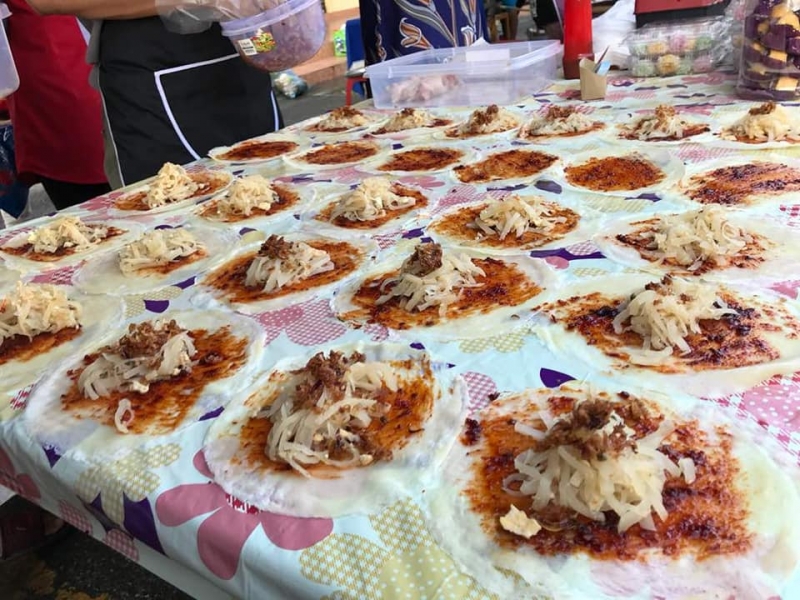 Also known as spring roll, there are many types of popiah but the crowd's favourite has to be popiah basah. A thin crepe-like wrapper is filled with peanuts and stir-fried vegetables of the vendor's choosing before being rolled. Some will smear the sweet spicy sauce inside while others opt to serve it separately. If you're looking for a healthier option of snack, this is the one for you!
6. Putu Bambu / Putu Piring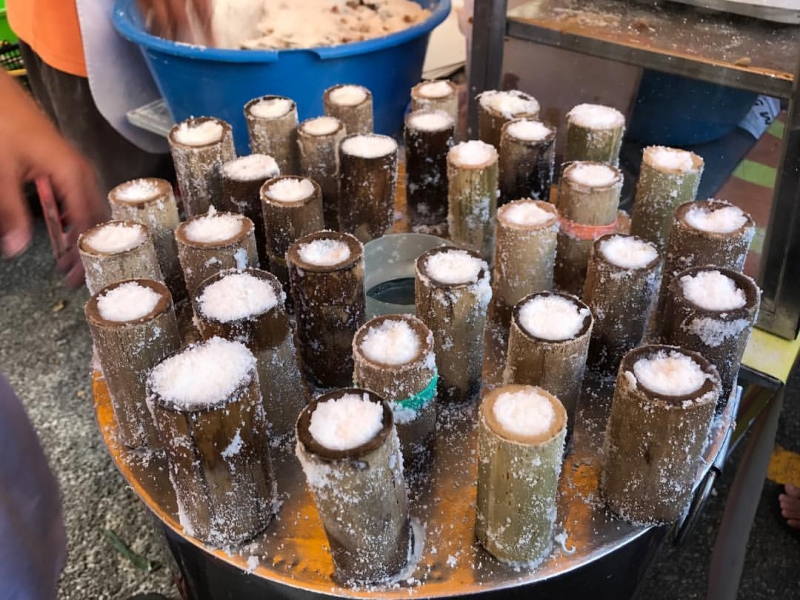 Kuih putu comes in many varieties – putu piring, putu bambu/buluh, putu perak and the stringy putu mayam. The first two are the most common ones you'll find. Kuih putu is essentially steamed rice flour cakes with gula melaka as its filling, served with grated coconut. This fragrant palm-sized round dessert is made freshly on the spot and will make for the perfect dessert for your iftar.
7. Apam Balik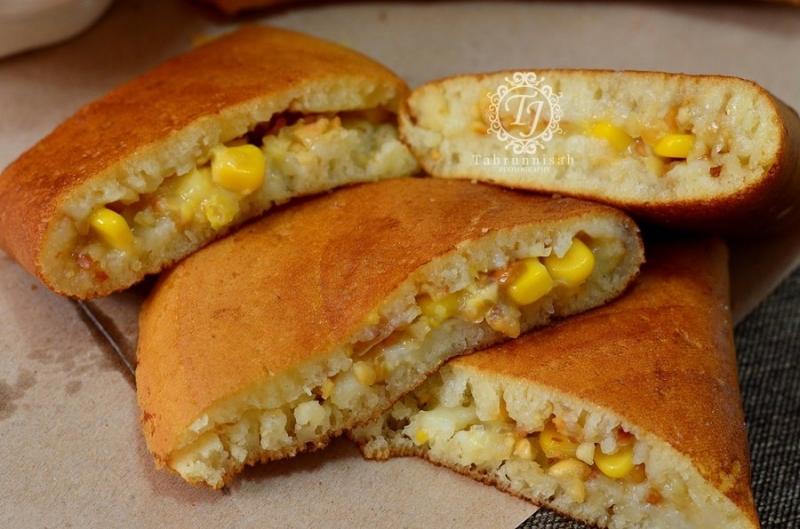 Apam balik literally translates to turnover pancake! There are generally two versions of this folded pancake, the thicker pancake and the crepe-thin one with a variety of fillings. Most prefer the traditional filling of crushed peanuts, buttery sweet corns and sugar though modern stuffings such as jam, Nutella and cheese are worth a try as well.
8. Ayam Percik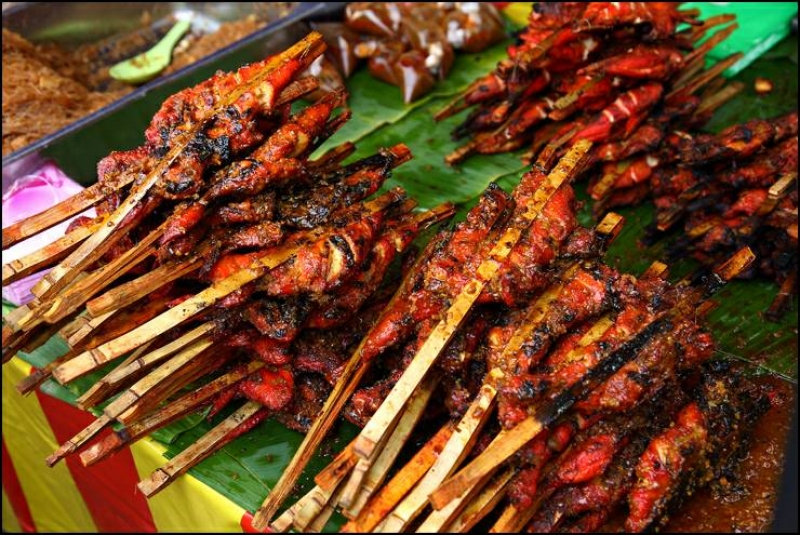 A classic Ramadan picking, this chicken on a stick is marinated for a long time before being grilled on top of charcoal fire for that enticing smoky scent. The best part of ayam percik has to be its addictive sweet and spicy glaze. In fact, some customers will ask for a spoonful or two of its sauce to bring home. Succulent and flavourful, ayam percik is best eaten either on its own or as side dishes to your rice.
9. Ayam Golek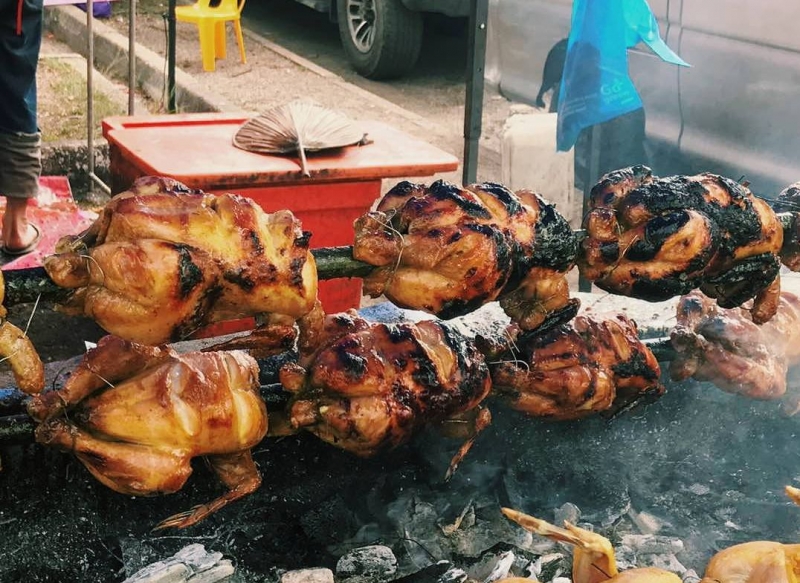 You generally can't go wrong with this dish. Not only can it feed a large number of people, but ayam golek is also delicious and fulfilling. Soaked for hours in a special marinade, ayam golek is slow-cooked by roasting over a charcoal fire in order to retain its juiciness. Opt for the one cooked over the charcoal fire instead of gas for a more smoky aroma.
10. Kebab or Roti Pita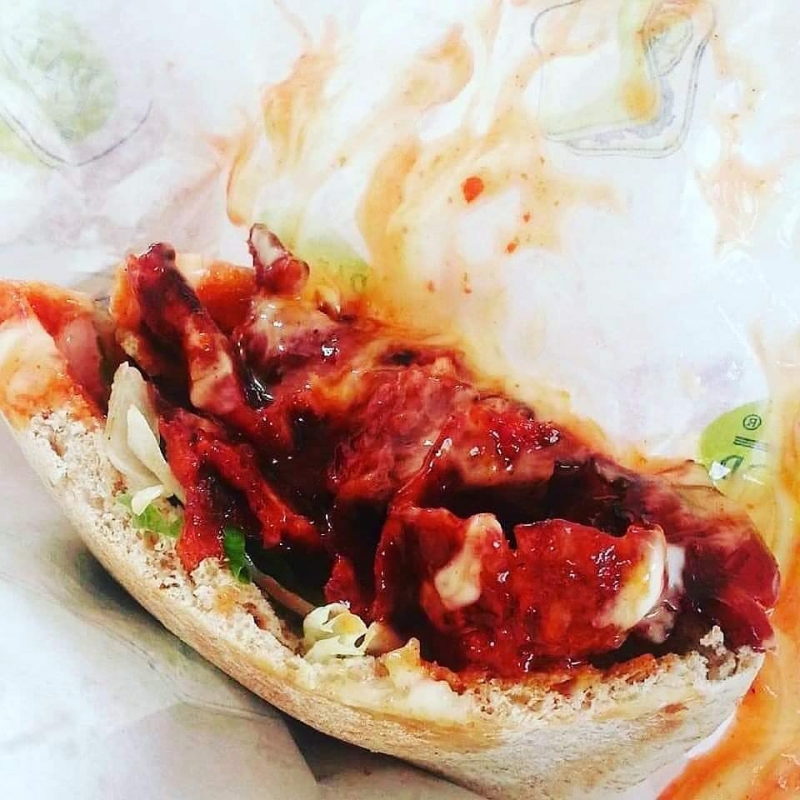 A slightly lighter option to fill the stomach, kebab is considered to be of Turkish origin though just like any other food, it has undergone a slight transformation to fit the local's taste. Here in Malaysia, the meat is served in a pita bread together with some chopped vegetables before being drizzled in an array of sauces.
11. The many rice options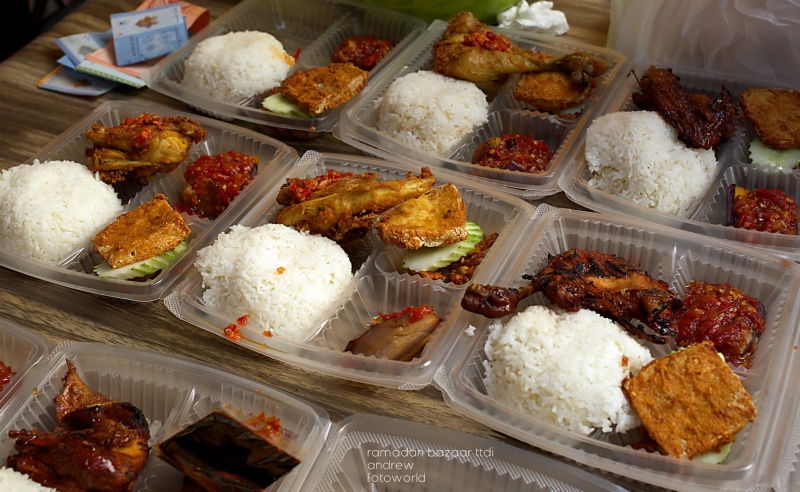 There are many rice options available at the bazaar. From our national dish, nasi lemak to nasi tomato, nasi hujan panas, nasi biryani, nasi penyet, nasi kerabu, nasi dagang – the list goes on and on. There's no better time than during Ramadan to go on a culinary adventure!
Happy food hunting and happy Ramadan!
Also read: Halal Food to Try At Geylang Serai's Bazaar Ramadan