Moroccan souks are a magical place to be. They're a labyrinth of small alleys, wonderful creations and passionate sellers. In the Marrakech Medina, specifically, you'll witness a very lively main square – performances with plenty of people crowding around, shops with the most vibrant colours, noisy food stalls. But beyond this liveliness, deeper in Marrakech Medina to its heart, are the artisans who make the goods you see outside.
You might ask – what's the point of venturing deep into Moroccan souks for the same goods and products that you can get in the main square? Not only is venturing inside slightly more intimidating (I mean, have you looked at how confusing the small turns and alleys are?), it can feel like a hassle.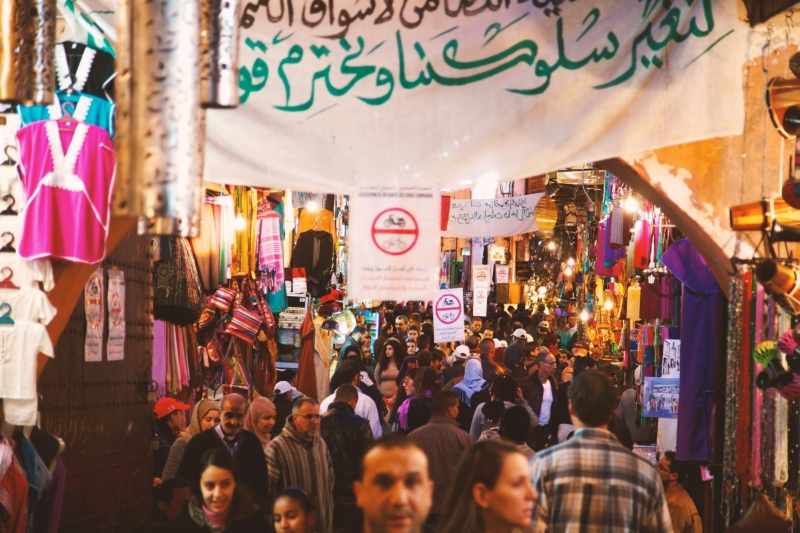 But going deeper means you can see craftspeople at work, meet them in person and learn more about their work. Plus – the prices are the best down here so your wallets will definitely thank you later!
1. Galerie d'Art ouled lamine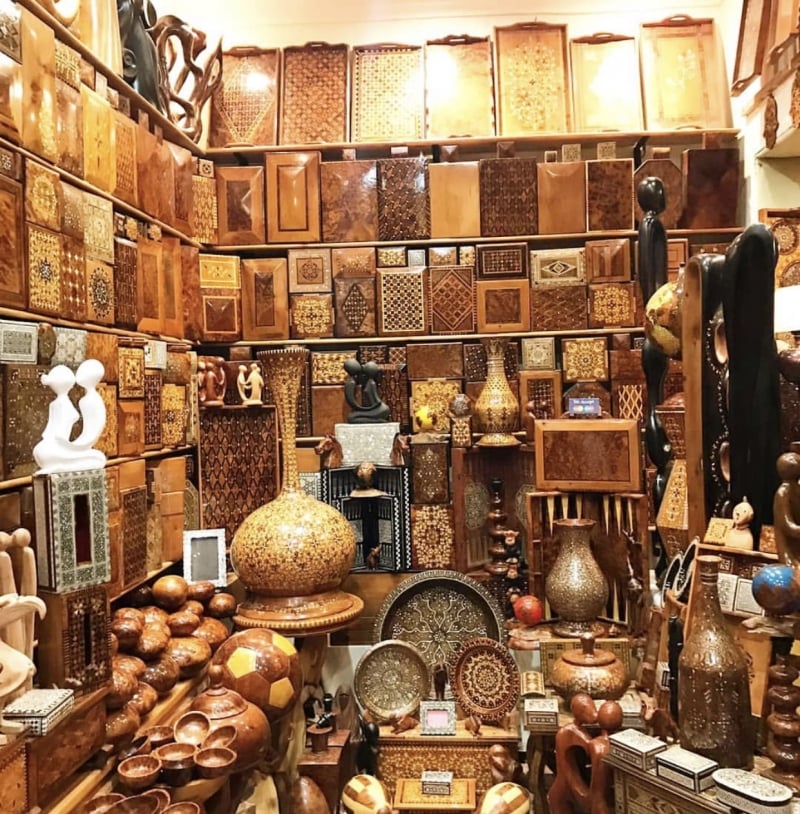 Specialising in intricate woodwork, Galerie ouled lamine is an art gallery run by Abdul Sas. His passion and talent lie in creating unique, African-inspired wooden pieces for customers who visit from around the world. 
The moment you enter this store in the Marrakech Souk, Abdul will greet you with: a game! Yes, you read this right. Abdul is famous for his magic box game, which he plays with almost everyone who sets foot in his store. Besides being extremely skilled, Abdul is also a really sincere person who's eager to make visitors feel welcomed to his city – all the more reason to support this business of his!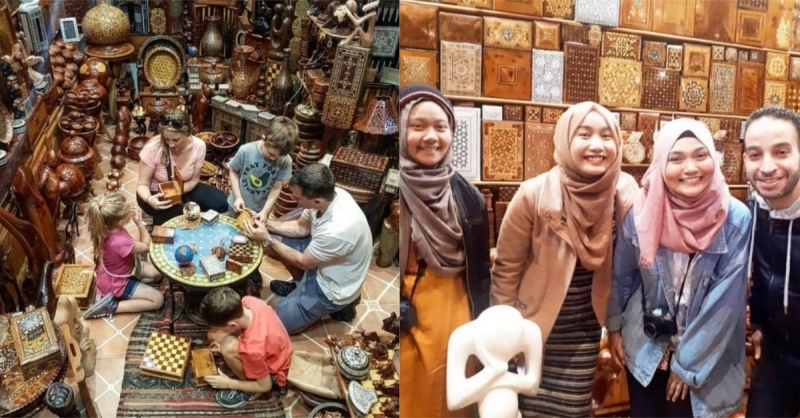 Though entering the store might be overwhelming at first, a good tip is to pay close attention to individual pieces. You'll soon notice that his woodwork comes in a huge range – from functional pieces like tissue box holders to more aesthetic big pieces for home design. Because each piece is so unique, Muslim travellers are bound to walk away with something you can't find anywhere else!
Address: 48/49/50 Marche Milouda, Rahba Lakdima (Place des Epices), Marrakech
Contact: +212 668164714 | Facebook | Instagram
2. Atlas Carpet Art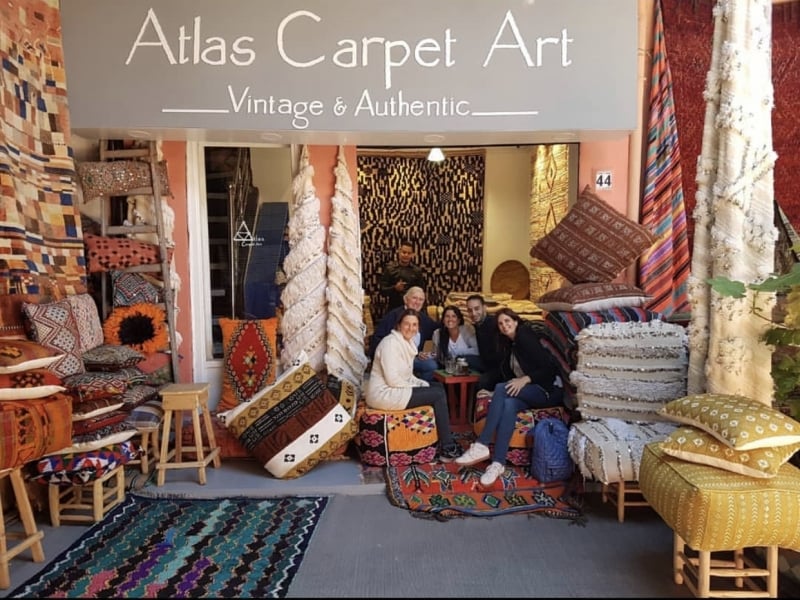 Entering their store feels like you've entered carpet heaven! What greets you is an endless selection of rugs, all stacked on top of each other. Marvel at the array of colours that these rugs come in – bright tones, pastel tones and earthy tones. They're well aware that their incredible selection might mean tougher decisions. Because of this, their two-storey shophouse (and killer rooftop!) makes for a very comfortable purchasing experience.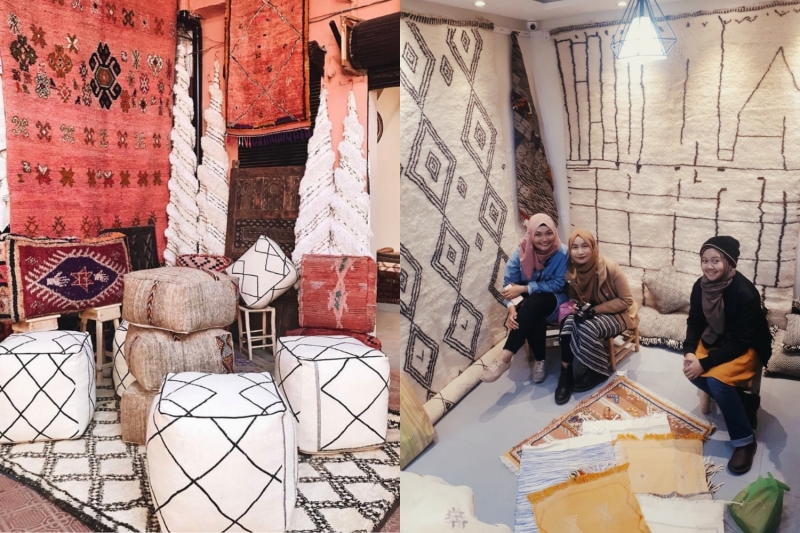 For centuries, Moroccan carpets have been a huge part of local tradition. They were once used primarily as a protection against cold weather, but now many people use them to beautify house interiors. 
Moroccan carpets are typically handmade at home by local Berber women, and for many of these Berber families, carpet-weaving remains as their primary source of income. Atlas purchases directly from these Berber families, keeping the carpet-weaving tradition alive.
Address: 44/45 Marche Milouda, Rahba Lakdima (Place des Epices), Marrakech
Contact: +212 679177004 | Facebook | Instagram
3. Herboriste La Sagesse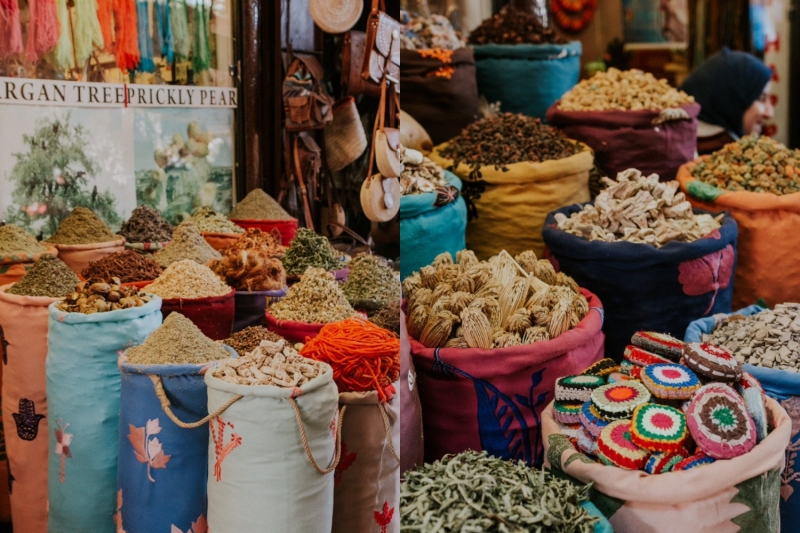 For all you beauty lovers, this one's for you! Herboriste La Sagesse specialises in skincare, natural medicine and Moroccan spices. It's currently run by Haj Brahim, who devotes all his time to natural medicine and researching about it in the mountains.'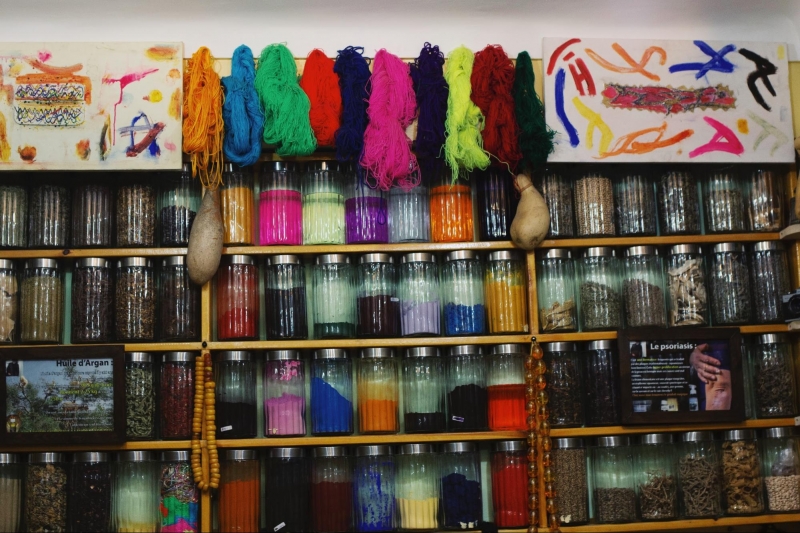 When you visit the store, one of their knowledgable herbalists will thoroughly explain the various products that they carry, how they come about and their intended effects. Since I'm a beauty freak myself, I went slightly overboard at this store! My personal favourites are the prickly pear oil (cactus oil) and amber solid perfume. 
Address: 219-221, Souk Lekbir, Quartier Talâa, 40030 Marrakech (In Front of the Kobaa des Almoravides)
Contact: 06 61 18 47 61 (Mr Brahim) | Website | Facebook | Email
4. L'art de Marrakech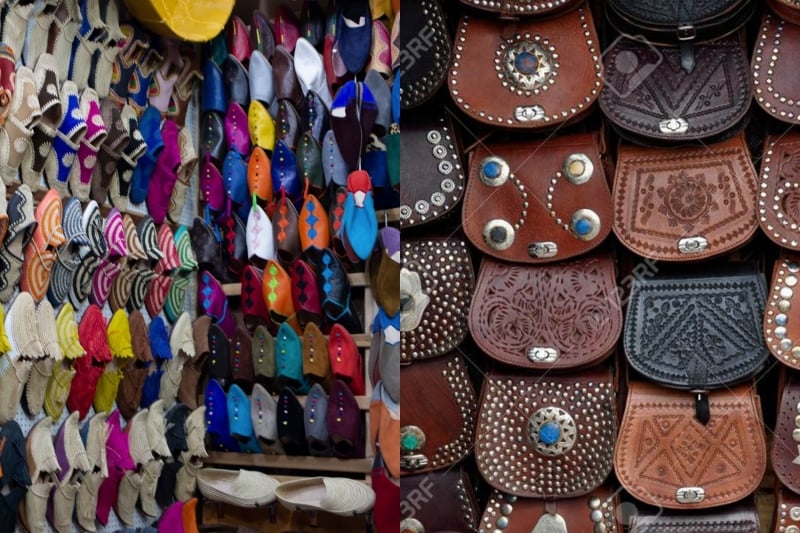 If you have only love for all things leather, the Marrakech Medina is perhaps your version of heaven. At L'art, leather is all around. It comes in the form of a bag, cushion, shoes… and it goes on. All their items are handstitched and handmade, ensuring the best quality. 
Address: 89, Rahba Lekdima (Places des Epices), Marrakech
Contact: +212 667153278 | Facebook
5. Caftan Soltana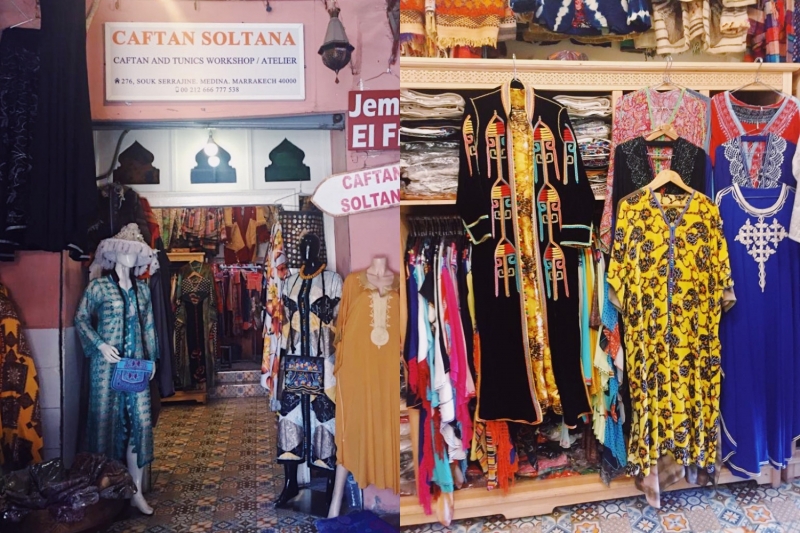 The man behind all the wonderful dresses and kurtas is the coolest, most fashionable person you'll meet in Marrakech Medina. His workspace-cum-store has textiles and clothing all around, boasting years worth of practising the skill of tailoring. Fun fact – he has even dressed some celebrities before! While some of his work is more upscale and suitable for high-fashion, he also has kaftans which are more wearable, making it a popular choice amongst tourists who visit.
Address: 276, Souk Serrajine, Medina, Marrakech 40000
Contact: +212 666777538 | 00 212 661 241 241 | Email
Believe me – going deeper into Moroccan souks is a decision you won't regret! It's where you'll meet the kindest people, hear the best stories and watch all the magic happen.
Also read: Your Muslim-Friendly Itinerary to Morocco: 7D6N in Marrakech, Fez And More