Home to vast desert landscapes, bustling souks and pink clay buildings, there's no wonder why the mystic of Morocco continues to lure Muslim travellers from all around. Its Islamic heritage and seemingly limitless halal food options make it a highly-coveted Muslim-friendly destination for many Muslim travellers.
Since the beauty of Muslim-friendly Morocco knows no bounds, it can be a feat planning your time here such that you'll witness the essence of it. This Muslim-friendly itinerary will highlight the best way to spend your time in Marrakech and Fez, giving you ample opportunity to explore both cities and also take the occasional day trips out!
Day 1: Salam, Fez!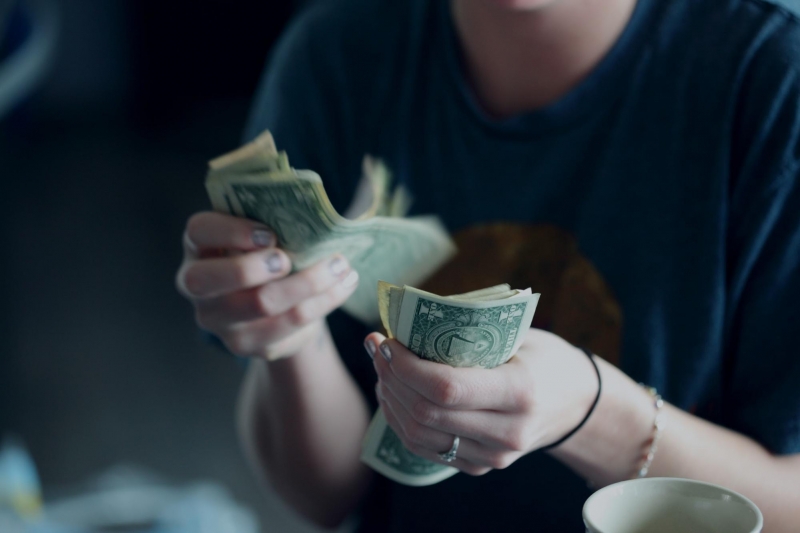 Upon your initial touchdown to Fes Sais International Airport, you might already be ooh-ing and ahh-ing at the gorgeous white interiors of the airport terminal. However, don't forget the first thing you'll need to find – money changer! You'll soon find out that many of the souks still prefer cold, hard cash in payment and once you leave the airport, it's rather difficult to find money changers. So, it'll be great to have cash in hand at all times for a smooth adventure through Muslim-friendly Morocco.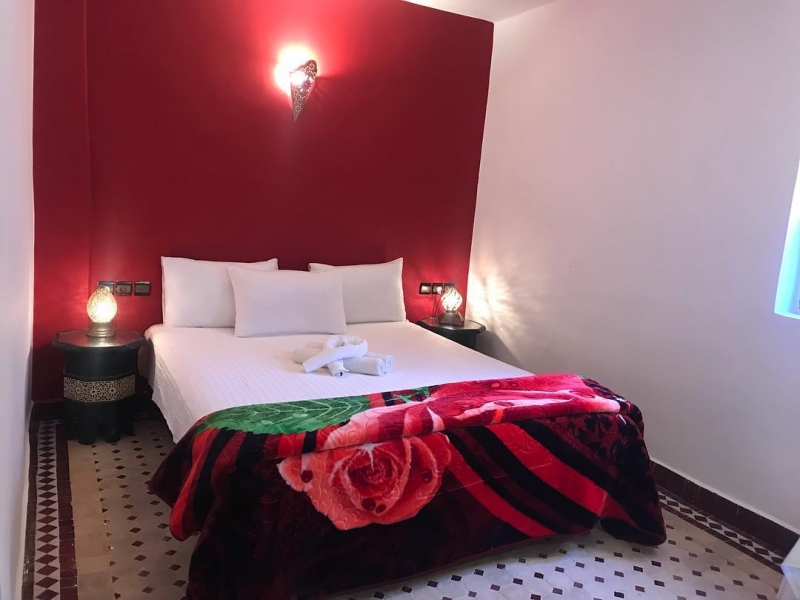 For a truly Moroccan experience, staying in a riad (a traditional Moroccan guesthouse) is your best bet. I checked in at Riad El Mizan, a family-run guesthouse with amazing hospitality. It's located within the Old Medina, which means shopping is right outside your door. Also, do take note that the shops in the Medina area are closed on Fridays, so be sure to plan accordingly.
#HZTip: If possible, Muslim travellers should opt for an airport pick-up. Riad El Mizan offers a pick-up service from the airport for 15€ (~S$23). I'm so glad I opted for this, the driver had a wheelbarrow-type transporter for our heavy luggage! What a godsend, since the alleys of Medina was completely car-free – which means you'd need to transport your luggage by foot through the Medina.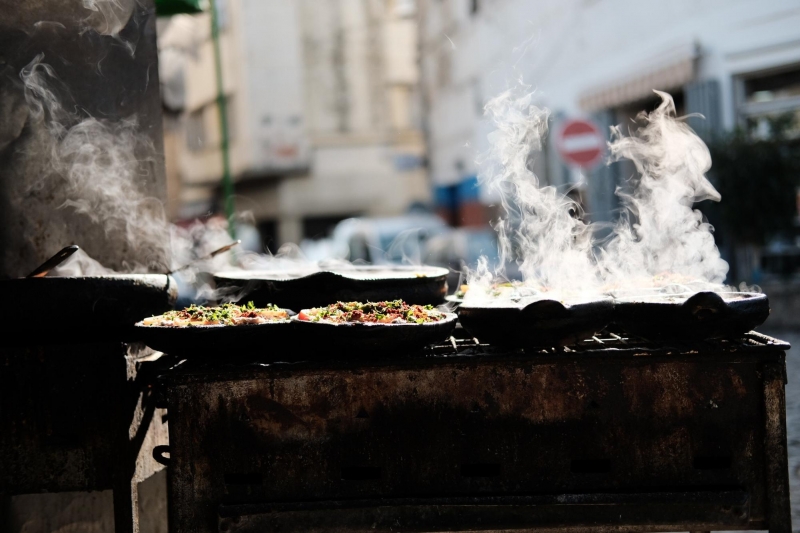 After a long flight and traversing through the shops in the Medina, the hunger pangs will surely start to kick in. There are multiple small restaurants (all Muslim-owned) sprawled across the Medina, though some might be rather unclean in their food preparation. According to my Riad host, a good rule of thumb is if you see locals frequenting the shop, it's a green light for you to go ahead and patron the joint.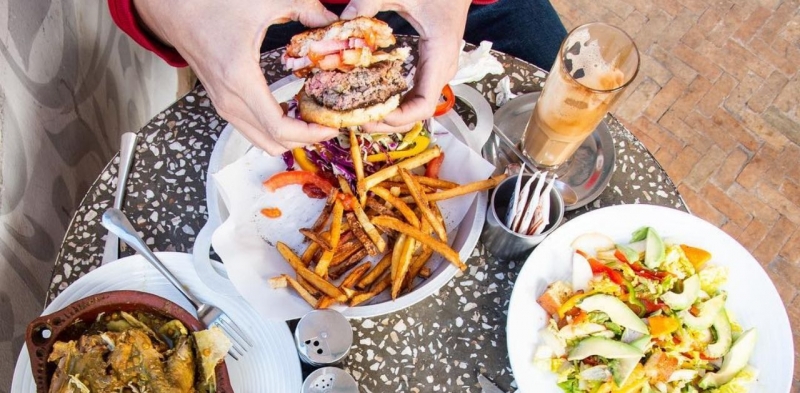 Located within the Old Medina, Cafe Clock is the perfect lunch spot for a midday break from shopping. When you enter, be sure to request for a seat upstairs so you could have a bird's eye view of the busy Medina. I got their classic Clock Camel Burger which costs 95 dirhams (~S$13). The portion is rather big, so if you don't not overly famished, sharing one plate with a friend is a good idea.
Cafe Clock prides themselves in being a cross-cultural cafe. The cafe regularly holds educational events and workshops like calligraphy lessons, oud lessons and hikayat (Moroccan storytelling).
Address: 7 Derb el Magana, Fes, Morocco
Hours: Daily, 9am – 11pm
Day 2: Walk the blue alleys of Chefchaouen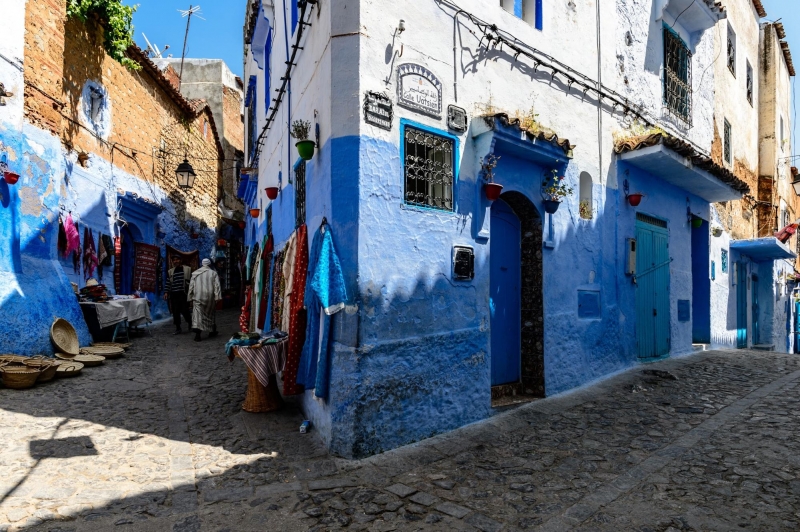 Travel out of Fez to Chefchaouen, where you'll be greeted with striking, blue-washed buildings and steep cobblestone alleys. One day excursions to Chefchaouen, Meknes or Volubilis can be booked through various local companies like Fez Desert Tours. These tours include a bus ride to this city, that will take about 4-5 hours.
Day 3: Soak up the culture of Fez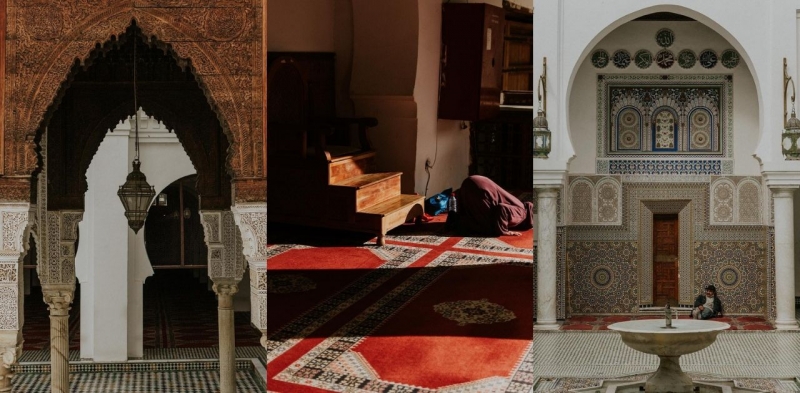 Soak up the culture and history of Fez by visiting some historical places on your third day. Start your day by visiting the oldest university in the world. Al Quaraouiyine is the oldest existing educational centre in the world. Only Muslims are able to enter, so count yourselves very blessed! As you roam the halls, appreciate the majestic white arches and columns of this Islamic university. It's currently also a mosque, so Muslim travellers can perform their prayers here if you need to.
#HZTip: Doors are open to Muslim tourists to snap pictures outside azan times. When you reach, the door might be closed since it's not open to non-Muslim tourists. However, feel free to knock on the door to request entrance into the university. The custodian might be able to let you in.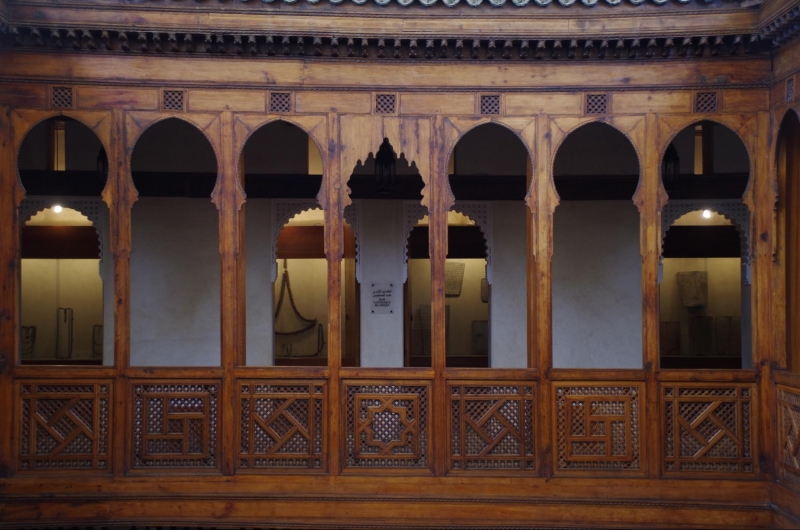 From Al Quaraouiyine, take a 3-minute walk down the main street of the Old Medina. Pay a visit to Nejjarine Museum, where you'll find displays traditional wooden arts and crafts. Admire the wood carvings and plasterwork within the interior of the museum as you walk through the rooms showcasing different types of ancient wooden instruments.
Day 4: Salam, Marrakech!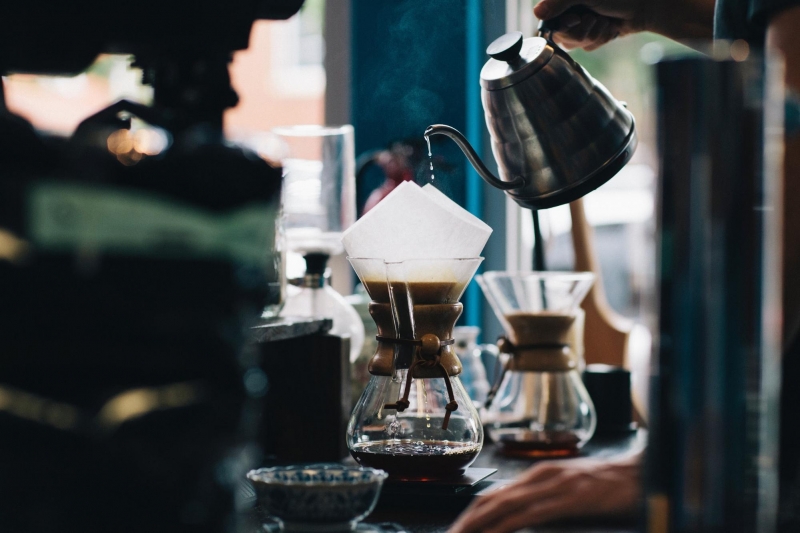 Before leaving Fez, Muslim travellers should start their day with fresh coffee and Morrocan pastries at Nagham Cafe. If you're a first-timer to Moroccan sweet treats, indulge in their assortment of Moroccan pastries.
Address: 49, Place Iscesco Kasbat Boujloud, Derby Mernissi, Fès, Morocco
Hours: Daily, 10am – 11pm
Next, I boarded an Air Arabia flight from Fez to Marrakech. The check-in experience was slightly difficult as my friends and I didn't know that there was no online check-in available for flights from Fez airport. So, make sure to reach early for airport check-in if you're taking this flight. The flight itself was really smooth and fast, so we felt like we got our money's worth choosing to take the plane over.
If you prefer a more affordable option and don't mind long travelling hours, hop on a daytime or nighttime train from Fez to Marrakech, which will take about 7 hours. ONCF Espace Voyageurs is a popular choice amongst many Moroccan travellers.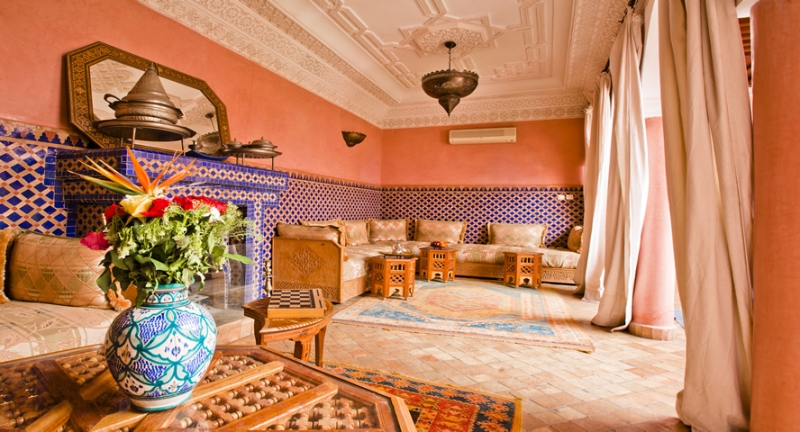 Check into your riad in Marrakech. Riad Lakhdar is a good option if you're looking for comfort, good hospitality and great location. This riad is only a 10-minute walk to the main Medina and is of close proximity to many trendy cafes.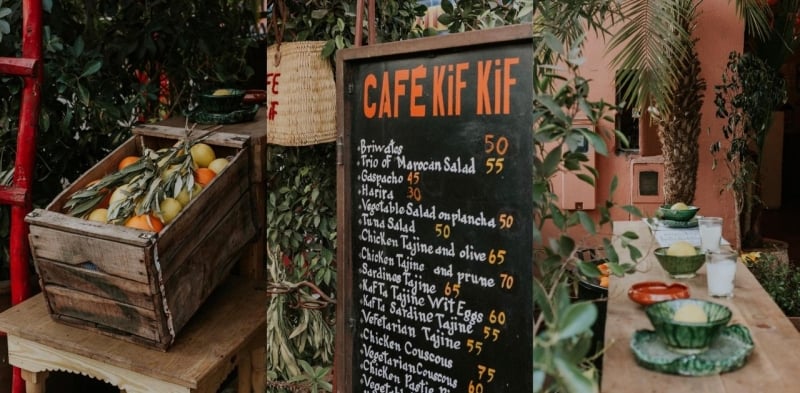 Once you've settled into the riad, have your dinner at Cafe Kif Kif. This cafe prides itself in its tajine dishes, Nutella pastillas and aesthetic.
Day 5: Sign yourself up for a cooking class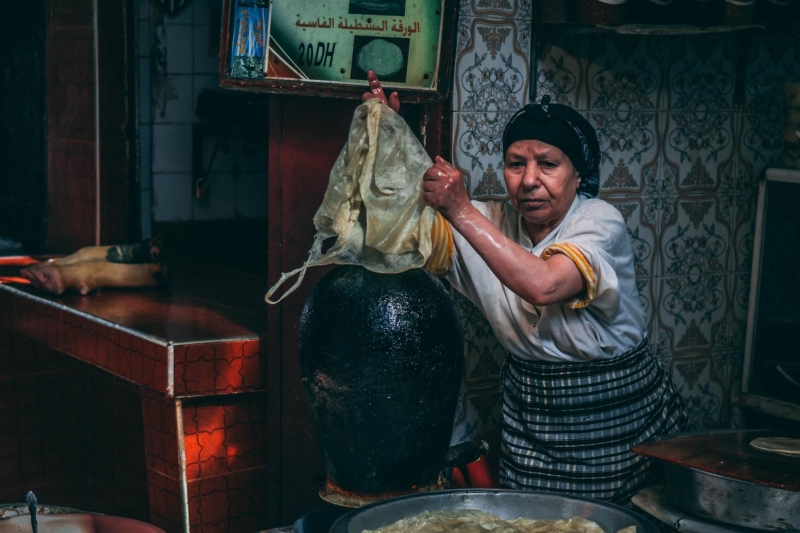 Today's the day to cook up a feast! After indulging in delicious Moroccan food for the past few days, why not learn the ropes on how to cook Moroccan-style dishes? Spend the day face-to-face with an expert local Moroccan chef – shop for ingredients at a souk, learn about some common spices, cook a meal and finally enjoy the fruits of your labour!
House of Fusion organises cooking classes, including ones that are specifically for Muslim families with small children. For those who'd prefer a more personalised experience, there are many families on Airbnb experiences that invite visitors to their home for cooking classes too.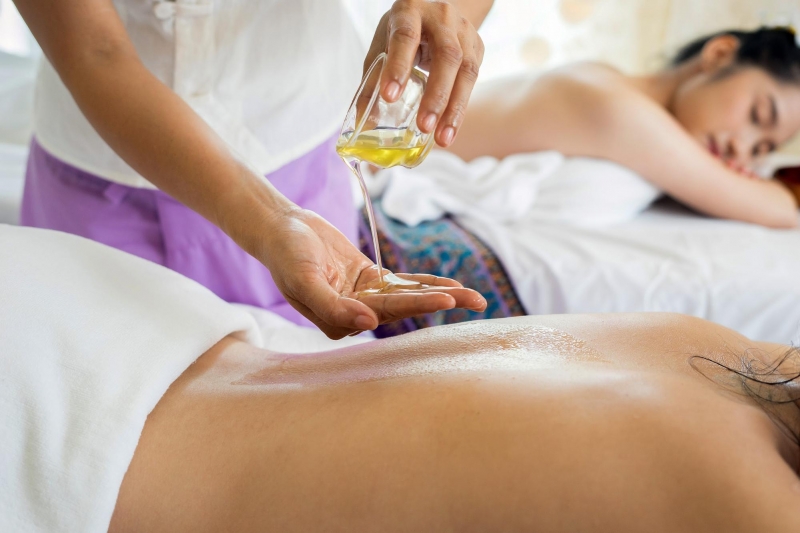 After six hours working hard in the kitchen, won't you need a little TLC? This is the perfect time to get your mandatory hammam experience. Put simply, hammams are Turkish baths where it's steamy and Muslim travellers could go to for a relaxing cleanse. And don't worry – it's completely Muslim-friendly! All Moroccan hammams are operated under a strict separation policy.
Day 6: Shop till you drop at the souk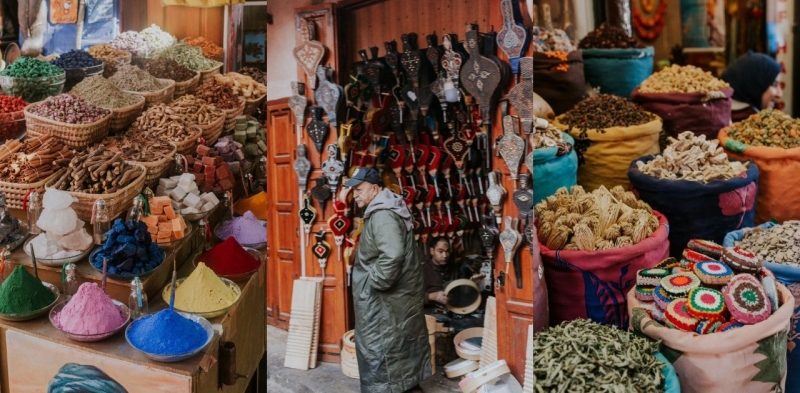 The Marrakech Medina is a dizzying maze of shops selling all things Moroccan – leather goods, carpets, wooden artifacts, spices, fragrances. The confusing nature of souks plus the fact that I didn't want to be a victim of unreasonably high tourist prices made me book a souk tour organised by a local named Mohamed Reda.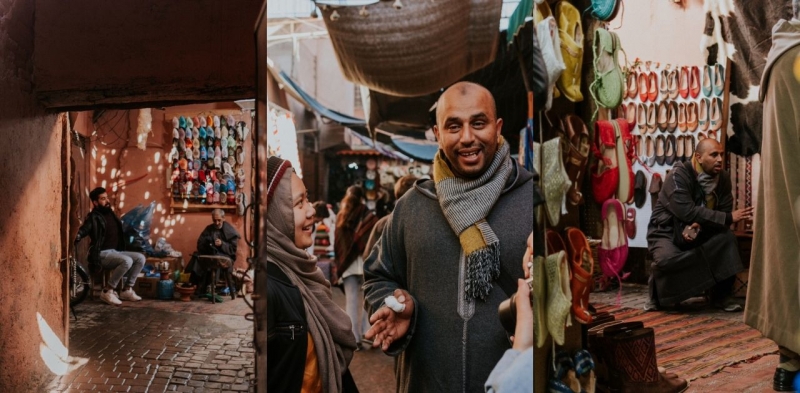 Reda brought us deep inside the souks, giving an all-exclusive access to the heart of the Medina, where the artisans and craftsmen operate. I got to listen to elaborate stories about Moroccan craftwork and traditional medicine from the experts themselves.
#HZTip: Since tours may not allow you to shop in the slow pace that you might want to, make sure to note down all the places you wanna revisit after the tour is done! If you're an avid shopper, take the tour as the first 'survey' of the souks, it helps you pinpoint the souks you're into.
Day 7: Goodbye, Morocco!
Start your day with a rooftop breakfast at Riad Lakhdar, where you'll get to bid a last goodbye to the view of Muslim-friendly Marrakech Medina. This is complimentary for all guests.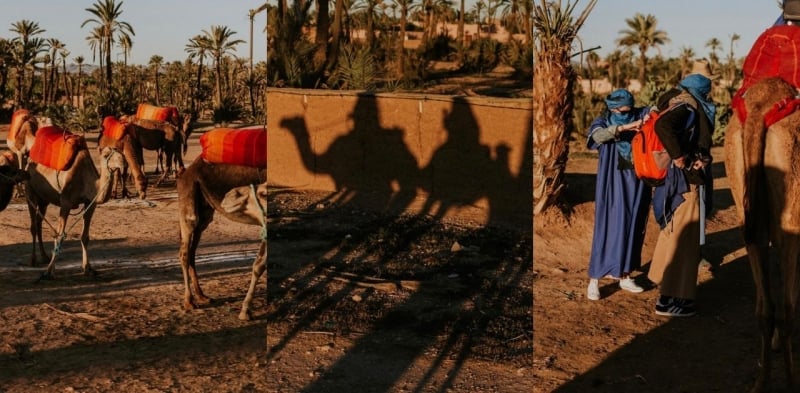 You simply can't leave Muslim-friendly Morocco without going on a camel ride through the desert. My friend Natasha went on one tour that she found on Airbnb experiences, there are loads on there to choose from! It gives you the perfect opportunity to spend your last few hours in Morocco basking in the sights of the vast desert.
Already starting to pack your bags, right? With this itinerary, you're ready to head to the airport to conquer Muslim-friendly Morocco and discover its majesty for yourself! Reading about it is one thing, but experiencing it is so much Mor rewarding!
Also read: Muslim Strangers: Why I Never Felt Alone While Travelling