1. Ras al Khaimah, UAE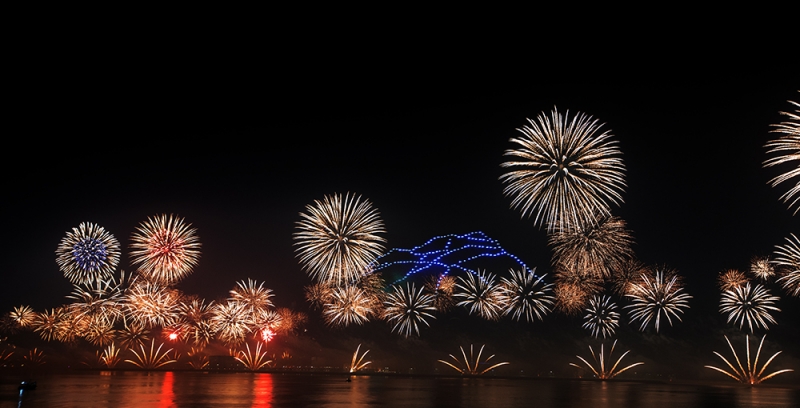 If wish to be completely enthralled by fireworks, Ras al Khaimah is the perfect location for you to celebrate! This hidden gem in the UAE currently holds the Guinness World Record for the 'Longest Chain of Fireworks'. The total length of the fireworks chain this year was 4.6km using a total of 11,284 devices! 
In the previous 2019 celebrations, Ras al Khaimah also hosted the Ultimate Camping Experience that festival-goers can join in. With much to live up to, you can anticipate an exciting lineup for the upcoming New Year festivities.
2. Taipei, Taiwan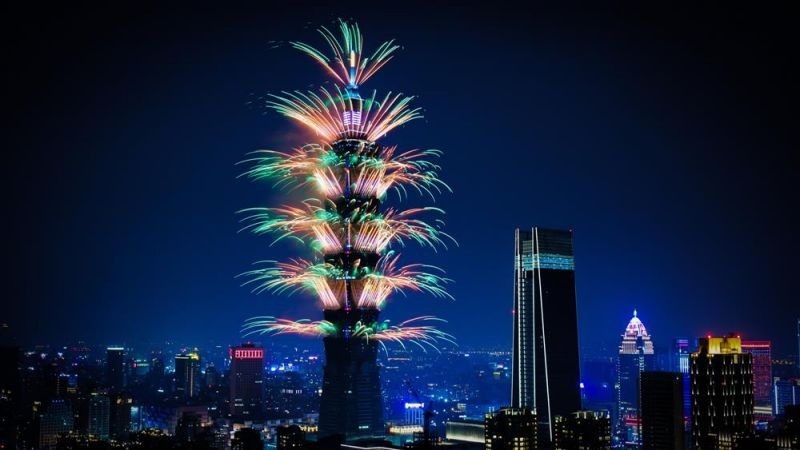 New Year in Taipei is not complete without mentioning the brilliant Taipei 101 display. The moment the clock strikes midnight, this tower puts forth a display that is arguably one of the best in the world! If you are looking for a more relaxed spot where you can watch from a great vantage point, consider hiking up the Elephant Mountain or Xiangshan!
Taipei is a perfect stop for Muslims with the plethora of seafood, vegetarian and halal Taiwanese cuisine to try! Islam is a growing religion and represents about 0.3% of the population accounting for 60,000 Muslims. There are 11 mosques in Taiwan with the most famous being the Taipei Grand Mosque. Halal restaurants are also widely available here!
3. London, England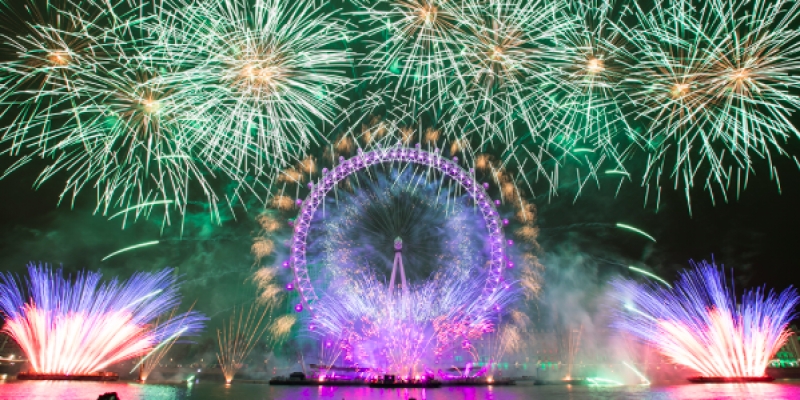 London's New Year's spectacle is one of the best! Astonishing fireworks displays are launched from the iconic London Eye. While there is an impressive display of fireworks, there is also a plethora of activities lined up for all. To catch the best view, hang around the Westminster Bridge and River Thames.
London is hosting the New Year's Day Parade 2020, which usually sees about 10,000 performers, through central London. This is also one of the capital's most famous thoroughfares following the route from Piccadilly all the way to Parliament Street.
4. New York City, USA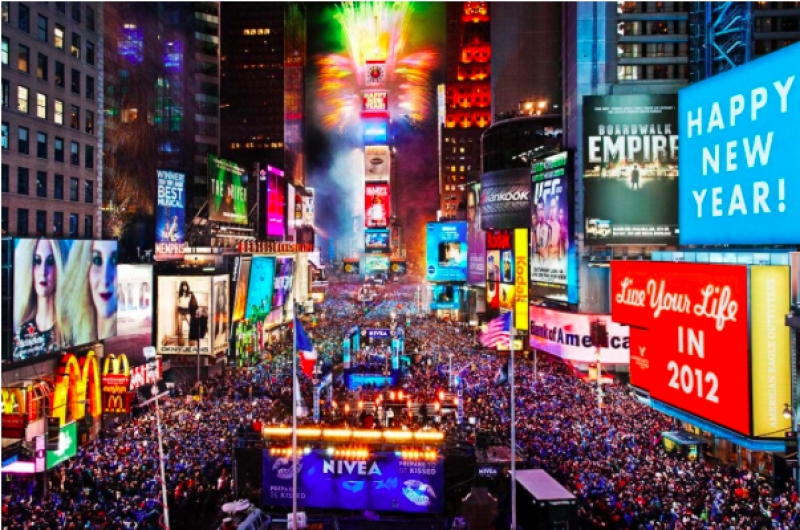 Ah, who can deny the magic of the city that never sleeps? New York is one of the cities that is most alive during New Year's Eve. With magnificent skyscrapers embellishing the skyline, New York's Times Square is the perfect spot to catch the breathtaking fireworks display. The ball drop event, which started in 1907, has since been done every year except for two years during the war. This quintessential event is something you shouldn't miss! 
While walking down the streets, don't forget to stop by the acclaimed Halal Guys cart! This was where the internationally renowned chain first started, as a humble hot dog stand. Today, Halal Guys can be found all over the world in cities such as Seoul, Jakarta and Toronto. 
5. Moscow, Russia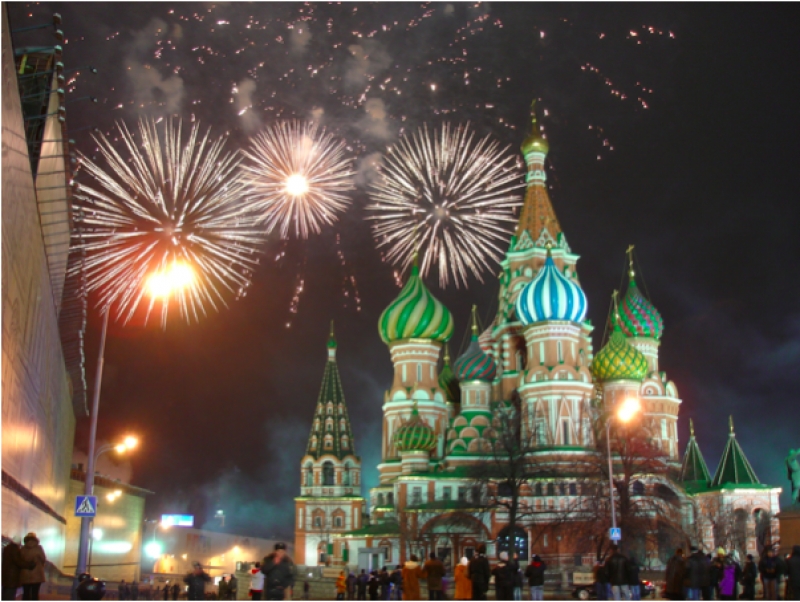 Previously banned, New Year's is now one of the biggest celebrated holidays in Moscow, Russia. After catching fireworks and celebrations in St. Petersburg's Dvortsovaya Square, take a walk along the banks of River Neva to enjoy the beauty of Moscow covered in snow. If you prefer somewhere with a smaller crowd, go to Strelka on Vasilyevsky Island.

Other than spectacular firework displays, there is also an ice festival! Aside from that, many of Moscow's museums and art galleries will offer free admission. In the Red Square, there is a Christmas/New Year's Market. With events lined up for the holidays, it is impossible to run out of things to do!
For Muslim travellers, Islam in Russia is the nation's most widely-professed religion, with around 9.4 million Muslims and counting. In Moscow, there are four mosques (8,000 in the whole of Russia) which means that Muslim-friendly facilities are available. Other than being rich in culture and history, this city is also home to many halal restaurants!
6. Edinburgh, Scotland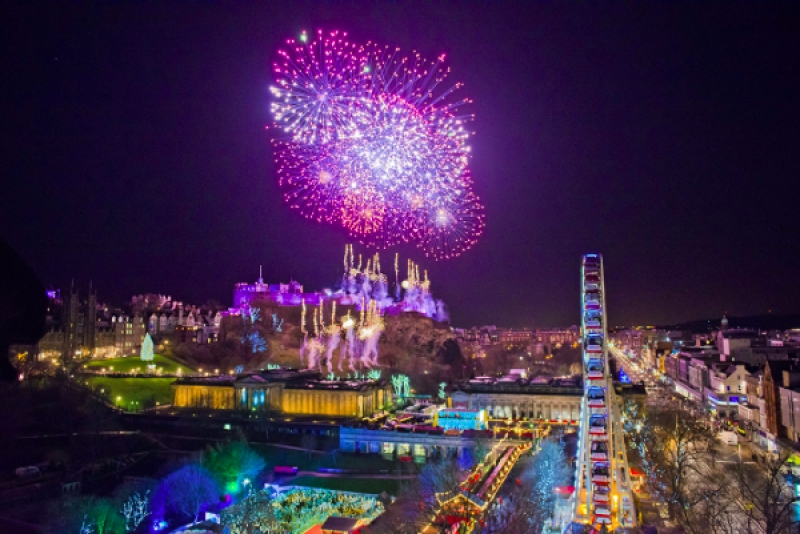 If you are looking for something new and something that lasts longer than a day, then Edinburgh, Scotland is the New Year's destination choice for you. A three-day procession, the Hogmanay Extravaganza starts on the 30th of December until the ushering of the new year. Keeping the Viking traditions alive, the event includes fireworks over a castle, bonfires, carnivals and an out of the world Vikings procession! 
Edinburgh also boasts a good range of mosques and halal eateries for your travels. Some of the popular mosques in Edinburgh include the Edinburgh Central Mosque and Shah Jalal Mosque. As a Muslim traveller, Edinburgh is a hidden gem for the New Year celebrations!
7. Sydney, Australia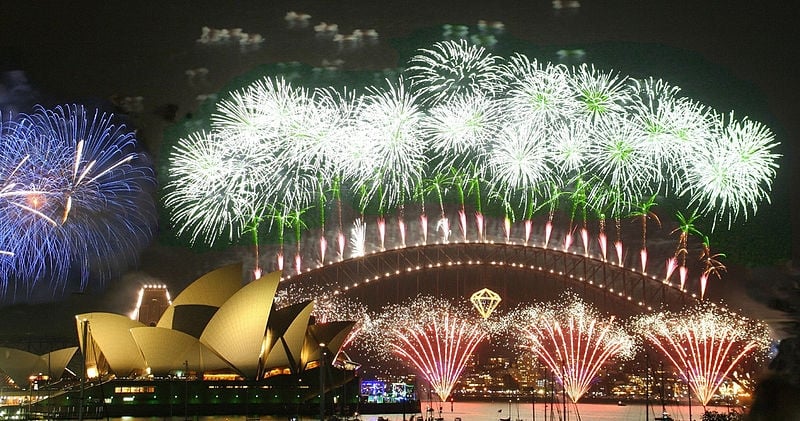 In Sydney, the fireworks show is launched from the Sydney Opera House, nearby buildings, barges on the water and from the Harbour Bridge. This display lasts for 12 minutes, symbolically representing each month of the year! Apart from the fireworks displays, many other smaller events also take place around the area which means options galore for all.
Sydney is also home to a melting pot of people, making it easy for Muslims to find halal options during their stay. In fact, some of Sydney's finest restaurants are certified halal including Lal Qila. With over 340 mosques scattered all over Sydney, surely, you will easily find a place to pray as you venture around Sydney!
8. Rio de Janeiro, Brazil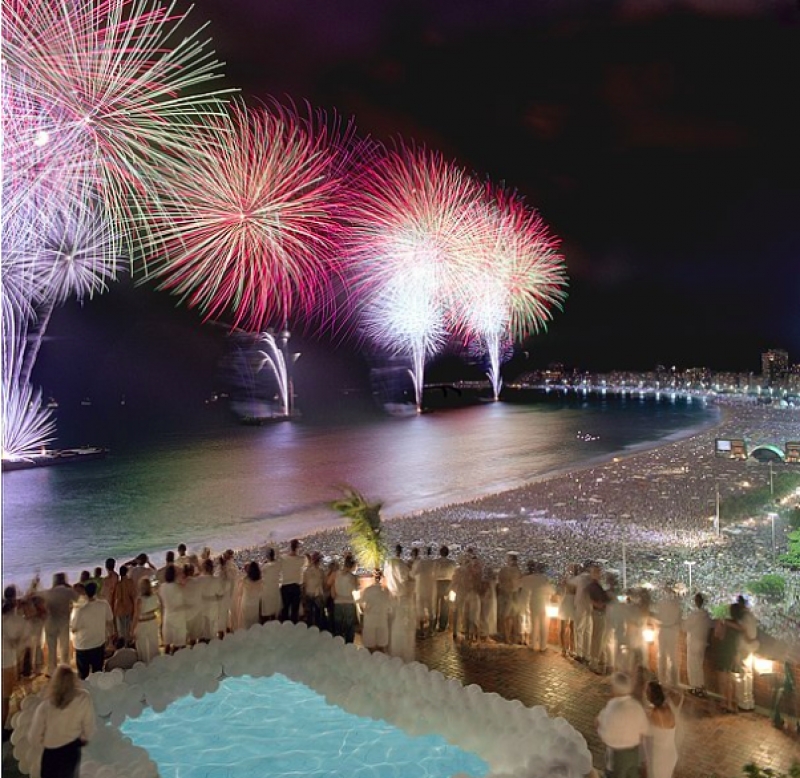 Located at Copacabana Beach, the New Year's festivities in Brazil see millions flocking to this vibrant city. The metro is also open until 5am, which is perfect because traffic can be crazy at this time of the year. Although the 4km beach will be teeming with people, there are plenty of activities around the area. 
The locals also practise a colour tradition during New Year, based on an African ritual. The different colours signify different things. For instance, white means peace and it is one of the most used colours every year. If you find yourself in this lively city, make sure you join in this colour-coordinated outfit tradition!
There is a substantial Muslim population here as well as Muslims boasting Moroccan, Pakistani and Egyptian backgrounds to list a few. Brazil is also a big producer of halal meat so Muslim travellers can easily locate a halal butcher! Aside from that, there is also the Sociedade Beneficente Muculmana or the Society for the Benefit of Muslims which is a mosque and community centre that serves the Muslim community.
9. Singapore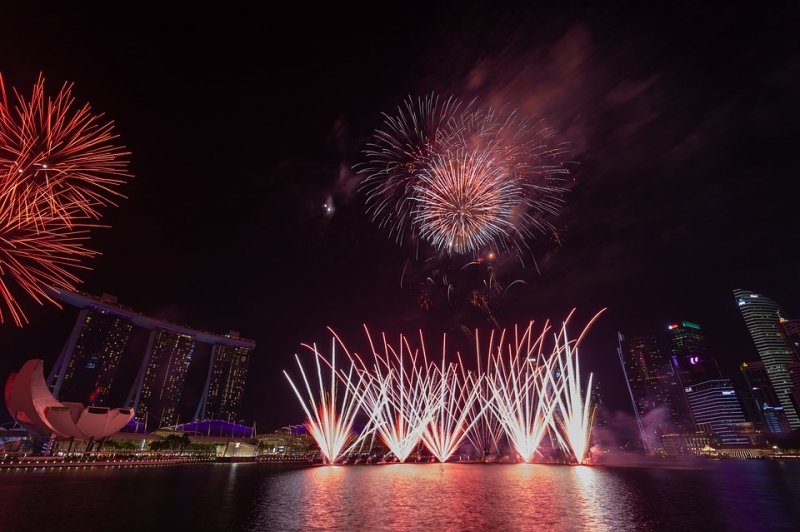 Home sweet home is also a great place to celebrate New Year's! With a ton of free things to do, you should be able to find something that is fit for you. One of it is joining the Marina Bay Countdown which attracts over 300,000 people every year. The Marina Bay Carnival is also close by, which usually features rides, games, contests and fun challenges for all.
You can also find a spot in the more cosy side of the city in places like Marina Barrage or Mount Faber. Maybe even consider having a cosy picnic under the stars while welcoming the New Year!



10. Hong Kong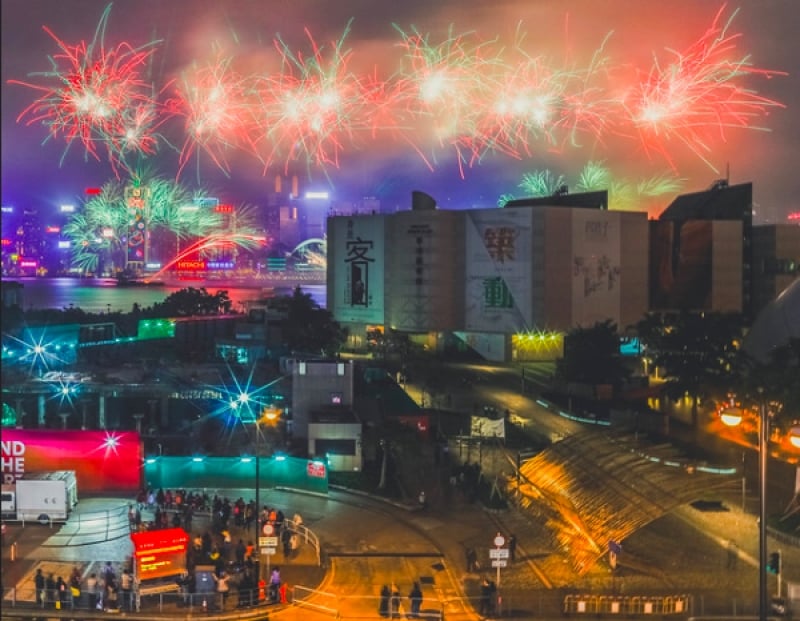 Located along the famed Victoria Harbour, New Year's celebration in Hong Kong is an occasion you should consider being a part of. With dramatic skylines and fireworks that begin at 11pm, the bright and lively celebrations will surely be a satisfying experience. The 'shooting stars' fireworks commence at 11pm with launches every 15 minutes until the main highlight at midnight.
Hong Kong is also a nation that has a growing Muslim population, which means Muslim-friendly amenities aplenty. Especially in the Kowloon district, home to the largest mosque in Hong Kong, halal food is also in abundance. The next time you are looking for a city to visit for the new year, Hong Kong might be the best pick for you.