Muslim-friendly Jeju is a popular travel destination for not just tourists, but many locals too. It's the perfect island escape from bustling cities like Seoul and Busan.
Whether you want to swim along the beaches or trek the mountainous trails, Jeju offers a little something for every Muslim traveller. 
It might seem daunting to plan your first visit to Jeju with so much to see and do. Muslim travellers should set aside three to four days in their itinerary to make sure they can fully soak in the beauty of Korea's Hawaii.
Check out these best places for you to eat, explore and stay in Muslim-friendly Jeju. 
Eat:
Muslim-Friendly Restaurants in Jeju-do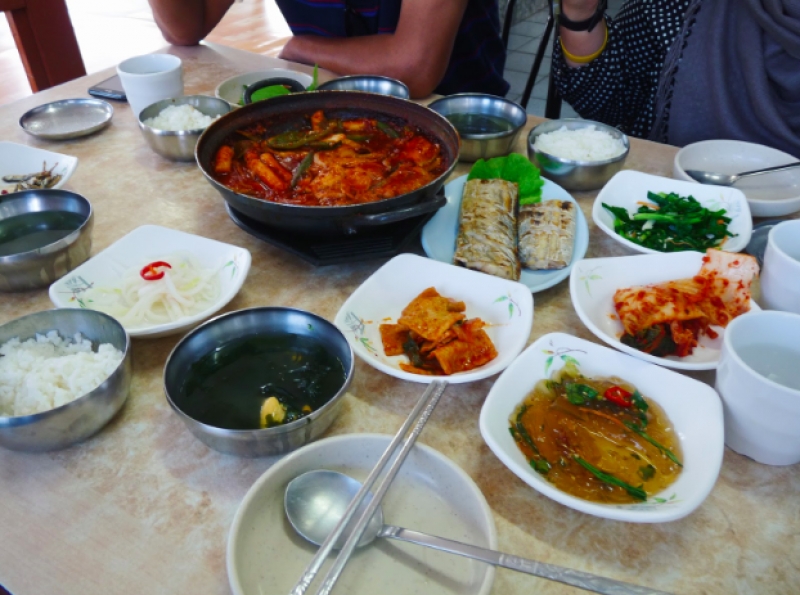 Dubbed as an island paradise, its oceanside location means that there are plenty of seafood restaurants in Jeju.
Seafood such as abalone is famous in Jeju as they areplucked fresh from the ocean by Jeju's mermaids "Haenyo". The seafood is so fresh that you could almost taste the ocean.
There are plenty of Muslim-friendly restaurants that serve only seafood – perfect for hungry Muslim travellers. Please do note that they still do serve alcoholic beverages, so please dine at your own discretion. 
Halal Restaurants in Jeju-do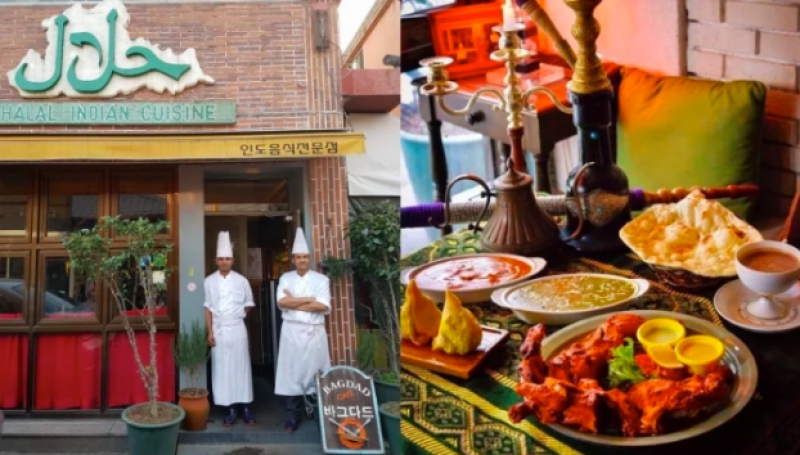 Besides seafood, there are still plenty of halal restaurants serving delectable Korean dishes in Jeju.
Muslim travellers who are interested in savouring the local cuisine should try the tender Beef Bulgogi, Mackerel stew or the Abalone porridge. Be sure to try the many side dishes made from Acorn jelly and various vegetables.
If you're looking for a more spiced up meal, there are also halal Indian restaurants in Jeju city. 
Also read: Halal Food in Jeju: 15 Places to Visit When You're Hungry
Explore:
The best way to explore Muslim-friendly Jeju-do is in a car. You could easily rent a car from Jeju International Airport when you arrive.
Most rental cars even come with a navigation system, but be advised that it might not be in English language.
To overcome the language barrier, Muslim travellers can enter the telephone numbers of each attraction into the navigation system to get directions. 
Hallasan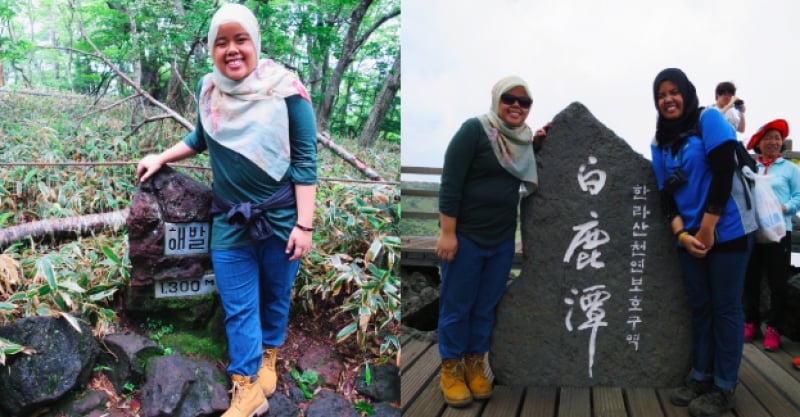 Take a commemorative photo with the stone sign when you reach the summit of Hallasan. 
As the highest mountain in South Korea, it would be hard for Muslim travellers to miss Hallasan. It stands at 1,950m above sea level.
Also a UNESCO World Heritage Site and a national park, Hallasan welcomes thousands of visitors regardless of the season. There are over six trekking trails here with two trails, Gwaneumsa Temple Trail and Seongpanak Trail, taking you to the summit of this majestic dormant volcano. 
My sister and I trekked along the Gwaneumsa Temple Trail which was about 8.7 km long. There are various allocated pit stops along the way for you to rest if need be.
There are even natural water springs along the way for you to fill your bottles and stay hydrated. Bring along your cameras to capture all the panoramic views atop Hallasan.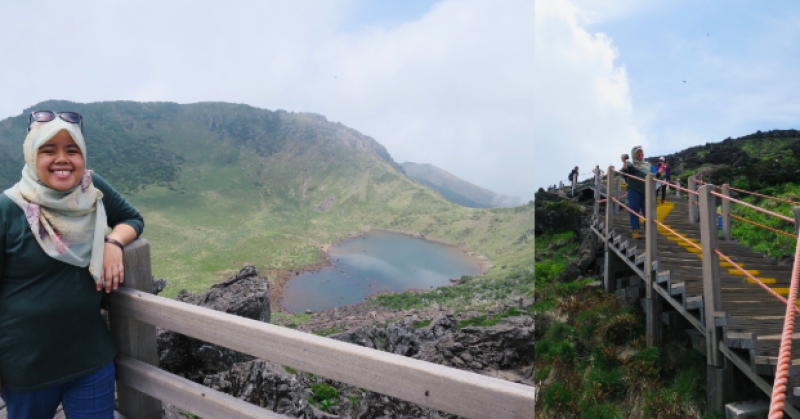 Hallasan is relatively easy to hike as you could reach the summit within a few hours. The trails are a mix of wooden steps and rocky pathways.
Be sure to put on comfortable footwear and maybe even bring along hiking sticks if you'd prefer. Also, say annyeong to the ahjummas and ahjushis (Korean aunties and uncles) as you trek along. They are definitely fitter than they look!
Jeongbang Waterfall
Standing at 23 metres tall, Jeongbang Waterfall is one of three famous waterfalls in Muslim-friendly Jeju Island.
It is also the only waterfall in Asia which waters flow directly into the ocean. It's a great place to visit in the summer as the mist from the waterfall will definitely cool you down.
Be sure to also check out the observatory at the top of the cliff where you'll get the best view of the waters. 
Address: Chilsimni-ro 214beon-gil, Seogwipo-si, Jeju-do
Hours: Daily, 9am – 7pm
Price: ₩ 2,000 (adult), ₩ 1,000 (children)
Manjanggul Cave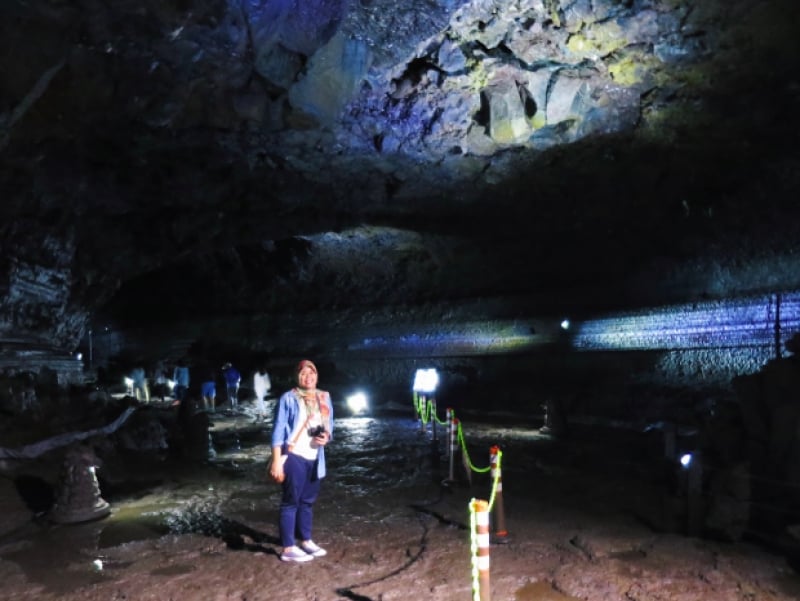 This 8km-long lava tunnel is a rare natural monument Muslim travellers should check out when in Jeju-do.
Only 1km of the tunnel is open to visitors, but you'll be able to get a glimpse of stone pillars and stalactites scattered along Manjanggul Cave. The tunnel has a cooling temperature of 11-21℃. 
Address: 182 Manjanggul-gil, Gujwa-eup, Jeju-si, Jeju-do, South Korea
Hours: Daily, 9am – 6pm; Closed first Wednesday of every month
Price: ₩2,000
Seongsan Ilchulbong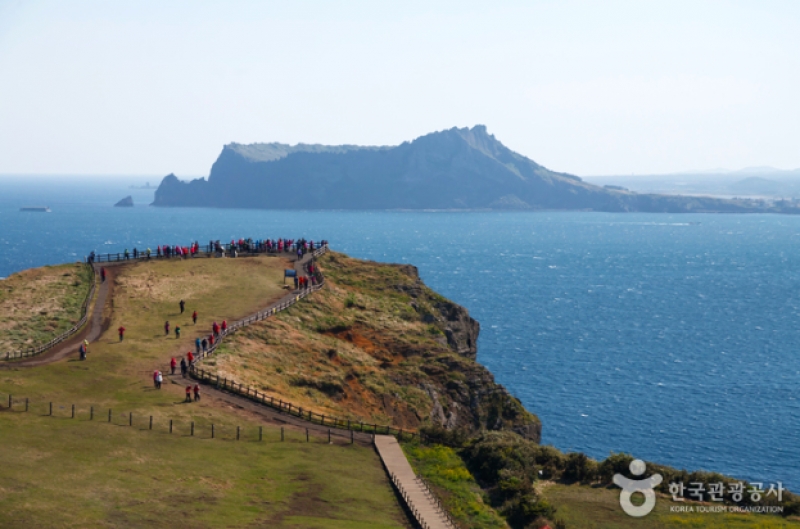 This UNESCO World Heritage Site was believed to have risen from under the sea in a volcanic eruption over 100,000 years ago.
Seongsan Illchulbong features a huge crater with rocks surrounding it. The ridge is an ideal spot for walks and horse riding. But it's a popular spot for visitors to catch the sunrise as it's also known as the "Sunrise Peak". 
Address: 284-12, Ilchul-ro, Seongsan-eup, Seogwipo-si, Jeju-do
Hours: Daily, 7.30am – 7.30pm; Closed first Monday of every month
Price: ₩ 5,000 (adults), ₩ 2,500 (children), Free admission for seniors above 65 years-old and children under 6 years-old
Seopjikoji
Seopjikoji is a popular site for Korean dramas for a reason. From the charming coastline to the Seongsan Ilchubong Peak in the background, Seopjikoji features various scenic sites as you stroll along the trail. Remember to spot the red volcanic ash which is only found here!
Many locals recommend visiting Seopjikoji in April where spring is in full swing. You can pose for a photo among the vast lands of canola flowers too!

Address: 107, Seopjikoji-ro, Seogwipo-si, Jeju-do
Stay: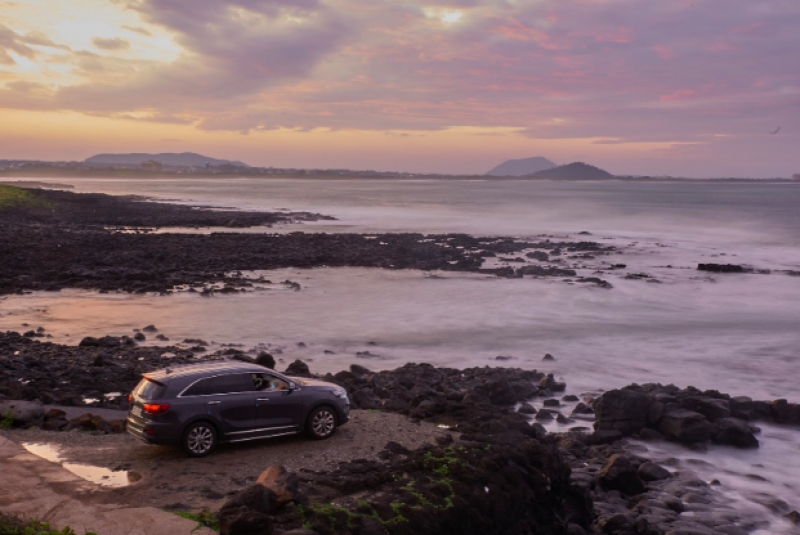 Jeju City
It might be difficult to decide on the location of your accommodation during your visit. But if you're planning a short visit of 1-2 days, Muslim travellers are recommended to stay in Jeju City.
You'll be able to uncover many of the island's famous natural sights without having to drive all the way south. Plus, there are many halal restaurants in Jeju City for you to look out for. 
Seogwipo 
If you're planning a longer stay in Jeju, you should consider staying in Seogwipo after 1-2 days in Jeju City. By doing so, Muslim travellers would be able to explore the rest of Jeju island without having to drive for hours.
Unlike Jeju City, Seogwipo has a more laidback charm for those looking to escape to nature.