First of all, we would like to wish "Selamat Hari Raya Aidilfitri" to all our Muslim brothers and sisters around the globe. We believe everyone is enjoying their long holidays with their loved ones. Some of you might have even started planning your romantic long weekend getaways with your partners down the year. 
What's that? Having a little fight with your partner over which romantic destination to choose? To quote Maroon 5, "It's not always rainbows and butterflies; it's compromise that moves us along, yeah." So, let's put an end to the fight and have a mutual agreement on any of these top long weekend destinations:
Take off on a romantic long weekend getaway with the love of your life when you book your flights with AirAsia! Book now and enjoy all-in one-way fares from as low as RM29 to domestic destinations like Kuala Lumpur, Langkawi, Penang, Kuala Terengganu and more! Or enjoy all-in one-way fares from as low as RM68 to international destinations like Phu Quoc, Bali, Singapore and more!
Seeking somewhere further? Fly with AirAsia X from all-in one-way fare from RM309! 
Booking Period: Now – 7 May 2023
Travel Period: 6 Jun – 14 Dec 2023
Must-visit romantic retreats for the lovebirds
1. 3D2N in Kuala Lumpur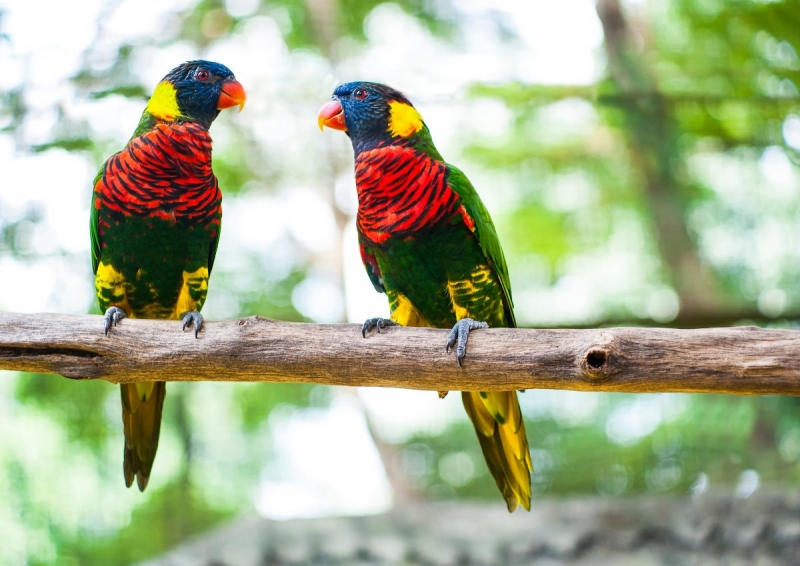 Kuala Lumpur, the capital of Malaysia, has a lot to offer when it comes to cute date ideas. Whether you want to be one with nature or check out iconic landmarks, the city has it all. Kick off your romantic holiday by taking your partner to the Perdana Botanical Garden for a pleasant picnic time. Afterwards, stroll along KL Bird Park nearby and experience a tropical paradise that's home to more than 3,000 birds. 
To escape the heat, flee to KL Tower's Sky Box and enjoy the panoramic views of the city. Resume your journey to Petronas Twin Towers where you get to shop 'til you drop at Suria KLCC Mall and go on an aquarium date at Aquaria KLCC. Looking for a perfect museum date? Ilham Gallery and Islamic Arts Museum Malaysia will be your answers. At night, let the fun continue when you join the KL City of Lights Tour which allows you to feast your eyes on your sweetheart against the illuminated sights of the city's skylines. 
2. 3D2N in Langkawi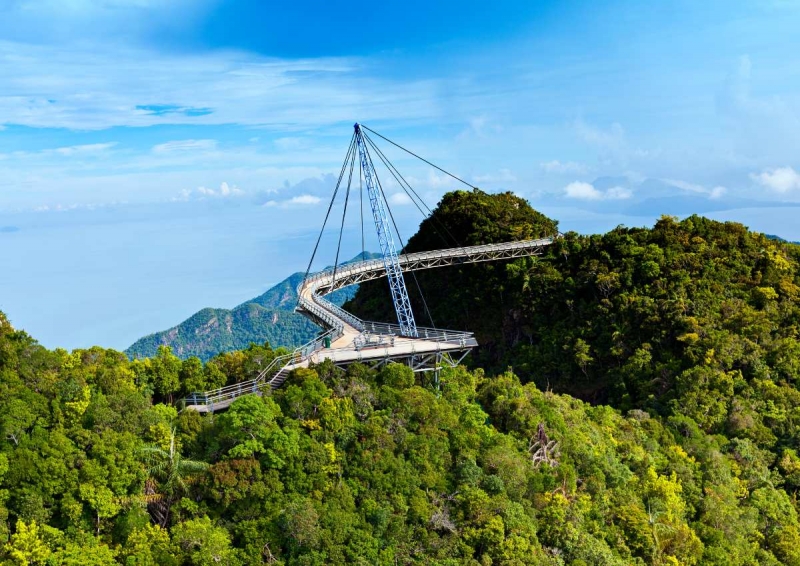 Langkawi, the Jewel of Kedah, is one of Malaysia's top romantic holiday destinations. This gem offers you an unforgettable romantic island experience. Put some thrill to your vacation when you glide from tree to tree at Skytrex Adventure. OR better yet, let nature take you underwater as you snorkel past the marine life at Pulau Payar. For some relaxing moments with your loved one, take a dip in a natural saltwater jacuzzi at Air Hangat Village. 
If you're up for a mix of fun and arts, head to the colourful Art in Paradise 3D Museum and let your eyes play tricks on you. After the fun exploration, bring your sweetheart to the Langkawi Sky Bridge for a romantic walk before you seal your love within a heart-shaped padlock that remains on the bridge forever. Watch the sunset at Pantai Cenang and let the dreamy glow accompany your intimate moment before night takes over. And while the night's still young, go on a street-food-hunt at Kedawang Market or Ayer Hangat Friday Night Market.
3. 3D2N in Penang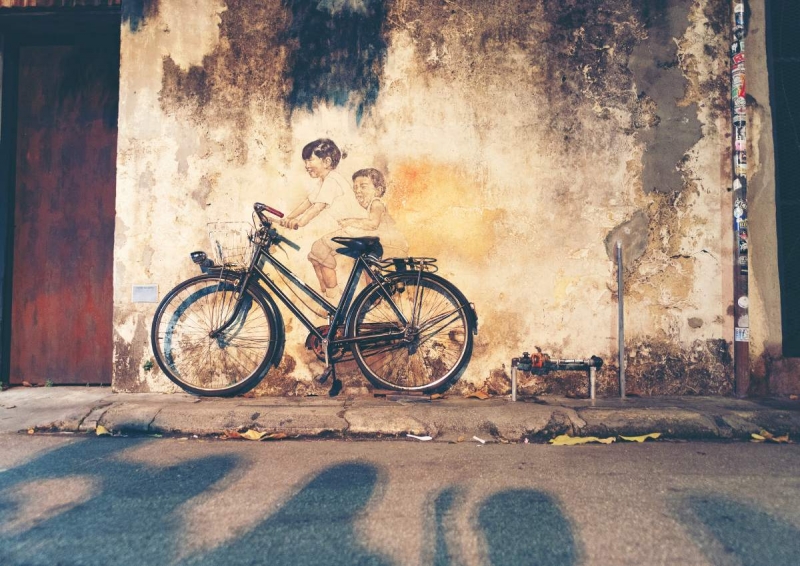 Penang, a lively state located on the northwest coast of Peninsular Malaysia, is a must-visit for all couples out there. Expect spectacular beaches, beautiful farms, and unique museums to keep you occupied for days. Start your romantic trip by catching the sunrise at Straits Green or Tanjung Bungah before heading to Entopia by Penang Butterfly Farm to walk amidst 15,000 free-flying butterflies. You could also check out The Habitat on Penang Hill for an intimate experience of Penang's rainforest or head to ESCAPE Penang, one of the best theme parks in Malaysia for a memorable time with your loved one. 
For some photo ops, Armenian Street offers you stunning street art. To relive the history of Penang, head to Fort Cornwallis, and if you're up for a more unique museum experience, flee to the Ghost Museum in George Town. Talking about museums, don't miss your chance to go topsy-turvy at the Upside Down Museum in Lebuh Kimberley and make IG-worthy memories with your special someone. Afterwards, head to The Top at KOMTAR for a romantic bird's eye view of the Penang skyline!
4. 3D2N in Hanoi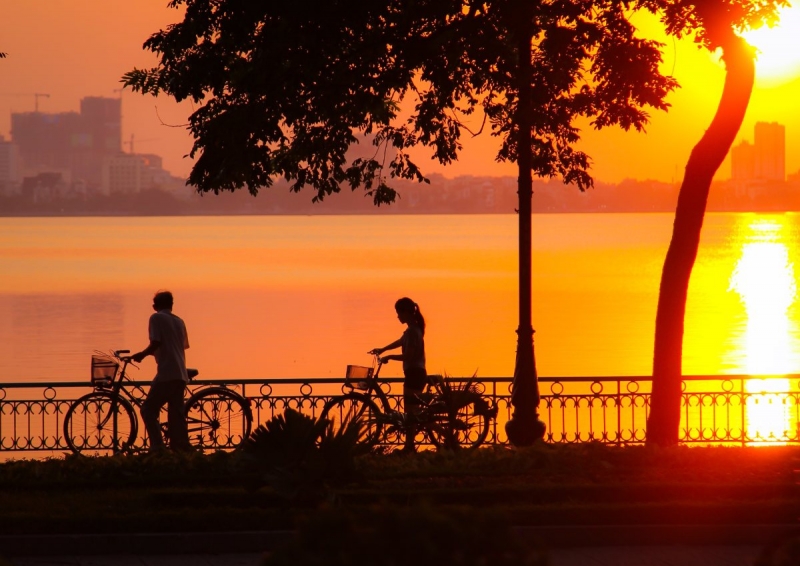 Hanoi should definitely be on your list of romantic holiday destinations. The capital of Vietnam houses centuries-old architecture and a mix of Southeast Asian, Chinese, and French cultural influences. First off, make your way to Hoan Kiem Lake and gaze at the calm waters as you talk about the future with your lover. Next, take them to the famous Long Bien Bridge overlooking the tranquil Red River to bond over intimate moments. 
Seize the romantic zen during your holiday by visiting La Belle Spa and getting the couple's packages for the best experience. For a relaxing stroll, walk hand in hand through the Old Quarter that welcomes everyone with its historic scenery. In the evening, rent a swan paddle boat and watch your better half bathed in the golden sun rays over the West Lake. And when night comes, take your beau to Quảng Bá Flower Market for a rose or two to keep the romance alive.
5. 3D2N in Bali
Keep the spark alive by treating your partner to a romantic Bali escape. There are plenty of romantic things to do on this love island; one is to witness the Balinese culture at Kuta. The must-visit charms are the area's community markets and Tanah Lot temple. After the cultural take-in, flee to Ubud with your better half and explore the breathtaking rice terrace fields.
To soak in some blue, greet the marine residents of Nusa Lembongan as you snorkel through its turquoise waters. Afterwards, take your sweetheart on an air-conditioned tram ride inside the Bali Marine and Safari Park for some wildlife discovery. Did we hear romantic strolls with splendid views? Be our guests at the Sanur Beach or Campuhan Ridge Walk. To take your sunset viewing experience to greater heights, enjoy the majestic views of twilight from the peak of Mount Batur.
6. 3D2N in Yogyakarta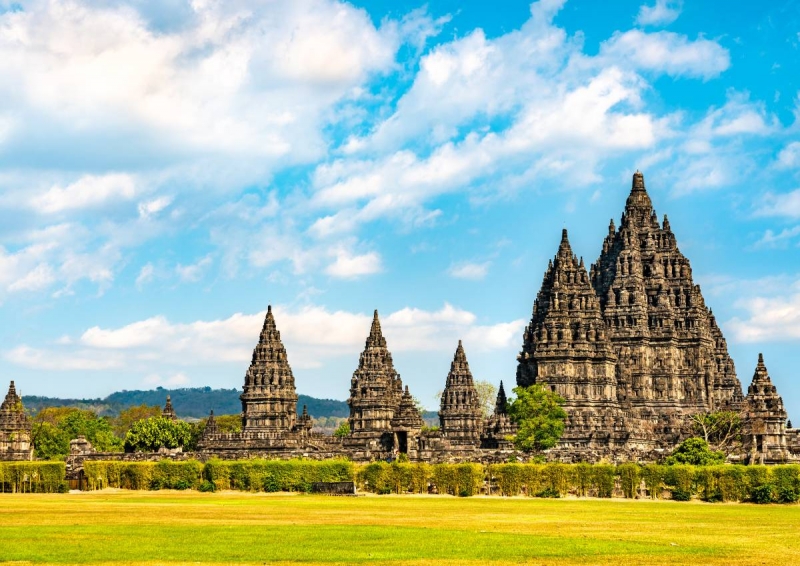 You can never go wrong when you take your partner for a romantic getaway to Yogyakarta, Indonesia, a city rich with its traditional arts and cultural heritage. Embark on a journey to see the remains of the Mataram Dynasty at the tranquil Ullen Sentalu Museum. Next, rent a bike for a peaceful ride across the lush-green rice fields at Pronosutan View that makes you feel like you're a part of a movie. 
For a more thrilling activity, head to Waterboom Jogja and enjoy the adrenaline-fuelled water slide rides. Get them to love you extra when you treat them to a hearty meal at Dagi Abhinaya Borobudur accompanied by live gamelan music and the view of the Borobudur Temple. Afterwards, head to HeHa Sky View and soak in the scenic beauty of Yogyakarta's panoramic views. Now for a romantic evening just before the sunset, woo your spouse by bringing them to Pintu Langit Dahromo or Ratu Boko Temple in Desa Bokoharjo.
7. 3D2N in Bangkok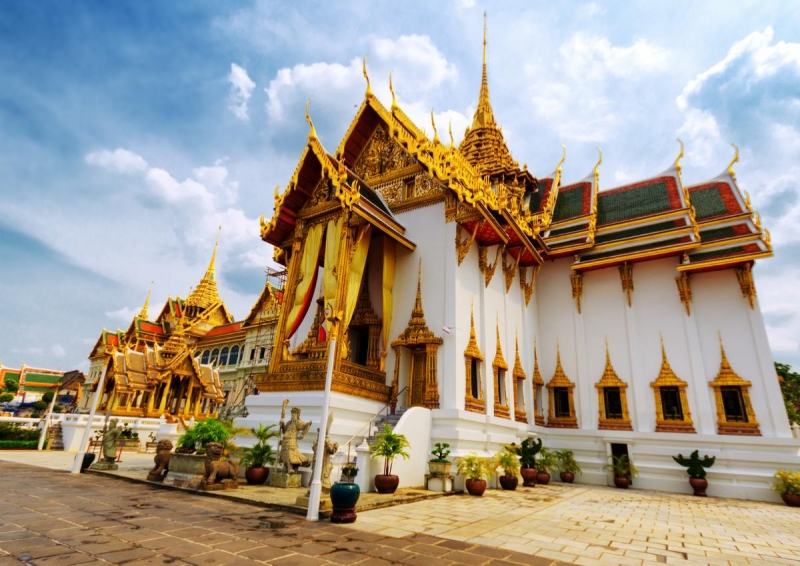 The ornate shrines and vibrant street life of Bangkok are some of the top reasons to take your bae to the capital of Thailand. Start your romantic holiday by heading to the heart of the city for a private tour around the palace. Bring your boo inside the Grand Palace and explore the Temple of the Emerald Buddha. Another exciting tour is the cruise along Damnoen Saduak Floating Market for good food and quality time with your partner. 
For a cute picnic date by the lake, flee to Lumpini Park, which features tranquil greenery and various outdoor activities. Later on, bring them to Bangkok Art and Culture Centre (free admission) for a classy venture. Get the best sunset view at the vantage point of Mahanakhon Skywalk, and immortalise your romantic moments against the magnificent skyscrapers in Bangkok. Also, check out the SF Cinema CentralWorld for a comfy movie-viewing experience with your spouse. We're talking luxury mattresses and blankets for cuddling!
8. 3D2N in Phuket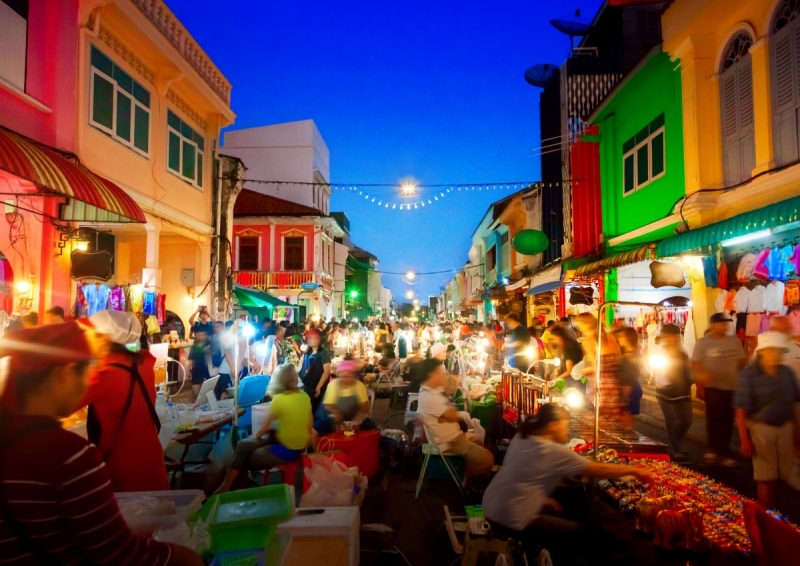 Another famous romantic destination in Thailand is Phuket, the country's biggest island. Let's begin with the excursion down the Phi Phi Islands, a cluster of six small islands with vivid turquoise waters. Afterwards, soak in some blue when you dive underwater, exploring coral reefs and marine life with your partner at Koh Racha Yai. Can't get enough of nature yet? Join a romantic cruise through the many caves of Phang Nga Bay.
Now for a good time above the ground, visit Wat Suwan Khiri Wong temple and admire its stunning architecture before you bring your lover to Jungceylon Shopping Centre in Patong for a quality shopping spree in the city. As for the best sunset and 360-degree views of Phuket and its surrounding islands, head to Promthep Cape. At night, explore Phuket Old Town east of the island and admire the brightly painted shop houses from the 19th century dotting the streets.
9. 4D3N in Osaka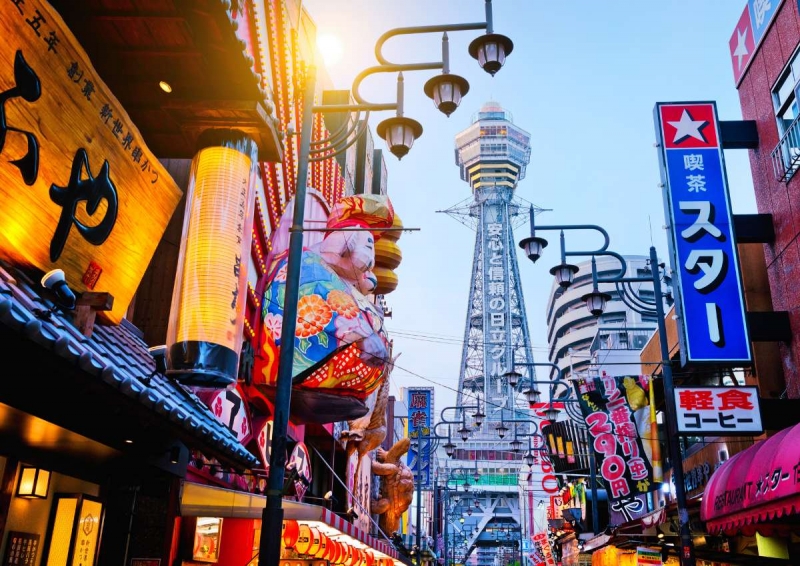 Another fanciful option for a romantic getaway is Osaka. From beautiful city views to peaceful garden walks, lovebirds will never get enough of this place. For some panoramic views of the sprawling city landscape, head to Harukas 300. Be sure to check out its Lover's Sanctuary to add some lovey-dovey pics to the 'Gram. 
Afterwards, take your partner for a lovely picnic at Nakanoshima Park in Umeda. Or, if you prefer a quiet stroll in a garden, Utsubo Park in Nishi-ku offers just that. To add some fun and excitement to your romantic holiday, head to Universal Studios Japan, and get the adrenaline rush when you challenge your partner to a race on Mario Kart: Koopa's Challenge. Watch the beautiful sunset at Umeda Sky Building, and when the night falls, go shopping in the Shinsekai District or take a cruise along Dotonbori River surrounded by neon lights. 
10. 4D3N in Busan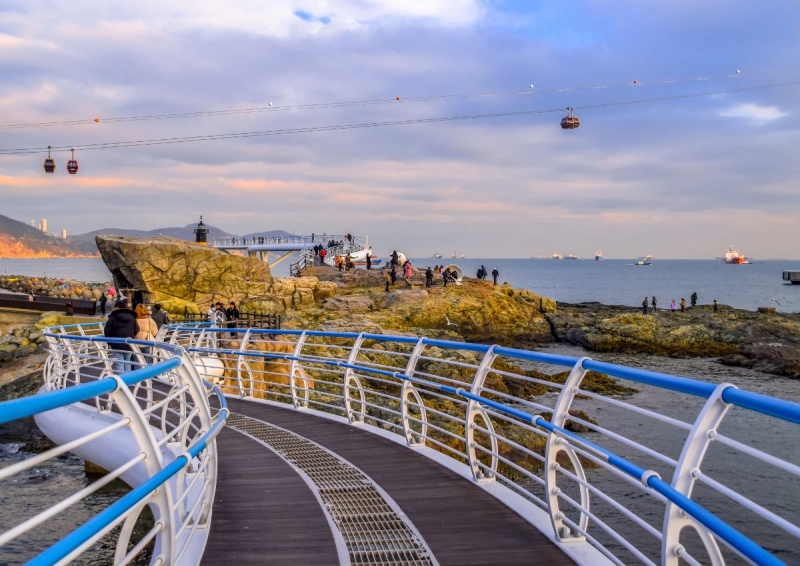 Busan, a coastal city famed for its stunning beaches and spectacular mountains, will do your romantic getaway justice. You can start at Haeundae Beach, which offers many adventurous water sports such as swimming, surfing, and kiteboarding. Let the fun continue in Busan Children's Grand Park (don't be fooled by the name), which features a zoo, amusement park, food stalls, picnic tables, and even a hiking trail! 
Afterwards, go for a romantic afternoon stroll with your partner through the picturesque Dalmaji Hill. Aside from taking photos, why not shop for couple clothes in downtown Somyeon? And now that you both have matching outfits, showcase your love to the rest of the world as you head to Songdo Beach for a thrilling cable car ride. For a magical night in the city, seek the best lit-up nooks in Illumia and immerse in deep conversation about anything under the stars with your lover.
And that concludes our list of the best romantic destinations for your long weekend getaway. You may not be able to bring your lover on a magic carpet ride, but you can always fly with them to these romantic hotspots and create a love story that's better than Aladdin and Jasmine's!
Take off on a romantic long weekend getaway with the love of your life when you book your flights with AirAsia! Book now and enjoy all-in one-way fares from as low as RM29 to domestic destinations like Kuala Lumpur, Langkawi, Penang, Kuala Terengganu and more! Or enjoy all-in one-way fares from as low as RM68 to international destinations like Phu Quoc, Bali, Singapore and more!
Seeking somewhere further? Fly with AirAsia X from all-in one-way fare from RM309! 
Booking Period: Now – 7 May 2023
Travel Period: 6 Jun – 14 Dec 2023
---
Brought to you by AirAsia