Muslim-friendly Theme Parks – For thrill-seeking youths or the fun-loving families, often trips are made even better thanks to a visit to theme parks.
However, not many theme parks around the world are as Muslim-friendly as we hope. Looking for these places might be difficult, so here is a list of 10 Muslim-friendly theme parks around the world!
1. Ferrari World – Yas Island, Abu Dhabi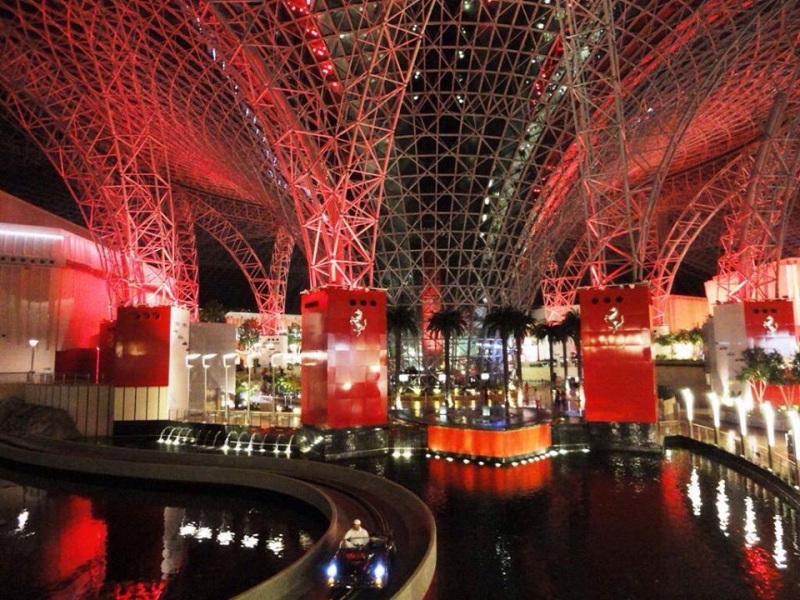 Ferrari World in Yas Island, Abu Dhabi is the world's first Ferrari-themed amusement park boasting over 20 thrilling rides like spaceshot towers, racing simulators, interactive 3D shows and more. Opened in 2010, it is home to Formula Rossa, the fastest roller coaster in the world that is capable of reaching speeds of up to 240km/h! 
Halal food is readily available throughout the theme park with a plethora of dining options! While there are no designated prayer room facilities, you can easily inquire for a private area to use during prayer times. Otherwise, there are a number of mosques near Ferrari World like Al Bahya Mosque and Shahama Mosque.
Website: www.ferrariworldabudhabi.com 
2. Hong Kong Disneyland – Lantau Island, Hong Kong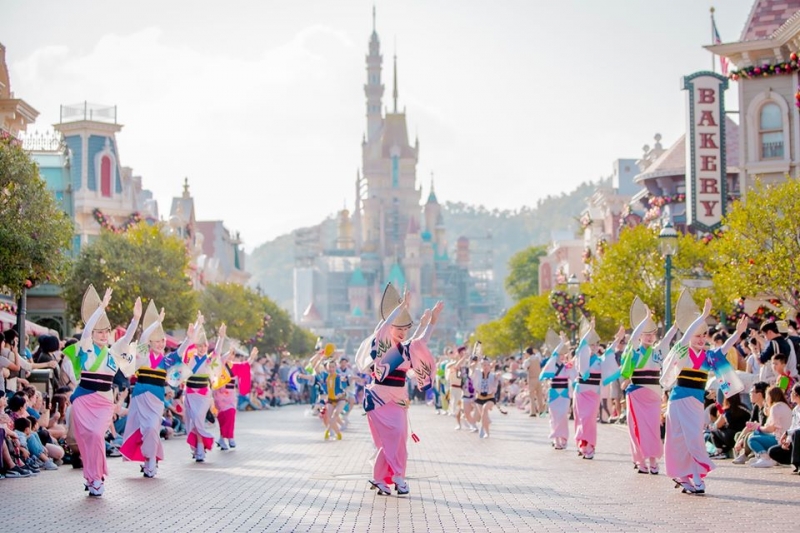 With seven unique areas in Hong Kong Disneyland, you can rest assured that you will be entertained by the attractions available. This magical kingdom is inspired by fairytales and stories and is home to seven 'lands'; Adventureland, Grizzly Gulch, Mystic Point, Toy Story Land, Fantasyland, Tomorrowland and Main Street, USA.
Some of the thrill rides here include Big Grizzly Mountain Runaway Mine Cars, Hyperspace Mountains and more.
Within the park itself, there are two halal outlets, namely The Explorer Club and The Tahiti Terrace. The Explorer Club for instance boasts four international cuisines – they even have five exotic themed rooms!
There is also a prayer room complete with an ablution area as well. A perfect place for  travelling Muslims!
Website: www.hongkongdisneyland.com 
3. Walt Disney World – Florida, U.S.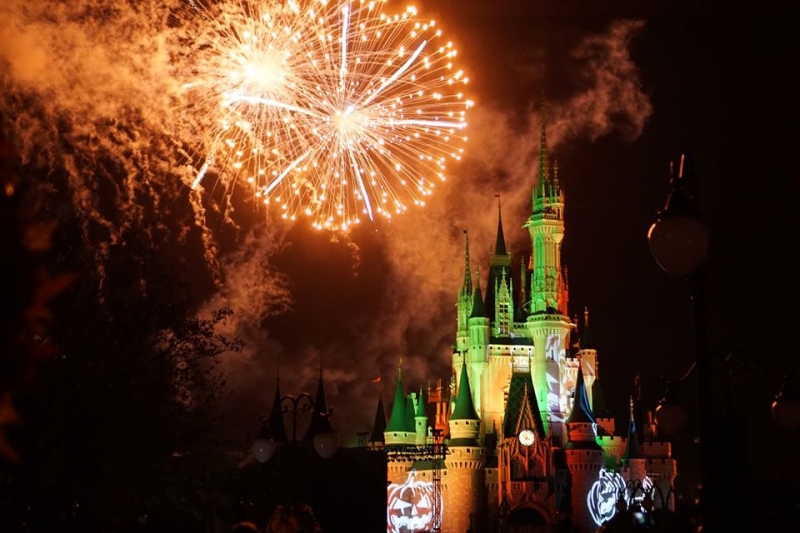 Walt Disney World Resort was founded almost half a century ago and it is home to four theme parks, two water parks and 27 themed resort hotels.
The theme parks includes Magic Kingdom, Epcot, Disney's Hollywood Studios and Disney's Animal Kingdom. If you are a lover of thrilling rides, you will be spoiled for choice here – from Tomorrowland's iconic Disney ride Space Mountain to the wet and wild Splash Mountain. 

While there is no halal food readily available, the park is more than happy to accommodate to the dietary needs of their Muslim patrons. Halal meals can be prepared at select restaurants – call-in orders should be made at least 24 hours in advance [(407) 824-1391].
Website: www.disneyworld.disney.go.com 
4. Shanghai Disneyland Park – Shanghai, China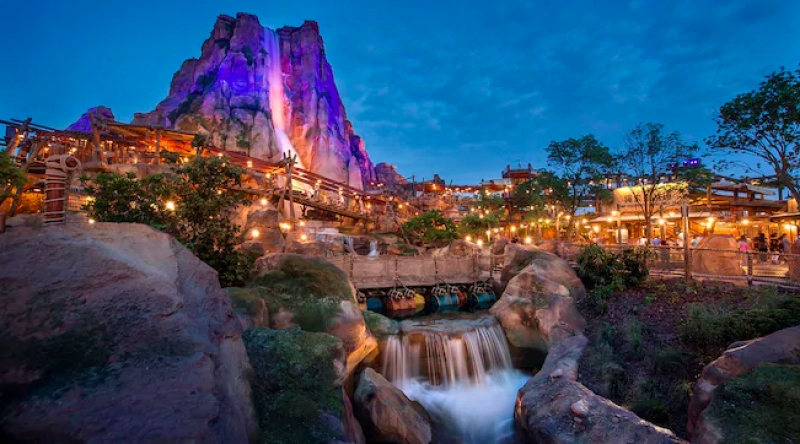 Opened in 2016, Shanghai Disneyland Park is a new theme park that has seven themed areas – Mickey Avenue, Gardens of Imagination, Fantasyland, Treasure Cove, Adventure Isle, Tomorrowland, Toy Story Land and Zootopia.
This park is "authentically Disney" while it aspires to be "distinctly Chinese" with the incorporation of Chinese cultural elements all around.
Halal food is available near this theme park – in the free downtown area located next door. Don't worry about leaving too soon, because you can freely move in and out of the park, as long as you have a valid ticket. At the Food Republic food court, there is a halal food stall boasting some Chinese-Uighur specialties named Yershan Restaurant!
Website: www.shanghaidisneyresort.com 
5. Wild Wadi Water Park – Jumeirah, Dubai, UAE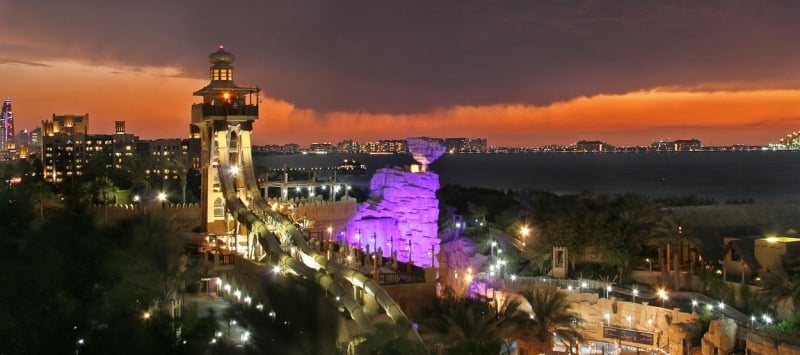 Inspired and themed around the tale of Juha, a known character from the Arabian folklore, Wild Wadi Water Park is located in the Jumeirah area of Dubai and in front of the stunning Burj Al Arab.
You can find a variety of attractions here, from roller coasters to lazy rivers. The water park is also home to one of the world's fastest free-fall slides! The outdoor water park however, is themed and focused around the Arabian adventurer, Sinbad the sailor. 
Prayer room facilities are available and located alongside the changing room. There are halal food options available in the park,  including three restaurants and two snack stalls. If you need to pray, there are a number of mosques nearby.

Website: www.jumeirah.com/wild-wadi 
Also Read: Top 5 Muslim-Friendly Attractions in Hong Kong
6. Everland – Seoul, South Korea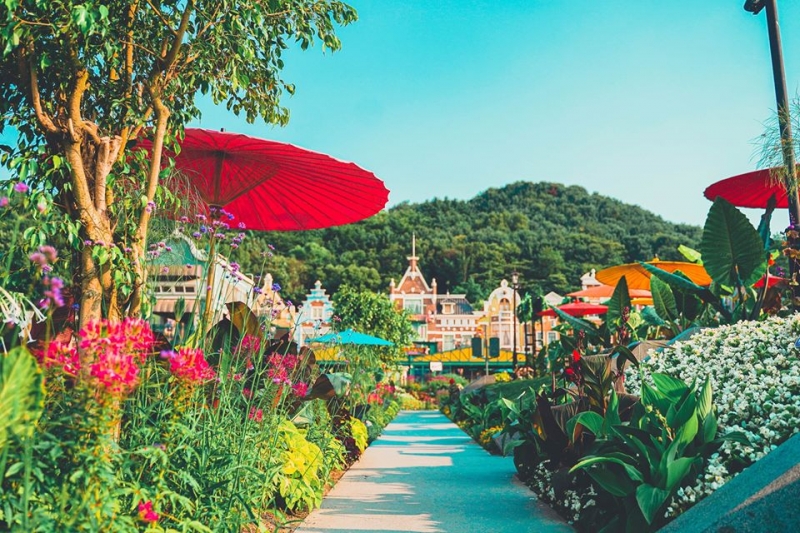 Everland is the largest theme park in South Korea and it is divided into five different zones, which even includes a zoo!
Due its sheer size, planning your route before you explore the space is highly recommended. For adrenaline junkies, there is a special itinerary, where you can try all the thrilling rides available – the Hurricane, T-Express and more!
The park offers a small prayer room, which comes with ablution facilities and prayer mats. However, it is a unisex prayer room with no separate areas for men and women. Halal food is not yet available in the park so packing your own food is recommended.

Website:  www.everland.com 
7. Sunway Lagoon – Selangor, Malaysia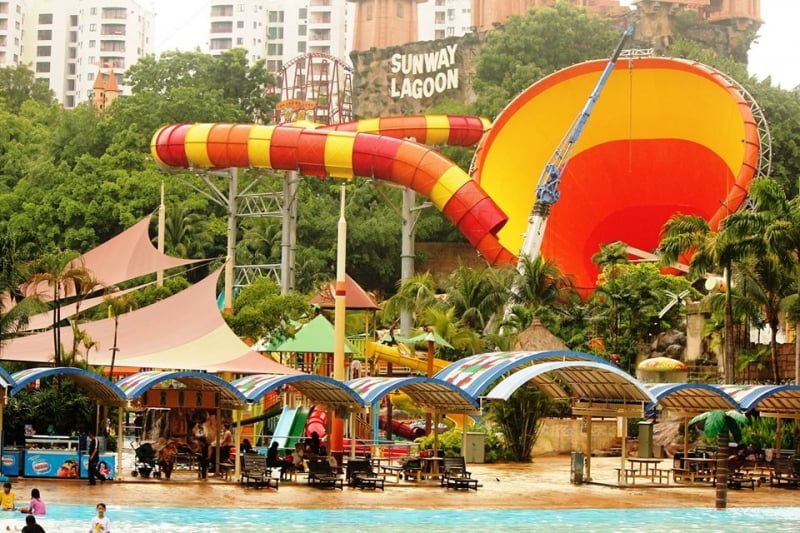 The one-stop place for fun, with over 90 attractions spread across 88 acres, Sunway Lagoon is home to six adventure zones – Water Park, Amusement Park, Wildlife Park, Extreme Park, Scream Park and Nickelodeon Lost Lagoon, which is Asia's first Nickelodeon Themed Land! It is also home to the world's largest man-made surf beach.

There are various dining options available around and within the park, most of which are halal-certified. It is also located next door to the Sunway Hotel and Spa where you can spend the night.
Website: www.sunwaylagoon.com 
8. Universal Studios Singapore – Singapore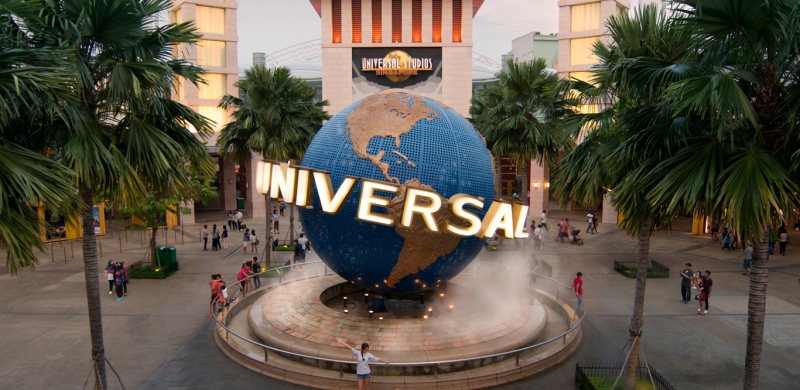 With seven themed zones featuring 28 rides, shows and attractions, Universal Studios Singapore is also home to the world's tallest dueling coaster and many other world's firsts.
These firsts include the world's biggest single collection of DreamWorks Animation attractions, the world's first Far Far Away Castle from the world of Shrek and more! The seven themed zones surrounds a lagoon and each zone is either based on movies or TV shows. The zones includes Hollywood, New York, Sci-fi City, Ancient Egypt, The Lost World, Far Far Away and Madagascar.
Muslims who visit can rest assured that Muslim-friendly facilities are easily available. Prayer facilities including ablution areas are provided for men and women alike. Halal food is also aplenty and you can find them in Mel's Drive In, Marty's Casa Del Wild, Goldilocks, Friar's and Oasis Spice Cafe.
Website: www.rwsentosa.com 
9. Universal Studio Japan – Osaka, Japan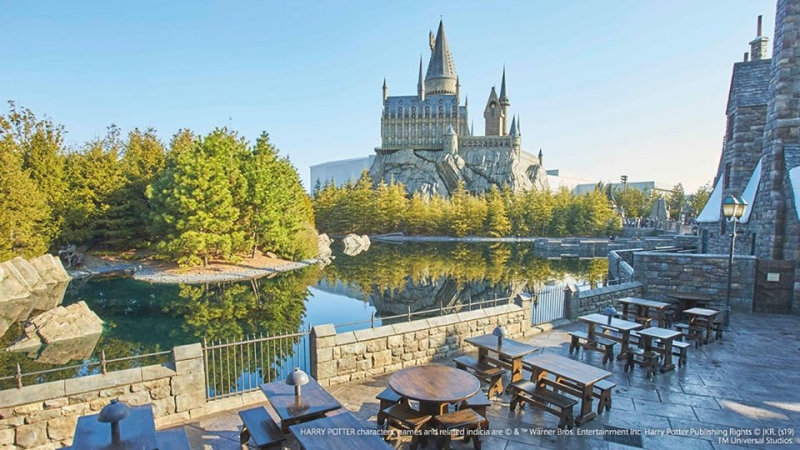 Opened in 2001, Universal Studios Japan is a popular theme park with over 15 million visitors a year. The attractions here are split into nine areas. The latest addition is The Wizarding World of Harry Potter, which was included in the park in 2014 – its flagship attraction is Harry Potter and the Forbidden Journey.
While this park is wholly owned by NBC Universal and similar to Universal Orlando Resort, there are attractions that are not in the U.S. and unique to Universal Studios Japan, such as Black Lake and Hogwarts Express Photo Op. 
The nine areas available in the park are themed or based off cities and movies such as New York City, San Francisco, Jurassic Park and Minion Park. There is also the Universal Wonderland, a section that is aimed at children and families opened in 2012. It contains three themed sub-zones, including Snoopy Studios, Sesame Street Fun Zone and more.
For the Muslim traveller, the iconic Red Lobster in USJ has finally started serving  Muslim-friendly food since July 2019. This restaurant is a well-established chain originally from Florida in the U.S.. Some of the dishes served here include Beef Bowl and Butter Chicken Curry. While there are no official space for prayers, there is a free space at the information centere near the entrance. Just inform the staff of your needs and they will bring you there!
Website: www.usj.co.jp 
Also Read: 10 Cheap Muslim-friendly Destinations Beyond Asia For 2020
10. Happy Valley Theme Park – Shenzhen, China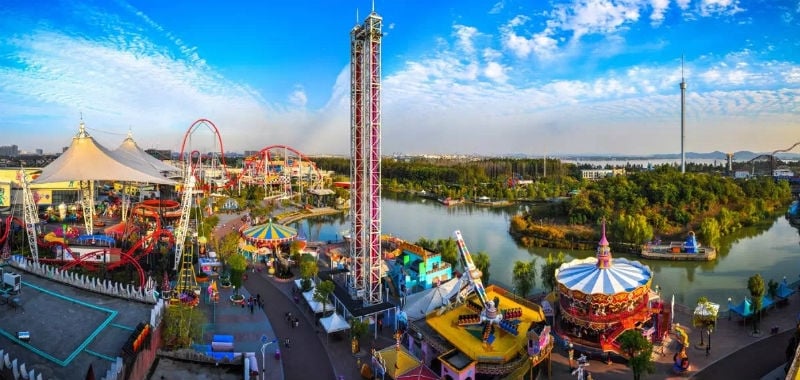 Located in Nanshan District, Happy Valley Theme Park boasts nine themed areas namely Spanish Square, Cartoon City, Mt. Adventure, Gold Mine Town, Shangri-la Woods, Sunshine Beach, Typhoon Bay, Happy Times and Playa Maya Water Park.
The special Playa Maya Water Park is open for five months each year and is themed after the Mayan civilisation with buildings and statues to match. With over 100 different games and activities to try, this theme park is an immensely popular tourist attraction and ideal for all ages.
Nearby Shenzhen Happy Village, you can find two of the most prominent mosques in Shenzhen – Shenzhen Mosque and Meilin Masjid Shenzhen. Halal food is also easily available near the area including ZhongFa Yuan Muslim Restaurant, Mevlana Turkish Restaurant and more.