Penang, affectionately called the Pearl of the Orient, is one of the most beloved destinations in Malaysia, and one of the top destinations to visit in 2022 according to CNN. Known not only for its reputation as a foodie paradise but also as a place where tradition and modernity seamlessly blend, Penang is a tourist hotspot that, as the locals say, "has it all". 
Add to that the rapport that Penang has amongst world-class athletes like Dato' Lee Chong Wei and Dato' Nicol David (who is also Penang Tourism Ambassador 2022), sporting icons who both call Penang their home, and what you have is a holiday paradise that's teeming with opportunities. 
Looking for a quick guide on what to do in Penang with your family? We've got you covered with these incredible experiences! 
Also read: 23 Hidden Gems in Penang for an Unforgettable Experience 
1. Feel the ocean breeze at Batu Ferringhi
Among all the beaches in Penang, Batu Ferringhi is easily the most famous of them all. Boasting fine sand that runs between your toes and a sunset view that is truly magnificent, Batu Ferringhi is a must-visit for any family on vacation in Penang. 
Apart from lazing on the beach, catching the awesome views, and partaking in fun beach activities, you can also chill and relax at the numerous cafes and eateries (many of which are Halal-certified) as you soak up the serene atmosphere. The fun doesn't end even after the sunsets. Rather than head home, you could also throng the Batu Ferringhi night market in search of souvenirs. 
2. Explore Penang National Park, Malaysia's smallest national park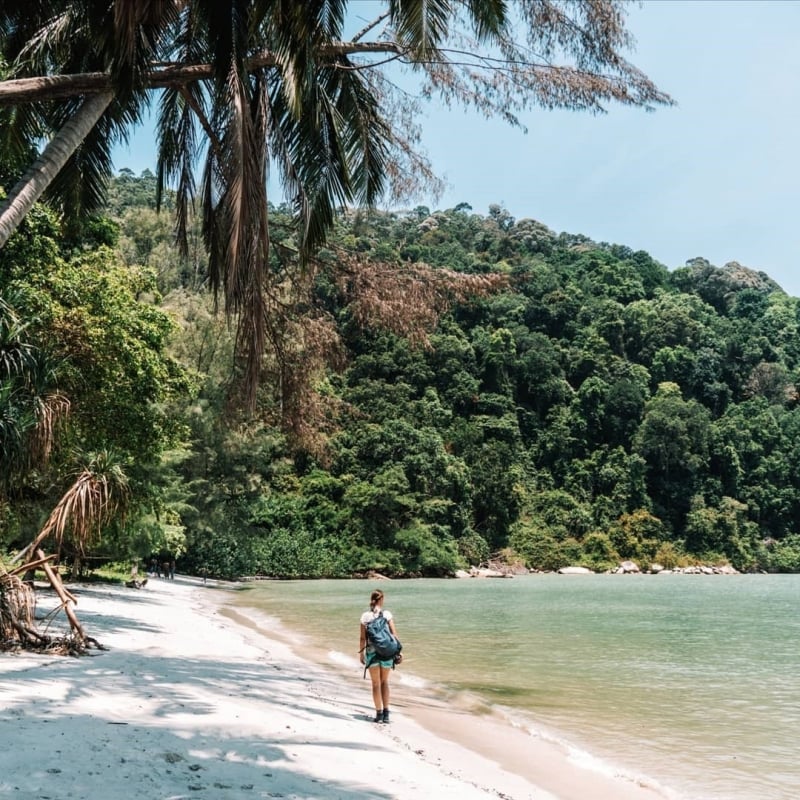 If you've ever needed proof that great things come in small packages, then Penang National Park is the place to be. This underrated travel gem, often known only to locals, is Malaysia's smallest national park.
Despite not being an extremely large national park, this lovely nature escape provides ample opportunities to escape the city life and experience nature in Penang. Be it the lovely trekking trails or the lovely shores of Monkey Beach, Penang National Park offers you the chance to see a side of Penang most regular tourists miss out on. 
If you're feeling up for it, you could also hop to Pantai Kerachut, one of the most remote islands in the state, where you can admire an enigmatic meromictic lake! 
3. Have a splashing fun time at Escape Theme Park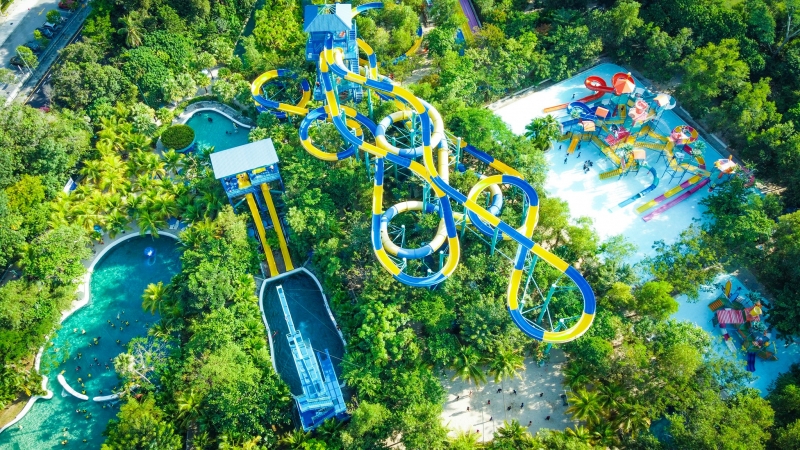 For a fun attraction in Penang that's fit for the whole family, visit the famous Escape Theme Park in Teluk Bahang. This exciting outdoor theme park, with its exciting outdoor adventure-style attractions, promises fun for all ages! From exhilarating rides and obstacle courses, this is one destination in Penang that is sure to get your adrenaline pumping. 
What's more, it is also home to the longest tube waterslide in the world (over 1km long)! This Guinness World Record holder will allow you to slide, turn, and zig-zag your way around Penang's ancient rainforest before eventually emptying out into the splash zone over the course of four minutes! 
4. Surround yourself with butterflies at Entopia by Penang Butterfly Farm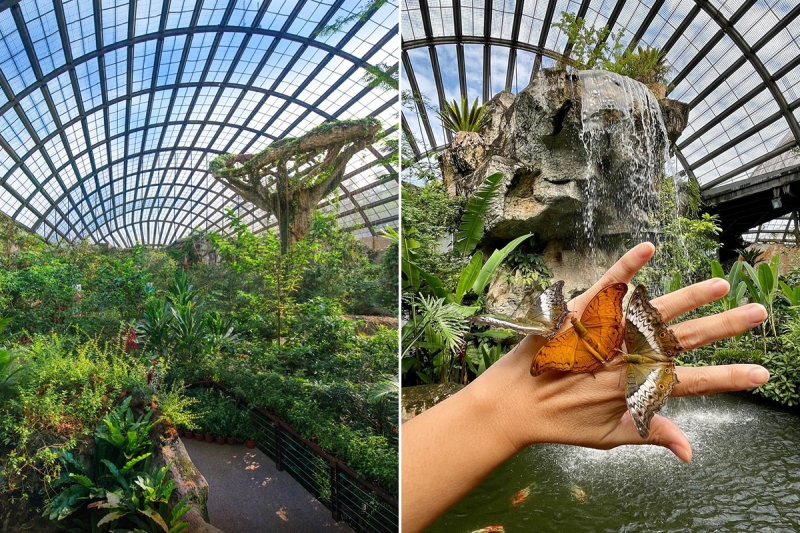 Growing up in Penang, I'll always have a fond spot for the Penang Butterfly Farm. This timeless attraction, one of the first-ever tropical butterfly farms in the world, has been around since the 1980s. However, in recent years, it had undergone major redevelopment and reopened in 2016 as Entopia. 
Right off the bat, I must say that I highly recommend this, not just to families, but every traveller visiting Penang. Apart from the thousands of butterflies that fly freely about in a living garden vivarium and the incredible scenery, you can also learn more about the life stages of butterflies and other fun facts about nature in the underground learning facility.
5. Visit the timeless Penang Hill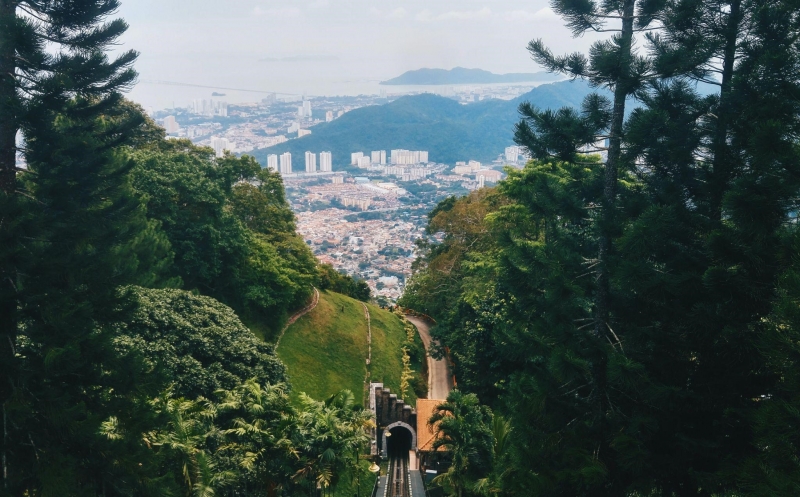 Much like Penang Butterfly Farm, Penang Hill is a timeless location in Penang that has stood the test of time. Also known as Bukit Bendera, it is an iconic location that's punctuated by postcard-worthy views and a funicular ride to the top that is an experience in and of itself. 
You could also hike to the top if you want. It's certainly a more drawn-out experience but the views along the way are incredible. Once you reach the peak though, take some time to savour the lovely views and visit some of the attractions such as the Penang Hill Mosque. 
6. Embrace nature at The Habitat Penang Hill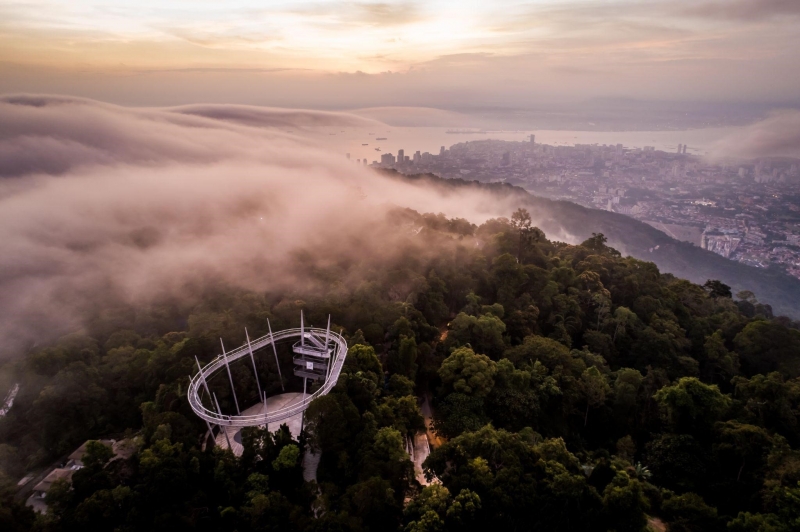 Speaking of Penang Hill, one of the most popular attractions in Penang right now is The Habitat Penang Hill, located at the very top of Bukit Bendera. 
Accessible via a short hike, The Habitat Penang Hill is an ambient nature escape that gives you an intimate experience of Penang's ancient rainforests, one of the oldest in the world! As you walk beneath the shade of the trees, you can breathe in the fresh air and, if you're lucky, run into curious wood-dwelling creatures too. 
Two of the must-try experiences here are the Curtis Crest Treetop Walk and the Flight of the Colugo. The first allows you to stand at the highest vantage point in all of Penang and walk among the clouds while the latter allows you to explore the rainforest via an exciting zipline course! 
7. Spend a day at The Top @ KOMTAR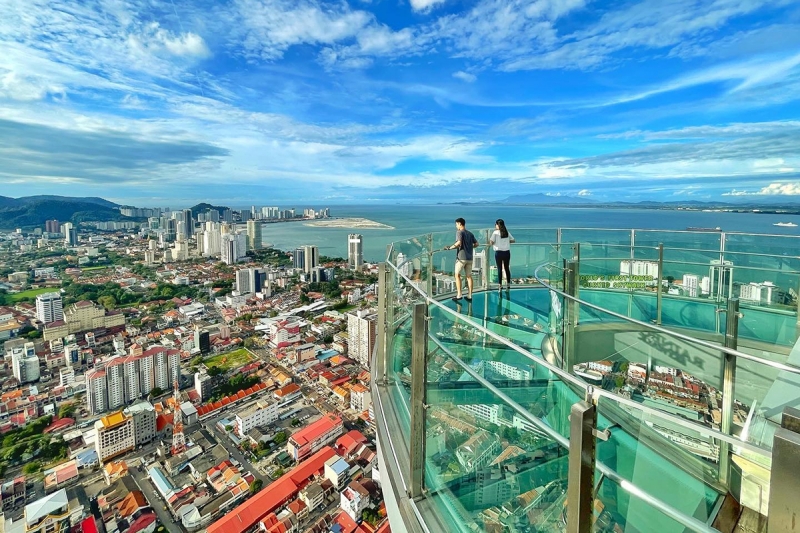 KOMTAR Tower (or simply KOMTAR as the locals call it) has long stood as an iconic landmark in Penang. The state's tallest skyscraper was once mainly used as an office and commercial space but, having undergone some rework in recent years, it has now rediscovered itself as a tourist hot spot. 
One must-see attraction at KOMTAR is simply known as The Top. It features plenty of different attractions all housed within KOMTAR, with the Rainbow Skywalk, located on the 68th floor, being the most popular. As you step onto the glass panels protruding from the building, you'll be able to catch some incredible views of Penang. If you visit after sundown, you can admire the dazzling city lights too. 
Apart from that, there are also plenty of family-friendly attractions, including the Jurassic Research Centre, Penang Boutique Aquarium, and more! 
8. Head to The Clan Jetties for a stunning sunset view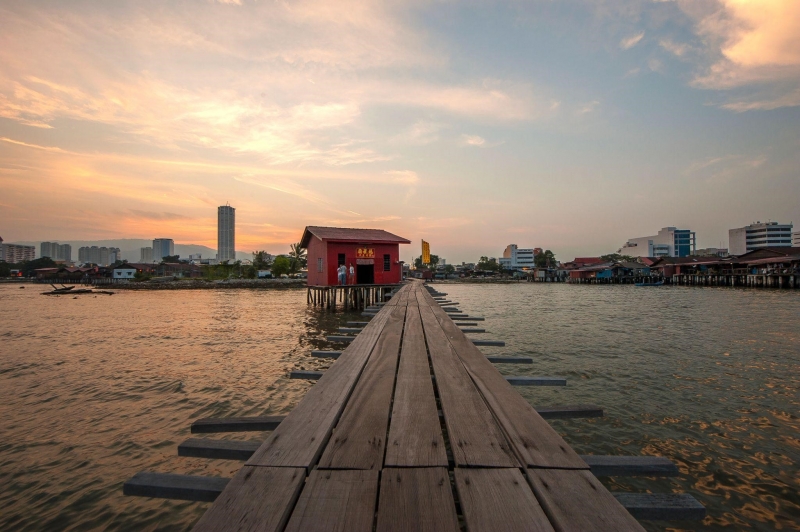 Keeping in line with the theme of fantastic views, one location you have to visit during sunset is the Clan Jetties. This classic spot in Penang is a popular Instagram spot where you can catch stunning views of the sun setting over the Penang Bridge. 
Apart from that, you can also learn about the intricate history of the many Chinese clans that call the area their home.
9. Discover the secrets of Malaysian cooking at Tropical Spice Garden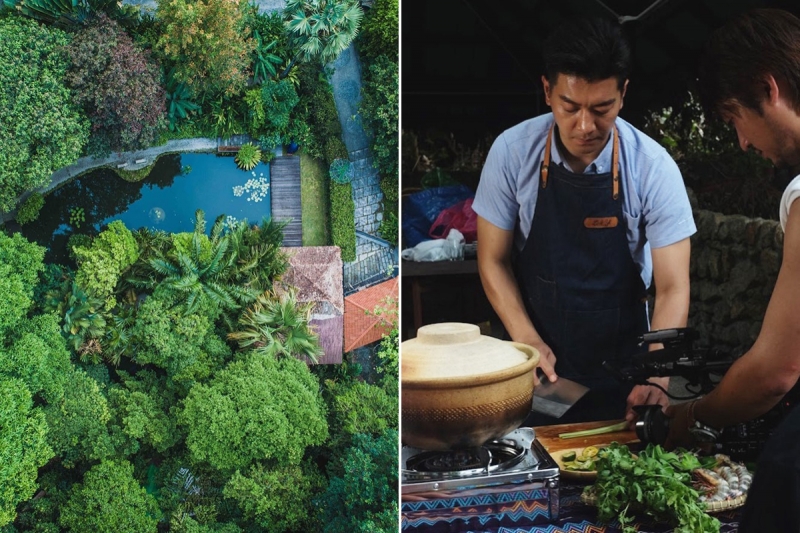 Tropical Spice Garden is an underrated travel gem that even some locals don't know about! Set in a tropical rainforest, this eco-friendly tourism spot introduces visitors to the various herbs and spices used in Malaysian cooking, all while providing a therapeutic escape from the hustle and bustle of city life. 
What's more, you can also get hands-on experience with cooking with the spices here by signing up for a cooking class.
10. Explore popular hiking trails on the Mainland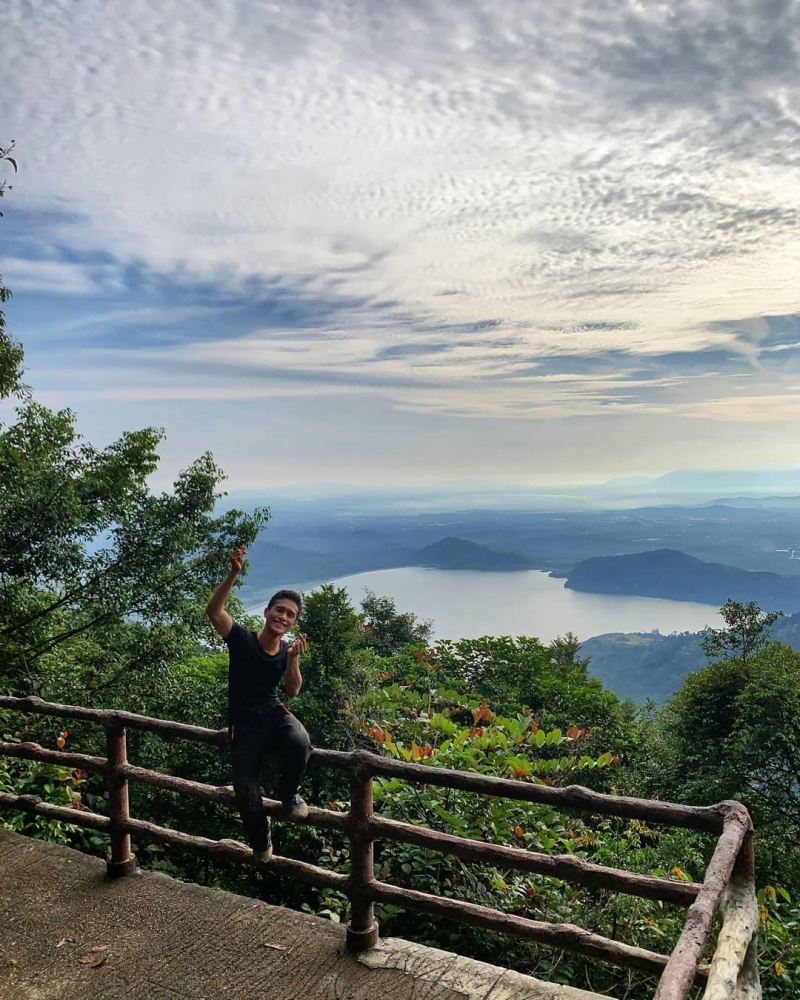 When visiting Penang, most travellers only stick to Penang Island where most of the mainstream attractions are found. However, did you know that beyond the famous Penang Bridge, there are plenty of hidden gems to discover too? One such attraction is Bukit Mertajam Recreational Forest, one of the most popular hiking trails in Mainland Penang. 
This lovely nature spot features hilly terrain filled with lush tropical forests which provide a much-welcome break from the city. As you explore the hiking trails with locals, you'll stumble upon giant trees, including the tallest Mengkundur tree in Penang, simply called "The Big Tree" by locals. Its roots are as tall as two adult men! 
In addition, you could also plan a trip to Berapit Hill, another hiking spot that is frequented by avid local hikers. 
Did you know: Berapit is the hometown of Dato' Lee Chong Wei, Malaysia's legendary badminton player who held the World No. 1 ranking for a record 200 consecutive weeks! 
11. Discover the artsy sides of Penang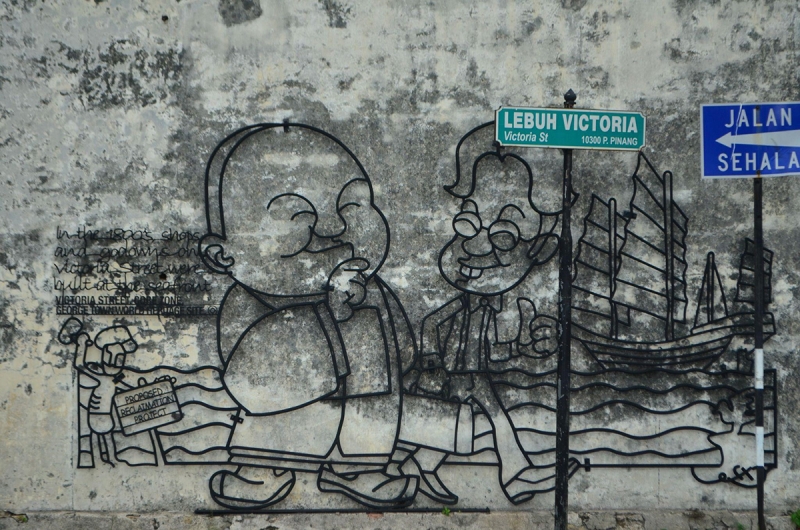 One of the must-try activities in Penang is definitely to hunt down the various street murals with your family. Now an iconic sight of Penang's busy streets, these art murals tend to showcase the culture of Penang and provide fun opportunities for memorable photos. 
As you have fun posing with the murals, some of which feature interactive installations, you can learn about the history of Penang in a way that you wouldn't be able to in museums. The George Town murals are easily the most famous and you'll probably have already seen them before on Instagram. 
However, even on the mainland, there are plenty of art murals to discover, especially at Butterworth Art Walk, which is filled with murals painted by local artists. There, amidst the eye-catching installations and art, you can learn about the story of Seberang Perai (Mainland Penang) from a truly local perspective. 
12. Take plenty of photos at Kampung Agong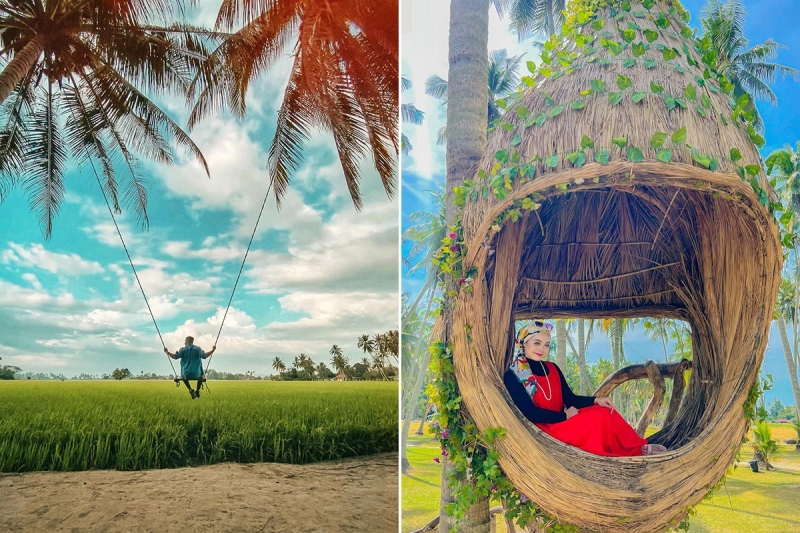 Sticking with scenic spots in Mainland Penang, one particular location that has been attracting plenty of attention recently is Kampung Agong. This is largely thanks to its many Insta-worthy photo spots. 
Simply put, Kampung Agong is an ambient homestay that is set amidst kampung-style (traditional village) scenery, far away from the busy streets of the city. Apart from the chance to stay overnight in a traditional wooden house, you can also make Kampung Agong a day trip (the entrance fee is just RM10 for non-guests). 
One of the most popular photo spots at Kampung Agong is the giant bird nest swings which give off authentic Balinese vibes. Our recommendation is to visit during the evening as the setting sun casts a whimsical orange glow over the area, instantly enhancing the atmosphere. 
13. Hop on a ferry ride to Pulau Aman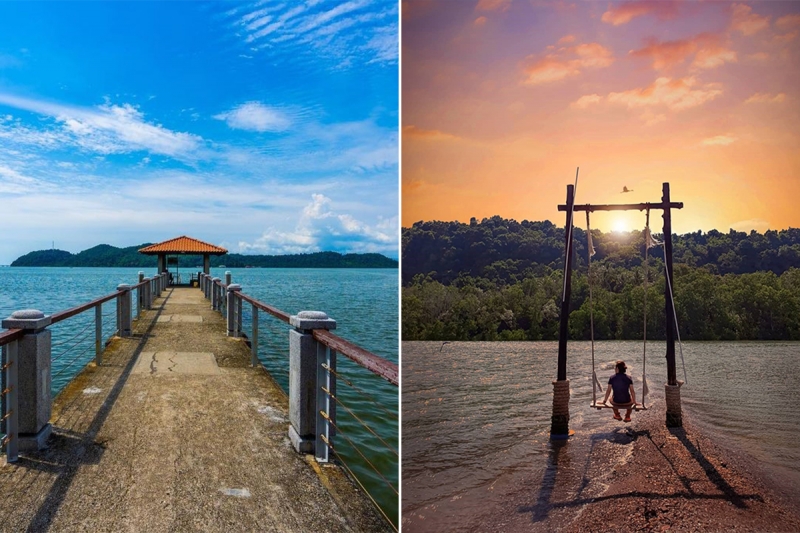 After visiting Kampung Agong, I'm willing to guess that you've fallen in love with the charming simplicity of kampung life. That's why, while you're still on the Mainland, take the opportunity to visit Pulau Aman, an idyllic island with a traditional fishing village.
Reachable by ferry from the shores of Bukit Tambun (itself a seafood paradise) in Mainland Penang, Pulau Aman boasts of scenic coastal views and lovely nature trails. As you explore the island, you'll likely encounter the oldest Sukun (breadfruit) tree in Malaysia too! 
Once you've had your fill of exploring the island, relax and unwind by feasting on fresh mantis prawns caught just off the shore! 
14. Explore Balik Pulau via bicycle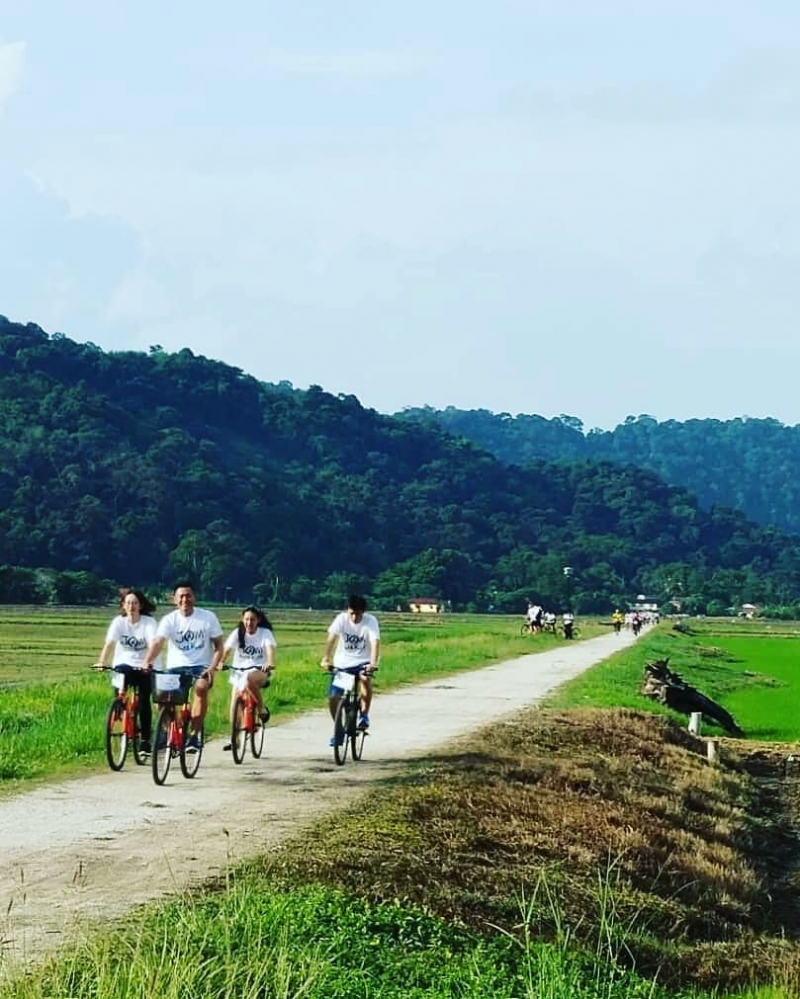 Balik Pulau is one of those places in Penang that mostly only locals know about. Located on Penang Island, this ambient town features a handful of heritage buildings and murals, natural attractions (like Teluk Bahang Dam and Tropical Fruit Farm), and mangrove forests. You can even go horseback riding at Countryside Stables.
However, Balik Pulau's most famous attraction is its impressive supply of durians! When the King of Fruits is in season, many locals and even avid durian lovers from other states, make trips to Balik Pulau just to have a taste. Some even book an overnight stay in some of the orchards in the area! 
For an even more memorable experience, we recommend signing up for a bike tour of Balik Pulau with Explore Balik Pulau. Organised in small groups (maximum 12 pax), this guided cycling tour will take you around many scenic locations in Balik Pulau, allowing you to not only admire the town's loveliest sights but also to learn about the many interesting stories it holds. 
Also read: Visit Penang, Malaysia: Where to Eat, Explore and Stay!
15. Admire teddy bears dressed in traditional attire at TeddyVille Museum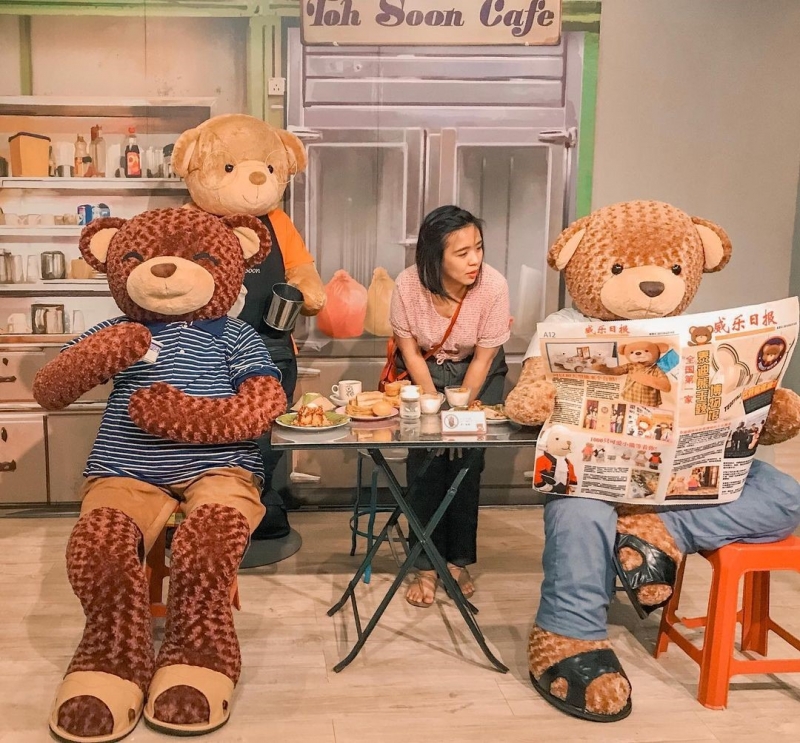 Penang has many fun museums to visit. However, if historical museums aren't quite your cup of tea, Malaysia's top holiday destination also has plenty of quirky museums that appeal to both young and old. 
TeddyVile Museum, located at the DoubleTree Resort by Hilton Penang in Batu Ferringhi, is Malaysia's first teddy bear museum, featuring rare and historic bears in its collection. Each exhibit tells the tales behind the origins of each teddy bear and showcases them in a way that celebrates the rich cultural history of Penang. 
In addition, you will also find a section called Mini Penang here. As the name suggests, this section features miniature bears dressed in small sets to represent the many attractions that Penang has to offer. How adorable! 
16. Dive into Malaysia's whimsical world of food at Wonderfood Museum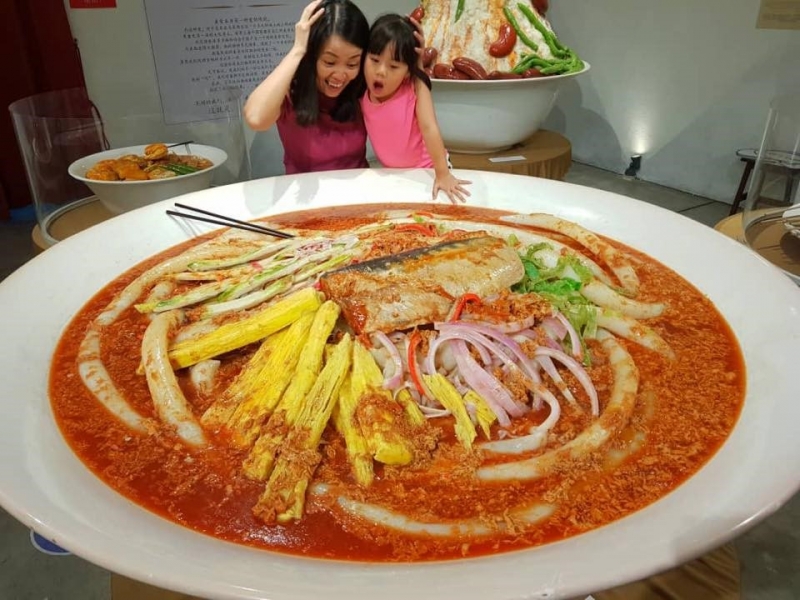 Another fun, quirky museum in Penang is Wonderfood Museum. Here, you can experience the wonderful kaleidoscope of Malaysian food by admiring and interacting with larger-than-life displays of popular traditional Malaysian dishes. 
These range from popular street food that look so realistic that they make your mouth water, to creative exhibits that showcase the food heritage of Malays, Indians, Chinese, and even the Peranakan community in Penang. Learn about the rich history and fun trivia behind these foods and stop by the interactive photo zones with your family for some fun, wacky photos! 
The entrance fee ranges from RM10 to RM25 depending on your age and nationality.   
17. Let your imagination take flight at Dark Mansion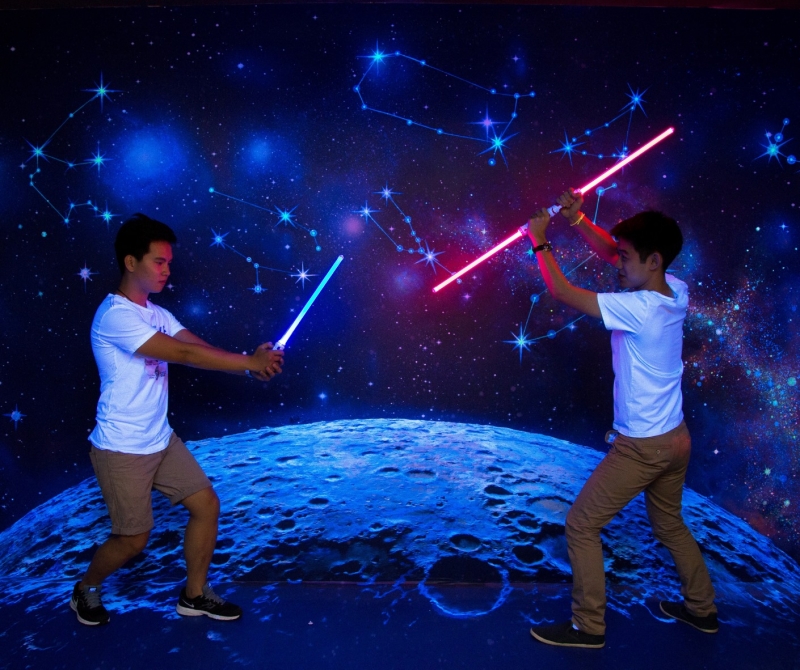 If you're travelling with children, then they will surely love this unusual attraction on Kimberley Street! Dark Mansion – 3D Glow In The Dark Museum is Malaysia's only 3D glow-in-the-dark museum, having first opened its doors in 2016. 
It is a unique attraction that features glow-in-the-dark exhibits and interactive art that allows visitors to step into a truly whimsical world. Unlike most museums, taking photos at Dark Mansion is highly encouraged. In fact, many of the "exhibits" double up as fabulous Insta-worthy photo spots! 
However, the main attraction at Dark Mansion is still the unique art pieces that change depending on the lighting. You will first view the paintings in normal light before the room is covered in darkness to show you how the pictures change under different lighting!
18. Make your own shadow puppets at the Wak Long Music & Art Centre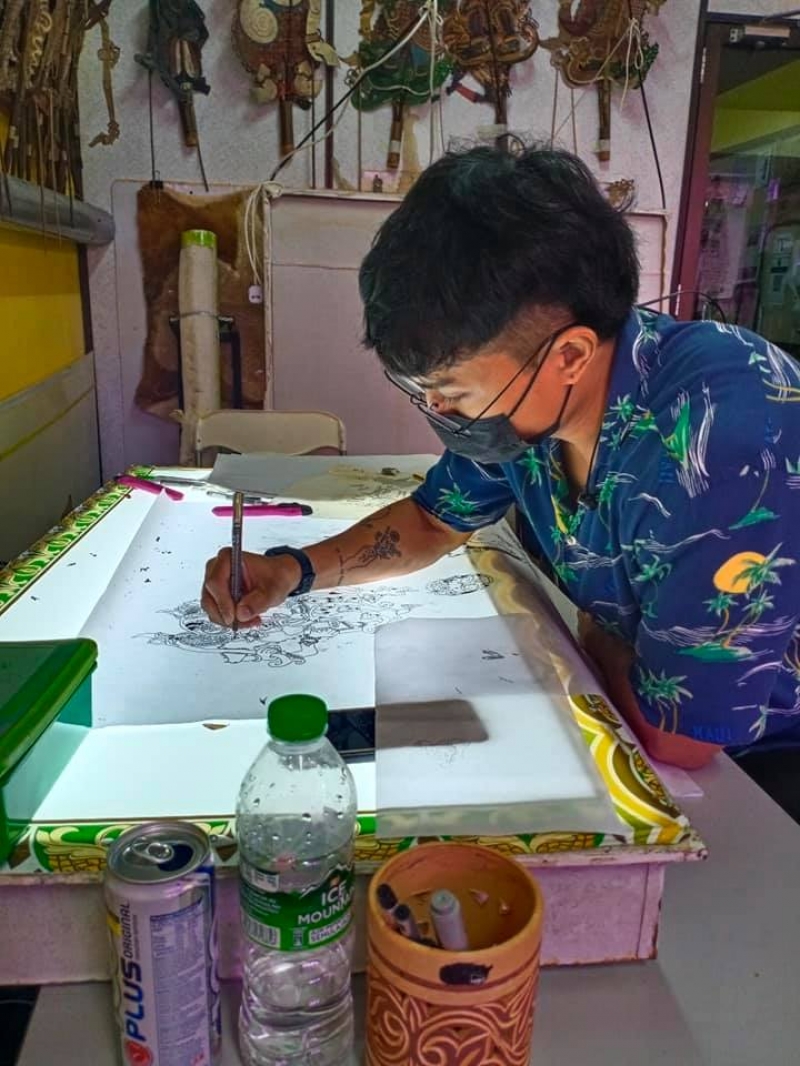 Shadow puppetry, or wayang kulit as it is known in Malay, is a traditional form of entertainment in Malaysia that is slowly fading away thanks to the lack of new practitioners. However, in Penang, you can still experience this unique form of showmanship by visiting the Wak Long Music & Art Centre.
There, you can meet Mohd Jufry Yusoff, a Kelantan-born tok dalang, a master shadow puppeteer who is also a lecturer at Universiti Sains Malaysia, one of Penang's top universities. Learn about Mohd Juffry's story as well as his mission to preserve traditional art forms in Malaysia. 
For an in-depth experience, you can sign up for a workshop where Jufry will teach you how to craft your very own puppet. You can then also try playing some traditional musical instruments, and then try your hand at mastering a shadow puppet performance too! 
19. Savour all the delicious food in Penang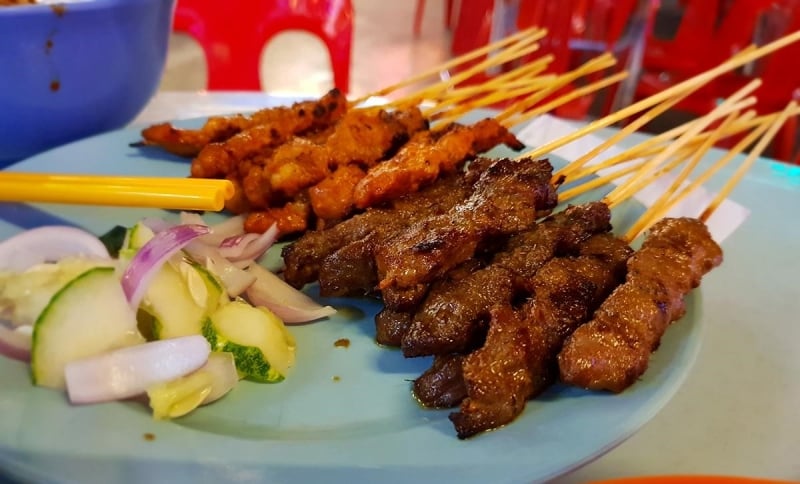 Of course, no trip to Penang is ever complete without a gastronomic tour of the many delectable delicacies this foodie paradise has to offer. 
On Penang Island, some of the top choices are Nasi Kandar Beratur (which means queuing, that alone should clue you in on how popular it is!), the roti canai on Transfer Road (one of the top breakfast spots), Hameed Pata Mee Sotong, and the famous cendol on Penang Road. 
If you're visiting the Mainland, then you have to try the slurpy crab noodles at Pak Man Mee Kuah Ketam at Cherok To'Kun. It is one of my personal, absolute favourites! In addition, don't miss the succulent grilled fish at Restoran Ikan Bakar Din or the Sungai Dua Char Koay Teow! 
20. Buy some books at BookXcess @ Gurney Paragon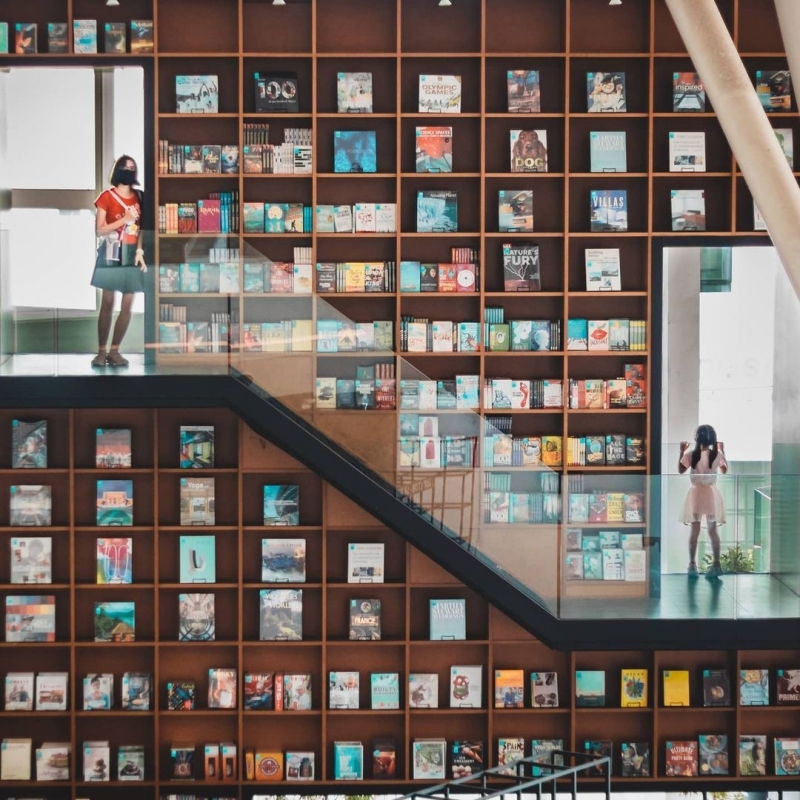 Penang is a proper shopping paradise, especially with glitzy malls like Queensbay and Gurney Paragon. If you're shopping for souvenirs or simply want to pick up a good book for yourself or the family while on vacation, look no further than BookXcess! 
Located on the 7th and 8th floors of Gurney Paragon (yes, that's two storeys!), BookXcess Penang is one of the largest bookstores in Malaysia, certainly the largest of its kind in Penang. There, you can find a wide range of different genres and titles, ranging from classic literature to award-winning biographies, and even classic comic books from Marvel and DC! 
21. Design Village Outlet Mall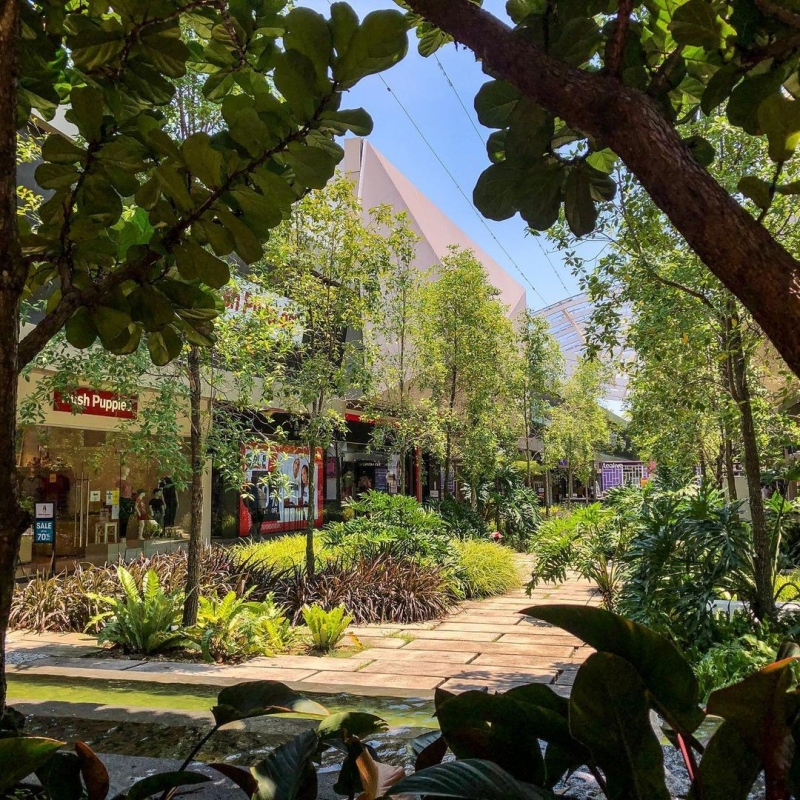 Can't get enough of shopping in Penang? Then why not take a short trip to Mainland Penang where you will find the biggest outlet mall in the whole country? 
Design Village Outlet Mall is located in Batu Kawan, just a few minutes away from the only IKEA store in Malaysia's northern region. Not only does the mall feature a wide range of popular international brands, artisanal products, and F&B outlets, it also holds the reputation for being the greenest mall in Malaysia! 
It is also conveniently located next to Penang Bridge 2, allowing you to reach it quickly even if you're travelling from the island. This makes it the ideal day trip destination for shopping! 
Penang and all its travel gems await! 
And there you have it: 21 amazing things to do in Penang with your family! I suppose the only thing to do now is to start planning that 2022 trip to Penang. I'm sure you'll enjoy every minute! 
For more information, visit Penang Global Tourism's official website or Facebook Page
---
Featured image credit: The TOP