For many tourists, a trip to Andalusia, the southernmost region of Spain, is an adventure that promises an endless array of beautiful coastal views and plenty of sunshine. After all, the sunny south of Spain is famous for its alluring beaches. 
However, Andalusia is also a treasure trove for culture vultures, thanks to its storied history. 
In particular, the cities of Cordoba, Granada, Seville, and Malaga house many buildings, landmarks, and relics that connect this region of Spain to its Islamic past, when Andalusia was known as Al-Andalus.  
If you're up for a different type of holiday in Andalusia (or Spain in general), then check out this week-long itinerary of Andalusia for the best Muslim-friendly attractions and experiences! 
Ready to travel to Andalusia and discover the rich cultural treasures in the south of Spain? Don't fret about planning the perfect itinerary because this online guidebook is all you need to ensure you don't miss a thing!
Day 1, Seville: Seville Cathedral → Real Alcázar → Plaza de España → Guadalquivir River Cruise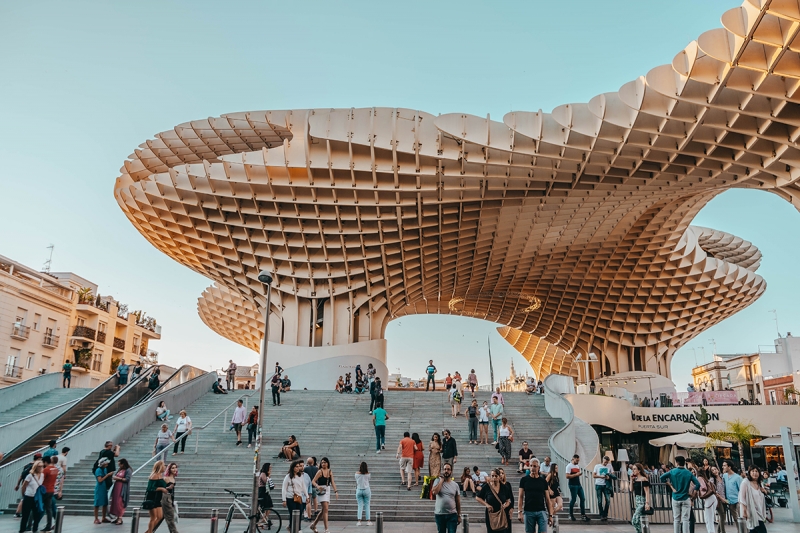 Seville is one of the most famous destinations in Spain to dive into the Islamic history of Al-Andalus. Upon arriving in Seville, head to the city's popular "Monumental Zone", the historical part of the city that's full of impressive monuments and landmarks. It is a gateway into the rich and storied heritage of the city, and where many of Seville's cultural attractions are found. 
Start with the majestic Seville Cathedral, the largest Gothic cathedral in the entire world! This iconic landmark boasts marvelous gothic architecture that will make any visitor say "wow". But just as interesting as the cathedral's design is its intricate history.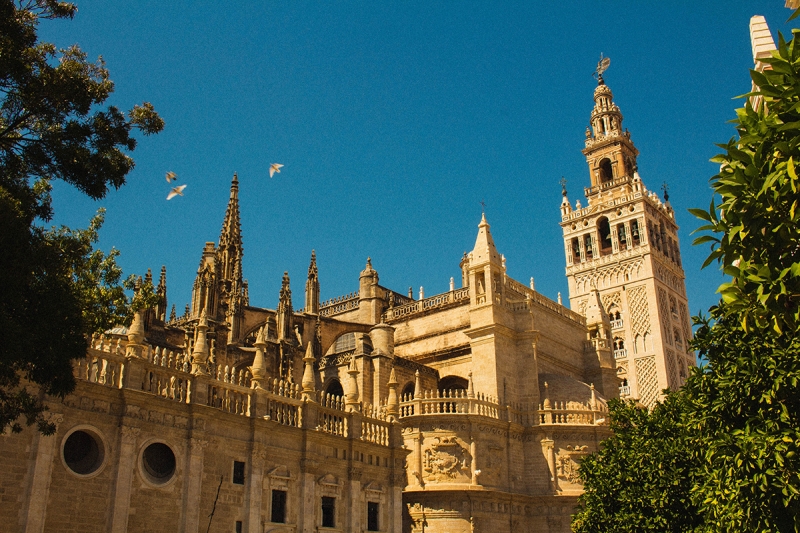 After all, this UNESCO World Heritage site was built atop the former Aljama Mosque of Al-Andalus. As you explore, you'll no doubt spot Muslim (Moorish) influence in certain areas of the cathedral, especially in Giralda Tower. 
A must-see when in Seville, the Giralda Tower is the iconic minaret-turned bell tower of the cathedral. It boasts Moorish and Renaissance architectural elements and provides a panoramic view of the city at the top. Other landmarks to see include Torre del Oro (Gold Tower) and the Tomb of Christopher Columbus.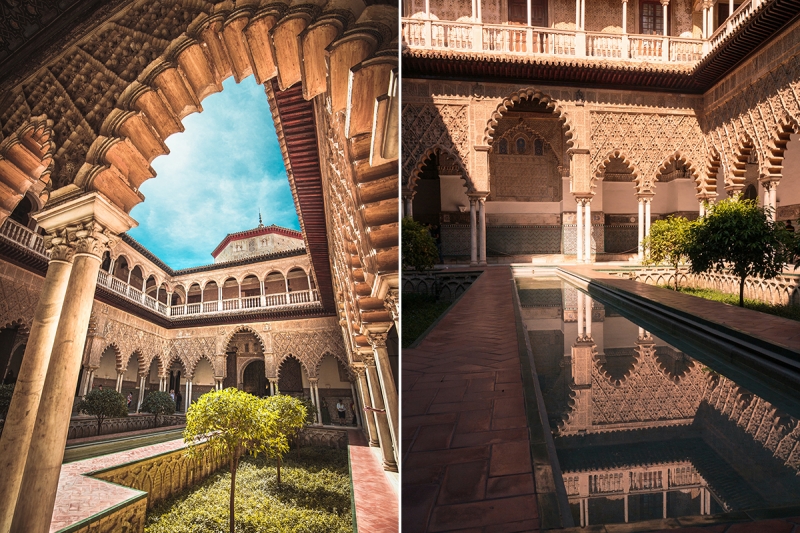 Not far from the cathedral is the Real Alcázar, a stunning royal palace that showcases the best of Moorish and Mudejar architecture. While its gardens and courtyards offer a respite from the hustle and bustle of the city, the main highlight of this UNESCO World Heritage site is the wooden dome in the main concourse that symbolises the Universe. 
For Muslim foodies eager for a taste of authentic Spanish cuisine, make sure to dine at Tanto Monta, a cozy restaurant where you can dig into halal Spanish delicacies. In fact, it's the only one eatery in Seville that offers halal tapas! 
Day 2, Seville to Cordoba: Plaza de España → Barrio de Santa Cruz → Guadalquivir River Cruise → Train to Cordoba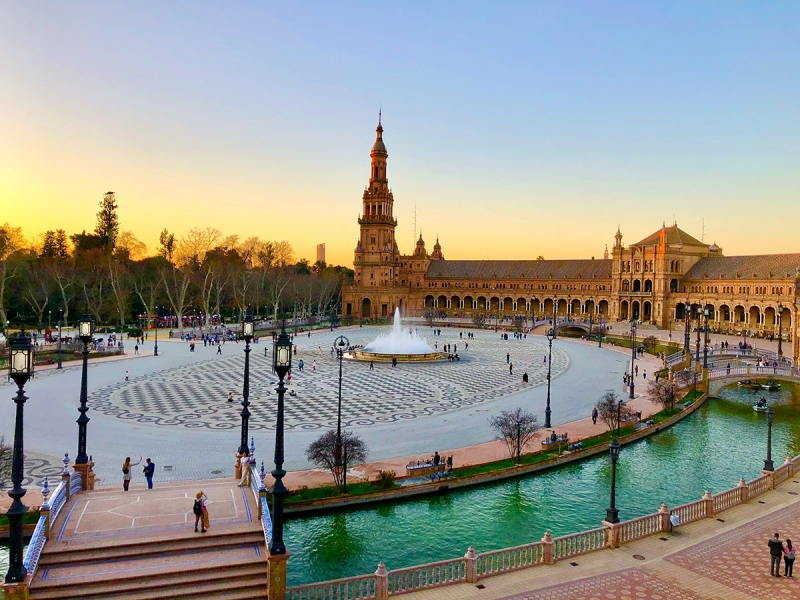 While in Seville, don't miss the chance to visit Plaza de España, one of the most impressive squares in Spain. Here you will find tiled benches representing each Spanish province, as well as an open square complete with a small canal and arched bridges. 
Needless to say, the area is the perfect place to snap a few jaw-dropping photos for Instagram. What's more, you'll find a few vendors in the area selling traditional Spanish fans with intricate designs. These make for fantastic souvenirs.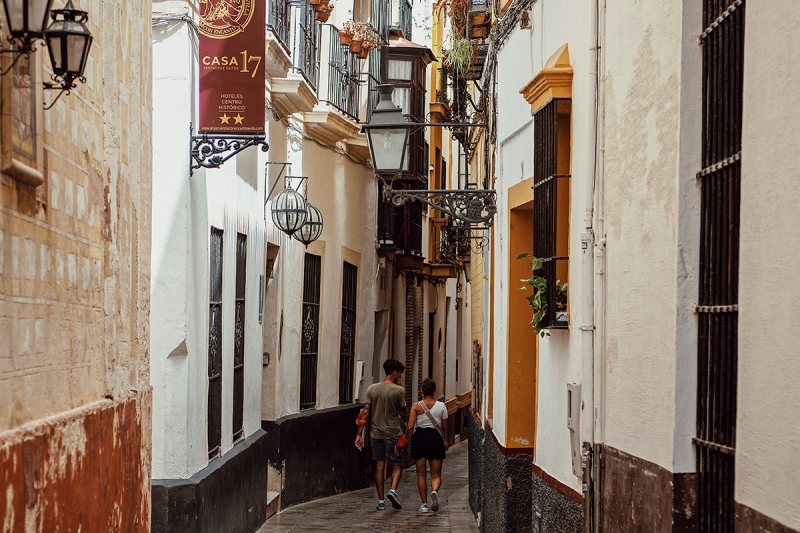 Back in the city, let's explore Barrio Santa Cruz, the vibrant Jewish Quarter of Seville. As you explore the narrow streets here, you'll come across plenty of traditional Andalusian architecture, famed for its strong Islamic design influence, and postcard-worthy whitewashed buildings.  You could also hop on a leisurely boat ride on the Guadalquivir River, where you can admire some of the landmarks you visited the day before by boat.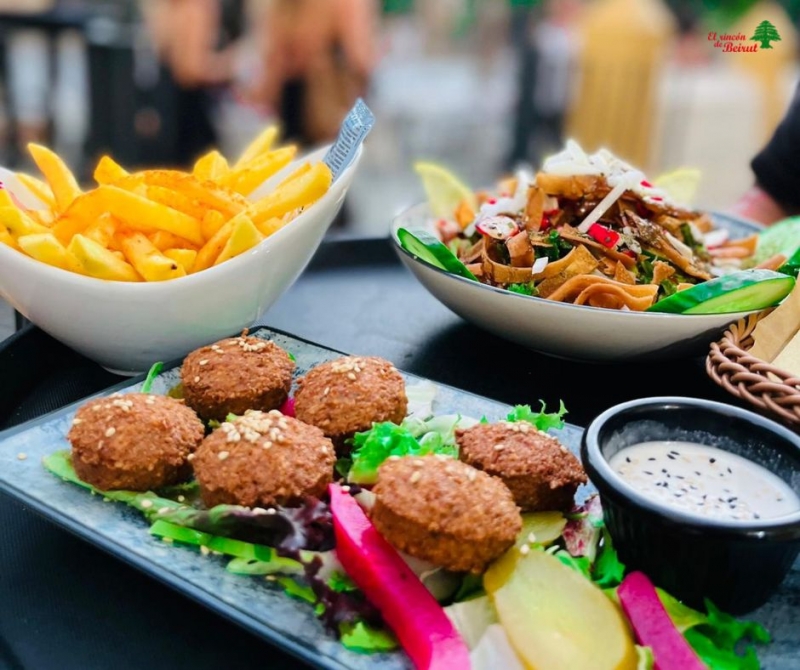 When you're feeling peckish, head to El Rincon de Beirut, one of the most famous halal restaurants in Seville. It serves a plethora of mouthwatering Lebanese cuisine and it's only about 10 minutes away from Barrio Santa Cruz on foot! Alternatively, head to Al Wadi for tantalising Middle Eastern cuisine. 
Once you've soaked in the charms of Seville, it's time to head to the train station to board a ride to Cordoba. The journey takes about an hour so get comfy! 
Day 3, Cordoba: Grand Mosque → Torre de la Calahorra → Historic Centre → Calleja de la Flores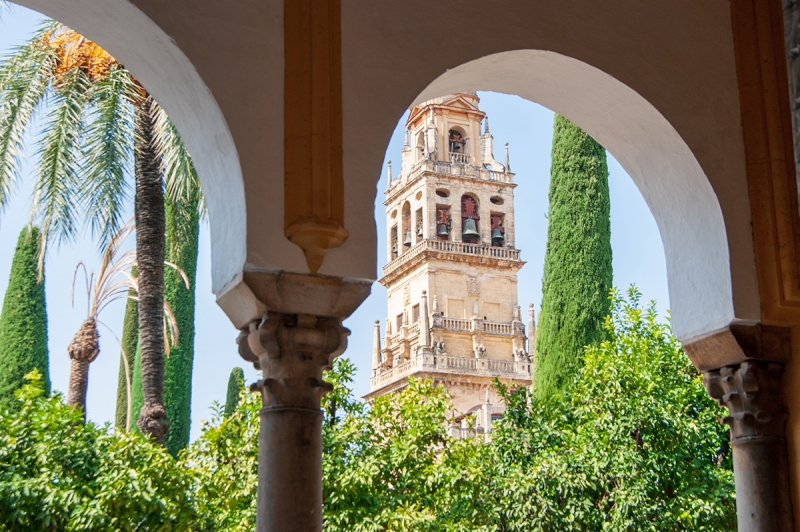 Cordoba is best known for its vibrant Historic Centre (also called Qurtuba) where one can find a cauldron of various cultures, exemplified by the abundance of cafes, shops, and restaurants. More importantly, the area houses countless landmarks from the city's time as the capital of the Umayyad Caliphate of Córdoba, during the Islamic Golden Age.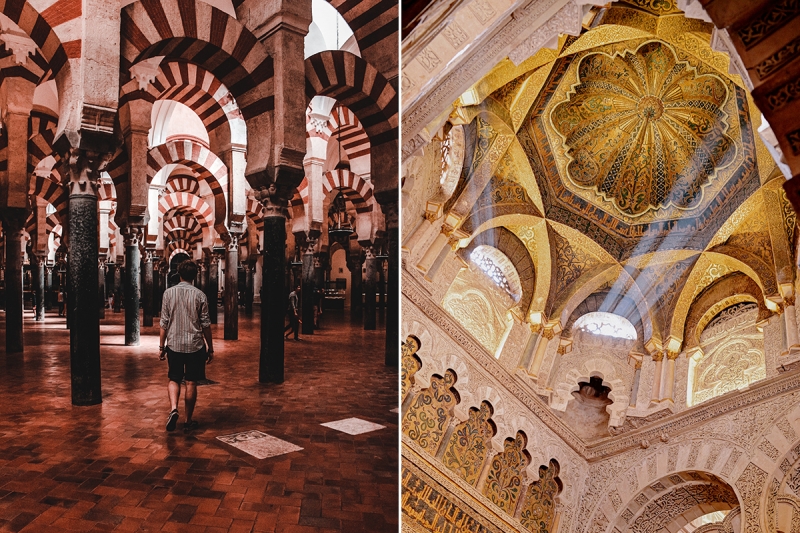 First, head to the majestic Mezquita-Catedral de Córdoba (Mosque-Cathedral, also known as The Grand Mosque). As the name suggests, this historical landmark, first built in the 8th century, was once a mosque before it was turned into a Christian cathedral during the Christian Reconquista in the 13th century. 
Today, the Mosque-Cathedral is a beautiful example of cultural harmony, featuring a fascinating blend of Islamic and Christian architecture that makes it worthy of its UNESCO World Heritage Site listing. Don't miss the chance to climb up the bell tower (once a minaret) for sweeping views of the city below.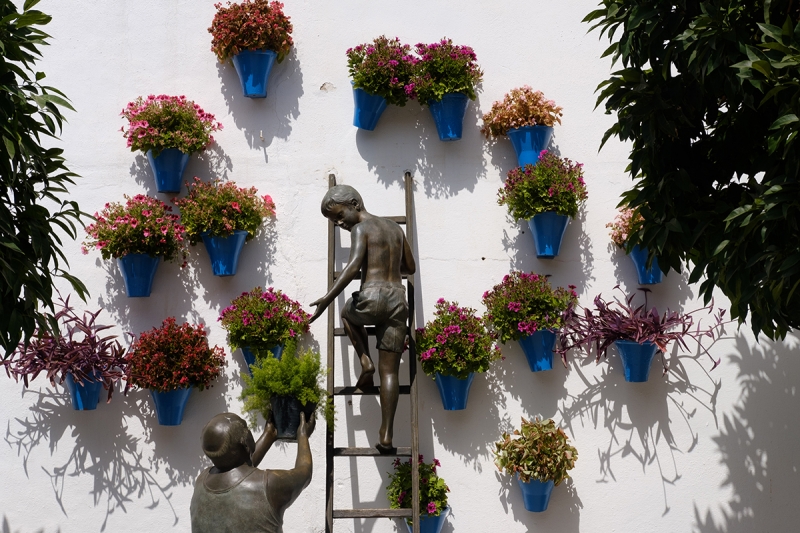 Nearby the cathedral, you can visit several historical landmarks, such as the Alcázar de los Reyes Cristianos, a medieval palace featuring ambient gardens and towers, and Torre de la Calahorra, a fortified gate and watchtower that overlooks the Roman Bridge. For a memorable Insta-worthy photo in Cordoba, head to the famous Calleja de las Flores, a picturesque alleyway known for its whitewashed walls and colourful flowers.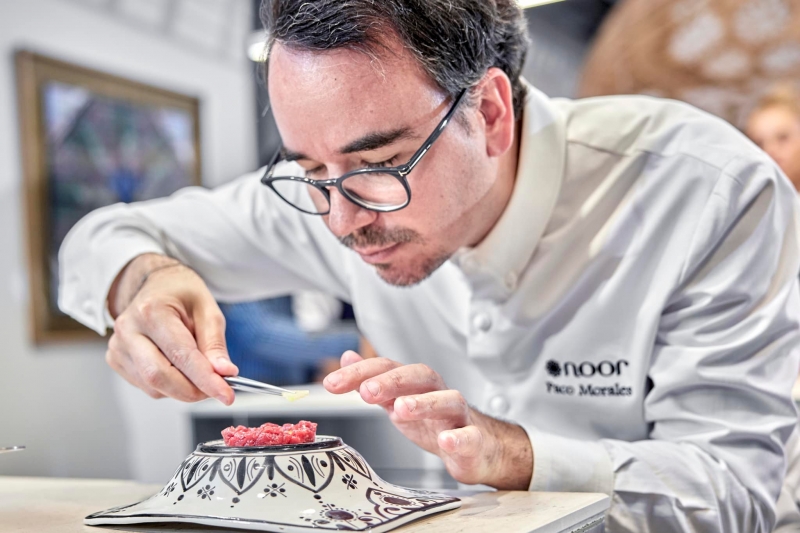 For avid foodies, some of the recommended halal restaurants in Cordoba include the two Michelin-Starred Noor Restaurant, which serves halal Andalusian cuisine with a twist, Petra for mouthwatering halal paella (a must-try Spanish dish), Bocaito Andalusí Halal for Moroccan cuisine, and Restaurante Damasquino Halal 2 which serves Syrian cuisine. 
Day 4, Cordoba to Málaga: Medina Azahara → Train to Malaga → Alcazaba → Atarazanas Market → the Roman Theater → Larios Street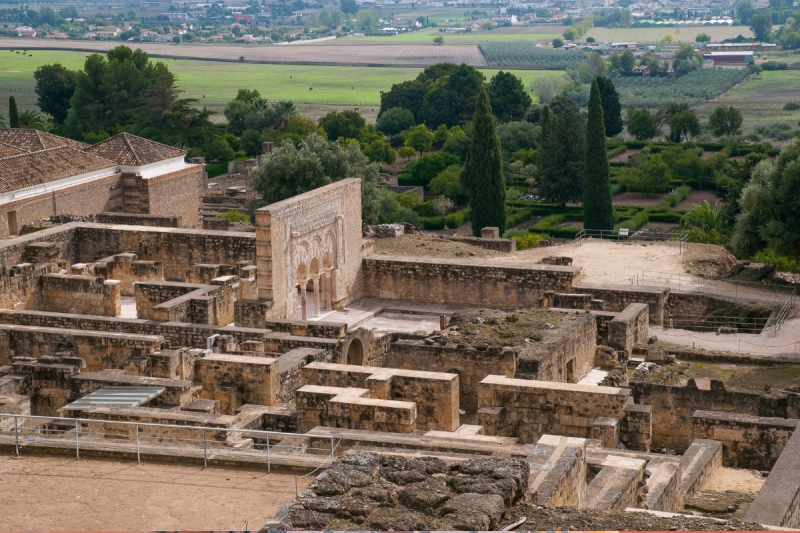 Before leaving Cordoba, take a slight detour to one of its most enticing destinations — the enigmatic ruins of the Medina Azahara. This archaeological site, located about 20 minutes away from the city centre, was once a bustling royal city during the Al-Andalus era, a UNESCO World Heritage Site.  
Medina Azahara was originally a lavish royal complex, a shining beacon of Islamic architecture. It included palaces and lovely gardens fit for a king. Some of the vestiges of the architectural marvel remain, including its gardens and ceremonial halls, providing insights into life back in the Islamic rule of the Caliphates. 
After spending a couple of hours here, it's time to head to Cordoba Train Station, where we'll catch an hour-long ride to one of the loveliest coastal destinations in Spain — Málaga.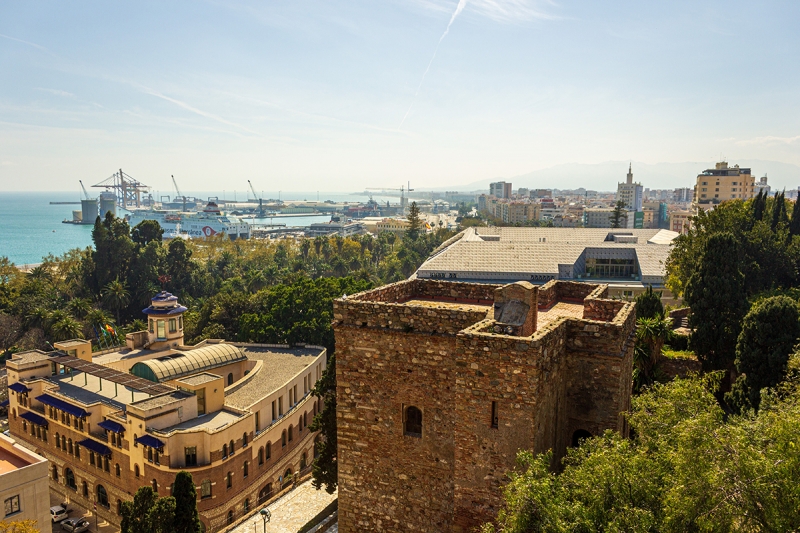 One of the main Muslim-friendly attractions in Málaga is the majestic Alcazaba, a towering Moorish hilltop fortress that is one of the largest remaining military landmarks from the Al-Andalus era. With its beautiful jasmine-filled gardens and its stunning view of the city, you might just mistake this fortress for a summer palace! Nearby, you'll also spot Gibralfaro Castle, which was once a fortress that acted as a shield for Alcazaba. 
Back in the city, head to the bustling Atarazanas Market, built in the 19th century over the site of old Nasrid shipyards (you can actually still see the preserved Muslim arch at the main entrance). Other attractions in Málaga to check out include the Roman Theatre, a fascinating historical ruin that dates back to the 1st century BC, and Calle Larios, the main shopping street of Málaga.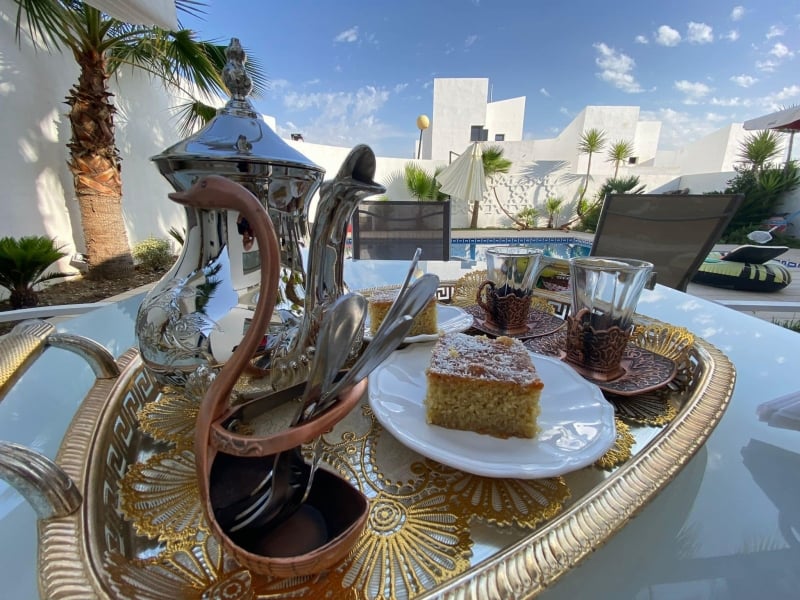 When it comes to halal food in Málaga, we recommend checking out Palacio Nazarí (Moroccan cuisine), Estambul Grill (Turkish cuisine), and Tandoori Mexican (Mexican cuisine). Those who miss Asian food can head to Mister Noodles for some Southeast Asian delights too. 
Day 5, Málaga day trip to Costa del Sol:  Ronda Village → Marbella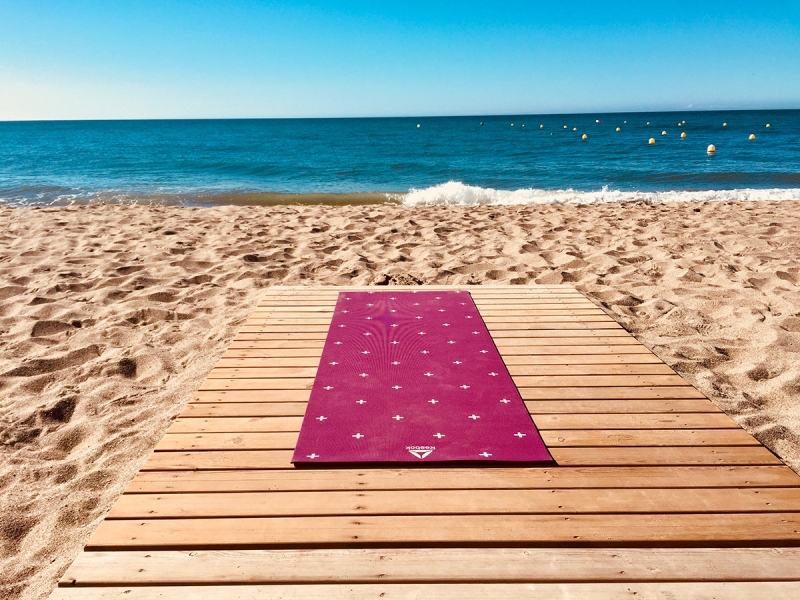 A trip to Andalusia is never complete without spending at least one day at the beach. Those are the rules. Thankfully, from the city of Málaga, there are many more stunning marinas and pristine beaches in the beautiful region of Costa del Sol and they are only an hour bus ride away. 
However, we recommend making the town of Ronda your first stop in Costa del Sol instead of Marbella, where most tourists visit in Costa del Sol. That's because the journey from Málaga to Ronda takes approximately two and a half hours by bus. Despite the long travel time, we guarantee you it'll be worth it.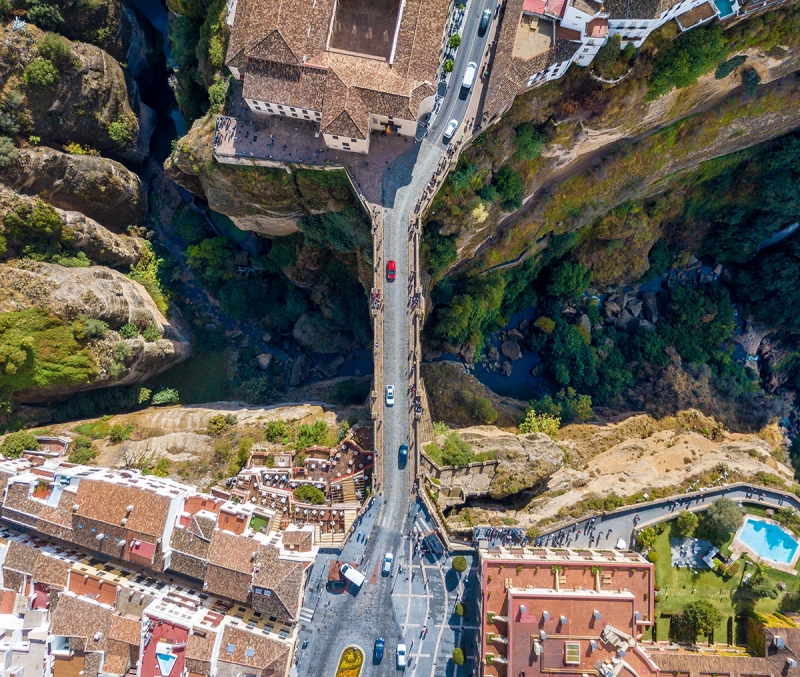 Located an hour inland from Marbella, Ronda is an iconic town and destination nestled atop a scenic gorge. More importantly, the village houses a rich history that connects Costa del Sol to the Islamic Al-Andalus era, as evidenced by its well-preserved medina. As you explore the narrow alleys here, you'll be swept away by the historical ambience of this underrated location.
After visiting the historical town of Ronda, it's time to visit Costa del Sol's other popular destination — the resort city Marbella.  Here, expect to find stylish shops, breathtaking scenery, and a slumbering ambience as you explore the maze of white, cobbled streets of the old town area.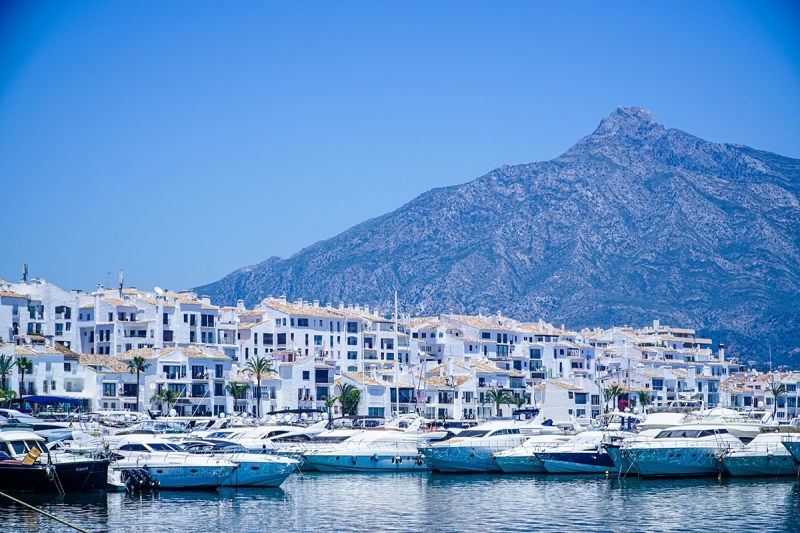 Don't miss the chance to head out onto the pier for stunning views of the ocean, or to take a short detour to Puerto Banús, one of the most luxurious marinas in Spain, known for its upscale establishments and yachts.
For halal food in Marbella, check out Vintage 8 Torremolinos for fine Moroccan-Spanish fusion cuisine, Baalbak Marbella for Middle Eastern fare, and Tuk Tuk Asian Fusion Marbella for some Asian comfort food. 
Day 6, Malaga to Granada: Train to Granada → Albaicin Neighbourhood → Great Mosque  → Mirador de San Nicolas → Darro Street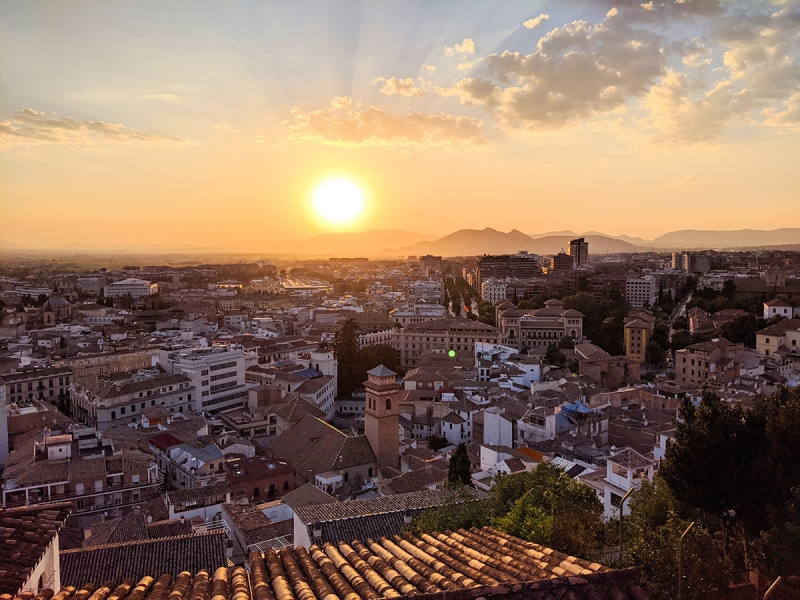 Once in Granada, one of the first Muslim-friendly experiences is to simply explore the Albaicin Neighbourhood. Simply put, this historic quarter, dotted with narrow winding streets and charming carmenes, ambient houses with gardens, is a living doorway to Granada's Islamic past. 
You might not know it looking at the whitewashed buildings and picturesque views, but the neighbourhood, a UNESCO World Heritage site, once housed over 30 mosques! Take your time exploring every corner of this hidden gem before heading to the Mezquita Mayor de Granada, the Great Mosque of Granada. 
While not as widely known as the Great Mosque of Cordoba or the Alhambra (more on that later), the Great Mosque of Granada remains an important religious and cultural site in the city. Built during the Nasrid dynasty in the 14th century, the mosque features intricate designs and patterns, as well as a blend of Muslim and Christian architecture.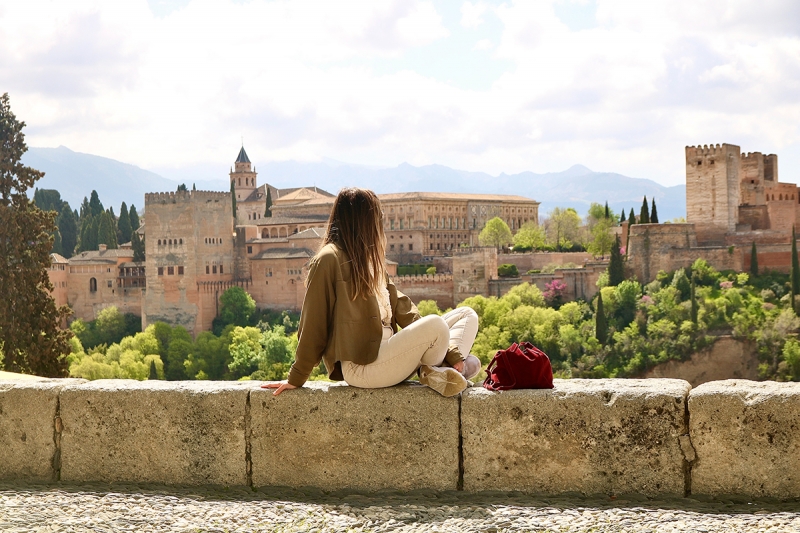 As sunset approaches, make your way to the Mirador de San Nicolas. This is where you will see arguably one of the most beautiful sunsets you'll ever witness in your life. The golden hues of the setting sun reflecting off the ambient buildings in the distance is simply breathtaking! 
Finally, head towards Darro Street (Carrera del Darro), a picturesque promenade that runs alongside the Darro River. Here at this romantic spot, expect to find historic Renaissance palaces and plenty of shops.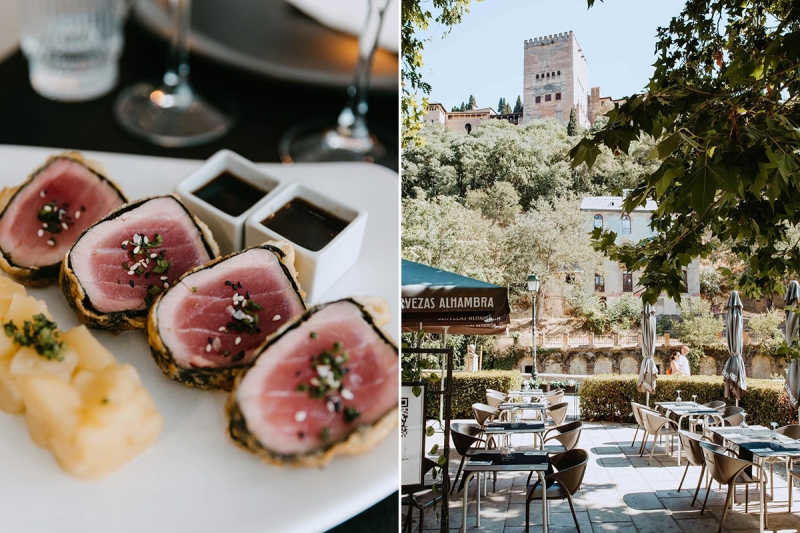 For halal food in Granada, dine at Arrayanes which serves mouthwatering Moroccan cuisine or La Puerta de Syria for Middle Eastern food. You could also treat yourself to an unforgettable dinner with a view of the Alhambra at La Ruta del Azafrán, which offers some halal menu options. 
Day 7: Granada: Alhambra → Hamman Baths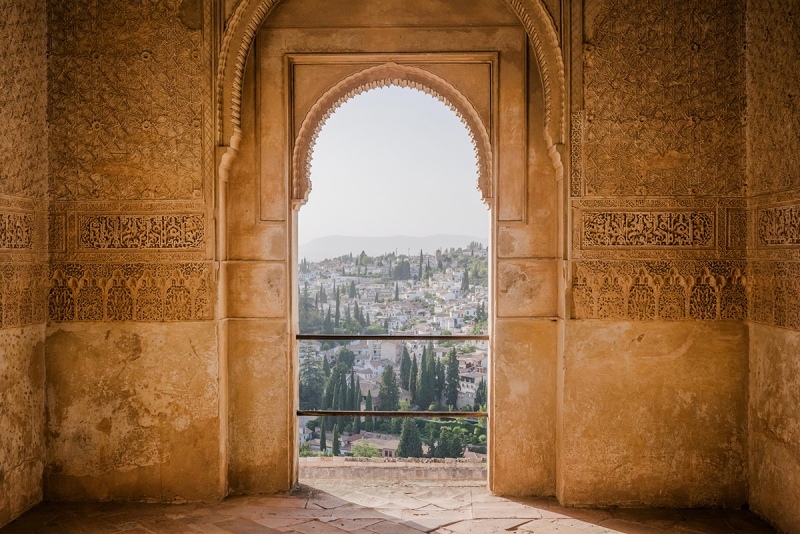 Finally, it's time to explore the iconic Alhambra of Granada, a majestic palace and fortress that is perhaps one of the finest examples of Moorish architecture. Unsurprisingly, it's one of the most popular places to visit in Granada!
As you explore the intricate courtyards and Nasrid palaces here, you'll be swept away by the sheer beauty of the architecture and art in this living remnant of Al-Andalus. What's more, right next to Alhambra, you'll find the Generalife Gardens, a serene landscape adorned with fountains, pathways, and colourful blooms. Here, you'll enjoy stunning views of the city and the mountains in the distance.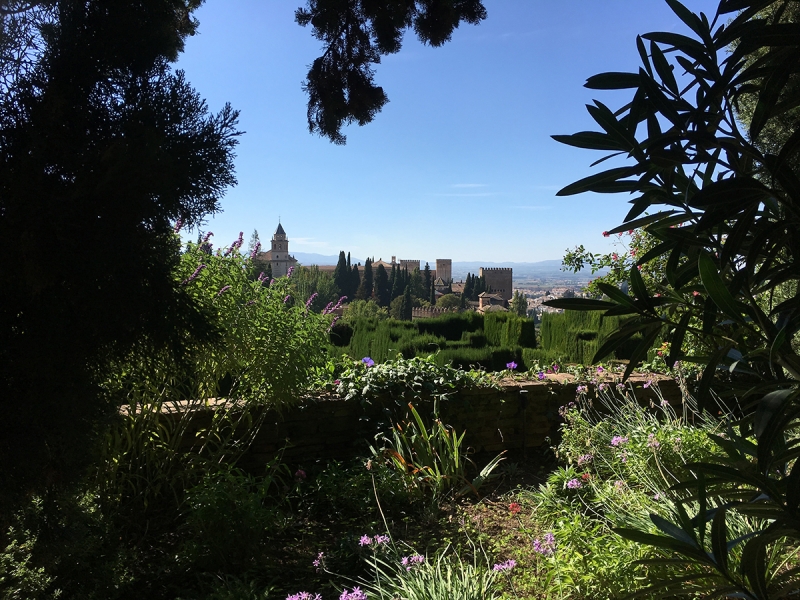 Before boarding your flight back, why not head to the Hammam Al-Andalus for some relaxation? You'll be able to enjoy a rejuvenating traditional Arab bath whilst surrounded by a tranquil atmosphere, the perfect way to end your week in the beautiful region of Andalusia! 
Ready to travel to Andalusia and discover the rich cultural treasures in the south of Spain? Don't fret about planning the perfect itinerary because this online guidebook is all you need to ensure you don't miss a thing!
And there you have it, a perfect week-long itinerary of Andalusia that helps you see and experience the best Islamic attractions and food. All that's left to do now is simply to plan your getaway to Spain and soak in the fun vibes! 
---
Brought to you by Spain Tourism Board