Are you a Muslim traveller who's on the lookout for the best Muslim-friendly destinations in Thailand? If the answer is yes, Koh Samui should be your next go-to getaway! This lesser-known holiday spot will dazzle you with its pristine beaches, well-preserved temples, lush-green jungles, and looming waterfalls. 
Truly this island on the Gulf of Thailand has something unique to offer to every kind of Muslim traveller. Read on to learn more about 11 fun things to do in Koh Samui to satisfy your wanderlust.
Also read: Muslim-Friendly Chiang Mai Guide: Halal Eateries & Places to Go for Muslim Travellers
Best things to do in Koh Samui
For the adrenaline junkies
1. Go kitesurfing across Samui beaches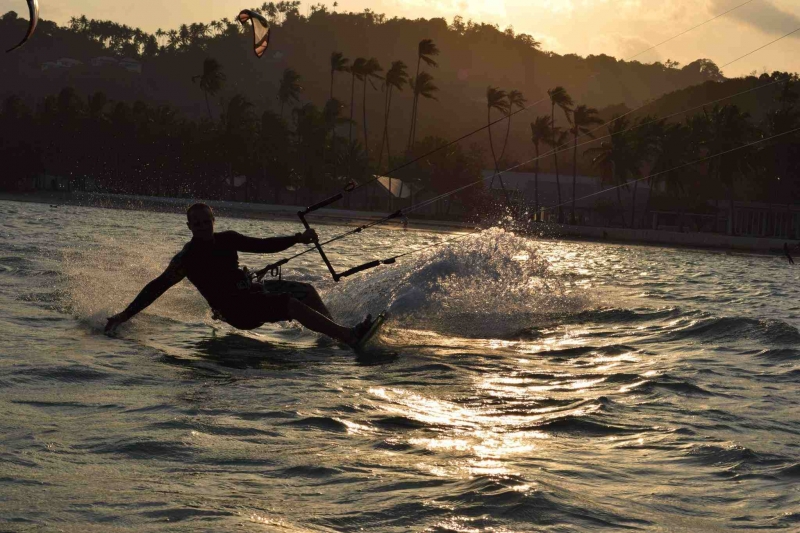 The many beaches on Koh Samui, with clear waters and fun waves,  mean only one thing: you're in for the best kitesurfing sessions  you'll have ever had! Even if you are a total beginner, there are quite a number of certified kitesurfing schools around Koh Samui that offer lessons. FYI, each lesson could span two to three days and range from seven to eight hours daily.
The best thing is that you can easily get high-standard equipment and hire professional instructors to assist your kitesurfing experience here. Some of the recommended beaches for kitesurfing in Koh Samui include Chaweng Beach (beginner), Hua Thanon Beach (beginner), Lipa Noi Beach (beginner), and Lamai Beach (intermediate). 
2. Zip through and over Koh Samui's lush greenery
Spice up your Koh Samui itinerary with more adrenaline-fuelled experience, especially this one that'll send you flying above a rainforest! That's right, you can go ziplining In Koh Samui for a unique experience of the natural sights and wonders of the island. 
Not only will your sights be blessed with the splendid aerial views of the jungle, but also the picturesque landscapes of the ocean and the lining mountains nearby. Some main locations offering this exciting activity include Maenam, Bophut, and Choeng. In short, you'll be spoilt for choice when it comes to zipline tours and groups on the island! 
3. Experience go-karting with your travel buddies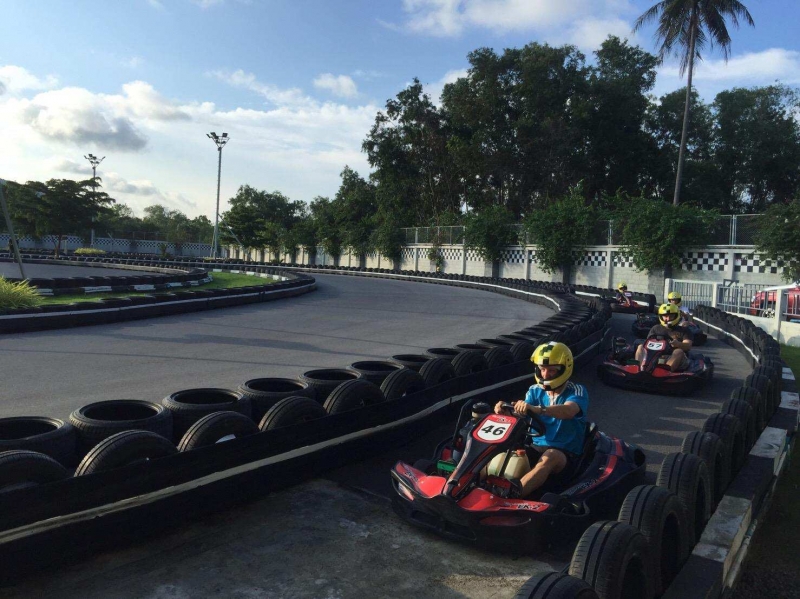 One of the fun things to do in Koh Samui that you don't usually get from other holiday destinations is go-karting. And the best part is that this island's go-karting experience caters to travellers of all ages! Whether you're a beginner or an expert, a kid or an adult, you can safely jump into one of these rides. 
One of their popular tracks is Easykart at Chewang, which comes with four different kart models: kids kart (7-13 years old), regular kart (from 12 years of age), fast kart (from 15 years of age), and two-seater kart (an adult from 20 years of age + a kid above 110cm height). So do take your family or friends on this action-packed adventure you won't soon forget!
4. Explore Koh Samui on a thrilling quad bike tour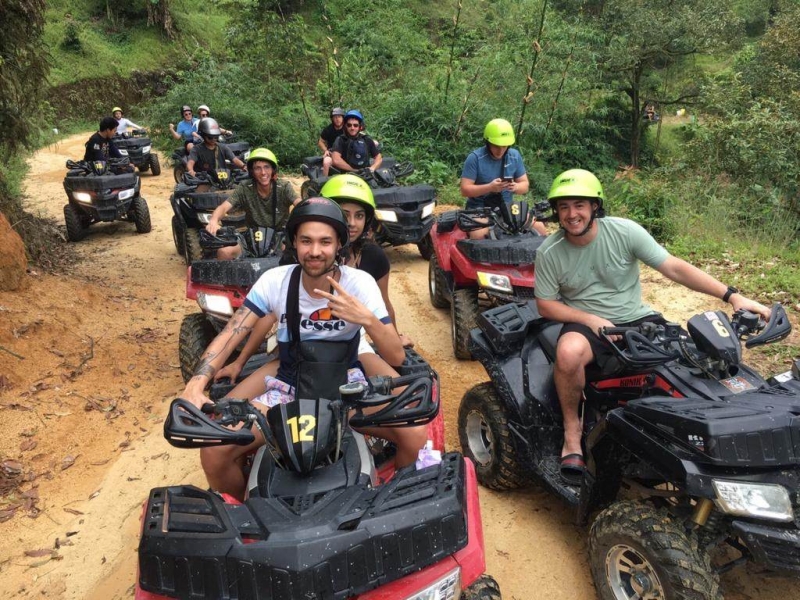 Going on a rip-roaring quad bike or ATV ride is a must-add to your Koh Samui itinerary. This ride offers an adrenaline rush and a memorable trip that brings you across rustic terrain and lesser-known routes! While most ATV tours are meant for thrill-seekers, some tours offer family-friendly rides to make sure everyone has equal shares of fun. 
Those joining the former kind should expect exciting hill climbs and fast scrambles across Koh Samui's jungle terrain. Meanwhile, those joining the latter will have more time to admire the island's views by making a few stops at hidden waterfalls, secret gardens, and popular landmarks. 
For History and Culture Buffs
5. Visit the fishing village of Hua Thanon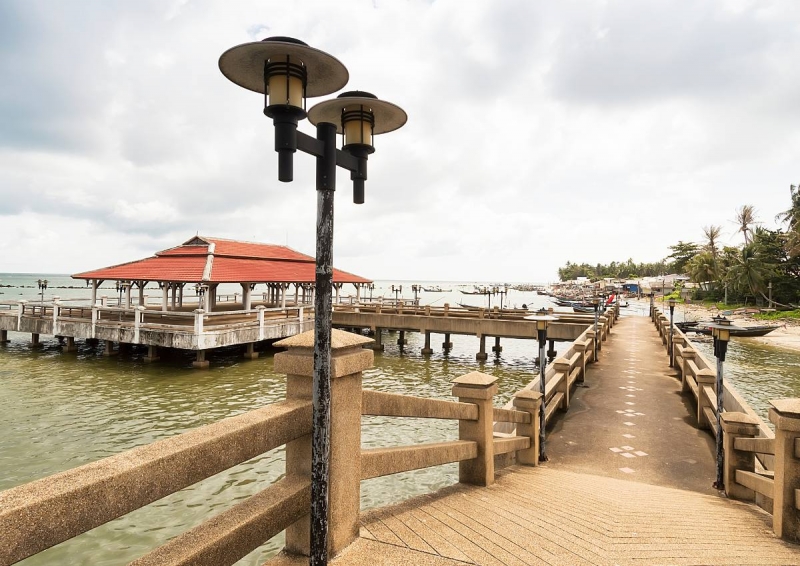 The fishing village of Hua Thanon is primarily home to the Muslim population in Koh Samui. This fisherman valley is south of the famous Hin Ta and Hin Yai Rocks on Lamai Beach. Here, you can admire the long prows of fishing boats along the beach and the traditional teakwood houses along the road. 
Aside from the alluring scenery, you can head to their fish market and go on a fresh seafood hunt with your family. Psst, do spare some money to shop at the local souvenir shop in this village, as you will likely need a couple of bucks to spend on their beautiful patterned sarongs and other local knick-knacks!
6. Discover Koh Samui's unique temples on a fun-filled temple tour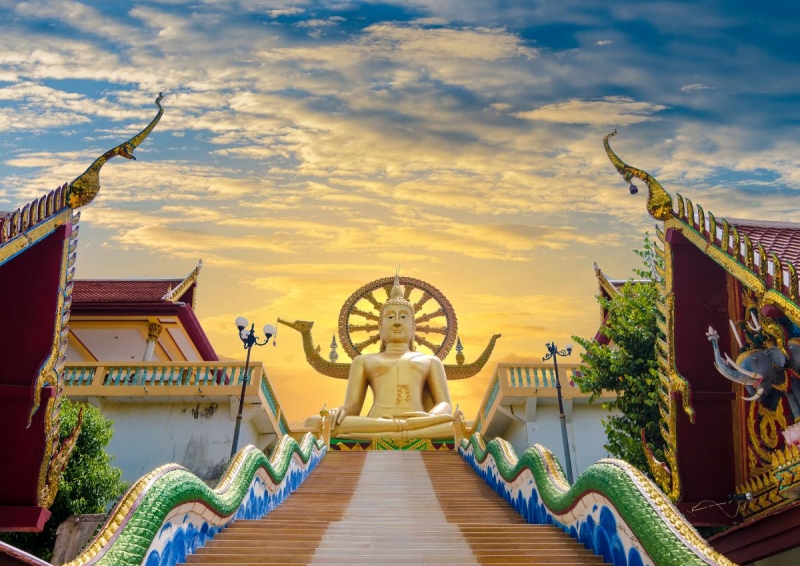 Muslim travellers who love learning about history and culture can go temple-hopping around the island to their heart's content. There are a lot of Buddhist temples and shrines for you to explore — all with ornate and sophisticated designs that are pleasing to the eye. 
One of the well-known temples in the area is the Big Buddha Temple, locally known as Wat Phra Yai. This temple complex features a 12-metre seated gilded Buddha statue that you can easily see from afar. Other stunning temples you should visit are Wat Plai Laem, Laem Sor Pagoda, and Wat Kiri Wongkaram, to name a few.
7. Visit the storied rocks overlooking Lamai Beach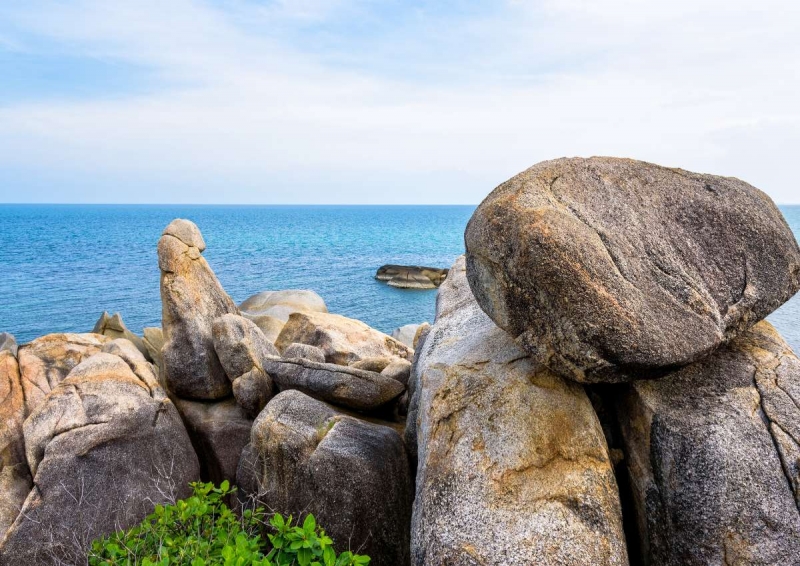 If you need more than temple-hopping to feed your cultural curiosity, head to the famous Grandfather and Grandmother Rocks or known by the locals as Hin Ta and Hin Yai. This unusual rock formation occurred due to the erosion of granite caused by seawater and heat. The natural phenomenon can be found at one end of Lamai Beach on Koh Samui's southeast coast.
Fun fact, this distinctive landmark is also associated with the city's folklore of a married couple named Ta Khreng and Yai Riam. They sailed the sea to arrange their son's marriage but were sunk due to a strong thunderstorm. The bodies then turned into these bizarre-looking stones said to resemble male and female genitalia. 
For Travel-Grammers
8. Catch the captivating sunset at Koh Samui's beaches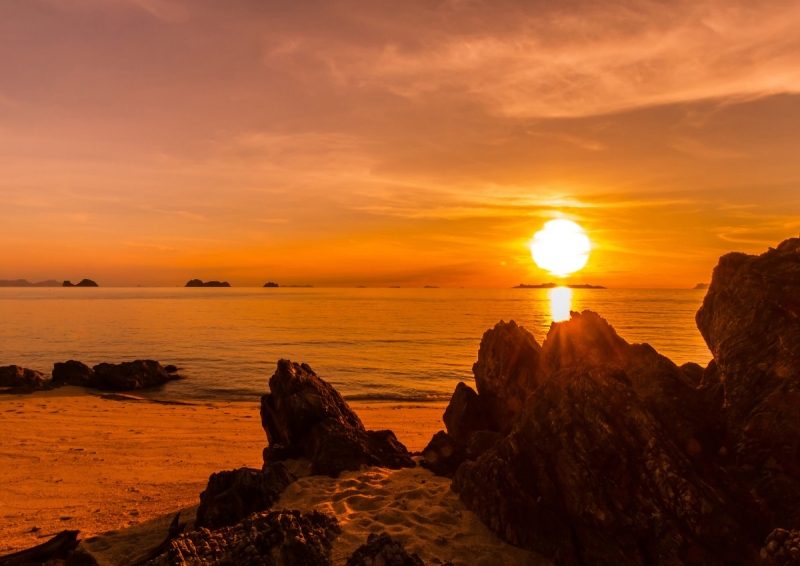 Nothing beats watching the sunset over Koh Samui's beaches. We're talking a warm orange tinge in the dusk sky plus the stretches of tangerine-hued reflection across the vast sea. And you can enjoy this at almost all the beaches on the island. Taling Ngam Beach is one of the best hotspots for sunset watching in Koh Samui. Here, you can catch a magnificent sight of the sinking sun thanks to the beach directly facing West. 
Other famous locations include Lipa Noi Beach and Bang Po Beach. Plus, all the beaches are dotted with restaurants and cafes, so you can have some refreshing cold drinks as you watch the golden hour with your loved ones. 
9. Take a snap beside a giant stone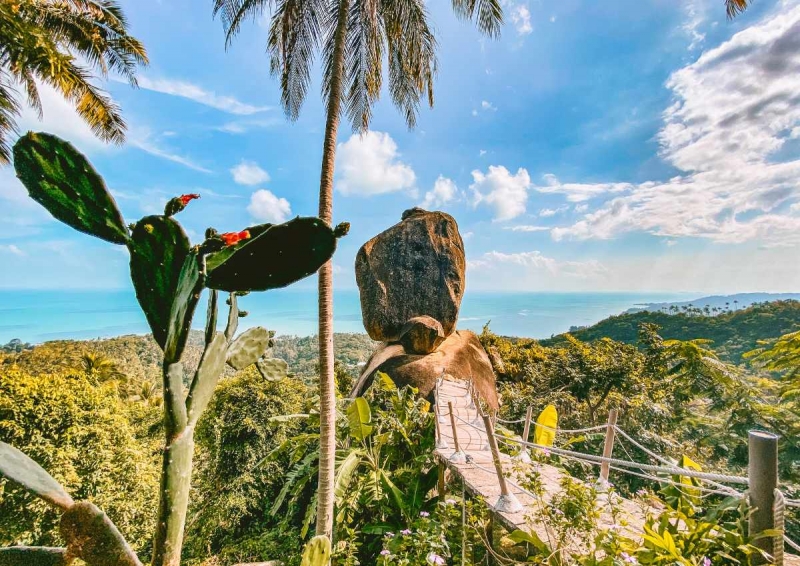 Another natural wonder that gives you the best photo op on the island is the giant Overlap stone overlooking Lamai Beach and Koh Samui's jungle. This 8-metre tall stone catches the attention of many thanks to its size and perfect balance. You will, however, need to trek a rocky trail before you get to this viewpoint. 
There's a bridge connecting the land with the viewpoint, so worry not about how to safely get closer to the giant wonder. As you stand beside the huge stone, expect panoramic views of lush greenery and blue sea to greet you through. Definitely one of the best things to do in Koh Samui for every Muslim traveller!
For Nature Lovers
10. Feed the friendly giants at the sanctuary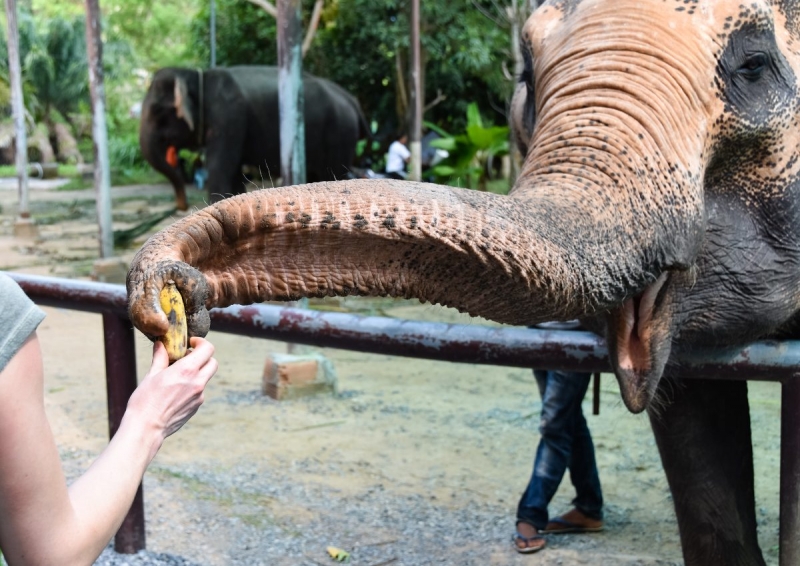 Another must-add activity to your Koh Samui Muslim-friendly itinerary is feeding the elephants on the island! There are multiple elephant sanctuaries in Koh Samui that you can visit. One of the famous elephant conservation places is Elephant Jungle Sanctuary in Mae Nam, which lets you spend time with these gentle giants in their natural home. 
If you don't have much time on your side, the sanctuary offers a 1-hour programme for you to feed these amazing creatures. Don't forget to capture the best moment of yourself with these adorable animals!
11. Hop on a boat tour around Ang Thong National Marine Park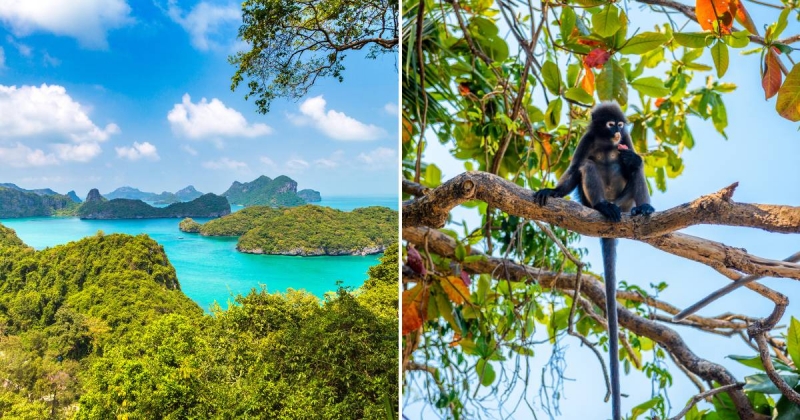 Finally, one of the recommended things to do in Koh Samui is to explore the wonders of Ang Thong National Marine Park! This pristine archipelago in the Gulf of Thailand consists of 42 islands known for their limestone mountains and pearl-white sandy beaches. And within their thick forests lie hidden coves and lakes waiting to be discovered.
So what can you do at this untouched national park? First, you can tour the islands on a boat. And if you're lucky enough, you'll get to spot some long-tailed monkeys and other exotic wildlife along the cruise. If you can't help but soak in the blue, go snorkelling or diving and greet the marine residents in this protected area instead.
Also read: Halal Food in Phuket, Thailand: 19 Places to Visit When You're Hungry
There you have it, 11 best things to do in Koh Samui for all types of Muslim travellers. So, clear out your schedule and book those plane tickets, your next vacation awaits!
---
Brought to you by Tourism Authority of Thailand