Discovering new and foreign lands is exciting for any traveller, but it is undoubtedly more special when you share those exhilarating and life-changing adventures with your significant other.
Nurrudyn, more affectionately known as Dyn, is the owner and main photographer of Naf Images. As a wedding photographer, he photographs couples for either pre-wedding, post-wedding or actual day wedding photo shoots. He started with product photography before opening the doors of Naf Images six years ago, when he began documenting a lifetime of memories for newlyweds.
Read to find out what it takes to be a wedding photographer and go behind the scenes to uncover the craziness that goes on behind a picturesque wedding photo shoot.
How many countries have you been to? How often do you travel?
So far, I have travelled to 17 countries. On average, I travel four to five times within a year.
Considering all the countries you have been to, what is your favourite travel destination?
My current favourites are Iceland and New Zealand (both for work). I rarely travel for personal holidays.
How are the destinations decided for these wedding photo shoots?
Usually, I will not decide or select destinations for the clients as the photo shoots are planned around the clients' honeymoon. If their honeymoon lasts for 14 days, they will block out a couple of days for the photo shoot. Once done, they will continue with their honeymoon and I will head back home. This is the usual arrangement I have with all my clients.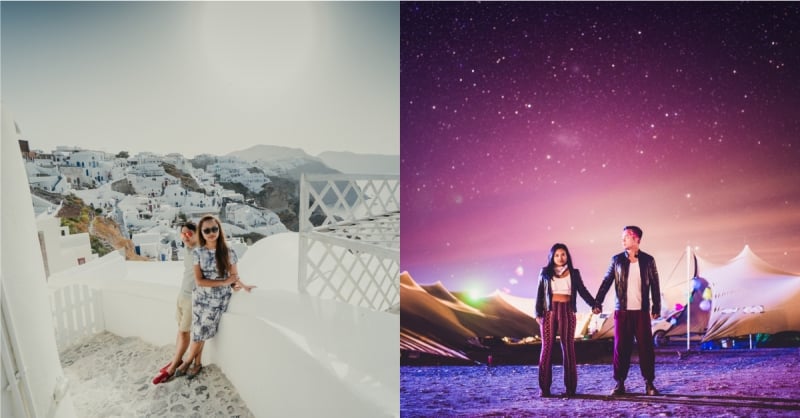 Can you take us through the process behind a regular destination wedding photo shoot?
It normally depends on the location. If the shooting location is somewhere near like Bintan, it is very easy because I can get all the shots needed within a day. Further destinations such as Iceland and South Africa will require at least four to five days. If a lot of driving is required, I will make stops along the way to photograph the couple. But if we are doing the photo shoot in the city, we simply allow ourselves to be lost in the city. Basically, there are no fixed locations to photograph.
Before we fly off, I will discuss with the couple and take into account the locations they want to include in the photo shoot. On my part, I will use Google to research on the more practical and logistical aspects. All the thorough research and planning must be done beforehand. The order of the locations for the first two days will be based on the proximity to our accommodation. Usually, I will leave the last few days for locations that cannot be covered during the first half of the trip.
A different outfit will be planned for each location unless the couple prefers to be in the same outfit throughout. Mostly, I do not photograph couples in formal bridal wear such as bridal gowns and suits as like them to be as casual and comfortable as possible. Instead of staging the couple, I prefer capturing the candid, intimate moments such as while they're having lunch or as they explore the city. In this way, it won't be awkward for them since staged photos might attract the attention of tourists nearby.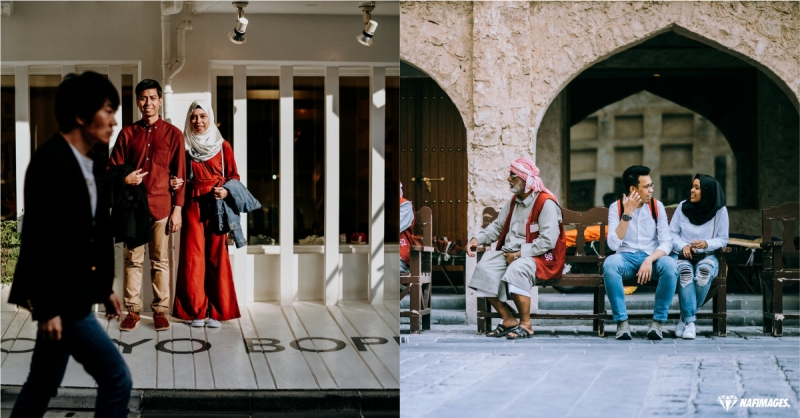 There are many factors to consider such as weather, travelling time and also the well-being of the couple. The shoot can also be tiring for the couple especially after travelling for long distances. I will end the shoot if they are tired as it will affect the quality of the photos. Since my style of photography is all about being natural and casual, the mood of the couple plays a huge role in the outcome of the photographs.
What are the common problems you encounter during your photo shoots?
The most common problem is the weather. Weather can be very unpredictable. Sometimes the clients book us for a week but due to bad weather, there are limited days when we can shoot and there is nothing much we can do.
During a particular shoot in Iceland, the clients booked us for the week but sadly, the first half of the week saw a constant downpour of rain. It was next to impossible to shoot anything. Since it was summer season which coincided with the midnight sun, it was difficult to differentiate day and night too. It really messed with our internal body clocks! However, it turned out to be a blessing in disguise. Since it rained during the day, I scheduled the shoots during the brighter nights instead.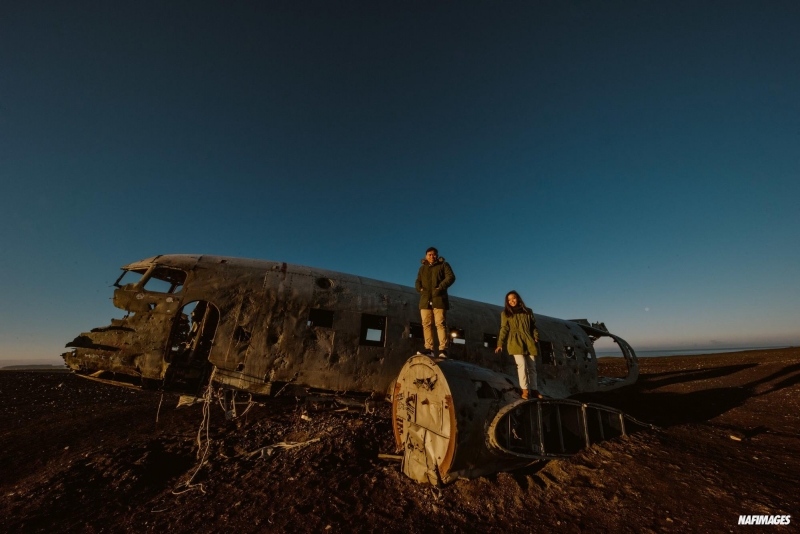 Also, when shooting in colder climates, the camera batteries tend to drain a lot quicker. There were instances when I brought more than five batteries but upon arrival at the shooting location, the batteries only had two bars left.
It is normal for us to forget to bring memory cards too. (laughs) Sometimes in the midst of the long drives to our shooting locations, I would realise midway that I forgot to pack the memory cards. We would then be forced to make a pit stop at any nearby gas stations in hopes that they sold memory cards.
Are there any specific memorable experiences that stand out?
There was a particular incident when we were filming in Cape Town. The couple decided on a desert location and it was rather far since we had to drive two to three hours on rough terrain away from the main expressway. We saw many warning signs reminding drivers not to speed but it seemed like it was taking forever for us to reach. We decided to speed up in hopes of reaching the location in time. Unfortunately, when we sped up, one of the tyres was punctured by a rock. We could not call for help because it was a secluded location and there was no cell signal. To make matters worse, the nearest car repair shop was two to three hours away.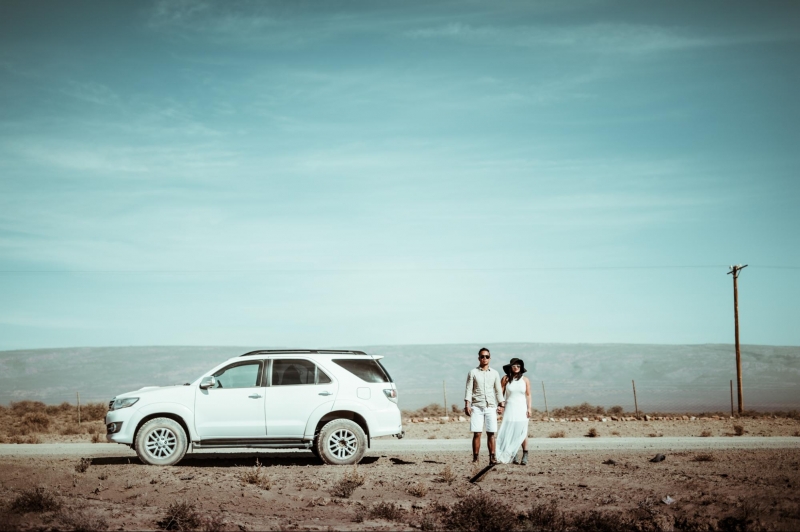 We had to wait for cars to drive by in order to get help. Most drivers could only provide us with a tire patch kit that comes with a canned foam to patch up the puncture but sadly, it didn't work. Although there was a spare tyre underneath the car, it was locked and the car rental company didn't provide us with the key for the lock. We had to improvise by lifting the car and breaking the padlock with the tools we had. Fortunately, we were able to switch the tyres and drive for another five hours to reach the main road. That was a little crazy for us because not only was there no cell signal, the temperatures were starting to drop.
As a Muslim, do you face any stigma due to your religion?
So far, I have not faced any problems. Ironically, the countries that are stereotypically known for not being very receptive to Asians or Muslims turned out to be the most helpful. On the contrary, destinations, where I thought we would not face any issues, were mainly where I encountered unfriendly locals who were reluctant to help.
Where is your dream destination for a wedding photo shoot?
I have already gone to my dream wedding photo shoot destination. (laughs) It's Iceland! However, we were there during the summer. I would like to experience winter in Iceland because I want to see the Northern Lights.
Also read: Travelogue with Mairah, The Solo Deaf Traveller
---
Lightning Round
Window or aisle seat?
Window! Because I can lean on the window and get some sleep.
Do you prefer summer or winter destinations for your shoots?
I like both.
Tea or Coffee? In your opinion, what is the best tea you've ever had?
Tea! I really enjoyed the apple tea in Turkey.
If you were to choose one place to live in, where would it be? (besides Singapore, of course)
Scotland! There is a town near the Isles of Skye where I visited and really loved. I love how quiet and peaceful it is. However, it can get really cold there because the winter wind travels from this area before it moves towards other cities in the United Kingdom like London.

The town is literally in the middle of nowhere. Even the locals that I met were puzzled as to why we were there because there is nothing exciting here for the tourists. Most locals would only move to this town when they want to retire.
If you could sum up travel in a sentence, what would it be?
Just get lost! The only way to know a place is to get lost in it.