Don't mess this up.

I thought to myself as I waited in a crowded fast food restaurant on an early Saturday morning. Sufi Rashid has kindly agreed to take some time off his busy schedule just to have breakfast with me! I was here to ask him about his travel experiences (hopefully I don't get too starstruck) and if lady luck was on my side, maybe squeeze in some vocal coaching too.
Bagging two prestigious awards for Singapore recently at Anugerah Planet Muzik, an annual Southeast Asian music award show, it certainly sealed Sufi Rashid's successful career. He was not only a singer and songwriter but also an entrepreneur for his company — Krispy Krunchee.
The famous singer strode confidently towards me, wearing a modest white T-shirt and jeans while greeting me with a warm smile. His casual front and lightheartedness took me by surprise. Mutually motivated by hunger, we immediately dove into our breakfast.
So, Sufi, where was the last destination you travelled to?
I was in Phuket sometime earlier this year. It was a trip with my Krispy Krunchee team. It was sort of a reward for them, they had been rigorously working hard and achieving unexpected success for the business. It was a well-deserved break that we all needed.
What were the things you did there?
I'm a beach person, so basically it's all about fun in the sun! I also enjoyed diving there, especially in Maya Bay. I'm thinking of starting an underwater photography project soon. Oh, and we also enjoyed delicious Thai food!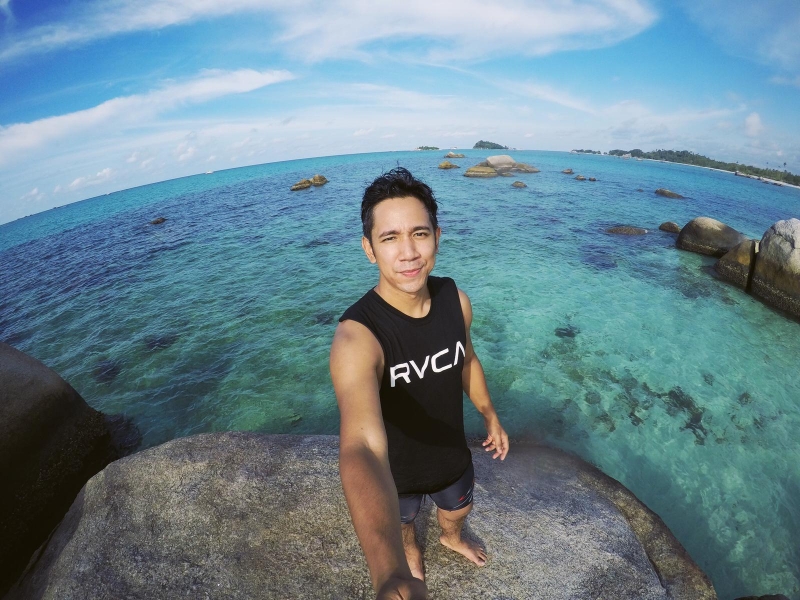 Being a well-known artist in a few countries, how do you get time off to travel?
Personally, what I'll do is to book a flight to a certain destination in advance and pray that someone doesn't book me for a show during those days [laughs]. It's tough to plan a trip way in advance, so most of my trips are impromptu. I've had to cancel a few of my flights before, due to my packed schedule.
I am a strong believer in taking time off. Even though I enjoy what I do, it is a job after all. Too much of it might stress you out or even bore you. I work hard, but I also play hard too [laughs].
Where was the furthest that you've ever travelled to?
Hmm… I'm not too sure geographically, but I would say somewhere in Europe. Maybe, Holland?
Holland is definitely far up in Europe. How was your experience with the people in Europe?
They are rather interesting [laughs]. They are really open. It might make you (feel) uncomfortable as you are talking to some of them. I went to Europe with a couple of my friends and we were treated like we were exotic since they've never met anyone like us! The way they make friends is rather "old-school", where they just approached us and started asking questions.
People in Holland are very generous! They'll give us extra portions when we order food from their shops. They're not as calculative as the people in the East.
"Europeans might sound rude and loud but they're actually very nice!"
Oh! They're also really laid back. The shops will close earlier in the day. They don't have that "rushed" vibe to them.
There is the other side to this too. A friend who I was travelling with, said that he was approached by a boy holding a wooden stick, asking for cash. The boy threatened to beat him up if he didn't give in. Fearing for his life, my friend caved in and gave some spare change.
Do you tell people you meet that you're a Muslim?
Yes, I do! But only if they ask.
Having travelled to Europe, what are your observations of Muslims in these countries you've visited?
It was surprising for me since I was told that Muslims are fighting with Christians in Germany, but they weren't! The locals were living harmoniously together, no matter what religion you practised. I remembered when I was in Rome, I heard the Adhan being broadcasted and it didn't bother any of the non-Muslims. It's confusing because the media portrays a whole different situation from what I experienced. It's so different and it makes me question what I see on TV.  
"I'm not going to believe what the media portrays, after my experiences overseas."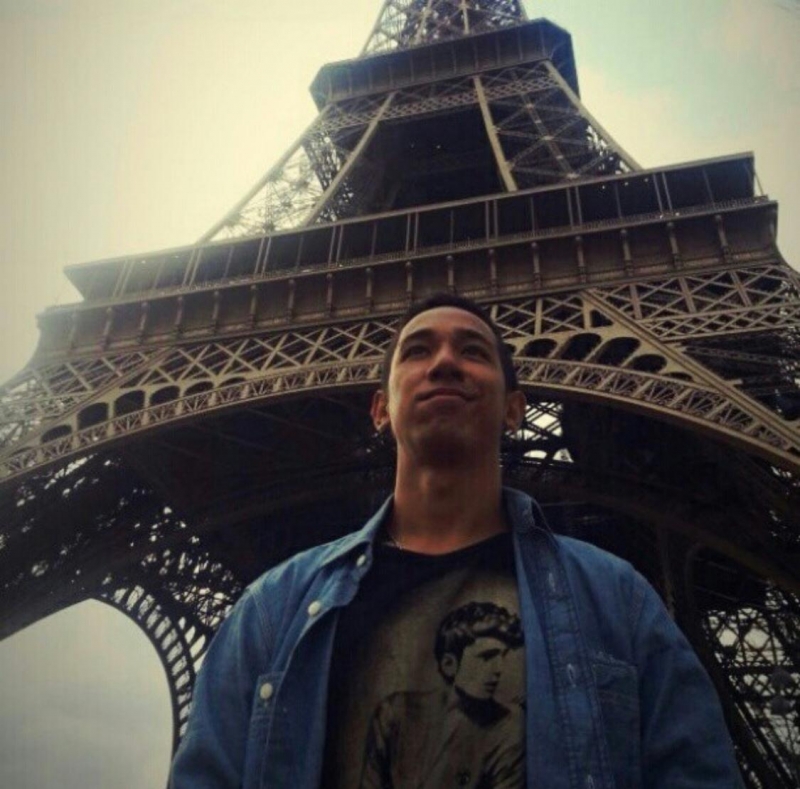 Were any of these places you have travelled to different from your expectations of them?
Yes! Paris is one place I can remember, which was very different. It's not all romantic, except the area around the Eiffel Tower. The traffic there is so bad, even worse than Kuala Lumpur or Singapore. I was stuck in an underground tunnel for 30 minutes. I wouldn't want to live there.
Have you had any bad experience that has scarred you till today?
I do have one. THE worst! So, I was driving a rented car with a few of my friends, somewhere near Switzerland. It was during the winter season, so it was freezing cold and snowing. We had to pay a toll to enter a mountain so I parked on the side of the road to settle the payment. Thinking that I'll be quick, I stepped out of the car wearing only my T-shirt and jeans. Within three steps, I darted back into my car.
The air was so cold that I felt the wind piercing through my chest, leaving a "burning sensation" across my body. I felt as though I was going to die that night. I did manage to pay the toll with my jacket on, in the end! It still gives me chills whenever I think about that night. That night made me hate snow. Ha-ha!
That sounds terrible! So now, would you list a thick jacket as one of your travel essentials?
[Laughs] I won't be going to a cold country anytime soon, so maybe no to the jacket.
My travel essentials are currently my running shoes, workout attire and of course my wireless earphones. It's a must for me to head to the gym or for any workout, wherever I go. It feels like a sin to me if I don't exercise.
Have you faced any discrimination when you were travelling?
[Silently thinking]
I would say that I've had bad experiences with Russians. I've never been to Russia, but I've met some of them when I was in Phuket and Kuala Lumpur. The Russians that I met gave off a "vibe" that they were displeased or annoyed with me and my group of friends. But they completely changed their tone when speaking to a Chinese tourist! It changed my perception of them.
So, would you ever visit Russia?
NO! [laughs] But maybe I would visit a city with a more Muslim-friendly community. I would feel much more comfortable then.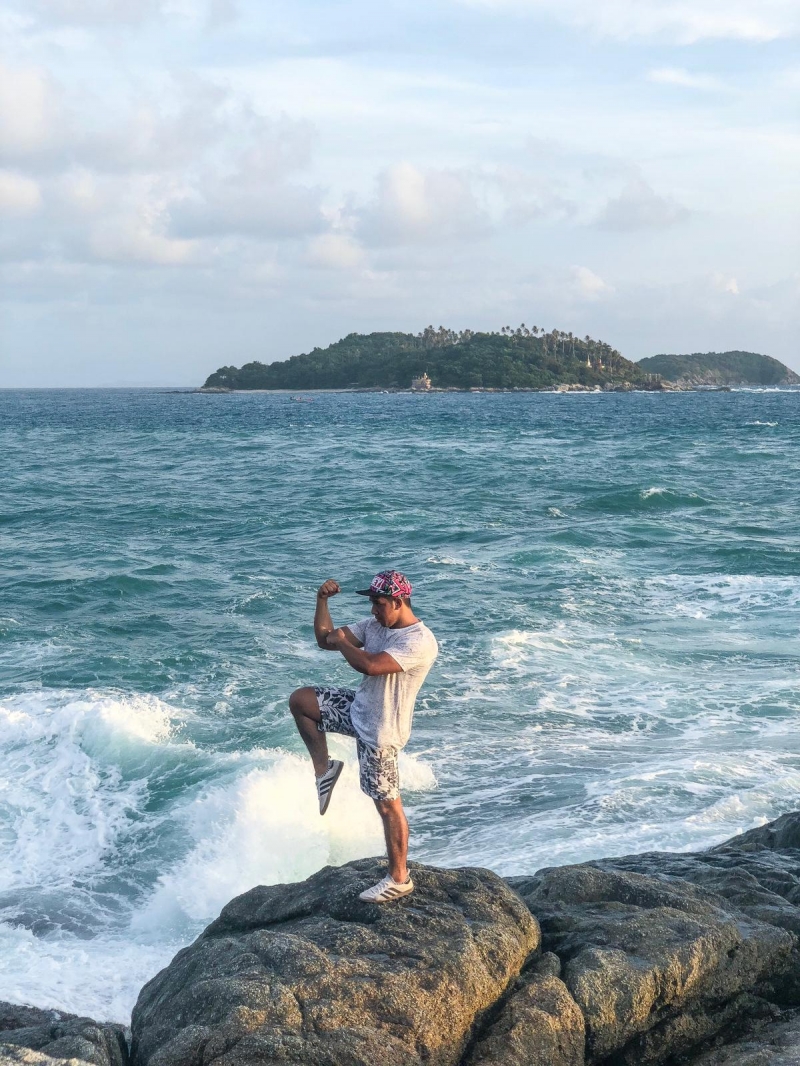 You seem to be well-travelled, have you had any exotic food before?
Exotic like crickets and scorpions? Ew, no thanks!
I've had a whole lamb once served to me on a platter. I think it was in a Mediterranean restaurant, somewhere in Kuala Lumpur. It wasn't all for me, of course! It was for the whole table. It was interesting because they served it with the legs and hooves, but not the head though.
Do you have a designated travel buddy that you enjoy taking all these trips with?
I don't have just one travel buddy, but more of a group of my closest friends. I always travel with a group because I feel that going with just one friend can get a bit boring. More people, more fun!
What was the most extreme activity that you did when travelling?
I guess diving is pretty extreme. [laughs] But to me, it's more of a relaxing activity.
Oh! I joined a Muay Thai open tournament in Phuket, sometime early last year. I used to casually practice Muay Thai a few years back, so I thought why not jump in the ring. It took me by surprise, but I got the wind knocked out of me by another tourist. Immediately tapped out after [laughs]. I might try it again the next time I'm in Phuket.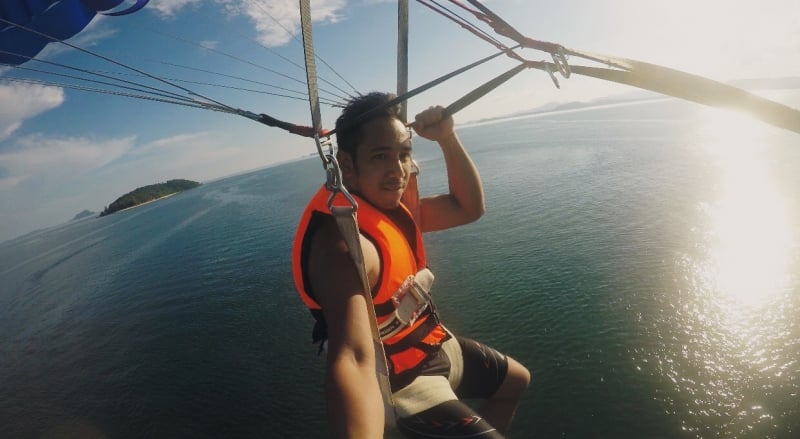 ---
Lightning Round
Window or Aisle seat? Aisle seat.

Tea or Coffee? In your opinion, which country has the best tea or coffee? Tea! The best tea is from TWG in Singapore or Kuala Lumpur. My favourite is their strawberry mint tea.

If given the option, would you rather swim with dolphins or dive with sharks? Diving with sharks in Maya Bay. Really good diving spot, (to) me.

Do you have a dream destination? Definitely the Maldives. But I'll save it for my honeymoon [laughs].

If you had to choose a country to live in, which would it be? I would have to go with Holland. It's so peaceful there and a good variety of Halal options too!

If you had to sum up travelling in a sentence, what would it be? Go as far as you can.
Also read: Travelogue with Sufi Rohaizad, The Humanitarian Photographer