With COVID-19 still looming over our heads and restricting travel, the wanderlust we feel is stronger than ever! Our plans to explore some of the best Muslim-friendly destinations may have come to an abrupt halt, but the itch to travel hasn't dissipated. So how do we quench our wanderlust — especially with the limited options for city breaks catered to the Muslim community in Singapore? On board Asia Pacific's first muslim-friendly cruise ship, of course!
You can set sail on an unforgettable voyage across Singaporean waters to tide you over these never-ending travel restrictions. With unparalleled ocean views, non-stop entertainment, and diverse activities, your innate desire to explore will be satisfied without even leaving our little red dot.
Secure your bookings now and discover all the Muslim-friendly ways you and your loved ones can have a whale of a time aboard World Dream Cruise! We assure you, there's plenty to do and enjoy — whatever floats your boat (pun intended!). 
World Dream Cruise — Asia Pacific's first muslim-friendly cruise ship —  awaits you and your entire fam!
With an all-inclusive package comprising a delectable fare of halal cuisine, you can rest easy knowing that you need not worry about food options onboard. 
You will certainly be spoilt for choice!
Catch this limited offer: Book a 2-Night Getaway Cruise and get to stay in a luxurious Balcony Stateroom from as low as $99 per person!  
Hurry, these amazing discounts will only be available till 28 Feb 2021!
1. Upgrade to a balcony stateroom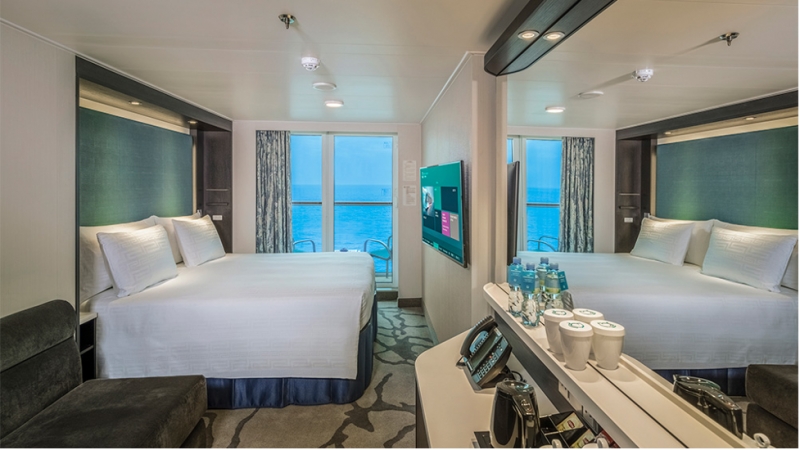 Before embarking on your seacation, you will be tasked with selecting the 'right' cabin. Fret not, you don't have to rack your brain for it. While there is no obvious choice (because all World Dream cabins are ideal accommodations!), avid cruisers will tell you that choosing a cabin with a balcony is the way to go. After all, scenic views matter!
In that case, we suggest opting for the balcony stateroom. The well-appointed accommodation has an area of 22sqm; you will have plenty of room to stretch your legs and wind down. Plus, you won't even have to scour around for a spot to perform your daily prayers comfortably. As it has a capacity of two to four persons, it's ideal for parents intending to treat their little ones to a well-deserved vacation. There is ample space for everyone to move about freely.
Getting settled in at your home away from home will be a breeze. With thoughtfully-selected amenities such as a flatscreen television with cable, a personal lounge area, a bathroom complete with pampering kits, and a coffee and tea nook, you won't even want to leave your room!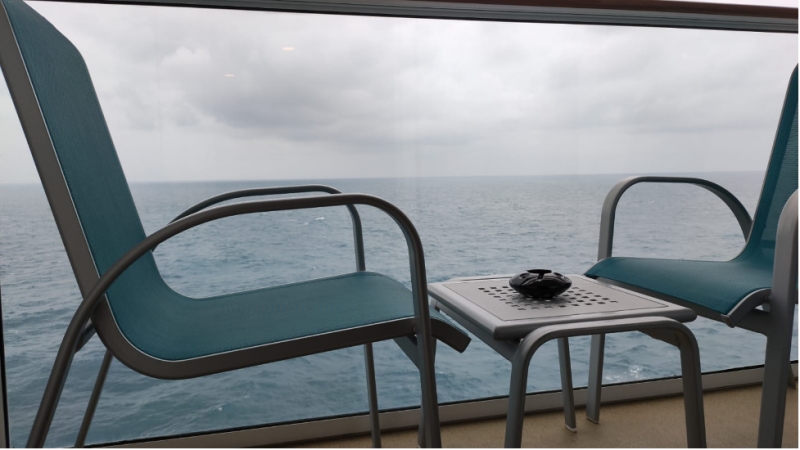 The cherry on top? An outdoor balcony where you can take in unparalleled views of the sky and the majestic sea any time of the day. Trust us, the daily dose of nature during your sojourn will recharge your mind and body. 
The extra legroom for daily prayers, breathtaking views, and privacy, will certainly bring you more bang for your buck.
Eager to wake up to sweeping views of the sea and sky from your balcony?
You'll be pleased to know that balcony staterooms are available at a fraction of its cost — if you book by 28 Feb 2021, that is. 
      Limited time offer! Prices start at:
From $99 per person – 2 Nights Getaway Cruise (Wed)
From $129 per person – 3 Nights Escapade Cruise (Sun)
From $199 per person – 2 Nights Getaway Cruise (Fri)  

      
Act fast! You won't want to miss out on this incredible deal!
2. Eat to your heart's content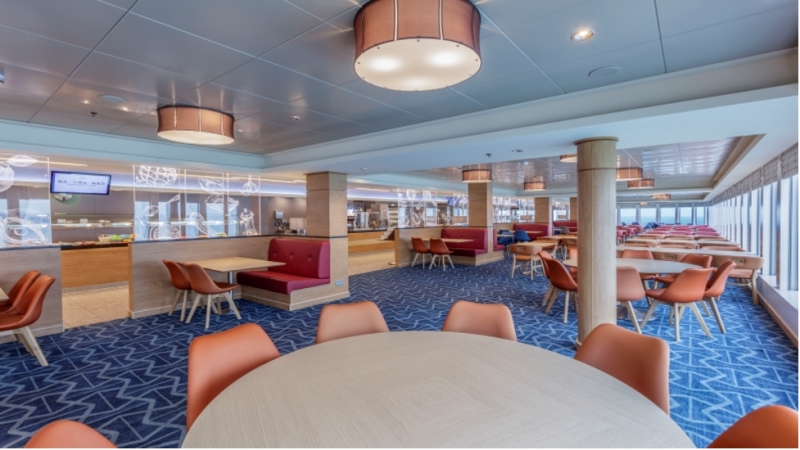 Your dining experience makes or breaks any travel experience — wouldn't you agree? With World Dream Cruise, truly delectable dishes are complimentary and available round the clock! What's more, World Dream Cruise spoils foodies silly with a handful of indoor and outdoor dining venues. You can eat until you burst at the seams, all while enjoying different views and ambiences!
Fellow Muslims, you are not left out. There is a dedicated halal section at The Lido for you to dine fuss-free. In addition to that, there is also a 24-hour snack station to power you through the day. While you can't tick off places from your bucket list at the moment, you can still embark on a worldwide adventure through food by letting your taste buds do the travelling instead.
The Lido offers an array of gastronomic delights spanning various cuisines. Make a beeline for Deck 16 AFT come mealtime to check out the culturally diverse food offerings. You can wend your way around the soup, meat, and dessert sections before allowing the wait staff to fill your plate with an assortment of fare. One thing we love about these folks is that they are very generous with serving portions! And when your appetite isn't satiated just yet, you can always make a second trip to the serving dishes.
We suggest starting off with the soup or salad, before diving into the premium meats and fresh seafood. That way, you will still have room for dessert! 
3. Take the plunge at the Waterslide Park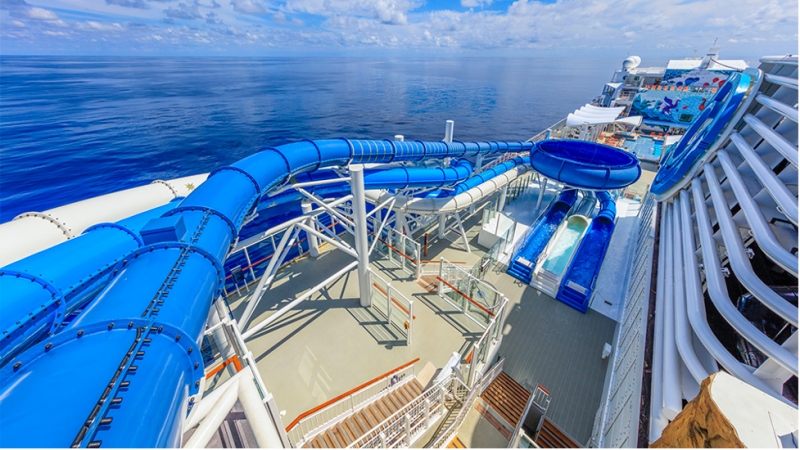 After stuffing your face with food, it's time to give the luxury cruise a look-see. Make your way to the Waterslide Park and you will be in for a day of thrills and spills. If you are somewhat of a swashbuckler, you should consider taking the plunge at one of the many high-speed water slides high above the ocean. 
The Waterslide Park features six different types of slides (of different lengths and thrill levels), to be exact. From a chute that steers towards a spiralling basin to a tube that inclines at 45 degrees and a kids-friendly slide, this place will generate hours of fun for the young and the young at heart. 
The fun doesn't stop there! You can take a refreshing dip at the main pool deck to cool off on a hot summer day. Surrounded by an expanse of perfectly blue ocean water beneath a cloudless azure sky, you can get the rejuvenating repose you deserve. Alternatively, you can soak up some vitamin D by the poolside lounge chairs. Just remember to lather on some sunscreen and rock a pair of sunglasses to protect yourself from harmful rays.
4. Work on your fitness with the sea as your inspiration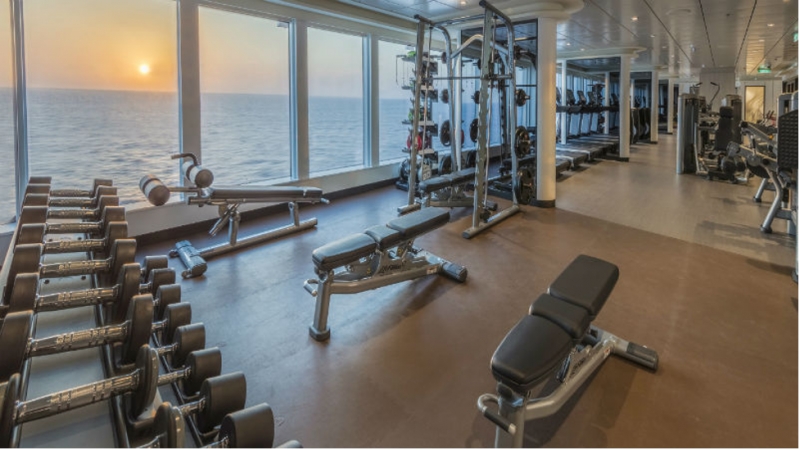 While a vacation is an ideal opportunity to break free from one's monotonous schedule and recalibrate, a handful of us still require a semblance of a routine. That's where exercise comes into play. If you're a fitness buff, we know that you can never do without breaking a sweat. Or perhaps, you want to start burning excess calories before they can even translate to the added pounds a vacation usually brings. Whatever your reasons, you will be glad to know that there are various places onboard this Muslim-friendly cruise for you to get your heart pumping. 
At Crystal Life Fitness, you will find a conducive environment furnished with an extensive range of state-of-the-art equipment. It's not often that you get to workout against a mesmerising backdrop of Singapore's seascape. 
Cruise tip: Make reservations in advance! Do bear in mind that you are required to make a booking to use the facility as the venue can only accommodate 22 guests at any given time. This helps facilitate safe distancing and protects the health and safety of guests.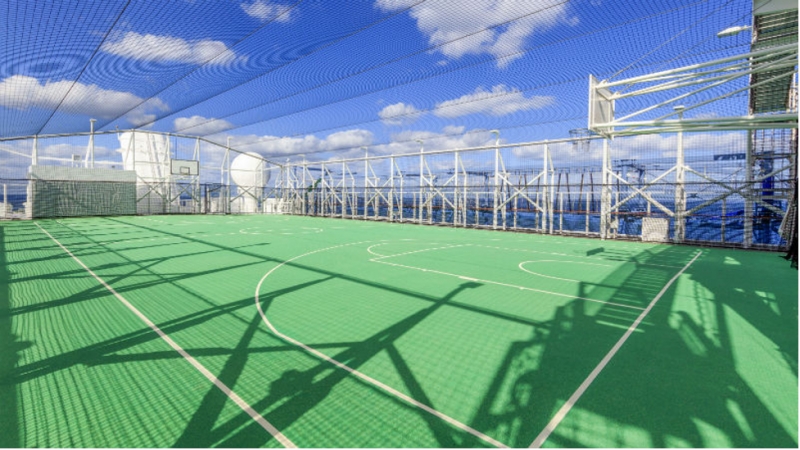 If you're looking to switch things up, head to the SportsPlex at deck 19 AFT. It is an expansive area custom-fit with fields and courts, where you can participate in a variety of sports and leisure activities. Engage in active fun through basketball, tennis, bubble soccer, and archery, to name a few. Gather your family and friends, and stay fit together with a little friendly competition.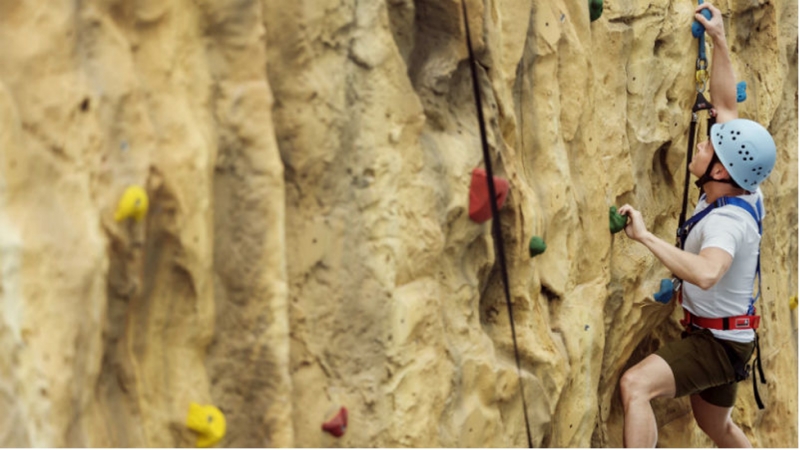 Consider stepping out of your comfort zone and dabble in a more adventurous activity! Rock climbing makes for an exciting full-body workout that not only tones your muscles but improves your overall strength as well. For this, head to the rock climbing wall at deck 18 AFT. Don't worry, you do not require prior experience to give it a shot. The mandatory safety briefing, easy-to-use safety set-ups, and a team of experts will ensure a memorable climbing experience for anyone. As intimidating as it seems, you will soon find yourself wanting to scale greater heights!
5. Enjoy the feeling of an adrenaline rush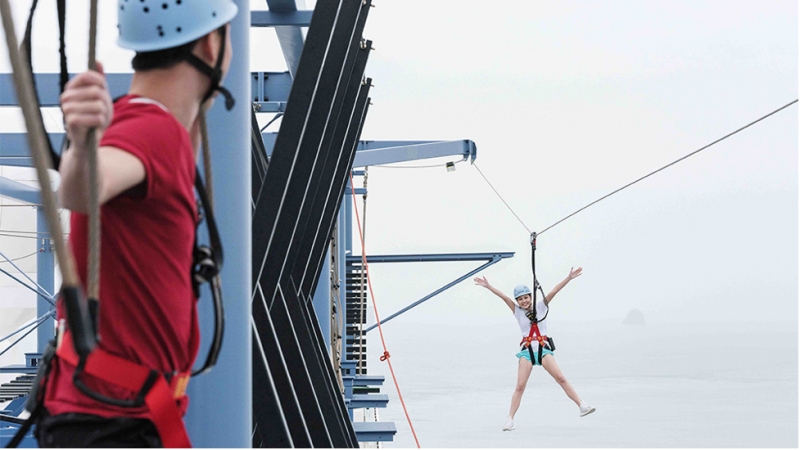 Do you live for intense experiences and thrilling activities? If you do, you will be in for a treat aboard World Dream Cruise. Step out to Deck 18 AFT and you will see just why. 
A 35-metre zip line suspended 18 decks above the oceans beckons only to the brave! But, before you can soar through the sky like a bird, you have to make your way across a rope course obstacle. This is an achievable feat given the fact that the ropes are sturdy and you can carefully tread your path. Plus, the safety harness latched on allows you to move about freely, without compromising on your safety. There's no turning back but it's well worth biting the bullet!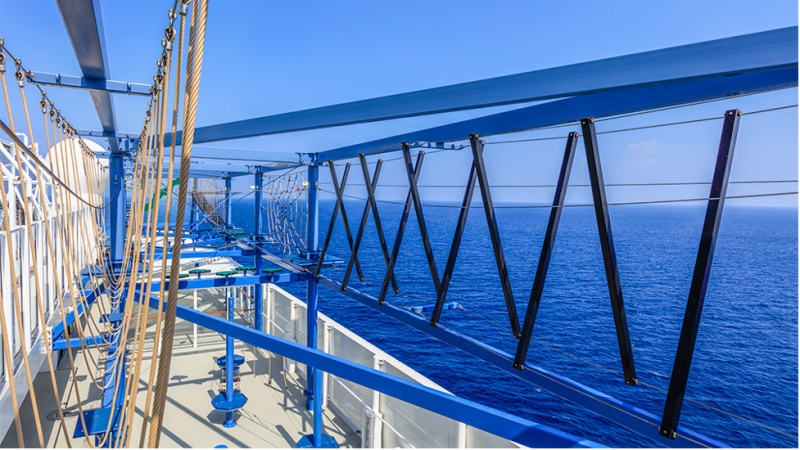 Imagine zipping across calm waters at an exhilarating speed. The panoramic view of the sea buzzing and the fresh ocean breeze will leave you reeling with excitement. We wouldn't be surprised if you go for a second round! Pics or it didn't happen — just kidding.
Looking for a short break that will leave you refreshed and recharged?
We're talking about a fuss-free, value-for-money seacation with World Dream Cruise. From $396 (for 4 persons on the 2 Nights Getaway Cruise), you can enjoy all the cruise ship facilities you've been meaning to try.
Awesome discounts await! Book by 28 Feb 2021 to stretch your vacation dollars.

6. Catch a movie under the night sky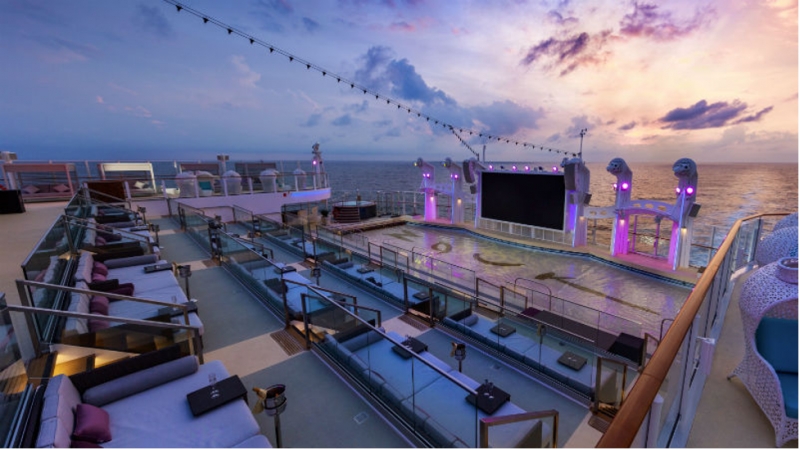 Well after the last glimpse of sunset, World Dream Cruise still teems with life. So, if you are a night owl or are just planning to hit the sack later than usual, you will certainly find something to keep things interesting.
Have you tried watching a movie outdoors? If you haven't, you can give it a go at The Zouk Beach Club. The beach club transforms into an outdoor cinema on weekday nights and warrants a visit — especially with your young ones. 
With deck chairs to sink into, lush pillows, and a mammoth LED screen, you will find that this is the best way to watch any family-friendly flick. The cool breeze and the blanket of stars make for the perfect company as you snuggle up with your loved ones during this nighttime activity. 
Cruise tip: Refer to your cruise schedule to find out the broad selection of blockbuster movies airing at different times.
7. Make time for daily prayers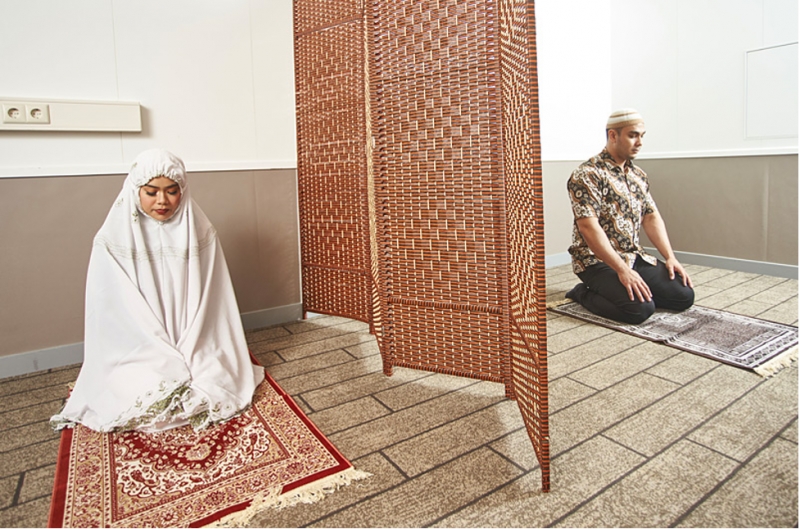 Amidst all the enjoyable moments, do remember to make time for your obligatory prayers. With all the various Muslim-friendly facilities and services onboard World Dream Cruise, you can certainly maintain your spiritual connection with God.
We're sure you'll be having the grandest of times with World Dream Cruise, and your overflowing gratitude will surely feed your unwavering faith. After all, in Imam An-Nawawi's compilation of 40 hadiths, we are reminded to "Recognize and acknowledge Allah in times of ease and prosperity, and He will remember you in times of adversity."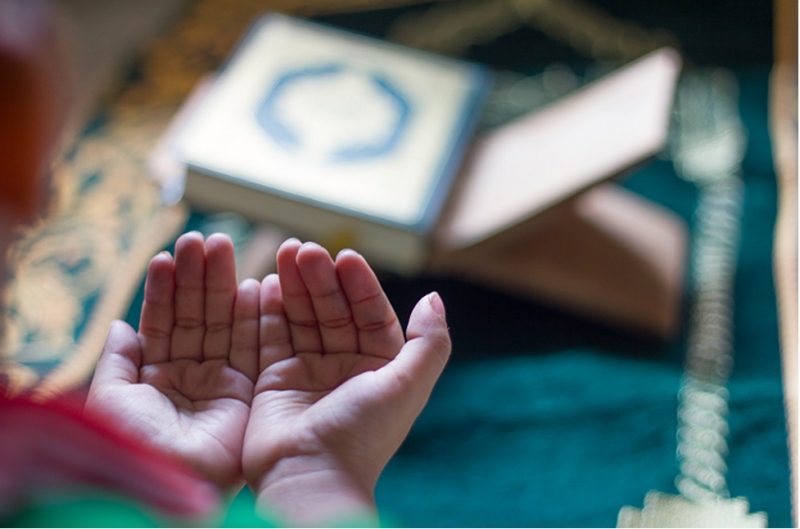 Amid the hustle and bustle, you will find a quiet location set aside for Muslims to carry out their prayers with peace of mind. It is opened from fajr to isha and can be easily located at Deck 5, Forward ship. 
We did mention that with a balcony stateroom, there is ample space for Muslims to see to their daily prayers. For some of us though, praying together as a family has become an integral part of daily life and the prayer room will come in handy for larger travelling parties. The sacred space is commodious and can easily fit in a family of four. You can even request for a Quran, prayer mat, and compass from the friendly cruise staff. They will be happy to assist you. 
World Cruise has a lineup of voyages from now till 27 June.
You can break away from the humdrum of daily life with a 2-Night Getaway Cruise that sets sail on a Wednesdays or a Friday, or a 3-Night Escapade Cruise that leaves the dock on a Sunday. So what are you waiting for?
Avail special rates when you book by 28 Feb 2021. Time is ticking and slots are filling up!
Perhaps the icing on the cake is that the Muslim-friendly activities we mentioned above are available at no additional cost. Booking a cruise with World Dream gives you access to all World Dream amenities and features! This way, you can keep your out-of-pocket expenses to a minimum and not worry about the final cost of your holiday. What's not to love about an all-inclusive cruise deal? 
Feel secure with health protocols and COVID-19 safety measures
Moreover, World Dream Cruise boasts of extensive safety and preventive measures that protect passengers' health and well-being. From a reduced capacity of 50% to ensuring that all guests undergo the mandatory COVID-19 Antigen Rapid Test to regular cleaning, disinfection, and rolling out contact tracing tokens, your pandemic-related fears will be a thing of the past.
So, if you are already looking for a way to travel in your safe little bubble, know that you can't go wrong with Asia Pacific's first halal-friendly cruise ship! With endless fun and safe activities plus a delicious array of halal food choices already included in the package, you can finally enjoy the break you've been pining for. What's left for you to do is to make a booking!
Enquire about Asia Pacific's first muslim-friendly cruise today!
---
Brought to you by Dream Cruises & WTS Travel.