Ho Chi Minh City, named after the revolutionary leader during the Vietnam War, is situated in southern Vietnam. Also known more colloquially as Saigon, this vibrant city captivates visitors with its local charm and gastronomic cuisine. If you are a history buff who enjoys tucking into delicious food and local shopping, this destination is pho you!
Besides brimming with over 300 years of history, Vietnam's largest city is also chock-full of Halal food options. The bustling area of Ben Thanh is a popular spot among Muslim travellers as Halal restaurants and stalls are widespread. You can also walk down Malaysia Street where you will find a plethora of Southeast Asian cuisine.
If you've been craving for that hearty bowl of pho, you're one step closer with this list!
Near Ben Thanh Market
Expect pushing, shoving and a whole lot of yelling when you are at Ben Thanh Market. This is the spot to haggle for local handicrafts, Vietnamese art and other souvenirs. Later, take a 10-minute walk to the Independence Palace or Reunification Palace to glimpse at life during the Vietnam War. Alternatively, visit the War Remnants Museum to witness the disastrous effects of war.
Thereafter, catch a water puppet show at the theatre on Nguyen Thi Minh Khai Street. You might also want to visit Phan Boi Chau Night Market for a full local market experience. You are never short of shopping options in this area. Tip: Saigon Square 1 Mall and Saigon Centre Shopping Mall might be preferential when shopping for apparels at bargain prices.
To round up your day? Venture a little further towards the Saigon River where you'll spot the Saigon Skydeck. Bask in the picturesque panoramas of the cityscapes below and watch how the lights illuminate the night scene.
1. Kampung Pandan [Halal-certified]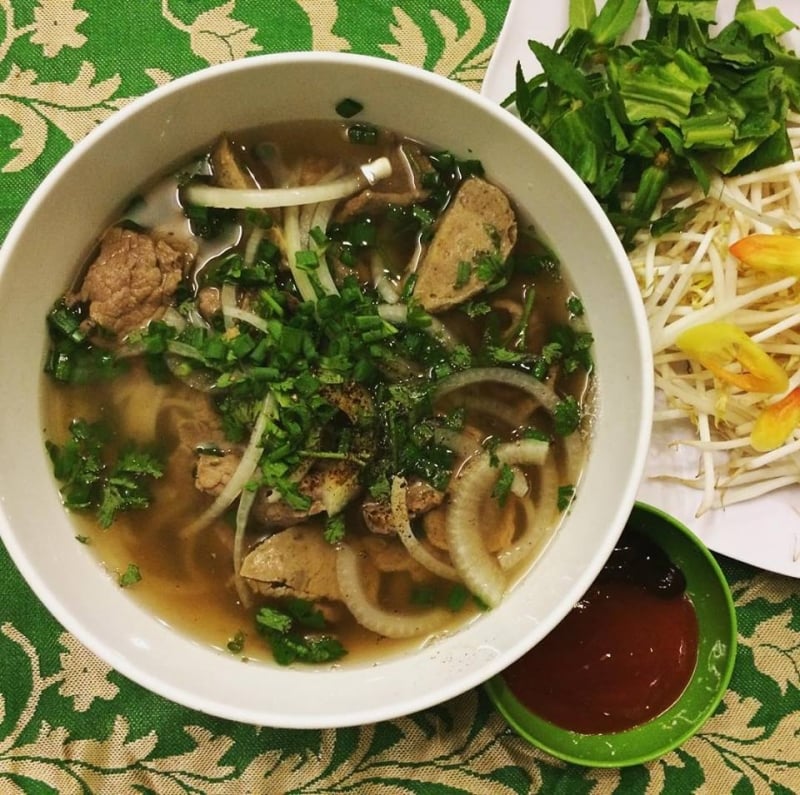 Kampung Pandan is a great place for you to savour not only local dishes but also those around Asia. Their menu includes cuisine from Vietnam, Singapore, Malaysia and India. Don't be fooled by the unassuming decor as they serve up delicious and generous portions of pho.
Address: 53 Thu Khoa Huan, District 1, HCM City, Vietnam
Hours: Mon – Sun, 09:00 – 22:00
2. Saigon Green House [Muslim-owned]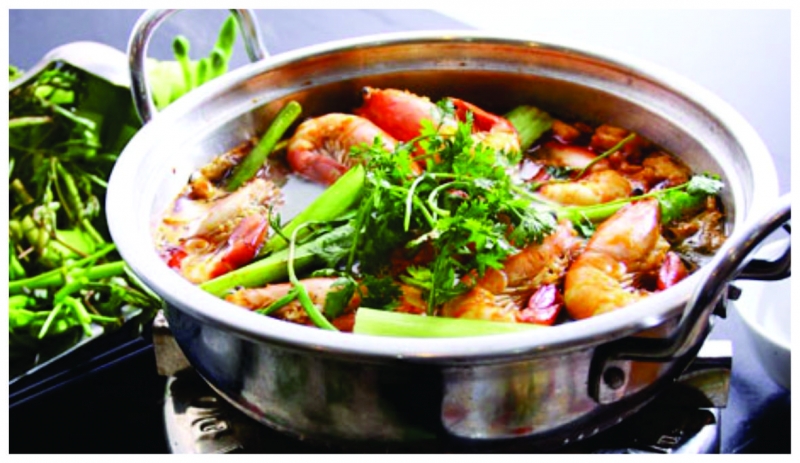 This Malaysian restaurant greets customers with the warm smell of their popular Canh Chua Ca (sour soup with fish). Saigon Green House serves various dishes featuring both Vietnamese and Malaysian cuisine. Take your time to browse through their extensive choice of seafood too!
Address: 52 Trương Định St., Bến Thành Ward, Dist.1, HCMC 708 TL15 St., Bến Đình Tunnel, Củ Chi, HCMC
Hours: Mon – Sun, 10:00 – 22:00
3. Nabil Biryani House [Halal-certified]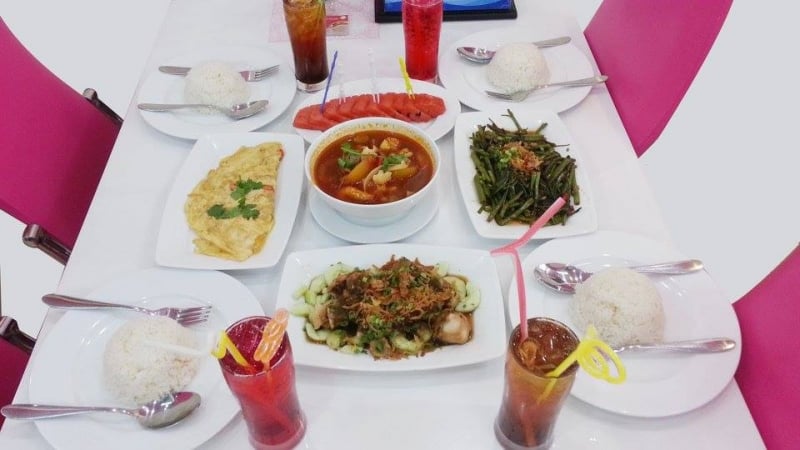 You'll definitely be spoilt for choice at Nabil Biryani House! Their trilingual menu includes an array of seafood and cuisine from Malaysia, Pakistan and Vietnam. Some Muslim travellers even deemed their biryani as one of the best in Saigon and their spicy chicken masala as one of the crowd favourites.
Address: 249 Lê Thánh Tôn, Phường Bến Thành, Quận 1, Bến Thành Quận 1 Hồ Chí Minh, Vietnam
Hours: Mon – Sun, 06:30 – 22:00
4. Kedai Muslim Al-Amin [Muslim-owned]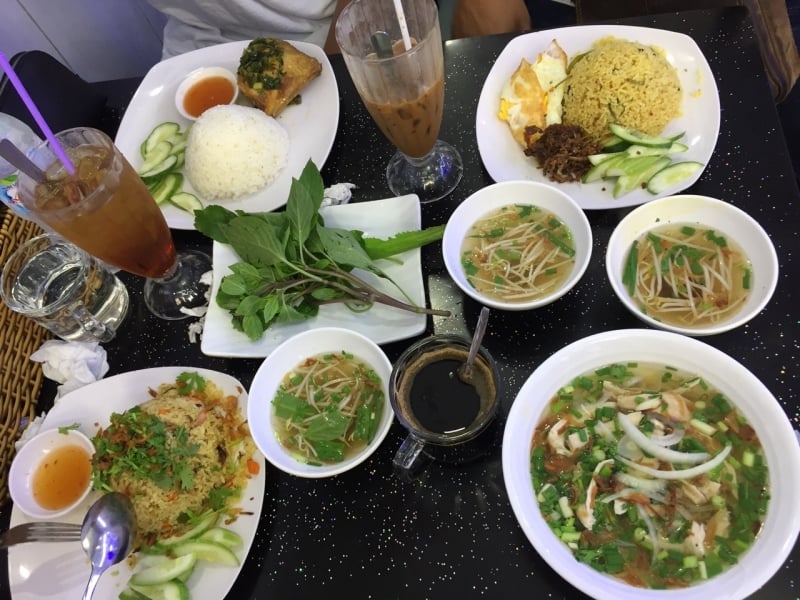 This unassuming restaurant is a favourite among budget Muslim travellers as they boast an affordable menu for a restaurant in the Ben Thanh area. Popular dishes like the Beef Pho and their milk coffee are a perfect combo for your Vietnamese gastronomic experience.
Address: 40 Nguyễn An Ninh, Phường Bến Thành, Quận 1, Hồ Chí Minh, Vietnam
Hours: Mon – Sun, 07:00 – 00:00
5. Kampung Melayu Halal Restaurant [Halal-certified]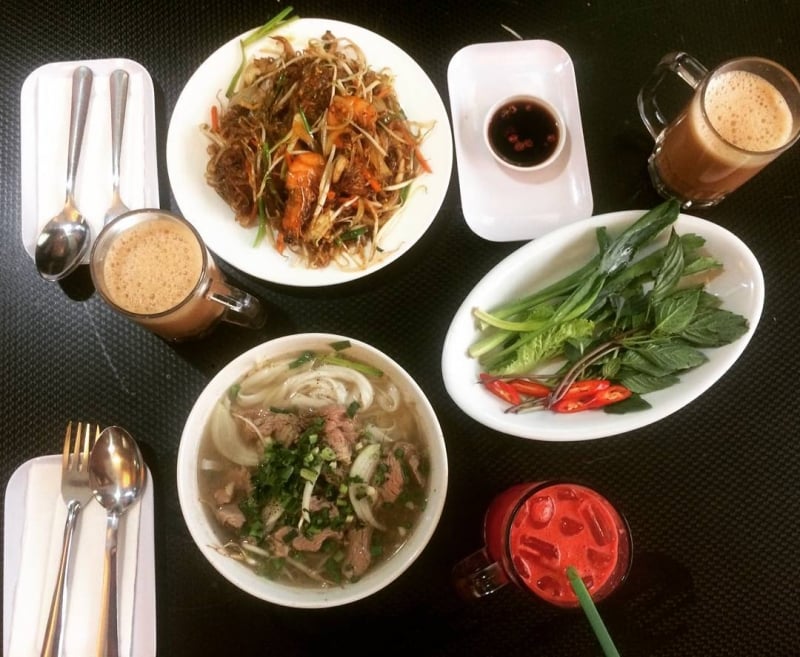 Kampung Melayu, which translates to Malay village, definitely lives up to its name as it serves only food hailing from Malaysia. Malaysians would recognize their usual dishes such as Beef Hor Fun or Seafood Fried Rice. This quaint restaurant would be convenient for those who are tired from shopping at Ben Thanh Market.
Address: 31 Nguyễn An Ninh, Bến Thành, Quận 1 Bến Thành, Phường Bến Thành, Ho Chi Minh City, Hồ Chí Minh, Vietnam
Hours: Mon – Fri, 05:30 – 23:30
6. Restaurant Halal Osman [Muslim-owned]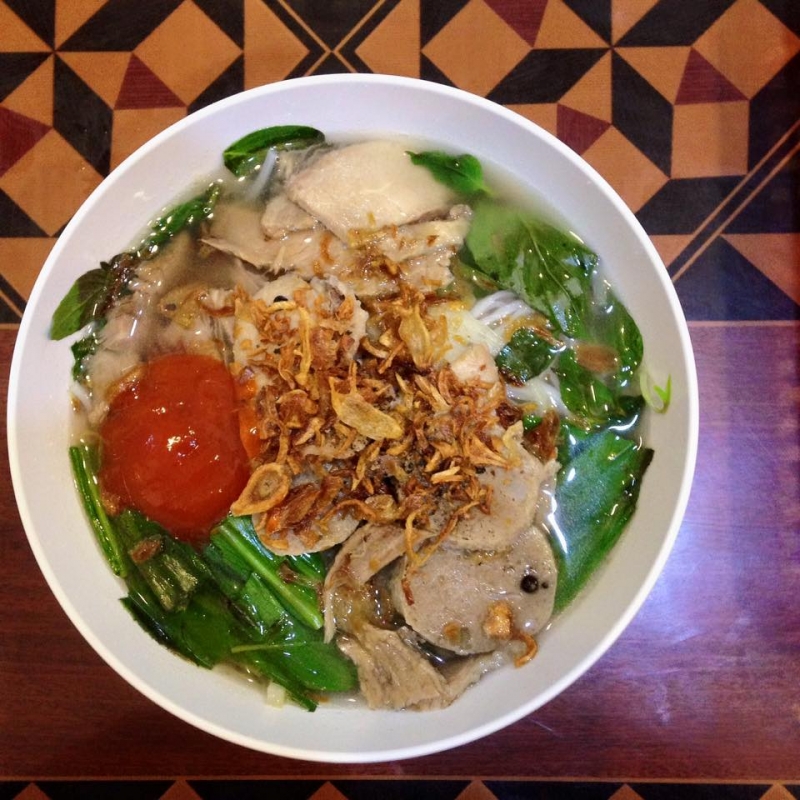 Just next to Kampung Melayu, Osman is also a fantastic place to savour authentic Vietnamese cuisine. Their crowd favourite is, of course, the Beef Pho which can satisfy any pho cravings. For those who miss home, you can order from their range of authentic Malaysian food.
Address: 35 Nguyễn An Ninh, Phường Bến Thành, Quận 1, Hồ Chí Minh, Vietnam
Hours: Mon – Sun, 10:00 – 23:00
Near September 23 Park
On the opposite side of Ben Thanh Market, you'll find September 23 Park built at the end of the Backpackers District. It is a great park to find some peace in this ever busy city. Tip: Be sure to watch out for scammers here.
Tour the Ho Chi Minh City Museum of Fine Arts to better appreciate the great artworks of Vietnamese artists. Later, visit Dan Sinh Market or Military Market and check out the "surplus" of the Vietnam war.
1. The Daun Restaurant [Halal-certified]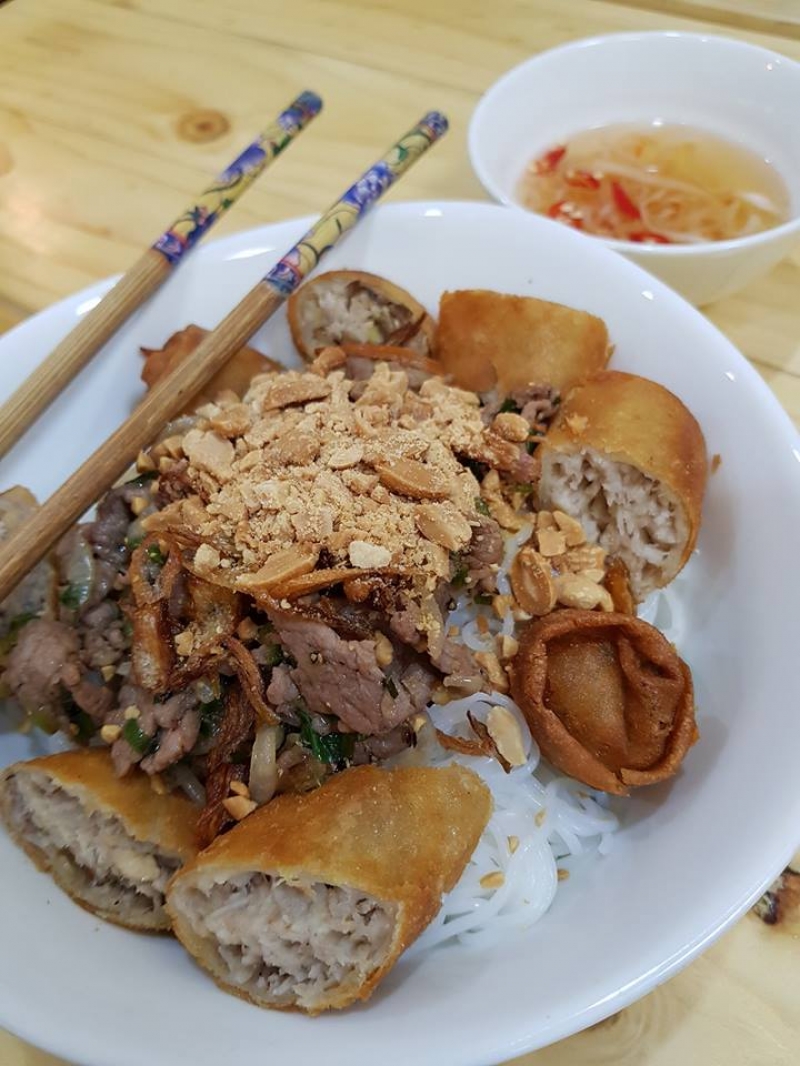 As their reputation precedes them, the Daun is famous among Muslim travellers for their appetizing menu which includes Bun Cha Gio (grilled spring rolls with noodles) and of course, the classic Beef Pho. Customers can expect excellent service and a comfortable place to savour your authentic Vietnamese dishes. A prayer room is also available for Muslim travellers to catch their prayers!
Address: 132 Bis Ký Con, Quận 1, Hồ Chí Minh, Phường Nguyễn Thái Bìn Quận 1 Hồ Chí Minh, Vietnam
Hours: Tue – Sun, 12:00 – 21:00
2. Zeytun Restaurant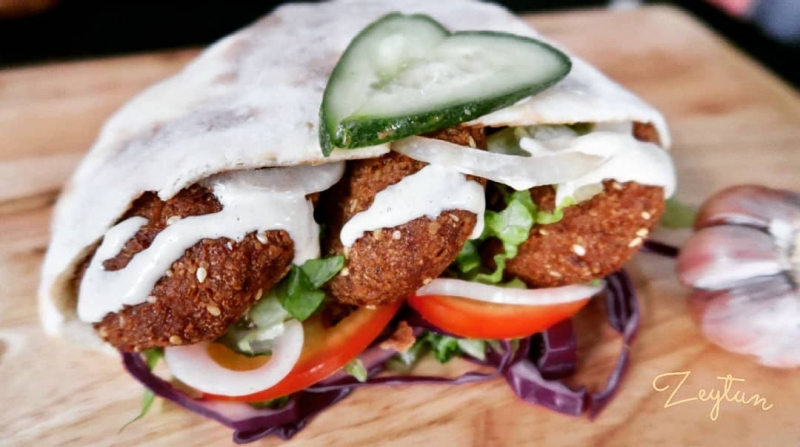 You might leave this restaurant either beaming from the delightful food or absolutely pleased with the top-notch service. Their menu mainly consists of Middle Eastern cuisine such as falafel sandwich or shakshuka. To avoid disappointment, make sure you get there early as the restaurant is constantly packed with customers.
Address: 185 Bùi Viện, Phường Phạm Ngũ Lão, Quận 1, Hồ Chí Minh, Vietnam
Hours: Mon – Sun, 10:30 – 01:00
3. Hummus and Grill Restaurant [Halal-certified]
You'll be greeted by their Middle Eastern and Indian menu which features kofta kebab, biryani and various flavours of naan. Their Asian menu highlights include ginger poached chicken and Yangzhou fried rice. Hummus and Grill also offer vegetarian options. If you're trying to save on your expenditure, this is a great budget-friendly choice!
Address: 175/16 Phạm Ngũ Lão, Hem 28 Bui Vien, Phường Phạm Ngũ Lão, Quận 1, Hồ Chí Minh 700000, Vietnam
Hours: Mon – Sun, 09:00 – 02:00
4. Taj Mahal Restaurant [Halal-certified]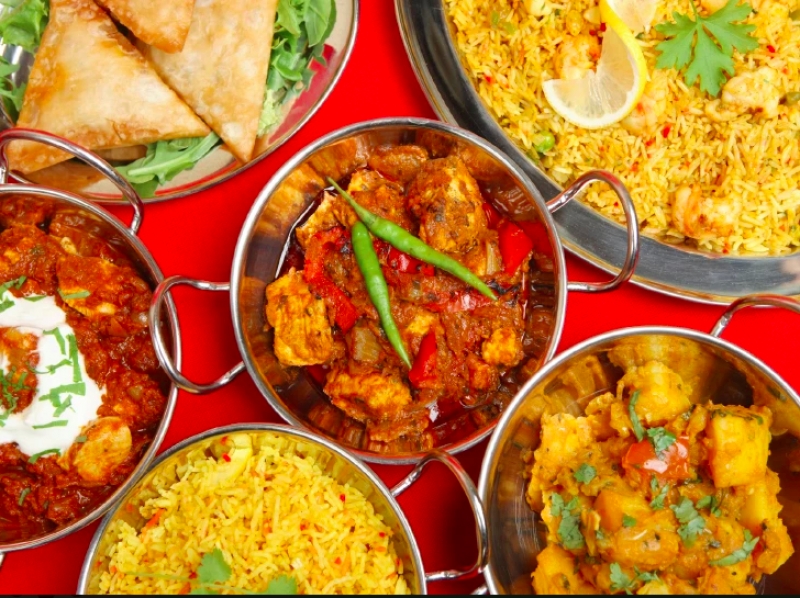 Located along Backpackers Street, Taj Mahal restaurant is an Indian, Pakistani and Malaysian restaurant. Their variety of curries and Dam Biryani are better known to customers as the aroma of spices perpetually fill this quaint restaurant. Taj Mahal might be tucked away in the alleys of Ho Chi Minh but is well worth a try!
Address: 241 Phạm Ngũ Lão, Phường Phạm Ngũ Lão, Quận 1, Phường Phạm Ngũ Lão Quận 1 Hồ Chí Minh, Vietnam
Hours: Mon – Sun, 10:00 – 23:00
5. Baba's Kitchen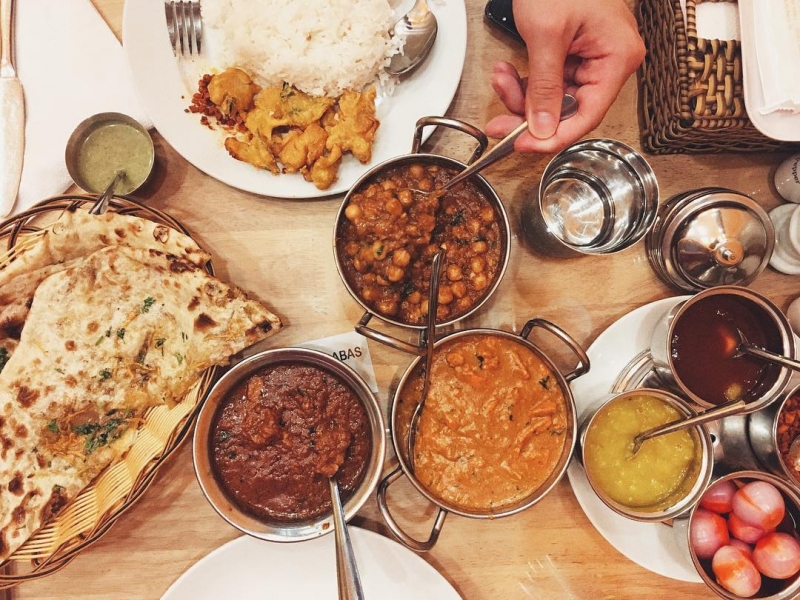 This ever-popular Indian restaurant gives you a break from Vietnamese food. Baba's Kitchen is known for serving up ridiculously delicious Butter Chicken and Garlic Naan. While at it, order some crispy and tender Tandoori Chicken to indulge with a generous serving of fragrant basmati rice.
Address: 274 Bùi Viện, Phường Phạm Ngũ Lão, Quận 1, Hồ Chí Minh, Vietnam
Hours: Mon – Sun, 11:00 – 22:30
Near Bach Dang Harbor Garden
Bach Dong Harbor Garden or Bach Dong Pier is a popular starting point for boat cruises along the Saigon River. Prefer to stay on dry land? You can marvel at the Monument of General Tran Hung Dao, an imperial prince during the Tran Dynasty.
Alternatively, dive further into the political history of Saigon by visiting Ton Duc Thang Museum. You can even try to catch a performance at the City Opera House. If you wish to just wander around leisurely, strut down Dong Khoi Street and appreciate the French colonial buildings, filled with shops and cafes.
1. Halal @ Saigon [Halal-certified]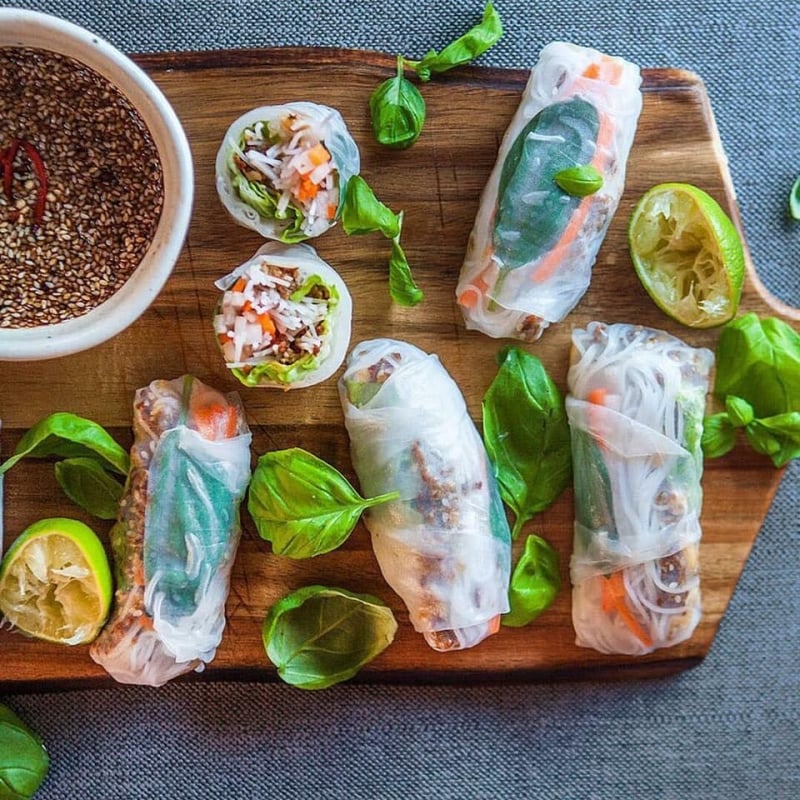 Their menu exclusively consists of authentic Vietnamese and Malaysian food. They also provide a vegetarian option if needed. Its convenient location is definitely a draw for Muslim travellers as it is just opposite Musulman Mosque. This place is not only for Muslim travellers but also great for locals to try legit Malaysian food as the owner hails from Malaysia.
Address: 31 Đông Du, Bến Nghé, Quận 1, Hồ Chí Minh, Vietnam
Hours: Mon – Sun, 10:00 – 22:00
2. D'Nyonya Penang [Halal-certified]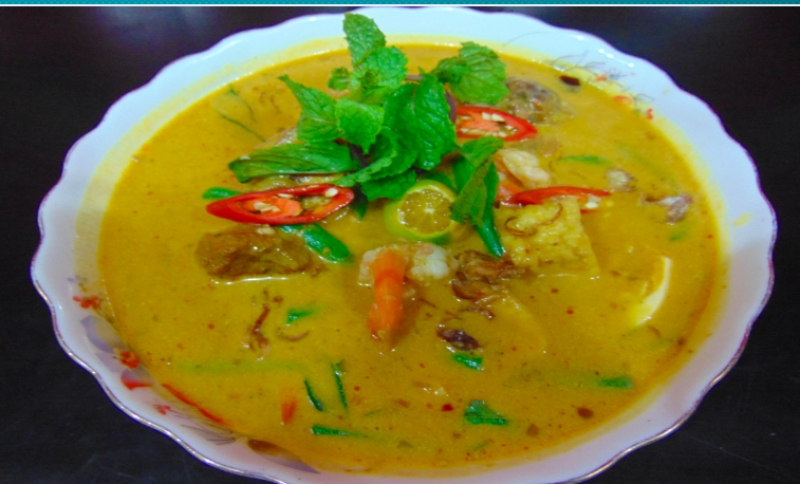 D'Nyonya Penang is a great place for travellers and locals alike to get a taste of Peranakan cuisine. Diners will have a tough time deciding their meals as their menu features an array of seafood from octopus to crab and unique sauces too. Be sure to make room for their popular Asam Laksa, crispy Pie-Tee and otah-otah!
Address: 56 Dong Du St, Ben Nghe Ward, District 1, Ho Chi Minh City
Hours: Mon – Sun, 07:00 – 22:00
Near Nancy Market
Want to experience the life of a local? Experience Nancy Market is a great way to live like a Vietnamese. This district is away from the tourist life like in Ben Thanh area. When you visit this district, you are able to encounter locals in an ordinary life setting. Perform your prayers at the Thanh Duong Jamiul Islamiyah to experience the spirit of Islam in Ho Chi Minh City. Take your time here to bask in local culture and life
1. Pho Muslim [Muslim-owned]
Don't be fooled by this modest street stall, located near Jamiul Islamiyah Mosque or more affectionately known as Nancy Mosque. Pho Muslim is an affordable place to satisfy your pho cravings while in Ho Chi Minh. Besides the Beef Pho, give their only other dish Bun Bo Hue (beef with spicy soup and noodles) a try! Get in line quickly because this famed pho stall attracts Muslim travellers from all over Southeast Asia.
Address: 505 Đường Trần Hưng Đạo, Cầu Kho, Quận 5, Hồ Chí Minh, Vietnam
Hours: Mon – Sun, 16:00 – 00:00
2. Halal Banh Mi [Muslim-owned]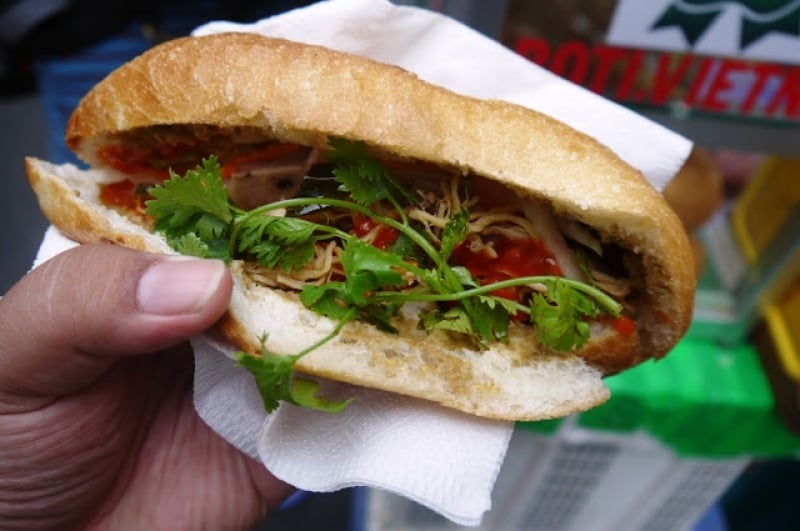 Halal Banh Mi is another must-try street stall near Nancy Mosque. Their banh mi caters to budget-friendly Muslim travellers with a choice of chicken, beef or vegetarian. If you're not into heavy food to fuel your day, Halal Banh Mi is for you. Why not grab a Vietnamese coffee drink at the Halal Kopi street stall next to it too?
Address:  555 Đường Trần Hưng Đạo, Cầu Kho, Quận 1, Hồ Chí Minh, Vietnam
Hours:  Mon – Sun, 08:00 – 21:00
This is the guide you'll need for a pho-nomenal vacation. Slurping down bowls of soup and munching on crispy spring rolls will keep you busy pho-sure!
Also read: Halal Food in Bangkok: 15 Places to Visit When You're Hungry