Halal food in Marina Bay Sands (MBS); this can be pretty hard to find in one of the most iconic buildings in Singapore since it opened in 2011.
With many other sightseeing options nearby like the Esplanade and the Merlion by Fullerton Bay, this area is often frequented by tourists and locals alike.
After a whole day of sightseeing or shopping at MBS, everyone needs a break to fill up their stomach. Here is a list featuring halal food in Marina Bay Sands – never go hungry again!
1. DC Comics Superheroes Cafe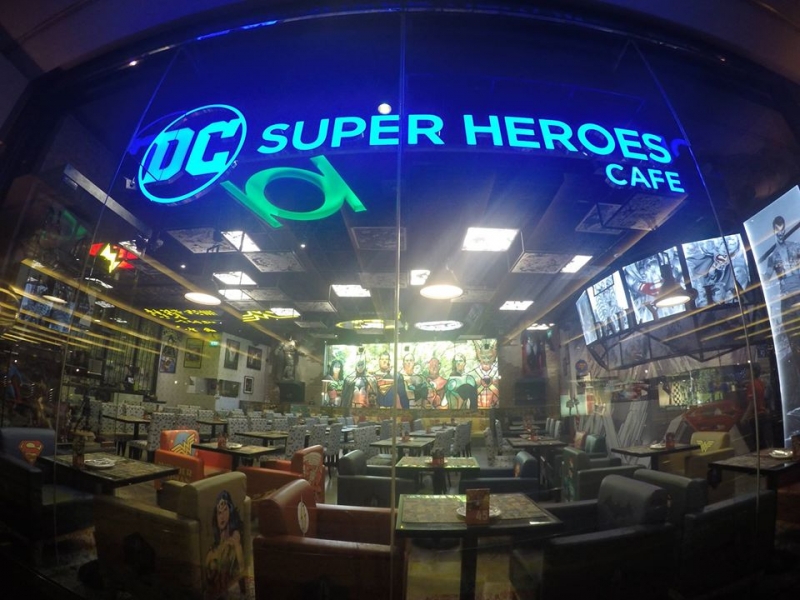 DC Super Heroes Cafe is an American-diner-styled cafe that also offers vegetarian options. This themed cafe and restaurant is also halal-certified so you can enjoy the hearty portions without worry.
The menu is not only extensive, ranging from burgers to pastas, but they are also  appropriately themed to superheroes like Superman, The Flash and Aquaman! 
The names of their dishes are also fun to order including Arkham Asylum Chilli-Cheese Friesanity, Hawkgirl's Wings, Doomsday Chicken Waffles and more.
Other than food, this restaurant also has a retail store attached, which is stocked with apparel, accessories, gifts and collectibles. 
Location: L1-03, Bay Level, The Shoppes at Marina Bay Sands
Opening hours: Mon-Thu, 11.30am – 11pm; Fri, 11.30am – 11.30pm; Sat, 11am – 11.30pm; Sun, 11am – 11pm.
Contact: +65 6688 7610
2. The Coffee Bean & Tea Leaf Beanstro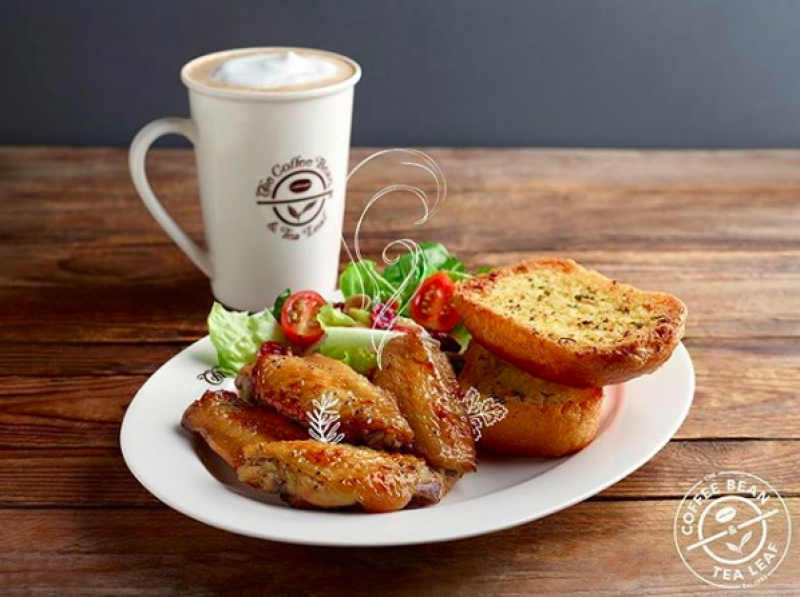 If you are looking to unwind and relax with a good cup of coffee after going around the area shopping, consider The Coffee Bean & Tea Leaf Beanstro!
This halal-certified cafe serves coffee, shakes, cakes and sandwiches. They also serve a substantial array of all-day breakfast sets, salads and pastas.
Located by the central canal and the Rain Oculus in The Shoppes at Marina Bay Sands, this cafe is perfect for hanging out and taking a breather!
Location: B2-20, Canal Level, The Shoppes at Marina Bay Sands
Opening hours: Sun-Thu & PH, 8am – 11pm; Fri-Sat & Eve of PH, 8am – 2am
Contact: +65 6688 7001
Website: www.coffeebean.com.sg 
3. Rasapura Masters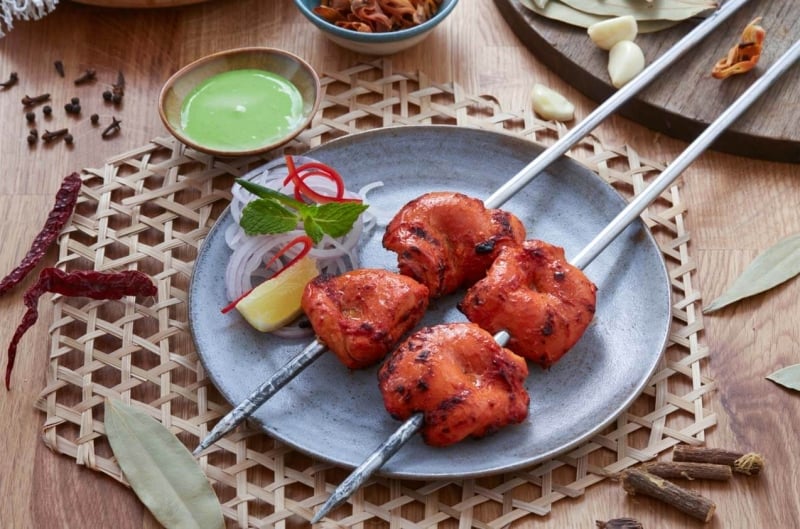 Rasapura Masters is a food hall where you can find most of the local and regional delights!
However the only options here for Muslims is the Nasi Padang stall serving Malaysian style Nasi Padang and the Indian Express, which sells Indian cuisine like tikka and biryani.
While the Indian Express is certified halal, the Nasi Padang stall puts up a 'no pork, no lard' sign.

Location: #B2-50, Canal Level, The Shoppes at Marina Bay Sands
Opening hours: 24 hours, selected stalls
Also Read: 9 Halal Chinese Restaurants to Try in Singapore
4. Punjab Grill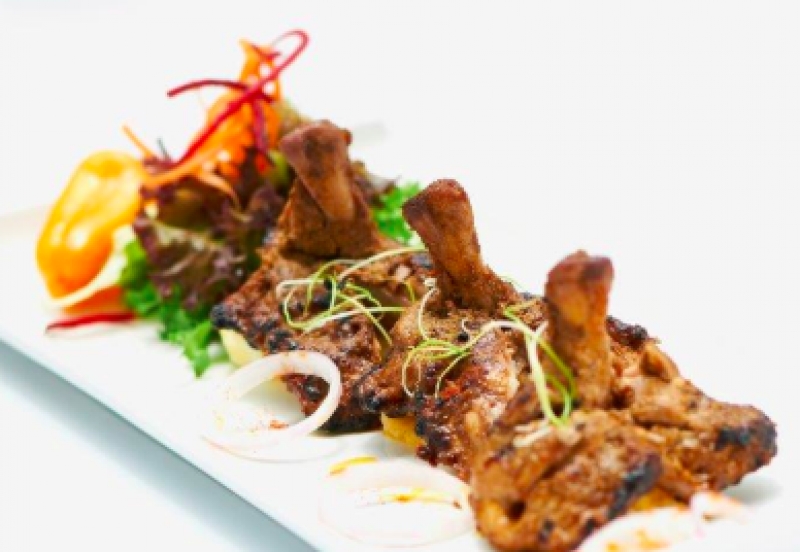 Serving authentic cuisine from India, Punjab Grill offers a spread from all the different parts of the country. Taking inspiration from gourmet metropolises like Peshawar and Kabul, there are also popular Punjab dishes sold here.
Dishes such as Sarson da saag and Makki di Roti are served with other dishes and they are made using secret recipes! 
Location: #B1-01A, Galleria Level, The Shoppes at Marina Bay Sands
Opening hours: Daily; Lunch, 11.30am – 3.30pm; Dinner, 6.30pm – 11pm
Contact: +65 6688 7395
Website: www.punjabgrill.com.sg 
Bonus: Eateries Near Marina Bay Sands
5. Texas Chicken – Gardens by the Bay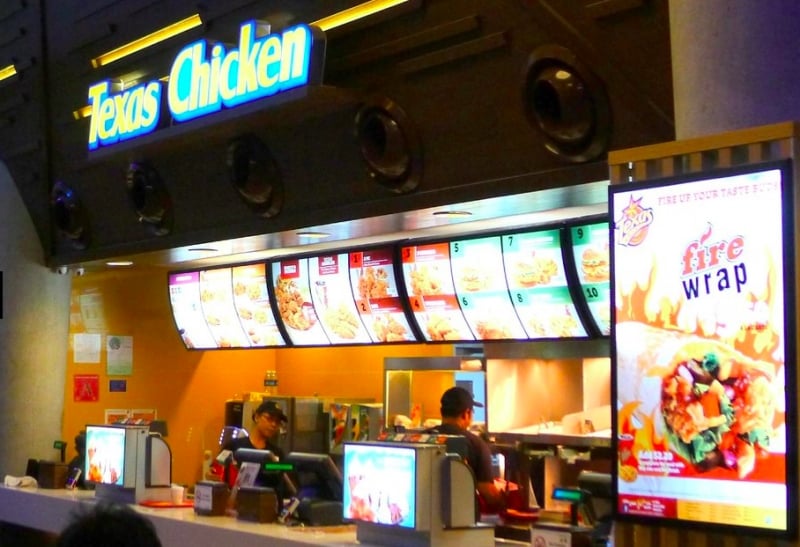 A local fast-food chain, Texas Chicken is located in the Supertree dining hall. Well-loved and halal-certified, this is one of the halal options available near MBS.
The menu ranges from burgers to chicken and wraps – for a quick fix, this is your stop!
Location: 18 Marina Gardens Drive, #01-02, Gardens by the Bay, Singapore 018953
Opening hours: Daily, 11am – 9pm
Contact: +65 6604 7628
6. Satay by the Bay – Gardens by the Bay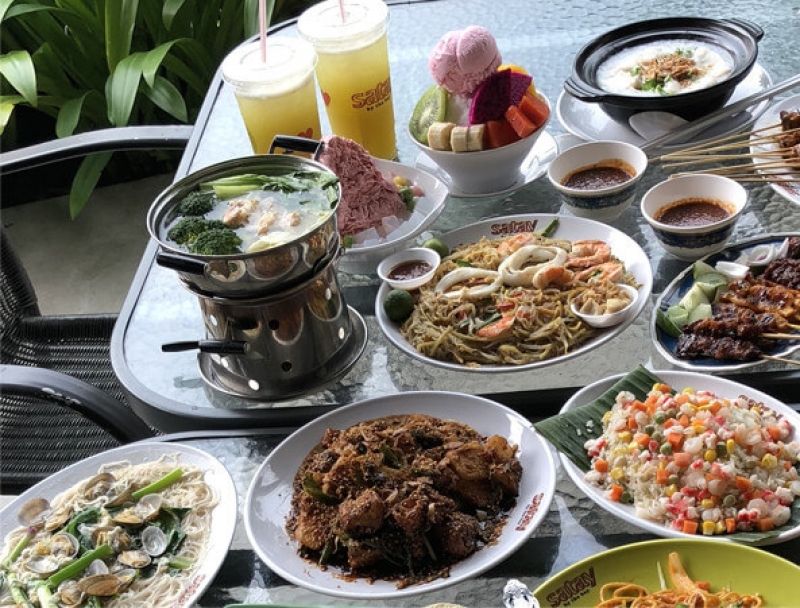 Not only does this restaurant offers an array of beloved local cuisine like satay, it is also located by the waterfront making the views killer as you enjoy your meal.
There are six different halal food stalls including those that serve Mediterreanean cuisine, Thai Spize, hot pot and more.
There are also two halal satay stalls where you can eat to your heart's content! As you indulge in the scrumptious local delights, don't forget to whip your cameras for stunning shots of the scenery.
Location: 18 Marina Gardens Dr, #01-19, Singapore 018953
Opening hours: Daily, 11am – 10pm
Contact: +65 6538 9956
Also Read: 5 Halal Supper Spots in Johor Bahru For Your Late Night Feasts