More and more countries are adopting a Halal or Muslim-friendly tourism plan to cater to travelling Muslims. As such, Halal food is rising in both demand and popularity. If you live in Singapore, you'll have no problems finding Halal food as majority of the food establishments here are Halal certified.
However, most Halal food options are based on Malay cuisines. Eating them repeatedly can be boring, especially if you're the kind who likes to go out and eat with friends (oops, guilty as charged). If you've ever felt tired of eating Malay food, then this list is for you! Here are eight food places for you to try and invigorate your food palate!
1. Hararu Izakaya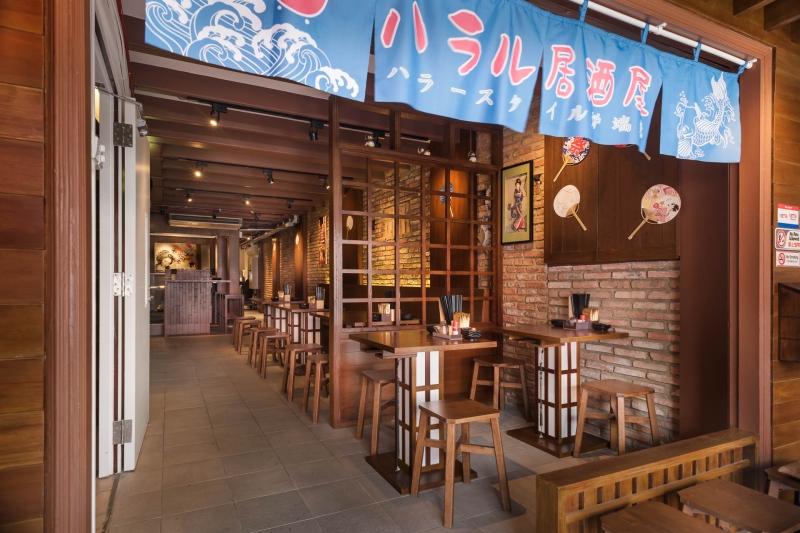 Hararu; roughly translates to Halal, and Izakaya; means a charcoal-grilled restaurant. If you put the two together, you get Hararu Izakaya – the first Muslim-owned Japanese charcoal-grilled restaurant! Situated in the heart of the Malay community of Kampong Glam, this first of its kind restaurant is easily accessible from Bugis MRT station.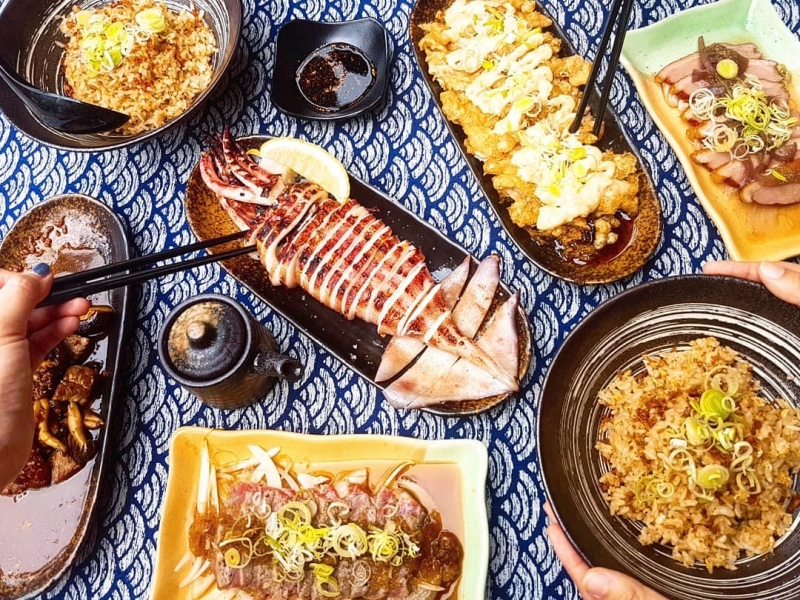 Bedecked in traditional Japanese wall murals and offering authentic tatami dining experience, I won't blame you if you look at these pictures and think they're from a restaurant in Japan!
Address: 16 Bussorah Street, Singapore 199437
Opening Hours: Mondays-Sundays: 12pm-11pm (Last Order 10pm)
Contact: +65 6291 5373
2. Fu-Men Japanese Udon & Donburi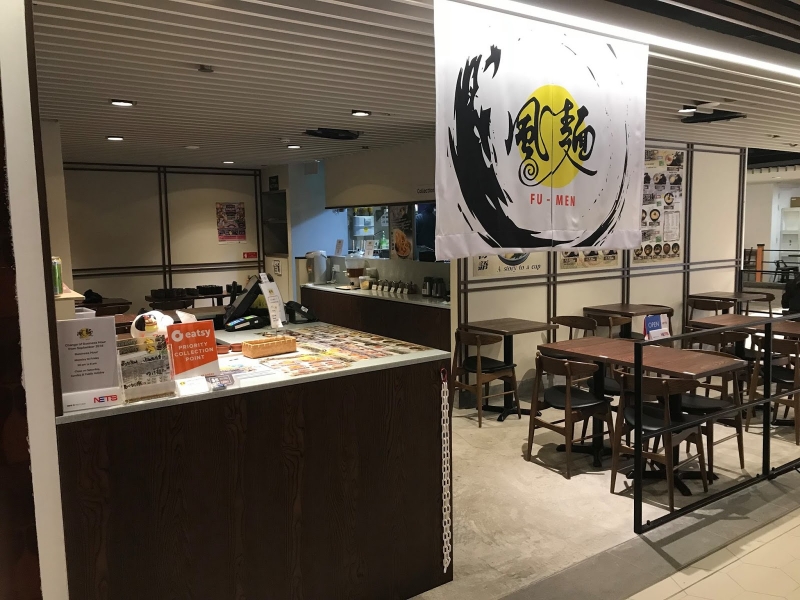 If you're working in the CBD and are hard pressed to find Halal food which is not of Malay cuisine, then perhaps consider visiting Fu-Men Japanese Udon & Donburi. Unlike Hararu Izakaya, Fu-Men specialises in udon, more specifically, Hakata-style udon.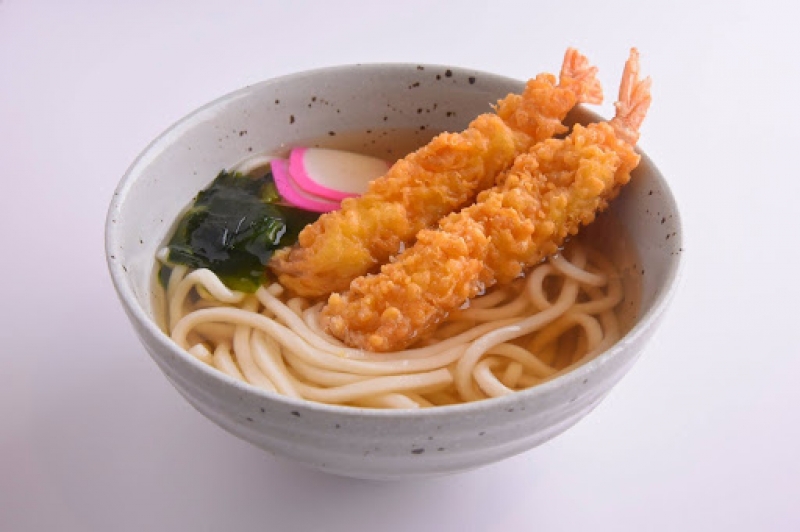 Native to the Japanese city of Fukuoka, Hakata udon is extremely hard to find in other parts of the world. The fact that we can easily find this rare udon in Singapore, and it being Halal as well makes it a must-try!
Address: #B1-17/18, Hong Leong Building, 16 Raffles Quay, Singapore 048581
Opening Hours: Mondays-Fridays: 10am-8pm, Saturday: 10am-2:30pm, Sundays: Closed
Contact: +65 6224 1134
3. Tipo Pasta Bar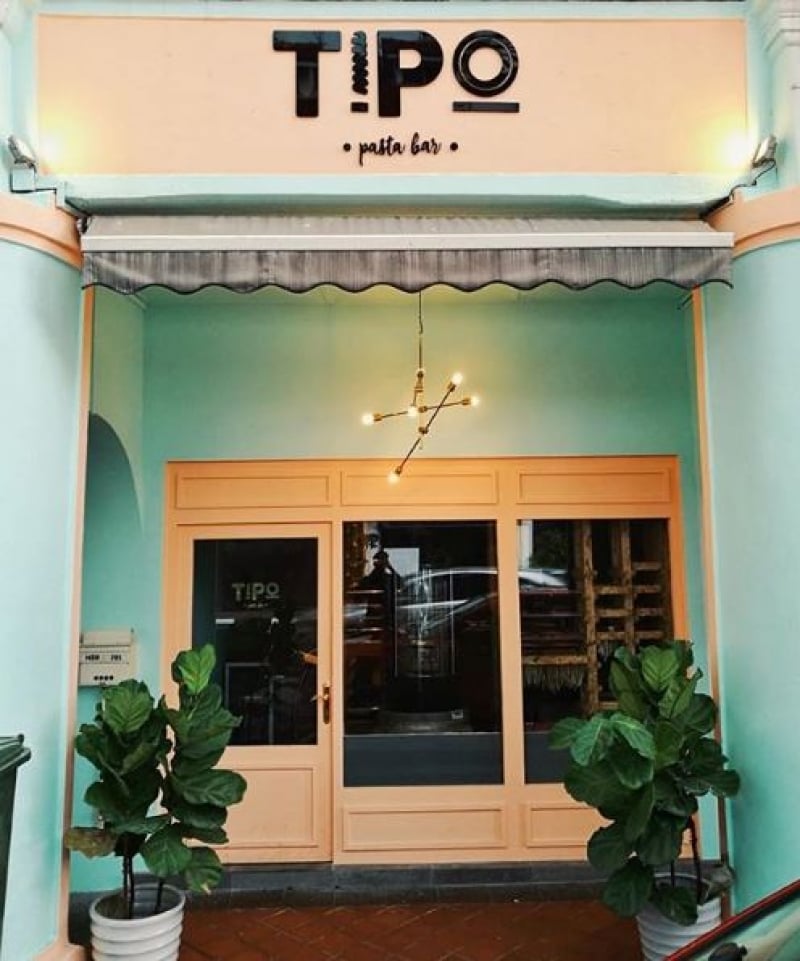 Nestled just a few streets behind the Sultan Mosque at North Bridge Road, Tipo is a Halal pasta bar which serves authentic Italian flavours. The team behind Tipo believes and celebrates in artisanal produce, therefore all the pasta are handmade from scratch.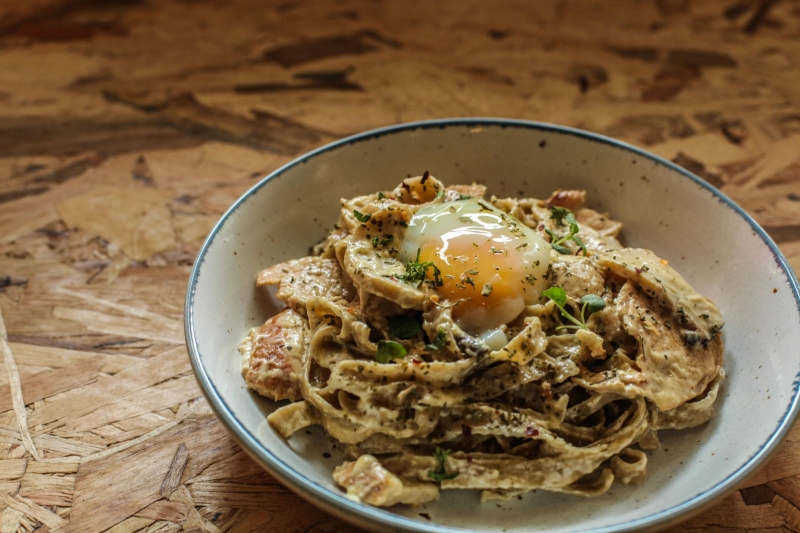 You can even see the pasta rack holding the different homemade types of pasta upon entering the bar. Go on and construct your own pasta dishes, from the pasta choice, sauces, toppings to the pasta size!
Address: 785 North Bridge Road, Singapore 198753
Opening Hours: Sundays-Thursdays: 12pm-10pm, Fridays & Saturdays: 12pm-11pm
Contact: +65 8768 0785
Also read: 7 Halal Restaurants for Romantic Night Out in Singapore
4. Kucina
If you seek more than just pasta, why not head over to Kucina? Located in the basement of newly rebranded Kinex Mall (formerly known as OneKM Mall), Kucina offers authentic Italian dishes such as pasta, pizzas, risottos and bisteccas.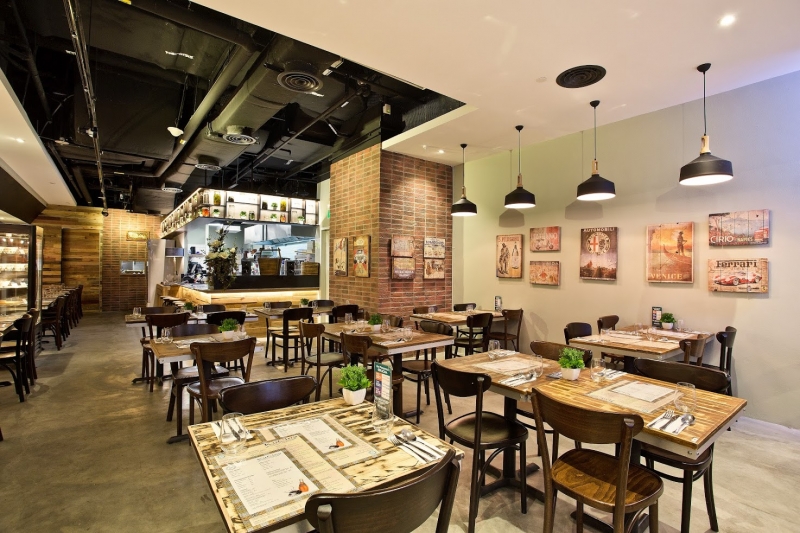 Spearheaded by Executive Chef Gero Di Maria Omar, a Muslim convert, this Italian restaurant is all about fresh ingredients. Inspired by the trattoria concept, you will notice the brick accent walls, wooden tables and warm lighting. With Chef Omar having over 26 years of experience in Italian cuisine, we have no doubt you'll leave Kucina satisfied and happy!
Fun Fact: Cucina is Italian for the word, "kitchen". To suit the local enunciation of words, the letter K is used instead of C. Hence, that's how Kucina is formed.
Address: #B1-09/10, Kinex Mall, 11 Tanjong Katong Road, Singapore 437157
Opening Hours: Daily: 11:30am-10pm
Contact: +65 6493 2154

5. Peppercorn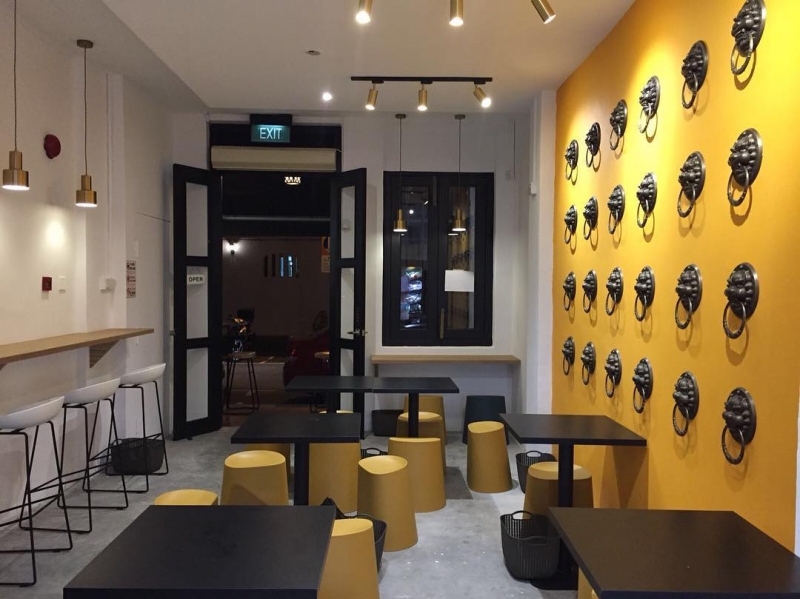 Yes, the mala craze continues in Singapore. If you can't handle spiciness (shame on you – just kidding, I'm bad with spices too) then skip this section! If you're unfamiliar with the term mala, think of it as the spicy version of yong tau fu. Just like at other mala establishments, Peppercorn lets you choose your ingredients of choice and charges you based on their weight. You can then add noodles, udon or bee hoon if you like.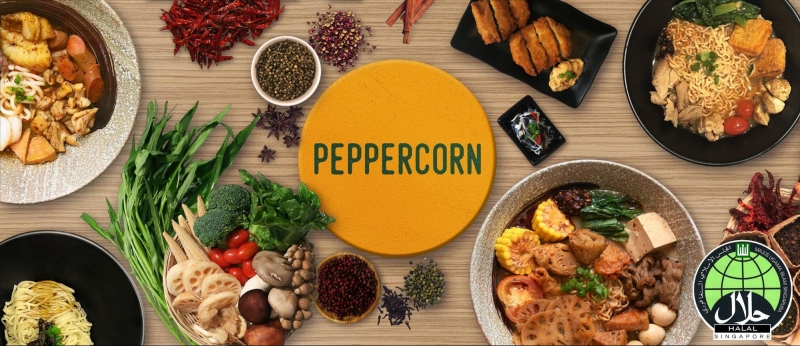 You can choose to eat it dry or with soup (otherwise known as malatang). You also have the choice of four spice levels for your dish. If uncertain, we recommend starting out with the lowest level and slowly adding the chilli into your bowl as you go. Oh yes, Peppercorn is Halal-certified!
Address: 30 Kandahar Street, Singapore 198890
Opening Hours: Mondays-Saturdays: 11:30am-2:30pm, 5:30pm-9:30pm, Sundays: Closed
Contact: +65 9862 2559
6. Blue Jasmine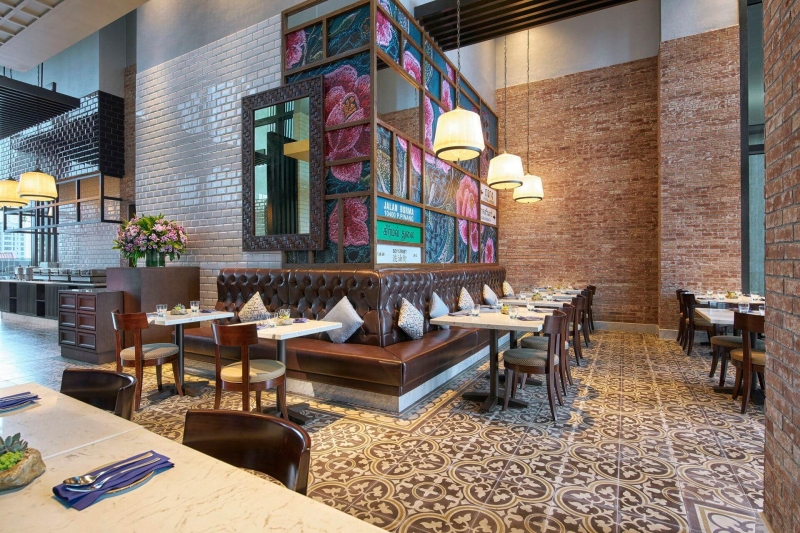 Located on the fifth level of Park Hotel Farrer Park, Blue Jasmine serves authentic Halal-Thai cuisine such as Pad Thai, Tom Yum, Glass Noodles and more. Fitted out with plush leather seats and beautiful floor motifs, the restaurant emits a comfortable atmosphere throughout its space.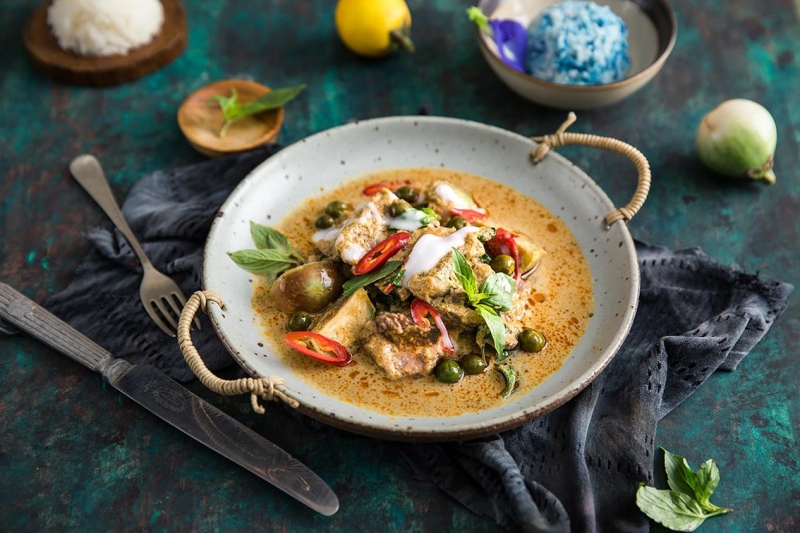 The restaurant lives by its philosophy of featuring a wide selection of dishes, inspired by traditional flavours and Thailand's bustling street food culture. While waiting for your food, you can watch the cooks in action at the live cooking stations. There is also an outdoor pool, perfect for entertaining the kids during family gatherings.
Address: Level 5 Park Hotel Farrer Park, 10 Farrer Park Station Road, Singapore 217564
Opening Hours: Daily: 6:30am-10pm
Contact: +65 6824 8851

7. Waker X Oppa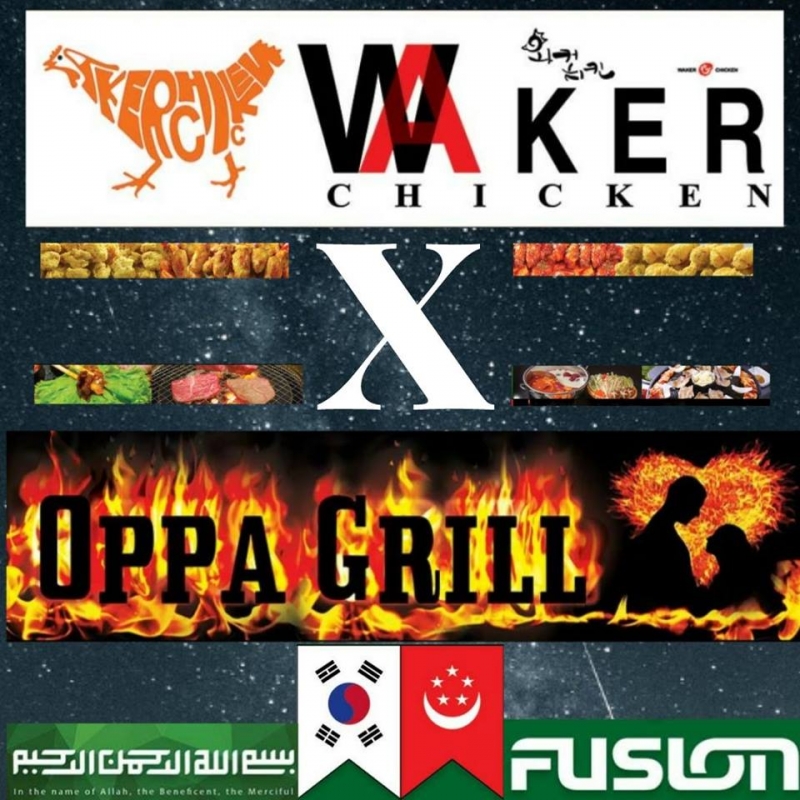 A collaboration between two parties – Waker Chicken and Oppa Grill, Waker X Oppa is a coffee shop stall that serves a fusion of Korean food and local cuisines. The stall is Muslim-owned and managed by two brothers, Mr Sharidan Ishak and Mr Muhammad Idelan. There are two separate menus, one from Waker Chicken and one from Oppa Grill, but you can order from both menus at the same stall.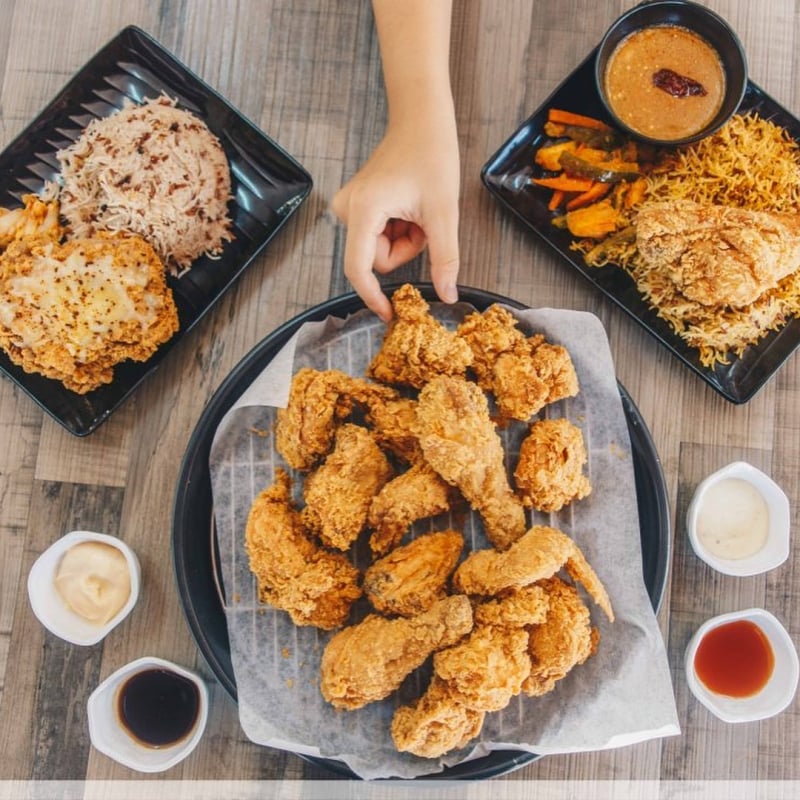 The menu of Waker Chicken mainly comprises of fried chicken, ramyeon and rice sets such as briyani. However, instead of the traditional chicken, it's replaced by Korean-fried chicken! The same twist is done for their nasi lemak. You can also choose up to 12 different dips (each cost 40 cents) for your fried chicken! If you prefer a Korean steamboat or grill, maybe opt for the menu of Oppa Grill as you can choose from a variety of ingredients.
Waker X Oppa is currently situated in a coffee shop at Blk 201C Tampines Street 21. However, its last day of operations in the Tampines neighbourhood will be on 27th January 2019 as the stall will be moving to a new location. Stay tuned to their Facebook page to be updated of their new location!
Address: 201C Tampines Street 21, Singapore 523201
Opening Hours: Daily: 10:30am-9:45pm
8. Egg Stop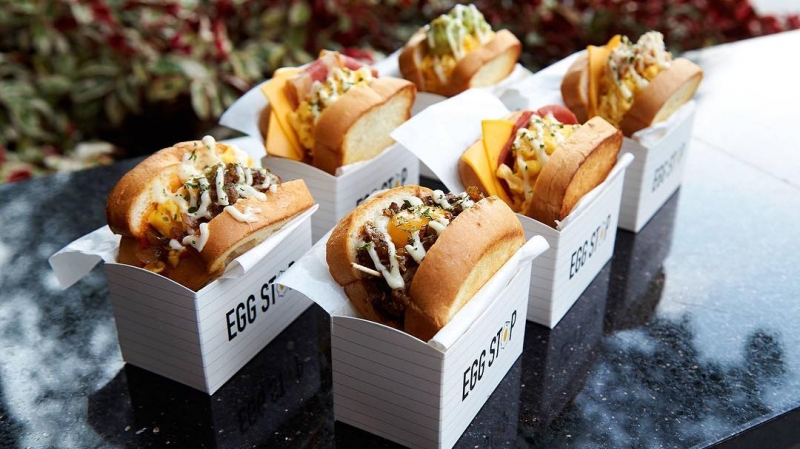 If you like sandwiches, Korean food, and are looking for comfort food; consider visiting Egg Stop. The all-day breakfast concept of the Muslim-friendly homegrown sandwich franchise aims to reignite a passion for breakfast amidst the hustle and bustle of city life.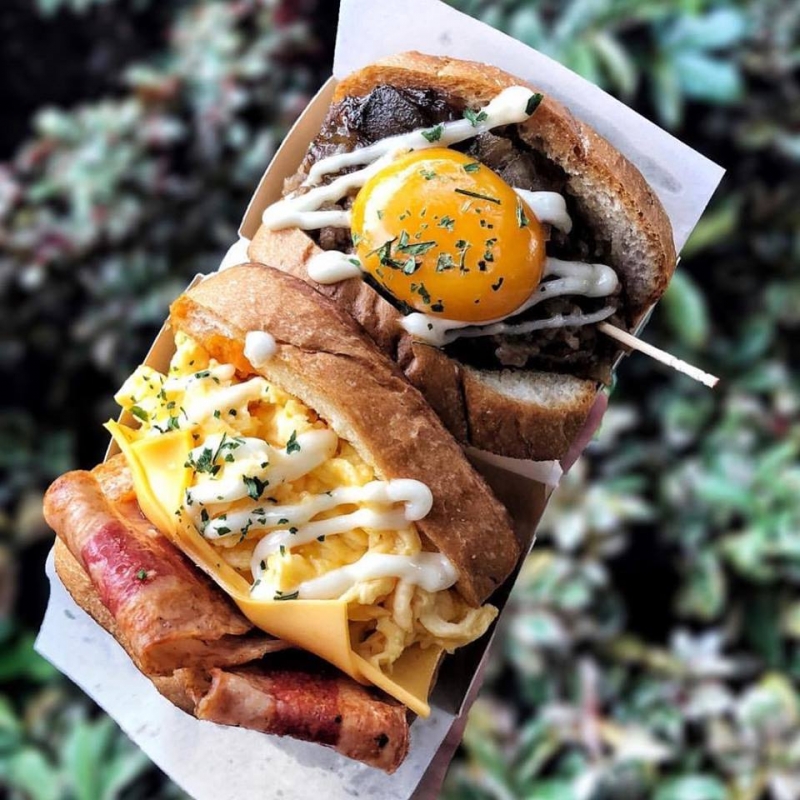 You can choose up to six different sandwiches: Chicken Ham and Cheese, Beef Teriyaki, Smoked Chicken, Egg Stop Signature, Avocado and Egg, and Egg Stop Signature. All of them comprise of the same thick bread, which has been described by many as soft and fluffy. Egg Stop first started out at Paya Lebar Square but has opened new outlets at Clementi Mall, Jurong Point and Chinatown Point as of late.
There you have it, eight new places for you to try over the next coming weeks! You can say goodbye to the same old boring food. What're you waiting for? Ask your family members and buddies out. Happy munching!
Also read: 7 Halal Buffets to Try in Johor Bahru