Iran is that kind of place travellers find themselves returning to soon after an unforgettable first trip. Ask any of them, and they'll tell you how incredible Iran is. They'll debunk the common misconceptions about this greatly-misunderstood country, and rave about the extraordinary hospitality of Iranians. And then they'll start blabbering about delicious food like dizi and ghormeh sabzi.
At least, that's how it is for me.
Also read: Debunking Stereotypes and Discovering the True Beauty of Iran


Myself and Shohreh, my kind Iranian friend who took care of me like a little sister while I was in Tehran.
I had the best time of my life during my two-week solo trip in Iran, and I've been encouraging everyone I know to travel there too. For those interested to know more about the cost of travelling around Iran, this one's for you.
During this trip, I religiously recorded every single expenditure using an app called Trail Wallet. All prices are accurate as of February 2016. A mixture of currencies (Iranian Rial, Singapore Dollar and US Dollar) are used in this article.
S$1200 (US$875) for two weeks in Iran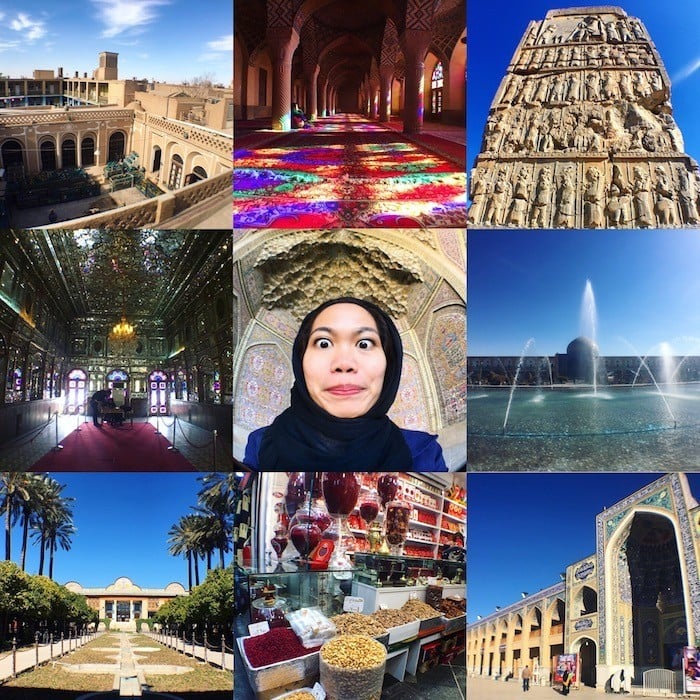 I spent a total of S$1200 (US$875) for two weeks in Iran, inclusive of flights. My friends from Singapore would probably be like "woah, shouldn't that be like, the price of the plane tickets alone?"
No, my friends. It's everything.
I was lucky because I bought my flight tickets when Oman Air was having a promotion. I just paid S$500 (US$365) for my return tickets from Singapore to Tehran. What you can do for cheap flights is to keep an eye out for Oman Air flight promos (hey, you might get lucky). Also, I know someone who flew from Kuala Lumpur to Tehran with Mahan Air for S$640. Do check out Nicholas' post on his travel cost in Iran – you'll find more information there.
The other S$700 (US$510) was for visa-on-arrival, accommodation, food, transport, attractions and of course, some shopping. I can't say that this is a low budget trip – my Iranian friends would probably ask me why I spent so much for just two weeks in Iran. And it's true; I travelled pretty comfortably on VIP buses, ate at nice restaurants, paid to enter so many tourist attractions and spent rather freely. So it's quite possible to spend lesser than I did. After all, travel is only as expensive as the choices you make.
I'll give a comprehensive breakdown of my Iran travel costs in the later sections because first, you need to know where to go.
Two-week itinerary
A typical two-week itinerary for the first-time traveller in Iran is pretty standard. There are several places you simply shouldn't miss on your first visit, and the four cities I went to – Tehran, Shiraz, Yazd and Esfahan – fall into that category. Of course, it's entirely possible to squeeze in more destinations. In fact, I planned to visit Kashan and go for a desert tour after Esfahan but I dropped those from my itinerary, deciding to 'go slow, experience more' instead.
Day 1: Tehran
Day 2, 3, 4: Shiraz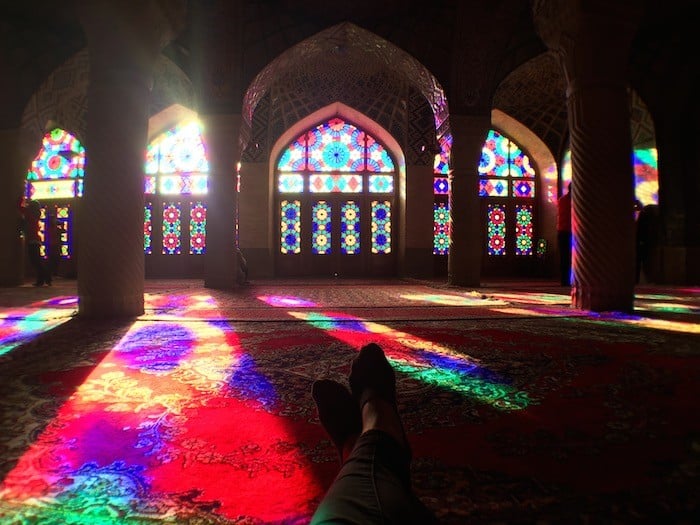 Stunning colours in Nasir ol Molk Mosque (or Pink Mosque)
Day 5, 6, 7: Yazd
Rooftop view in the desert city of Yazd
Day 8, 9, 10: Esfahan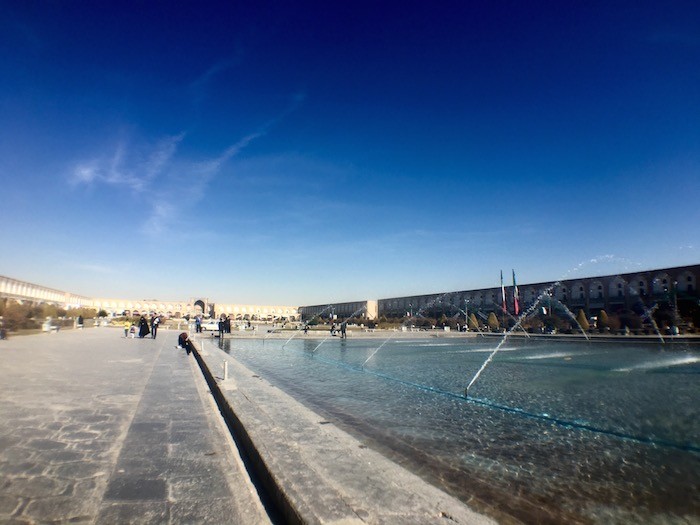 Naqsh-e-Jahan square, a UNESCO World Heritage Site
Day 11, 12, 13: Tehran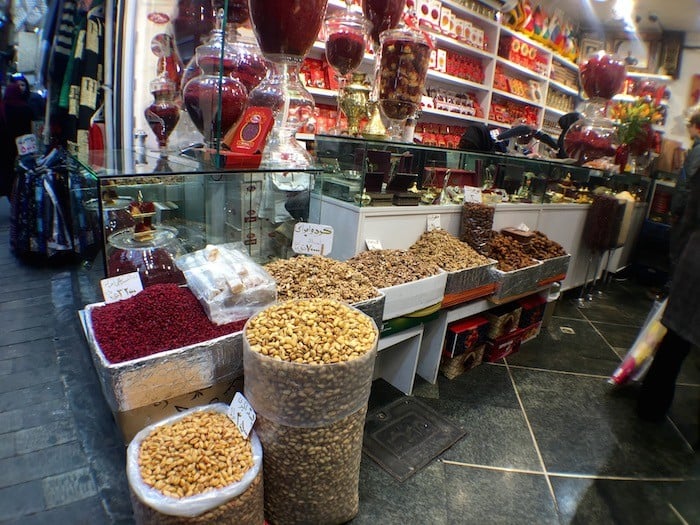 Tajrish Bazaar in Tehran
Day 14: Flight home
Visa-on-arrival: €60 (S$92.25)
As of late 2015, travellers from various countries, including Singapore, are eligible for a 30-day visa on arrival (VOA) in Iran. The process is simple and it took me about half an hour to get mine at Tehran's Imam Khomeini Airport (IKA). Just remember that you need the phone number of your hotel or a sponsor. Before my arrival, I booked one night at a hotel for this purpose. The VOA fee differs depending on your nationality and for Singaporeans, it is €60.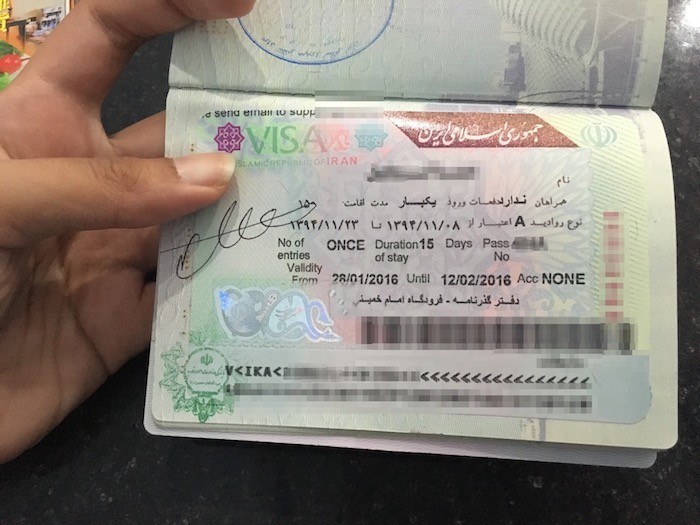 Somehow I was granted a 15-day rather than a 30-day visa, but I believe they reduced it according to the date of departure that I stated.
Important note #1: You must observe the Islamic dress code the moment you are on Iranian soil. Ladies put on a scarf over your hair and wear a loose-fitting top. Gentlemen, wear long pants.
Important note #2: Bring all the cash you need! ATMs in Iran are only for locally-issued cards.
Accommodation: S$82.25
Of the four cities I stayed in, one of them I slept in a hostel, the other three I slept in locals' homes. It's a great blessing that I made some friends in Iran, and this is partly thanks to Couchsurfing. Here's the deal: Couchsurfing is illegal in Iran but the community is very, very active. I strongly recommend you using Couchsurfing in Iran, NOT for 'free' accommodation, but to gain an insight into the local culture, and to discover Iran 'behind the scenes'. It'll be an eye-opener, trust me.
Here's what I paid for:
Niayesh hotel

in Shiraz (2N): IRR 350,000 (S$16.45) per night in a dorm

Orient Hotel in Yazd (3N): IRR 350,000 ($16.45) per night in a dorm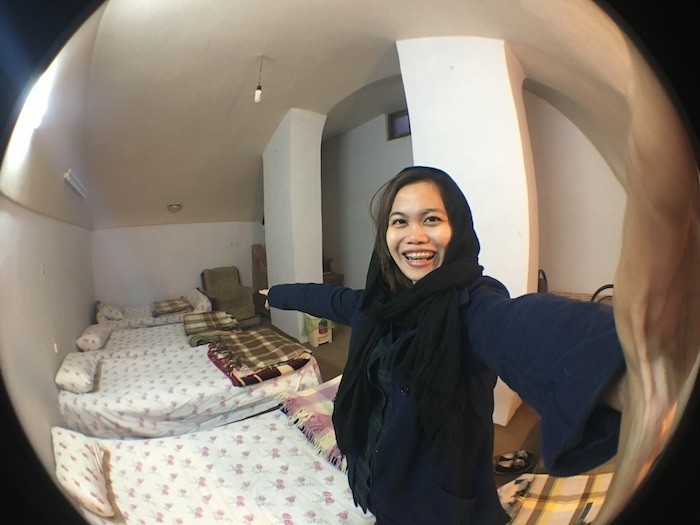 A whole dorm room to myself in Orient Hotel
I know I mentioned that I stayed in one hostel, not two, but that is a long story for another day. Basically, in Shiraz, I ended up sleeping at a friend's house rather than the dorm I paid for. Anyway, I love both hotels listed above, and I highly recommend them.
So my accommodation cost was really low, thanks to Couchsurfing and my preference for dorm rooms.
There are budget, midrange and luxury hotels available in each city, so you just have to look for one that fits your budget. However, forget advanced online bookings. Most hotels in Iran aren't even listed on hotel booking sites. There are some with websites/emails, but I suggest just writing the details of those hotels down as a backup plan. Here are some budget hotels/hostels I've dug up from my research:
You can check those out or simply find accommodation as you travel along in Iran. Your options will be much wider if you choose the latter!
Transport: S$193.88
Transportation around Iran is pretty affordable (with the exception of the taxi ride between the airport and the city). Case in point: a comfortable 10 hour plus overnight ride from Tehran to Shiraz on a VIP bus costs less than S$30.
Taxis are also affordable, as long as you don't get ripped off, that is. None of the taxi rides I took to get me around town costs me more than IRR 150,000 (S$7). I'm not sure what the flag-down or standard meter rates are, though. Shared taxis are also common and I used this quite often when I was with my Iranian friends,  They are cheaper because the driver will pick up more passengers along the way, but first, you have to figure out how it works.
Below I've listed my major transportation costs. I excluded the many taxi and metro rides I paid for.
Airport to city transfer:
     Taxi from Imam Khomeini Airport to the bus station: IRR 800,000 (S$37.60)

     Taxi from friend's home to Imam Khomeini Airport: IRR 700,000 (S$32.90)
Inter-city transport:
     VIP Bus from Tehran to Shiraz (overnight, ~14 hours): IRR 560,000 (S$26.30)

     VIP Bus from Shiraz to Yazd (~7 hours): IRR 300,000 (S$14.10)

     Bus from Yazd to Esfahan (~5 hours): IRR 130,000 (S$6.10)

     VIP Bus from Esfahan to Tehran (~5 hours): IRR 275,000 (S$12.90)
Others:
Taxi from Shiraz to Persepolis and back: IRR 350,000 ($16.45). Note: I shared the taxi with two French tourists. It's cheaper to share a cab than to take a tour to Persepolis!
To get from city to city, buses are your best option. Simply show up at the bus terminal to get your ticket; the connection between the major cities are frequent and there should be no problem buying a ticket on the spot. I think it is worth paying a little more for the 'VIP' buses with wider seats and a box of snacks.
Travelling by train in Iran sounds really interesting to me, but I never had the chance to try it. From what I know, it is inexpensive but only a select few cities are connected by rail. Tehran is connected to Tabriz, Esfahan, Mashhad, Bandar Abbas and Kerman.
It is possible to fly as well, with carriers like Iran Air, Iran Aseman Airlines, Mahan Air and  Kish Air. However, I believe you can only book (easiest through a travel agency) once you are in Iran.
Food: S$119.47
IRANIAN FOOD IS DELICIOUS!
That has to be announced.
If your accommodation comes with free breakfast, good for you! Orient Hotel, the one in Yazd, has like the best buffet breakfast ever. Iranian breakfast is simple – just bread, cheese, tomatoes and cucumbers but I swear to god, it is YUMMY.
I had a mixture of meals at nice restaurants, simple eateries or at the homes of friends. In general, a meal in a restaurant will set you back less than IRR 200,000 (S$9), and more often than not, lesser than that. In total, I spent around S$120 on food.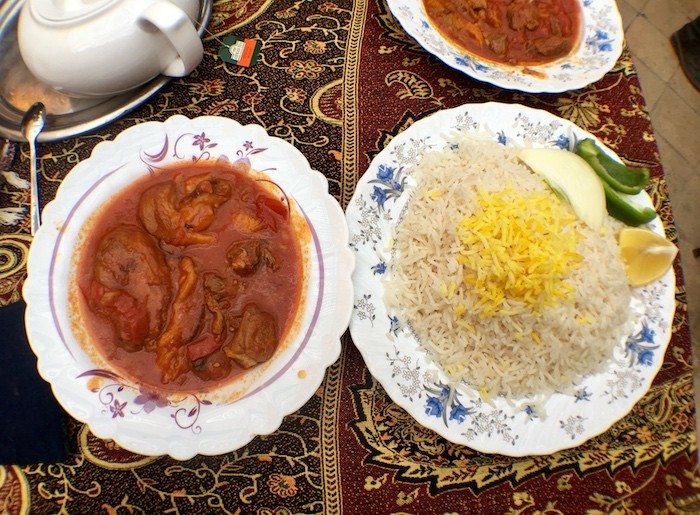 Khoroshte bademjan (‍eggplant with rice) in Niayesh Hotel, Shiraz. IRR 100,000 (S$4.70)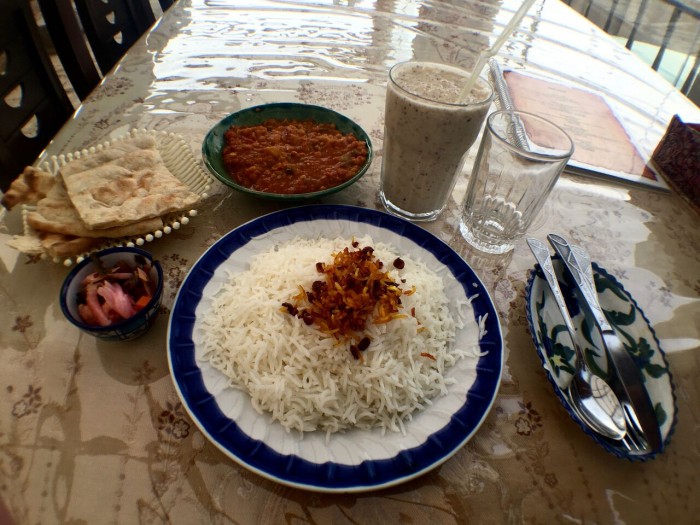 Kashke bademjan (eggplant dip with rice) with date milkshake in Orient Hotel, Yazd. IRR 190,000 (S$8.70). YES I LOVE EGGPLANTS!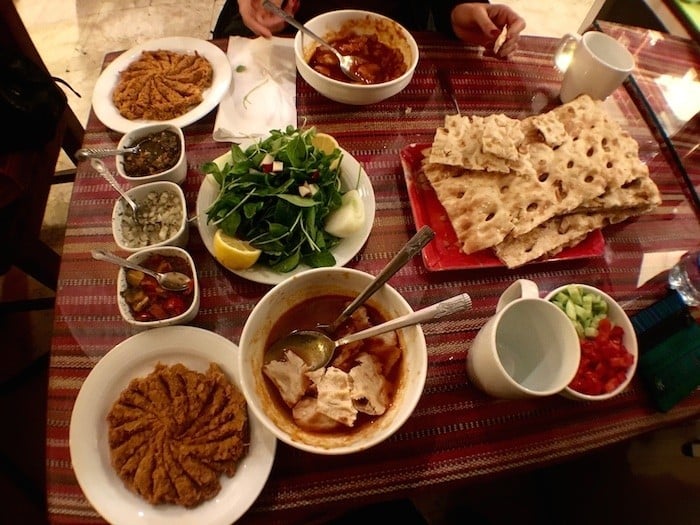 Dizi (meat stew in a claypot) in Dizi Restaurant, Tehran. IRR 340,000 (S$16). This is a splurge but this must be like, the best Dizi in the whole of Tehran!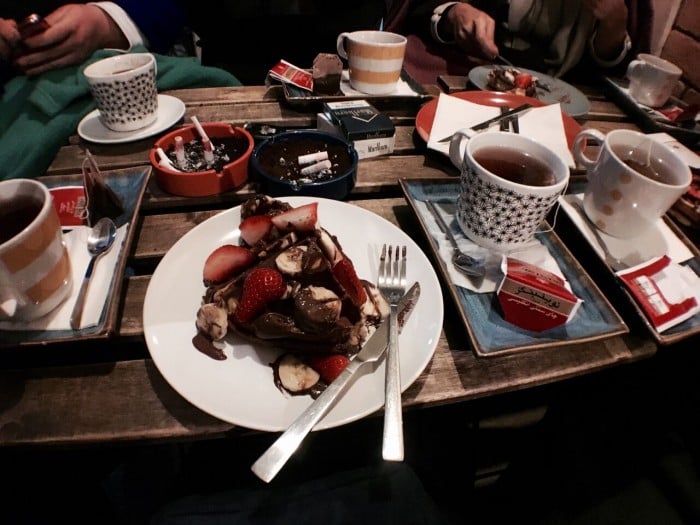 Waffles and tea in Q Cafe, Shiraz. IRR 140,000 (S$6.60)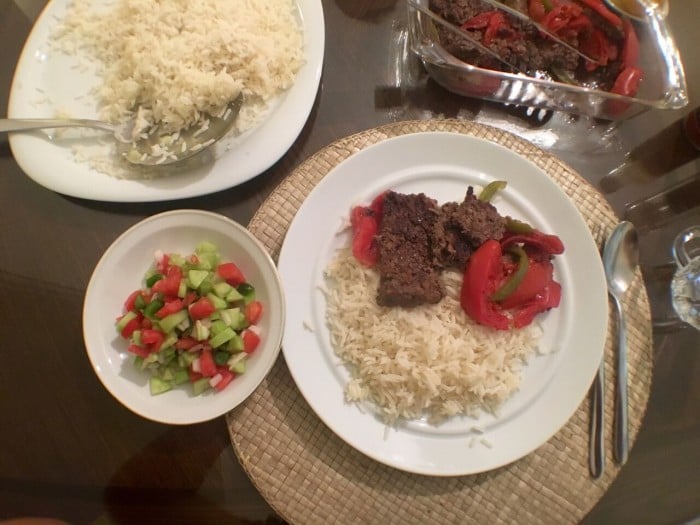 Kebab tabeie (persian pan kebab) in Shohreh's house. Free!
Attractions: S$114.21
Here's the killer of wallets in Iran: entrance fees to attractions. I consider them to be pretty expensive in general. In fact, there's dual-pricing, and foreigners have to pay as much as 10 times more than a local. So be careful, because a little here and a little there will add up to a bomb.
I went a little crazy in Shiraz, as you can see below. My advice is to pick out a few places you want to visit in each city, and set aside a budget for it. Not every attraction is worth the entrance fee, so do your research beforehand.
In Shiraz:
Hafez tomb: IRR 200,000 (S$9.40)

Pars Museum: IRR 150,000 (S$7.05)

Negarestan Garden: IRR 200,000 (S$9.40)

Eram Garden: IRR 200,000 (S$9.40)

Vakil Mosque: IRR 50,000 (S2.35)

Sa'adi Tomb: IRR 200,000 (S$9.40)

Pink Mosque: IRR 100,009 (S$4.70)

Naqsh-e-rajab: IRR 80,000 (S$3.75)

Naqsh-e-rostam: IRR 200,000 ($9.40)
In Yazd:
Dolat Abad Garden: IRR 200,000 (S$9.40)

Fire Temple: IRR 50,000 (S$2.35)
In Esfahan:
Jameh Mosque: IRR 200,000 (S$9.40)

Sheikh Loft Allah Mosque: IRR 200,000 ($9.40)
In Tehran:
Wind catcher building in Golestan Palace: IRR 230,000 (S$10.80)

Jewellery Museum: IRR 150,000 (S$7.05)
Eram Garden in Shiraz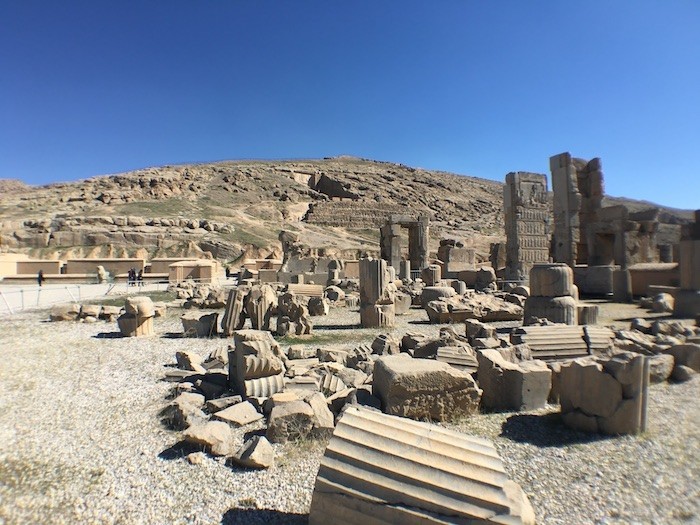 Persepolis


Dolat Abad Garden in Yazd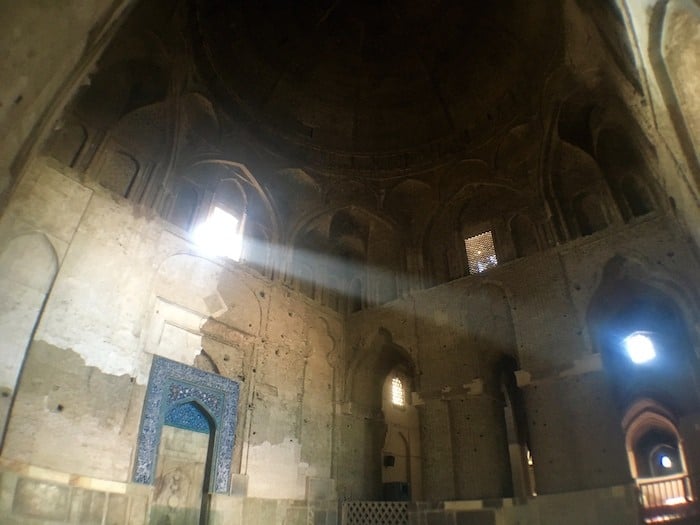 Jameh Mosque in Isfahan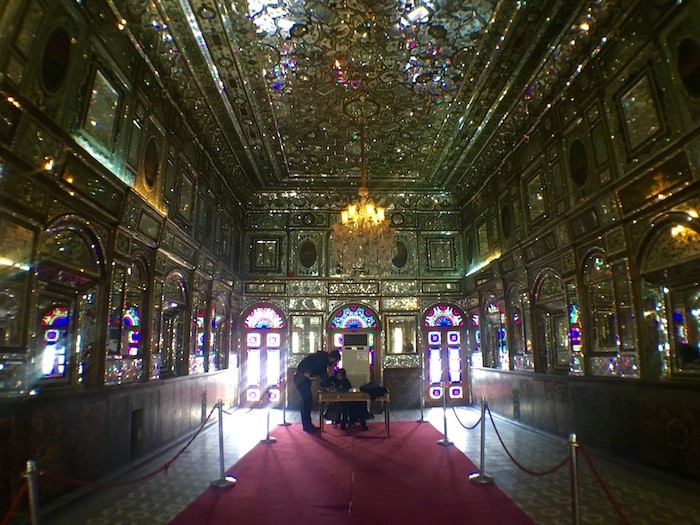 Emarat-e Bagdir (wind catcher building) of Golestan Palace in Tehran
Miscellaneous: S$97.94
Souvenirs, gifts for my hosts and random things like toiletries fall under this category. Also lumped in here is the price of my Irancell SIM Card.  A friend of mine got it for me for IRR 330,000 (S$15), and afterwards, I threw in another 2GB data for IRR 110,000 (S$5.15).

My best souvenir buy was definitely the two boxes of dates (IRR 70,000 / S$3.30 each) I got from Tehran's Tajrish Bazaar. "Dates, eww" – I know… but you haven't tried fresh Iranian dates, have you? They taste like caramel and melt in your mouth.

Have a good adventure in Iran!

That's all folks. It adds up to S$1200  for two weeks in Iran. I truly hope that the pain I took in recording my expenses helped you out somehow! If you'd like to ask me about travelling to Iran, feel free to drop by my blog and write in. May Iran be as amazing for you, as it was for me.

Also read: Middle East Travel: 6 Safe Countries for Your First Trip