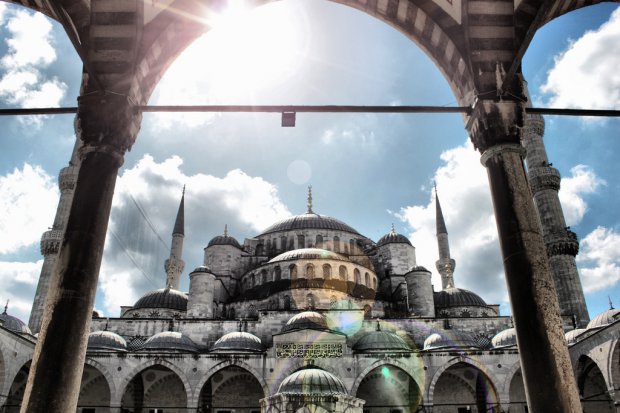 Image credit: Veronica Aguilar
Turkey is an increasingly popular destination for travellers around the globe. They simply come flocking to Turkey, to experience its mouth-watering delicacies, historic monuments and vibrant bazaars for themselves. Most travellers begin their journey in Istanbul, the transcontinental city with a melting pot of cultures.
If you want to travel to Istanbul on a budget, you've come to the right place. All you need to know about travelling around Istanbul and beyond on a budget – from transport, accommodation, attractions, food and shopping is right here.
Also Read: 10 Reasons to Visit Turkey This Year
Booking your flights
Flight prices to Turkey from Singapore can be really affordable if you purchase it at least three months in advance. Always use a flight comparison site to choose the best deal, and monitor the flight prices for a few weeks. An Emirates flight ticket for departure in May 2014, bought in February, costs USD 787 (SGD 1066). Other than Emirates, Air France or KLM Royal Dutch Airlines offers low fares to Istanbul too.
Another way to save cost on flights is to get the cheapest flight to Dubai, and then take Pegasus Airline from Dubai to Istanbul. Pegasus Airline is a reliable low-cost carrier based in Turkey, and you can get flights from Dubai to Istanbul for as low as SGD 200 one-way if you purchase it a few months in advance.
Choosing your Muslim-Friendly Accommodation
Istanbul offers a wide range of accommodation choices, and budget travellers are in for a treat because it is easy to find affordable and value-for-money accommodations. In Istanbul, you can find plenty of comfortable hostels, where a night in a dorm room costs around SGD 25. There are also budget hotels and guesthouses, and prices for private twin rooms in these establishments are about SGD 30 a night per person.
We recommend two areas to stay in Istanbul:
Sultanahmet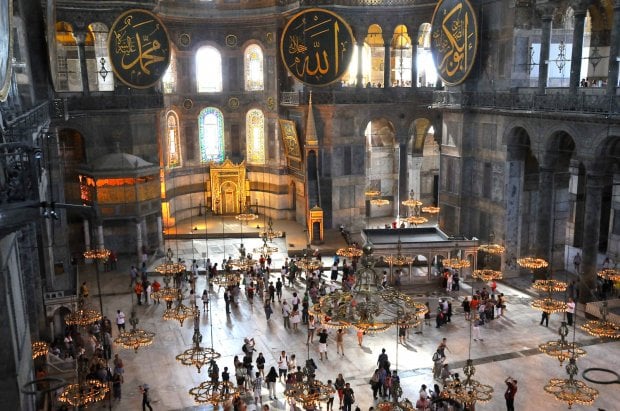 Image credit: FaceMePLS
Staying in Sultanahmet will put you in close proximity to attractions such as Hagia Sophia, Blue Mosque, Basilica Cistern and Topkapi Palace. Backpackers looking to meet other travellers can consider dorm rooms in Metropolis Hostel, and those who prefer private rooms can opt for Seatanbul Guesthouse or the family-run Med Cezir Hotel.
Beyoglu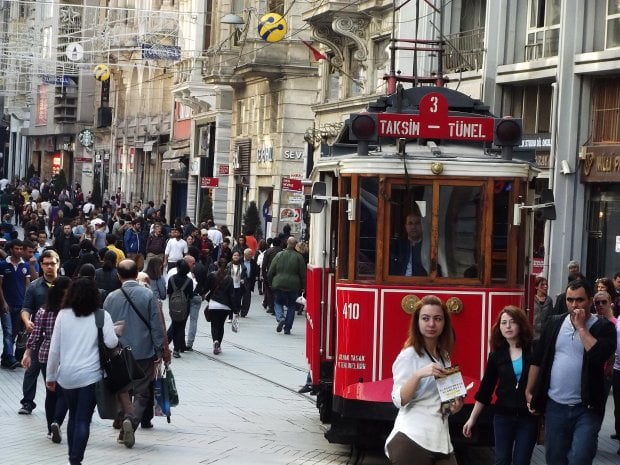 Image credit: G.OZCAN
Beyoglu is the area next to the famous Taksim Square. The 1.4 kilometre stretch of Istiklal pedestrian street in Beyoglu is flanked by late Ottoman-era buildings, and there are plenty of shopping and dining options as well as a bustling nightlife. A recommended hostel in this area is the highly-rated Chambers of the Boheme which is just a stone's throw away from Taksim Square.
Whichever your choice, you will probably find yourself commuting between the two if you want to experience the best of Istanbul. So don't worry too much about choosing one over the other.
Getting around Istanbul
From the airport
If your accommodation is near Taksim Square, the most convenient and affordable transport option from Ataturk Airport or Sahiba Gokcen Airport is the Havatas bus. Havatas buses leave every half an hour, and their arrival point in Taksim is across Divan Hotel, in front of Point Hotel. This is just a short walk to Taksim Square. A ride with Havatas will take about 40 minutes from Ataturk Airport (11 TL / SGD 6.10)  or 1.5 hours from Sahiba Golken Airport (14 TL / SGD 7.80).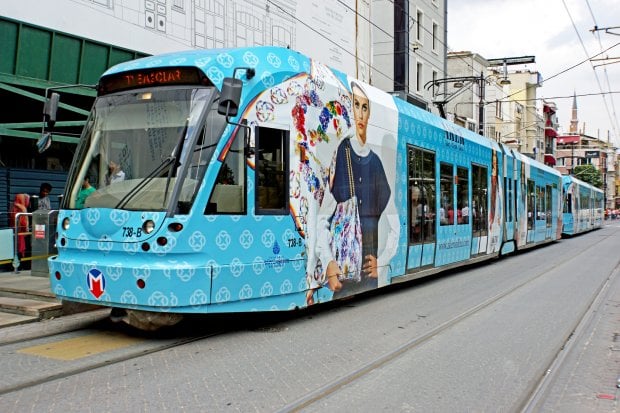 Image credit: Dennis Jarvis
If you're staying in Sultanahmet, the best (and cheapest) way to get to your accommodation is by using public transport. Ataturk Airport is connected to Havalimani metro station. From Havalimani metro station, ride down the line all the way to Aksaray. Following that, switch to the tramway connecting Bağcılar and Kabataş in the direction of Kabataş. Sultanahmet is just five stops away. If you want to get to Taksim, ride all the way to Kabataş, then switch to the funicular.
Istanbul Card
Before your first ride on public transport, do purchase the prepaid and rechargeable Istanbul Card (10 TL, with fare credit of 4 TL) and load it with more credit. Each ride will cost 1.95 TL (SGD 1.10) and there will be discounts for transfers. Do take note that you can use one card for multiple travellers. Simply tap the card and pass it along to a friend behind you before walking past the gantry. This Istanbul Card can be used for the metro, trams, buses, ferries and funiculars.
Around the city
It's easy to get around in Istanbul – in fact, it's possible to visit most of the main attractions on foot.  If the weather is pleasant, simply put on a pair of comfortable shoes, and you're good to go!  Walking from Taksim Square to Sultanahmet Square will take about 30 to 40 minutes. You'll pass the shopping paradise of Istiklal street, walk along the iconic Galata Bridge and into Eminönü, where you can find the Yeni Cami mosque and the Spice Bazaar.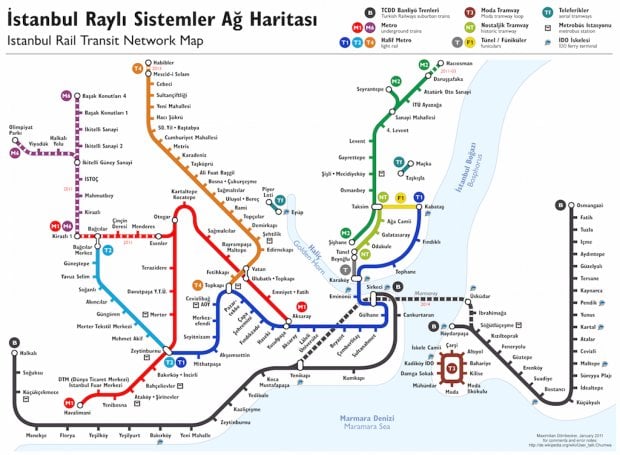 Image credit: Wikimedia Commons
If walking is not your thing, put your Istanbul Card to good use and commute by the tram and metro instead. Navigating it can be a little confusing though, so do download a map of the transportation network and have it with you wherever you go.
Prices of attractions and free things to do in Istanbul
Prices of attractions
Set aside some money to see the main attractions in Istanbul, so you won't feel the pinch on your daily budget when forking out the entrance fee.
Here are some entrance fees to take note of:
Chora Museum: 15 TL
Hagia Sophia: 30 TL
Topkapi Palace: 30 TL, additional 15 TL for Harem
Hagia Irene Museum: 20 TL
Archeological Museum: 15 TL
Great Palace Mosaic Museum: 10 TL
Museum of Turkish and Islamic Arts: 20 TL
Galata Mevlevi House Museum: 5 TL
Yildiz Palace Museum: 5 TL
Fethiye Museum: 5 TL
Rumeli Fortress Museum: 5 TL
Yildiz Palace: 10 TL
Museum for the History of Science and Technology in Islam: 5 TL
All the attractions listed above are included in the Museum Pass. Two types are available: 3-day (85 TL) and 5-day (115 TL).
Additional attractions not included in Museum Pass:
Dolmabahçe Palace: 30 TL
Basilica Cistern: 10 TL
Free things to do in Istanbul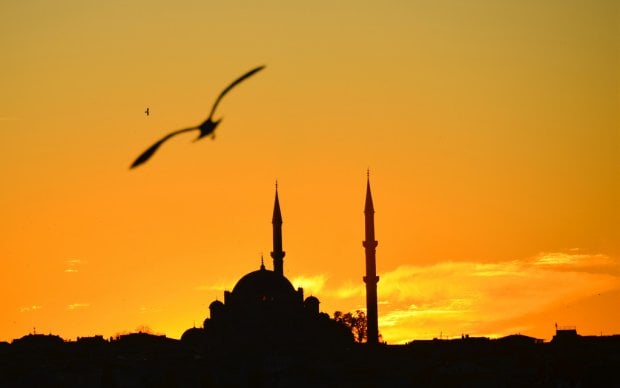 Image credit: Girish Gopi
There are plenty of free things to see and do in Istanbul, and this is just a short list. Most of these can definitely be undertaken by travellers in Istanbul, as the sights/activities listed are located close to the city centre.
Catch the sunset from Galata Bridge.
Window-shop in the Grand Bazaar and Spice Bazaar.
Visit and admire beautiful mosques such as the Blue Mosque, Süleymaniye Mosque and Rustem Pasa Mosque.
Take a stroll in Gülhane Park in Sultanahmet or Yildiz Park in Beşiktaş.
On Thursdays when there's free admission, visit Istanbul Modern Museum in Tophane.
Walk from Taksim Square to Sultanahmet and admire the sights along the way.
Walk by the Bosphorus from the village of Ortakoy to Rumeli fortress. You will pass through interesting neighbourhoods such as Kurucesme, Arnavutkoy and Bebek. This walk will take about 1.5 hours, and there will be plenty of cafes along the way to rest your feet.
Shopping for bargains
Where to shop
Istanbul is truly an exciting and bustling shopping paradise. There are plenty of bazaars, markets, shopping streets and shopping malls to explore and covering it all will require a comprehensive guide on its own. Below are the most accessible shopping spots that you are most likely to find yourself in: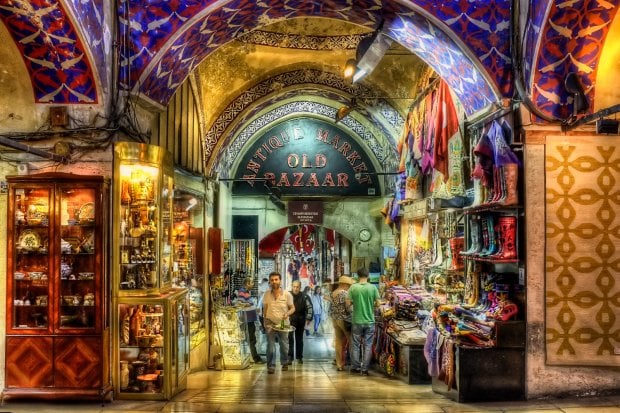 Image credit: Pedro Szekely
In Sultanahmet: Every traveller in Istanbul will probably head to the famous Grand Bazaar and its neighbouring Spice Bazaar. However, don't forget about Arasta Bazaar, located behind the Blue Mosque, where you can find carpets, tiles, ceramics, jewellery and souvenirs.
In Beyoglu: If you take a walk from Taksim Square to the Galata Bridge by following Istiklal Caddesi, you'll find yourself wandering into one shop after another. Turn left into Yeni Çarsi Caddesi after passing Galatasaray high school to discover the rows of boutique shops, cafes and bars. Further down is Çukurcuma, boasting a plethora of antique shops and hipster cafes. If you're looking for high-end labels, look no further than the shopping streets of Nisantasi, which is also within walking distance of Taksim.
Tips for shopping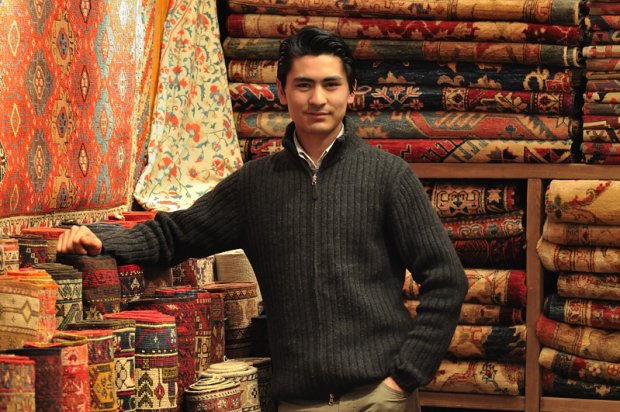 Image credit: Guillermo Fdez

Tip 1: Haggle if you want a good discount. Do not be afraid to slash the prices, especially when shopping in bazaars and street shops. If you do this well, you can even end up paying less than half the selling price of the item. No joke – haggling is a tried and tested method. Also, if you buy items in bulk, the shopkeepers tend to offer generous discounts. If they don't, do ask for it. While shopping, don't be surprised to be offered tea by shopkeepers; this is just part of the usual shopping experience in Turkey.
Tip 2: Always be strong, and don't be afraid to say "no" and walk away. Turkish shopkeepers can be very, very persuasive, especially those working in the tourist areas. If you are not careful, you may find yourself walking out of the Grand Bazaar with a few rolls of handmade Turkish carpet on your shoulders without even planning to.
Cheap souvenirs to buy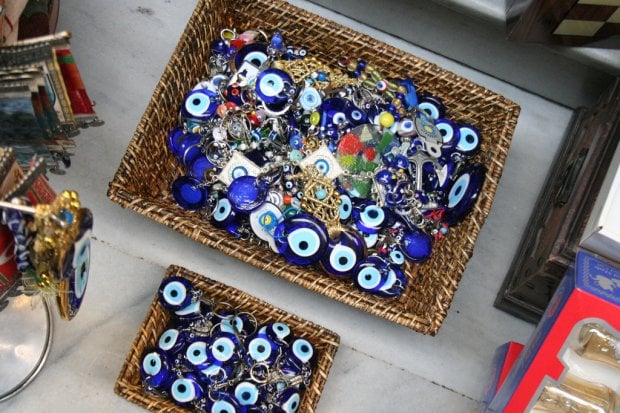 Image credit: Robin Zebrowski
If you have many friends and you need to get them all souvenirs, don't worry. In Istanbul's bazaars, you'll be able to find beautiful pouches, accessories and keychains for as cheap as 1 TL (SGD 0.55) each – no kidding!
Hunting for cheap Halal eats and drinks
Cheap, delicious Turkish food can be found in abundance in Istanbul. Look out for büfes, which is a corner shop where you can find döner (similar to kebabs), soups and tost (sandwiches).
Also Read: What can I buy with SGD 1 in Turkey
Portions of food served in Turkey tend to be quite big. If you are comfortable with sharing food, you can save some money by doing this. Better yet, you'll be able to afford some fancy meals in a nice restaurant without busting your budget!
Some cheap eats and popular drinks you need to try include…
Balik ekmek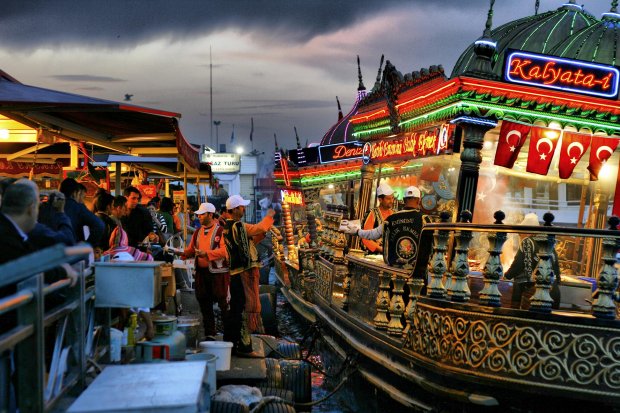 Image credit: Wikimedia Commons
If there is one cheap eat you can't miss in Istanbul, it is the balik ekmek (fish and bread). Look for the bobbing boats located in Eminonu Quay near the Galata Bridge – this is the kitchen where the delicious fish sandwiches are prepared. 5 TL will get you a huge balik ekmek and you can proceed to sit on the stools beside the boats to have your meal.
Döner kebab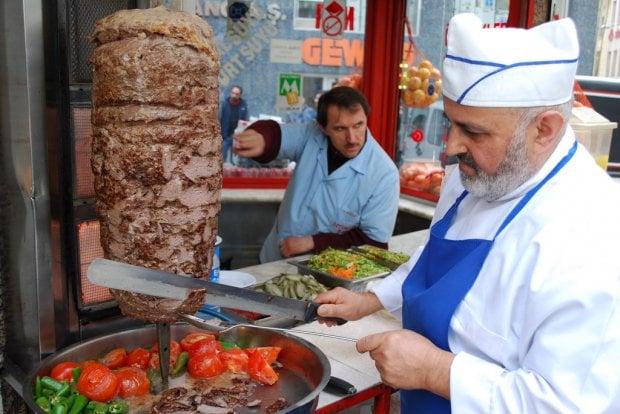 Image credit: Agnes Chang
As you'd expect, Istanbul is kebab paradise. A döner kebab ("rotating roast") usually costs less than 10 TL (SGD 5.50) in a street shop.  Döner kebabs are basically sliced lamb, beef or chicken roasted on a vertical rotisserie, and wrapped in a flatbread. Messy-eaters should try the dürüm, which is similar to the kebab but with a flat, chewy tortilla wrap instead of a flatbread.
Simit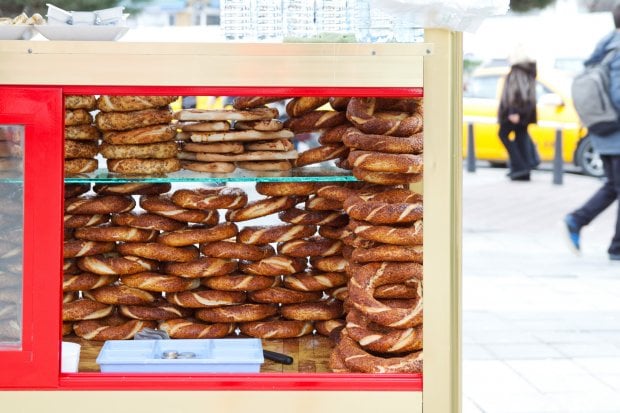 Image credit: Robyn Lee
You'll also be able to find an abundance of cart vendors and bakeries selling Simit, which are Turkish bread rings sprinkled with sesame. If your accommodation don't offer free breakfast, simply grab a couple of Istanbul's famous Simit. Crunchy on the outside, soft on the inside, and priced from 0.50 to 2 TL (SGD 0.30 – 1.10), Simit is a real treat.
Ayran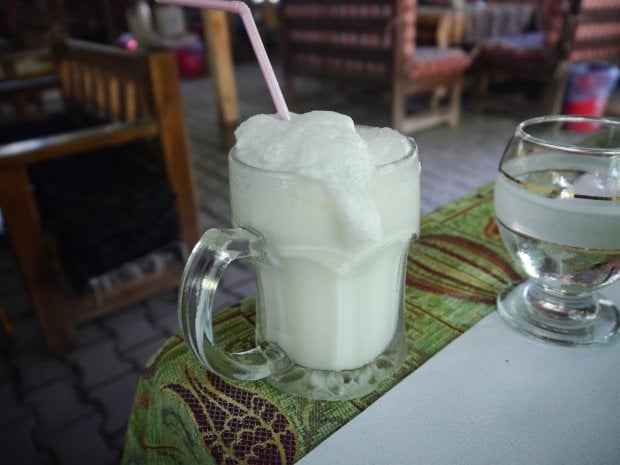 Image credit: Katarina
Don't leave istanbul without trying their well-loved (and rather glorified) Ayran, which is a salted yoghurt beverage. You'll find adverts of this drink pretty much everywhere, and some set meals come with Ayran instead of coke. A cup of Ayran costs 1 TL (SGD 0.55).
Pomegranate juice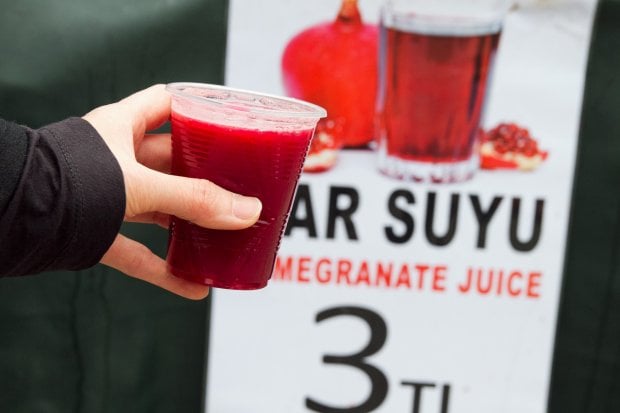 Image credit: Robyn Lee
Along the streets, there are many juice stands where you can get fresh pomegranate juice for about 3 TL (SGD 1.60).
Turkish tea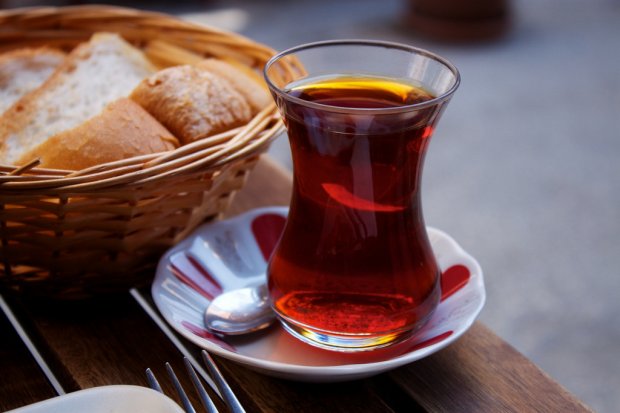 Image credit: Carlo Rainone
If you're a tea lover, you're in for a treat because Turkish people are absolutely crazy about tea. You'll see people drinking tea – everywhere! A little cup of tea will cost between 0.50 – 2 TL (SGD 0.30 – 1.10), and there are many little tea/coffee shops along the streets. Also, when you're in a convenience store, hunt around for a canned Didi – a delicious ice tea beverage.
General tips
Know a little bit of Turkish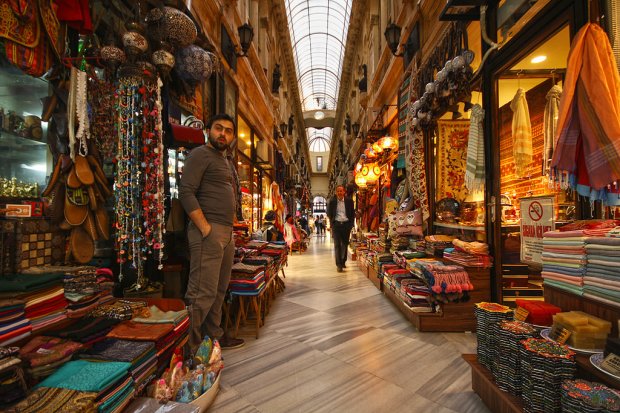 Image credit: Miguel Virkkunen Carvalho
In general, locals that often deal with tourists (shopkeepers, hostel owners and restaurant staff) are very well-versed in English. If you need help with directions or other matters, you'll find that the people you meet on the streets tend to be very friendly and helpful, even if they don't speak much English. Therefore, you don't have to worry about not being able to communicate with locals in Istanbul.
However, knowing a little bit of Turkish will go a long way. Here are some words and phrases that may come in handy.
Hello: Merhaba
Thank you: Teşekkür ederim ("te-shek-koor ederim") or short form teşekkürler ("te-shek-koor-ler")
Please: Lütfen ("loot fahn")
Good morning: Günaydın ("goo nai den")
Goodnight: Iyi geceler ("ee ge jay ler")
Goodbye: Güle güle ("guele guele")
Yes : Evet ("eh vet")
No : Hayır ("hi year")
Water: Su
Bread: Ekmek
Tea: Çay ("chai")
Coffee: Kahve ("kah veh")
Beautiful: Çok güzel ("chok guzel")
Bathroom: Tuvalet ("too vah let")
Getting the best exchange rate
Do you change some money to Turkish currency in your home country, withdraw money from the ATM in Turkey, or use the money changers in Turkey? The most convenient way is just to withdraw money from the many ATMs in the airport or in the city centre. If you're a frequent traveller, go get a credit card with no foreign transaction fees already! Otherwise, change your home currency to USD or Euro (whichever is more favourable), and change them to Liras in Istanbul.
Make friends with a local
The best way to see Istanbul is to have a friend there to show you around. Don't have one? Well, make one! You can use Couchsurfing to find a local who is keen to show you around Istanbul. You don't have to sleep on their couch if you're not interested in that – there are plenty of nice folks who just want to share the best of their city with you. If you are lucky, like us, you'll make a good friend who will bring you to secret locations that you would otherwise not know of. Also, you'll find that Turkish locals are really friendly and it's very easy to befriend many along your journey.
Travelling outside of Istanbul
Outside of Turkey, you should see…
The rock formations and hot air balloons in Cappadocia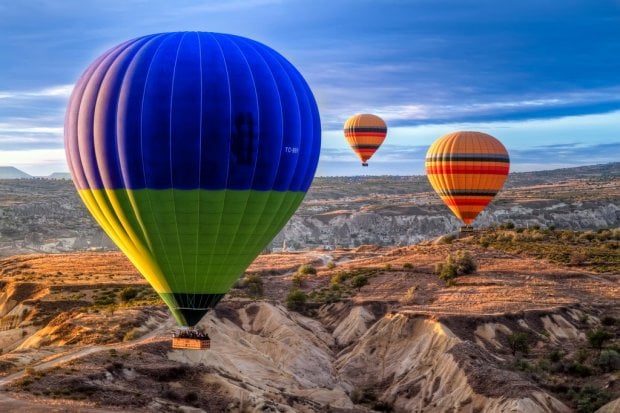 Image credit: Clark & Kim Kays
The little Ottoman town of Safranbolu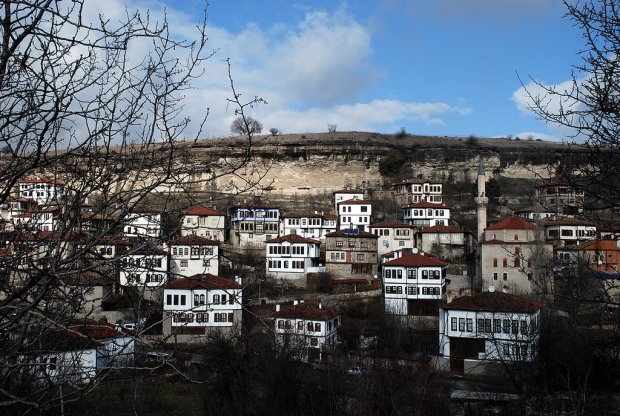 Image credit: ilkerender
Also Read: Why Safranbolu Must be in Your Turkey Itinerary
The cotton castles in Pamukkale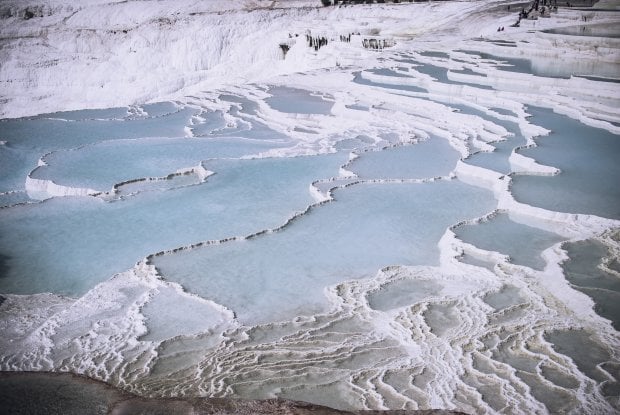 Image credit: chrisobayda
The beautiful beaches in Ölüdeniz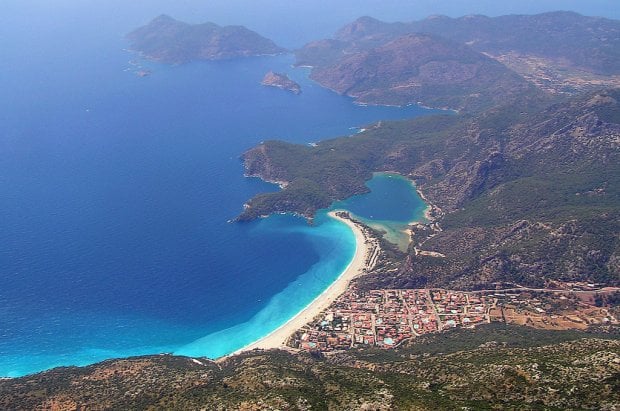 Image credit: Ian Robertson
The ancient ruins in Ephesus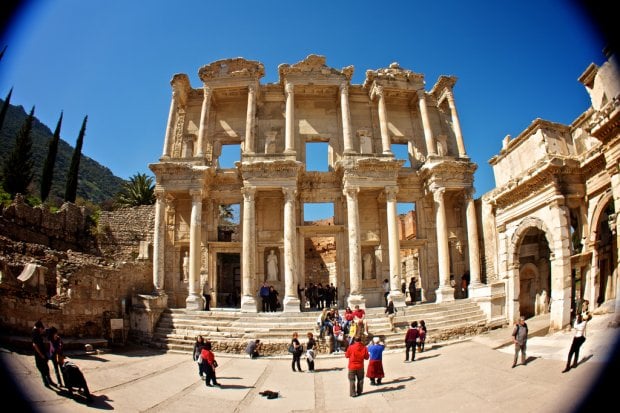 Image credit: Foomandoonian
The Turkish Mediterranean coast from Antalya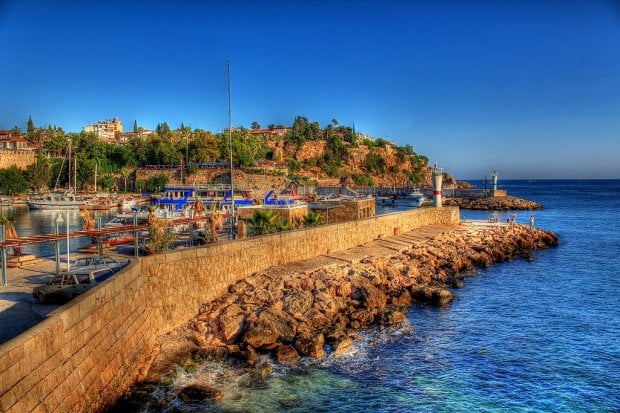 Image credit: Omer Unlu
The town that looks a lot like Greece: Bodrum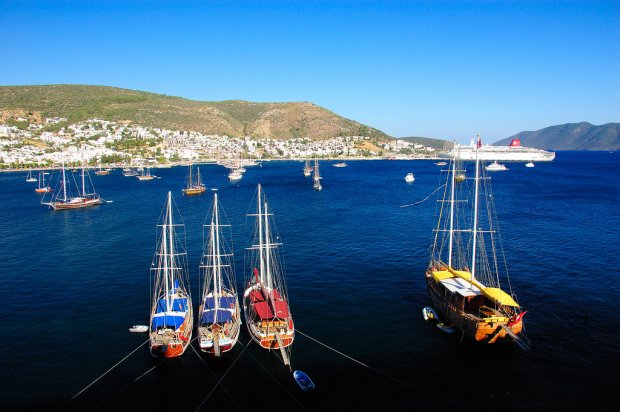 Image credit: Ming-yen Hsu
Transport options
The cheapest way to get to other parts of Turkey is by bus. There are seemingly hundreds of bus companies available connecting Istanbul to various cities and towns in other parts of Turkey. Some buses even have wifi and bus stewards onboard to bring you drinks and snacks (woah, what?). It is not necessary to buy bus tickets far in advance; simply showing up at the bus terminal on the day of travel itself will do. Be prepared to get hassled by many bus company employees at the terminal, though.
Istanbul's Main Bus Terminal is also known as Büyük Otogar, located near the district of Esenler. It is accessible from Taksim via IETT city bus 83-O (Otogar-Taksim). To get there by train, drop off at "Otogar" which is on the red line.
If you're short on time or travelling very far from Istanbul, hop on affordable domestic flights with Pegasus Airlines, Onur Air, Atlasjet, Sun Express or Turkish Airlines.
Also Read: A General Guide to Turkey: SGD 1000 in 7 Days
That's all, folks
With these travel tips, you'll be able to travel around Istanbul and the rest of Turkey on a small budget. To get pumped up for your trip, check out the 10 reasons to visit Turkey this year. Also, do look out for the best travel deals before you go! If you have other tips to share, let us know in the comment box below!