Films have the alluring energy to transport us to a different time and place. For some, this is enough to hold back the wanderlust – to simply enjoying a place far from the screen. For others, films can be a goldmine of ideas for your next travel plans!
Here is a list of eight movies that feature Muslim-friendly places for you to consider. Although some of these destinations are tourist hotspots, others are lesser-known gems worthy of venturing to!
1. Aladdin (2019), Jordan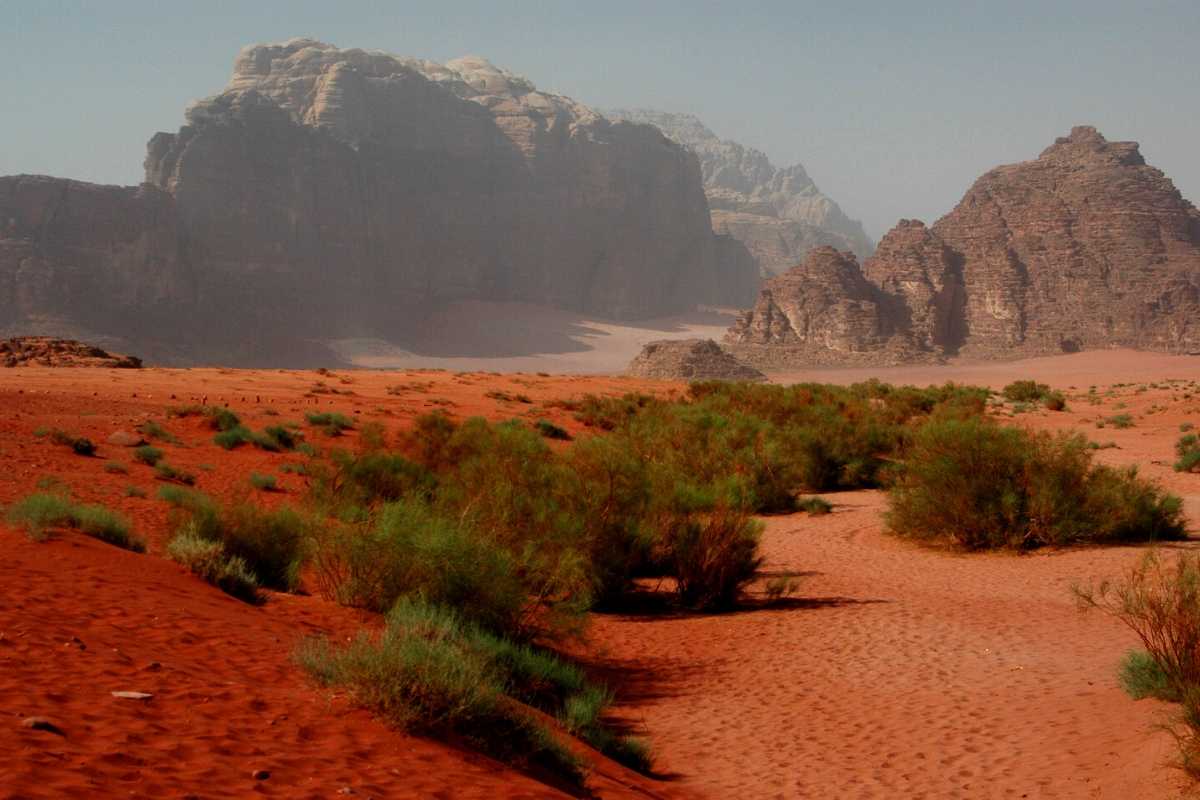 Featured in the recent live-action adaptation of Aladdin, Wadi Rum Desert in Jordan is a stunning showcase of great landscapes and awe-inspiring sand dunes. Wadi Rum is not only a magnificent display of nature but is also a rich source of history. This site was inhabited by many human cultures since prehistoric times. As you ponder over the wonder of nature, you can also dive deeper into the history of the people in the area.
Wadi Rum is best for trekkers and climbers. However, there are also options for camel and horse safari! For those who want to simply enjoy the scenery and indulge in the sights, take a day trip from Aqaba or Petra. Other popular activities include camping under the stars and rock-climbing among rock formations. If you want something more lavish, luxury camping retreats are also available! Muslim-friendly Jordan will leave you with experiences you'll remember for life.
2. Mamma Mia! (2008), Skopelos, Greece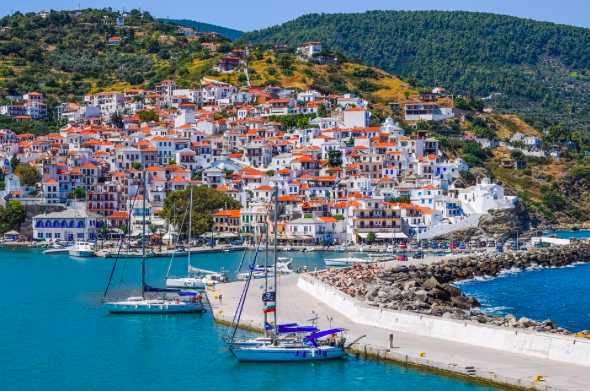 When Mamma Mia! Here We Go Again was released, it brought about a Greek island fantasy for many of its audience – me included! Who can resist the dazzling allure of clear blue seas and quaint tiny houses by the coast?
This blockbuster film highlighted Skopelos, one of the many Greek islands. Located in the western Aegean Sea, the island is also home to two mountains, Delphi and Palouki. With half of its territory covered in virgin pine forest, Skopelos is also the greenest island in Greece! Situated by the coast, the island boasts a variety of seafood as part of their cuisine – a great option for Muslim travellers. With dishes like Greek Mussels and Greek Lobster Pasta, you will be spoilt for choice! 
Skopelos also boasts Byzantine monasteries and traditional Pelion architecture which is a feast for the eyes. Nearby, there are also other islands like Skiathos and Alonissos which are easy to reach by ferry or speed boat. Next time you consider stopping by a Greek island, instead of the popular Santorini or Mykonos, make Skopelos your choice!
3. Ayat Ayat Cinta (2008), Semarang, Indonesia

Ayat-Ayat Cinta is one of the most iconic Indonesian films. Featuring huge pop idols on its soundtrack, the film received critical and commercial success. One of the highlights of the film was also the remarkable cinematography which featured Semarang, the capital and largest city of Indonesia' Central Java.
Colonised by the Dutch in its past, Semarang's Old Town is also known as Little Netherlands. There are over 50 well-maintained colonial buildings showcasing 18th-century European architecture. With the abundance of old European buildings around, Semarang does not portray a typical city in Indonesia.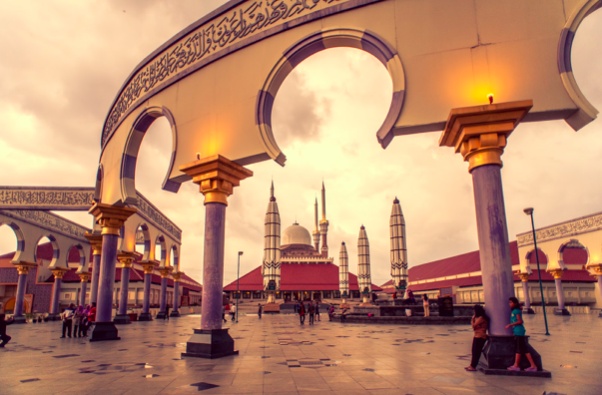 Aside from the European architecture, there is also the beautiful Central Java Grand Mosque, which was inspired by the mosques in Mecca and Medina. Next time you want to consider stopping by somewhere near for a quick getaway, Semarang could be the answer!
4. Dilwale (2015), Iceland

A hit movie featuring two big Bollywood superstars, Kajol and Shah Rukh Khan, Dilwale exhibits brilliant cinematography. One of the commercially successful songs from the movie, titled Gerua, highlights two incredible spots located in Iceland. One of them is Vestrahorn Beach, with peaks reaching up to 454 metres. The black sand beach against the clear waters will surely make your heart skip a beat.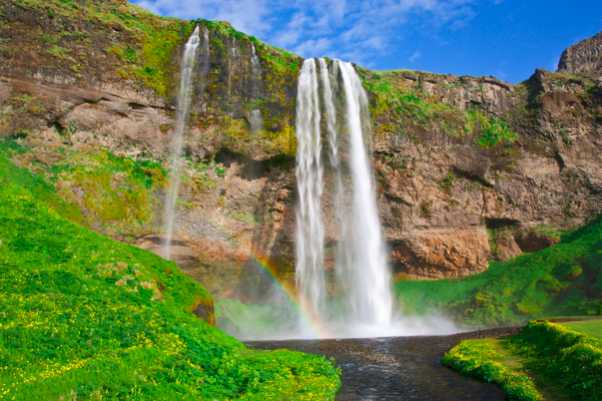 Another must-visit spot is Seljalandsfoss, one of the best-known waterfalls in Iceland standing at a whopping 65 metres tall. There is a path leading to the waterfall, but do bring along a raincoat with you as you will get soaked from the drizzle! This waterfall is located about 120 kilometres from the city centre of Reykjavik, a perfect choice for a day trip. You can also consider visiting nearby Gljufrabui Waterfall.

While the Muslim community is small in Iceland, it is growing and halal food is becoming more accessible. If you find some time, consider stopping by the Islamic Cultural Center of Iceland. You can learn more about being a practising Muslim in a city where the higher latitudes in the night can be of unusual lengths. This leads to prayer times and Ramadan, for instance, to be practised differently than we do!
5. Train to Busan (2016), Busan, South Korea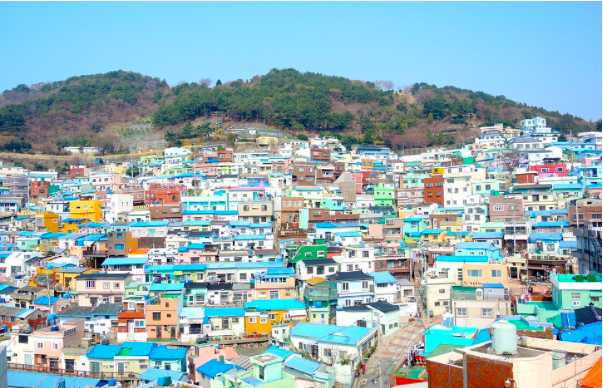 While the Korean blockbuster Train to Busan barely showcased the beauty of Busan, you should still consider this city for your travels. Busan is the second most populous city after Seoul and as such, is a lively and exciting place to be. Home to the country's largest beach, Haeundae, and the largest department store, the Shinsegae Centum City, Busan brims with activities for all.

One of the more popular attractions is Gamcheon Cultural Village, which was created in the 1950s as a residential community along a mountainous slope. Dubbed the 'Machu Picchu of Korea', the houses in the village are built in a sort of staircase fashion! Busan is also by the coast which means fresh seafood galore! You can also find a list of halal restaurants in South Korea here!
6. Ombak Rindu (2011), Pulau Tuba, Langkawi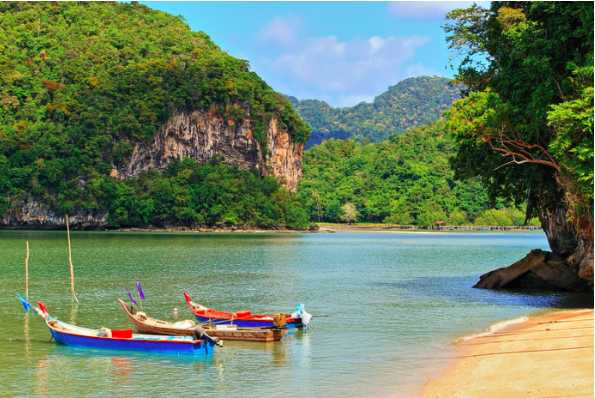 When Ombak Rindu was released in 2011, it also boasted an impressive soundtrack which successfully complemented the film. The film features impressive shots of Pulau Tuba in Langkawi with its clear waters and impressive thick greenery all around. This beautiful remote island is home to a traditional fishing village, rare flora and fauna along with a various number of homestays.

The villagers live a largely traditional lifestyle, where they often go to the hills and forests to collect herbs, fruits and honey. If you are interested in experiencing village life, Malaysia's Fisheries Development Authority offers a range of homestay programmes. Through these programmes, you will be able to get in touch with a host family on this charming island!
7. 3 Idiots (2009), India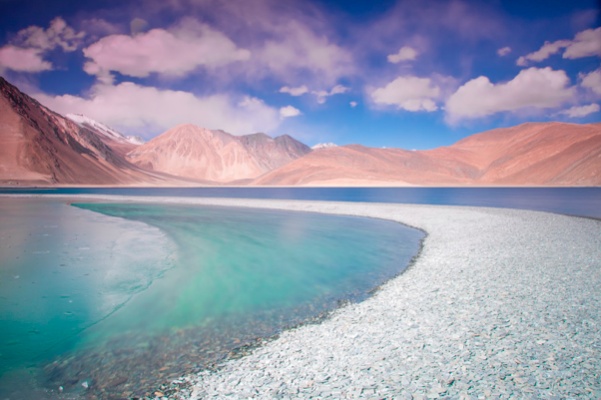 Receiving widespread critical and commercial success, 3 Idiots won multiple prestigious awards including six Filmfare Awards and Best Foreign Film at China's Beijing International Film Festival. 3 Idiots was also listed in Guinness World Records for holding the record for highest grossing box office film for a Bollywood movie.
While the movie is a spectacular work of art, it also features beautiful cinematography. One example was the fascinating display of Pangong Lake, which is 134 kilometres and extends from India to the Tibetan Autonomous Region, China. The clear blue lagoon-like saltwater lake is almost surreal as it spreads below the mountains.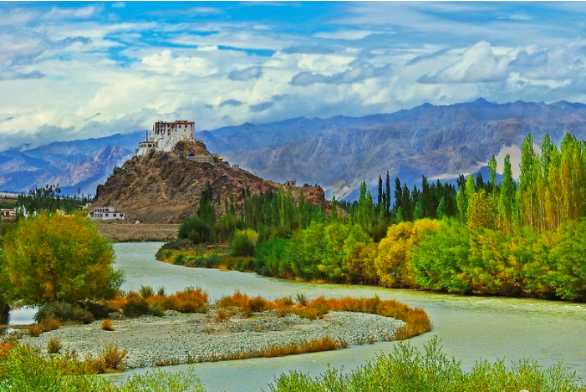 Another spot that is highlighted in the film is the Indus River, one of the longest rivers in Asia. The river runs the entire length of Pakistan and a small portion of it passes through Jammu and Kashmir. The area is also deep-rooted in history with some of the earliest known urban settlements found in the Indus region. The main inhabitants of the regions are also mainly Muslim as Pakistan is an Islamic country!
8. Pulang (2018), Setiu, Terengganu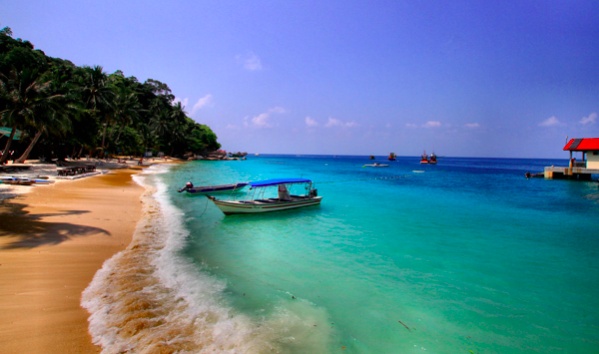 A Netflix original film set in Malaysia, Pulang tells the story of a fisherman who has to travel far in hope to return with riches for his family. The film features spectacular cinematography which highlights the beauty of Setiu District in Terengganu, Malaysia.
With its rustic and idyllic charms, Setiu offers clear emerald waters by the beach and lush tropical rainforests. A tropical getaway, this spot also boasts a diversity of tradition and heritage. Ideally located in largely Muslim-populated Terengganu, Setiu is perfect for Muslim travellers looking for a relaxing utopia away from the hustle and bustle of the city.
Also read: 9 Muslim-Friendly Honeymoon Destinations To Explore in 2019