These days, it seems that food companies are always coming out with new and innovative snacks that gather interests from the consumers. However, more often than not, it is difficult to know if these snacks are halal or not.
If you've been hankering for something original, here is a list of five new snacks that are halal-certified that you can consider trying!
1. Cemani's Chicken Skin Snack

Boasting four different flavours, Cemani's Chicken Skin Snack is a fun treat for your taste buds. The chicken skin snacks are removed off their fats and drenched in a variety of flavoured goodness, satisfying consumers with the eclectic taste.

A versatile snack, this new product will complement its pair regardless. This snack comes in flavours such as Mala, Salted Egg and Tom Yum –  some of the most popular Asian spices right now! 
2. Uncle Saba's Poppadoms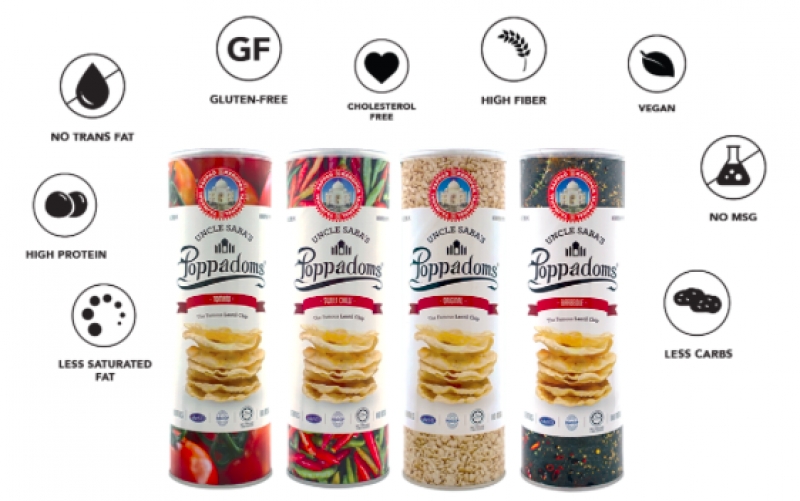 Not only is this snack certified halal, but it is also a healthier snacking option than most chips! Uncle Saba's Poppadom, although not from Singapore, is growing in popularity amongst the locals. These chips, which are made from lentil, are bite-sized and made with more protein and fibre.
Suitable not only for Muslims, these snacks are also perfect for vegans and for consumers adopting a gluten-free diet. These snacks are also produced in different flavours including Tomato, Barbeque, Sweet Chilli and Original.
3. F.east's Beef Rendang Potato Chips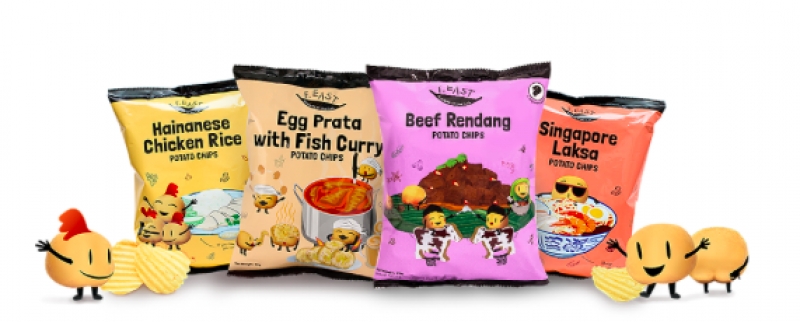 Local food brand, F.east, is popular for their creatively-flavoured chips and for good reason! Recently, they also released a new flavour, Beef Rendang as part of their available products. Some of the flavours from before this new release include Hainanese Chicken Rice, Egg Prata with Fish Curry and Singapore Laksa.

Embodying these iconic dishes in the form of chips, F.east has always been imaginative and fun in that sense. These chips are available in 7-Eleven outlets and online grocery store, RedMart.
4. The Golden Duck Co.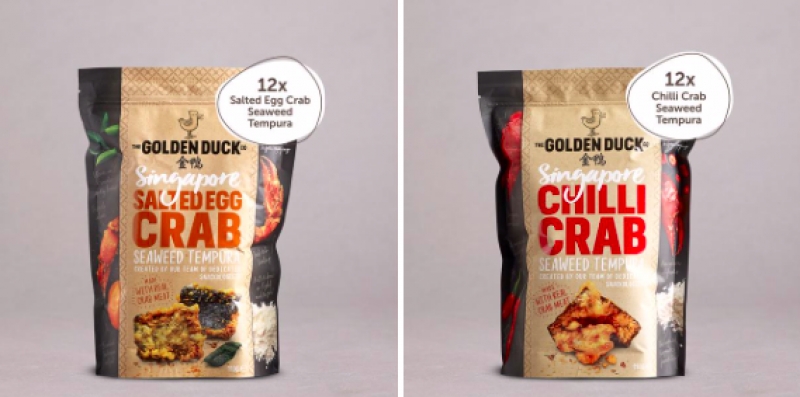 Holding true to their motto of utilising snacks as a method of bringing people together, The Golden Duck and Co.'s Crisps are made in many tantalising flavours! A well-known local brand, the snacks produced are a guaranteed hit with its consumers.

Specialising in exciting and bold flavours, some of the products include Singapore Chilli Crab Seaweed Tempura and Salted Egg Crab Seaweed Tempura. For those who want a bite of Singapore, give this snack a shot!
5. Irvin's Salted Egg Snack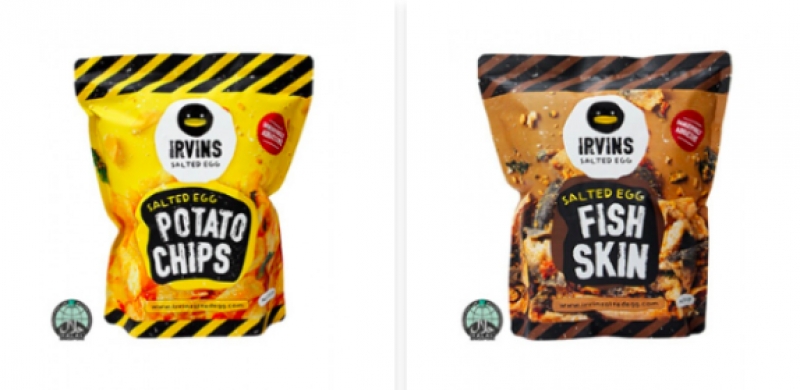 Halal and varied in products, Irvin's range of Salted Egg Snacks will leave you wanting more. While the products are all salted egg flavoured, these snacks come in the form of potato chips, fish skin and cassava chips!

Most recently, in lieu of the Mid-Autumn Festival, they also released other interesting products for your consideration. These new products include Lava Mooncakes and the Salted Egg Crunchy Rolls.

As food brands continue to innovate and come up with creative alternatives, go forth and try these new (and localised) snack brands. Enjoy some of your favourite flavours infused in either chips, fish skin or seaweed during your next Netflix binge.
Also read: 6 Popular Snacks That Are Not Halal and Their Alternatives