The Ramadan Bazaar at Geylang Serai holds bragging rights (no doubt) as the most popular one in town. It's a perennial favourite and every year, this super-happening bazaar sees throngs of people perusing through the enticing goods and (Instagrammable) food.
With the dazzling lights and vibrant atmosphere, it's hard to give this a miss. But the thought of having to brave these crowds with the unrelenting humidity might not be an option for some.
Fret not, there are plenty of other Ramadan bazaars in Singapore scattered islandwide that spread the same festive joy. Skip the crowds and get your kuih and dendeng fix at these bazaars closer to the heartlands. All you have to do now is to set a date and plan your route!
1. Bazaar Ramadan at Geylang Serai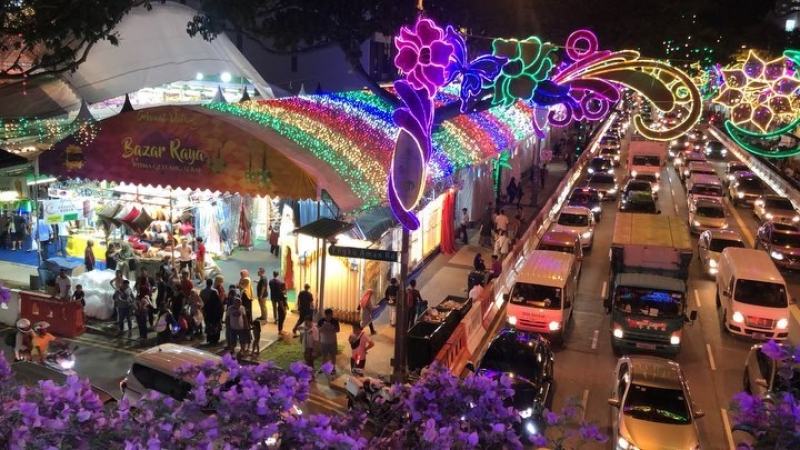 This year's "Kampung Gemilang" theme aims to bring back the irresistible nostalgia of the past. Still retaining its grand scale, you can expect a balanced mix of traditional goodies and new-fangled hipster creations. Boasting more spacious walkways, communal dining areas and air-conditioned shops, your experience this year should outdo previous years. Remember to bring a portable fan though, can't do much about the humidity.
Dates: 3 May – 5 June
Location: Wisma Geylang Serai
Shop Count: 700
2. Bazaar LalooLalang Pop Yeh Yeh Raya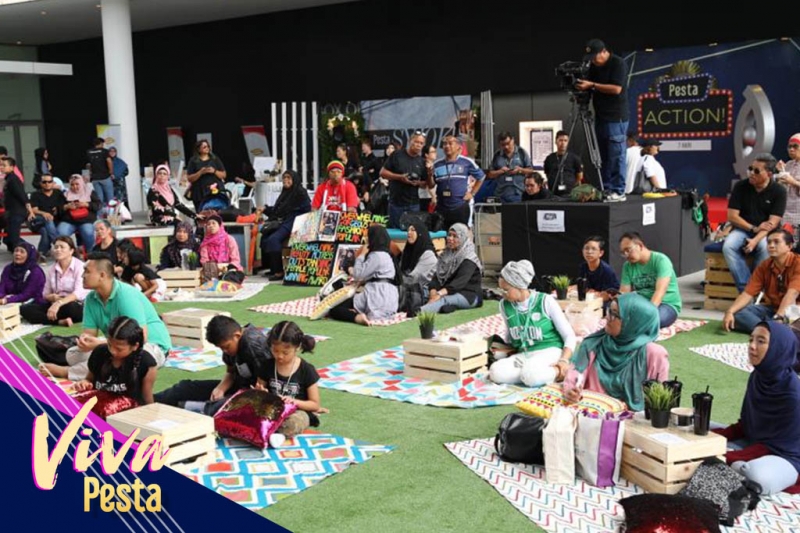 Fashion, lifestyle, food and fun awaits you here! Themed Pop Yeh Yeh, the four-day bazaar will pay homage to the regional music genre of the 1960s. Music from that era will be played to give you nostalgic kampong vibes as you saunter around more than 100 booths.
Similar to the concept of previous years, you can expect popular street snacks and traditional delights. Some favourites include Yummy Takoyaki, The Katoshka, SatayBoy, GomGomSG and The Original Pisang Keju.
Dates: 16 May – 19 May
Location: Taman Warisan Melayu
Shop Count: 100
3. CelebFest Rentak Raya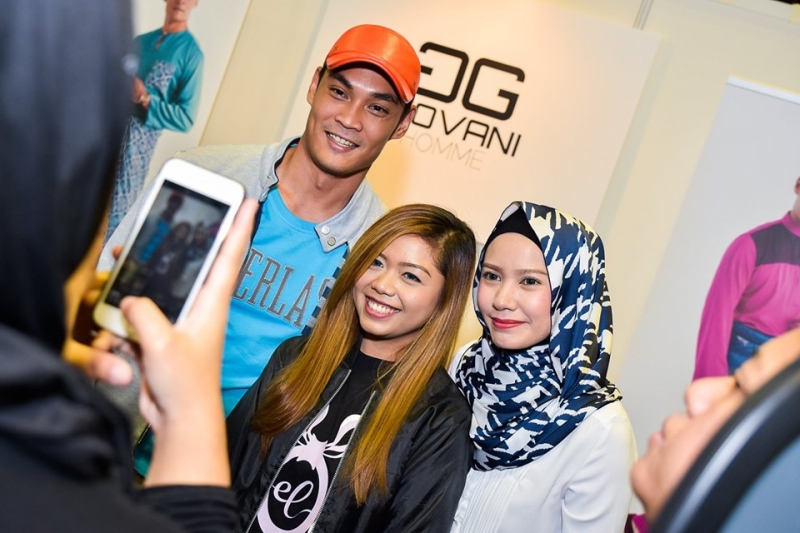 Spice up your shopping experience by adding a bunch of regional celebrities! Back for its seventh edition, the three-day CelebFest event never fails to rake in large crowds who support their favourite artistes and their products. Touted as "Bazaar Ramadhan Paling Happening" (The Most Happening Bazaar), this is the largest gathering of celebrities (over 70 in total), both homegrown and from across the Causeway and Indonesia.

While browsing for popular kuih raya and designer baju kurung, you'll be able to rub shoulders with these celebrities (amidst the mirth of energetic makciks) and snap a selfie if you're lucky. Admission is free so there's really nothing to lose! Food-wise, expect novel creations such as beef rendang subs, satay fries and non-alcoholic butter beer.

Dates: 17 May – 19 May
Location: Suntec City Convention Centre
Shop Count: 200
4. Mega Raya Expo
This four-day event will witness more than 100 vendors hawking both contemporary and traditional fare. Expect a tantalising array of food and beverages that you can purchase for your iftar! To lure even more visitors, this year's edition will feature popular Malaysian and Singaporean celebrities promoting their own brands. Bid hello to Datin Alyah, Marsha Milan, Rozita Che Wan and Jasmine Ashraf!
Dates: 23 May – 26 May
Location: Singapore Expo
Shop Count: 150
5. The Grand Souq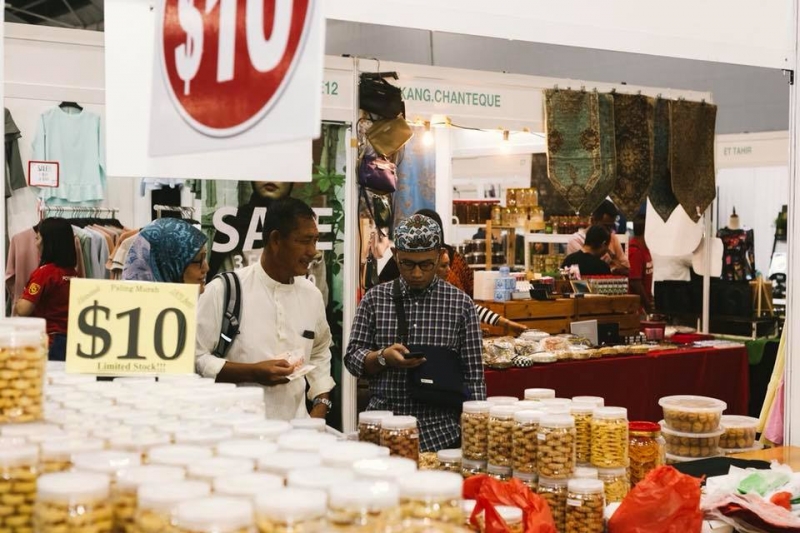 If you love the cohesive nature of bazaars, this particular one will appeal. The sense of community and togetherness is evident from the live Jemaah prayers, daily spiritual sharing and live music performances. You can expect performances by popular groups such as Hijjaz, Caliph Buskers and Mawi among other acts. Taking place on the last week of Ramadan, this will be perfect for your last-minute shopping. Squeeze in some family bonding time too while you're at it!
Dates: 31 May – 2 June
Location: Singapore Expo
Shop Count: 300
Also read: Best Halal Restaurants for Iftar in Singapore
6. Bazaar Lambak Raya
Bazaar Lambak Raya is back by popular demand right in the heart of Paya Lebar. Relatively less frenetic, this cosy bazaar is where you can grab some of your favourite halal food and snacks while browsing through festive apparels. Do note that there will be a Ramadan Charity Sale on 1 June where proceeds will go to charitable organisations. What better way to indulge in retail therapy than by contributing back to society and making a difference?
Dates: 20 May – 3 June
Location: Singpost Centre
Shop Count: 50
7. Bazaar Raya Utara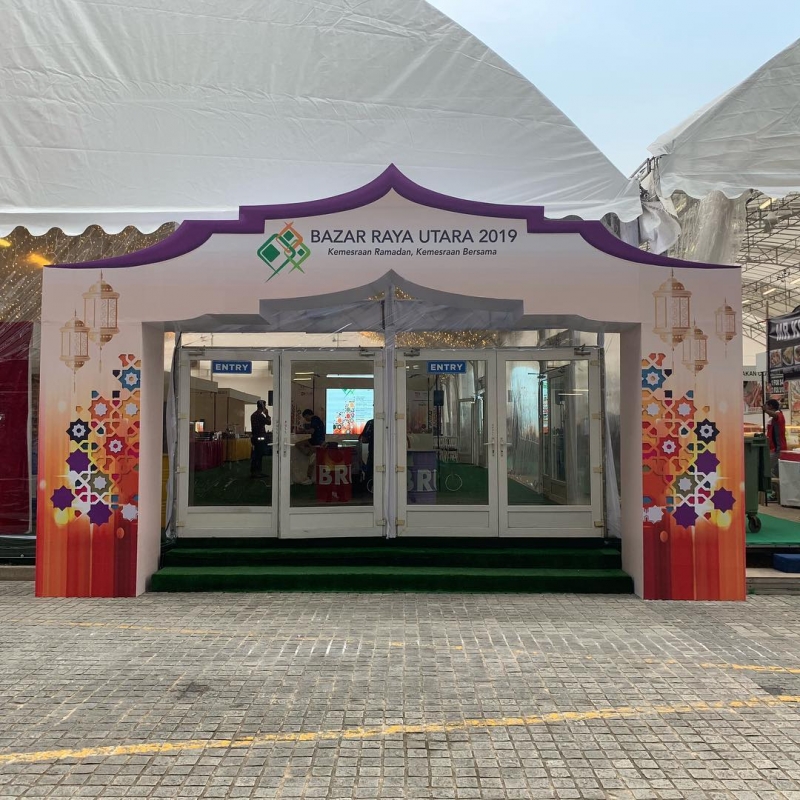 The open field next to Woodlands MRT is used for the Ramadan edition of the usual pasar malams (night markets). While some might settle their street food cravings, others can check out the dedicated section chock-full of traditional outfits and kuih for the upcoming Hari Raya festivities. If you're worried about seating areas, this year's version even includes an al fresco dining area equipped with oil-barrel tables and decorated with glistening fairy lights.
Dates: 3 May – 1 June
Location: Next to Woodlands MRT
Shop Count: 90
8. Ramadan Sultan Bazaar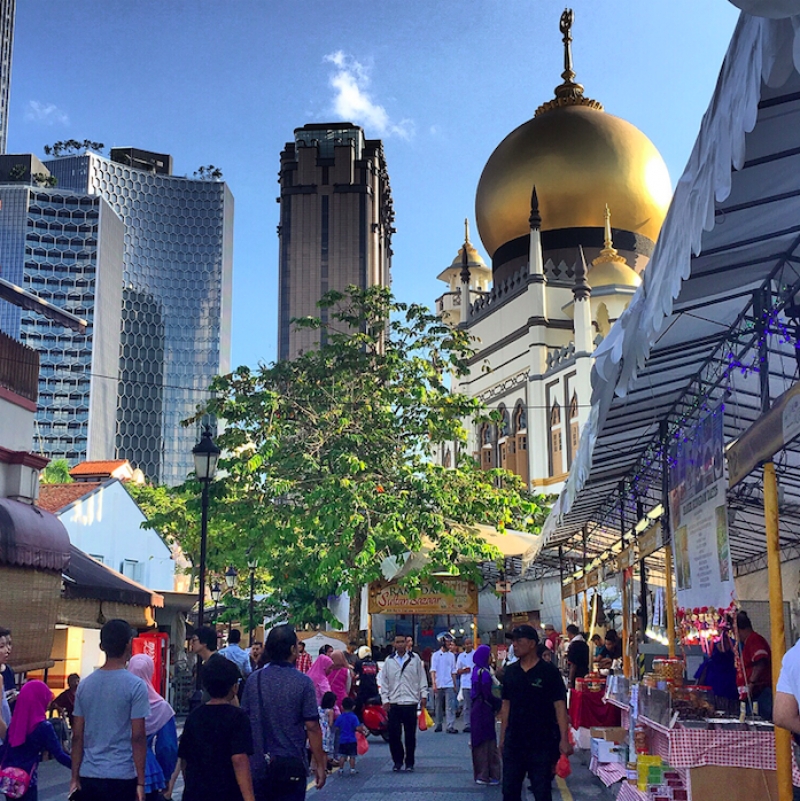 Every year, the entrance of the iconic Sultan Mosque is lined with bustling stalls selling a plethora of food. Whether you're craving for some authentic nasi biryani dum or the famous "Opeh" Beef noodles, the diverse range of food sold implies that there is something for everyone.
Dates: 4 May – 2 June
Location: In front of Sultan Mosque, Muscat Street
Shop Count: 40
9. Vintage Ramadan Bazaar at Kampung Punggol
Back for its second run, this bazaar caters to those living in the Northeast! The best part about patronising the stalls here is the fact that S$50 from the rental cost of each stall will be donated to AIN society – a community organisation helping disadvantaged individuals and adults suffering from chronic illnesses. This bazaar is really a breath of fresh air as you can make your purchases sans the jostling crowds. Expect great food!

Dates: 3 May – 3 June
Location: Open field next to Riviera LRT station
Shop Count: 34
10. OTH Hari Raya Bazaar
You can really feel the kampung spirit here! The annual edition of the bazaar at Our Tampines Hub doesn't disappoint with plenty of traditional staples including putu bambu, popiah basah and satay keju.

Spanning both the Central Plaza and Festive Walkway, this month-long bazaar will be officially launched on 18 May with a special appearance by Malaysian actress/singer Erra Fazira. If you're looking for real food good food for the soul, make this your go-to! Feast on more sumptuous traditional offerings instead of rainbow-coloured food (read: all those hipster gimmicks).
Dates: 3 May – 2 June
Location: Tampines Hub
Shop Count: 80
These Ramadan bazaars are all over Singapore, so you won't have much trouble sussing one out nearby for a fuss-free post-iftar trip. You don't actually have to travel so far to settle your Ramly burger, keropok lekor and churro cravings. If you've already been to the Geylang Serai Ramadan Bazaar or are craving for a whole new experience and vibe, consider checking these out instead.
Also read: Halal Food to Try At Geylang Serai's Bazaar Ramadan