Kuwait often sees alarming temperatures during this time of the year. According to world weather website El Dorado, Kuwait's northern region of Mitribah saw temperatures of 51.4℃ on Tuesday. While Kuwaiti media reports stated that the temperature hit 52.2℃ in Mitribah on Saturday, the data from El Dorado found Tuesday's temperature to be the highest so far.
Mitribah currently holds the joint record for highest-ever recorded temperature on Earth. Blazing temperatures of 54℃ were recorded on 21 July 2016 in the Gulf region.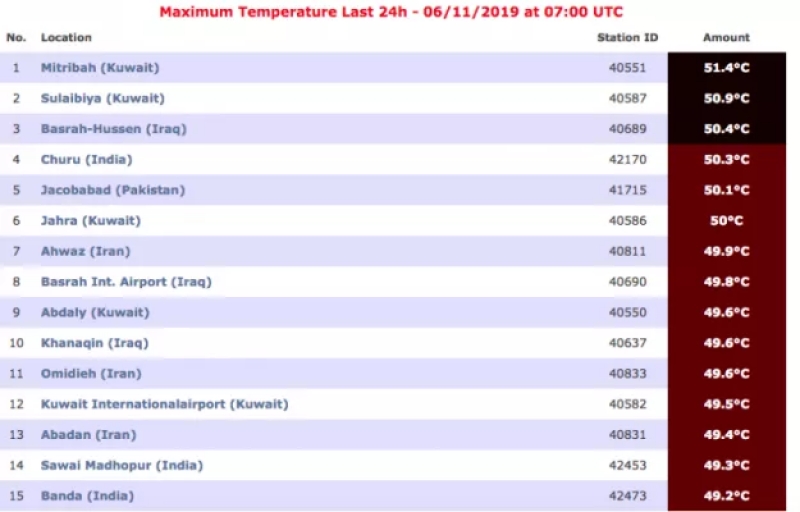 Four other regions in Kuwait were also featured among the 15 regions worldwide with the highest temperatures. These areas included Sulaibiya (50.9℃) in second, Jahra (50℃) in sixth place, Abdaly (49.6℃) in ninth position and Kuwait International Airport (49.5℃) taking the 12th spot.
To cope with the heat, a draft law is being prepared to allow government departments to operate in the evening. MP Faisal Al Kandari submitted the bill earlier this week.
The legislation recommends that government offices, especially those dealing with the public, must work from 5pm to 10pm during the hotter months.
It also states that evening work hours should be in place from 1 June until 31 August. This is not only for health reasons but for safety against blackouts and critical power failures.

MP Faisal mentioned that several scientific studies and forecasts revealed that the region is experiencing a significant climate change. With temperatures rising up to 60℃, this bill is vital for the stability of operations and healthcare.
Also read: Middle East: 6 Safe Muslim-Friendly Countries to Visit