1. The idea behind Fatburger
The history of Fatburger dates all the way back to 1947 when it was first opened as a simple hamburger stand in Los Angeles, California.
Fast-forward to today, this American chain has opened two outlets in Singapore – one in KINEX Mall (formerly OneKM) and another at Velocity @ Novena Square. Although these outlets have always used Halal ingredients in their food, they're now officially Halal-certified and we couldn't be more glad!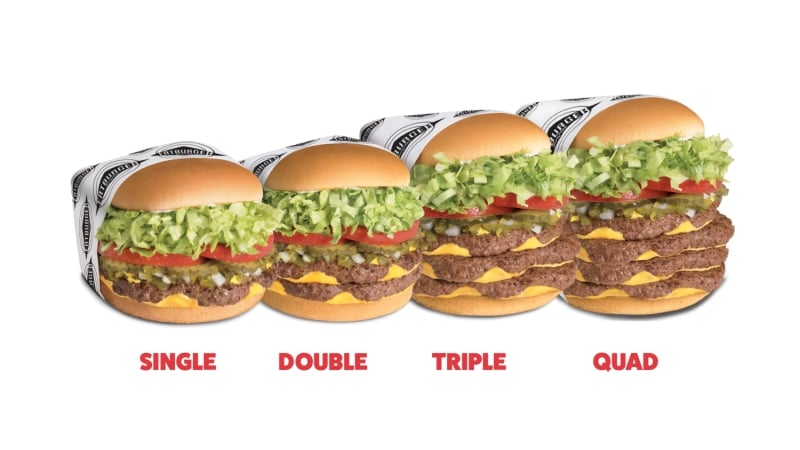 The star of the menu is the Fatburger: a gourmet burger that comes with a choice of one, two, three, or four patties. With freshly-made tender beef patties that's 80% lean meat and 20% fat, the burger is meant to be so filling that it's already a meal all on its own!
2. The menu at Fatburger can get pretty hot!
Besides the all-time favourite burgers, Fatburger is spicing up their menu by adding another American classic – gourmet hotdogs! There are three to choose from: the Classic Hot Dog, the Chilli Dog, and the Chilli Cheese Dog.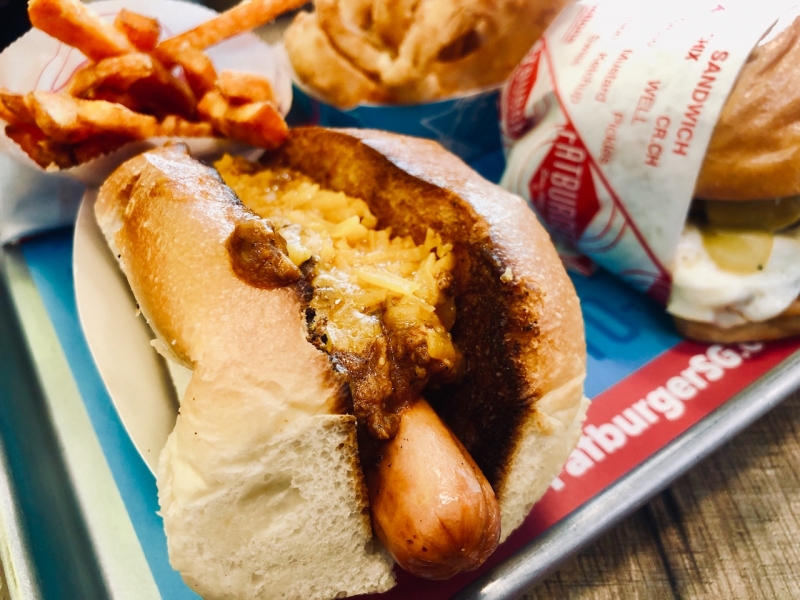 We had the pleasure of trying out the Chilli Cheese Dog, which was one delicious hotdog loaded with freshly-made chilli and minced beef topped with shredded cheddar cheese. One thing's for sure: the fluffy brioche bun that they serve all their hotdogs in makes all the difference.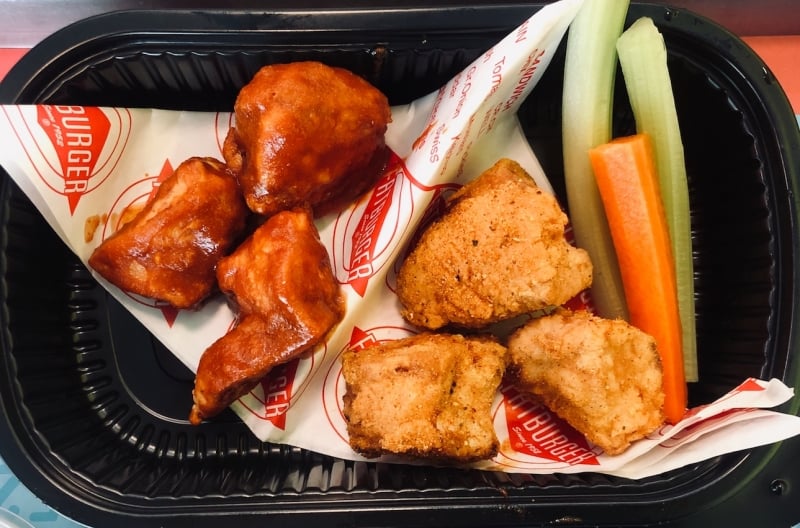 We also challenged ourselves to a round of their signature Buffalo's Chicken, with half of it doused in Death Valley (their spiciest sauce) and the other half of the chicken dry-rubbed with Cajun spices. Things definitely got heated for a bit!
3. Create your own burger or hotdog
This will come as a delight to both picky eaters and those who eat anything and everything. You can choose to add in or remove any of the toppings and sauces to create the burger – or hotdog – of your dreams!
Additional ingredients such as sunny-side up Eggs and Onion Rings can be added for $1 each. We recommend trying the tender Beef Bacon which isn't made overly crisp like in other places.
4. The FATTER the better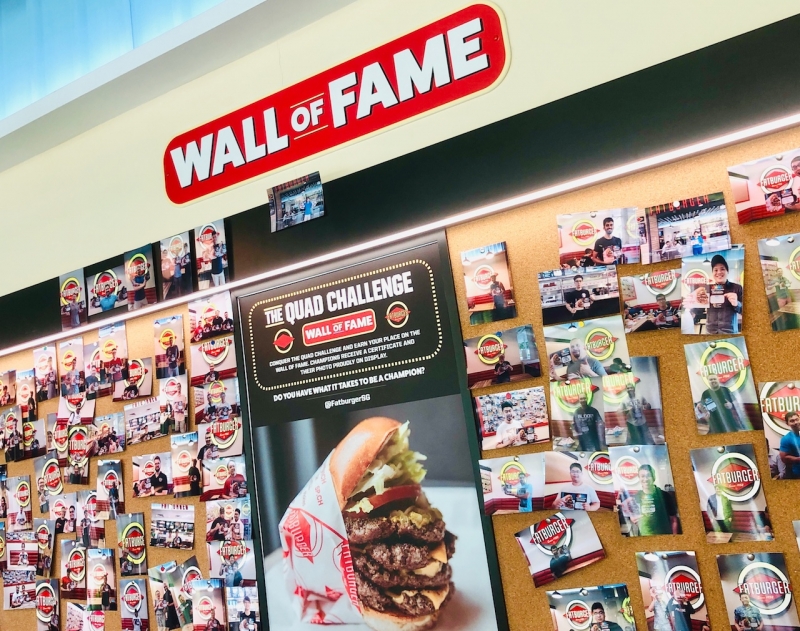 Yes, fatter is better at Fatburger, where conquering The Quad Challenge will land you a certificate and a spot on the Wall of Fame.
The challenge? Gulping down the Quad (XXXL) Fatburger in one sitting! Here's a tip: opt for as few toppings as possible to make the task more manageable.
5. FAT's just a three-letter word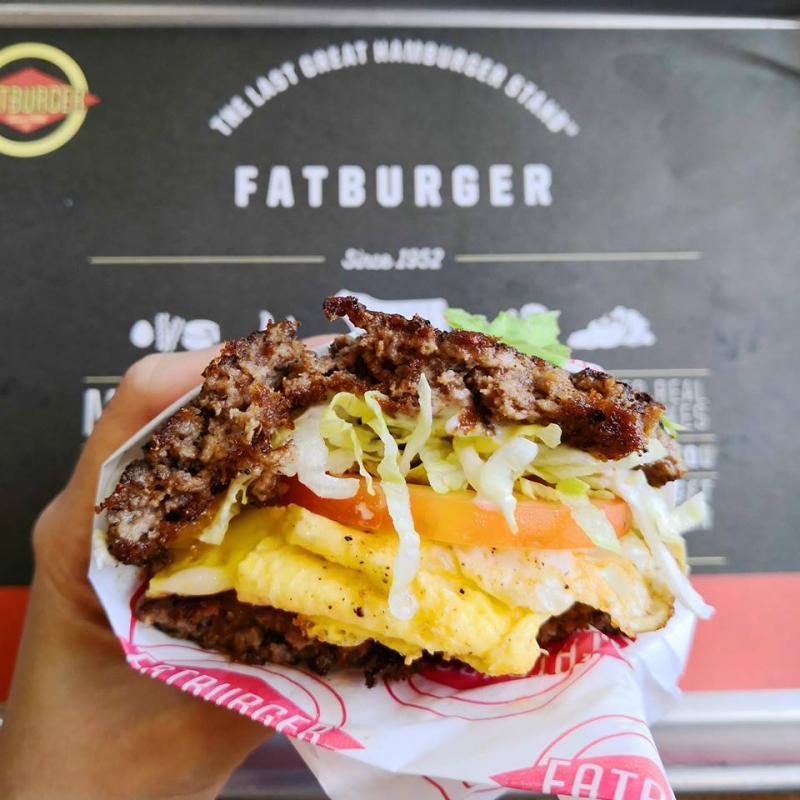 The 'fat' in its name shouldn't scare you. In fact, the restaurant gives a different meaning to the word – they say that it stands for Fresh, Authentic and Tasty.
Besides, if you're really looking to cut out the carb, you don't have to sit out of all the fun. The Skinny Burger is an option with no buns and just patties holding everything together. Otherwise, get wholemeal buns for your burger at no extra cost! If you're more of a salad maestro, the Buffalo Chicken Salad is also a fun choice.
So round up all your friends and family, and enjoy a hearty and authentic American meal, or maybe challenge them to devour the Quad Burger with you? It's your choice!
Velocity @ Novena Square Outlet
Address: #01-08/09, Velocity @ Novena Square, 238 Thomson Road, Singapore 307683
Opening hours: 10am – 10pm daily
KINEX Outlet
Address: #01-70/71/72, KINEX, 11 Tanjong Katong Rd, Singapore 437157
Opening hours: 11am – 10pm on weekdays; 10am – 10pm on weekends
Also read: Best Halal Burger Joints in Singapore That Are Not Fast Food Chains