Muslim travellers might recognise this cosmopolitan capital of Spain's Catalonia region due to its famous football club. But Barcelona is best known for its unique art and architecture. It also has an equally attractive gastronomy scene with the ever favourite Churros and Paella. 
Plus, there are also plenty of halal restaurants scattered around the city to ensure Muslim travellers never go hungry. From the many Gaudi-designed monuments to the tantalising local cuisine, you'll never be bored in Barcelona. There's no wonder this Spanish city is the third most-visited city in the world.
Near La Rambla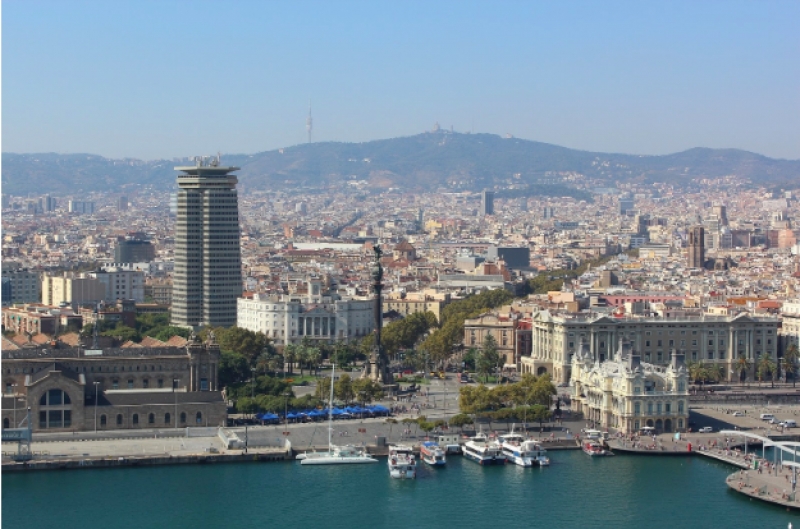 La Rambla is one of the busiest boulevards in Barcelona. It runs through the heart of the city centre with Plaça de Catalunya at one end and Port Vell at the other. Muslim travellers might spot many street performers along La Rambla. There are also plenty of attractions nearby such as Güell Palace, the Gothic Quarter and even Mercado de La Boqueria. Of course, you can spend an entire afternoon shopping here with many named brands lining up La Rambla. 
#HZTip: Be sure to look out for your belongings as pickpocketing is common in these bustling areas of Barcelona.
1. Rey de Istanbul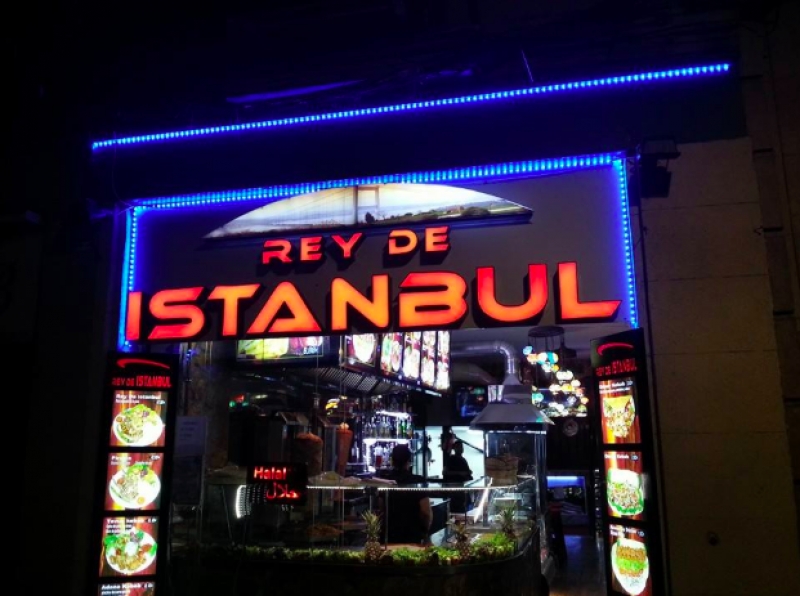 Have a taste of Istanbul in Barcelona when you dine at Rey de Istanbul. Amidst the bustling La Rambla, Muslim travellers will find this halal restaurant. You can expect a myriad of Turkish dishes like kebab and shawarma. After your meal, you can easily make your way to Mercado de La Boqueria. 
Address: Carrer de Sardenya, 08013 Barcelona, Spain
Opening Hours: Monday – Saturday: 9am – 1am, Sunday: 9am – 12am
2. Habibi Restaurant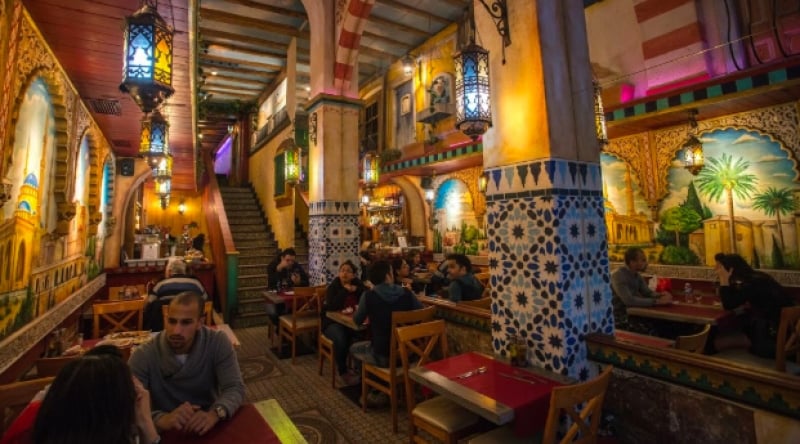 Habibi Restaurant offers the perfect respite after exploring La Rambla. This fuss-free halal restaurant offers a selection of Middle Eastern and local cuisine. It's a popular dining spot among travellers and locals alike. Muslim travellers enjoy dining here due to its affordable meals and calm atmosphere, a far cry from its busy street outside. 
Address:  La Rambla de Sant Josep 75, 08002 Barcelona, Spain
Opening Hours: Daily, 12pm – 1am
3. Maoz Falafel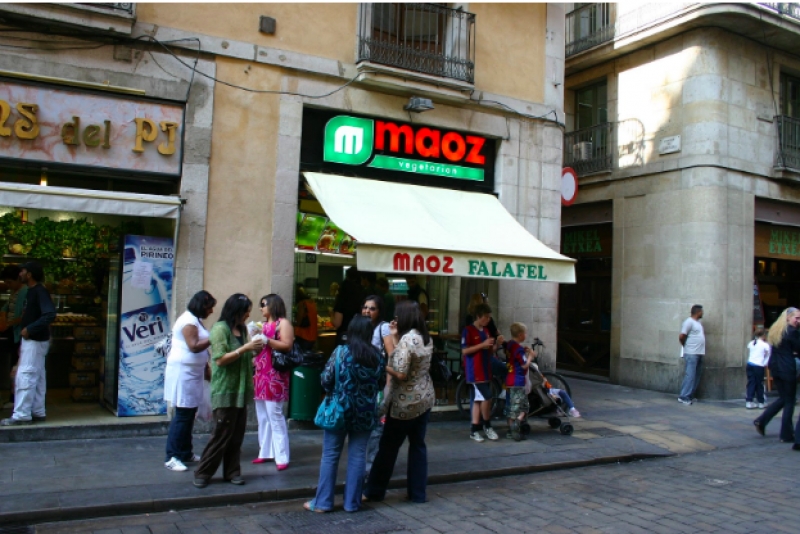 Maoz Falafel is a fully-vegetarian eatery. This Muslim-friendly eatery also offers gluten-free and vegan options too! There are no proper dining areas but it's perfect for Muslim travellers looking for a quick bite while on the go. Plus, its affordable prices are great for those travelling on a budget.
Address: Carrer de Ferran, 13, 08002 Barcelona, Spain
Opening Hours: Sunday – Thursday: 11am – 1am, Friday & Saturday: 11am – 2am
4. Bombay Spicy Restaurant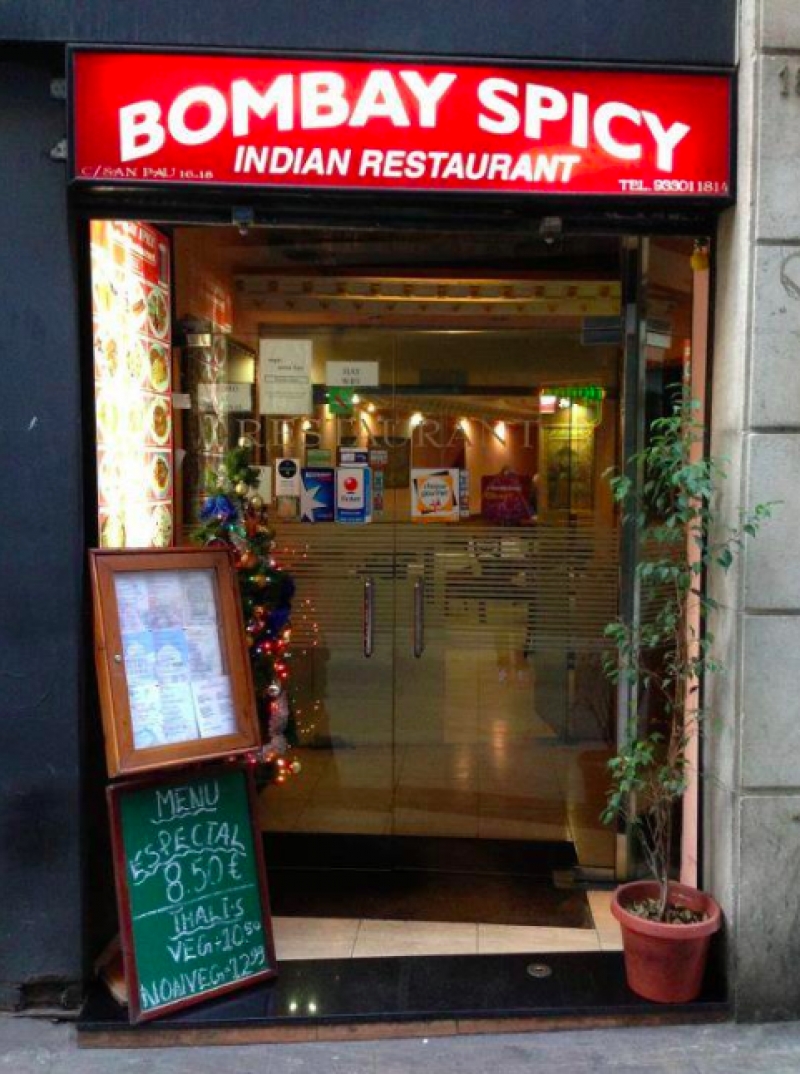 Dubbed as one of the best Indian restaurants in Barcelona, Bombay Spicy Restaurant serves up authentic North Indian cuisine. Located off La Rambla, this halal restaurant specialises in Tandoori and Thalis. But you simply must sample their best-selling Butter Chicken and fluffy Naan. 
Address: Carrer de Sant Pau, 16, 18, 08001 Barcelona, Spain
Opening Hours: Daily, 12pm – 12am
5. Zeeshan Kebabish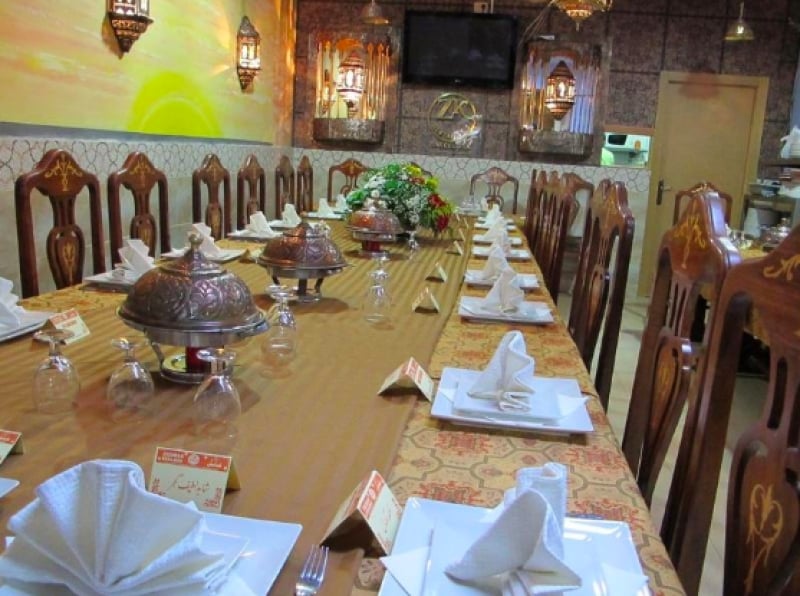 Zeeshan Kebabish promises a plethora of Pakistani and Indian dishes here. From the Lamb Briyani to Shish Kebab, you'll be spoilt for choice here. This halal restaurant is popular among Muslim budget travellers due to its affordable prices and generous portions.
Address: Carrer del Marquès de Barberà, 26, 08001 Barcelona, Spain
Opening Hours: Sunday – Thursday: 12pm – 12am, Friday & Saturday: 12pm – 1am
Maremagnum Barcelona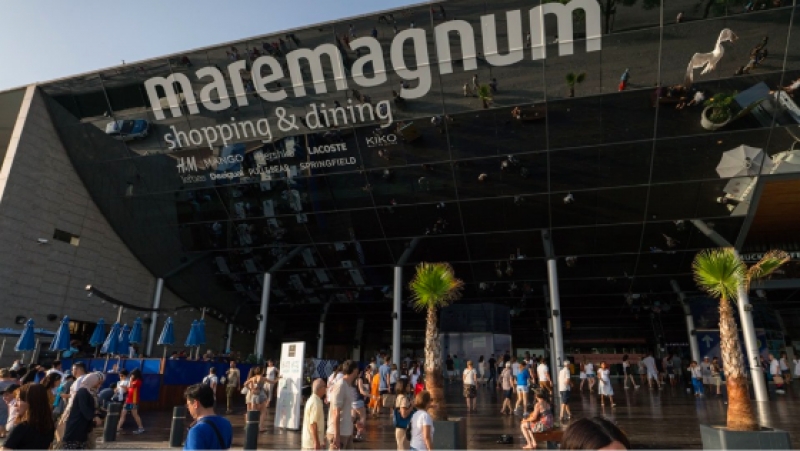 Near Port Vell, you'll stumble upon Maremagnum which is a popular shopping mall. There are multiple stores selling clothes, homewares, electronics and many more. The pristine mirrored walls that reflect the water that surrounds it makes it hard to miss. If you're bored of shopping, do check out the Museu d'Història de Catalunya or La Maquinista Terrestre y Marítima nearby.
6. Baritimo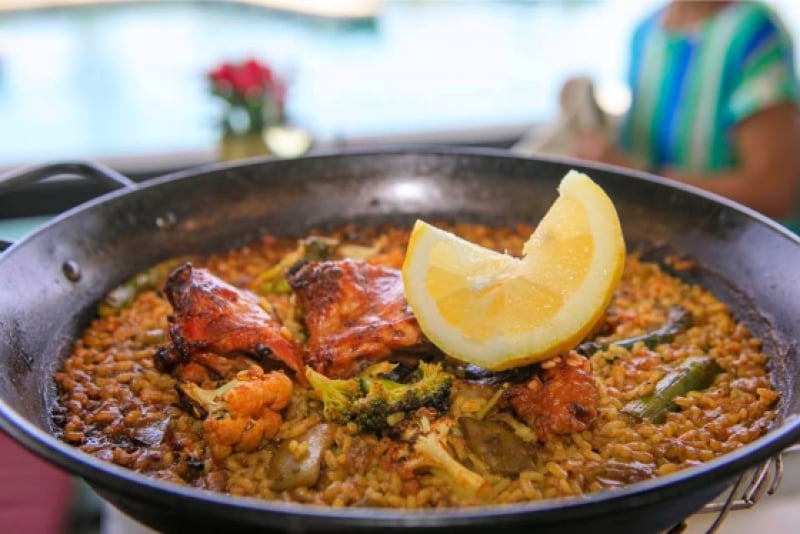 You simply can't leave Spain before savouring its unique cuisine. Baritimo is a halal restaurant serves up an array of tantalising Spanish dishes. Be sure to order yourself a pan of the Paella and Patatas Bravas! There's no better way to experience Barcelona than through its food. 
As its name suggests, Baritimo does have a bar and serves alcohol but it's located in a separate area from the kitchen. Please dine at your own discretion.
Address: Moll d'Espanya, 5 planta 2, local 212, 08039 Barcelona, Spain
Opening Hours: Sunday – Thursday: 11.30 am – 11pm & 12am – 2am, Friday: 11.30am – 2am, Saturday: 11.30am – 11pm & 12am – 3am
Near Plaça de Catalunya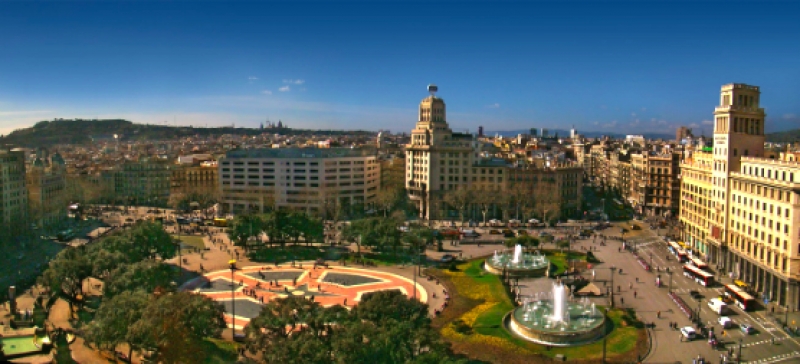 Located in central Barcelona, Plaça de Catalunya or Catalonia Square is considered to be the city centre. It's where some of the prominent streets in Barcelona such as Passeig de Gràcia, Rambla de Catalunya and La Rambla meet. There are also plenty of attractions for art lovers like the Barcelona Museum of Contemporary Art and Palau de la Música Catalana.
7. Wild Beef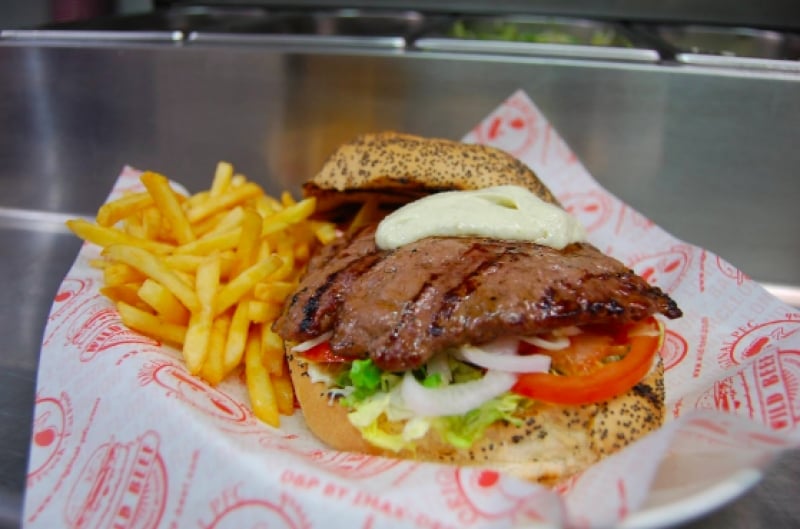 Craving for a burger? Wild Beef is actually an extension of a popular burger franchise in London. This halal burger joint offers value-for-money portions, perfect for meat lovers. They have over 15 flavours of burgers with a variety of cheeses and meat available. Its spacious restaurant also means tons of space for all your travel buddies to dine together. 
Address: Carrer de la Diputació, 214, 08011 Barcelona, Spain
Opening Hours: Daily, 12pm – 1am 
8. Lal Qila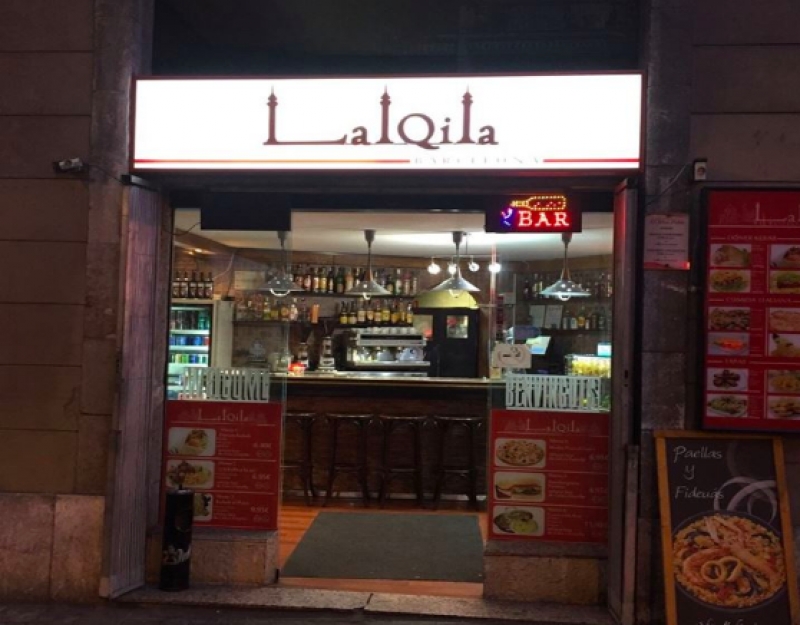 Lal Qila boasts a selection of Pakistani flavours at affordable prices. You can also find some local Spanish dishes here if you're keen on trying some Paella. This quaint Muslim-owned eatery is known for its equally great service. Please do take note that Lal Qila does serve alcohol so please dine at your own discretion. 
Address: Carrer de Roger de Llúria, s/n, 08009 Barcelona, Spain
Opening Hours: Daily 12pm – 1am
9. El Asador de Aranda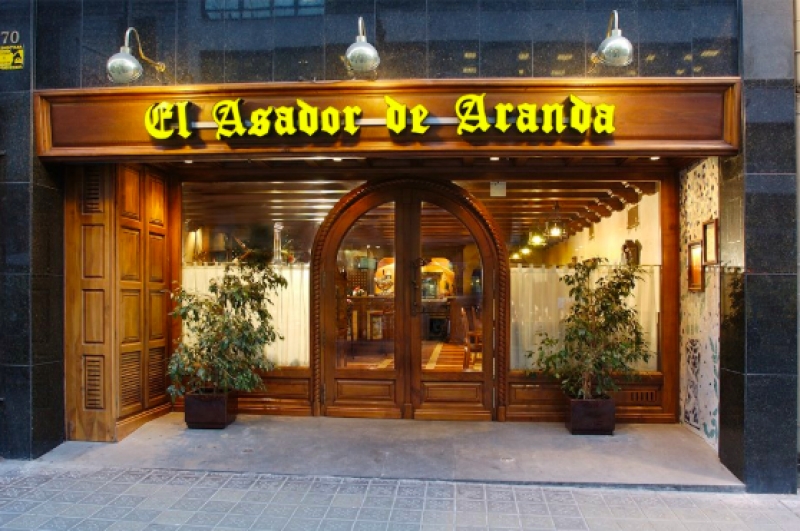 Since you're on holiday, why not treat yourself to this halal restaurant? Asador de Aranda offers a fine dining experience where Muslims can enjoy a quality halal meal. Among its extensive menu, Muslim diners particularly like their lamb and fish dishes. Their best-selling dish is a suckling lamb roasted in a clay oven.
Address: Carrer de Pau Claris, 70, 08010 Barcelona, Spain
Opening Hours: Daily 1pm – 11pm
#HZTip: El Asador de Aranda has two other outlets at Londres and Tibidabo. Be sure to be on the lookout for the other outlets when exploring Muslim-friendly Barcelona. 
Near Plaça de Francesc Macià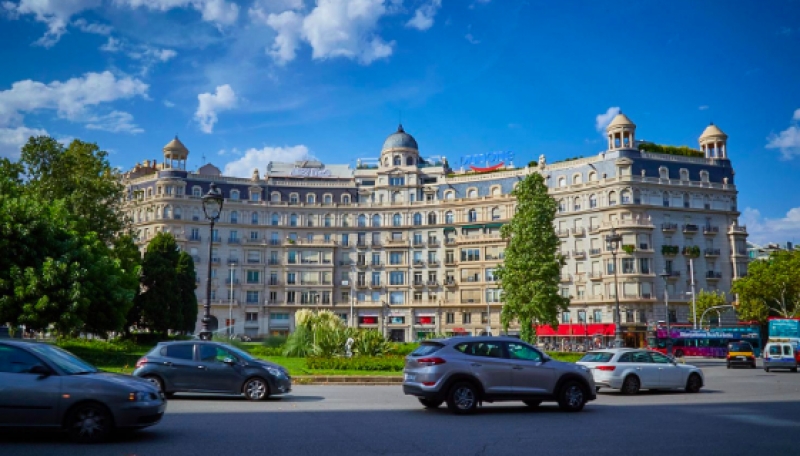 Plaça de Francesc Macià is one of the most transited points in Barcelona. This square is one of the main business areas of the city. You might notice an imposing structure, Monument a Francesc Macià. It was created to commemorate the first President of the Generalitat de Catalunya. 
This area might not be where Barcelona's popular sights are located. But it's an interesting district to explore if you're a fan of Spanish architecture. Take a walk in Diagonal Avenue and you'll spot one of the last buildings of modernism, Casa Sayrach. 
10. Liban Restaurant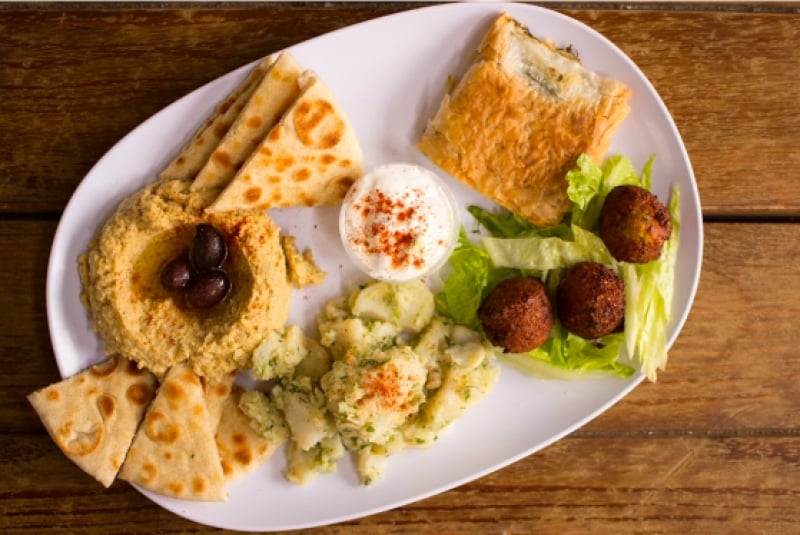 Get ready for an authentic Lebanese gastronomic experience when you dine at this halal restaurant. Liban Restaurant's menu offers an array of halal dishes with a choice of meat, fish, vegetables and fruits. Besides its reasonably priced food, Muslim travellers should head here after exploring FC Barcelona's Camp Nou nearby.
Address: Carrer de l'Equador, 29, 08029 Barcelona, Spain
Opening Hours: Daily, 1pm – 4pm & 8pm – 11pm
Also read: Visit Muslim-Friendly Barcelona: Where to Eat, Explore and Stay!