New to Southern California? Home to 75 miles of sunny coastline, the iconic Hollywood sign and the centre of the nation's film and TV industry, there are just so many things to do here. If you aren't familiar with your way around the halal food scene here, check out these 10 places to visit when you feel hungry in Los Angeles. From halal Asian food to Mexican food and classic American favourites, you will be spoilt for choice!
1. The Halal Guys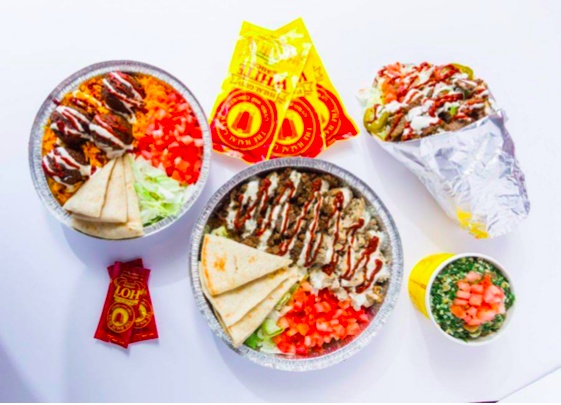 Back in 1990 when The Halal Guys first started, they were only selling hotdog buns to Muslim taxi drivers in New York. Today, this legendary franchise has grown to be so popular, with people queuing to get their steaming hot rice platters, gyros and falafel.

Their beef or chicken gyros, with white sauce, is one of the recommended ones to try! Don't forget their "special fries" as well to complete your meal.
Address: 510 W 7th St, Los Angeles, CA 90014, USA
Opening hours: Sun – Thur: 11am-12am, Fri – Sat: 11am-3am
2. Hiho Cheeseburger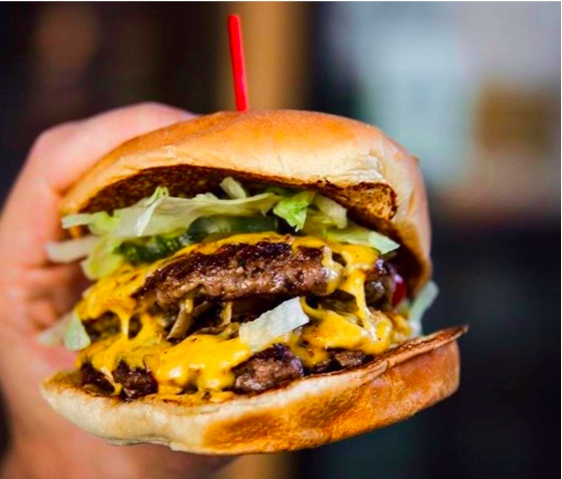 Muslim travellers heading to Santa Monica area should check out Hiho Cheeseburger, a burger joint which uses halal beef. Only serving 100% grass-fed beef, sustainably raised with no antibiotics and without GMOs, now you can truly enjoy halal burgers guilt-free. On top of that, the tender beef is lower in saturated fat. Don't miss their halal wagyu beef burgers!
Do take note that alcohol is served in the establishment.
Address: 1320 2nd St Ste. B, Santa Monica, CA 90401, USA
Opening hours: Daily, 1130am-10pm 
3. Urban Skillet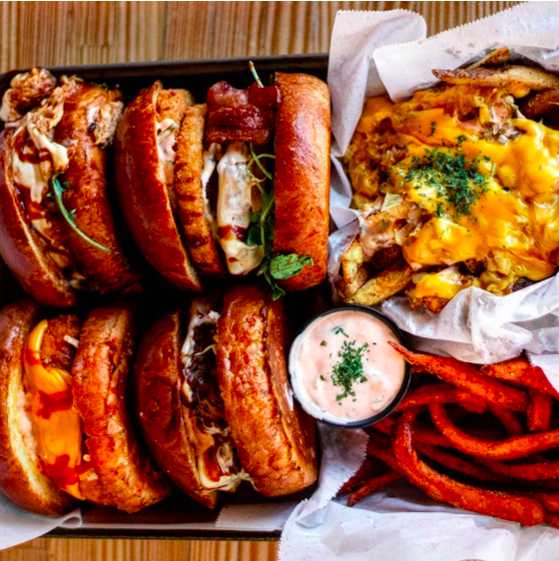 Freshly baked brioche buns, house-ground top sirloin beef, gooey cheese and crunchy vegetables make the best burgers here in Urban Skillet. This joint offers America's favourite street food with an upscale twist. If it is your first time here, order their Original Skillet Burger with House Fries, or Slow-Cooked Brisket Burger. Their Buffalo Wings are also great for sharing!
Address: 5060 Lankershim Blvd, Los Angeles, CA 91601, USA
Opening hours: Daily, 11.30am – 10pm
4. Dave's Hot Chicken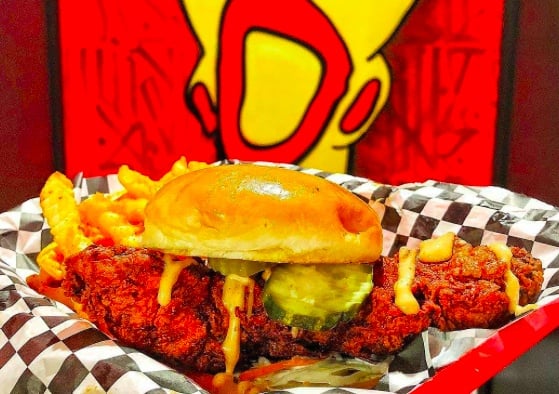 Chicken lovers, listen up! Specialising in Nashville-style spicy fried chicken, Dave's Hot Chicken serves some of the best halal fried chicken. If you love your food spicy, opt for the different spice levels that cater to your liking (mild, hot, reaper). Other than their signature chicken, the mac and cheese and sliders are equally tasty as well.

Address: 970 N Western Ave, Los Angeles, CA 90029, USA
Opening hours: Daily, 1130am-1am
5. Big Al's Pizzeria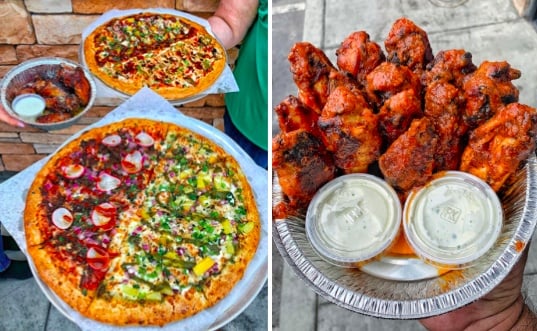 If you are craving for some good pizzas, Big Al's Pizzeria will not disappoint. This Lebanese-inspired pizzeria serves up a variety of pizzas, subs, pasta and wings, with only quality fresh ingredients. All their meat are antibiotic and hormone-free, with dough made fresh daily. Some of their specialty pizzas to try include Lebanese Garlic Chicken barbecue, and Smoked Beef Brisket Meat.
Address: 6044 Atlantic Blvd, Maywood, CA 90270, USA
Opening hours: Mon-Thu: 11am-9pm, Fri-Sat: 11am-10pm, Sun: 1pm-9pm
6. Charlie Kabob
Muslim travellers looking to find halal Middle Eastern food can head to Charlie Kabob, in Santa Monica Place' food court. To fuel the day, get their Charlie Special which is a great combination of kebabs, chicken shish, rice, salad and bread.
Address: 395 Santa Monica Pier Suite 392, Santa Monica, CA 90401, USA
Opening hours: Mon – Sat: 10am – 9pm, Sun: 11am – 8pm
7. Simpang Asia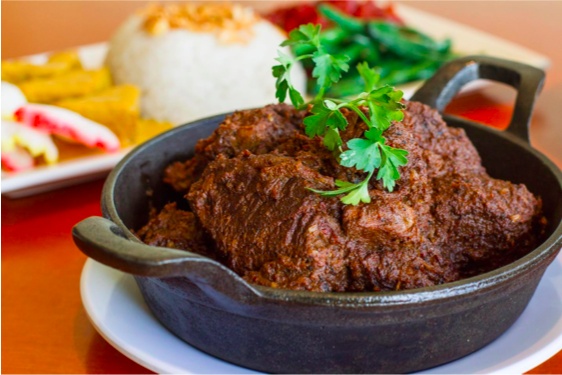 You may be halfway across the world from home, but that does not mean you can't have Malay and Indonesian cuisine. To get your fix of Malay fare, Simpang Asia is the place to head to next. Get their gluten-free slow cook coconut beef steak curry (rendang) with steamed rice, which hits the spot. With plenty of options available, you will feel right at home!
Address: 10433 National Blvd #2, Los Angeles, CA 90034, USA
Opening hours: Daily, 11am-10pm
8. Fatima's Grill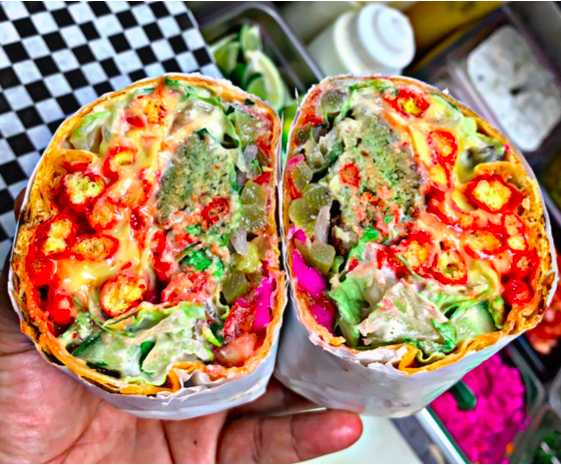 This halal Lebanese-Mexican-American fusion joint is one of the first of its kind! From fusion shawarma wraps to Philly cheese steak, burritos and hot Cheetos fries, there is so much to choose from at Fatima's Grill. The joint is also known for its wonderful service, so head on here for a unique experience while eating fusion food.
Address: 7840 Firestone Blvd, Downey, CA 90241, USA
Opening hours: Mon-Sat: 10am-8.30pm, Sun: 10am-5pm, Closed on Wednesday
9. Paratta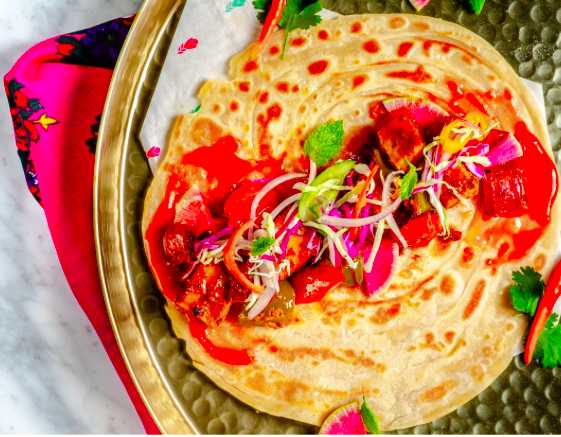 For halal Pakistani street food, Paratta is a great place to try. If you are not familiar with Pakistani cuisine and feel overwhelmed, their Reshma (beef) and Paro (chicken) rolls are good options to start with. For sides, you can get their pakoras (deep-fried potatoes) as well as their gobi (mixed veggies).
Address: 672 S Santa Fe Ave, Los Angeles, CA 90021, USA
Opening hours: Sat: 2.30pm-8pm
10. Nomad Asian Bistro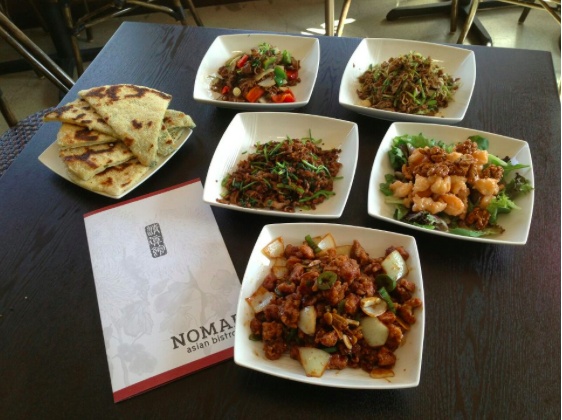 For your fix of Asian food, visit this authentic halal Chinese restaurant near Long Beach. Great for gatherings, Nomad Asian Bistro boasts freshly hand-made noodles, flavourful soups and tasty Chinese stir-fry dishes. Complete your meal with a refreshing cup of Ginger Ale. If you are coming on a weekend, it is best to make a reservation as this place is popular with locals and tourists alike.
Address: 6563 Pacific Coast Hwy, Long Beach, CA 90803, USA
Opening hours: Daily, 11am-9pm