With a minority Muslim population, halal restaurants and authentic eateries are hard to come by in South Korea. However, with a recent surge in Muslim tourists visiting the country, many Korean food joints are beginning to accommodate to Muslim preferences. Muslim tourists can finally experience authentic Korean dishes, such as the samgyetang and bulgogi, which are all prepared in a halal manner at these restaurants!

The bustling capital city of Seoul now sees numerous halal eateries, mostly concentrated at Itaewon, for those who adhere to the halal diet. Have trouble sussing out and locating halal spots? Fret not, this list is your key to a fuss-free halal Korean meal.
1. Murree Muslim Food
Located near Seoul Central Mosque in Itaewon, Murree is a cosy restaurant that's popular for its different cuisines. Serving up both exotic Indian and Korean fare, their menu is nothing short of delicious and spicy!
From Bulgogi (barbequed meat) and Dakdoritang (Korean spicy chicken stew) to Tandoori Chicken and Biryani, the extensive menu will leave you spoilt for choice. Their Bulgogi and Kimchi Bokkeumbap (Kimchi fried rice) are pretty good too!
Bonus: Their special side dishes are refillable!
Price: ~S$10-20
Address: 140-7 Itaewon-Dong, Yongsan-gu, Seoul 140-858
2. EID

If you've looked up halal Korean spots before, there is a high chance you would have stumbled upon EID. Run by a Korean-Muslim family, this popular restaurant is one of the first few halal dining spots in Korea. Situated in Itaewon, this restaurant specialises in cooking authentic Korean cuisine which caters to the Muslim community.
Aside from their refillable Banchan (small side dishes served in Korean cuisine), EID is incredibly famous for their Korean Beef stir-fry and bulgogi. So, don't forget to try them! Do note that this small place is highly popular, so be prepared to wait in line to get your meal (but don't worry, the fantastic food will definitely make up for the wait!).

Price: ~S$10-15
Address: 67, Usadan-ro 10-gil, Yongsan-gu, Seoul
3. Yang Good BBQ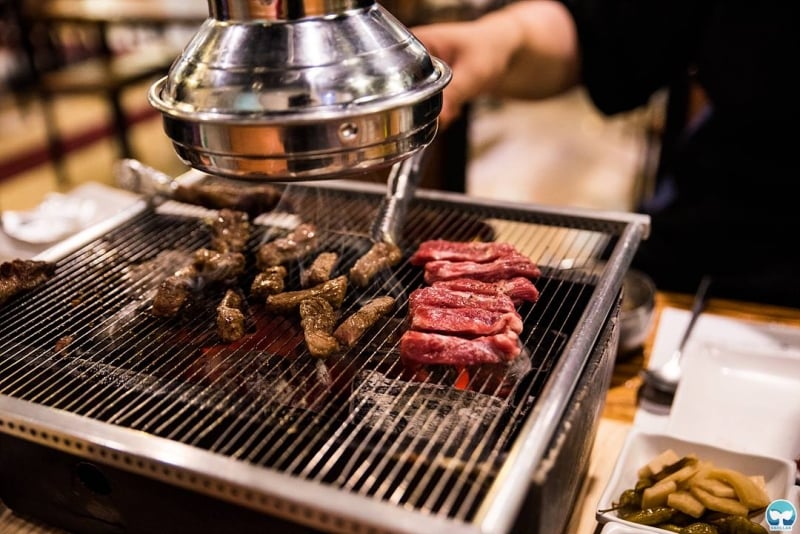 Your trip to Korea will be incomplete without trying delicious Korean BBQ. Although most Korean BBQ places are not certified halal, there are some hidden gems in the city that serve up this world-famous Korean BBQ affair just for the halal-conscious. Korean BBQ sessions are truly unmatched not just in delicious meat but also for its social setting. You get to enjoy smoking your juicy and tender BBQ meat on the grill while you chat with your pals!
As such, Yang Good BBQ is definitely a place to drop by when in Gangnam. While the food joint does serve alcohol, their Australian-imported meats are Halal certified. At Yang Good BBQ, you can either opt for a marinated lamb rack glazed with sweet Korean BBQ sauce or go for the unmarinated version of the lamb rack.
If you aren't too full after a scrumptious BBQ session, you can give a go at some of the other delectables offered at Yang Good BBQ, such as lamb soup,Mul Naengmyeon (Korean noodles in chilled broth) and Doenjang-jjigae (soybean paste stew). All in all, when in Seoul, Yang Good BBQ is all too good to be missed!

Price: ~S$10-40
Address: 15 Nonhyeon-ro 95-gil, Yeoksam 1(il)-dong, Gangnam-gu, Seoul, South Korea
4. Ilji Hanbang Samgyetang


Ilji Hanbang Samgyetang may not be as popular as EID or Yang Good, but this secret food spot dishes out incredible Korean cuisine using halal-certified meat! Situated in Myeongdong, this eatery utilises ingredients such as farm-fresh chicken and a variety of oriental herbs in their dishes to recreate the authentic taste of Korean cuisine!

Known for their samgyetang (ginseng chicken soup), Ilji Hanbang Samgyetang is bound to pamper your taste buds with a whirlwind of flavours!
Note: Reservation is required in order to prepare halal meat beforehand.
Price: ~S$15-20
Address: 48, Myeongdong 8ga-gil, Jung-gu, Seoul
5. Chunja Daegutang


This quiet little eatery in Hongdae is known for exactly what they are named after. Chunja Daegutang which translates to codfish soup, plates up a variety of dishes using their signature ingredient: codfish. From daegu-ppoljjim (steamed cod cheeks) to daegu-jeongol (cod hot pot), Chunja Daegutang aims to introduce the versatility of codfish as a main dish to diners from around the globe!

Price: ~S$10-50
Address: 50, World Cup buk-ro 1-gil, Mapo-gu, Seoul, Korea
6. Hajj


This small Muslim-owned restaurant-cum-guesthouse can be found in Itaewon, within close proximity to Seoul Central Mosque. Their menu constitutes an array of dishes, spanning both Korean and Malaysian cuisines and are all affordably priced.
From savouring appetizing local fares such as the Bindaetteok (mung bean pancakes) and stir-fried octopus to indulging in Malaysian comfort food such as the classic Ayam Bakar (grilled chicken) and teh tarik, the Hajj restaurant promises just the right dishes that will tantalise your taste buds and remind you of home!

Price: ~S$10-25
Address: 39 Usadan-ro 10-gil, Yongsan-gu, Itaewon, Seoul 04405, South Korea
7. Halal Kitchen Korea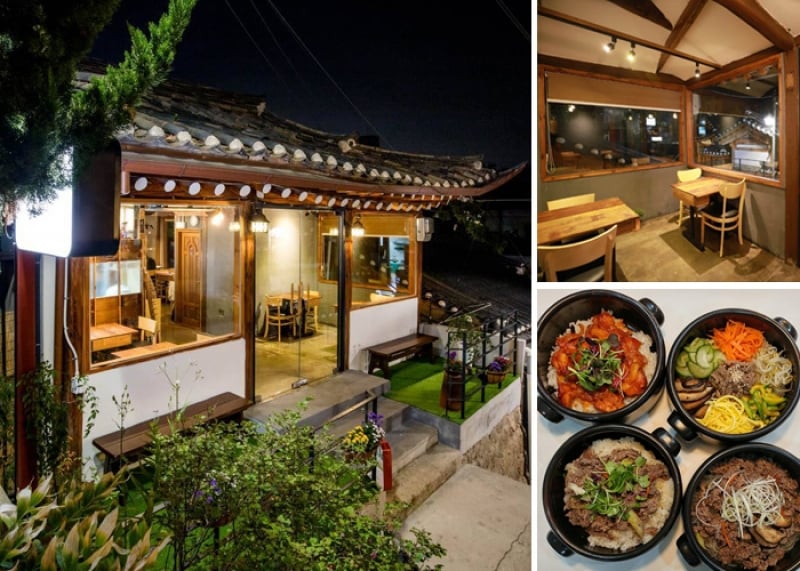 Looking for superb Korean cuisine while dining in a homey location? Halal Kitchen is just for you! Located in Samcheong and beautifully set in a traditional Korean hanok (traditional Korean house), Halal Kitchen plates up authentic Korean fare that will leave you very satisfied.
Their menu comprises mouthwatering treats with stellar choices namely beef bulgogi, dak-galbi (spicy stir-fried chicken), yang galbi-jjim (Korean braised beef short ribs) and the classic bibimbap. Enjoy the view and soak in the cosy atmosphere as you tuck into these delectable dishes.

Price: ~S$5-25
Address: 86-4 Samcheong-ro, Jongno-gu, Seoul
8. Mr. Kebab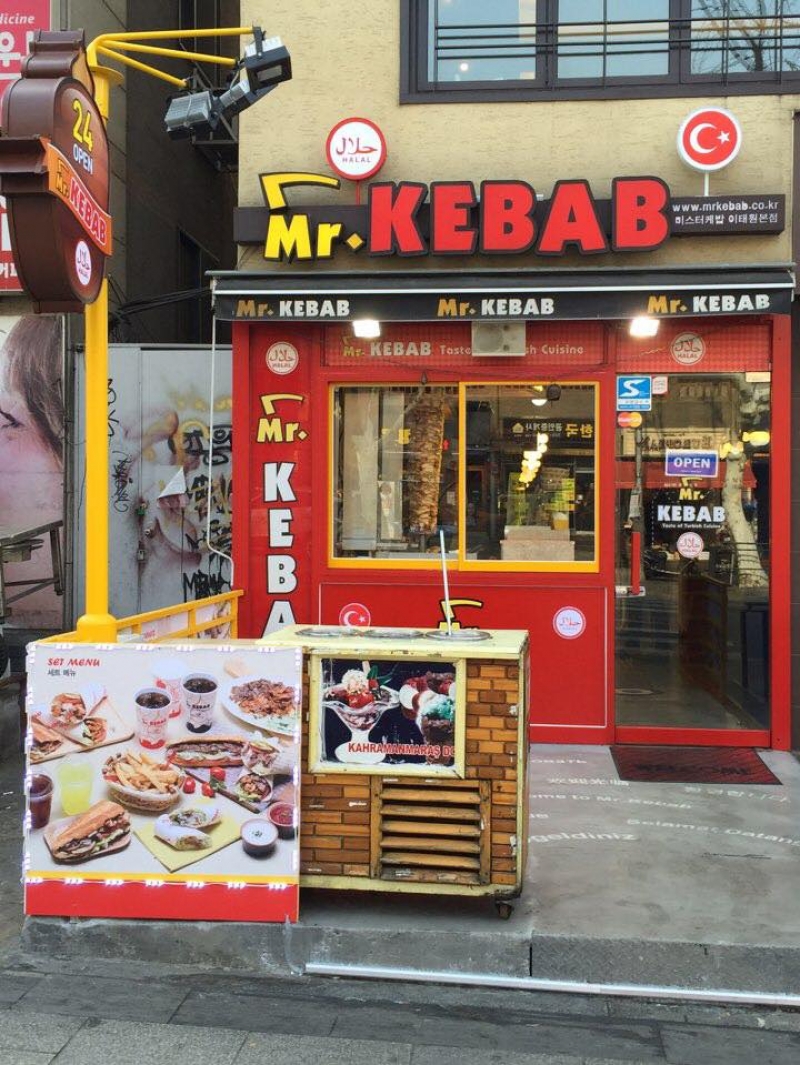 If all else fails and finding a nearby Korean eatery isn't happening, you can't go wrong with some kebabs! As a sought-after delicacy worldwide, finding a kebab stall overseas isn't that hard at all. Mr. Kebab is a chain of Turkish kebab restaurants which started in Itaewon by a Turk.
Serving spicy kebab meat in burgers and wraps, this restaurant dishes out various styles of kebab that caters to varying preferences. You will also find traditional Turkish Dondurma ice-cream but prepare to be teased before earning your cone.

Price: ~S$5-12
Address: 192, Itaewon-ro, Yongsan-gu, Seoul

Venturing into non-Muslim countries is not so difficult these days. The hype of K-pop and Korean dramas is seeing an increase in Korean tourism. Add the recent swell in Muslims travelling abroad, it is truly not surprising to find prayer areas and strings of halal eateries in Seoul.
Serving up authentic Korean dishes in cosy settings for the Muslim community, the above-mentioned eateries in Seoul are prime examples of how the city is on a fast-track to becoming an ideal Muslim-friendly destination!
Also read: A Muslim-Friendly Guide to Halal Restaurants in Seoul and Jeju