Touted as the shopping haven of Indonesia, there's so much more to Bandung than meets the eye. This Indonesian city might be known as a retail paradise but its setting amidst volcanoes and tea plantations makes it an ideal destination for anyone. Blessed with a relatively cooling climate, Bandung offers its visitors a myriad of thrilling sights and sounds popular among both local tourists and travellers worldwide.
This itinerary is specially curated for Muslim travellers looking for a little adventure. You might even discover new and exciting activities along the way that you never knew existed in Bandung.
Day 1: Soak in the famous sights at Ciwidey and Rancabali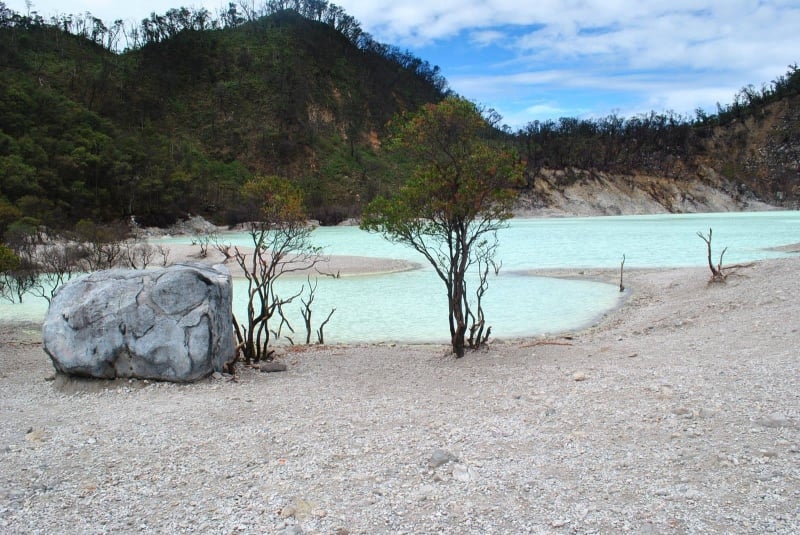 Begin your first day here by heading to one of the best sights of Bandung, Kawah Putih! This crater lake is known for its mystical looking waters which are pale turquoise in colour. Did you know that the colour of the lake changes throughout the day? This is due to the change in acidity of the waters. The strong smell of sulfur is due to the steam and sulfurous gas bubbling from the lake.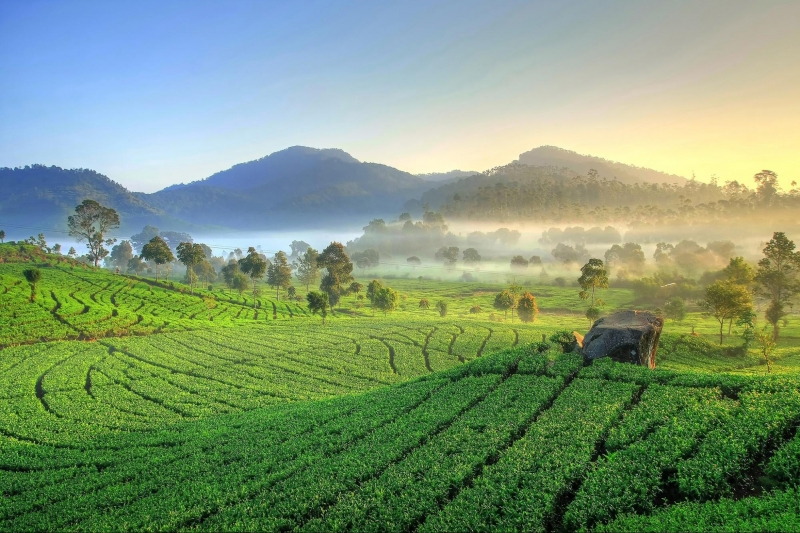 Just half an hour away from Kawah Putih and the edge of Situ Patengang, you will find Pinisi Resto. You will definitely notice the striking restaurant which is in the shape of a wooden ark. If it's a warm sunny day, you should dine at their deck where you can take in picturesque views of Situ Patengang and the tea plantations around.
#HZtip: Looking for a unique experience in Indonesia? Stay the night to experience glamping but be sure to bring some thick clothing because it can get really cold at night.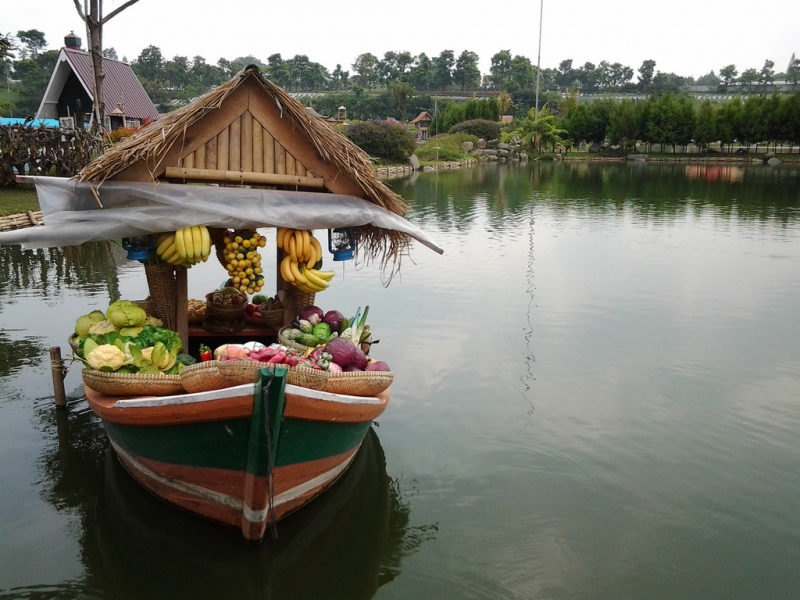 Otherwise, end your day at Lembang Floating Market or Pasar Apung Lembang to the locals. Similar to the ones in Thailand, this floating market is where you'll find an assortment of food and other items being sold. But first, be sure to have your local currency exchanged for the market coins. Even if you aren't keen on shopping, marvel at the gorgeous surrounding views or enjoy some quiet time at the nearby cafes.
#HZtip: Lembang Floating Market has a musollah for Muslim travellers looking to perform their daily prayers.
Day 2: Conquer the volcanoes in Lembang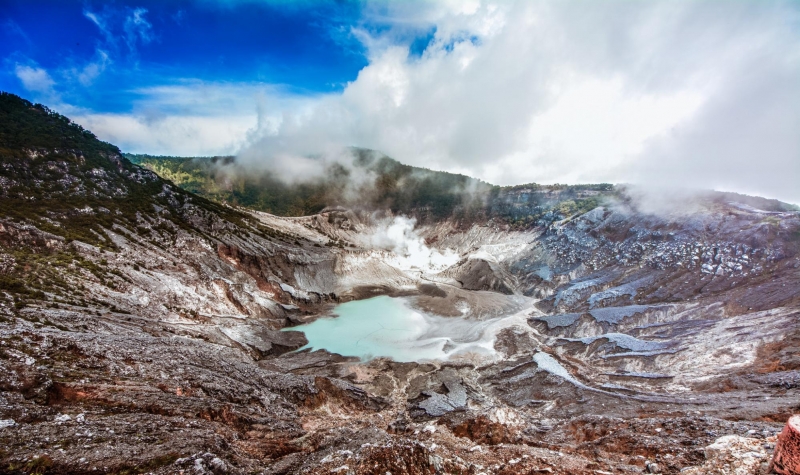 Be ready to hike up one of the most popular hiking trails in Bandung. Tangkuban Perahu is just approximately an hour away from Bandung city. Despite being an active volcano with three craters, it still serves to be a hotspot (pun intended) amongst tourists.
You may start your hike from the edge of the crater and complete the entire summit while catching a full view of Kawah Ratu and Kawah Upas in about three and a half hours. It is highly recommended to engage a local guide to help you navigate since the sulphur gas and visibility might be vary depending on the weather conditions.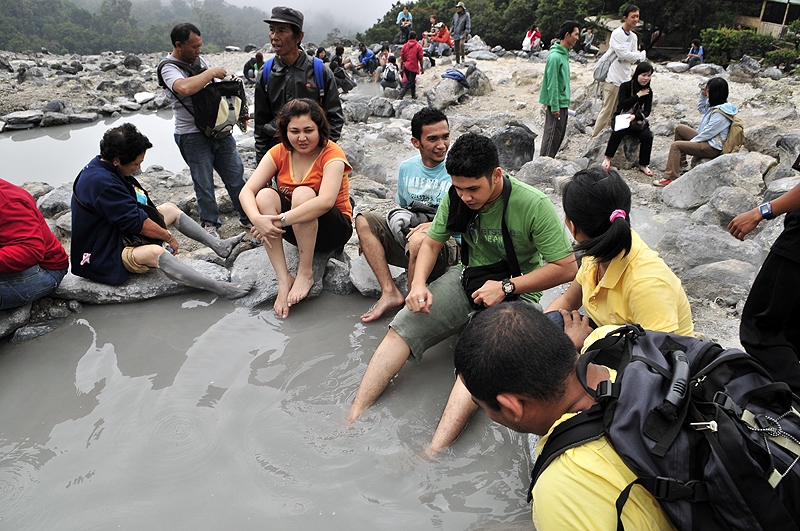 #HZtip: Be sure to check with your guide to see if you're able to drop by Kawah Domas, one of nine kawah or craters around the area. Soak your feet in the bubbling pool to relax after a strenuous day.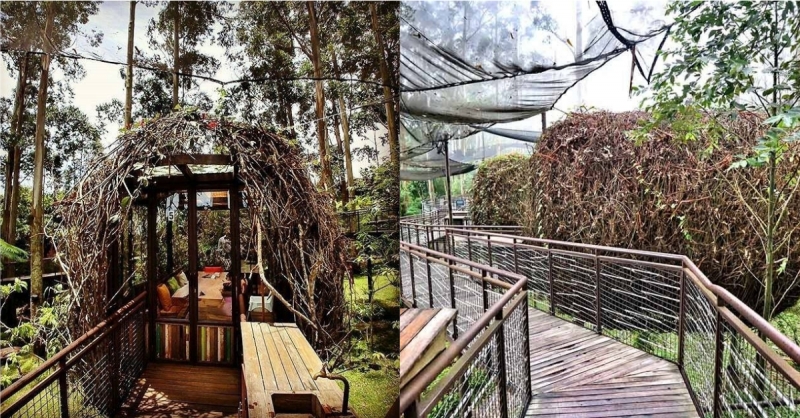 All that adventure in a day will surely send you in a hunger frenzy. Wind down your day with a dinner at Lutung Kasarung, situated within Dusun Bambu Family Leisure Park. Be one with nature as you dine in the middle of the forest in bird's nest structures. Savour the gastronomic food with an equally satisfying view of the lake or mountain.
Day 3: Embrace nature at Dusun Bambu, Curug Cimahi Waterfalls & Cikahuripan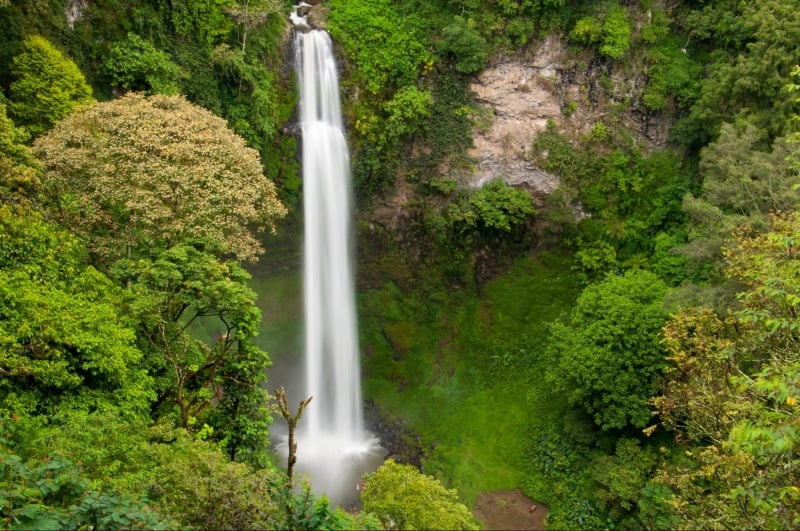 Be greeted by the fresh air in the morning when you take a quiet stroll along the bamboo paths of Dusun Bambu. Besides its folktale-inspired restaurants, this nature-based resort captivates many thrill-seekers as it is a perfect spot to explore Burangrang's nature.
When you're ready, set out to Curug Cimahi Waterfall, just a 10-minute drive away. This stunning waterfall is one of the highest waterfalls in Bandung, standing at 75 metres high. Surrounded by luscious greenery, take your time to appreciate nature and have a serene picnic at their many cool spots. Also known as the Rainbow Waterfall, be treated to a colourful light show when you visit in the evening.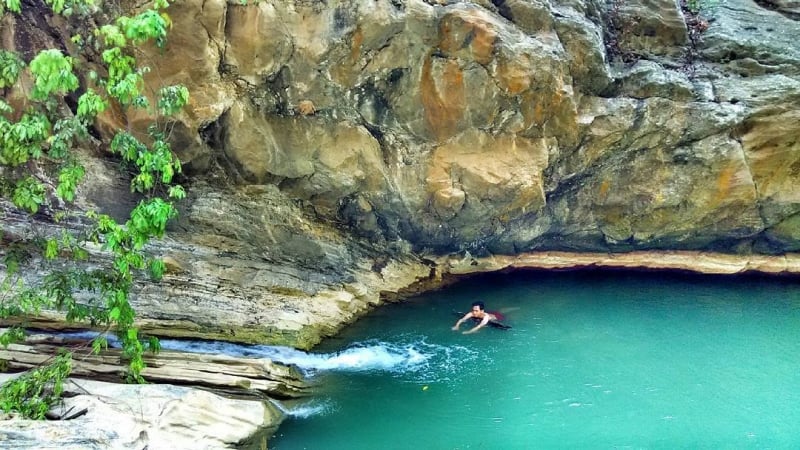 Continue your day of zen and marvel at the natural beauty of Cikahuripan Canyon. It is also known as the Green Canyon of Western Java and is about an hour drive away from Bandung. Once here, you would be itching to take a dip in the stunning emerald river. This river is framed by two 10-meter cliffs, definitely making it a 'Gram worthy spot. Be sure to pack your burkini or swim shorts because you simply won't be able to resist jumping in!
Wind down at Olive Restaurant with some authentic Indonesian cuisine. You will be warmly greeted by the friendly staff and the energetic atmosphere by the live music performances. Savour yummy Seafood Fried Rice while sipping coconut juice. There is no better way to spend your night before the next day of adventure.
Day 4: Hanging out at Padalarang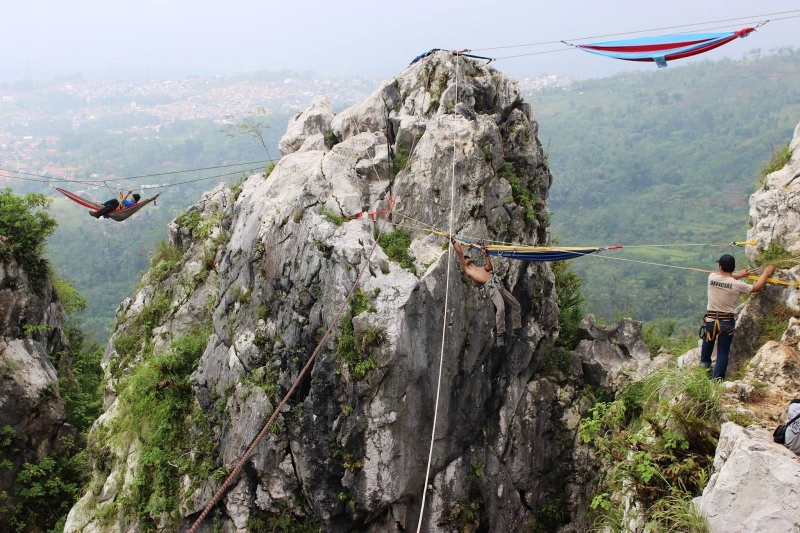 The early bird catches the worm so start your day early by driving an hour out of Bandung to Gunung Hawu. If you're early enough, you will be able to watch the sun rays flood the surrounding mountainous regions. For those brave of hearts, redefine the meaning of "hanging out" by literally hanging on a hammock between two cliffs. It is definitely a unique way for thrill seekers to enjoy the fresh air and bask in the cool mountain breeze.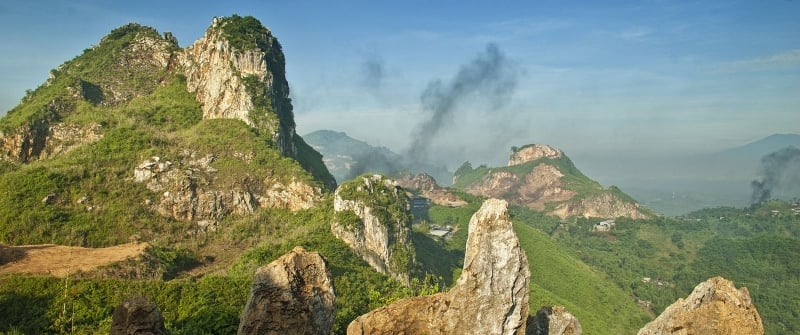 Another scenic destination to check out in Padalarang is the Stone Garden Citatah. There is no correct way to explore the Stone Garden but you should try to climb the Puncak Panyawangan, the highest rock. Though known for its rock formations and limestone hills, adventure seekers will be treated to sweeping views of the neighbouring hilltops and maybe even spot the mining activities at the nearby limestone mines. The terrain is relatively easy to navigate with relatively low slopes and hills.
#HZtip: You are highly encouraged to avoid the unforgiving midday sun since there aren't trees to provide shade. If you are planning your trek during this time, please be prepared with a hat and sufficient water to hydrate yourself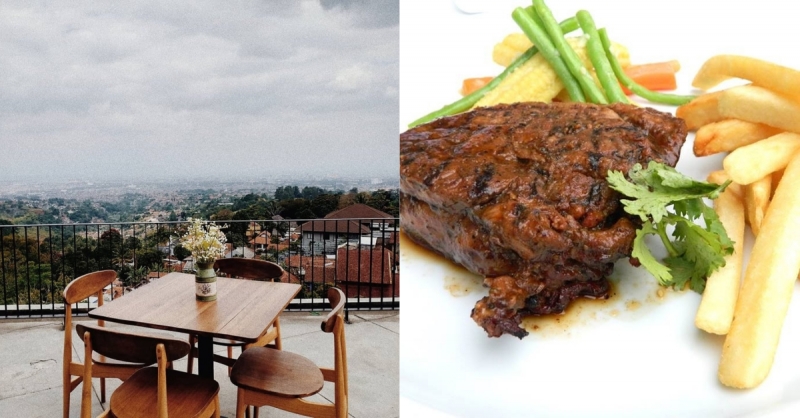 On your way back to your accommodation in Bandung, drive an hour to Sierra Café and Lounge. Besides the sweeping views of the city of Bandung, it is a great spot for you to make a pit stop to refuel. Enjoy your meal while the cooling breeze from the hills greets you on the patio deck. The menu here is not limited to local dishes. You can enjoy a tender sirloin steak with a side of fries if you're possibly sick of Indonesian food.
Day 5: Explore the Paris of Indonesia
Before heading to the airport to catch your flight home, you should explore the bustling city centre of Bandung. The city is dubbed as heaven for shopaholics with countless bargains can be found. Stroll along Jalan Braga or Jalan Cibaduyut where you can buy everything from textiles to locally-made shoes. If you wish to enjoy some quiet time, hit the hipster cafes such as Larder 55 where you will be able to sample local flavours.
Also read: Bali Prepares to Introduce Tourist Tax to Curb Overtourism
Bandung has so much to offer, whether for shopaholics or to thrill adrenaline junkies. Sometimes, it's not about how far you travel but rather what the trip has to offer you. It's time to embrace something new so why not give Bandung a chance and give this trip a go! This 5D4N itinerary is exactly what you need.