With country borders reopening around the world, I'm sure you've seen some of your friends posting their travels on social media. If so, take this as a sign to start planning your own trip too! The world has changed drastically during the past two years and with travel regaining its momentum, it's time for you to rediscover destinations you've previously visited or explore new ones to start new chapters of your travel adventures.
The good news is that you won't need to worry about spending time to save up for these trips! Check out these 10 Muslim-friendly destinations that you should visit in 2022 with some of the most affordable flights!

Planning to tick off every item on your bucket list? Discover the ultimate destination for your travel personality and Pick Your Super Adventure with AirAsia.
Book your great escape on the airasia Super App for amazing deals.
Enjoy 20% off all seats on all flights when you book from 11 Jul 2022 to 17 Jul 2022. Travel period is from 12 Sep 2022 to 8 Dec 2022. Now, your next big adventure is within reach!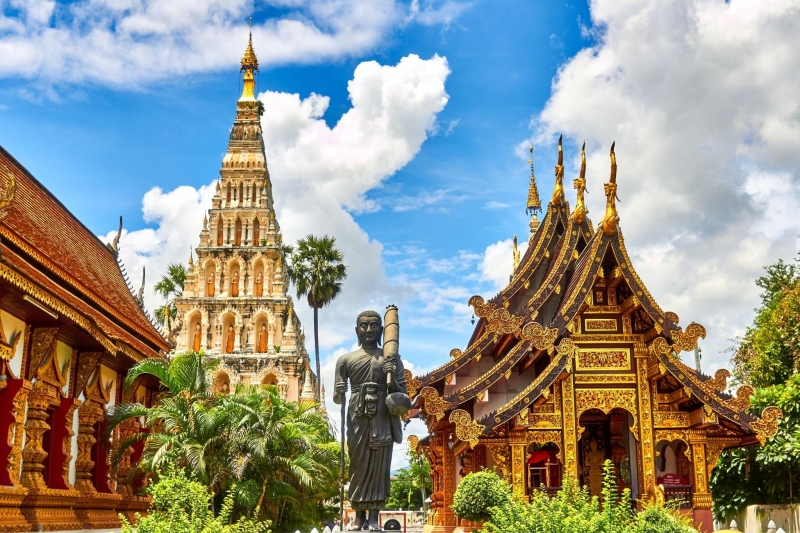 Thailand's Bangkok is a prime example of how an urbanised city can develop while preserving its historical landmarks. 
From the iconic Wat Phra Kaew to the well-known Pratunam shopping district, you will lose track of time while spending time admiring the temple's intricate designs or snagging some worthwhile buys. End off your day by visiting the famed markets of Jodd Fairs to get some delicious Thai food and experience the hustle and bustle of Bangkok's nightlife.
That said, you can also find many mosques in Bangkok for you to drop by and visit. These range from the lesser-known ones like Masjid Tonson and Masjid Bang Luang in the Old Town Thonburi area to the more prominent ones like Bangkok Mosque and Darool Aman Mosque. 
Aside from Bangkok, there are so many other sights to explore in the other Thai provinces. If you're crazy about Thai food, then Hat Yai is the place for you. Try some mind-blowing Thai halal dimsum at Chabura Dimsum and pan-fried crispy mussels at the ASEAN Night Bazaar. You will probably never see these dishes the same way ever again after tasting these flavourful delights.
Outdoor lovers must visit the coastal provinces of Phuket and Krabi to try their hands on some exhilarating activities. Whether you're flyboarding in Patong Beach or rock-climbing at Railay Beach, one thing's for sure — these are for the adventurous and not for the faint-hearted!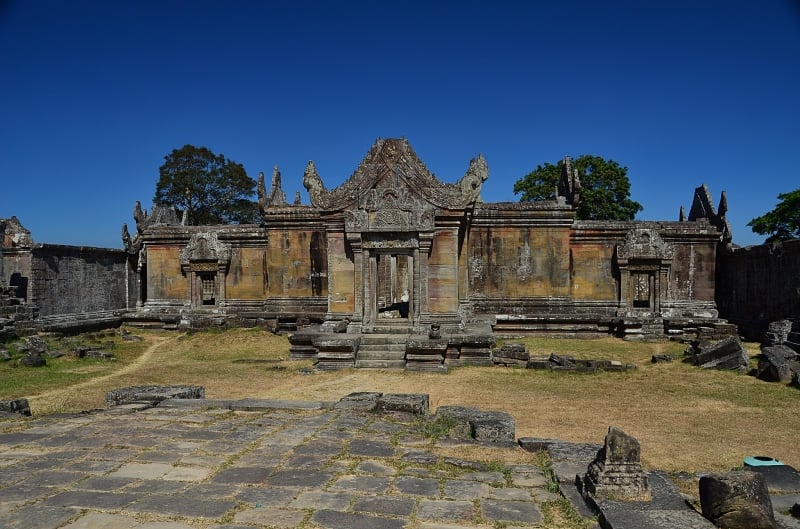 Cambodia is known for its ever-famous Angkor Wat in Siem Reap, but there are many other underrated attractions where you can learn more about its rich history dating back to the Khmer Empire! 
Visit Prasat Preah Vihear, an 11th-century Khmer temple situated atop the Dangrek Mountains. Unlike most temples, Prasat Preah Vihear has an elongated shape that runs along a north-south axis. The pavilions are connected by long pillared causeways, where you can still find some of the temple's well-preserved features such as the mountain stairway and the Lion Head Reservoir.
Those staying in the capital city of Phnom Penh can head over to the National Museum of Cambodia. Located in the heart of the city, the museum houses one of the world's largest Khmer art collections with over 14,000 items ranging from sculptures to Khmer ceramics. 
In recent years, Cambodia has also been promoting halal tourism and has also seen more halal restaurants appear in Siem Reap and Phnom Penh. Restaurants like Muslim Family Kitchen and D'Wau Restaurant are great places to try out halal Cambodian cuisine.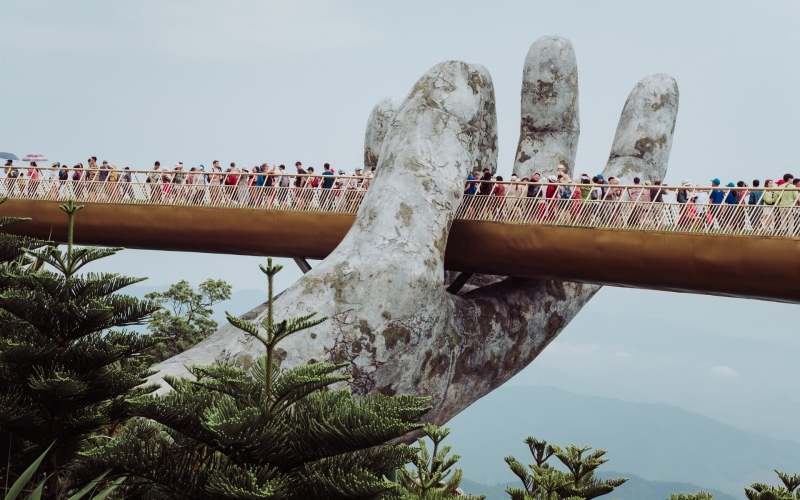 Vietnam has an ancient history, diverse culture, and scenic natural landscapes. The most common attractions that have been featured on social media include Ha Long Bay and Golden Hand Bridge, which are stunning masterpieces made by nature and mankind respectively. 
Vietnam's cheap yet quality food also draws tourists for its value and variety. Its pho (rice noodles) is a fan-favourite among many locals and tourists alike. Other famous dishes like Bánh xèo (fried rice pancake) and Goi cuon (spring rolls) should also be sampled while you're visiting the city. 
Stroll over to Pho Muslim and [email protected] to try these tantalising dishes. The best part is that all of these can be enjoyed without breaking the bank, so you can focus on getting your stomach filled while touring around Vietnam.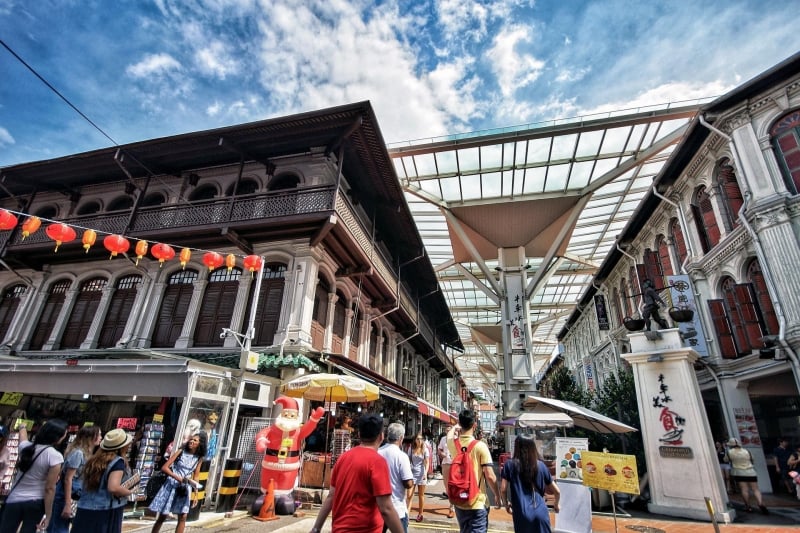 Singapore, the little Red Dot, is a multicultural and multireligious society, where you can find multiple different attractions within close proximity to each other. 
Located all around the Chinatown, Bugis, and Little India precincts, you can simply take a casual stroll from one spot to another and chance upon iconic local landmarks such as the Sultan Mosque and Haji Lane's colourful shophouses and murals. While there, be sure to take some swoon-worthy aesthetic shots to spruce up your social media feed. 
What's more, these areas have various hawker centres that offer plenty of food options, halal ones included. Head down to Chinatown Complex and Hong Lim Food Centre, where the diverse food dishes available will most certainly leave you spoilt for choice.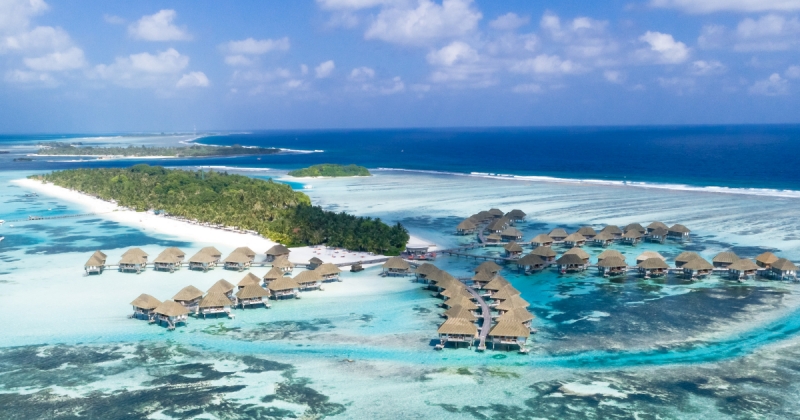 When you think of Muslim-friendly beach resorts, the Maldives is always one of the first few destinations that come to mind. But did you know that the Maldives grant tourist visas for all upon arrival? This means that you can breeze through immigration and jump straight into all the action once you touch down on its sunny shores. It's that simple!
Made up of 1,192 islands, each of Maldives' islands boasts its own charms and beckons tourists to explore. Depending on one's budget, tourists can choose to pamper themselves at a luxury resort or stay at local guesthouses for a more authentic Maldivian experience. Either one makes a great accommodation for tourists spending a day out snorkelling alongside marine creatures at Kuda Huraa Island or swimming with reef sharks on Maamigili Island. 
With the Maldives being a Muslim country, most of the facilities on its islands are Muslim-friendly as well. Various establishments are designed with prayer facilities and offer halal dining options, so you can rest assured and travel around the island worry-free.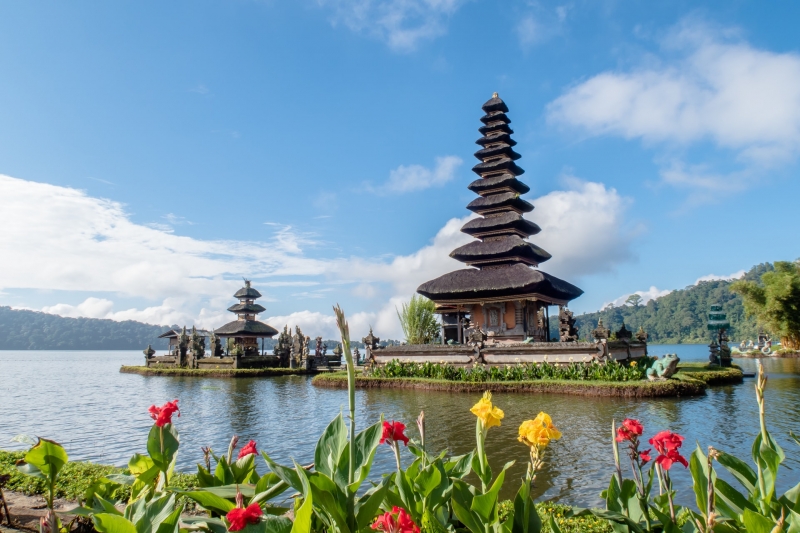 With over 17,000 islands, Indonesia is synonymous with beautiful landscapes and pristine beaches. The clear waters of Gili Islands and Bali's luxurious beach resorts are perfect for vacationers to snorkel or enjoy seaside views. 
Alternatively, famous scenic volcanoes such as Mount Krakatau and Mount Bromo can also be found on the islands, which can only be experienced in their entirety when observed up close.
With the majority of locals being Muslim, you'll be able to find a variety of delectable halal options available for you to indulge in. From Beef Rendang to Ayam Goreng, you'll be drooling before you even know it!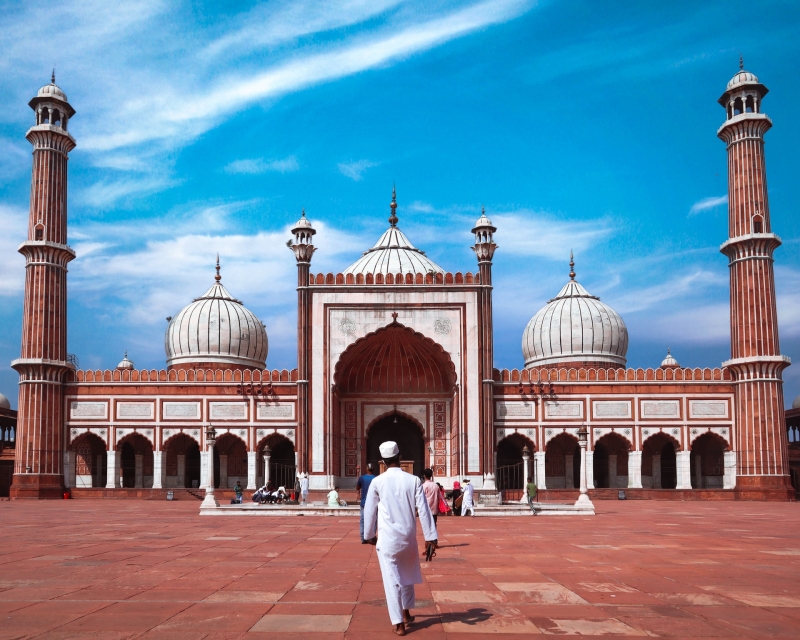 India has an extensive history and culture, which is exemplified by various prominent landmarks and their architecture. 
After being established as the capital of the Ghurid dynasty during the 12th-century, Persianate architecture and art styles were introduced into the Indian subcontinent. This gave rise to the Indo-Islamic architecture style — which has since become the inspiration for other architectural styles such as the Mughal-styled Taj Mahal and the Indo-Saracenic-styled Gateway of India.
A classical example of Indo-Islamic architecture would be the Masjid-i Jehan-Numa. One of the largest mosques in India, this mosque was regarded as the main node of Islamic power across India and remains one of Delhi's most symbolic sites that is visited by many annually!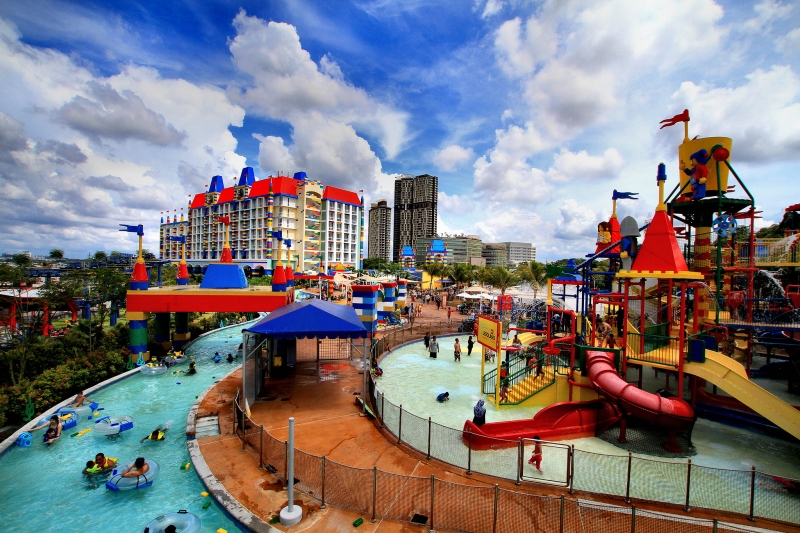 Families looking for a weekend getaway should definitely keep Johor Bahru on their radar. Home to LEGOLAND Malaysia and Austin Heights Water & Adventure Park, Johor Bahru has a multitude of family-friendly destinations for all to have an enjoyable time at. 
The endless fun starts in Desaru, a coastal town that is just an hour's drive away from Johor's bustling city centre. Spend a day out at Desaru Coast Adventure Waterpark, an exciting attraction featuring more than 20 wet and dry rides — including one of the world's biggest wave pools. You can also head on over to the Desaru Fruit Farm and Desaru Ostrich Farm, where you can pick your own fruit from the orchard and learn more about ostriches respectively.
If you're touring around the city centre, you will definitely catch a glimpse of the Victorian Sultan Abu Bakar State Mosque and its 19th-century clocktowers. Perched atop a hill, the mosque is said to be one of Malaysia's most beautiful old mosques and offers good views of the Straits of Johor and neighbouring Singapore. 
After you've finished a day's worth of sightseeing, you can head on over to fill your bellies with some halal delicacies at Kai Xuan Chinese Restaurant and Restoran Kacang Pool Haji.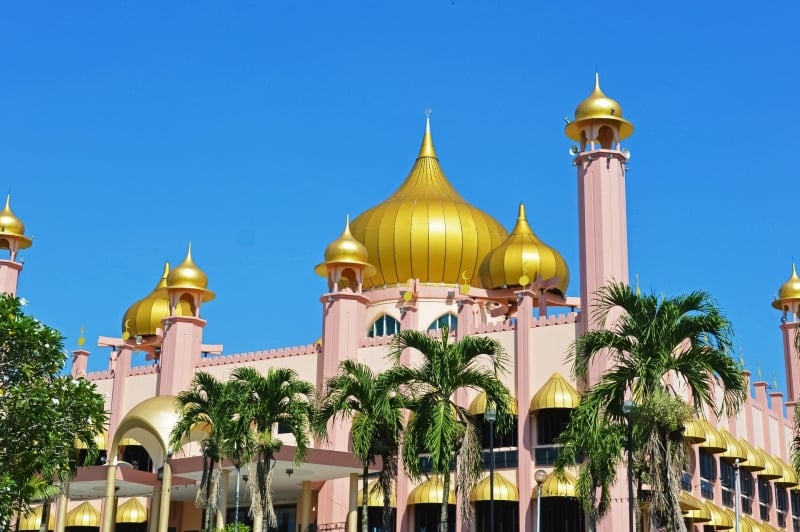 Located on the island of Borneo, Kuching is a treasure trove of hidden gems. Among the dozens of buildings within the city's capital, its focal point would be the eye-catching Kuching Mosque (aka Masjid Lama). Overlooking the banks of the Sarawak River, the mosque is exceptionally beautiful during sunset — when its gilded cupolas shimmer while reflecting the sun's rays.  
You can also find many fascinating activities at various spots right outside of town. Those interested to learn about the local indigenous groups can visit the Sarawak Cultural Village, where locals will teach you how to weave and make beads. If you want to get close to nature, head to Semenggoh Nature Reserve to find adorable orangutans and other wildlife roaming all over the forests.
If you're a self-proclaimed gourmet, then you would definitely want to visit Kuching for their food! Sarawak has a variety of local cuisines that is distinct from those of Peninsular Malaysia. Dig into a hearty bowl of Mee Sapi to sample a taste of Sarawakian cuisine! When done, snack on some Sarawak layer cake to savour a post-meal sweet treat.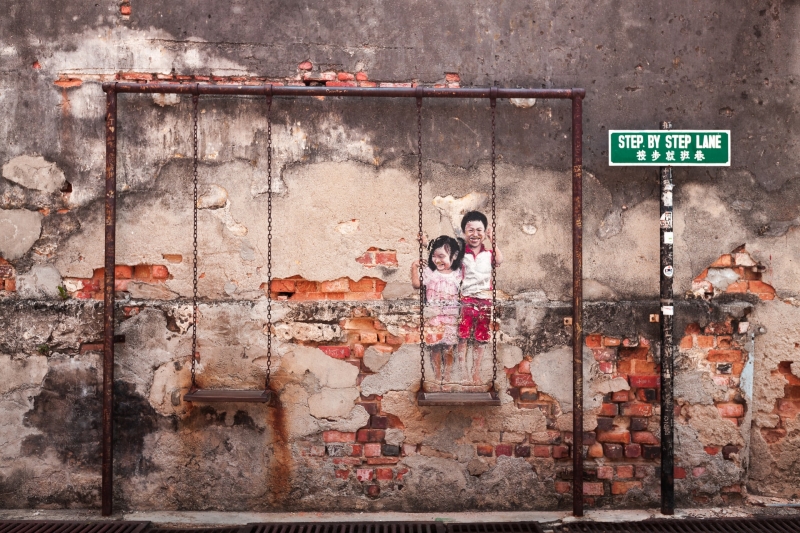 Just like Kuching, Penang also has a vibrant food scene and is acclaimed to have some of Asia's best street food. Tucked away in the capital city of George Town, you will be attracted to the irresistible aroma emanating from the street food. 
One of their must-try dishes is their Penang Assam laksa, thick round rice noodles in a savoury fish-based soup. There's also the famous Nasi Kandar Beratur, roti canai on Transfer Road, and Bee Hwa Cafe, one of the few places where you can try Halal Chinese food. In addition, on the Mainland, there are also famous food gems like Haji Mohamed Mee Kuah Ketam. 
As an island, there also lie many attractions you can find on Penang's coastline. Apart from the interactive museums, murals, verdant ecological sites (like The Habitat on Penang Hill and Entopia), and ESCAPE Theme Park (home to the world's longest waterslide), you should also visit the Penang Floating Mosque. 
It is named as such because the mosque gives off the appearance of floating on water during high tides. A long boardwalk connects the mosque with the island where one can admire panoramic views of the Straits of Malacca while enjoying the cool sea breeze. 
Planning to tick off every item on your bucket list? Discover the ultimate destination for your travel personality and Pick Your Super Adventure with AirAsia.
Book your great escape on the airasia Super App for amazing deals.
Enjoy 20% off all seats on all flights when you book from 11 Jul 2022 to 17 Jul 2022. Travel period is from 12 Sep 2022 to 8 Dec 2022. Now, your next big adventure is within reach!
---
Brought to you by AirAsia.