Looking for the perfect wedding venue can be confusing and frustrating. First of all, if you want to secure popular spots, you have to book years in advance. Next, you have to consider the location. You must also take into account if your estimated guest count can fit comfortably in the venue. After thinking about all this, you might just revert back to safe choices.

There are many venues like multi-purpose halls and function rooms which are the go-to venues for many couples. But that seems done and dusted already. To make your search a little more inspiring, here is a list of alternative weddings venues for you to consider!

Disclaimer: Some of the dining establishments at these venues are non-halal and others may serve alcohol. Do check with them for special wedding arrangements.
Garden weddings
Pastel floral decor and lush greens, what could go wrong with a garden-themed wedding? Imagine walking down the aisle, in pretty pure white, accompanied by flowers all around. If garden weddings are your thing, consider:
Botanico at The Garage

Host your dream floral wedding at Botanico at The Garage! Located in the midst of Singapore Botanic Gardens, Botanico is housed in a history-laden colonial building. As you find yourself enthralled by the colonial history of the house, be fascinated by the abundance of lush flora in the area. With a pillar-less indoor dining hall and a beautiful outdoor air-conditioned patio, Botanico is the perfect pick for a garden wedding. 
The space offers a capacity of 90 in the indoor dining and 60 in the outdoor terrace and garden bar. While it limits the attendees, this also ensures a cosy and intimate setting for the couple, family and friends.
Vineyard at HortPark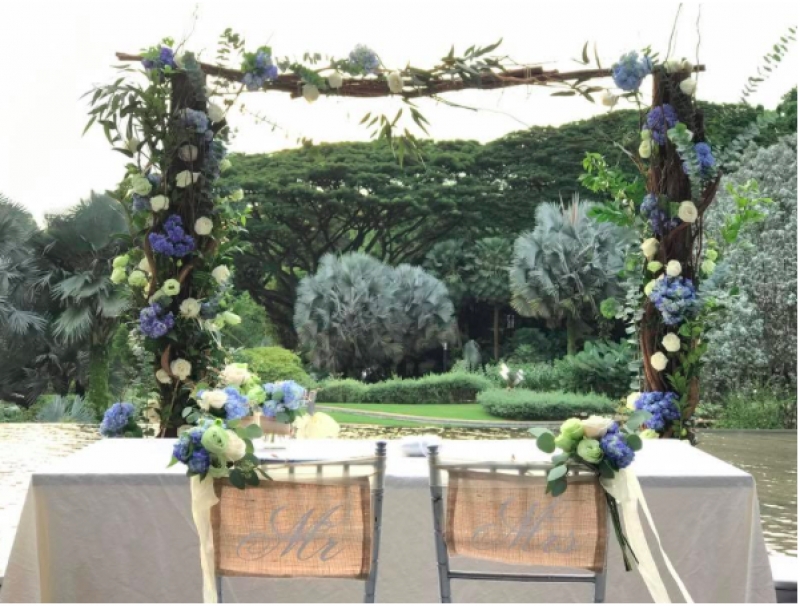 Still dreaming of a garden wedding which is spacious, affordable and can hold a big group? HortPark might be the answer. An outdoor venue that can accommodate 350 guests for lunch or dinner, this venue is a steal!
While the Vineyard at HortPark is one of the most popular venues within the park, there are also other thematic gardens and function rooms with facilities needed for a wedding and other social functions. There are also two lawns to choose from, especially for those looking for a more natural setting!
Intimate weddings
For others, accommodating a large number of guests is not on their to-do list. If you are looking for a more intimate space where you can celebrate your solemnisation, consider:
The Iris City Plaza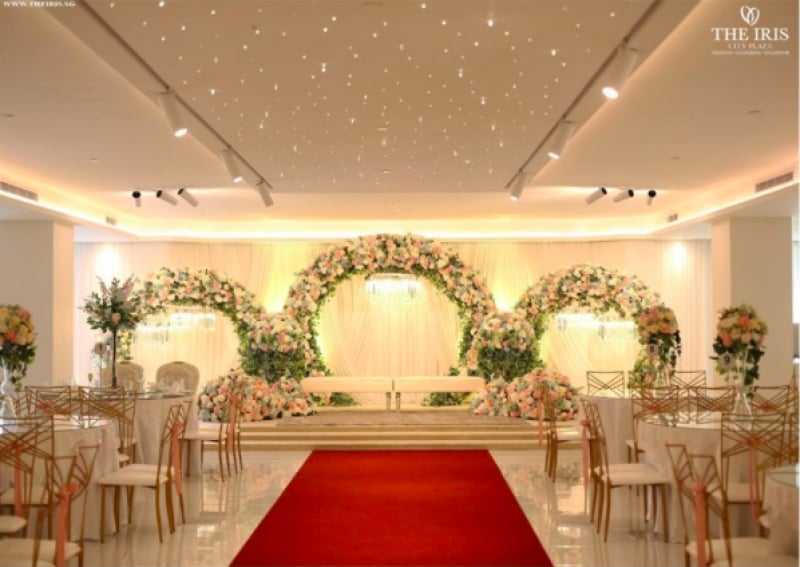 A cosy and private venue that you can also consider is The Iris located in City Plaza. Entirely air-conditioned and situated just a five-minute walk from Paya Lebar MRT, this venue is convenient and comfortable for all. The capacity for this venue is capped at 250 pax and there is even direct access from the carpark.
The built-in kitchen also enables the catering services to work on their meals more productively. Aside from that, you can also expect prayer and preparation rooms provided.
The Alkaff Mansion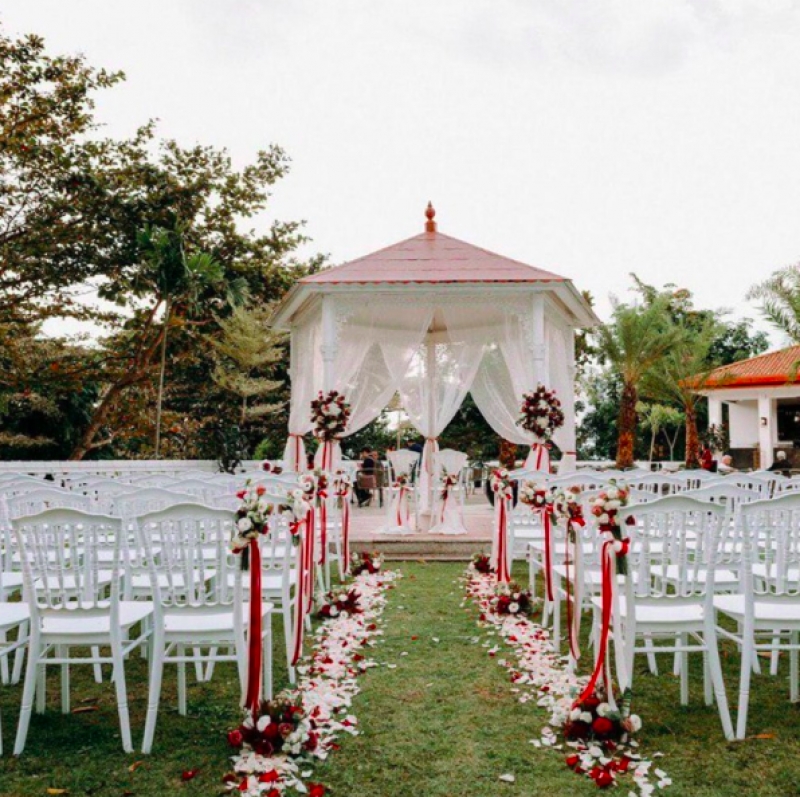 Situated on a hill, The Alkaff Mansion is Singapore's largest heritage and lifestyle property, boasting a 100-year history. With facilities like gazebos, European-styled fountains and outdoor spaces, this space has seen numerous weddings and unions.
Inspired by Spanish grandeur, this space will undoubtedly add glamour to your dream wedding. With stairways, canopies and indoor spaces that will astound you, this mansion will make a spectacular memory. In case you were wondering, The Alkaff Mansion is able to hold up to 250 pax for your grand affair.
The Joyden Hall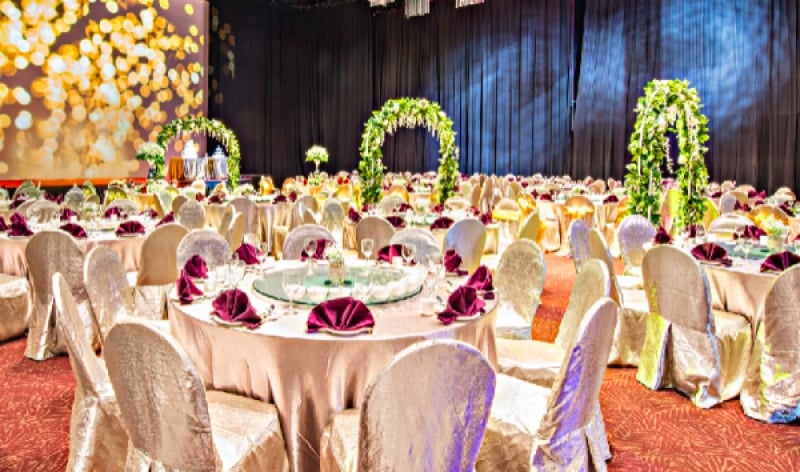 The Joyden Hall is worth checking out if you are looking for a mix of modern chic elements. With their intricate catalogue of ceiling art Installations, you can be confident that the decor here won't disappoint. Located at the heart of Singapore's arts and heritage district, The Joyden Hall is situated on BUGIS+ roof garden, with sheltered access to main modes of public transportation.

With brilliant facilities such as an indoor cinema-quality projection system and professional theatre sound system, your guests will be thoroughly and tastefully entertained. From a traditional banquet style seating to a free-style cocktail reception, this venue is able to hold up to 500 guests.
Wheeler's Estate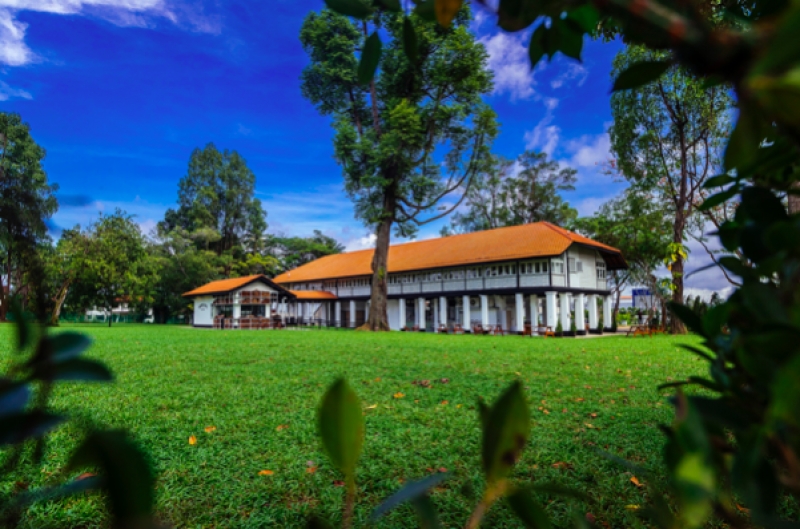 With over two acres of land, Wheeler's Estate offers a wedding experience that will surely be unique and close to heart. With a well-conserved colonial building and a lawn to accompany, there is both the old and new to embellish your union. 
With many different areas made for different occasions, there are more elegant and rustic options to choose from. Whether indoors or outdoors, you will be spoilt for choice here! They have also recently launched a wedding showcase focusing on 'Wedding Under The Stars'. If you are looking for something magical and private, this could be your pick!
Begonia Pavilion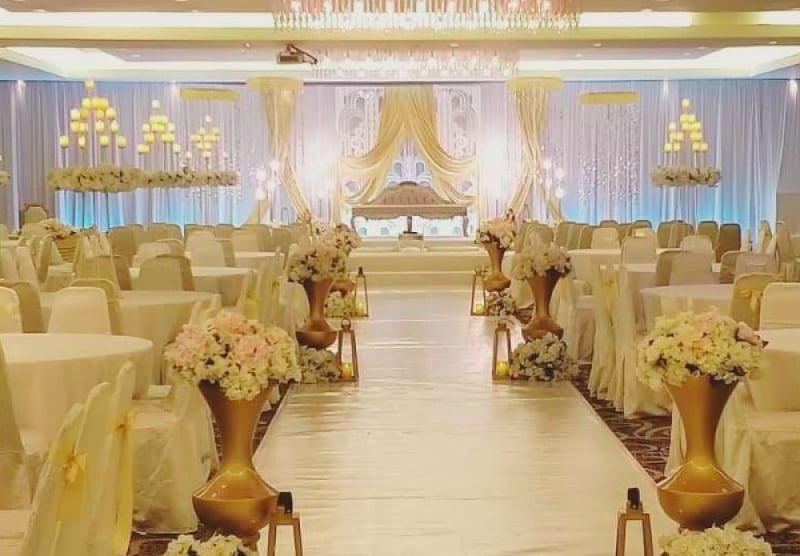 Begonia Pavilion, situated in Downtown East, offers attractive packages for Muslim weddings. This package includes use of the ballroom and three other function rooms which can also be used as the bridal changing rooms and for prayers.

The venue also holds up to 300 pax during the period of the event. With such packages already in place, planning for your perfect day will cease to be a hassle!
Masons at Gillman Barracks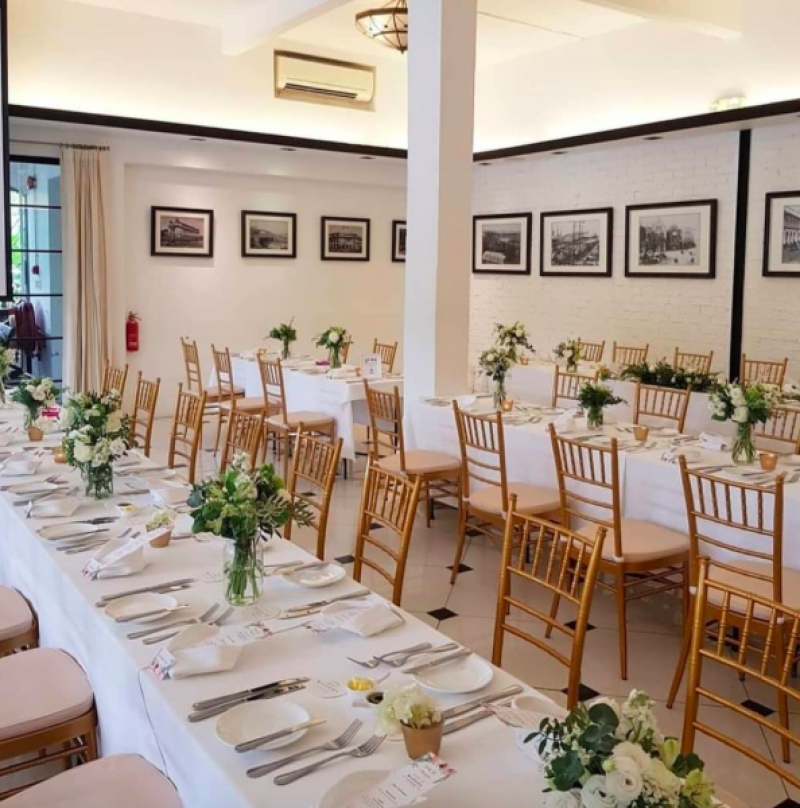 This former army barracks-turned-restaurant also offers a private setting. Masons is a fully-restored classic black and white bungalow built in 1935, with its history still breathing the old into this rustic set. The unique colonial charm will not only make your wedding more regal, it will also impress many of your guests!
Despite its new restoration, Masons retains its subtle style. The fusion of old and new also adds to the romantic aura of the space. This space, including the verandah and an outdoor alfresco area, is available for private hire and can hold up to 180 guests.
Simple weddings
Rather than a garden or private luxurious wedding, some are more attracted to the simplicity of a wedding celebration. If you are looking for something fuss-free, here are some choices:
Mosques
Many mosques now offer wedding services for couples. While there are couples who view their wedding day as a once-in-a-lifetime event and wish for a grand event, others prefer a more laid-back and simple celebration. For these couples, the options are limitless. Mosques, for instance, are perfect as the space is intimate and private.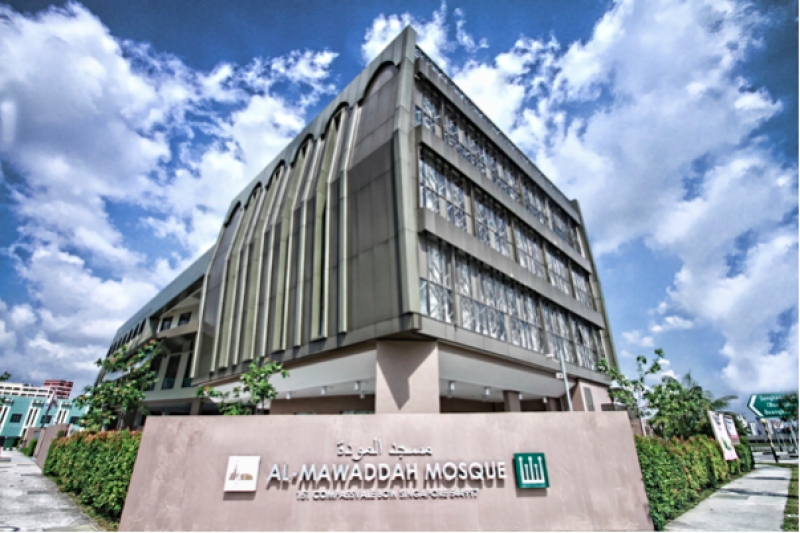 Al-Mawaddah Mosque, for instance, can be chosen for wedding services. In fact, the mosque's official website provides information about the prices and services that can be rendered during a wedding. With the number of mosques available across the island, there is an abundant choice if a mosque wedding is something you are considering!
Restaurants
Restaurants are also a contender in choosing which venue is best. Similar to the more intimate settings, restaurants allow guests and the couple to interact more conveniently. Furthermore, with various new Muslim-owned restaurants and cafes all around Singapore, these spaces are becoming more available as well.
The Villa at Singapore Botanic Gardens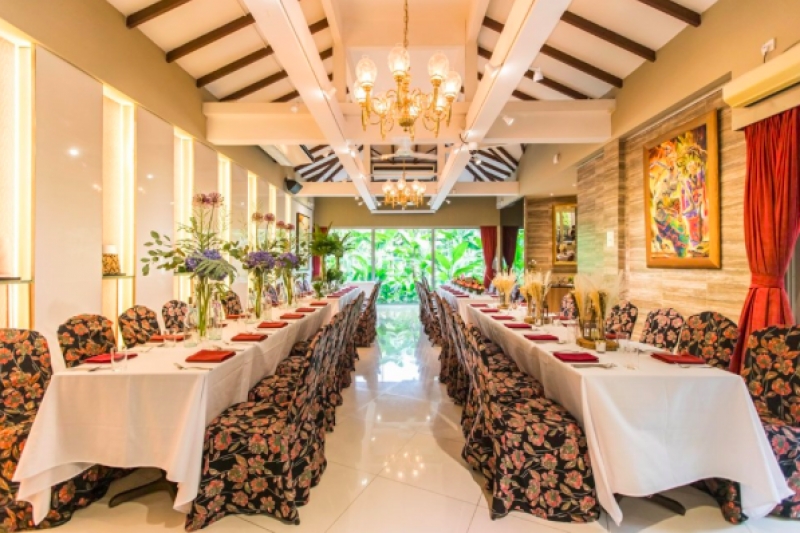 Nestled amidst the lush flora and fauna that surrounds the space, The Villa is also a perfect place to hold a wedding. This enchanting spot will allow you to bask in the idyllic atmosphere. Established in 2008, the Villa is able to accommodate up to 220 guests and offers three different spaces.
The facilities available are also aplenty making it a desirable choice for any event –  be it a cosy celebration or a fancy ceremony. This restaurant is also halal-certified and specialises in modern European cuisine with touches of Asian flavours, perfected by an experienced catering team.
Pondok Gurame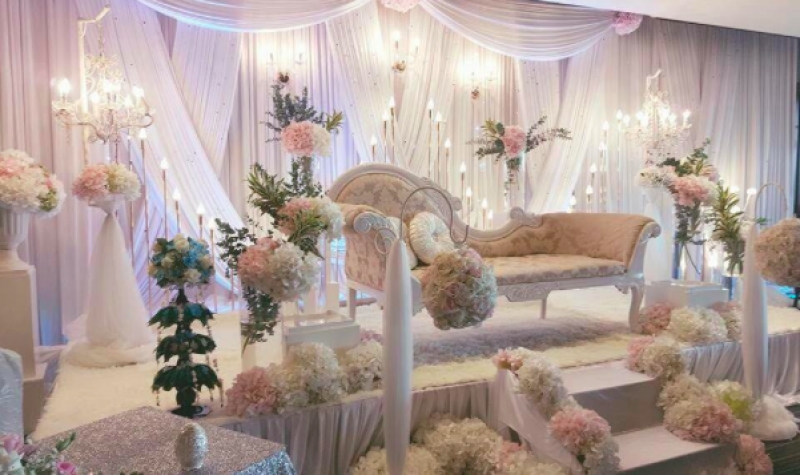 Pondok Gurame is one of the more popular venues in recent years. With a halal-certified caterer, this restaurant often hosts seaside wedding events. Similar to a beach resort, the setting of this restaurant is spacious and cosy. The venue is able to hold up to 330 guests. With the large area, there is enough space for all to rejoice in the celebrations.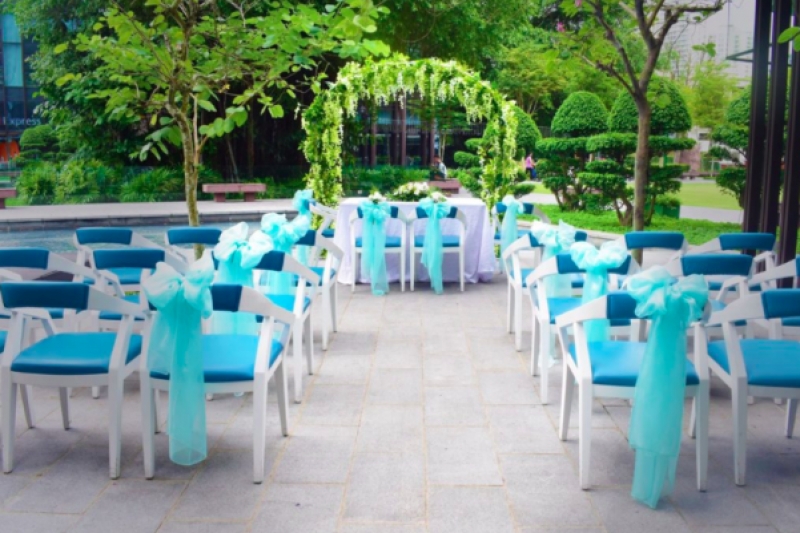 21 on Rajah is one of the more popular Halal-certified restaurants in Singapore. They also provide decoration services and a customisable wedding menu. Despite being a restaurant, the space still can accommodate the kompang and pelamin.
Also read: 5 Modest Wedding Dress Brands to Discover in Singapore