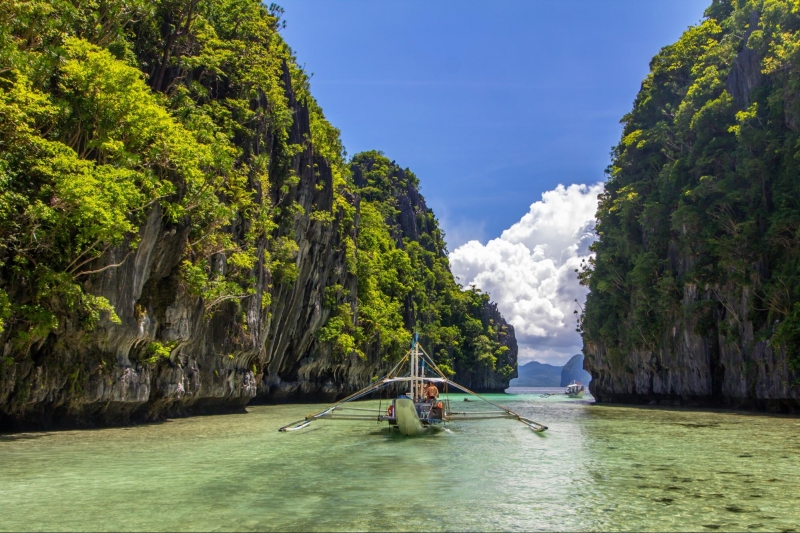 Home to the third-largest Catholic population worldwide, the Philippines might not come to mind as a Muslim-friendly destination initially. However, unknown to many, the country is actually home to diverse groups of people! In fact, many Muslim communities are present in large parts of the Philippines' stunning Mindanao island group.
Moreover, aside from this area, you'll be happy to know that an increasing number of mosques and halal-certified establishments have been popping up in various Philippine destinations.
Cebu Pacific keeps Muslim travellers in mind by offering a slew of halal-certified in-flight meals. Their tantalising selection of pre-ordered options includes rice meals, noodle dishes, and even light bites. You will positively still be spoilt for choice!
HALAL-CERTIFIED IN-FLIGHT MEALS AVAILABLE!

So today, we take a look at eight of the most compelling halal-friendly destinations in the Philippines that need to be on your travel checklist!
1. Dive into nature at Davao City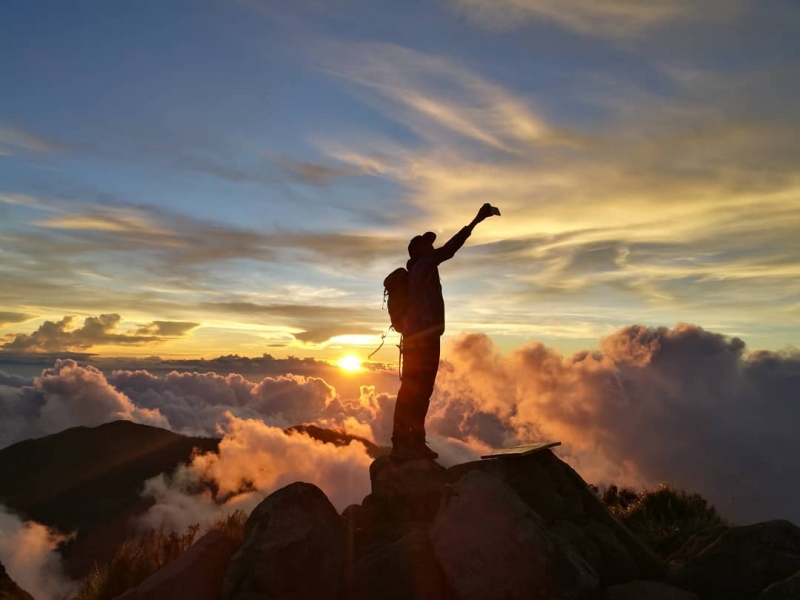 Although Davao City is the largest city in the Philippines, it is still not on most tourists' radars. Be one of the few people to uncover the city's hidden natural gems with direct or connecting flights via Manila to Davao on Cebu Pacific.
Despite being a metropolitan centre, Davao City is teeming with natural wonders. You simply can't skip a hike up to Mount Apo, the highest mountain in the country! Aptly known as the "King of Philippine Peaks", the mountain towers at a height of 3,144 metres above sea level. Once you reach the summit, you will be treated to stunning panoramic views after the arduous climb. 
When you're on your way back to the city after a day at Mount Apo, drop by the Omar Mosque Toril Islamic Center to perform your prayers. For your reference, Ecoland Mosque, Davao City Islamic Center, and Mercy Islamic Foundation are some of the more accessible mosques in the city centre.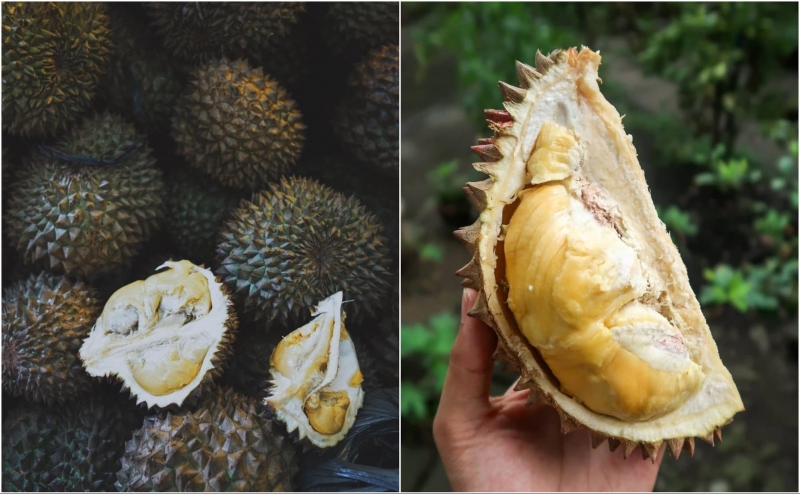 Did you know that Davao City was chosen to become a main hub and gateway for Muslim-friendly destinations in the Philippines by the Department of Tourism? This means that you can look forward to more halal accredited establishments in the city! 
Rest assured, there is already plenty of halal food available for you to enjoy! If you're feeling peckish, have a meal at one of the many halal eateries scattered around Davao City, such as Alhamdulillah Satti Tausug House of Halal Food, Halal House Davao, and Wady's Bistro. These eateries serve up traditional Tausug food and delectable Middle Eastern cuisines. Finish your meal with some Puyat Durians at Bankerohan Market. With Davao City known colloquially as the "Durian Capital of the Philippines", it's undoubtedly the best place to find out why durians are known as the king of fruits!
2. Step into the shoes of a local at Zamboanga
With a colourful beach and unique mosques, Zamboanga is the place you have to visit for a unique Filipino experience. Also, with over 336,000 Muslims residing in Zamboanga, halal food and mosques are available in abundance!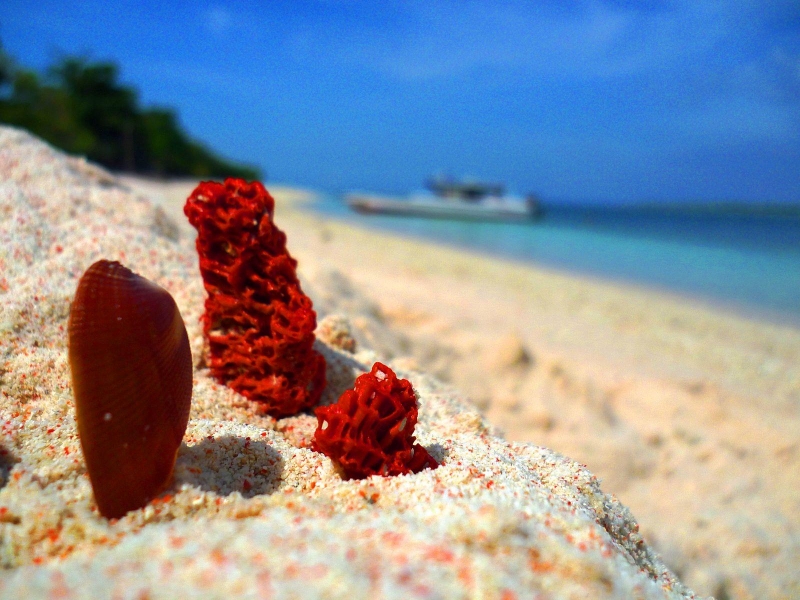 Your trip to Zamboanga wouldn't be complete without setting foot on Great Santa Cruz Island's famed Pink Sand Beach! Pulverised red organ pipe coral gives the sand its eye-catching colour. Just imagine soaking in the sunshine and sinking your toes in the warm pink coralline sand. Ah, paradise.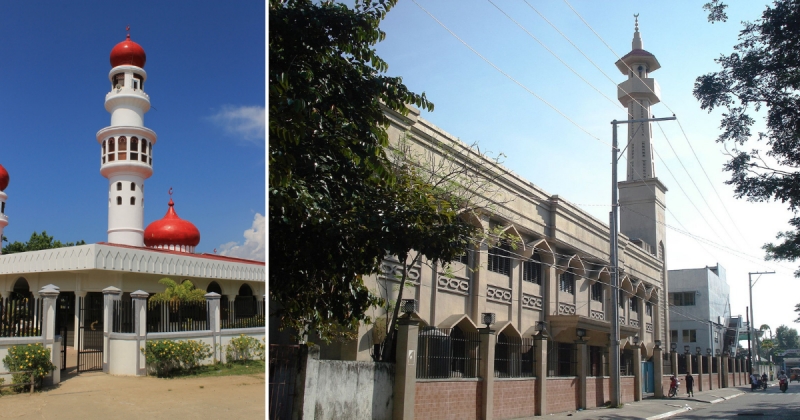 With its large Muslim population, Zamboanga is home to many places of worship. Don't pass up the opportunity to go mosque hopping in the city! Built in 1885, Taluksangay Mosque is one of the oldest mosques in Zamboanga. Thanks to its eye-catching red domes, the mosque has even attracted tourists and other non-Muslims. Another treasured mosque in the community is the Santa Barbara Mosque.
Unsurprisingly, many halal eateries are scattered across the city. A wide variety of cuisines are offered which includes western (Family Fried Chicken Restaurant), Moroccan (Bay Tal Mal Restaurant), and Italian (Taam Halal Pizza). When in Zamboanga, you must try the Knickerbocker, halo-halo's counterpart! Beat the heat with a refreshing mix of fresh fruits, jellies, condensed milk, and strawberry ice cream. 
3. Bask in the beauty of Bohol
The island of Bohol definitely upholds the high standards of beauty expected from the Philippines' numerous islands.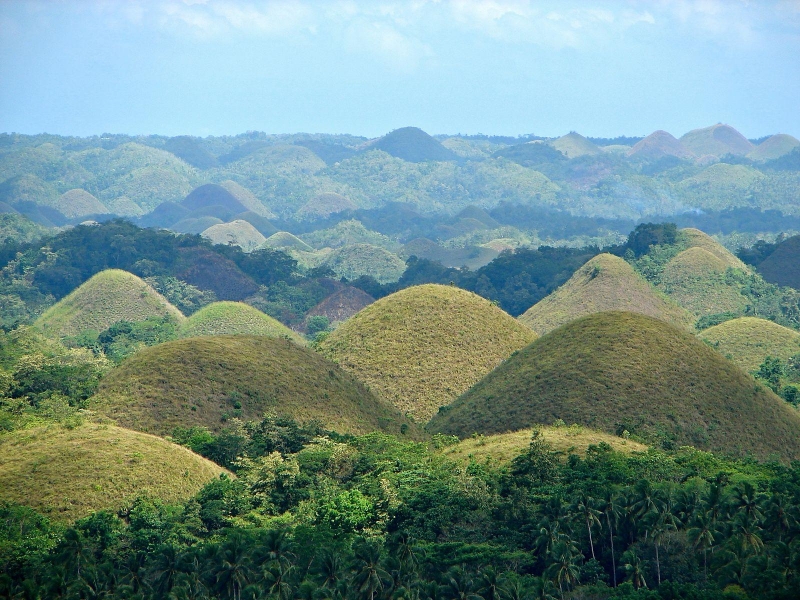 Other than pristine beaches, discover more to Bohol on Cebu Pacific's direct or connecting flights via Manila! Ever imagined thousands of colossal chocolate kisses laid out in front of you? Witness the exact scene come to life at Chocolate Hills, Bohol's most famous natural attraction. They look like a chocolate lover's dream especially during the dry season when the grass turns brown.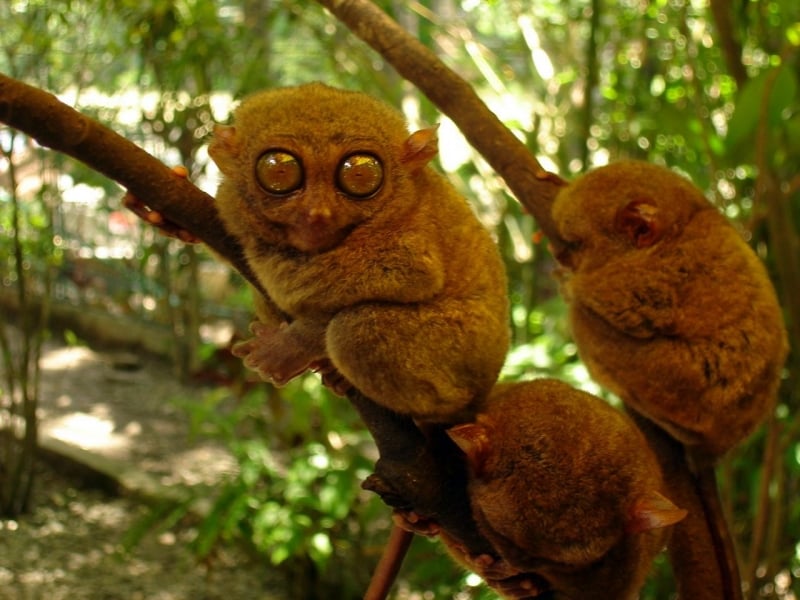 Other than breathtaking geological formations, Bohol is also home to unique animals. Visit the smallest primate with the largest eye-to-body ratio at The Philippine Tarsier and Wildlife Sanctuary. The endangered Philippine tarsiers are only three to six inches tall. Their humongous eyes undeniably make them even cuter!
When it's time to eat, head down to Tagbilaran City as most halal food places in Bohol are concentrated there. You can dine at Halal Eatery, The Buzzz Café, and Khan's Kebab Express Halal. Masjid Darussalam is also located conveniently in the city. 
If you're exploring other parts of the island, don't fret! Being located right by the ocean, seafood restaurants are easily found anywhere in Bohol. You may also request for your seafood to be cooked separately if the restaurants sell alcohol and non-halal meat for your peace of mind. Locals in Bohol are very warm and friendly, so you don't hesitate to ask! We're sure they'll be happy to help.
KICKSTART YOUR BOHOL ADVENTURES!
4. Be amazed by the colourful Cotabato City
We bet most of you have never been to, or even heard of, Cotabato City before. Bursting with colours, this gorgeous city is painfully underrated. Be sure to add this dynamic city with a large Muslim community to your bucket list!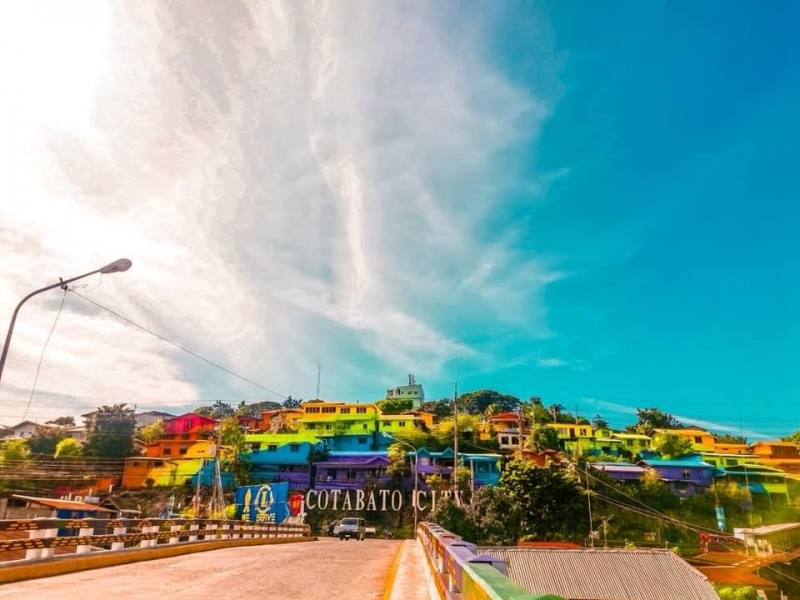 There's nothing more colourful in the city than the rainbow houses on Pedro Colina Hill! Known as PC Hill by the locals, over a hundred houses are painted with a riot of vivid colours. The project started as a way to lift the spirits of retired local military and police personnel who constitute a large percentage of people living on the hill. 
After exploring the picturesque hill, fill your stomach with the local delicacy fried hito (catfish) at the halal-certified Babo Katips Eatery. Another great place to enjoy local dishes such as papaitan (cow innards soup) and bulalo (beef shank soup) is Hala Bira Halal Food.

Since about 26% of Cotabato's population is comprised of Muslims, some of the city's attractions include mosques! The most eye-catching mosque by far is the Pink Mosque (Masjid Dimaukom). Drenched in an intense fuchsia colour from the domes to the floor, there's no other mosque like this anywhere else in the world. Apparently, the colour was chosen to symbolise peace.
Another breathtaking mosque is the city is The Sultan Haji Hassanal Bolkiah Masjid, more commonly known as the Grand Mosque of Cotabato. This massive mosque is the largest mosque in the Philippines and can hold roughly 1,300 people at any one time!
5. Kick up your feet and relax in Iloilo 
Although Iloilo is very urbanised, it is definitely more laid-back as compared to other major cities in the Philippines.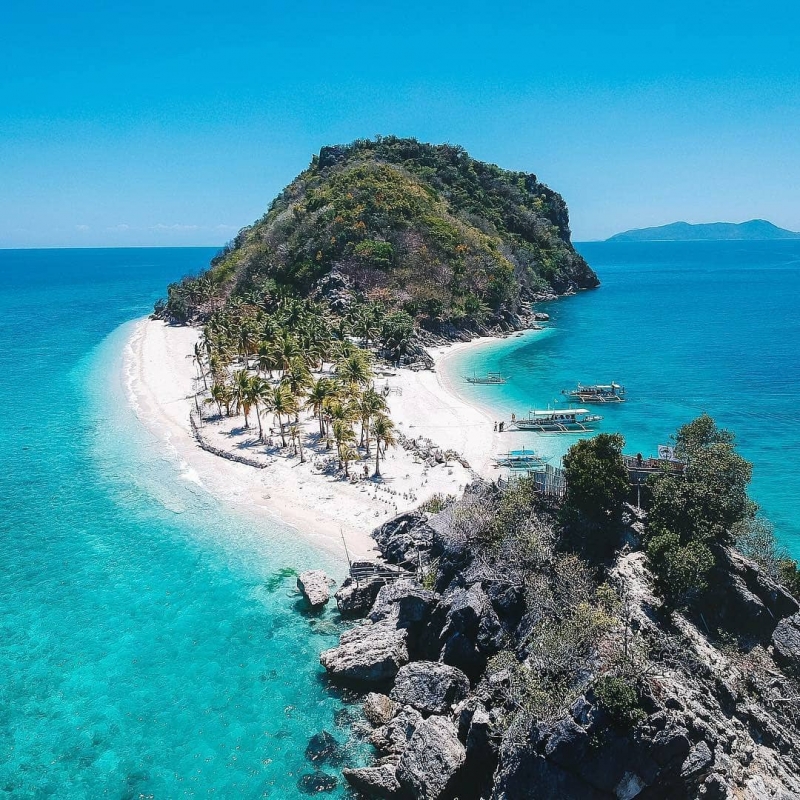 Gigantes Islands is the epitome of relaxation! This remote island is about five hours away from Iloilo City, but you will be rewarded with quiet beaches, an emerald lagoon, and the freshest seafood so the journey is definitely worth it. Being a secluded island, my fellow Muslimahs can don their burkinis without worrying about getting weird stares from other beachgoers! 
You can look forward to swimming in the crystal clear waters or trekking in the dense jungle. If you're not up to get active, simply lie on the powdery white sand and let all your worries wash away.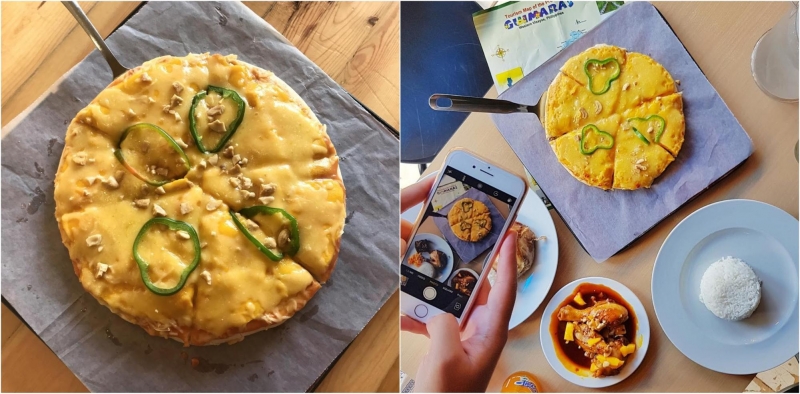 Looking to go somewhere nearer the city? Guimaras is only a 15-minute ferry ride away. Other than the usual beach activities, you should visit Guimaras Mango Farm and harvest your own mangoes. The land's fertile soil produces some of the sweetest mangoes in the world. The famed Mango Pizza is also available on the island!
Being a coastal city, many Muslim-friendly seafood restaurants are sprinkled around the island. Simply request for the chef to cook your seafood separately. Conveniently located near Molo Terminal, you can perform your prayers at Masjid Molo. With Cebu Pacific's direct or connecting flights via Manila, easily escape from the city's hustle and bustle and relax.
BOOK YOUR FLIGHTS TO ILOILO HERE!
6. Discover new experiences in Angeles City 
Located close to Clark International Airport, Angeles City is another underrated city of the Philippines. Although the city is unfamiliar to most, it is easily accessible via Cebu Pacific's direct or connecting flights via Manila!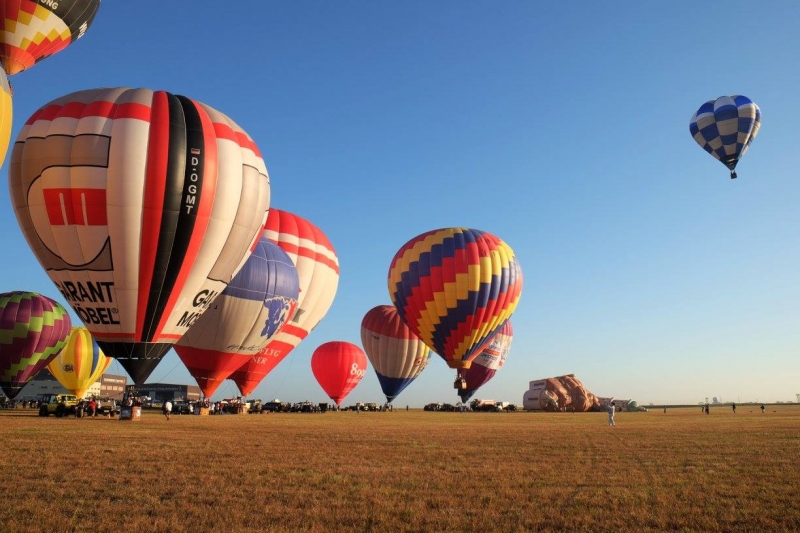 Go on a food trip or take to the skies on a hot air balloon! The Philippine International Hot Air Balloon Fiesta is the longest-running aviation event in Asia. Happening over four days in February, let your jaw drop as a myriad of colourful hot air balloons dot the cloudless blue skies. Many tourists flock to Angeles City in Pampanga to attend this event, so expect to meet both friendly locals and fellow travellers while you're there! 
With a melting pot of cultures, Clark is teeming with delectable food from a myriad of cuisines. In between enjoying the hot air balloon festival and visiting cultural spots like Clark Museum and Nayong Pilipino Clark, fuel up at Delicious Halal Food Centre. The restaurant serves up traditional, all-time favourite Malaysian dishes such as satay and Nasi Lemak. You can also check out Red Sea Bar & Restaurant along Fields Avenue for a selection of Halal-friendly Arabic, Indian, and Filipino dishes.
Another notable halal restaurant in the city centre is Halal Restaurant Zarina, which plates up Bangladeshi, Pakistani, Sri Lankan, and Filipino cuisine. Some of their recommended menu items are the Chicken Kurma, Kebabs, and the Paratha flatbread. After all that food, you can then fulfil your prayers at Masjid Hadeeqatu Al-Sha'b located near SM City Clark. 
7. Go Instagram-crazy in Cebu
Hailed as the Queen City of the South, Cebu is well-loved for its fine beaches, thrilling activities, and delightful food. When your Instagram feed is looking a little lacklustre, hop on one of Cebu Pacific's flights to Cebu to photograph the queen's attractions!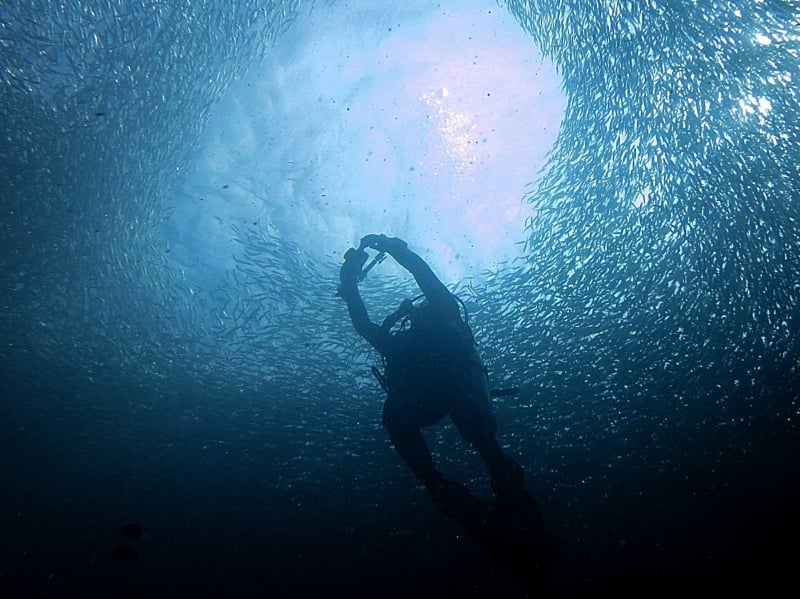 If the usual house pets get many likes from your followers, how many more likes will a large group of sardines get? Dive into the azure waters and swim alongside thousands of sardines at Moalboal! As a protective measure, sardines stick together in large groups to scare off larger prey. This phenomenon is known as a sardine run or bait ball. While you're mesmerised by the sardines' ever-changing formations, don't forget to get that Insta-worthy shot. Better bring that waterproof camera with you!

When it first opened, 10000 Roses Café & More generated a huge buzz on social media. Although it is merely a cafe, 10000 Roses Café & More can be considered as one of Cebu's attractions. Just imagine prancing through a field of thousands of artificial, LED-powered white roses! The best time to take pictures is from dusk till night as you can get pictures for the 'gram before and after the LED lights are turned on. 
Although the food at the cafe isn't halal-certified, you can get your grub on at many halal eateries in Cebu City. Some of the highly-raved restaurants include Persian Palate, Shawarma Gourmet, and Ama's Choice Halal Restaurant. Plenty of mosques are also studded across the city with the Green Mosque and Sittie Mariam Masjed being the more well-known ones. 
8. Seek out the marvels of the Manila metropolis 
It's a no-brainer that Manila has to be included in the list. The dynamic capital city of the Philippines offers a vast number of things to see and do. Unsurprisingly, Manila is also a direct flight away from you via Cebu Pacific.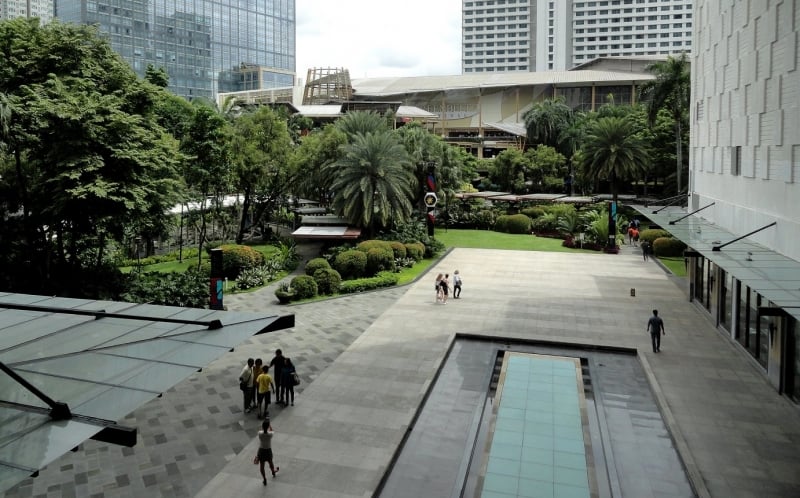 Most people flock to Manila to shop till they drop! After getting your shopping fix, choose to dine in one of the halal restaurants; Gilak By Hossein or Queens at Bollywood. If you're exploring other parts of the city, don't fret as plenty of halal establishments can be found across Manila, such as Pamanganan Quiapo and Al Dimashqi Halal Restaurant.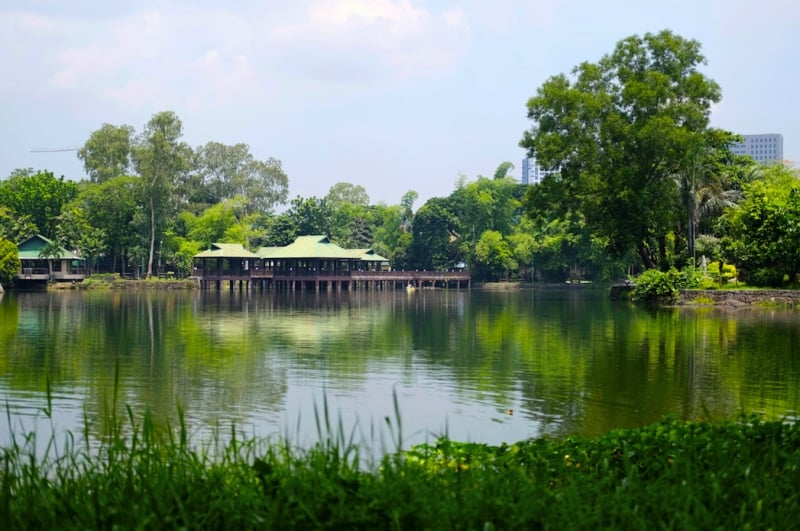 If you're yearning for a break from the never-ending buzz of the city, seek solace at Ninoy Aquino Parks and Wildlife Center. You'll never guess that a massive 23-hectare park is nestled right in the middle of the city! Other than taking a leisurely stroll across the park, renew your database of animal facts by visiting bald eagles, turtles, monkeys, and other animal residents. 
When it's prayer time, the Botanical Mosque is only a few minutes away from Ninoy Aquino Parks and Wildlife Center. Other mosques are also interspersed in the city centre including Manila Golden Mosque and Cultural Center and Al-Huda Mosque and Ma-had Inc.
With easily available halal food eateries, numerous mosques, and even local Muslim communities, it is undeniable that the Philippines is a halal-friendly country for Muslim travellers. Itching to experience these stunning destinations for yourself? One flight is all it takes! 
Watch this video and go on a virtual tour around the Philippines to seal the deal!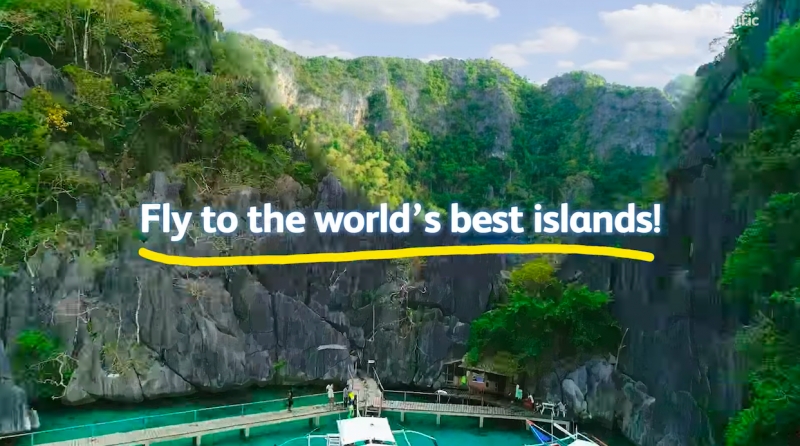 Kickstart your Filipino adventure by booking your flight with a halal-friendly airline like Cebu Pacific. It offers the best inter-island connectivity in the country and serves up a delectable range of halal-certified in-flight meals. Pack your bags and #FlytoMoreFun today! 
For more information, please visit Cebu Pacific's official website, Facebook, Instagram, Twitter, and Youtube.
---
Brought to you by Cebu Pacific Air.