In search of a slice of paradise? Thailand has been luring Muslim travellers worldwide thanks to its pristine beaches and emerald waters. Despite being a Buddhist majority country, halal food in Krabi is easy to find due to its mixed population being 40% Muslim. From authentic local cuisine to dim sum, you will never have to worry about going hungry in this Muslim-friendly city.
#HZtip: Whether it is a restaurant, hawker stall or street vendor, a halal sign in Arabic will clearly be indicated. Please do note that most steaks (especially if the beef is imported from Australia) are not halal-certified.
Near Rayavadee Pier, Nong Nooch
Though there is not much to do in this area, Muslim travellers who choose to stay here can easily hop on a ferry to the neighbouring islands from Rayavadee Pier. Cruise along to pristine beaches such as Railay Beach since it is only accessible by boat due to high limestone cliffs cutting off mainland access. Also, it is a hot spot for rock climbers!
1. PakNam Krabi Seafood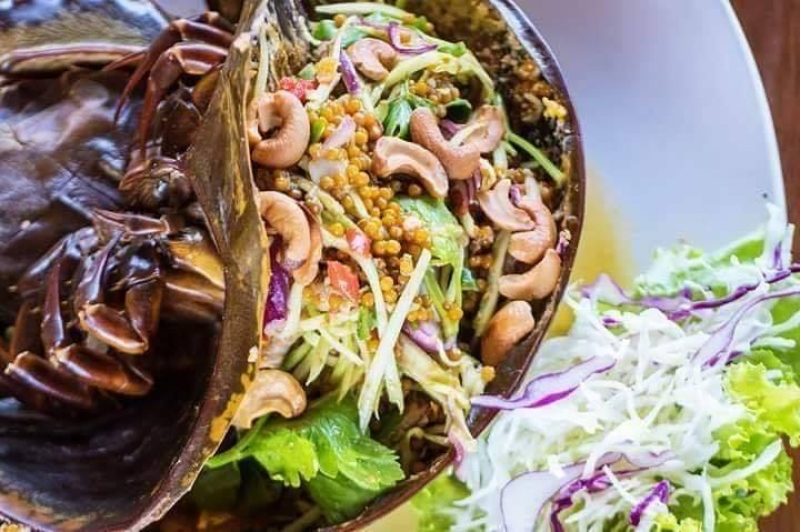 PakNam Krabi Seafood is a definite must-try when in Muslim-friendly Krabi. Their menu exclusively includes fresh seafood that ranges from black crabs to sea basses. You're surely in for a treat as you enjoy your delicious meal while appreciating the stunning views of the nearby estuary. There's even a private pier for customers who wish to cruise along the waters.
Address: Sai Thai, Mueang Krabi District, Krabi 81000, Thailand
Hours: Daily, 11am – 10pm
Near Vogue Shopping Centre
In the heart of Krabi town, you'll find a shoppers haven in the form of this popular shopping centre. Vogue Shopping Centre is a department store that sells various boutiques and cosmetic stores, located along Maharaj Road. You can easily find anything and everything under one roof. When in Krabi, you also have to embrace the local nightlife so head down to the Krabi night market located near the Chao Fah Park Pier.
2. Abdullah Halal Food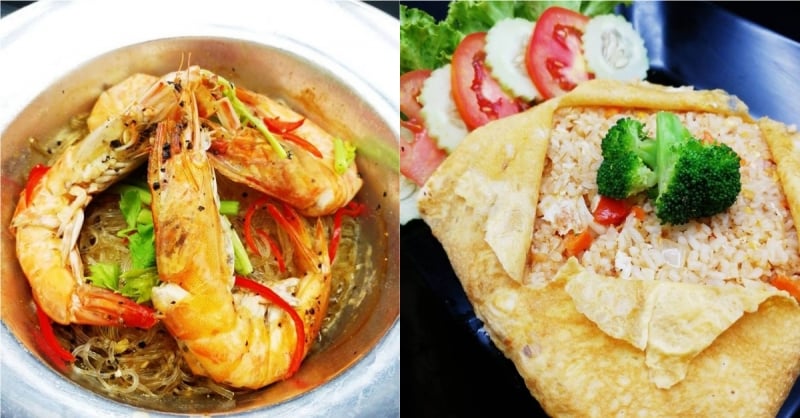 When in Thailand, you've got to indulge in authentic Thai cuisine. At the heart of Krabi Town, you'll find Abdullah Halal Food that provides a wide selection of Southern Thai-style curries and soups. Try their Tom Kha Gai which is slightly different from the ones in Bangkok as the chicken is cooked in soupy coconut milk instead of white heavy coconut milk. Besides the usual Thai dishes, patrons can also expect some Malaysian style dishes such as Roti Gaeng.
Address: Pak Nam, Mueang Krabi District, Krabi 81000, Thailand
Hours: Monday – Saturday 10 am-10 pm, Closed on Wednesdays
3. Hawa Halal Food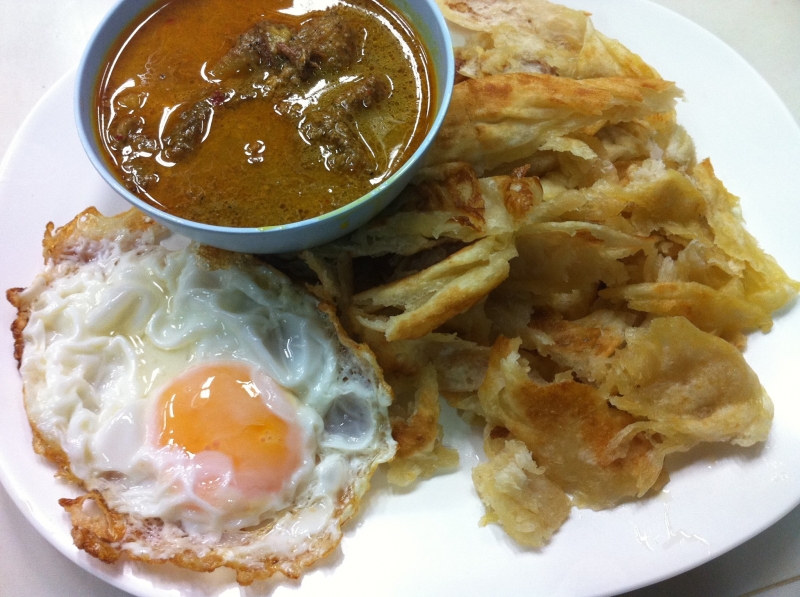 Located across the Thai Hotel and next to the supermarket, Hawa Halal Food serves up delicious and wallet-friendly halal Thai dishes in Krabi. You can get a filling dish of rice or noodles for only 50 baht (~S$2.10)! They also have various Southeast Asian and Western food such as roti prata and burgers for Muslims looking for something different.
Address: 1 Maharaj 4 Alley, Tambon Pak Nam, Amphoe Mueang Krabi, Chang Wat Krabi 81000, Thailand
Hours: Daily, 7.30am – 5 pm
4. Abubak Halal Dim Sum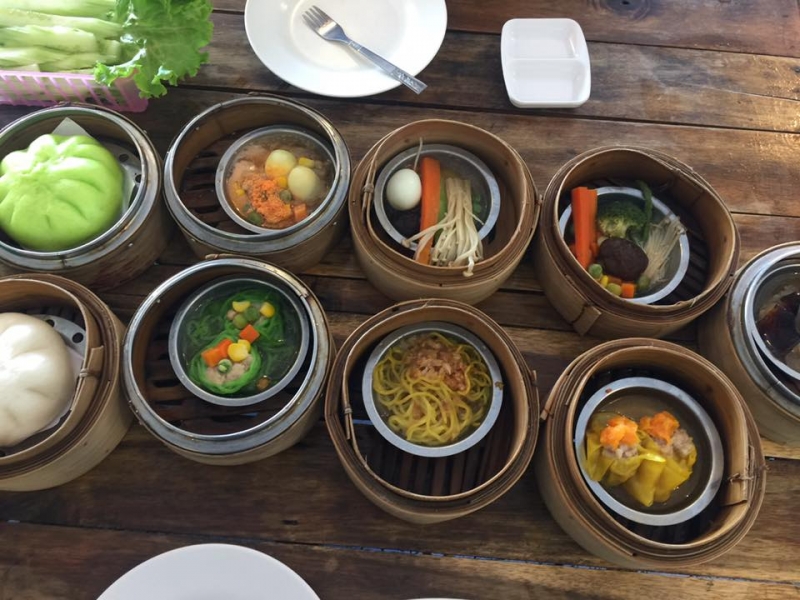 It may seem strange to travel all the way to Krabi to savour some halal dim sum. But Abubak Halal Dim Sum serves as a great alternative if you happen to be sick of Thai food. Besides dim sum, this halal eatery also serves rice porridge and other Asian breakfast fares. Do note that they have another branch in Ao Nang area and near the Tesco Supermarket listed below.
Address: 92 17 Vicar Rd, Tambon Pak Nam, Amphoe Mueang Krabi, Chang Wat Krabi 81000, Thailand
Hours: Daily, 7am – 4pm
Also read: Halal Food in Bali: 19 Places to Visit When You're Hungry
Near Masjid Aonang
Unlike the main tourist area at Ao Nang beach, the Ao Nang village has a significant Muslim population. Hence, there are many halal eateries sprawled across this district. There are still some Muslim-friendly dining options such as seafood for those looking for some grub after frolicking along the sandy beach.

This is also an extremely convenient area to stay while in Krabi. Not only are there plenty of resorts and hotels, but there's also the Ao Nang Mosque nearby for those wanting to perform their prayers. You can also easily locate the Ao Nang Tourist Centre if you need any assistance.
5. A-Hud Seafood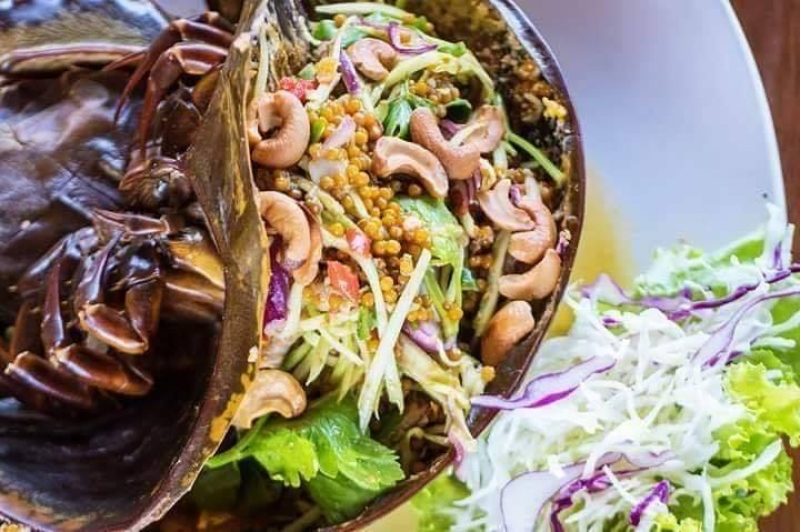 A-Hud Seafood comes highly recommended by many locals and Muslim travellers from around the globe. Their menu includes an extensive selection of authentic Thai cuisine. You can expect fresh seafood served with scrumptious Tom Yam. If you're looking for something different, Muslim travellers should also try their Western dishes such as the cheese-covered mussels. Plus, their large restaurant is perfect for big families!
Address: 238 4203, Tambon Ao Nang, Amphoe Mueang Krabi, Chang Wat Krabi 81000, Thailand
Hours: Daily 11am – 11pm
6. Pyramids Restaurant Ao Nang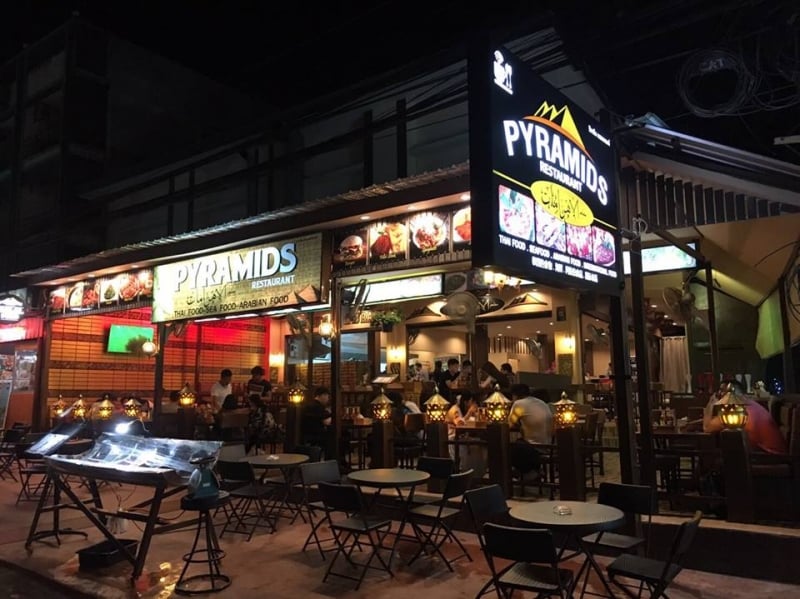 Located just opposite Sugar Marina Resort, Pyramids' menu includes Mediterranean, Middle Eastern, and Indian cuisine with a selection of falafel, hummus and grilled skewers. It is described as a casual dining restaurant that also promises diners delicious Thai cuisine with a wide selection of seafood available. Since it opens till late, Pyramids is a great spot to hang if you're looking for a late night grub spot.
Address: 492/5 Moo 2, Ao Nang, Krabi, Thailand
Hours: Daily, 11am – 1am
7. Bangboo Halal Seafood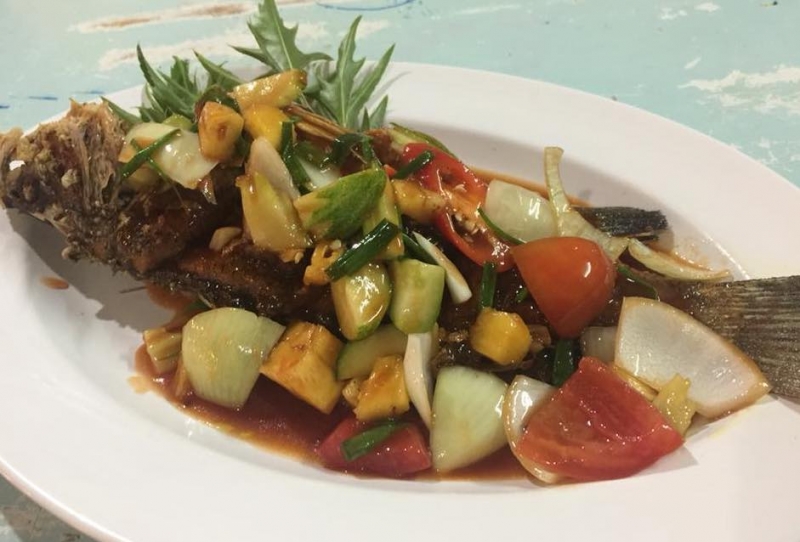 Situated along the main road near the Ao Nang Mosque, this halal restaurant in Krabi is rather easy to spot. Bangboo promises the freshest of seafood where Muslim diners can select their choice of seafood and have it weighed before tossing onto the grill. You should order yourself some of the other Thai dishes such as mixed vegetables in oyster sauce and the fried golden bags which will go well with your freshly grilled seafood.
Address: 45 Ao Nang, Mueang Krabi District, Krabi, Thailand
Hours: Daily, 11am – 11pm
8. Ao Nang Kung Paow Halal Food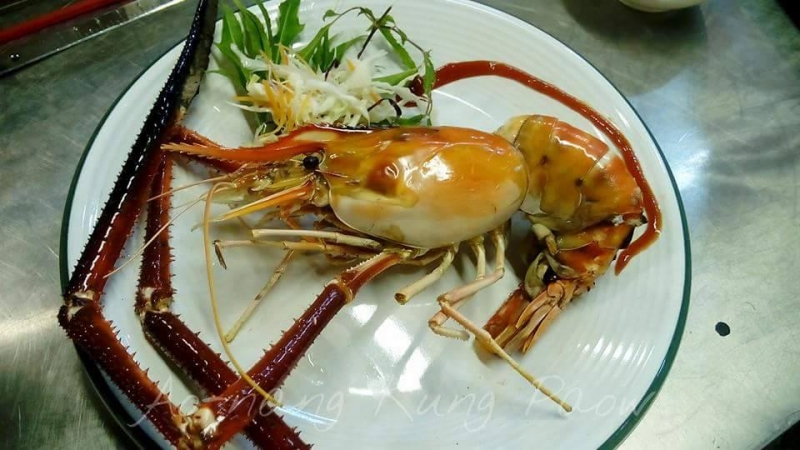 Just opposite the Ao Nang Mosque, this halal restaurant boasts a plethora of Thai seafood dishes that are authentic and fresh. There are also plenty of Western dishes for you to savour. The restaurant is great for those travelling in groups with a cosy interior coupled with affordable prices. To top it all off, the attentive service staff will make sure you have a comfortable dining experience.
Address: 420/14-15 Tambon Ao Nang, Amphoe Mueang Krabi, Chang Wat Krabi 81000, Thailand
Hours: Daily, 11am – 11pm
Near Noppharat Thara Beach
Among Krabi's famous beaches, Noppharat Thara Beach boasts 3km of white sand, shallow waters and is perfect to catch those picturesque sunsets. This beach is actually part of a marine park. If you're looking for a quiet place to rest your head, this sandy paradise is just for you!
9. May & Zin Restaurant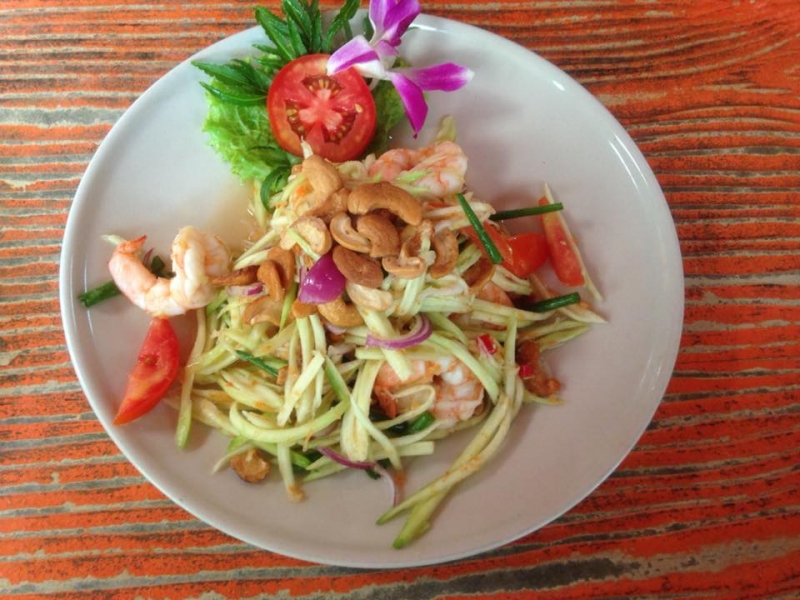 Compared to most of the halal eateries in Krabi, this area sells more affordable halal Thai food. This budget-friendly eatery serves up delicious Thai food in a family-friendly area. Give their pandan chicken and green curry a try especially for those who are fans of spice. This halal eatery ensures their dishes are authentic yet caters to the taste buds of both locals and Muslim travellers alike.  
Address: Ao Nang, Mueang Krabi District, Krabi 81180, Thailand
Hours: Daily 11am – 9pm, Closed on Thursdays
Near Masjid Al Aman, Ban Klong Haeng
Besides the Al Aman mosque, you can find the Klong Haeng market. This local market is held in various villages daily and is located just opposite the mosque. You can expect to feast on tons of fresh fruits, vegetables and of course, gastronomic Thai delicacies such as the Mango sticky rice! Klong Haeng market is a great place for Muslim budget travellers looking for tasty yet affordable food.
10. Madina Halal Food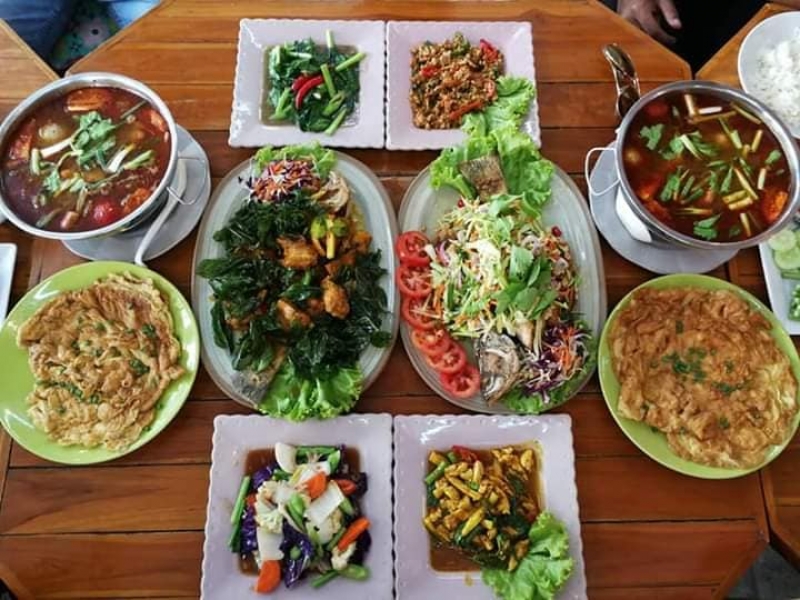 This quaint restaurant offers its patrons an array of both traditional and slightly modernised Thai dishes such as Som Tam and Steamed Lemon Squid. Besides the simply delectable Thai dishes served, Madina Halal Food comes highly recommended by Muslim travellers for their great service and affordable prices. You'll definitely feel welcome here!
Address: 34/18 ม.5 คลองแห้ง ต.อ่าวนาง Ban Ao Nang, Krabi, Thailand
Hours: Daily, 10am – 11pm
11. Chili Halal Food Restaurant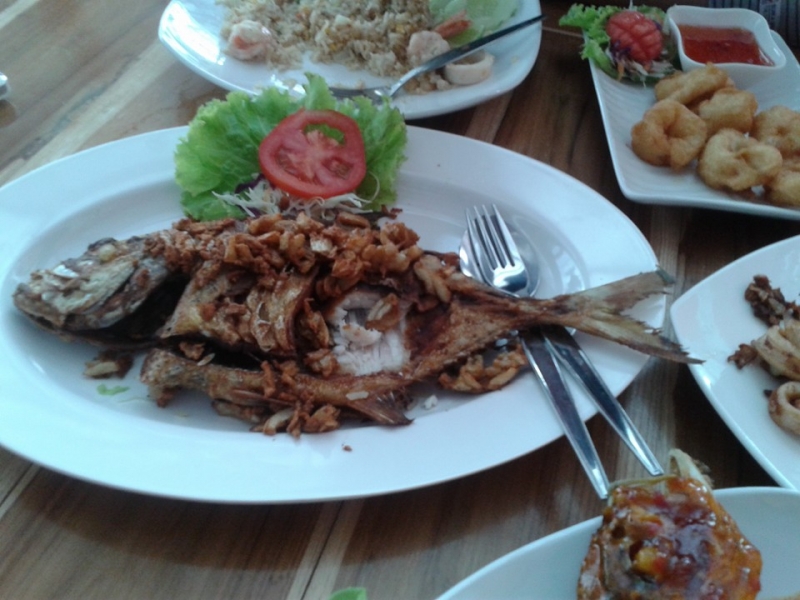 This hole-in-the-wall joint ensures Muslim budget travellers a truly Thai dining experience. Don't be fooled by the exterior, their menu features Thai seafood dishes at highly affordable prices. Just as the name suggests, their dishes are not for the faint of heart. So, be sure to ready yourself as your meal here will definitely pack a punch.
Address: 7/5 ม 5, Ao Nang, Mueang Krabi District, Krabi, Thailand
Hours: Daily, 7am – 10pm
Also read: Halal Food in Bangkok: 15 Places to Visit When You're Hungry
Near Tesco Supermarket
12. De'Fish Seafood Restaurant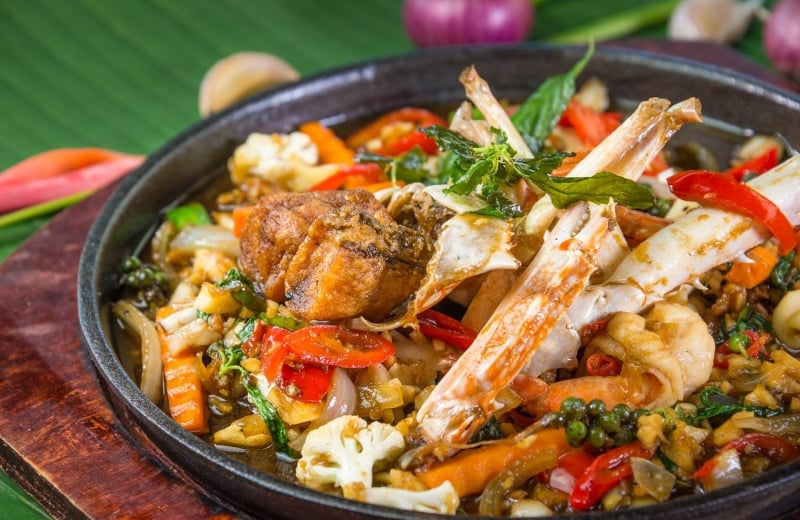 Located within Ao Nang Fiore Resort, De'Fish treats its Muslim customers to some delicious and authentic Thai food with your choice of fresh seafood. Do note that the seafood is charged according to weight. This open-air restaurant also has a Western menu for those looking for something different.

If the gastronomic food is not enough to convince you, the ambience will surely make you want to stay as it presents itself with a romantic atmosphere as twinkling lights hang from the wooden roof. You simply must visit De'Fish Seafood Restaurant for a unique dining experience and delicious Thai food.
Address: 764, Moo 2, Ao Nang, Mueang Krabi District, 81000, Thailand
Hours: Daily, 8am – 11pm
Besides the halal restaurants listed here, there is also plenty of halal food sprawled across Krabi for you to try. Moreover, Krabi also boasts a handful of Muslim-friendly hotels and resorts that provide halal food for Muslim travellers.
It is clear to say that Krabi ensures that no Muslim traveller will be hungry while exploring this gorgeous Thai city.