Finding Halal food is no doubt one of the biggest concerns of Muslim travellers when they are abroad. All is fine at places where Muslims make up a majority and there's no need to hunt down Halal restaurants. In other places, however, apps that help to pin-point Halal establishments and food products can be of great assistance.
Below, we'd like to share seven apps that have exactly that function and more.
1. Zabihah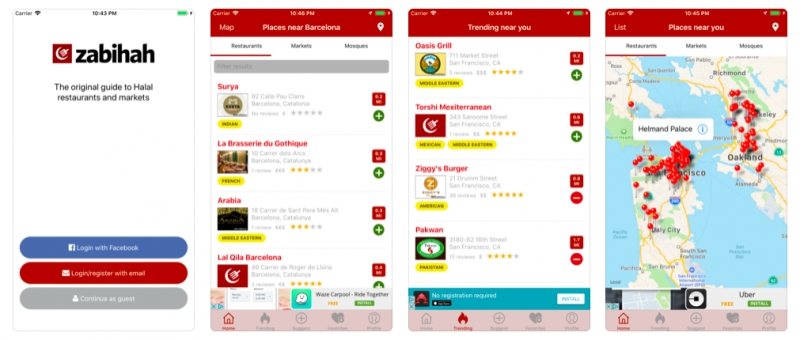 A name that is familiar to Muslim travellers, Zabihah is an established website that advertises itself as the "world's largest guide to Halal restaurants and markets". It has grown from a regional guide in the late 1990s to what is now a giant brand with a loyal following.
Zabihah features restaurants, markets, and mosques in locations like North America, Europe, Australia, Singapore, Hong Kong and Africa. Over 20,000 of their listings are reviewed. On top of reading reviews, users of the Zabihah app can check the details of restaurants such as its Halal authenticity, address, hours, price and ratings.
The Zabihah iPhone app has garnered over 500,000 downloads since its launch. Its popularity is partly thanks to the efforts of Zabihah and its 2,500 partner restaurants to offer special deals to travellers. These deals can be redeemed easily by flashing the coupon on the app at the counter.
The Zabihah app is available on iOS and Android.
2. Halal Dining Club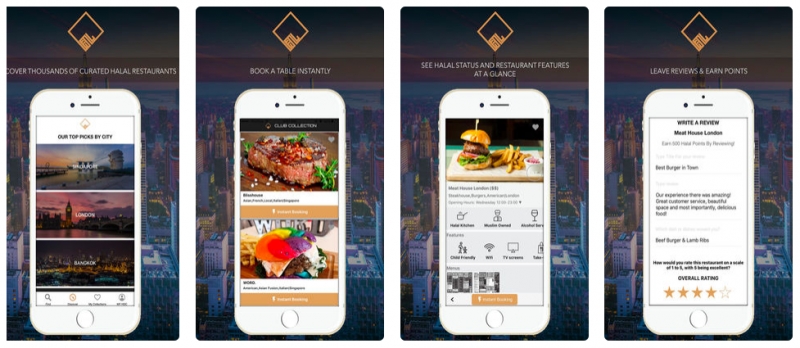 Launched in 2016 after a crowdfunding campaign, Halal Dining Club has over 90,000 registered users. The app lists thousands of restaurants across the globe, though their directory is most comprehensive in nine particular cities: Singapore, Bangkok, Hong Kong (Kowloon), London, Paris, New York, Toronto, Manchester and Birmingham.
On top of easing searches for restaurants that are either fully certified or those that offer partially-certified or seafood menus, the Halal Dining Club app allows users to read reviews, build and discover collections, book restaurants, and earn loyalty points. It is truly an integrated app that aims to be an all-in-one stop where a community of Muslims can collaborate.
As their database of restaurants is constantly expanding with the help of active users, the app is bound to get more and more valuable by the day.
The Halal Dining Club app is available on iOS and Android.
3. Crave Halal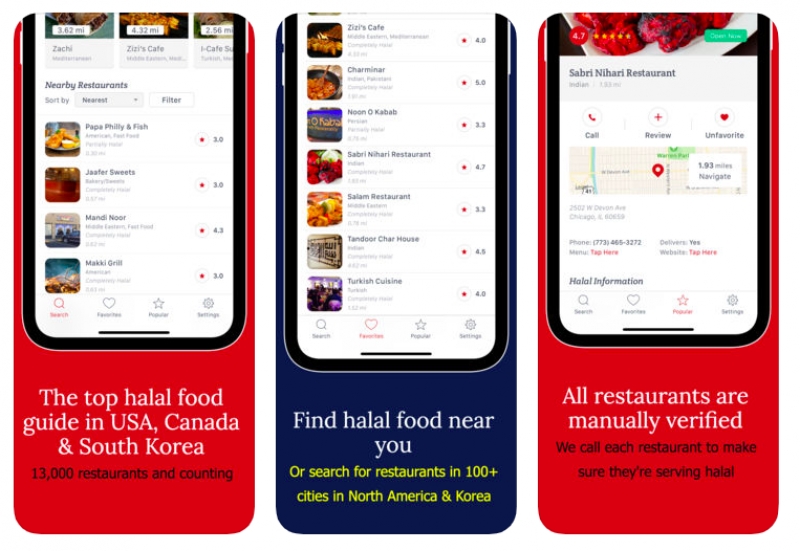 The Crave Halal app, which covers restaurants in South Korea, USA and Canada, prides itself for offering a fresh and accurate database. To ensure this, the team behind the Crave Halal app would call each and every restaurant to manually verify their Halal status – which we must say is no mean feat, considering that their database has more than 13,000 Halal restaurants!
On the app, users can also view the most popular Halal restaurants in an area, as well as open a map to check how many Halal options are near them.
The Crave Halal app is available on iOS and Android.
Also read: Apps That Every Muslim Traveller Should Have
4. Halal Navi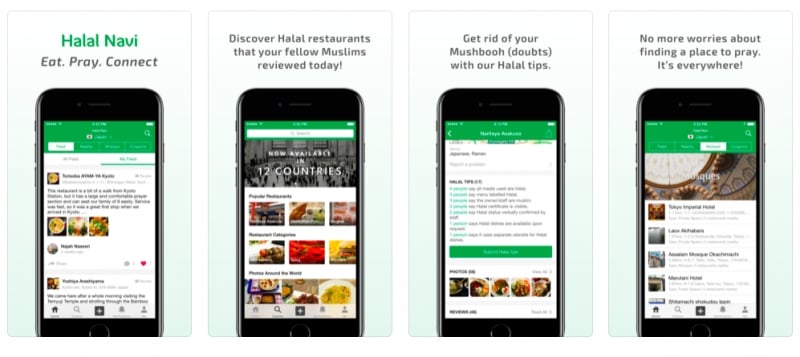 Launched in 2014 by a Malaysian IT engineer who was studying and working in Tokyo, the Japan-focused Halal Navi app banks on the community to verify restaurants listings and its status as Halal-certified, pork-free or vegetarian. To be listed, the restaurant must serve at least a few meat-free dishes or seafood dishes without alcohol. The 80,000 registered users with varying religious standards can choose to dine in these restaurants at their own discretion.
Apart from giving an avenue for Muslims to discover Halal food, Halal Navi allows users to connect with the community by sharing tips and reviews. They can also use the app to find halal grocers, prayer rooms and mosques in the vicinity.
While Halal Navi's database is most extensive in Japan, it has started to inch towards South Korea, Thailand and Germany.
The Halal Navi app is available on iOS and Android.
5. Halal Advisor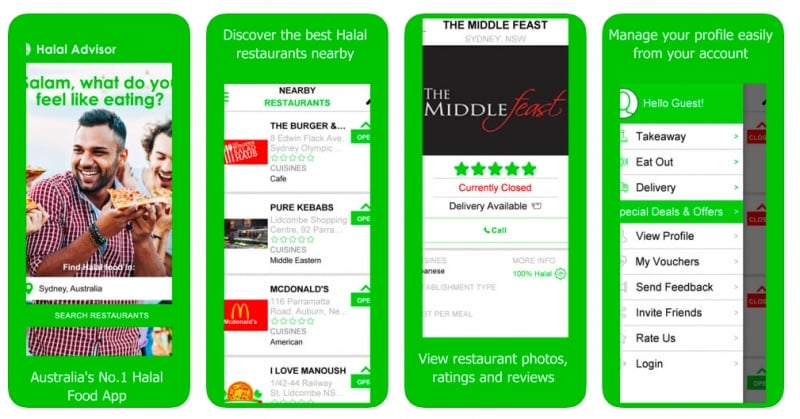 Claiming to be Australia's No.1 Halal food app, Halal Advisor features over 2,000 restaurants and boasts 15,000 app downloads. It empowers users in Australia to find Halal restaurants, takeouts and deliveries within a 50-kilometre radius. Other features include reviews, photos, ratings and maps.
The Halal Advisor app was founded by Aladdin Moukhallalat after he discovered in a 2016 census data that a significant 2.6% of Australians identified themselves as Muslims, yet at that time, Halal food options were still tricky to find. Since then, the app has become popular among travellers as well.
The Halal Advisor app is available on iOS and Android.
6. Verify Halal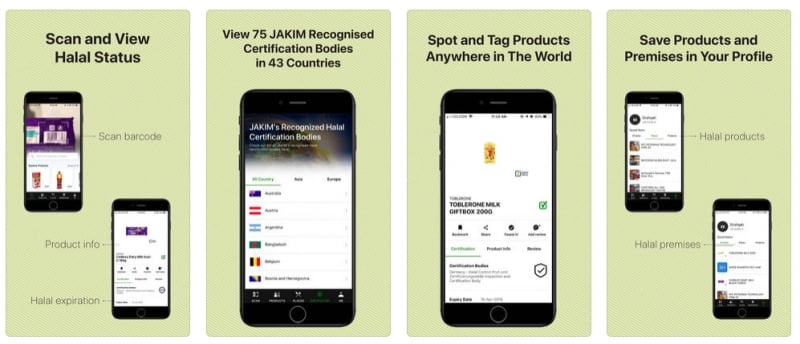 The Verify Halal app does exactly what its name suggest – verifying what's Halal and what's not.
This app is an initiative by Malaysia's JAKIM (Malaysian Islamic Development Department) to help Muslims navigate a global Halal market that is tainted by dubious certifications. The app is linked to 6,000 local companies and 60 global certification bodies from Australia to Taiwan and South Africa. Altogether, this adds up to hundreds of thousands of companies worldwide.
To utilise the app, users should scan the product or type its name on the search bar. This function is particularly helpful when shopping in supermarkets for food products like snacks and chocolates.
The Verify Halal app is available on iOS and Android.
7. Scan Halal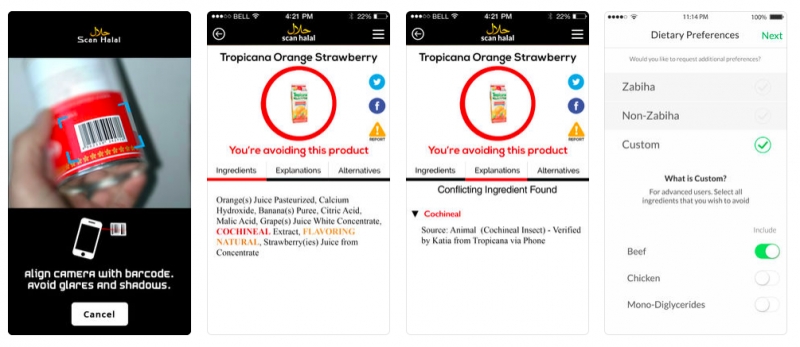 Similar to Verify Halal, Scan Halal allows users to check if a product contains haram ingredients. With it, there's no need to squint and read the ingredients list to determine whether or not a product meets a Muslim's dietary requirement.
Scan Halal's database currently covers over 700,000 products in the US and Canada. Already, it is used by millions of Muslims because of the convenience it affords.
Scan Halal will soon expand to the UK, France and Germany.  

The Scan Halal app is available on iOS and Android.
With this list, you're all set for a Halal holiday! Enjoy your foodie adventures across the globe.
Also read: Going Vegetarian May Help Muslim Travellers Find Halal Food Faster