Halal Japanese Food in Singapore – Instead of flying for six hours to Japan, you can now enjoy a slice of okonomiyaki right here in Singapore. You can never go wrong with Japanese food whether it is a hot bowl of soupy ramen or the classic yet tasty sushi. Take a look at our picks for best halal Japanese restaurants around the sunny island!
1. Gyunion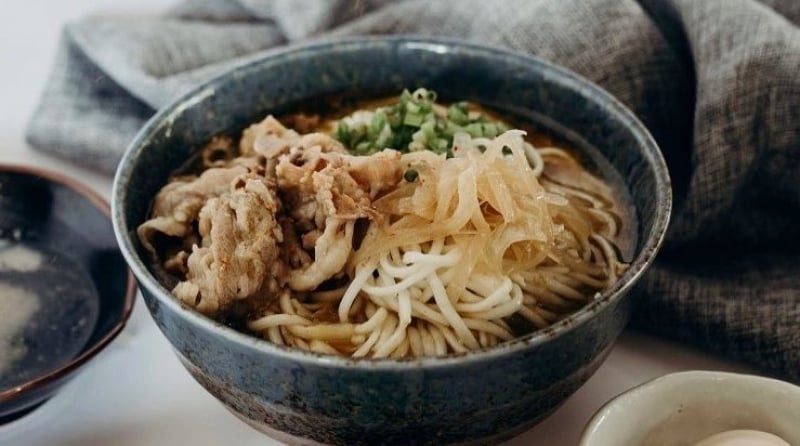 Despite halal Japanese food being relatively expensive, Gyunion promises its patrons an affordable yet authentic Japanese dining experience. Since most of their ingredients are directly-sourced from Japan, there is no questioning its quality of food. Their quaint and modest space might not be ideal for those in large groups, but don't miss out their hearty servings.
You must try their signature Gyudon or Gyumen, which includes generous servings of marinated beef topped off with an onsen egg. Also, don't miss out on their Cheezy Chicken which boasts succulent chicken with torched cheese.
Address: 91 Bencoolen St, #01-23 Sunshine Plaza, Singapore 189652
Opening hours: Monday – Wednesday, 12pm – 8pm; Thursday – Friday, 12pm – 9pm; Weekends 3.30pm – 8pm
2. Fu-men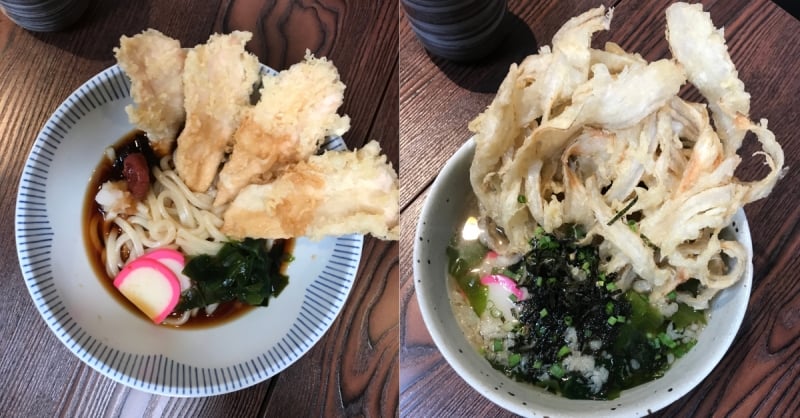 In the heart of the Central Business District (CBD), you'll be able to find this unique and famous udon from Fukuoka. Fu-men is known for its Hakata udon usually found in Japan and it is extremely rare to find one that is halal. For those trying Hakata udon for the first time, order yourself a bowl of the Chicken Tempura Udon or the Gobo Tempura Udon. The tempura surely gives the perfect crunch to a mostly soup based dish.
Their self-service station is equipped with extra toppings of seaweed and green onions. Plus, if you prefer to have a dry udon meal but change your mind afterwards, there are jugs of hot and cold broth to switch it up.
Address: 16 Raffles Quay, #B1-17/18 Hong Leong Building, Singapore 048581
Opening hours: Weekdays 10am – 8pm; Saturday, 10am – 2.30pm; Closed on Sundays
Also read: Halal Food in Clarke Quay, Singapore
3. The Ramen Stall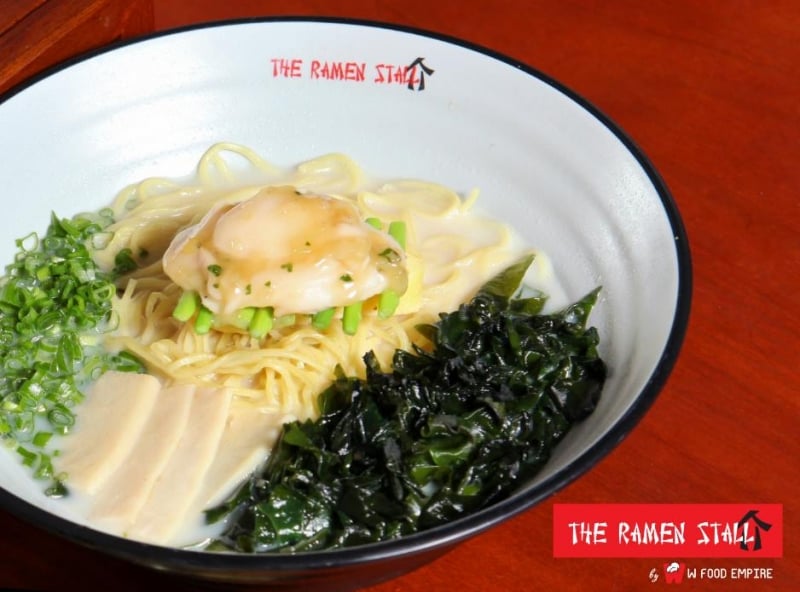 Are you looking for springy ramen noodles mixed with flavourful soup? Look no further, this ramen joint serves up simply oishi dishes. Opened in 2015, The Ramen Stall prides itself in serving halal yet authentic Japanese cuisine with a local twist. Their dishes are carefully crafted from the freshest ingredients and no artificial flavourings are used.
For those coming in groups, start yourself off with a plate of their yummy okonomiyaki. Besides ramen, their menu also includes an eclectic mix of other traditional Japanese dishes such as sushi, kushiyaki and teppanyaki. Plus, this is a great supper joint since it opens till 5am!
Address:  787 North Bridge Rd, Singapore 198755
Opening hours: Weekdays, 5pm – 5am; Weekends, 12pm – 5am
4. Gion Dining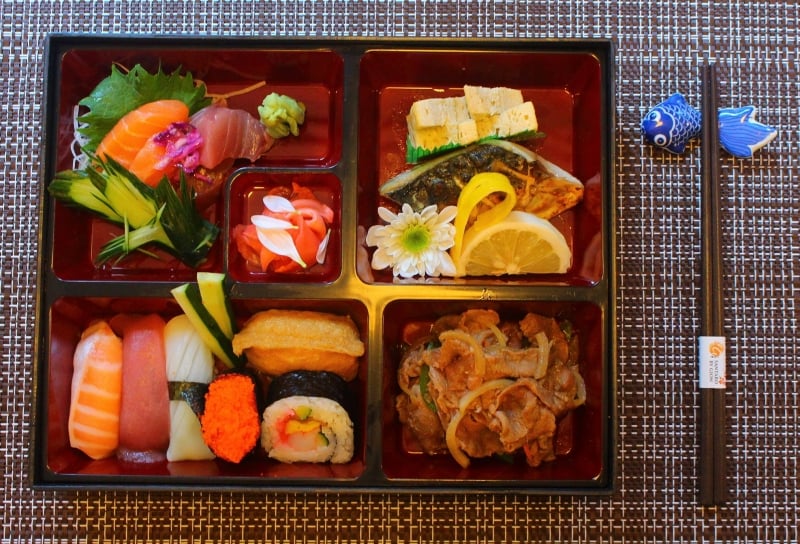 Gion Dining offers Muslims a different kind of Japanese dining experience. This Japanese fine dining restaurant boasts an extensive menu made up of a collection of tantalising dishes which caters to every distinct palate. Your gastronomic dining experience will be complemented by a casual and relaxed atmosphere. Diners who want a little privacy can book the tatami rooms in advance.
If you plan to dine in larger groups, do check out their ala carte buffet where the fourth diner will dine for free! You can even choose your preferred type of buffet from the standard buffet or the lobster buffet, perfect for seafood lovers.
Address: in Zhongshan Mall, 20 Ah Hood Road, #01-19, Zhongshan Mall, 329984
Opening hours: Weekdays, 11.30am – 3pm, 6pm – 10pm; Weekends, 11.30am – 10 pm
5. Lean Bento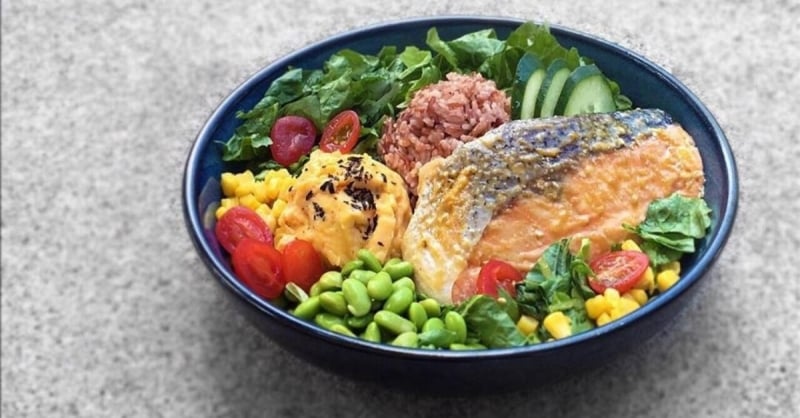 Lean Bento might differ from your usual Japanese cuisine. Just like its name suggests, their menu is full of nutritious yet tasty Japanese bentos. Perfect for those trying to keep healthy, their wholesome dishes provides a great balance of protein and vegetables. The bento sets definitely give you a bang for your buck with their generous portions of salmon or chicken.
Their broad menu includes an all-day brunch with a choice of waffles and sandwiches. Lean Bento also offers delivery services for those who are looking for convenience.  
Address: 1 Irving Place #03-01 Singapore 369546
Opening hours: Weekdays, 10am – 7.30pm; Saturdays & PH, 10am – 6pm; Sundays, Closed

6. Isuramuya Japanese Restaurant and Marketplace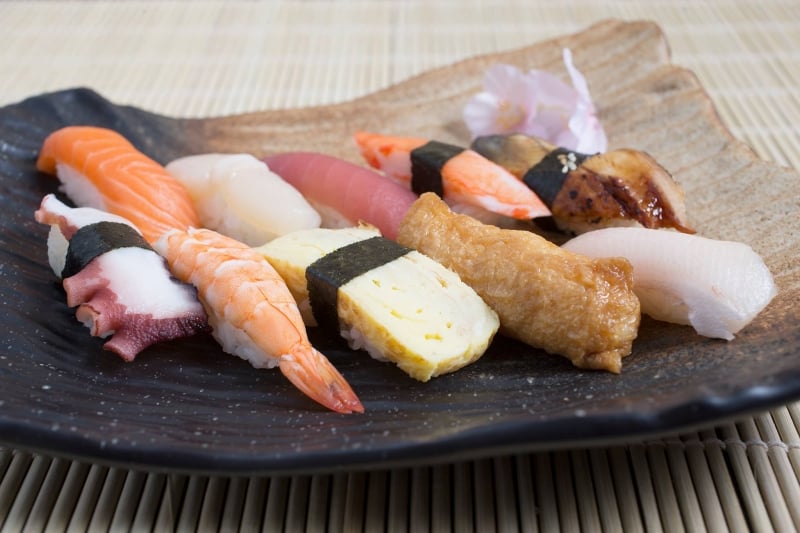 Isuramuya is Singapore's first Japanese restaurant with an on-site marketplace. You're guaranteed fresh ingredients and high-quality products as they are air-flown directly from Japan. Their authentic menu includes various dishes from sushi to ramen. You  will be spoilt for choice, but sure to end off your meal on a sweet note with a Macha Azuki roll.
Their curated marketplaces allow diners to recreate their version of these tasty dishes at home. From Japanese curry to pre-marinated Shio Koji salmon – you will be able to purchase all your Japanese ingredients here.
Address: 2 Jurong East Central 1, #04-19 JCube, Singapore 609731
Opening hours: Daily, 11.30am – 9.30pm
7. Hei Sushi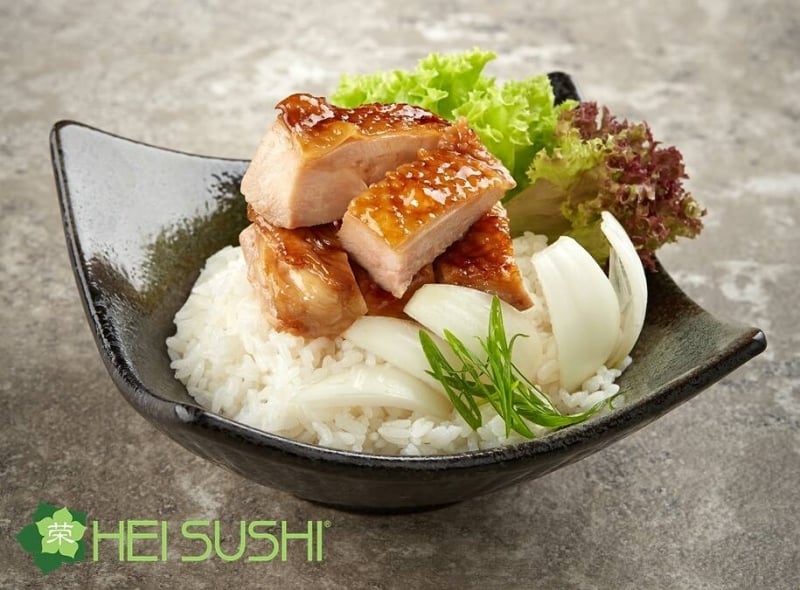 From the same minds that brought you Sakae Sushi, Hei Sushi is Singapore's first halal sushi belt restaurant. Besides serving up delicious and quality sushi, they promise patrons over 200 varieties of delectable Japanese dishes at affordable prices. Hei Sushi is not your typical Japanese restaurant as it also offers a selection of fusion choices such as the mini baked rice.
Address: Sembawang Shopping Centre, Downtown East, IMM(kiosk) and Sakae Building
Opening hours: Depending on the outlet
8. Maki-San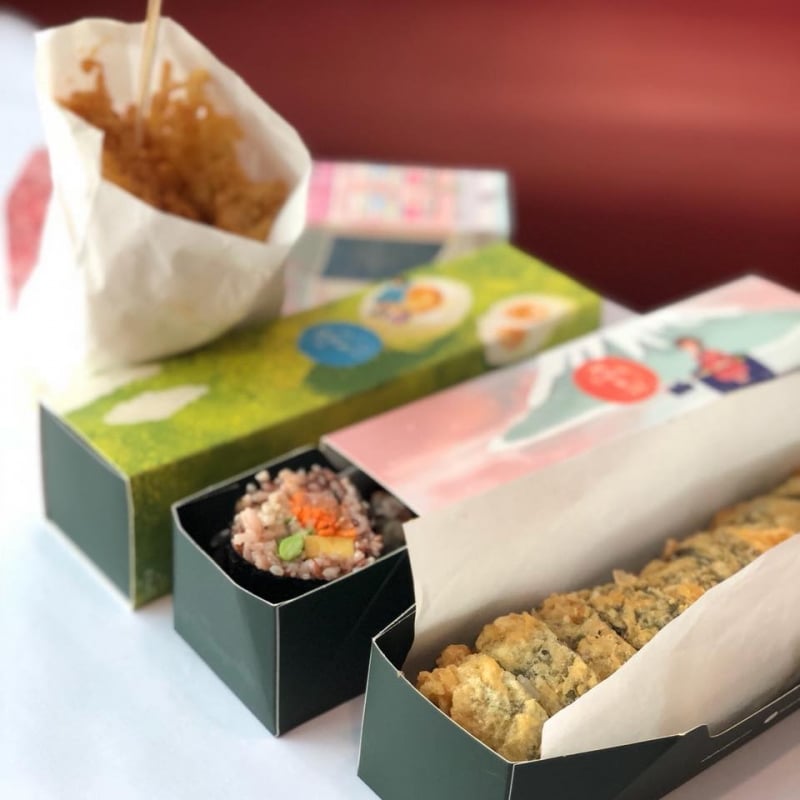 There is hardly a soul that doesn't recognise the quirky take-away boxes at Maki-san. Conveniently located in malls across the island, Maki-san allows sushi lovers to customise the flavour of this beloved Japanese dish. You can choose your favourite fresh ingredients with a choice of rice, wraps and even sauces. They also offer unique sauce flavours such as chilli crab and tom yum.
If customising your own sushi leaves you dizzy, opt for one of the in-house selections instead. For those looking for something a little more filling, go for their salad bowls. Besides the hearty serving sizes, you have more choices of carbs and vegetables.
Address: Multiple locations
Opening hours: Depending on the location
9. Omoomodon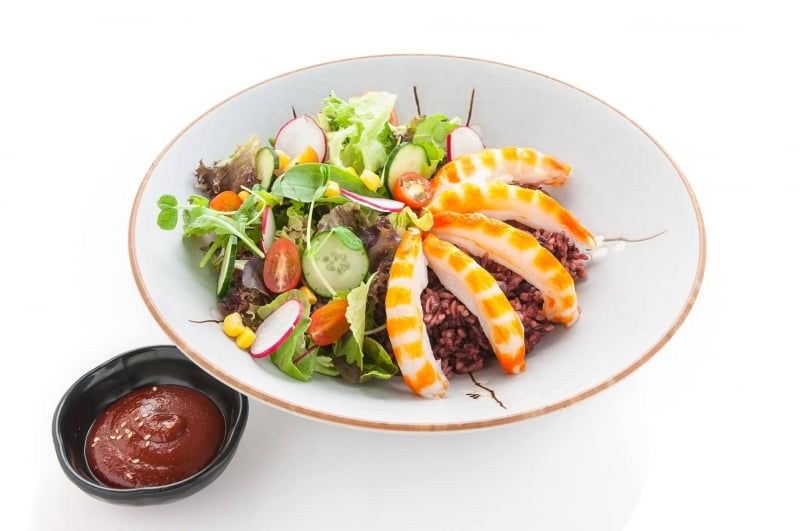 Although Omoomodon has a mix of Japanese and Korean meals, it is the perfect restaurant for those who can't decide between the two. Their menu varies depending on the outlet, but the food is always affordable. You have a choice between don, ramen or even steak – bento-style. It also allows diners to customise their own dish with the "Build Your Own" option.
Address: Multiple locations
Opening hours: Depending on the location
10. Sora Boru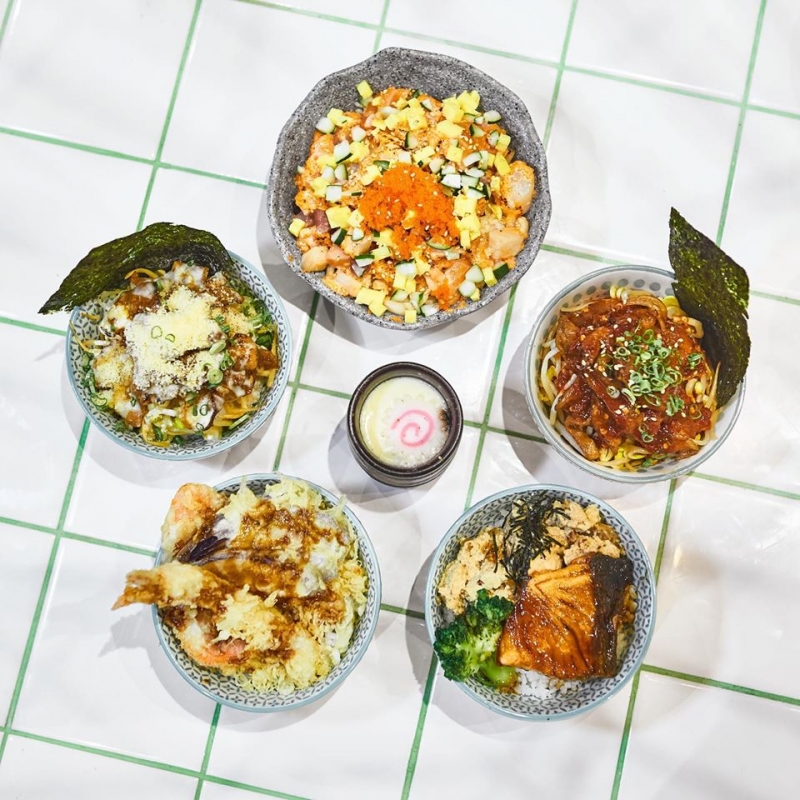 Located in the heart of the busy shopping district of Orchard, Sora Boru is a halal-certified Japanese eatery boasting an extensive menu featuring donburu, chirashiboru, curry bowls and more! There are also ordering kiosks where you can select your own toppings.
Some of their popular dishes include the Snow Beef Don ,the Volcano Beef Don and the Breaded Salmon with Shabu Beef Curry Don, which are not only scrumptious but also affordable! Don't forget to try their unique sushi cake – a larger-sized sushi moulded into cake form. 
Address: #B3-19, [email protected], 313 Orchard Rd, S238895
Opening hours: 11am – 10pm, daily
11. Ichikokudo Hokkaido Ramen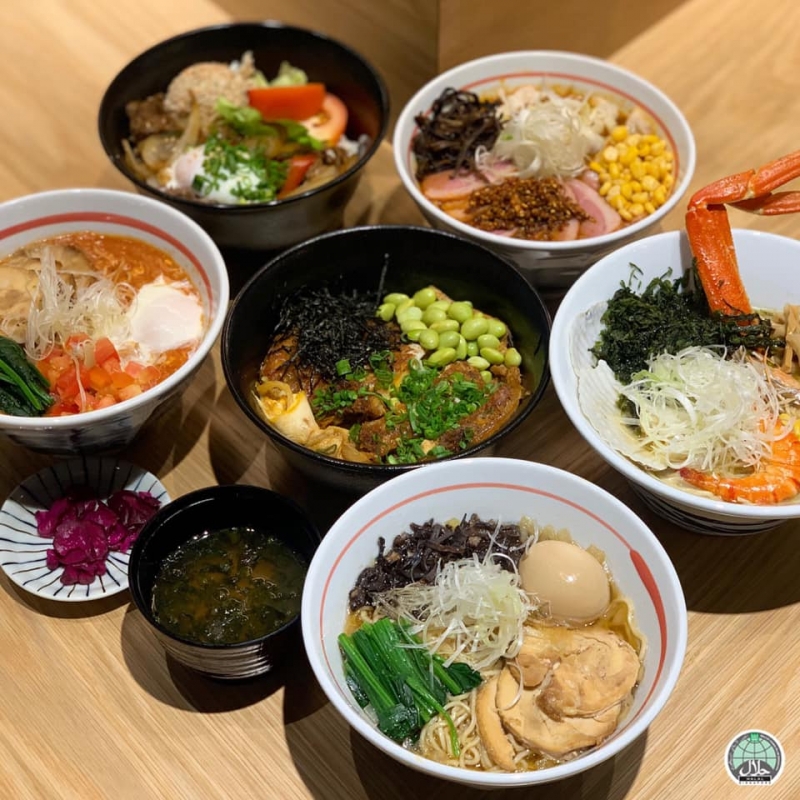 For those craving for an authentic taste of ramen, head over to Ichikokudo Hokkaido Ramen where you can get a bowl of hearty, traditional ramen. The bowls incredibly scrumptious, but affordable.
Some of their popular dishes include the Ichi-Smoked Duck Ramen, Ichikokudo Ramen and the Japanese Style Yakiniku Don, which are all under S$13! Dedicated to making their rich and flavorful soup the best they can, it is slow-cooked in simmering chicken bones for hours. The noodles are made using  a special-blend flour that contains Hokkaido wheat, which produces richly textured and firm noodles.
Address: B1-135 (North Wing) Suntec City Mall, 3 Temasek Blvd, 038983
Opening hours: 11.30am – 10pm, daily
12. Inari-ku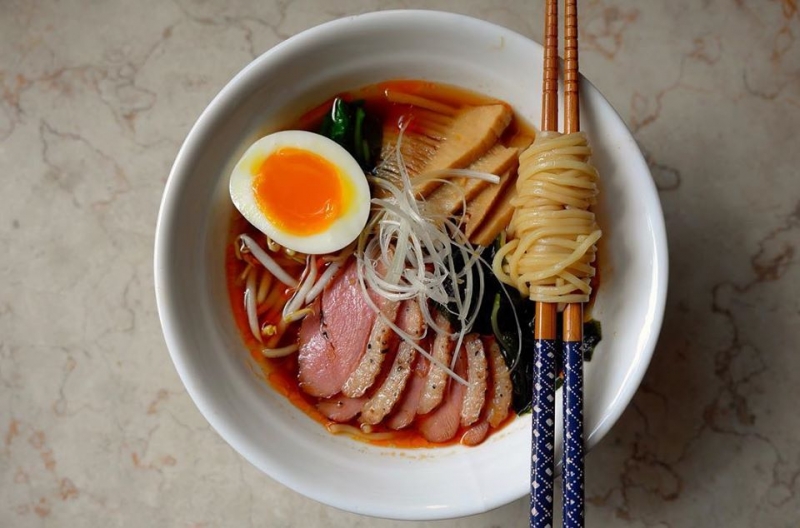 Started by a stay-at-home-Mom who loves Japanese cuisine, Inari-ku serves quality halal homemade Japanese food. The founder graduated from the famed Tokyo Sushi Academy and Le Cordon Bleu Tokyo, so you can be assured of the fine food quality. One of the signature dishes is the Lobster Inari. As this is a private dining establishment, you need to make a booking before heading down!
Address: Pasir Ris Street 13, Singapore 510155
Opening hours: 1pm – 3pm; 8pm – 10pm, daily
Contact: 96999592
13. Hanna's Fusion & Japanese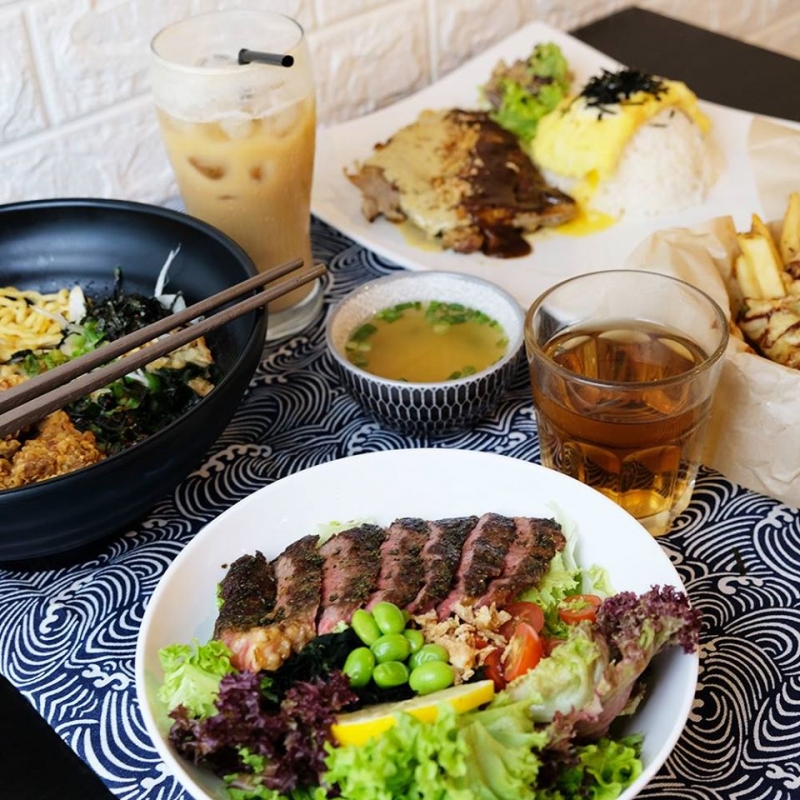 Offering an array of dishes, Hanna's Fusion & Japanese serves an impressive casual dining experience where you can get a taste of East and West. Some of the dishes served here includes the Katsu Don, Tempura Udon, Beef Teriyaki Bento Rice Set and more! Not only are the meals mouth wateringly delicious, they are also very affordable for all!
Address: 1 Rocher Canal Road, Sim Lim Square, #04-02F S1885054
Opening hours: 11.30am – 8pm, daily
Contact: 63377540
Also read:Halal Korean Food in Singapore: Restaurants, Fast Food Chains and More!