Halal Steak in Singapore – If you're already pondering about where to go for your next meat-up, why not treat you and your pals to a solid halal steak in Singapore? From halal prime beef tenderloins to premium wagyu cuts and larger sharing portions such as the tomahawk, expect your taste buds to be pampered.

Whether you prefer your steak well done or medium rare, you can trust that these halal steak choices will leave you reeling for more. We've carefully compiled a list of modern steakhouses, casual eateries and even fine dining restaurants (cue date night!) to meat your expectations!
1. Grill Ninety Nine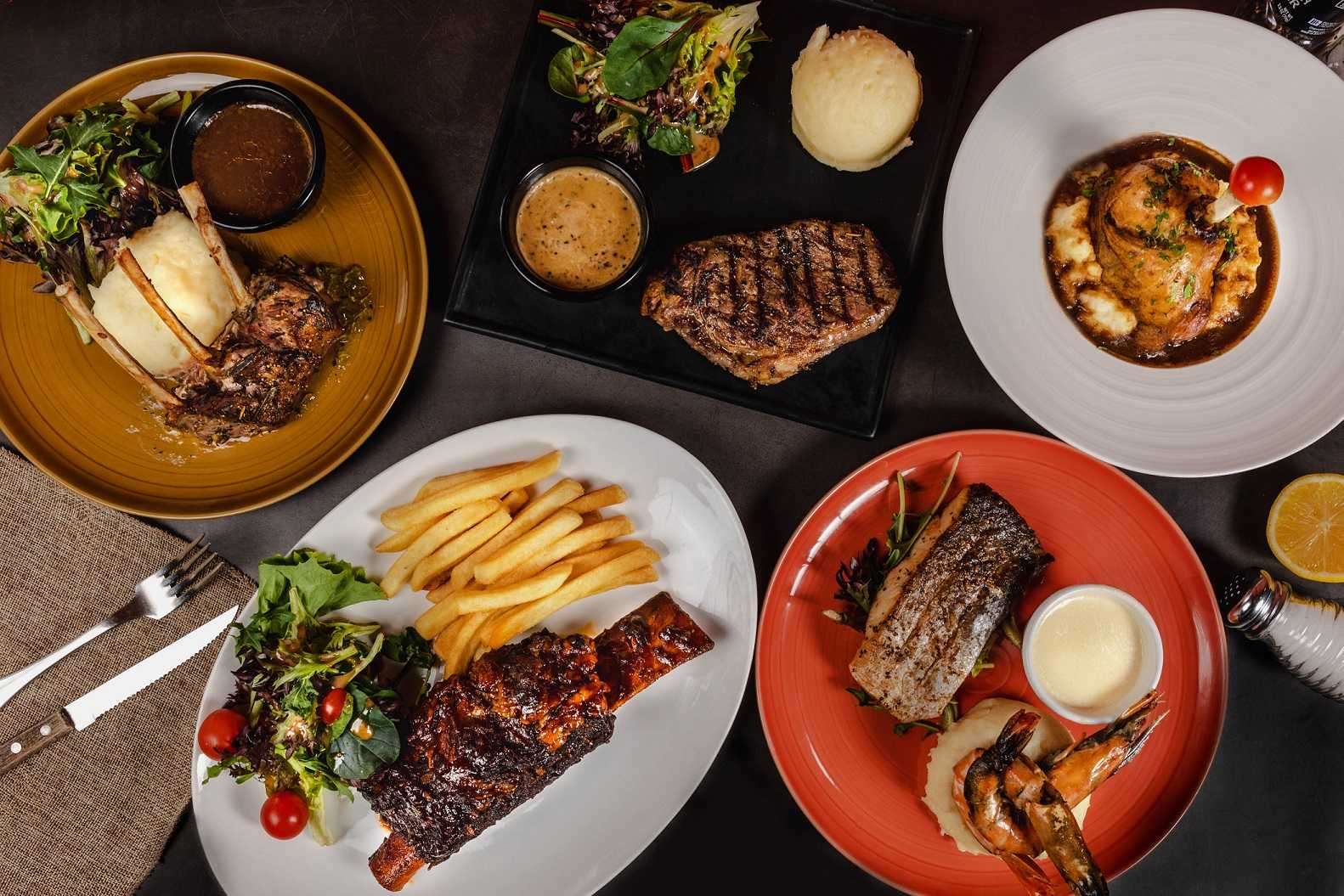 Meat all your carnivorous needs, in the vibrant precinct of Arab Street at Grill Ninety Nine. The delectable aromas of the steaks hand cut into perfect portions by the top-notch chef lingers as you step foot into the casual eatery. 
You won't go wrong with the Ribeye Steak, it is perfectly seasoned, juicy and seared brown on the outside. Pair it with the right sauce to complement the tenderness of the beef. The Oven Roasted Angus Beef Ribs, known for its fine marbling, is another go-to comfort food. Its fine marbling infuses the meat with rich flavour that bursts in your mouth upon sinking your teeth into the succulent meat. The flavour kernels that run through each of these options makes every dish a hearty meal. 
With its large servings and affordable pricing, the mouth-watering steaks at Grill Ninety Nine is something you can indulge in every once in a while rather than saving it for a special occasion, especially with the islandwide delivery that this MUIS certified halal western food restaurant is currently offering. 
Enjoy the plethora of appetising dishes from the comforts of your home with Grill Ninety Nine's islandwide delivery and commitment to serving you their dishes cooked with love. Simply visit this website or WhatsApp 97312902 and order away!
Address: 142 Arab St, Singapore 199828Opening hours: Daily 12pm – 10pm
Facebook | Instagram
2. The Meathouse by 18Chefs
Imagine savouring grass-fed Australian premium black Angus beef in a heartland mall? East-siders, you must check out this value-for-money meat joint at Century Square! Expect a plethora of unique meat cuts and tuck into intriguing choices such as the Carpetbag Steak – an oyster-filled filet mignon.

Chef Benny Se Teo takes great pride in ensuring that quality mains are served. He uses hot binchotan charcoal to add aroma and flavours to the various meat cuts, giving it that extra oomph. Some stellar must-try dishes include the Premium Ribeye Steak and if you're with a group, go for the Premium Tomahawk! These might just be some of the best halal steaks in Singapore.

Address: Century Square, 2 Tampines Central 5, #05-04, Singapore 529509
Opening hours: Daily: 11 am-10.30 pm, except Fri and Sat till 11 pm
3. T Bob's Corner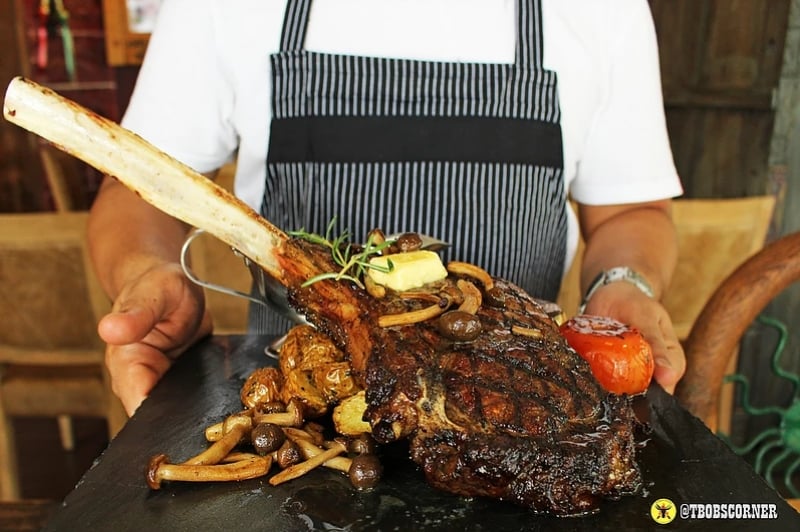 Halal steak is their speciality here! Wagyu ribeye, Angus tomahawk and mouthwatering tenderloin are just some of the dishes you can look forward to. This casual vintage-themed cafe is perfect for intimate catch-ups and dinners. The Texas-inspired decors also add to the overall appeal.

It is best to dine here in groups as the menu comprises large sharing platters that offer generous portions of different cuts of beef and mutton. Aside from their steaks, the BBQ beef ribs deserve a special mention too. Tender, flavoursome and boasting great texture, you can't miss the opportunity to sample all the goodness here.
Address: 527 Bedok North St 3, #01-514, Singapore 460527
Opening hours: Sunday to Thursday 12 pm-9.30 pm, Friday 3 pm-10 pm, Saturday 12 pm-10pm

4. The Royals Steakhouse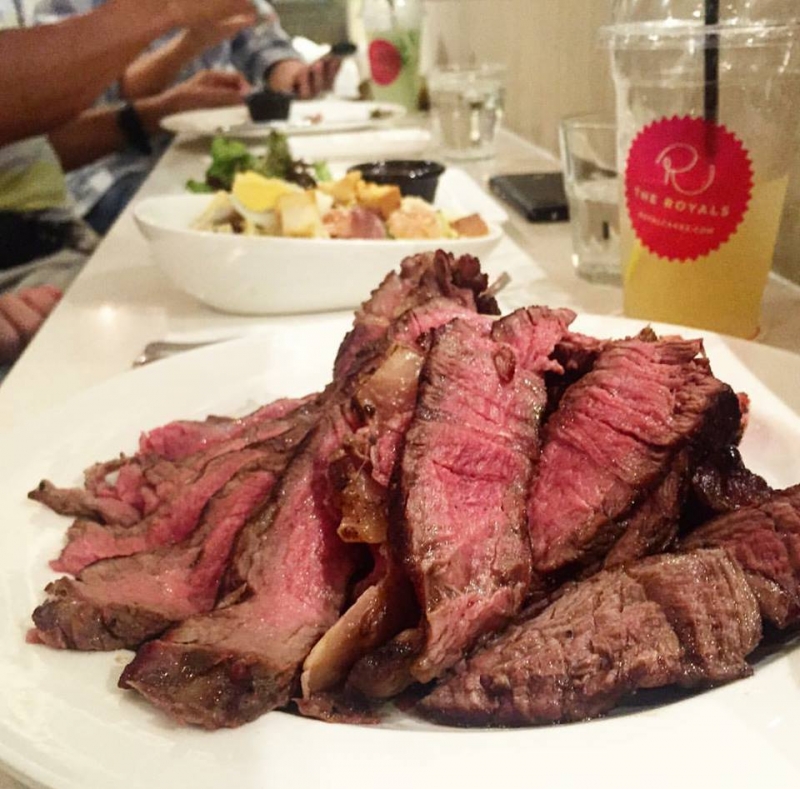 If you're sussing for halal steak in Singapore that is more central in terms of location, let The Royals Steakhouse whet your appetite. Choose from a variety of steak cuts (flown in from Australia and New Zealand!) and have them paired with made-from-scratch sauces – caramelised onion, mushroom or black pepper sauce. The main is also complemented with salad, mashed potatoes and a grilled Roma tomato.
If you are a big meat eater and have a huge appetite, forget about the steaks and go straight for the Cote De Boeuf. If you're not too sure what exactly that is, it's a rib steak with the bone still attached to bring out the steak's maximum flavours. Ready to treat yourself?

Address: 10 Jalan Pisang, Singapore 199077Opening hours: Monday, Wednesday, Thursday & Sunday 1 pm-10.30 pm; Friday 2 pm-11 pm; Saturday 1 pm-11 pm. Closed on Tuesdays.
Also read: Halal Korean Food in Singapore: Restaurants, Fast Food Chains and More!
5. Andes By Astons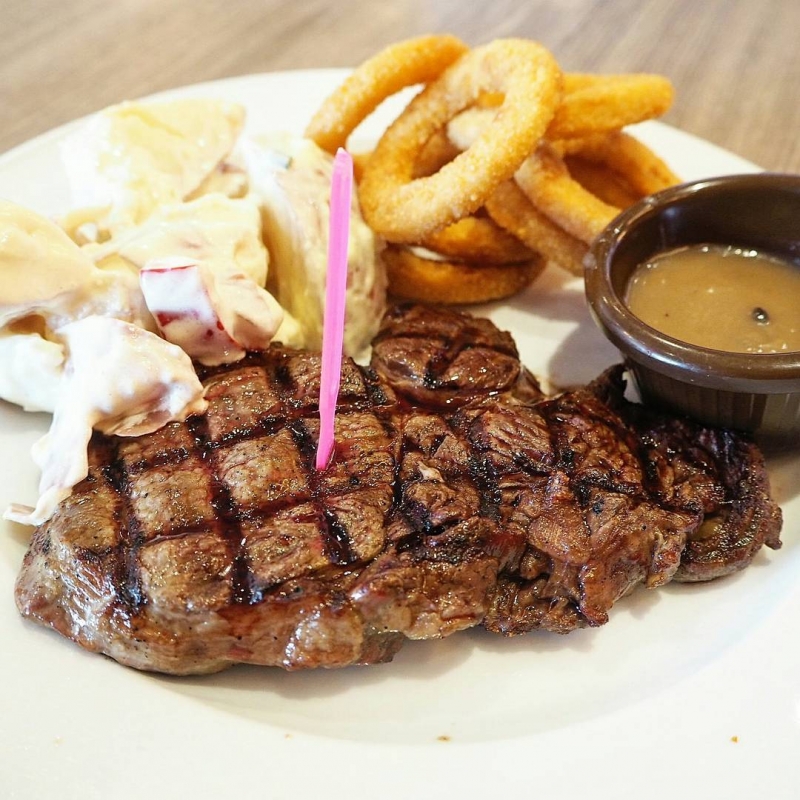 Tucking into a good ol' piece of steak doesn't always have to cause a huge hole in your wallet. Andes by Astons is renowned for serving steaks that boast wallet-friendly prices. Take your pick from the signature Prime Sirloin, New York Strip or the Porterhouse and pair them with your choice of two hot or cold sides.

Portions are pretty generous here and you're guaranteed a full belly after your steak mains. With outlets mainly in the east, suggest this spot for your next makan session with all your East-side buddies. The prices make it absolutely worth it!

Address:
328 Joo Chiat Road, #01-01, Singapore 427585
5 Changi Village Road, #01-2001, Singapore 500005
Downtown East, 1 Pasir Ris Close, #02-325, Singapore 519599
Viva Business Park, 750 Chai Chee Road, #01-30, Singapore 469000
Changi Airport Terminal 4, #02-202, Mezzanine, 10 Airport Boulevard, Singapore 819665
Opening hours: Daily 11.30 am-10 pm

6.  The Halia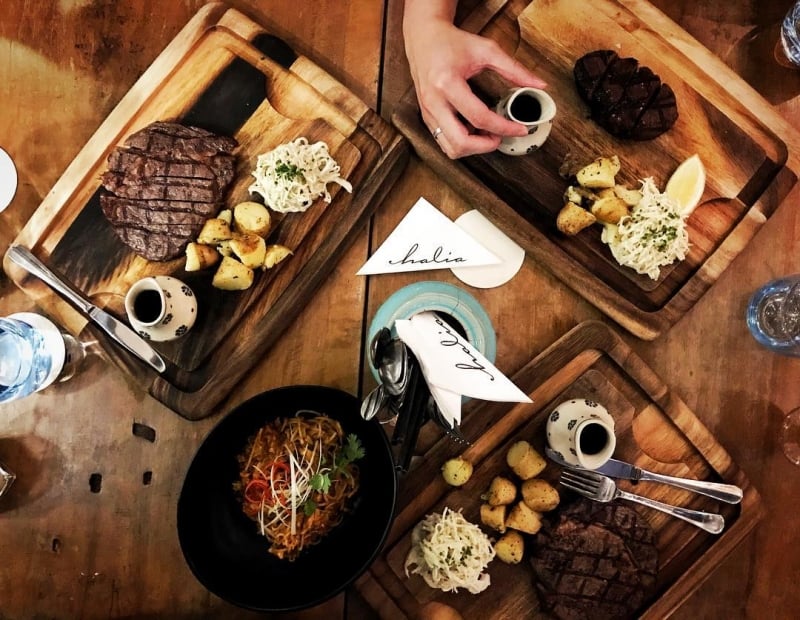 Hankering for a mouthwatering steak topped off with a great ambience? The Halia's exquisite menu will make it difficult for you to narrow down your picks but the wagyu steaks are impossible to resist. The well-marbled texture, flavour and tenderness make every bite worth indulging in.
If you have a special date or just celebrating a significant milestone, The Halia makes for an apt choice. The modern European-Asian cuisine sets it apart from many other halal eateries in Singapore and quality here certainly isn't compromised.

Address: 1 Cluny Road, Ginger Garden, Singapore Botanic Garden, Singapore 259569
Opening hours: Monday – Thursday 9 am-9.30 pm, Friday 9 am-10 pm, Saturday 10 am-10 pm, Sunday 10 am-9.30 pm
7.  Badoque Cafe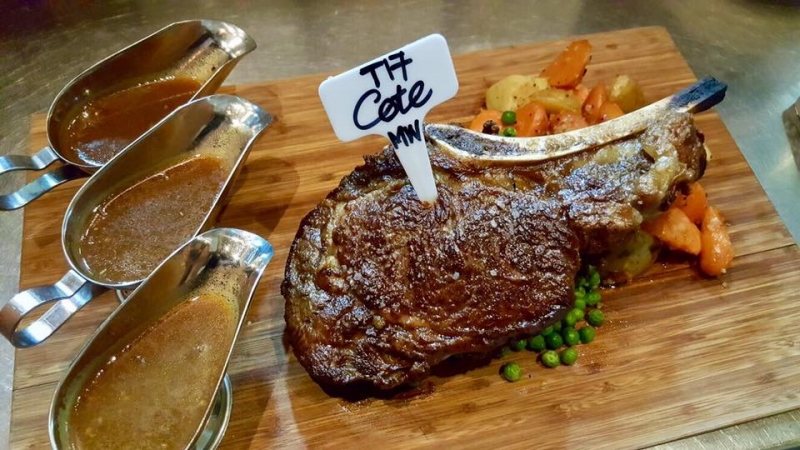 Located at Simpang Bedok, this Mediterranean-style cafe features dishes with a heavy fusion twist. This halal restaurant draws the crowd in with its array of tantalising meat dishes. Some dishes to keep your eyes peeled for include the Tomahawk, Bone-in Ribeye and the all-star: Cote De Boeuf.
The casual dining ambience makes Badoque Cafe perfect for all occasions. It's best to dine here on an empty stomach though so that you can fully satiate your cravings and maximise your satisfaction. Also, portions here are huge so be prepared to share! If you're looking for a good place for halal steak in Singapore, this definitely makes the cut.

Address: 298 Bedok Rd, Singapore 469454
Opening hours: Daily 12 pm-11 pm. Closed on Mondays.
8. 665°F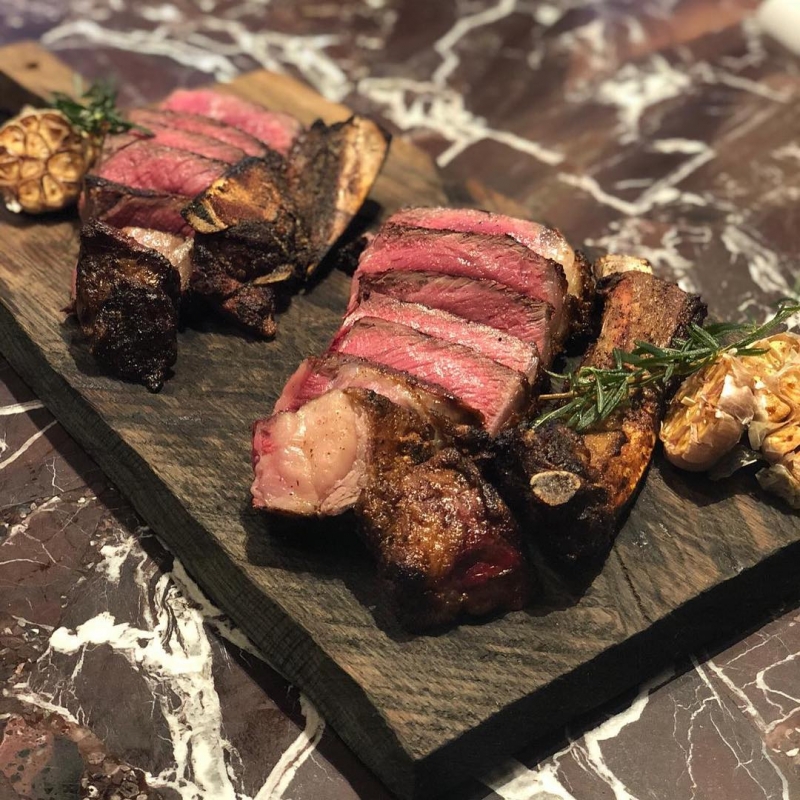 Steak enthusiasts, this upscale steakhouse housed within at the top of Andaz Singapore is one that you simply must try. Offering stunning views of Singapore's cityscape, the restaurant also boasts impeccable ambience besides its scrumptious spread.

Fun Fact: 665°F is actually named after the temperature of the in-house Pira oven that is used to cook the halal-certified steaks and meats.
Some stellar signatures to look out for include the Margaret River Wagyu Tomahawk and the Tasmanian MBS 3+ Tenderloin.
Address: 5 Fraser St, Level 38 Andaz, Singapore 189354
Opening hours: Daily 6 pm-10 pm, Thursday & Friday 12 pm-2.30 pm
Also read: Best Halal Burger Joints in Singapore That Are Not Fast Food Chains
9. Royz Et Vous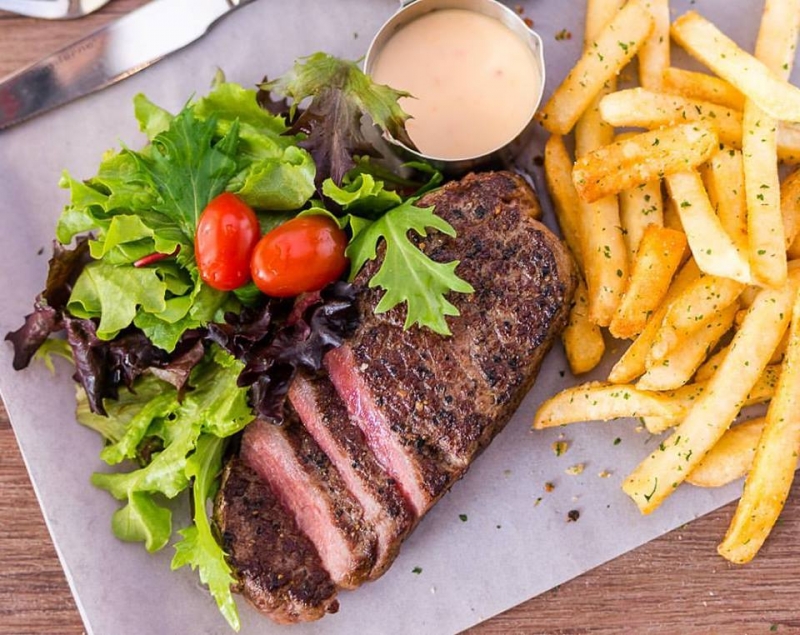 Royz Et Vous is known for being the first few halal eateries to offer non-alcoholic wine and champagne. Why not amp up your steak dining experience by having your meal paired with non-alcoholic wine.
Peruse the menu and look out for the Tenderloin or Brazen Striploin. To top it off, choose either the Salsa Verde or Truffle Beef Jus to perfectly accompany your grilled premium meats. Even though there aren't as many steak options here, the quality of the meat and flavours in combination with the sauce will leave your taste buds craving for more.
Address:
137 Telok Ayer Street, #01-01, Singapore 068602
750 Chai Chee Road #01-16, Viva Business Park
Opening hours: Weekdays 11 am-4 pm, 5 pm-10 pm, Saturday 12 pm-4 pm, 5 pm-11 pm, Sunday 12 pm-4 pm, 5 pm-10 pm

10. Eatzi Gourmet Bistro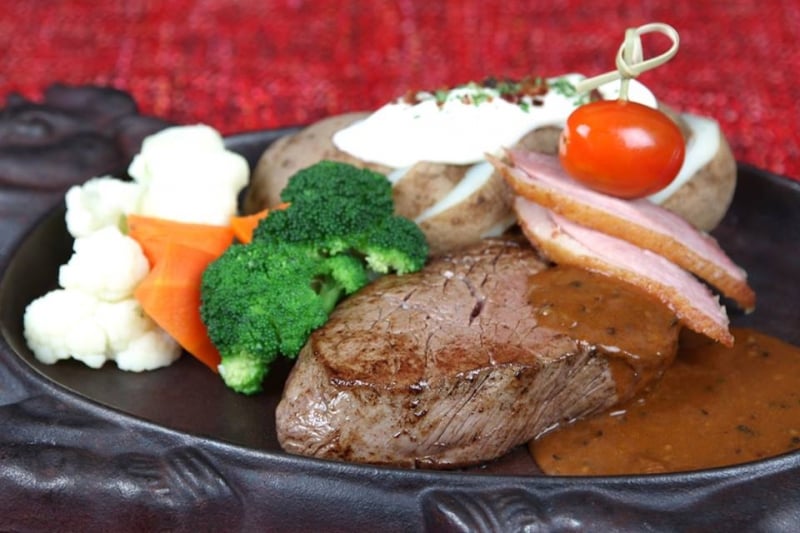 If you're yearning for halal steaks somewhere in the heartlands, make Eatzi Gourmet Bistro your go-to. You can think of it as the halal version of the well-known Jack's Place! The key distinguishing factor for this eatery is the hot sambal sauce offered to complement their sizzling hot-plate steaks. Forget the usual mushroom and black pepper sauce and kick it up a few notches with the Sambal Steak!

This eatery also serves Western fare at affordable prices. Whether you're celebrating a birthday, an anniversary or a special date, there is something that will entice everyone here. Don't miss the locally-inspired dishes too if you're looking for something novel!

Address:
Paya Lebar Square, 60 Paya Lebar Road, #B1-15, Singapore 409051
SAFRA Yishun, 60 Yishun Ave 4, #01-V2, Singapore 769027
Opening hours: Daily 11 am-10.30 pm

11. Tash Tish Tosh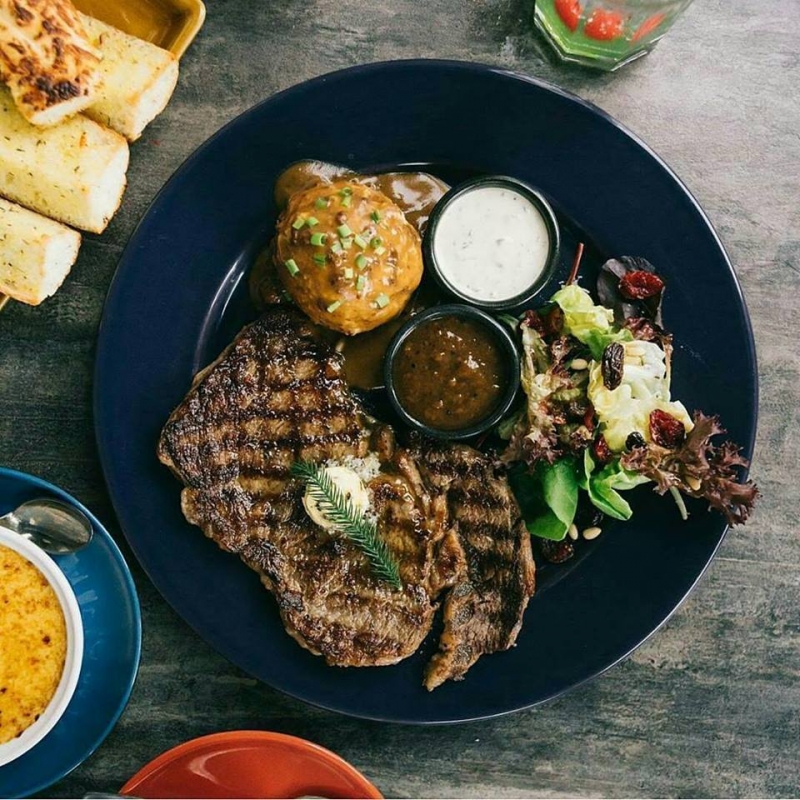 How does Malay-inspired American cuisine sound like? This halal diner serves really unique dishes that are both generous in size and flavours. The steaks here are different because of the delicious tulang sauce. The secret blend of spices in the sauce gives it that extra oomph that's quite irresistible.
If you want to go for a more premium option, go straight for their Wagyu Ribeye. The meat is incredibly tender and will melt in your mouth. Be warned, you might finish this a lot faster than you think you would.

Address: 50 Kandahar St, Singapore 198900
Opening hours: 11.30 am-11 pm. Closed on Mondays.
12. Eighteen Chefs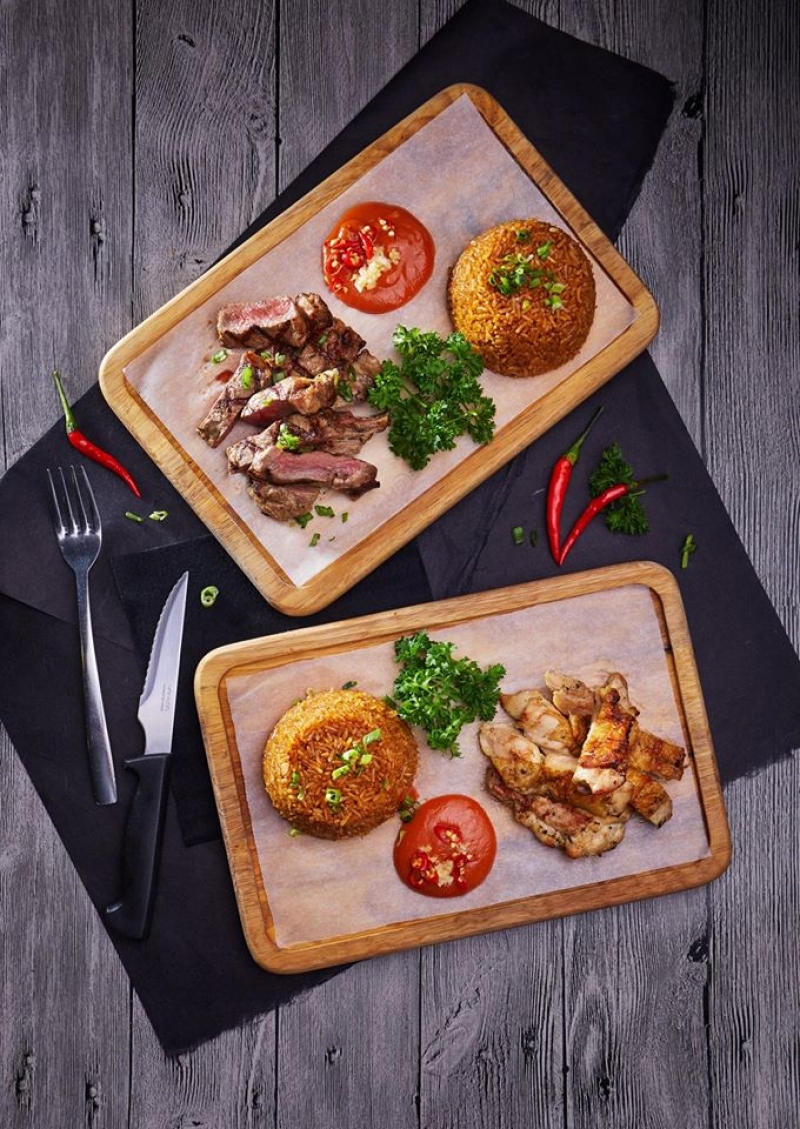 Committed to serving quality food at an affordable price, Eighteen Chefs is a popular restaurant chain in Singapore. With an extensive Western cuisine spread available, some of their popular menu items are meat dishes. Of course, here you can find scrumptious steaks in different cuts kinds like ribeye, striploin, lamb and more! For a delicious meal to curb your cravings for meat and does not cost too crazy, this is your pick. 
Address: Multiple locations
Opening hours: According to location
13. Brothers In Fine Food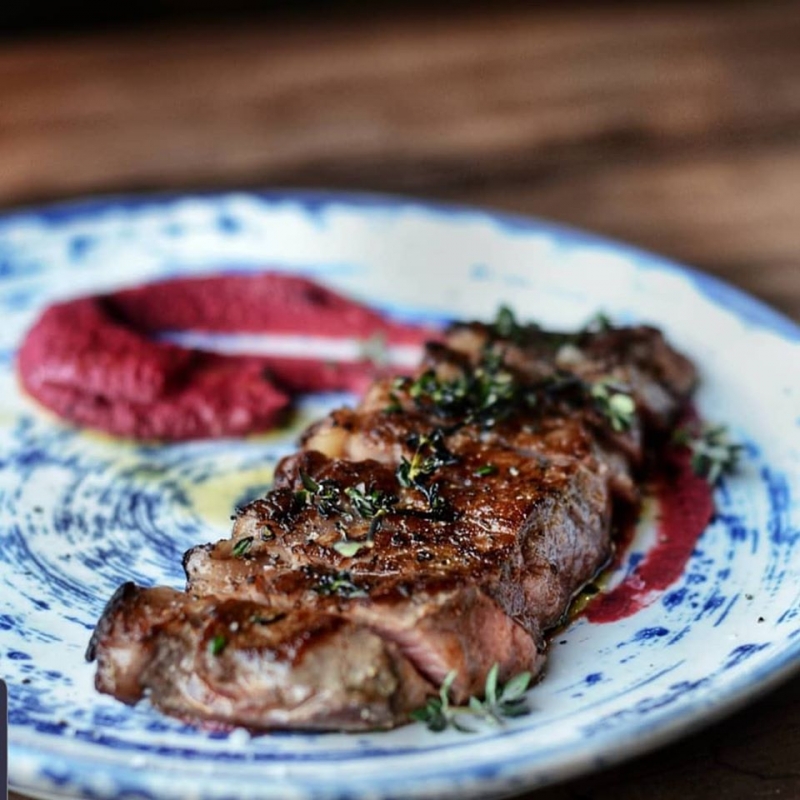 Taking inspiration from culinary travels, the team from Brothers in Fine Food strives to open up new perspectives with familiar ingredients to facilitate creative takes on their dishes. This restaurant boasts an impressive and exciting menu with a tasty focus on the meat dishes. Some of the dishes include Beef with Beetroot Thyme Puree, Dry-age Beef and more. If you are looking for an out of the ordinary recipe, you will be satisfied here! 
Address: 5 Tampines Ave 3, #02-07, Tampines West Community Club, S529705
Opening hours: 8.30AM – 10PM, daily
14. Kucina Italian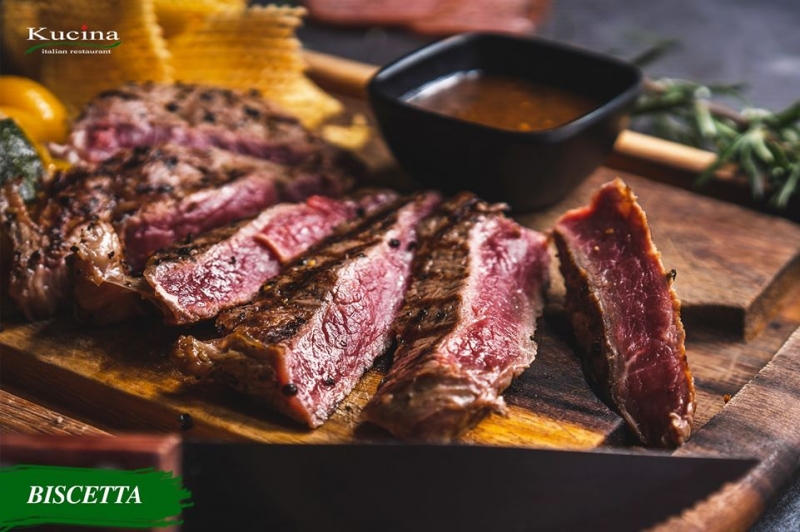 Kucina Italian is a Muslim-owned Italian restaurant serving halal and authentic Italian cuisine. Founded by a highly experienced Italian Muslim chef, you can be sure that the meals here are scrumptious. The menu here is extensive with two different pasta menus! Their mains also include steaks including Bistecca which is 200g of Black Angus ribeye and Usda Beef Short Rib which is tender, premium Usda beef. Treat yourself with a thick steak from this incredible kitchen!
Address: 11 Tanjong Katong Road, #B1-09/10
Opening hours: 11.30AM – 10PM
Contact: 64932154
15. Flavour Flings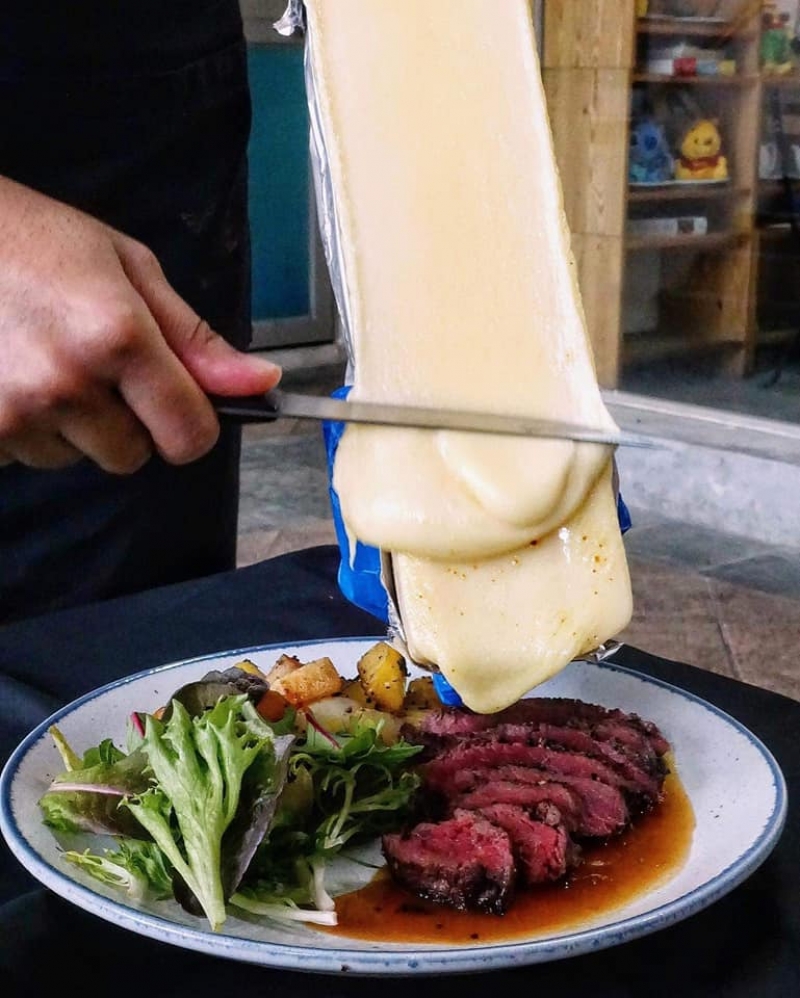 Flavour Flings is a halal-certified restaurant serving American and French classics with some exciting twists on the flavours, ingredients and presentation. Popular for their halal raclette, now you can order a steak with a heap of raclette on top! Satisfy your hunger with one of the best food pairing – ever. 
Address: Blk 121 Hougang Ave 1, #01-1348, S530121
Opening hours: Tuesday closed; Monday, Wednesday – Sunday 11.30am – 9pm
16. Commons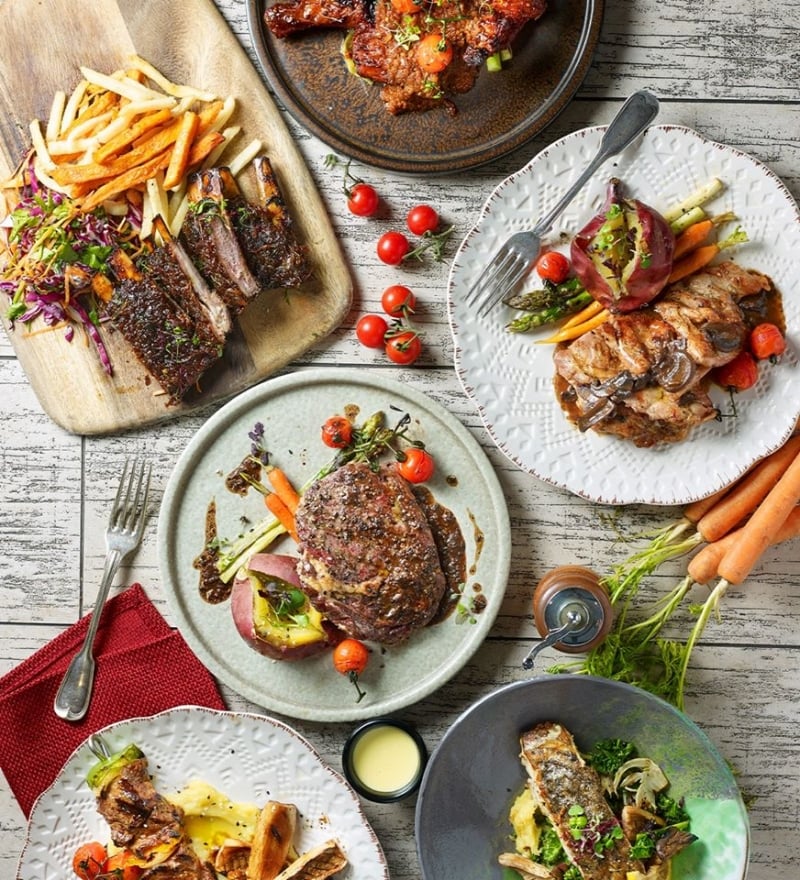 Commons is a halal-certified restaurant located by the famous Rain Vortex at Jewel Changi Airport. Boasting a diverse range of specially crafted Asian-Fusion delights, entrees and of course desserts, Commons is well-loved by its patrons. There is an impressive spread in their entree menus including The Meat Feast, Ribeye & Sweet Potato, and more! 
Address: #B1-289/290, 78 Airport Boulevard, Jewel Changi Airport, Singapore 819666
Opening hours: 10AM – 10PM, daily
17. Steak Me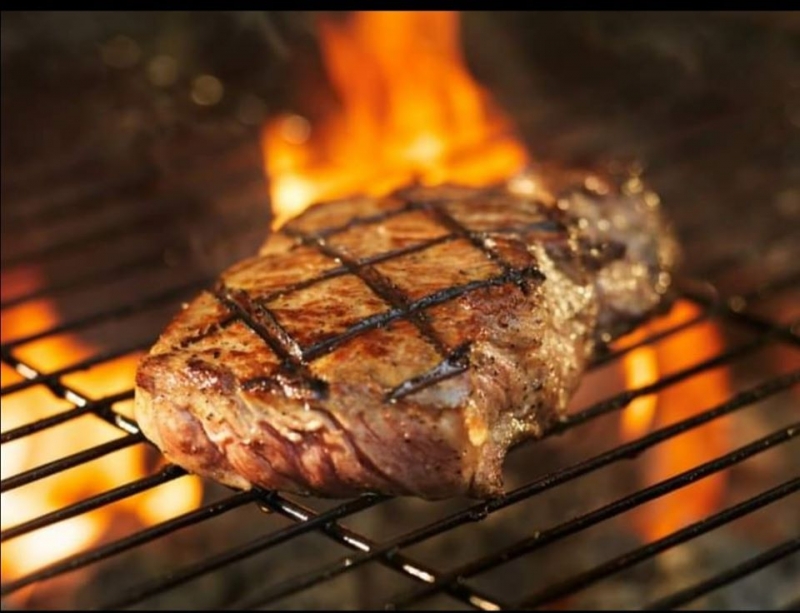 Founded by a local celebrity chef, Chef Amri, Steak Me is a steakhouse where you can indulge in the array of steaks on the menu and the different cuts of meat to choose from. Some of their signature menu includes the Wagyu Ribeye and the Wagyu Tomahawk which will definitely satisfy all your meat cravings!
Address: 248 Jalan Kayu, S799472
Opening hours: Monday – Friday, 3PM – 11PM; Saturday – Sunday, 12PM – 11PM
Contact: 64811083
18. I Am… Cafe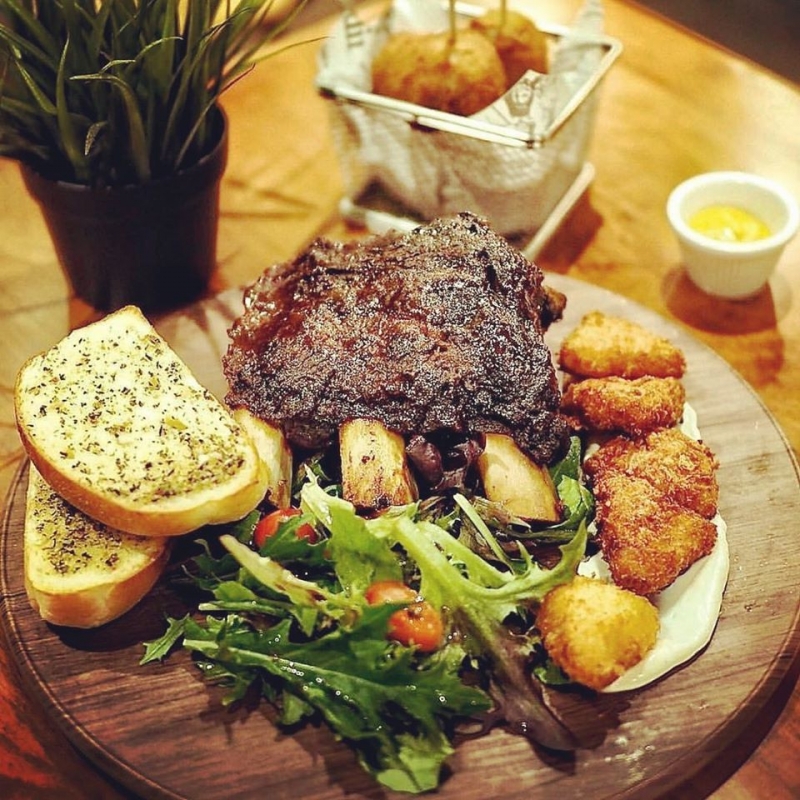 Located in Haji Lane, I Am… is a halal-certified cafe boasting a line-up of Dutch-inspired food with signature dishes like burgers, ribs, fish & chips and more! The atmosphere is also perfect for those who are looking for a space to enjoy good food with your loved ones. Fresh air and natural light fill the cafe allowing diners to people-watch as well. With 9 different steaks and ribs available here, you are spoilt for choice. The meat dishes sold here includes Guava BBQ Beef Ribs, T-Bone Steak, Ribeye and more! 
Address: 674 North Bridge Rd, Singapore 188804
Opening hours: Monday – Thursday, 9AM – 11PM; Friday, Saturday 9AM – 1AM; Sunday 9AM – 10PM
Contact: 62955509
Hungry yet? Settle those meat cravings once and for all at any of these great dining spots. Whether you're looking for wallet-friendly options or something worthy to splurge on, this list will be your life-saver when finding delicious halal steak in Singapore!
Also read: 23 Halal Buffets to Try in Singapore