Chiffon, viscose, satin or silk? Long shawl or square shawl? Something wide or a little narrower? Having so many options means there are endless hijab styles you can achieve. Whether you're a recent hijabi who's looking to find her signature style, or a seasoned hijabi tired of her current one, here are five hijab styles you can try out!
We know these instructions might be complicated, so we've also included links to some tutorials that would be useful for each style!
1. Classic Casual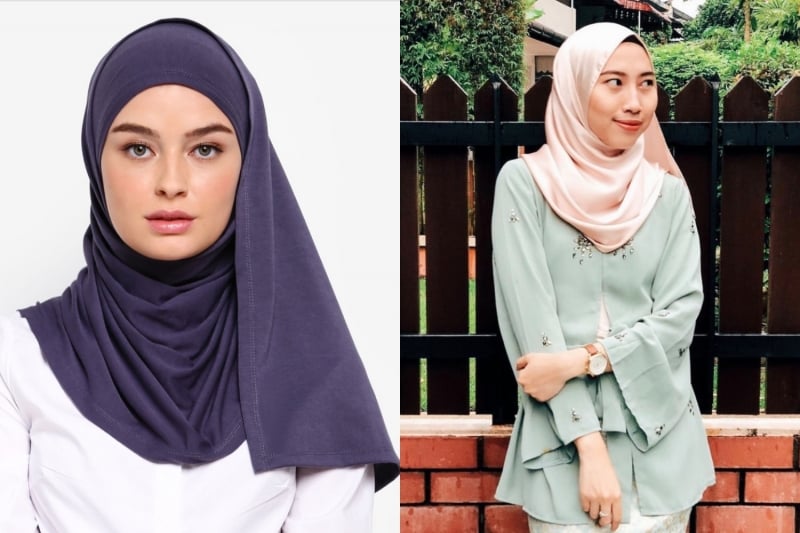 For this first one, you could call it one of the OG hijab styles. Simple to achieve and possible with almost every material, it's a go-to for many hijabis. For a casual, everyday look, wear this style with viscose, cotton pashmina or jersey hijabs. If you want to elevate this style to suit more formal events like weddings, switching to chiffon or satin shawls for extra elegance.
Start by placing it on your head, one long side and one short side. 

Pin the shawl under your chin. 

Next, flip the long side over your head to your other ear, securing it with a straight pin. For a video tutorial, check out Look 2 in

this video

.
2. The Elegant Over-The-Shoulder Drape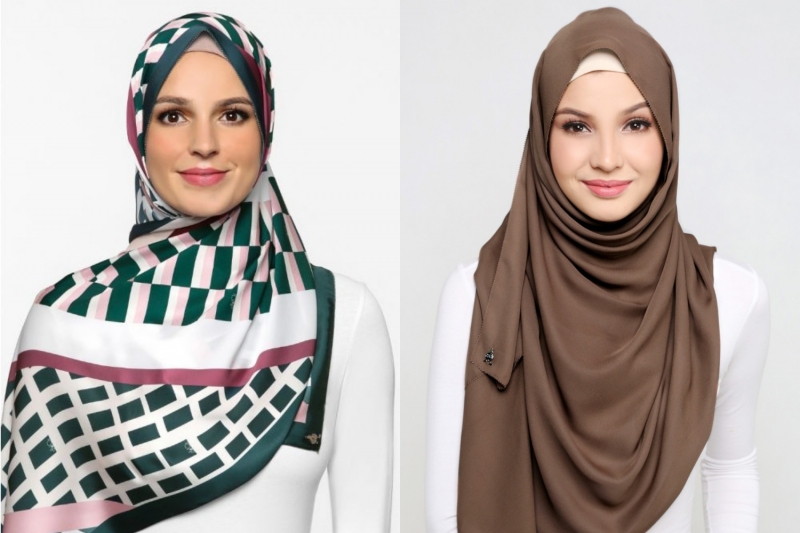 An elegant drape requires the most elegant materials in the game. Whip out your chiffons, satins and matte satins for this hijab look.
Pin it under your chin with one short side and the other long. 

Hide the short side by tucking it around your neck. 

With the long side, drape it over your chest till desired chest coverage has been achieved. 

Lastly, pin it to your shoulder area and voila! You've achieved the most feminine style!
A word of caution though – since this style is flowier, you'll definitely feel the material flapping around when it gets windy. Some ways to fix this is to add more pins or secure it to your top with some fashion tape! This way, the material will drape but still stay in place.
3. The (Almost) Pinless Tie-Back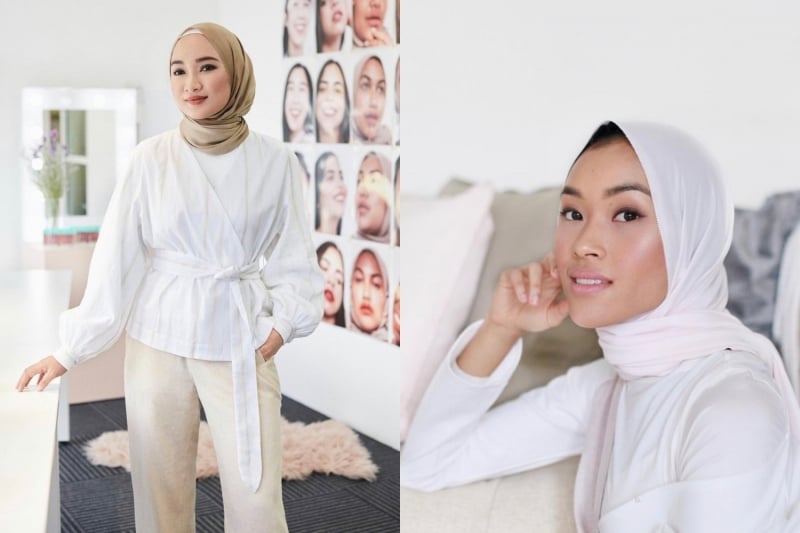 If you prioritise a neat style over coverage, opt for this (almost) pinless hijab style.
Place the long shawl on your head, equal length on both sides. 

Then, secure it with a pin under your chin. 

Take one side and flip it to the back, holding it tight against your neck. 

While that's in place, flip the other side back to meet the other material and tie a knot behind your neck. 

Feel free to adjust depending on how tight you want the shawl to be around your neck.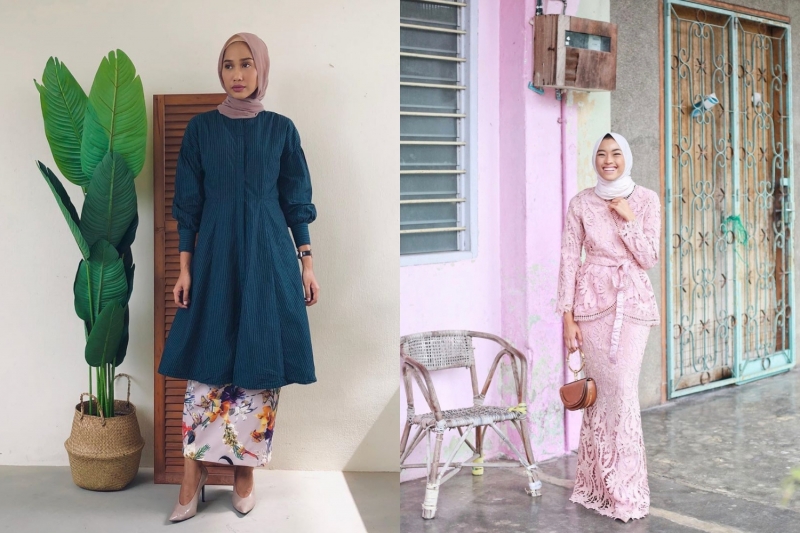 This style is great for those busier days when you just can't afford any trips to the bathroom to fix your shawl that has shifted. It gives a really neat look, perfect for business meetings and even formal events. It looks amazing with traditional wear!
Also read: 4 Hijabs Every Female Muslim Traveller Needs For an Enjoyable Holiday
4. The Classic Bawal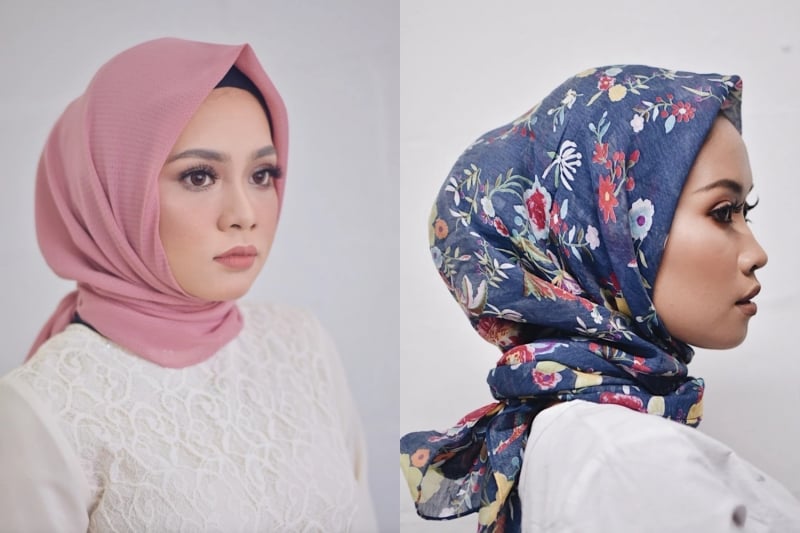 Bawal shawls (aka square shawls) are no longer a thing of the past. Brands like A Cup of Dee have brought it back in trend by updating its fabric and embellishing them with prints which are to-die-for. Donning on the bawal reminds us why it's such a classic – it's simple to put on, and only requires one pin.
Fold the square scarf into a triangle and place it on your head with two equal sides. 

Then, pin under your chin. 

With the two sides, you can either cross them and tie at the back like in the above pictures. Alternatively, drape it over your chest for more coverage.
Compared to other shawls, bawal scarves are typically made of sturdier material. This means that they frame the face better and are less likely to budge.
5. The Sleek Turban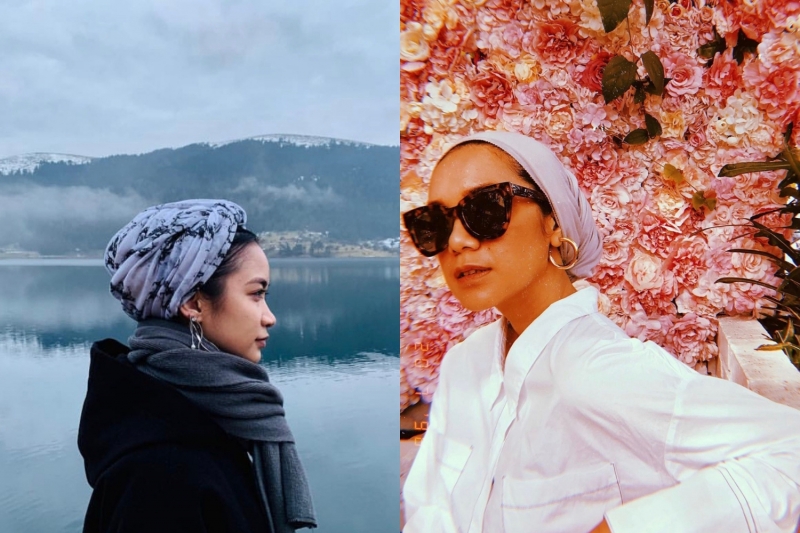 This style is, in my opinion, the most sleek and most stylish of them all. If hijab styles were characters in a high school sitcom, the Sleek Turban would be the emo kid clad in all-black. This hijab style is minimal while still making statements.
If all you've got are long shawls, this video will explain perfectly how you can achieve it. Once you've gotten used to the look, you can consider buying the many instant turbans which are out in the market by modest fashion brands.
While any material can suit the turban style, sturdier materials like cotton and jersey offer less slip and are easier to work with. Other slippier materials like chiffon and satin would mean more pins are needed to secure them in place!
As we said, the hijab styles you can achieve are endless! This list we've given you is of course non-exhaustive. Finding a hijab style you're most comfortable can no doubt be a challenge, so feel free to experiment with the many different fabrics, shapes and sizes of shawls out there. And have loads of fun while you're at it!
Also read: 5 Sports Hijabs for the Active Muslimah