Deemed as 2019's must-visit travel destination, Macao boasts a wealth of attractions from historic Portuguese buildings and lush parks, to UNESCO-listed landmarks and a slew of intriguing museums. There's more to Macao than meets the eye. Muslim travellers should consider this budget-friendly destination and experience cross-cultural Macao through architecture and food.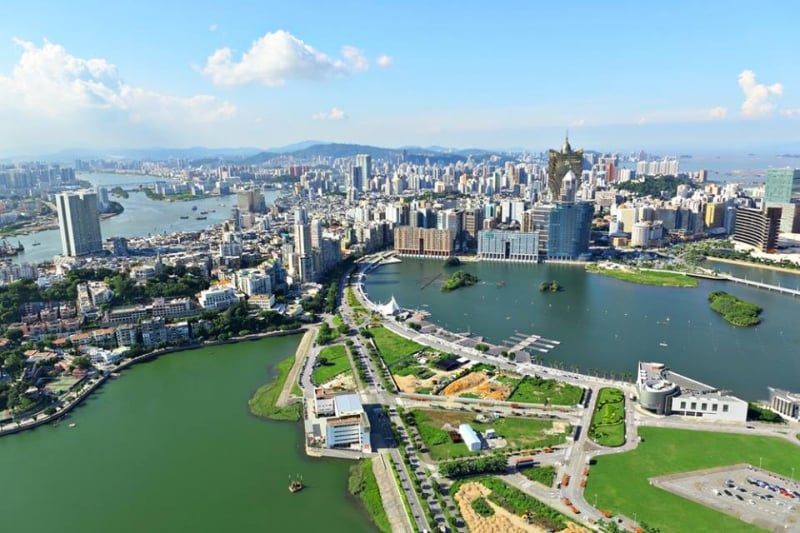 With an array of free things to do, halal-friendly options and even its own mosque, don't miss your chance to discover exotic Macao. Experience the highlights with this 3D2N Muslim-friendly itinerary, under RM2,400 from Kuala Lumpur!

#HZTip: Plan your trip to overlap with weekends as most flea markets open only on Saturday or Sunday. Some museums grant free access on weekends too. Also, you're highly encouraged to make advance bookings if you're planning to visit in December or during the Chinese New Year season. Do take note that prices might vary if you're planning to travel here during the week of Macao Grand Prix.

Day 1 – Macao Peninsular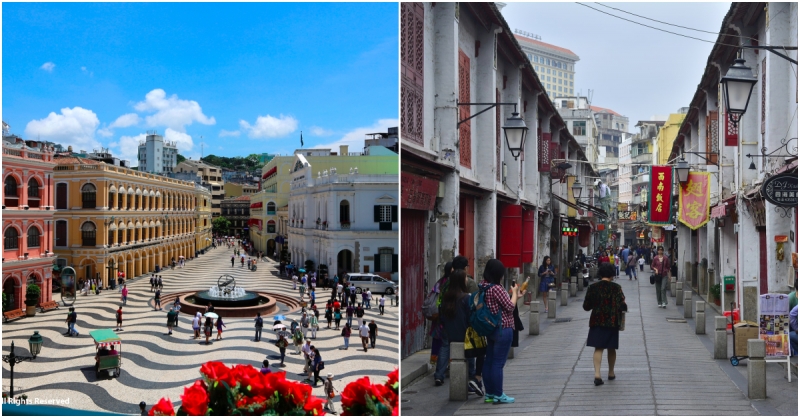 From Macau International Airport on Taipa Island, take the free airport shuttle (Wynn Macau or MGM Macau) to the city centre. After a 25-minute bus ride and 10 minutes of walking, you'll arrive at Senado Square, Macau's vibrant town. Marvel at the eye-catching neoclassical buildings and wavy Portuguese-style tiled paving as you explore Macao's New Eight Scenic Spot. For a great bird's-eye view, head up to the gallery of Leal Senado Building.

#HZTip: Spend time wandering around the local bakeries and quaint shops lining the hidden lanes, where you can buy tasty treats and lovely trinkets. The famous Macao almond cookies are worth purchasing too but do check the ingredients before buying them.

Next, take a five-minute walk to Rua da Felicidade, colloquially known as "Happiness Street". Known as Macao's New Eight Scenic Spots, this old-fashioned street highlights the amalgamation of Portuguese and Chinese influences. Sample Macanese desserts here such as peanut candy and mango pomelo cold soup.

Take a three-minute walk to Loulan Islam Restaurant where you can tuck into a proper lunch comprising of hand-pulled noodles and an array of lamb dishes. There is also a prayer room for your use. For dessert, head to the famous Firma U Tac Hong to sample Macao's vegan-friendly Tofu Fa. After a satisfying meal, check-in to your accommodation and freshen up.

#HZTip: Stay at smaller, budget-friendly hotels, close to Senado Square, which are within walking distance to the more opulent hotels. Tap on the free shuttle buses to get around while saving on your accommodation costs.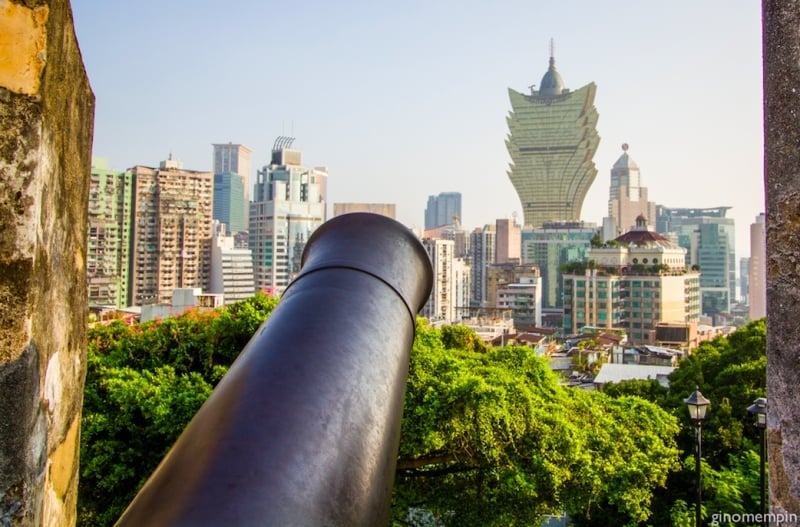 Benefit from a brief history lesson at Macao Museum which houses artefacts and information about Macao's intriguing past. Admission to the Macao Museum costs MOP$15 (~ RM7.70) for adults, but it's free for all visitors on the 15th of every month.
The museum is set inside Mount Fortress (Fortaleza do Monte), which sits regally atop Mount Hill. Soak in sweeping panoramic views of the city from Macao's most important defence point.

#HZTip: Take advantage of Macao's free WiFiGO hotspots. Macao Museum Cafe is one of the service locations to offer free WiFi. For the full list of locations, check out this list.
For dinner, take a 15-minute walk to Hong Kung Night Market where you can enjoy a sumptuous seafood dinner. From fresh crabs and clams to lobsters and giant prawns, you'll have a finger-licking good meal which also won't burn a giant hole in your pocket.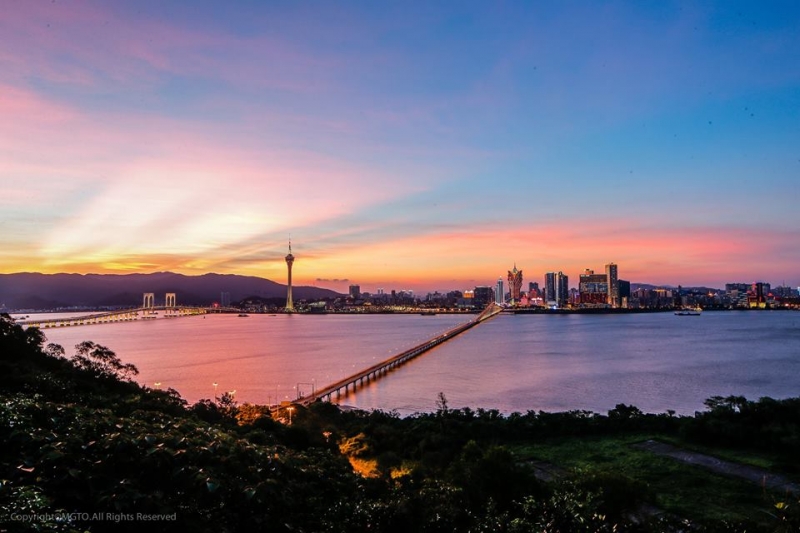 Wrap up day one with a trip to the iconic Macau Tower! Admission to the Macau Tower costs MOP$165 (~ RM85) for adults and MOP$95 (~ RM49). Macao glitters at night and the expansive views from the observation deck at dusk is unrivalled.
The glass floors in some areas of the deck will give you that extra thrill, knowing that you're 223 metres above ground. End the night in Macao, literally on a high.
Day 2 – Coloane and Taipa Island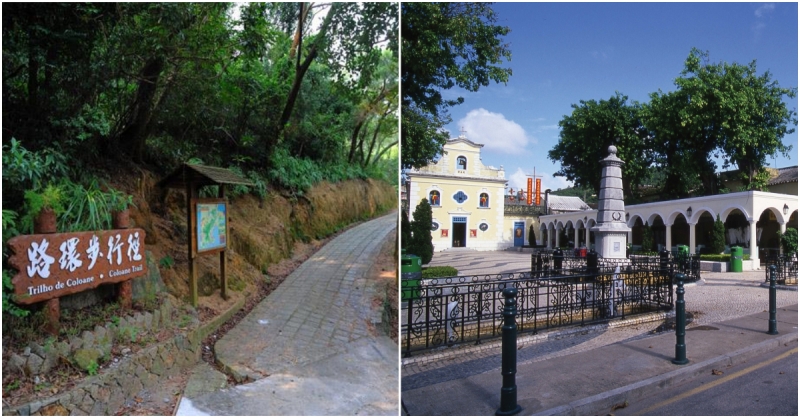 Rise bright and early and head to the south side of Coloane (Macao's "green lung") for your morning coastal hike. Replete with ancient temples and other unique architecture, Coloane Fishing Village is well worth visiting. Also known as Luhuan Fishing Village, this New Eight Scenic Spot has been the backdrop of many film and television shows due to its reflection of Macao's rich history and culture. 

#HZTip: To get there, take the free shuttle from Macao Peninsular and alight at any of the hotels around the Cotai Strip (The Venetian or City of Dreams). Transfer to a public bus (bus numbers: 21A, 25, 26, 26A) for just MOP$4 (~ RM2). For ease to get around, download the MacauMap app and access the full bus directory.

Challenge yourself to hike up to Macao's highest point, Alto de Coloane. It'll be a workout to get to the summit (8 kilometres, mind you), but the views will leave you breathless. Moreover, you simply can't miss out the Long Chao Kok, one of Macao's New Eight Scenic Spots. Also known as the Dragon Claw Point, this scenic spot boasts the best views of Macao's coastline.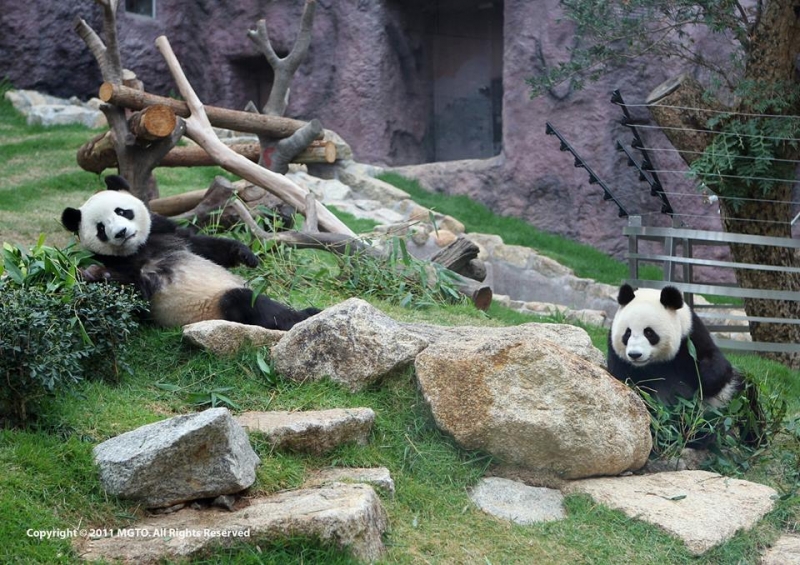 After sweating it out, slowly trek back down while soaking in the tranquil natural landscapes along the way. Once you've reached the base, head to SEAC Pai Van Park, which is a small zoo that houses a walk-in aviary and other furry animals.
You'll also find the Macao Giant Panda Pavilion inside. Squeal in delight as you visit Kai Kai and Xin Xin frolicking on the soft grass. Admission to the pavilion costs MOP$10 (~ RM5) for adults and is free for those aged 12 and below. 

Later, take a 40-minute bus ride past Cotai Strip to The Blissful Carrot, a vegetarian takeaway shop and bakery cafe in Taipa Village. From green salads and sandwiches to pasta and hearty rice bowls, enjoy your fresh lunch and finish off with a delicious serving of carrot cake.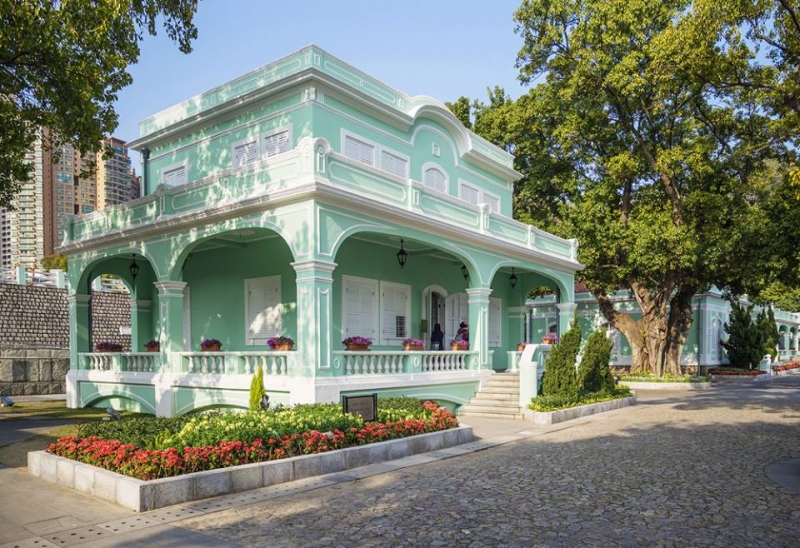 After lunch, take a three-minute walk to Taipa Houses–Museum. Admission into this cultural relic is free. Spend your afternoon exploring the five distinctive mint-green houses, which constitute the "Macanese Living Museum," the "Exhibitions Gallery," the "Creative Casa," the "Nostalgic House," and the "House for Reception."

From Taipa Houses–Museum, a 10-minute walk will lead you to the bustling Taipa Flea Market. A multitude of open-air stalls sells traditional Macanese delicacies, novelty souvenirs and handicrafts. Unleash your inner bargain-hunter and nab a special memento of Macao here. Be sure to plan your visit to this bustling market on Sundays.

The market offers entertainment as well. Expect live performances such as Portuguese folk dance, orchestra performances, lion dance, magicians and stilt walkers. For dinner, hop over to Cunha Bazaar nearby and delight in some halal-friendly street food.

#HZTip: Since there is no sales tax imposed in Macao, it's fine to splurge on items such as jewellery, pottery, electronic gadgets, watches and silk clothing at the flea markets.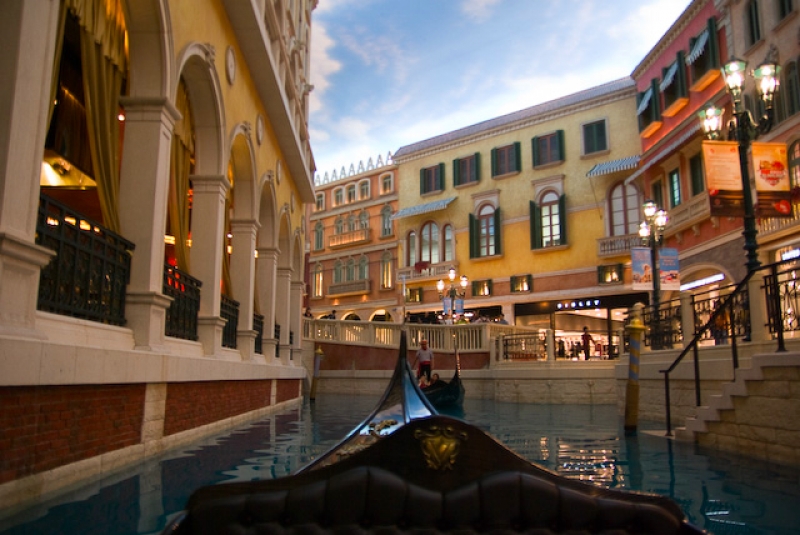 After that much-needed retail therapy, take a 10-minute walk to the famous Venetian Macao. This is a must-visit for its jaw-dropping ostentatiousness and grandiose outlook. Marvel at the labyrinthine network of canals and romantic gondolas that glide past.
You can also indulge in some window-shopping too, as you stroll past lavish boutiques. A visit to Macao is simply incomplete without some time in its pride and joy.
Day 3 – Macau Mosque And Cemetery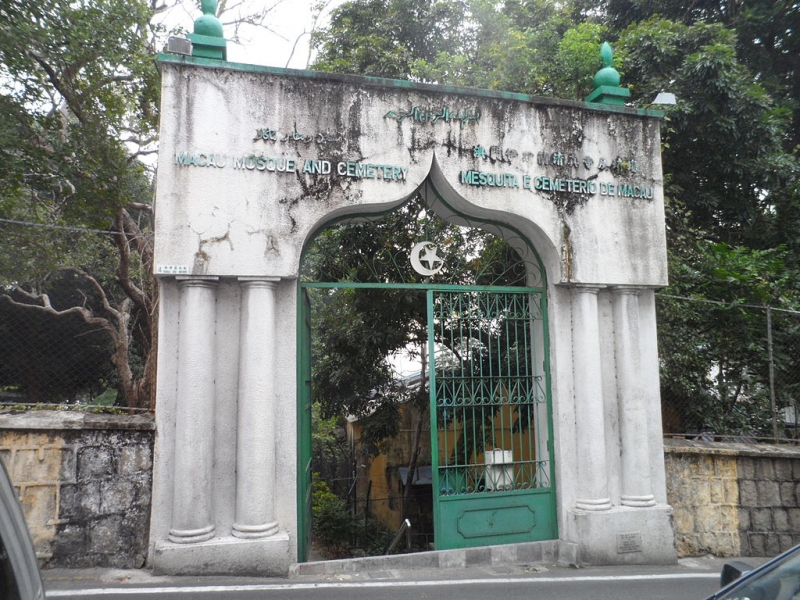 Before you leave Macao, set aside some time to visit the one and only mosque in Macao. Head to Macau Mosque and Cemetery where you can enjoy a peaceful moment after performing your prayers.
Built in the 1980s by Muslims, this mosque is situated in a pleasant, historic quarter overlooking the Outer Harbour Ferry Terminal and a reservoir. Take a stroll along the waters and to take in the stunning sights Macao has to offer or simply people-watch as the locals get their exercise on.

Later, head to Loly Indonesian Restaurant for a gastronomical feast. Offering delicious home-cooked Banyuwangi Indonesian food, snacks and drinks, this cosy halal restaurant is a must-visit before you head to the airport. The gulai ikan and ayam bakar are hot favourites here.

Depending on your flight time, you can opt to do some last-minute shopping at Rua De S Paulo Area. It takes about 10 minutes to walk from Loly Indonesian Restaurant and is close to the ruins of St. Paul's.

#HZTip: If you're heading to the airport from Loly Indonesian Restaurant, take a 30-minute bus ride towards Wynn Macau and MGM Macau. Ride the free shuttle service back to the airport.
Approximate 3D2N Price Breakdown (For 1 Traveller)
Return Flight Ticket: RM500 via AirAsia
#HZTip: Malaysians get to enjoy visa-free entry into Macao for 30 days!

Transportation: RM30, average bus fare is MOP$6 (~RM3) one way

Accommodation: RM900, the average cost for two nights in a three-star hotel
#HZTip: While Macau is renowned for its luxurious 5-pearl hotels, it also harbours more affordable forms of accommodation. These budget hotels, guesthouses and hostels are centred within the Macao Peninsular.

Food Expenditure: RM450

Shopping: RM350

Attraction Tickets: RM100

Total: RM2,330!

A trip to Macao doesn't have to be expensive if you know how to play your cards right – its often-overlooked hidden gems are plentiful. With attractions that cater to both the young and young at heart, affordable accommodation, as well as a good range of Muslim-friendly food options, Macao is truly for everyone.
For more travel inspiration and Muslim-friendly tips, check out the Macao Governmental Tourist Office's (MGTO) official website, as well as Macao Tourism Malaysia's Facebook and Instagram page. Muslim travellers, be sure to also download this list of Halal & Muslim-friendly restaurants from MGTO website here.
---
Brought to you by Macao Government Tourism Office (MGTO).